Looking for the best eCommerce WordPress plugins to take your business to the next level in 2023?
Managing an online store can be challenging by itself. And then, after you spend hours coming up with ways to grow your business, you hit a brick wall when you realize that there are 100,000+ WordPress plugins to choose from.
So, you have to revisit your budget because some of the top plugins in the market are paid plugins.
But here's the thing: Most of the best eCommerce WordPress plugins for sustainable growth come with free versions that you probably don't even know about. And seeing as they're built to help you grow, you can get started for free and eventually upgrade to the premium versions.
In this article, we shortlisted some of the best eCommerce WordPress plugins your site needs right now. And we've given special priority to plugins with a free version or trial.
Let's dive in.
Best eCommerce WordPress Plugins to Grow Your Online Business
Each of the plugins on the list will serve a different purpose for your site. Make no mistake, they're all focused on helping you grow your eCommerce business. But we have a pretty high standard for our definition of the "best" eCommerce WordPress plugins. In our list, we only included plugins that we've actually used and found helpful for our growth.
Also, we chose plugins that come with a free version so that you don't have to break the piggy bank to buy 20 new plugins.
Let's get started.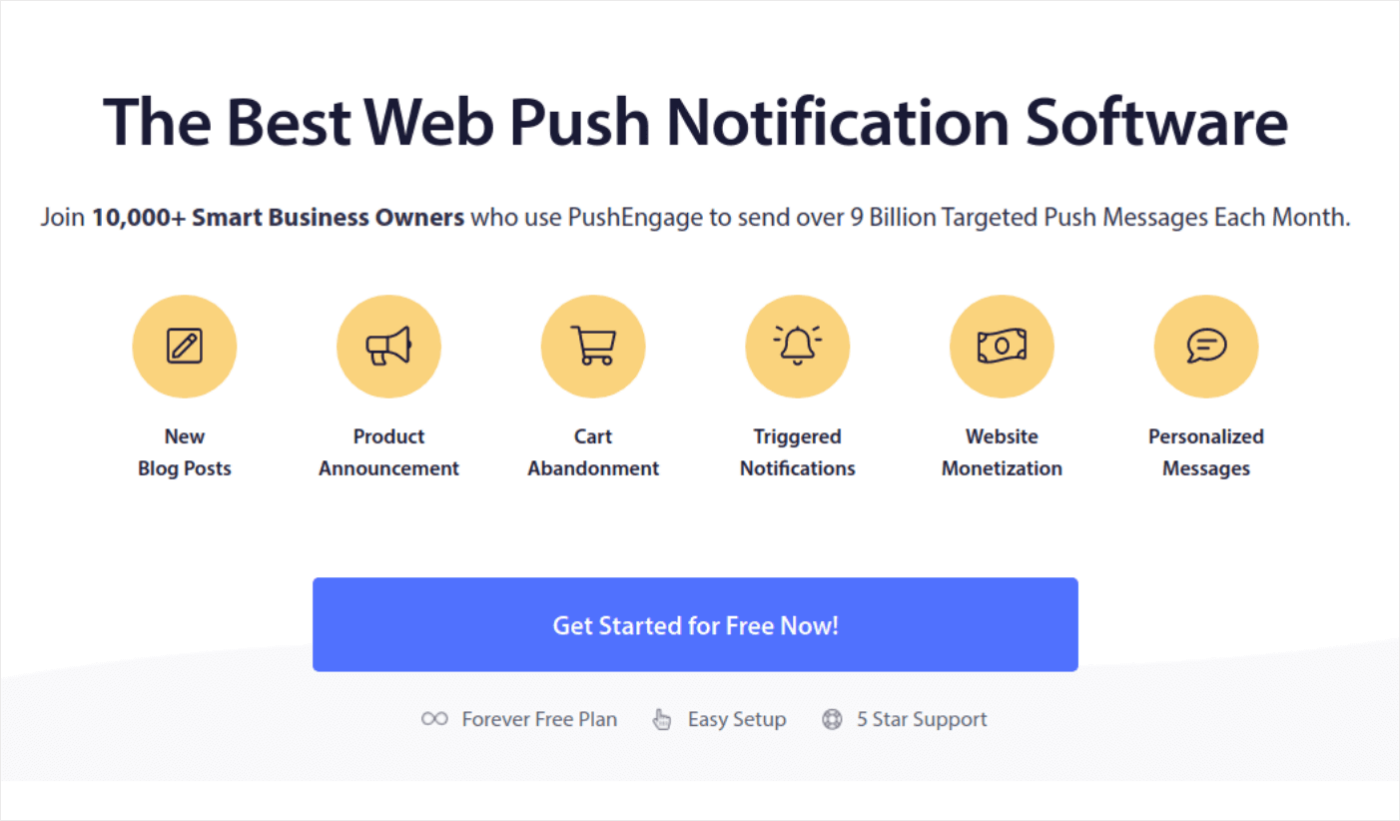 PushEngage is the #1 push notifications plugin in the world.
Push notifications help you grow your website traffic and engagement on autopilot. And if you're running an online store, PushEngage also helps you grow your sales by helping you create automated eCommerce push notifications such as:
And more!
You can get started for free, but if you're serious about growing your business, you should buy a paid plan. But before buying any push notification service, you should check out this guide to push notification costs.
Here's a quick glance at what you get with PushEngage:
High-converting automated campaigns
Multiple targeting and campaign scheduling options
Goal tracking and advanced analytics
Smart A/B testing
A Dedicated Success Manager
You'll see that PushEngage is hands down the best bet if you want to build traffic, engagement, and sales for your eCommerce business. And if you're on a budget, you can always get a little bit creative with your push notifications.
If you need a closer look at the plugin, check out this review of PushEngage.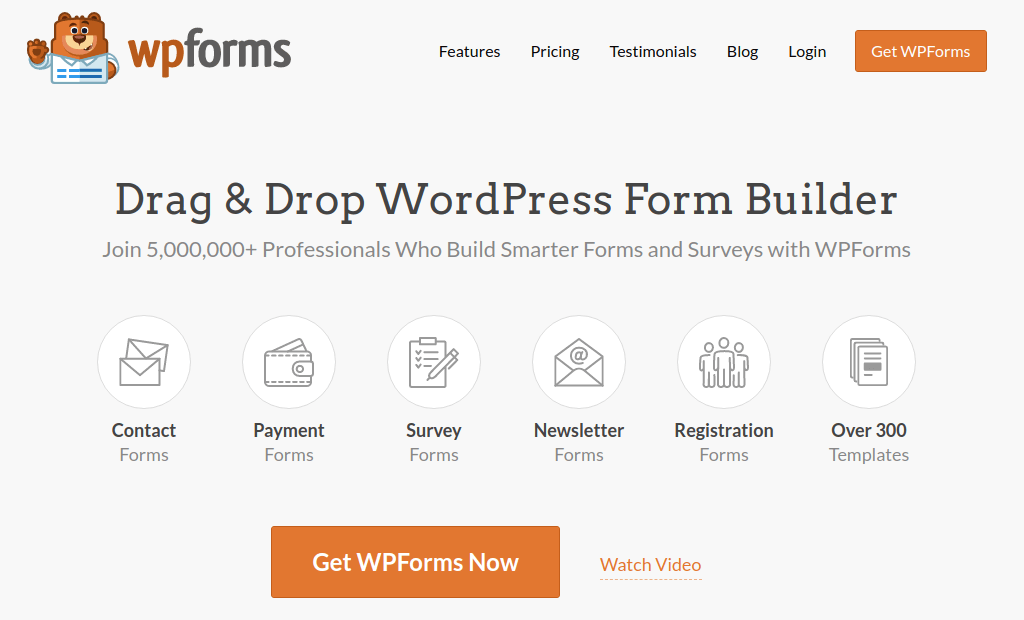 WPForms is the best WordPress form builder plugin. We've tested out a bunch of form plugins for WordPress and none of them come even close to the functionality or the ease of use of WPForms. It's also one of the best eCommerce WordPress plugins because you can create robust order forms to process orders from customers.
You can use a drag-and-drop form builder in WPForms to create and publish:
Surveys and Polls
Conditional Logic Forms
Form Landing Pages
Form Templates
Offline Forms
Conversational Forms
You can even track user journeys for your forms to understand different customer touchpoints and optimize them over time.
Go ahead and create a WordPress form with WPForms and you'll understand right away why we love the plugin so much. And if you're not sure about the plugin yet, check out our review of WPForms.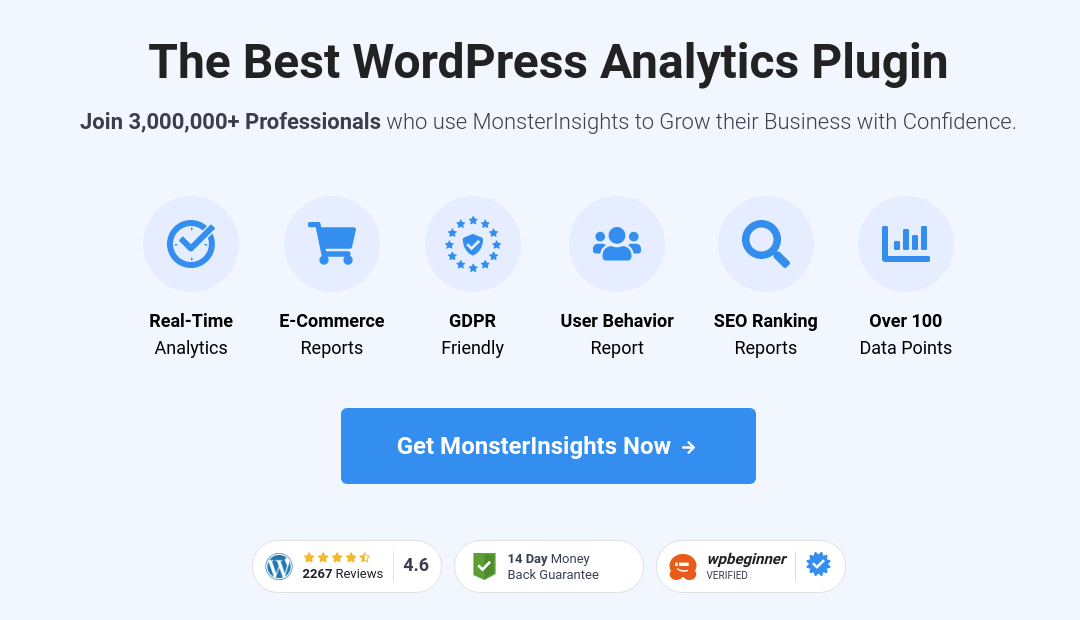 MonsterInsights is a WordPress plugin that makes it easy for you to use Google Analytics. Google Analytics is too complicated to use for a beginner. But even worse, it's easy to get lost in a sea of data without getting any actionable insights on growing your business.
MonsterInsights focuses on insights over volumes of data. This is super useful for an eCommerce business because in addition to SEO metrics, you'll also need to check out revenue numbers.
The cool part is that you don't need a single line of code to install Google Analytics on WordPress.
Here's a quick look at what MonsterInsights can do for you:
Compatible with Any Version of Google Analytics
Reports to Find Top-Performing Content
Detialed Audience Insights
eCommerce Analytics
Additional Insights from Custom Dimensions
GDPR Compliance
Premium Integrations
If you need to take a close look at the features, you should really check out our review of MonsterInsights.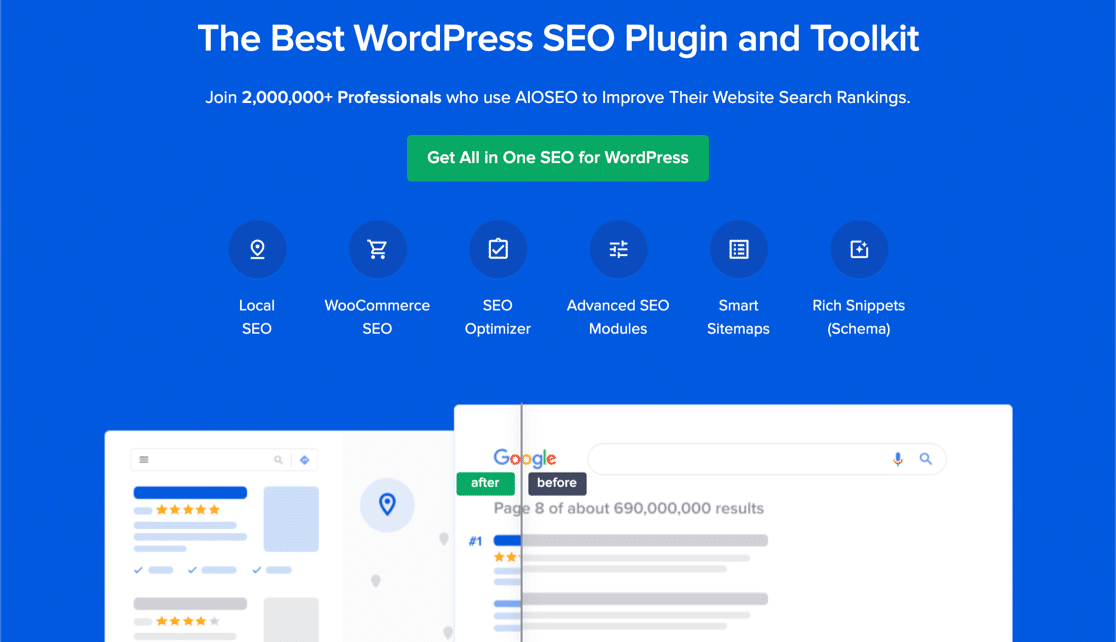 All In One SEO is the best WordPress SEO plugin in the world. While AIOSEO isn't necessarily a eCommerce WordPress plugin, it's essential for any WordPress site. And you get an entire suite for eCommerce SEO to help you grow traffic to your product pages.
Not only is AIOSEO powerful enough to implement the latest SEO best practices, but you also get advanced options to resolve specific SEO issues straight out of the box. This includes:
Local SEO modules for small businesses with a local audience
WordPress eCommerce SEO for online stores
An SEO optimizer inside your WordPress editor
Smart sitemaps for instant indexing on Search Engines
A Schema plugin to get your content to rank in the Rich Snippets
And a lot more! You can learn more about the features in our review of AIOSEO.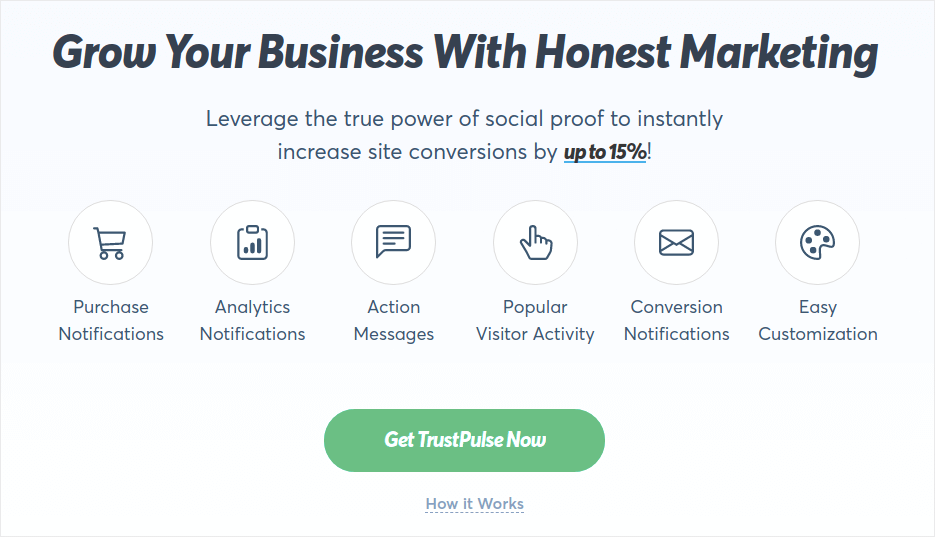 TrustPulse is one of the best eCommerce WordPress plugins for social proof. You can use the plugin to create small popups that showcase social proof on your website in real-time. This nudges other web visitors to convert as well.
Sure, you can use TrustPulse on pretty much any site. But on a WooCommerce site, you can see it actively grow your conversions. Here's a quick look at the top features you get from TrustPulse:
Boost email signups
Increase affiliate link clicks
Generate webinar registrations
Increase pageviews
Collect testimonials and reviews
Get more survey participations
Increase direct sales
And if you're not sure how to get started, you should check out our review of TrustPulse.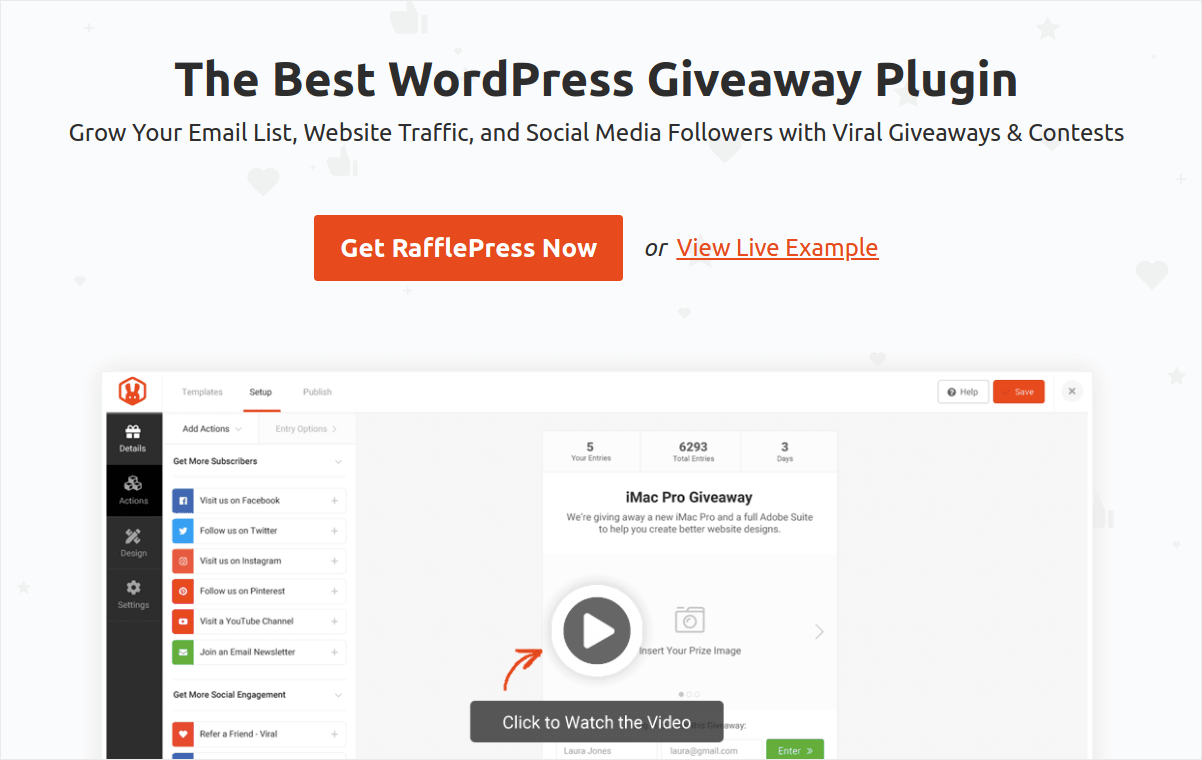 RafflePress is the most powerful WordPress giveaway plugin. You get a visual builder with the plugin to create and run viral contests. It's also the only beginner-friendly WordPress giveaway plugin. In our opinion, the paid version of the plugin is worth every penny. But you can also get started for free.
For any eCommerce site, engaging new visitors while retaining old customers is always a challenge. But that's what makes RafflePress one of the best eCommerce WordPress plugins. Again, you don't necessarily need to have an eCommerce site to use RafflePress. But you can see RafflePress actively grow your sales from social media on a WooCommerce site.
The best part is that you get powerful pre-built templates that are designed to:
Grow your email list
Refer friends with word-of-mouth marketing
Run a giveaway before your site launches
Grow your Facebook page
Grow your Twitter followers
Grow your Instagram following
And you can do all of it with zero coding. Take a look at our review of RafflePress, where we explored the features of the plugin in greater depth.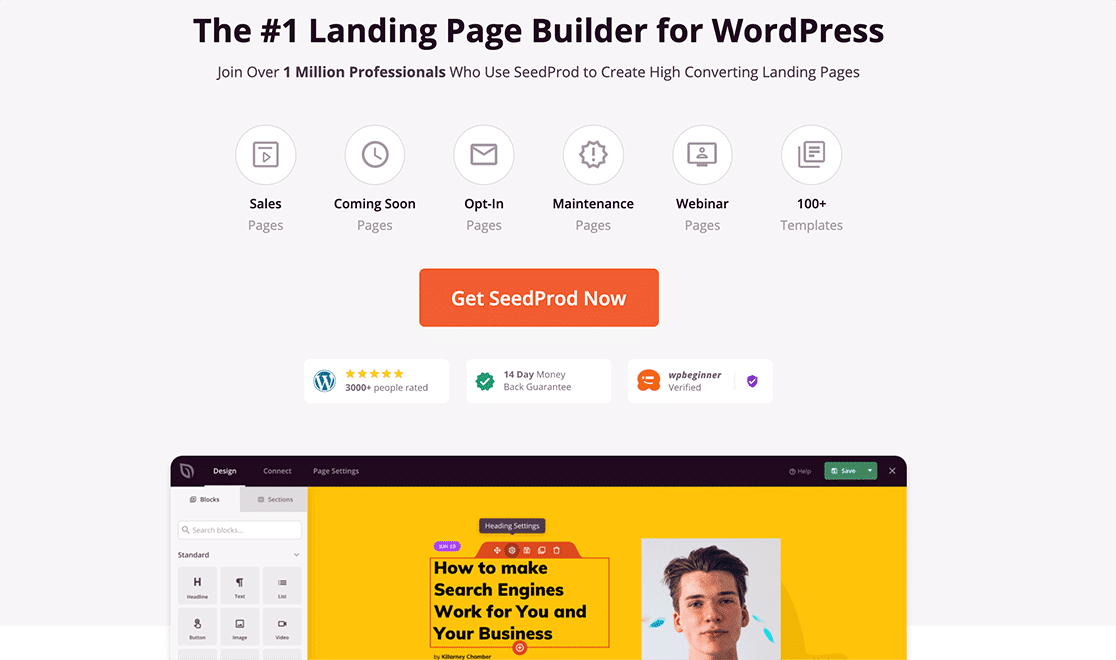 SeedProd is the best WordPress plugin to create landing pages that convert. It's by far the best eCommerce WordPress plugin to build your own WordPress theme. It's also one of the best landing page builders in the market.
You get a drag-and-drop landing page builder that's packed with options to build eCommerce pages and landing pages. Unlike WordPress website builders, you can customize every inch of your landing page including navigation menus, footers, and styles. SeedProd also works with any WordPress theme and creates mobile-friendly landing pages.
With SeedPreed, you get pre-built templates for high-converting landing pages that you can publish instantly. This includes templates for:
Squeeze pages
Login pages
Webinar pages
Video pages
And lots more! If you're building a new WooCommerce site, you can check out our guide on how to build a website. We love using SeedProd and we even wrote an in-depth review of the SeedProd plugin. Go ahead and check that out!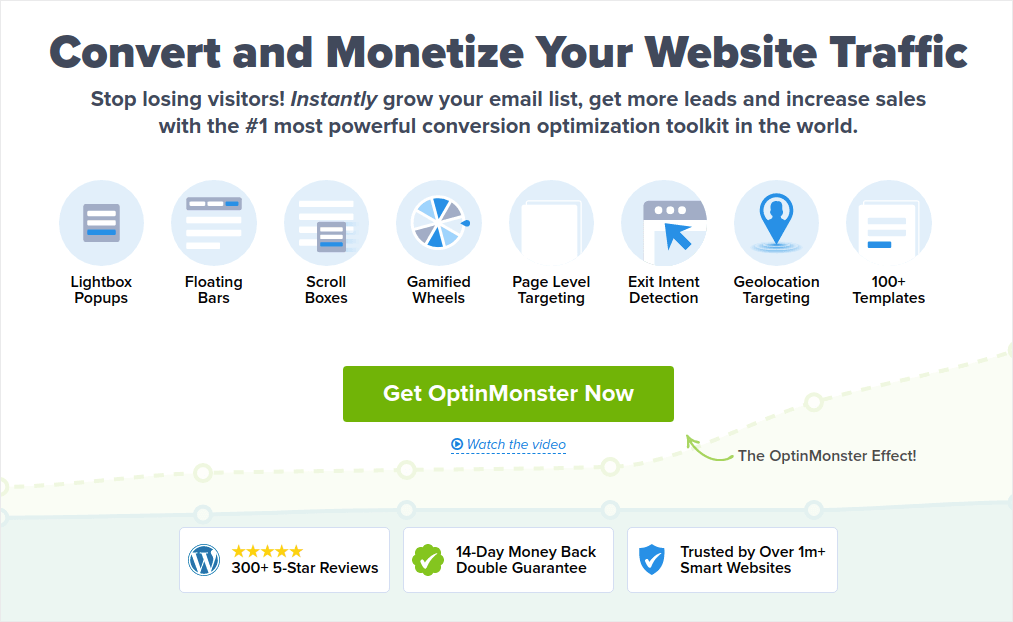 OptinMonster is one of the pioneers in WordPress popups. They practically changed the way in which email lead generation works in the marketing industry. OptinMonster has pretty much everything you need to start, grow, and scale your email lead generation process.
You can also use OptinMonster to increase eCommerce WordPress conversions directly. Here's a quick rundown of what you can do using the toolkit:
Grow your email list smoothly for remarketing
Convert first-time visitors into regular readers
Reduce cart abandonment and browse abandonment rates
Create limited-time offers with actual countdown timers
Increase eBook downloads and digital product sales
Create a funnel for live events
Improve site engagement using gamified popups
Redirect your traffic to pages and posts that make you money
Create a list of genuine leads and remove fake emails using two-step opt-ins
We wrote a review of OptinMonster. So, if you'd like to check out the features in more detail, go ahead and check it out.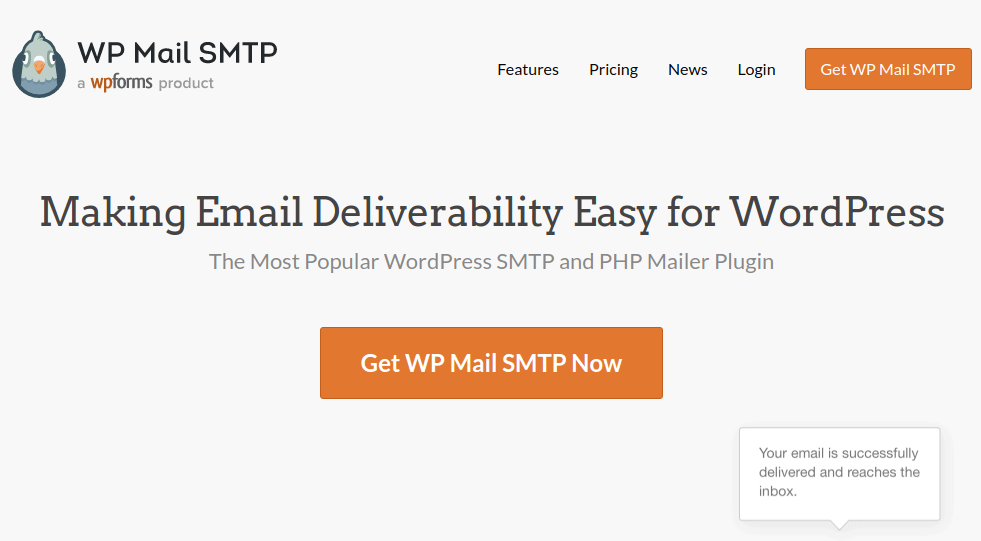 WP Mail SMTP is the best WordPress SMTP plugin. For WooCommerce sites, WP Mail SMTP is super important.
WordPress can have a bunch of email deliverability issues depending on your hosting service. So, you end up either never receiving leads from your forms or your customers don't receive any automated emails from you. And there's no simple way to resolve the issue without using the WP Mail SMTP plugin.
WP Mail SMTP is super useful when:
your hosting doesn't support the mail() function and WordPress can't send email
your server isn't configured properly to deliver mail from your WordPress site
you want to send your business emails via Gmail or Google Apps
enquiry messages from your WordPress forms never get sent to your inbox
There's a lot more to understanding why exactly WordPress has deliverability issues and how WP Mail SMTP fixes it for you. But one thing's for sure. If you're running a serious business, you can't really afford to have undelivered emails. So, check out our article on how WP Mail SMTP works to get the full picture.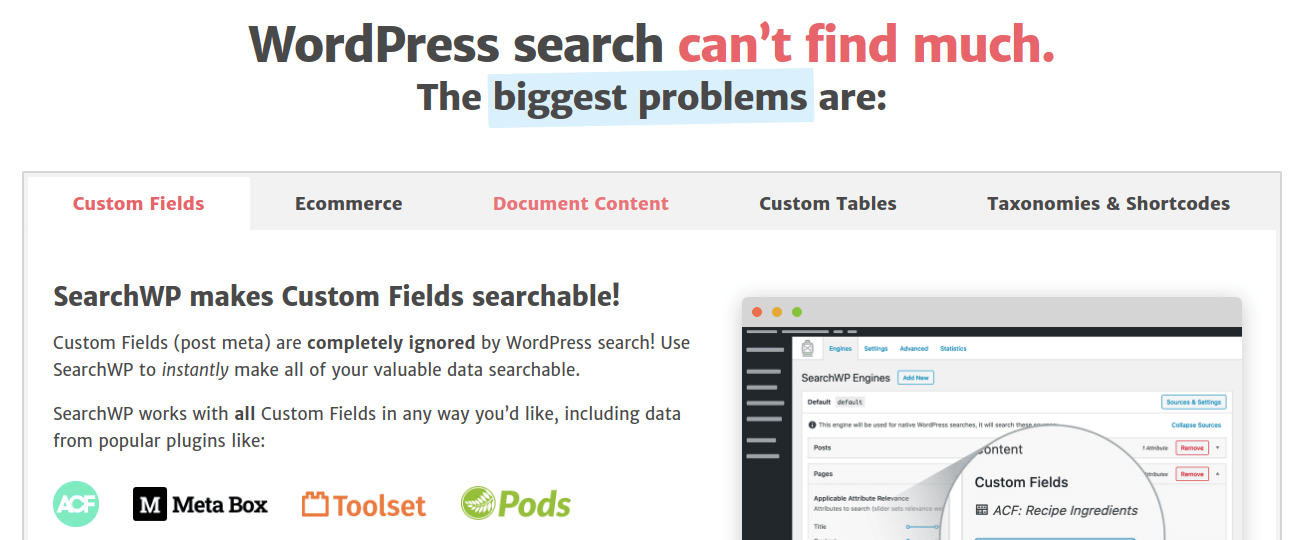 SearchWP is one of the most powerful search plugins for WordPress. WordPress comes with search capabilities by default, but the range of content that it can search through is extremely limited. Mostly, it can't search WooCommerce product pages for results.
One alternative would be to use a AJAX product search plugin inside your product pages. But why settle for that when you can create a custom search engine on your site?
When a web visitor searches for something inside your site, they're literally telling you exactly what they want from you. But most WordPress search bars simply can't run deep searches. And they most definitely can't help you understand what your visitors are searching for.
SearchWP allows you to create a custom search engine on your WordPress site that enables your visitors to search results from:
Custom Fields (post metadata) including ACF Fields
Ecommerce product details, variations, & attributes
Categories, Tags, Custom Taxonomies
Shortcode outputs
Uploaded documents (PDF, .docx, .txt, etc.)
Custom database table content
And of course, you can also search in the post titles and content as well. Check out our review of SearchWP and get started right away.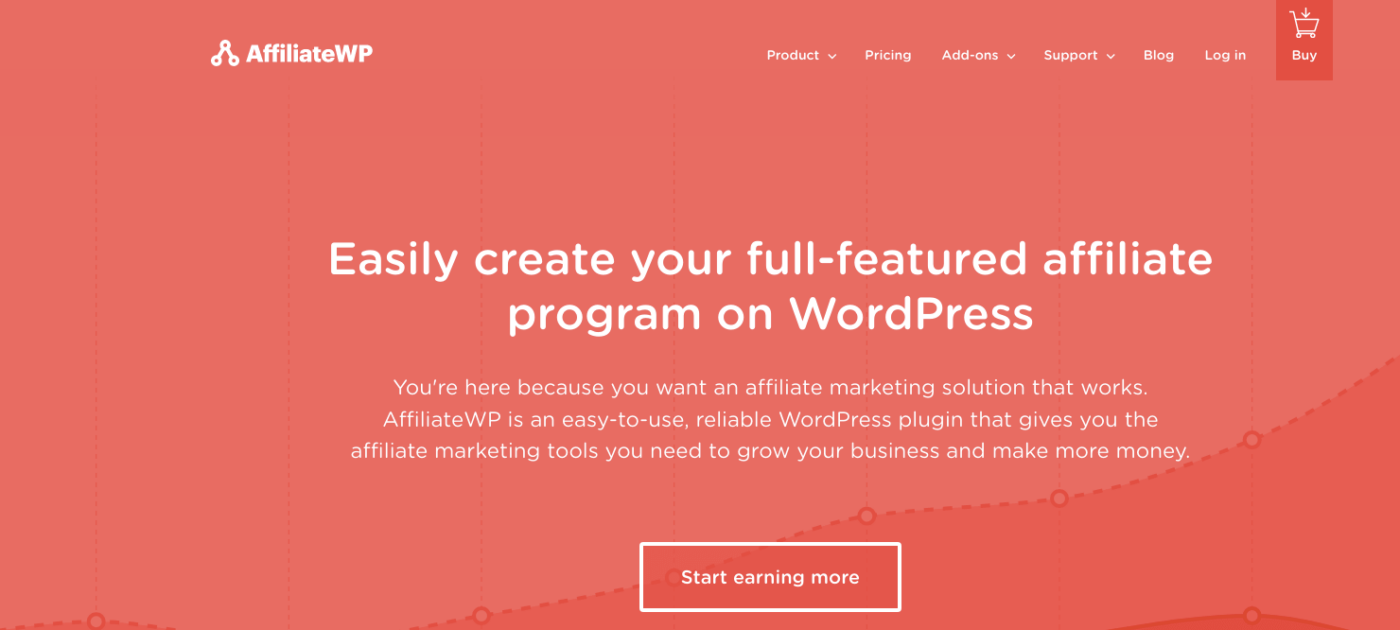 AffiliateWP is a WordPress plugin that allows you to create an affiliate program for your products and services. It's easy to use, highly reliable, and requires zero coding to set up. And if you're using WooCommerce to sell subscription software, AffiliateWP is the best way to grow your affiliate revenue.
The AffiliateWP plugin can help you manage and grow a community of affiliates for your product using a simple, easy-to-use dashboard. The best part is that you can do it directly from your WordPress dashboard.
AffiliateWP has a whole host of great features including:
Affiliate Tracking and Management
Real-Time Reporting
User-friendly Affiliate Onboarding
Automated Affiliate Payments
Customizable Email Notifications
Integrations with Popular Plugins and Services
One-Click Affiliate Data Import/Export
Free and Pro Addons
It's super easy to use AffiliateWP and that's what separates the plugin from its alternatives. Get started right now and start growing your affiliate network. If you're not 100% convinced, you can check out our review of AffiliateWP first.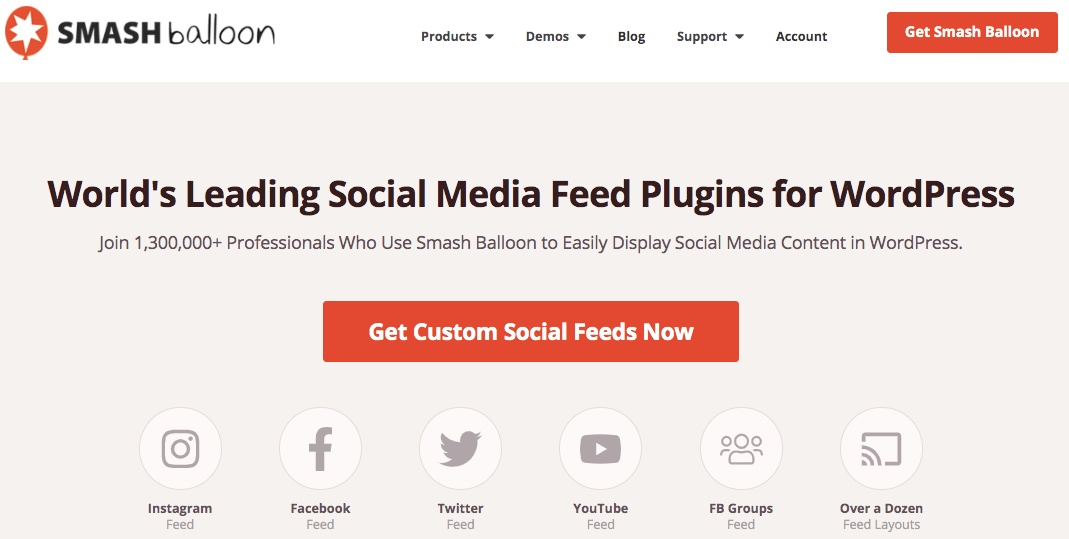 Smash Balloon is a simple WordPress plugin that allows you to display your social media feeds on your site without using any code at all. Displaying your social feeds on your site is a great way to convert your web traffic into social media followers and keep them engaged for a long time.
The best part about Smash Balloon is that there's zero coding involved. All you have to do is install the plugin and then connect your social media pages to your site.
You can use Smash Balloon to:
Use your hashtag feeds on your site as social proof
Dsiplay interactive Twitter feeds to boost website engagement
Embed your YouTube videos on your site to grow your YouTube subscribers
Add authentic Facebook Business Page reviews to your site to increase conversions
And lots more!
Check out our review of Smash Balloon or just get started.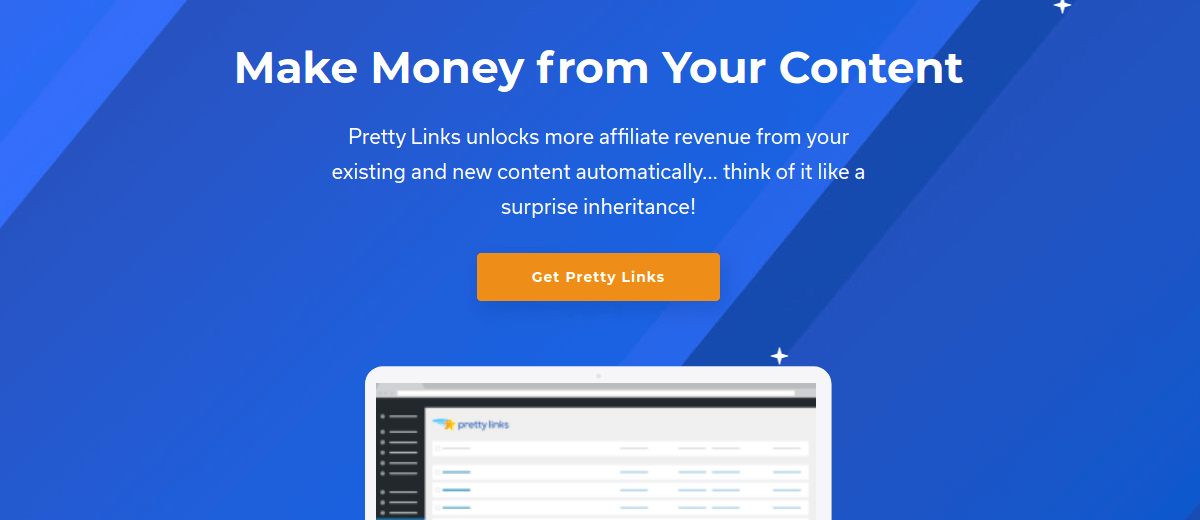 Pretty Links Pro is epic for affiliate marketers. And just because you're selling a product of your own doesn't mean that you can't make affiliate revenue as well. In fact, if you find complimentary products that you're not interested in making and selling on your own, affiliate programs are perfect for you. You make a lot of extra revenue for shouting out products that you would anyway.
Using a plugin like Pretty Links Pro, you can create instant short affiliate links that carry your brand and look… pretty!
It is the perfect tool for affiliate marketers, podcasters, business owners, and others who want to easily create short URLs in WordPress. With Pretty Links Pro, you can:
Create pretty links that make readers want to click on affiliate links
Shorten, cloak, track, and share your links easily
Group, sort, search, and track clicks for your links
Instantly set permanent and temporary redirects for all affiliate links
Automatically add affiliate links to specific keywords wherever they appear
And much more! Of course, Pretty Links has a free version. But if you're serious about making money with affiliate marketing, we recommend getting the paid version.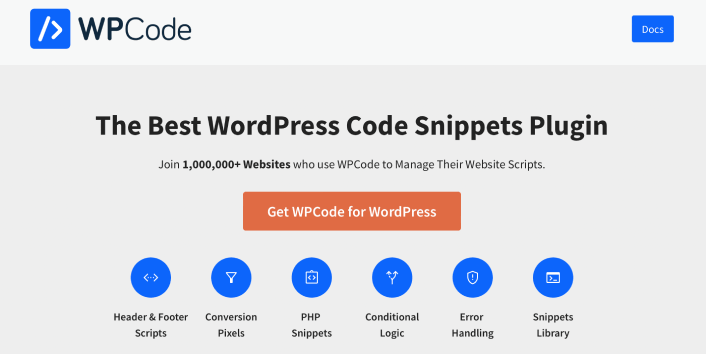 WPCode is a fully free WordPress plugin that allows you to insert code snippets on your site without any coding knowledge. It's super useful for eCommerce WordPress sites as well because you'll likely have to insert a lot more code snippets in a WooCommerce site.
If you've ever managed a WordPress site before, you'll know how incredibly useful this plugin is. You can use the plugin for:
Google Search Console verification
Google Analytics tracking
Custom CSS code
Adding push notifications
Insert Facebook tracking pixel
And any code snippet you can think of inserting into your website's header and footer.
LiveChat is a live chat tool for conversational marketing and sales. If you're selling products online or collecting leads for an agency, we highly recommend using their WooCommerce plugin.
Having a live chatbox on your site can be really effective tool for website engagement. Using LiveChat, you can easily set up chatbox triggers for:
Customers spending a lot of time on the product or checkout page
Customers adding products to their cart, but unable to pay for it
Customers with high cart value to offer a coupon or discount
These are all automated triggers that can help you convert a lot of potential customers very quickly. The chatbox will ping your customers when any of the automated triggers get fired. And from there, you can have a Customer Service rep take over and help the customers make a purchase decision.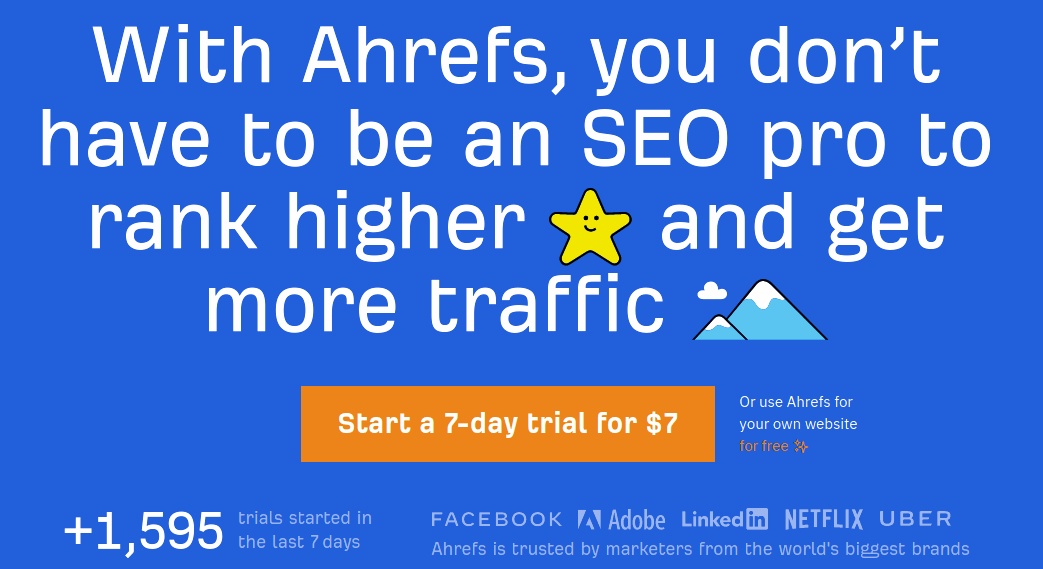 Ahrefs is hands down one of the best SEO tools we have ever come across for content auditing, SEO research, and competitor analysis. While Ahrefs is more a standalone tool, you can use their WordPress plugin as well.
Using Ahrefs, you can:
Audit the content on your site
Find new keywords to target
Track keywords ranks from a dashboard
Study what your customers are searching for online
Analyze the top-performing content in your niche
And it's all from an easy-to-use dashboard. If you're new to SEO, you can check out their training material as well. But if you're already somewhat experienced in SEO, you can use Ahrefs to get explosive growth if you follow a good SEO process.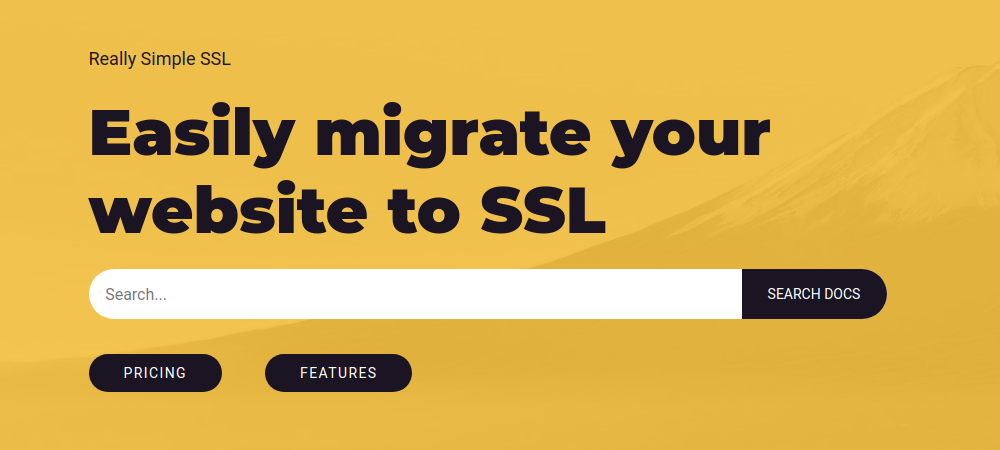 Really Simple SSL is the best eCommerce WordPress plugin to resolve SSL issues on your site. If you're not familiar with SSL certificates, check out this article to learn what an SSL certificate is and why you should install one.
When you install an SSL certificate on your site for the first time, you're going to face a lot of security issues such as:
Mixed content issues
Unsecure cookies
Missing security headers
And other security vulnerabilities. Most of these problems are super technical and if you're not a tech person, you're going to struggle a lot with fixing these issues manually.
That's why we recommend using a plugin like Really Simple SSL to remove any advanced SSL security flaws with a single click. If you're not sure if you want to invest in the paid version, you can get started for free as well.

Sucuri is one of the leading WordPress security plugins. And security is a real concern with WordPress. If you're selling products online, the chances of your site being targeted by hackers are really high.
But weren't we just talking about security in our last recommendation?
Yes, Really Simple SSL helps you protect your site against certain types of security vulnerabilities. But it doesn't fully secure your website against all known hacks.
Real talk: No security plugin in the world makes your site completely unhackable (no matter what they claim). But you can use a plugin like Sucuri to make it way too difficult for a script kiddie to hack into your site.
Sucuri makes it simple to protect your website against hackers, bots, and malware. Once you install the WordPress plugin, you get:
A firewall to protect your website against malicious bots
A malware scanner to detect any malware on your site
An on-request cleanup service
Of course, Sucuri comes with a free plugin. But honestly, if you're at the stage where you need a WordPress security plugin, you might as well buy the premium version. The free version is just too limited to offer any real security.

WP Simple Pay is the best eCommerce WordPress plugin to accept online payments simple on your site. If you're selling products on your site, you'll need to set up a payment gateway to accept payments. Stripe is the most popular payment service for websites and chances are that you're already using Stripe to process payments on your site.
WP Simple Pay gives you added functionality and payment options on your site by simply using your existing Stripe account. You can even build really pretty payment forms using the plugin. It's really easy to accept credit card payments. But even more epic is that you can accept alternate forms of payment such as:
ACH Debit
Google Pay
iDEAL
SEPA Direct Debit
Alipay
Bancontact
giropay
Przelewy24
The best part is that there's zero coding involved.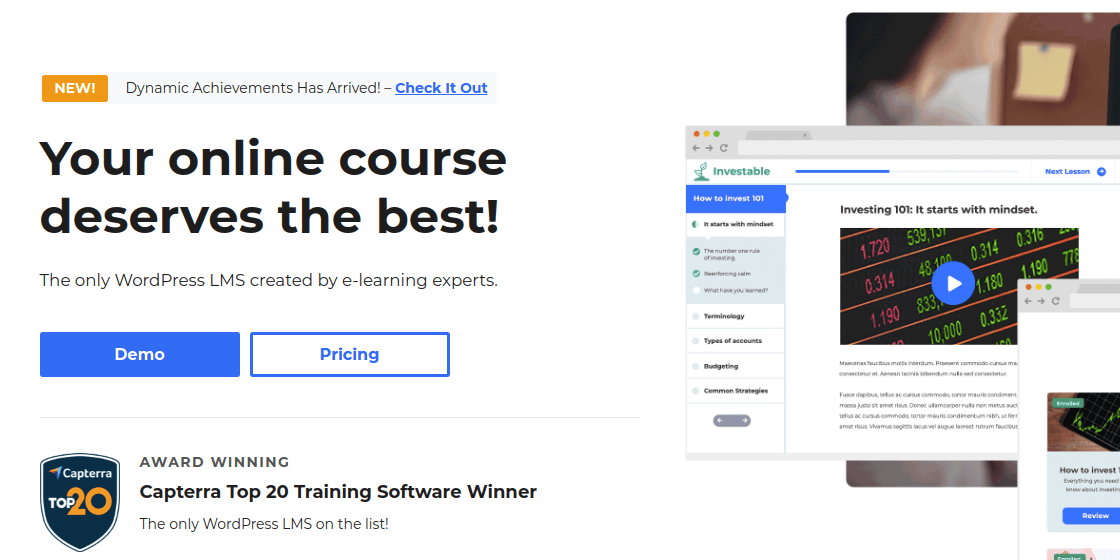 LearnDash is the best Learning Management System plugin for WordPress. You can use LearnDash to create and sell digital courses with no extra coding. Of course, it's not meant for everyone. But if you're considering the idea of selling courses online, you may as well use the very best WordPress plugins to launch your courses.
With LearnDash, you get:
A drag and drop course builder
Advanced quizzing options
Certificates, badges, and rewards
Dynamic options for course progression
Dedicated course marketing tools
And LearnDash supports any theme, any page builder, and any media format you could ever need for your courses.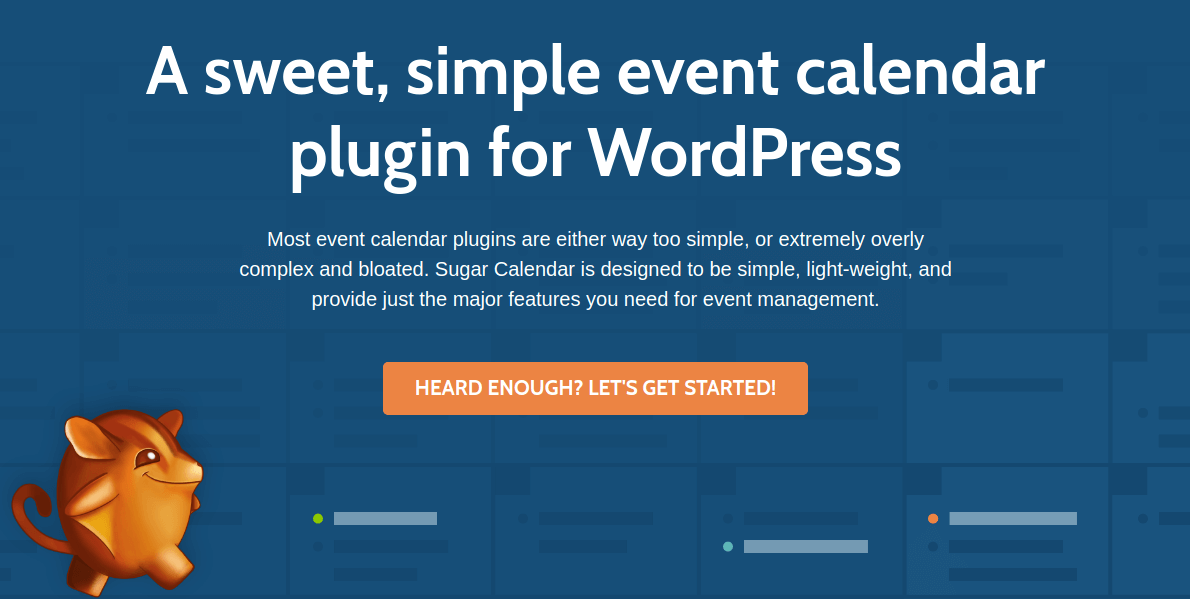 Sugar Calendar is the best WordPress event calendar plugin. Using the plugin, you can create and manage a frontend calendar on your site. It's super useful for selling tickets to events.
The best part is that it integrates easily with any calendar service you can think of including iCal and Google Calendar.
You can use the plugin to book tickets and time slots for:
Webinars
Open mics
Screenings
Product Demos
Parties
Exhibitions
Fundraisers
Watch Parties
Concerts
And more! You can get started with the free version or buy the paid version for powerful add-ons and extra features.
What to do After Installing the Best eCommerce WordPress Plugins
That's all for this one, folks!
All the plugins in our list have free versions. Just head over to the WordPress repository and try them out. The epic part about the best WordPress plugins is that you can get started for free and then eventually upgrade when you get enough momentum.
What did you think of the plugins? How many of these were you already using? Let us know in the comments below.
Our personal recommendation is to start with push notifications. Push notifications are really great tools to increase your engagement and conversions as well. We recommend using PushEngage to send your push notifications.
Not convinced? Check out these amazing resources:
PushEngage is the #1 push notification software in the world. So, if you haven't already, get started with PushEngage today!