We're doing a SeedProd review today. Is SeedProd really the #1 landing page builder for WordPress? There are so many epic options to build landing pages for WordPress. And many of them are really popular. But Seedprod has over 1 million users as well!
So, is SeedProd the best landing page builder or not? What kind of features do you get? How easy is it to create a landing page in SeedProd?
In this detailed SeedProd review, we're going to dive into some of the most powerful features and what makes SeedProd so great.
Sounds good? Let's dive in.
A Quick Overview of SeedProd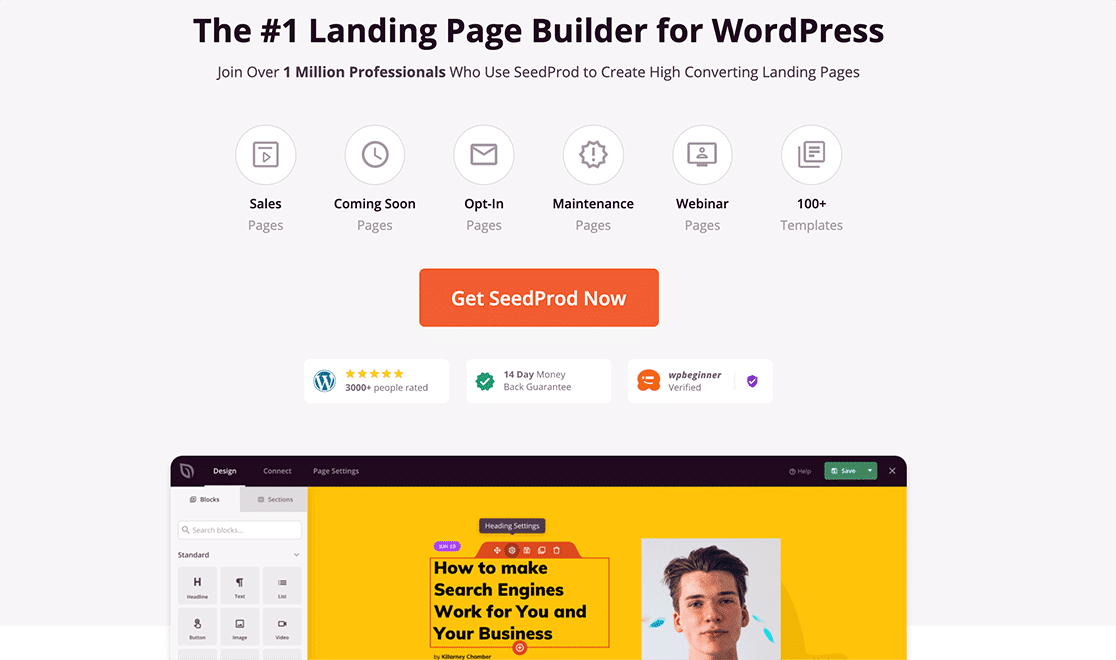 SeedProd is a visual landing page builder that helps you create landing pages that convert really well. We'll get into more details about the features in the next segment. But for now, download SeedProd and install the plugin on your WordPress site.
Once that's done, you get a drag-and-drop landing page builder that's packed with options to build eCommerce pages and general landing pages.
Let's pause here for a quick second.
SeedProd isn't a website builder or a webpage builder. It's a landing page builder. A web page builder relies heavily on your theme, and it simply takes on the default styles of your theme. And consequently, it's really difficult to modify your headers, footers, and page elements beyond a certain point using a website builder.
A landing page builder is completely independent of the theme.
Want to remove your navigation menu so that your website visitors are focused entirely on one thing? No problem!
Need a custom footer to help your visitors convert more easily? Just one click, and it's done.
Maybe you'd like to create different landing pages where different sources of traffic have custom call-to-action (CTA) buttons?
In all these instances, you need a landing page builder and not a website builder. If you need a landing page that converts and you don't have a huge development team, SeedProd is a really great investment.
Let's take a closer look at why we think so.
SeedProd Review: What Can the Plugin Do for Your Brand?
Loads of business owners think that investing in a WordPress page builder is a waste of money. Technically, you can create a landing page on WordPress without any page builders. The only problem is… the WordPress defaults aren't equipped or optimized to generate leads for your business.
This is even more true for eCommerce sites. Customizing the default WooCommerce pages can be a complete nightmare unless you've got a development team that knows their way around PHP, HTML, CSS, and Javascript.
And if you're starting a new business, chances are that you'll have to wear a LOT of hats. Do you really want to add WordPress website development and maintenance to your list of responsibilities? Do you even have the time?
If that question made you shudder a little bit, let's take a look at the features that SeedProd offers.
Fair Warning: SeedProd has a bunch of features. We're not going to list out ALL of them. Instead, we'll talk about the features that we found most useful.
But if you asked us to give you three reasons to buy SeedProd now, those reasons aren't really product features as much as they are benefits:
SeedProd works with any WordPress theme. There's no messy transition, and if you switch themes, you won't break your landing pages completely.
The designs are mobile-friendly, and you actually get a mobile preview of your page. Seeing as most people use the internet from mobile devices rather than PCs, this is pretty important.
SeedProd prides itself on being lightning fast and lightweight. So, it's not going to make your site load slow. And it most definitely won't consume a ton of your server resources.
These are our top reasons to invest in SeedProd. You can use it build the best landing page ever for your business. Now, why don't you check out its amazing features and let us know what your favorite features are?
#1. Drag and Drop Visual Page Builder
SeedProd's drag-and-drop page builder is exactly what it sounds like. There are pre-built design modules that you can just drag, drop, customize, and publish.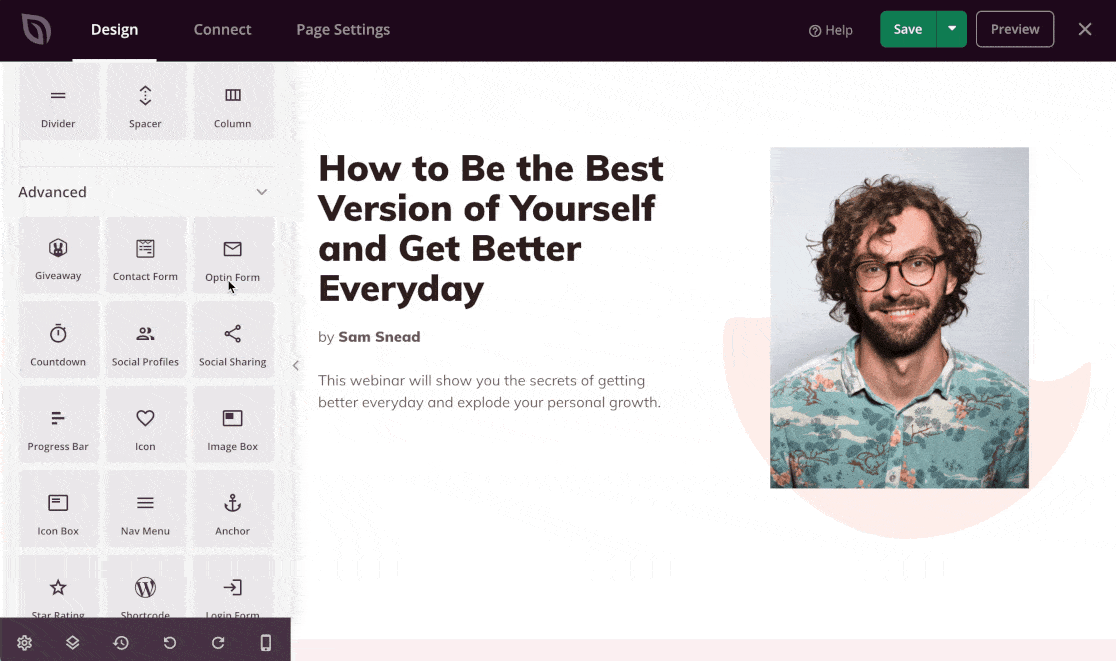 There's no coding involved, and even a complete beginner can use SeedProd to build truly professional landing pages.
The best part is that the drag and drop editor is completely compatible with all kinds of theme builders such as:
And more!
#2. Landing Page Templates
So what if you're not a designer?
That should stop you from building your business and realizing your dreams. SeedProd comes with hundreds of pre-made templates that you can simply import with one click and customize to fit your brand.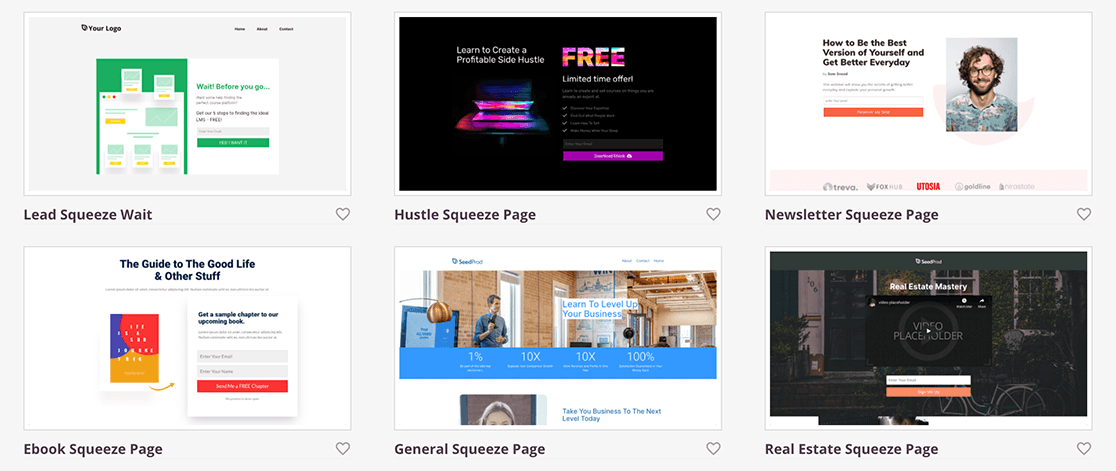 You can use these templates to make high-converting registration landing page for a WordPress website in any niche or even other goals, including:
Sales pages
Squeeze pages
Login pages for WordPress users
Webinar pages
Video pages
Each layout is completely customizable. So, you can add any module you want, delete any module you don't like, and customize every inch of the design in a matter of minutes!
#3. Easy Customization Options
Speaking of customizing your design, just take a look at how easy it is to create a stunning landing page: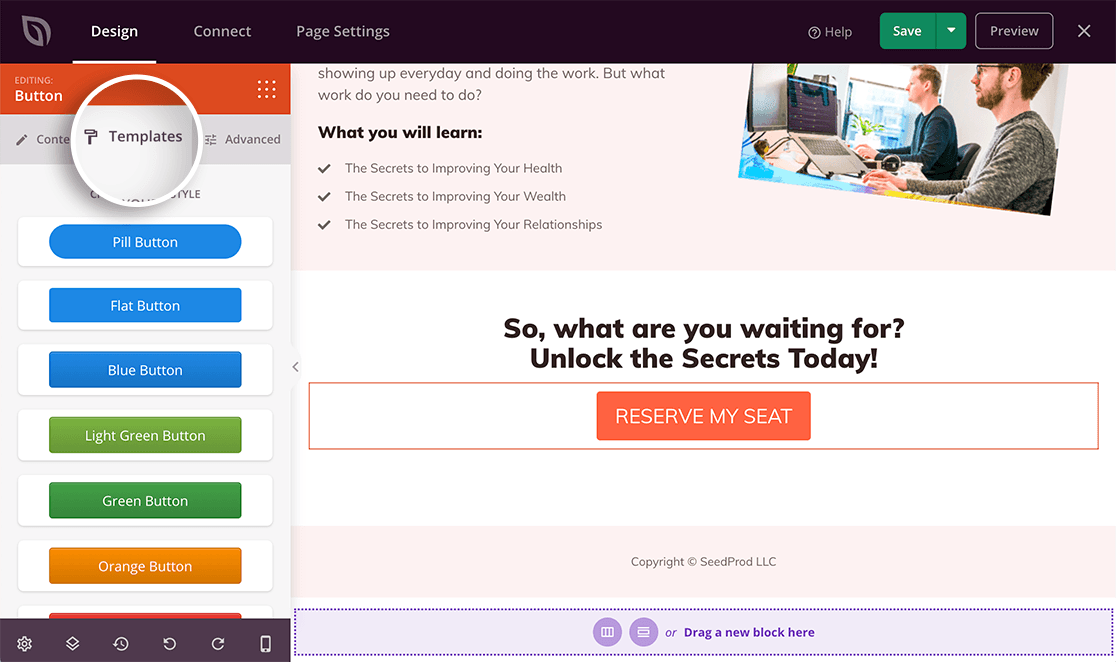 It's all point and click on a visual editor of a drag-and-drop builder. Again, you don't need any coding knowledge!
You can instantly add:
Google Analytics to your landing page
Zapier zaps to automate lead generation
Contact forms and optin forms using WPForms
MailChimp automation to collect an email list
Countdown timers to increase conversions
Exit-intent popups to recover visitors who are trying to leave
Giveaway to engage your web traffic
Every page is made of 'blocks' and you can use different designs for each block instantly. You can add even advanced elements such as progress bars, social profile buttons, and even popups and buttons to collect push notification subscribers. It's extremely user-friendly.
And if you're running an online store, you can add eCommerce blocks to the landing page as well.
#4. Fonts and Color Palettes
To make it even easier to launch a site, you can actually select a set of pre-built visual guidelines for your page such as fonts and color palettes: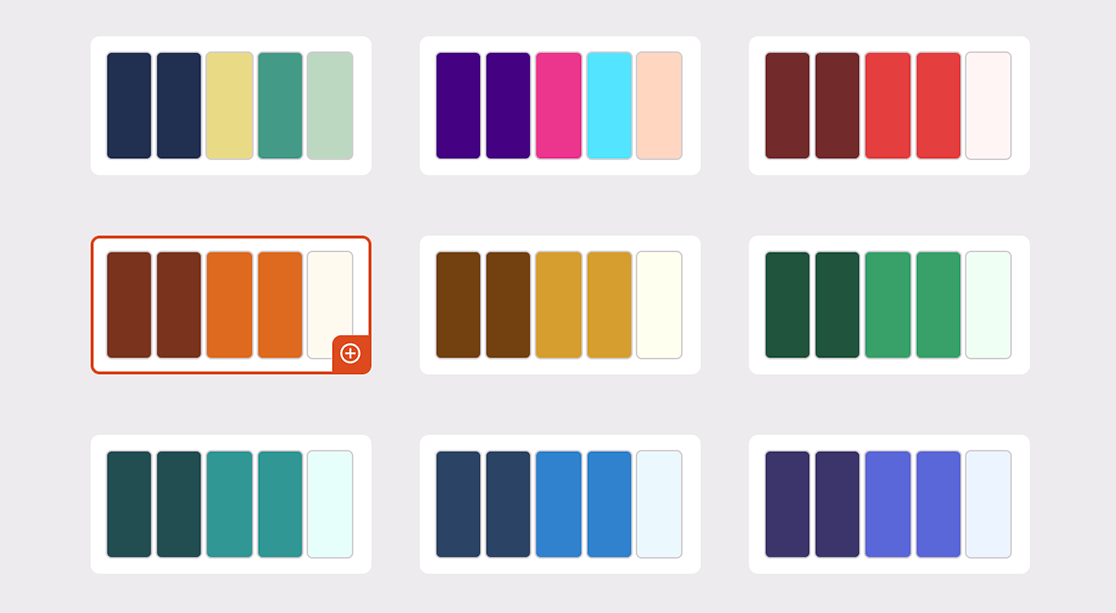 No more second-guessing your font pairings and color palettes as long as you have this powerful page builder plugin.
#5. Advanced Page Blocks
So, now that you have a page built out to showcase your product, how do you optimize it for conversions? The point is to create high-converting landing pages, right?
And how do you run offers and promotions to generate more revenue?
It's super easy: You use the Advanced Page Blocks.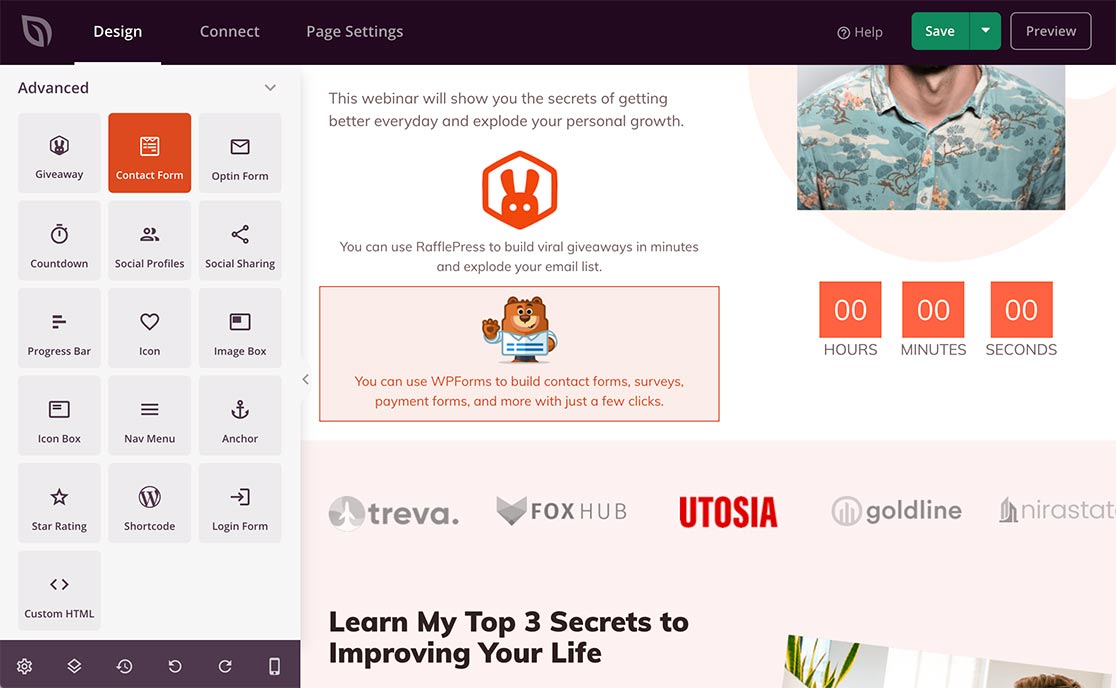 For instance, you can add:
WordPress login forms
Countdown timers
Star ratings
Call-to-action buttons
Progress bars
And more!
Some landing pages need more functionality than what's included in a template. For instance, you might want to add an FAQs section at the bottom of your page. With the default WordPress theme settings, you'd have to build these out manually.
With Seedprod, these are pre-built page sections: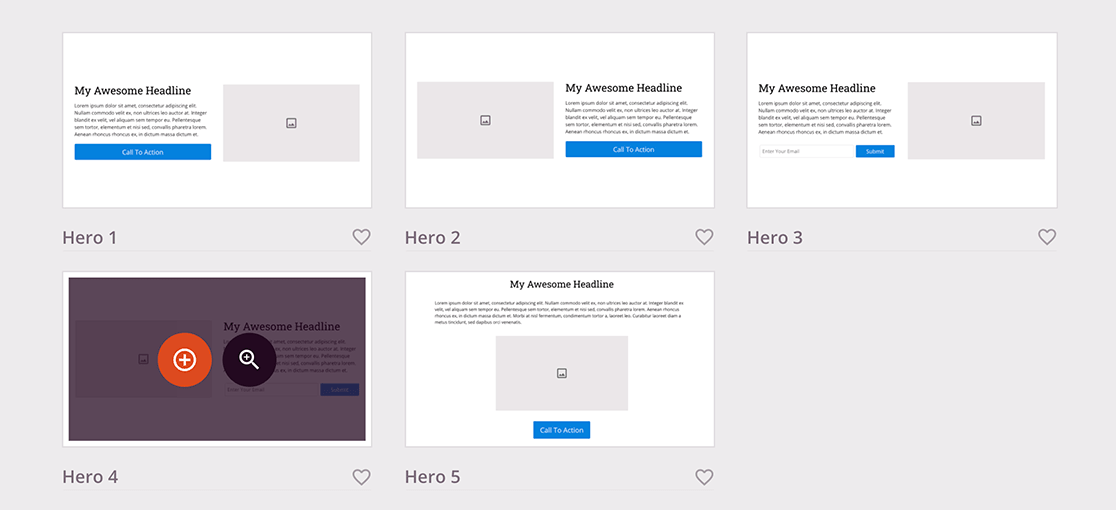 All it takes is a drag and a drop.
#6. WooCommerce Blocks
If you're running an online business, you're also likely using WooCommerce to create eCommerce conversion funnels.
But customizing checkout pages and product pages in Woocommerce can be extremely difficult, even with other visual builders. More often than not, you'll have to use a visual builder and then another plugin to customize your WooCommerce pages.
With SeedProd, you get WooCommerce blocks to customize your entire funnel for higher conversions: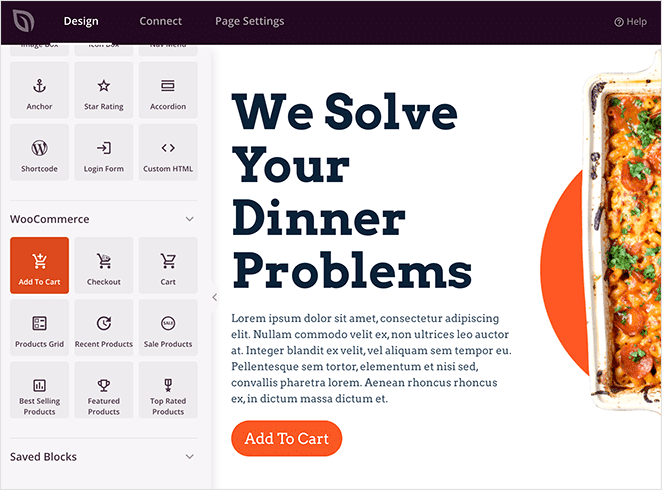 You can use WooCommerce blocks like:
Add to cart button
Checkout
Cart
Products grid
Recent products
Sale products
Best selling products
Featured products
Top rated products
#7. One-Click Page Modes
If there's something that you don't like about your landing page or if there are things to tweak, you can simply use page modes in the WordPress plugin to restrict your content.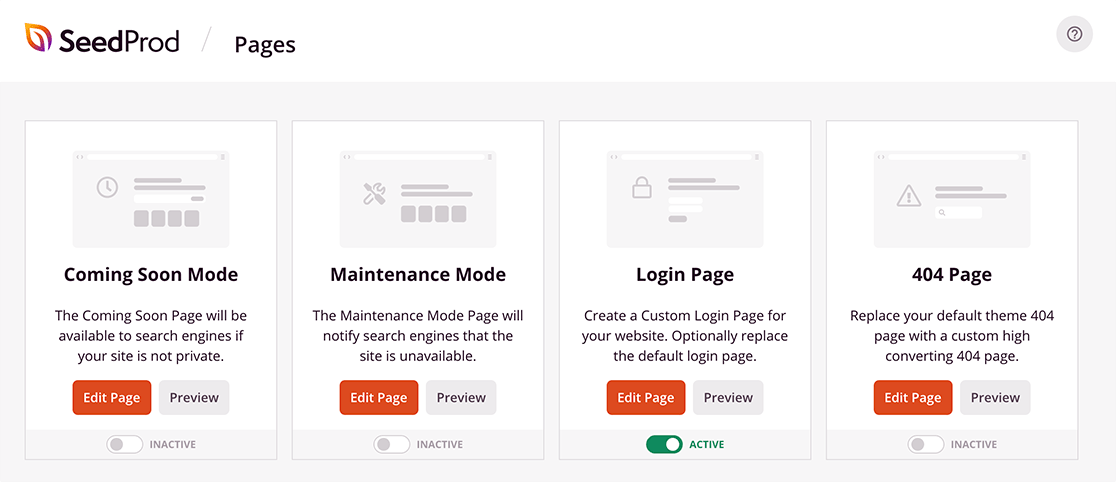 This includes:
Coming soon pages
Maintenance mode
404 pages
Login Page mode
You can even create custom access controls to fine-tune your content restriction in the drag and drop builder.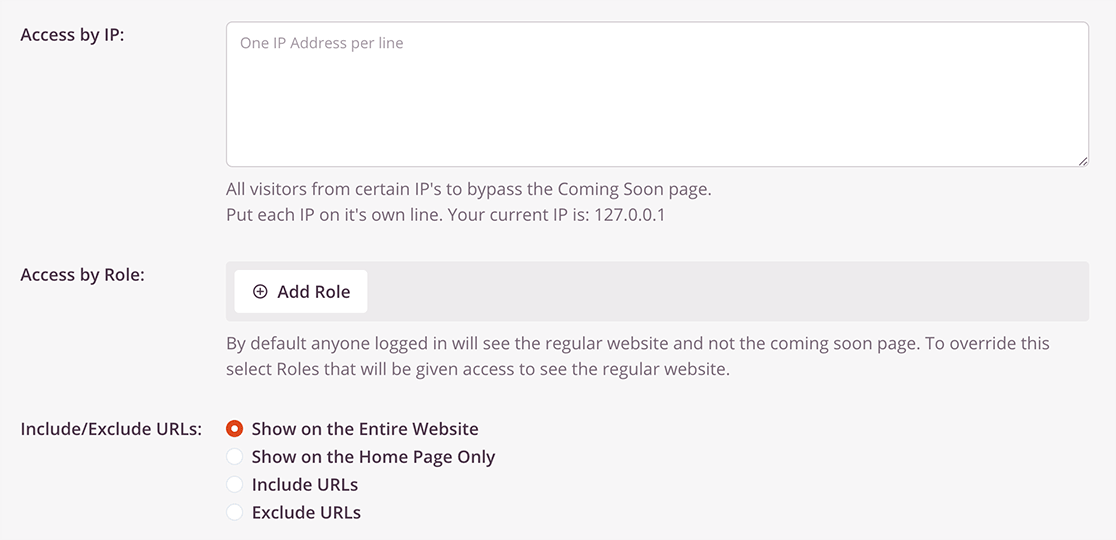 Let's say you put a page into Coming Soon Mode. But then, you or someone on your team needs to access it.
What do you do? You can create a custom bypass link just for yourself. You can even filter access by IP address and administrative roles.
#8. Email Marketing Integrations
If you're not directly selling a product, you're probably going to want to optimize your landing page for lead generation.
SeedProd integrates with all the popular email marketing services to make managing your list easier.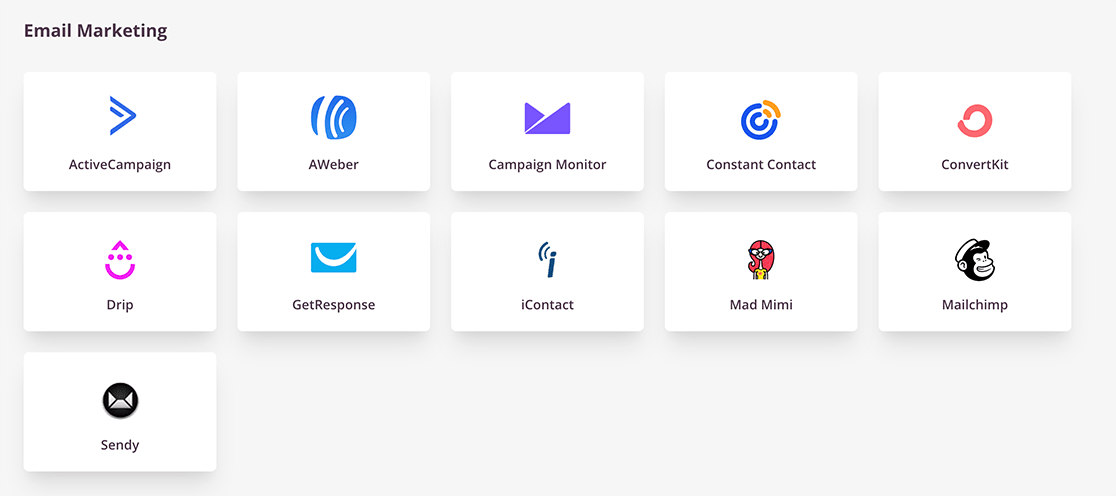 And if you don't have an email service provider, you can also track every subscriber from SeedProd. Just head over to Subscriber Overview to see your new subscribers.
Pro-Tip: We don't recommend relying entirely on SeedProd for email marketing because that's not its core purpose or focus. Instead, we recommend using Drip as your email service provider and OptinMonster to set up your lead magnets.
#9. Domain Mapping
This is a somewhat advanced feature, but it's good to have in the landing page plugin.
You can create your landing page on a custom domain of your choosing. It doesn't have to be the domain that the rest of your site is on. And it's really easy to do it.

Just build your page on SeedProd, enter the domain you want to point it to, and hit publish. You don't need to install WordPress every time you do this. All you need is SeedProd.
#10. Landing Page SEO Settings
Click the Page Settings tab at the top of your screen.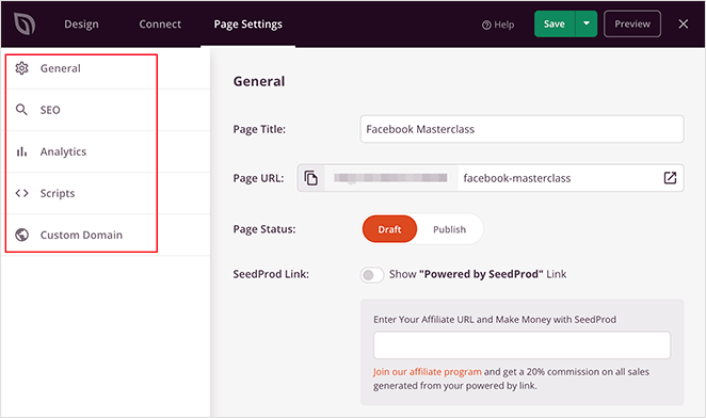 Here, you can add an SEO plugin and a Google Analytics plugin to your landing page. You can even set up custom tracking codes such as a Facebook Pixel or a Pinterest pixel to track ad performance.
We recommend using All in One SEO as your WordPress SEO plugin.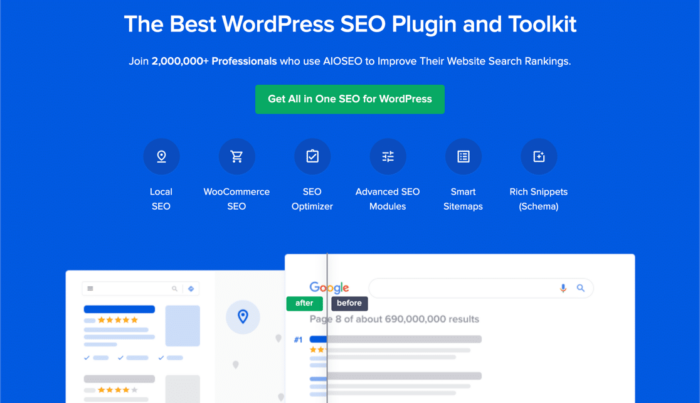 If you use AIOSEO along with SeedProd, you can simply go to Page Settings » SEO » Schema and set up the FAQ schema on the page:

Set the Schema Type to Web Page and the Web Page Type to FAQ Page. Then, simply paste your FAQs into the FAQ fields below.
Using Schema markup is a good way to get more clicks from search engine results. For example, you can use star ratings from customers increase your click-through rates.
#11. Social Media Blocks
You can use social media blocks to embed your social feed on your SeedProd landing page. Simply drag and drop the right modules from the sidebar. You can easily add social media sharing options on your landing page. Or, you can embed a Twitter feed, insert a YouTube video, or even add your Instagram feed.
All the feeds you add will get updated in real-time. And you can customize how they look and feel pretty easily.
SeedProd Review: Pricing
Seeing as SeedProd is built to help small businesses grow, it's remarkably affordable.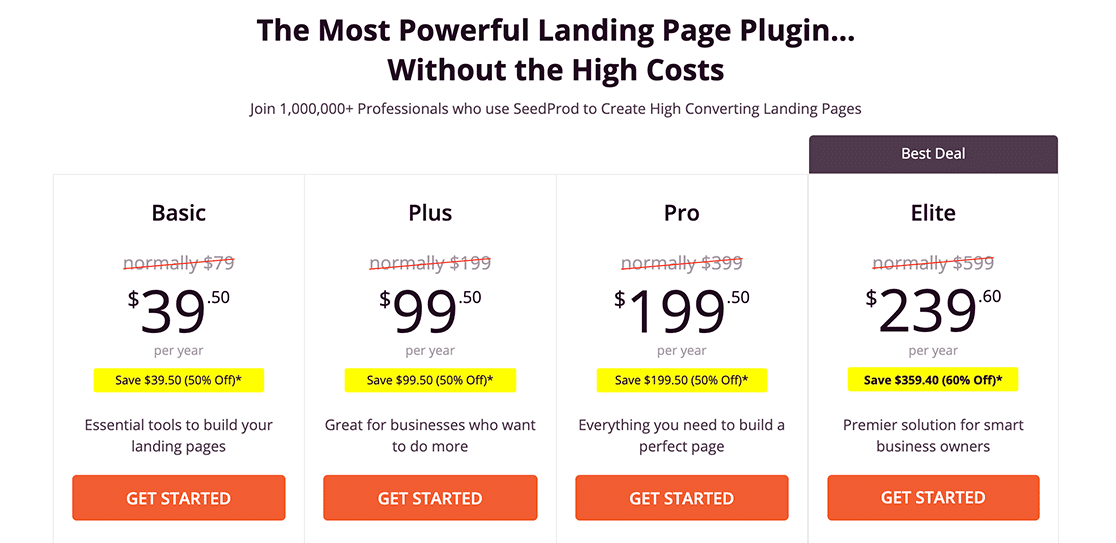 SeedProd's pricing plans are:
Basic – $39.50 per year
Plus – $99.50 per year
Pro – $100.50 per year
Elite – $239.60 per year
And if you're not 100% sure about buying the pro version, you can try out SeedProd using the free version.
Is SeedProd the Best Landing Page Builder?
So, is SeedProd the best WordPress landing page builder?
Our verdict: Yes. SeedProd is without a doubt the best WordPress landing page builder in the market. If you're looking for ways to grow or scale your business, you should definitely invest in SeedProd Pro. For the money, you get a lot of features that can help you launch a professional, conversion-optimized site very quickly.
And then, you can focus on actually growing your business instead of getting slowed down by technical issues.
Speaking of growing your business, have you tried using push notifications yet? Push notifications can help you grow your traffic, engagement, and sales on autopilot. If you haven't already, we recommend getting started with PushEngage. Check out these tutorials to get started quickly:
PushEngage is the #1 push notification software in the world. So, your campaigns will be in safe hands.