Are push notifications effective?
We know that you'd like a straight yes or no answer. Especially if you've invested in push notification software and it's taking too long to help you grow your business.
The truth is…
It really depends. Just sending out a push notification doesn't guarantee your success. There's a lot that goes into crafting a good push notification campaign.
If you're seeing some slow growth in your business with push notifications, you should check out this article on best practices for push notifications.
But here's the thing: If you do follow the best practices to the letter, you WILL get results.
And in this article, we're going to take a look at some statistics that back up this claim. We're also going to give you 3 quick tips to get started just in case the comprehensive guide feels too overwhelming.
Ready? Let's dive right in.
7 Important Stats to Remember About Push Notifications
The beauty of push notification campaigns is that you can find statistical evidence of how well they're performing. And why they're performing so well.
Let's take a look at 7 important stats that show you why push notifications are effective.
Push notifications can be received by 85% of all internet users
CTR of targeted campaigns is 1.5-2 times higher than for standard ones
Sending push notifications in subscriber timezones can get 40% higher click rates
Emojis improve push notification reaction rates by 20%
Rich push notifications get 25% more engagement
Personalized targeting can increase your reaction rates by 3-4x
Campaigns with a CTA get 40-60% better results
Let's take a quick second to understand what all of this means.
The bottom line with all these statistics is that push notifications can get you a huge reach for your business. If you take a look at the open rates and click-through rates for email marketing, you'll see that push notification campaigns perform way better.
The catch is…
You have to optimize each part of your push notifications. The flip side of push notifications is overdoing it. If you keep sending too many notifications that aren't helpful, you'll eventually kill your own growth.
And that's where our top 3 tips come in. Let's keep reading.
Our source for the statistics: BusinessofApps
3 Tips to Get More Traffic And Sales from Your Push Notifications
By now, you know that push notifications DO work.
And it's time to roll up your sleeves and get down to actionable things you can do to improve your campaigns.
So, let's start with a list of quick tips you can start using right now. For a more comprehensive guide, check out our article on push notification best practices.
Segment Users When They Subscribe
As you saw in our statistics, targeted push notifications will always outperform a generic broadcast.
Our advice? Start segmenting your subscribers from the moment they subscribe to your push notifications. You can automate the entire process and it makes your campaigns way more personalized and effective.
If you're new to segmentation, you should check out this article on how to automatically segment your users. Of course, there are many ways to segment your subscribers. But the simplest way is to do it using your opt-in: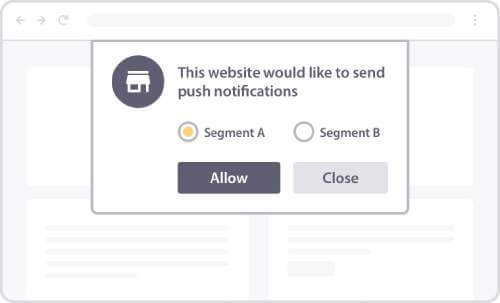 But as we said, there are other ways to segment your subscribers. So, you should also spend a little time understanding advanced segmentation rules. This will help you segment your lists if you've already started collecting subscribers without using auto-segmentation.
Cap the Number of Push Notifications You Send
As we said, you need to make sure that you're not bombarding your subscribers with unnecessary notifications.
In our article on how often to send push notifications, we talked about how you should always cap the number of push notifications you send out.

The short version is that you should ideally send only one notification a day and seven notifications in a week. Go ahead and give that article a read.
Fair warning: it's not just about how many notifications you send, but also when you send those notifications. If you're not certain what this means, you should check out our article on the best time to send push notifications.
Also, you're probably going to send out notifications for holiday sales like any other business. In that scenario, you also need to know how to schedule your push notifications. This will help you beat the last-minute pressure of creating the perfect campaign.
Use Rich Push Notifications to Get More Engagement
Rich notifications are any push notifications that use rich media to make your notifications more engaging and relatable to your audience.
This includes everything from images to GIFs, videos to emojis.
Here's a really nice example:

But if you need a little more inspiration, you should read our article on what are rich push notifications and why should you care? The examples in that article are epic.
If you paid attention to our stats, you'll know that using rich notifications is always a great idea. The most brilliant part is that you don't really need to do a lot of high-end custom designing to send rich push notifications that work.
In fact, you can start really small and simple.
Try using emojis for your push notifications and take a look at your performance metrics.
Wrapping Up
That's all for this one, folks.
Thanks for reading till here. As a special thank you, here's a bonus tip for you…
Before you dive into optimizing your push notifications, be sure to have very specific push notification performance metrics in mind. Otherwise, it can be really frustrating to try and find insights from an avalanche of raw data.
Also, we highly recommend using PushEngage for your push notification campaigns.
PushEngage is the #1 push notification software in the world. So, if you haven't already, get started with PushEngage today!