Did you feel a sudden jolt of frustration after seeing your online store's sales figures?
Are you sick and tired of seeing abysmal sales conversion rates?

I get it.
A lot of e-commerce store owners are struggling with the same thing. That's to be expected, considering how cutthroat the e-commerce space has become.
To succeed in growing your online business, not only would you need a stunning website and a product that adds massive value, but you also need the right marketing strategies in place to bring traffic to your site.
If your site and products are spot on, and the only thing that's holding you back from experiencing e-commerce nirvana is your low-converting e-commerce marketing strategies, then I'm glad you're here.
In this guide, we'll cover seven tried and tested marketing strategies that can shoot your online sales through the roof.
Add push notifications to your website
Web push notifications are alerts users receive on desktop or mobile anytime browsers are open.
As friendly reminders, they glide in at the bottom or top right corner of a desktop screen or appear on mobile devices as default to the smartphone.
Push notifications drive e-commerce sales by inviting shoppers to buy their favorite items, complete their checkout, receive discounts, get free shipping on their next purchase, and more.
These alerts also update your customers of new product releases, newsletter content, upcoming sales and limited-time offers, and other sales and marketing announcements.
Here's an example by Khara Kapas:

Upon landing on its website, Khara Kapas invites its shoppers to stay up-to-date with its new products and promos by clicking "Allow."
When adding web push notifications, send them at the right time, provide value, allow opt-in, and avoid overdoing it, so your customers keep returning to your online store.
Include high-resolution product visuals
High-resolution visuals are catchy and visually appealing. It entices your customers to purchase since your product bedazzles them, and it's easier for them to imagine owning (and using) it.
The visuals emphasize the quality, material, and features of your products so they can inspect them better and decide if it's worth buying.
Rolex did a great job of showcasing its products by using high-resolution product images.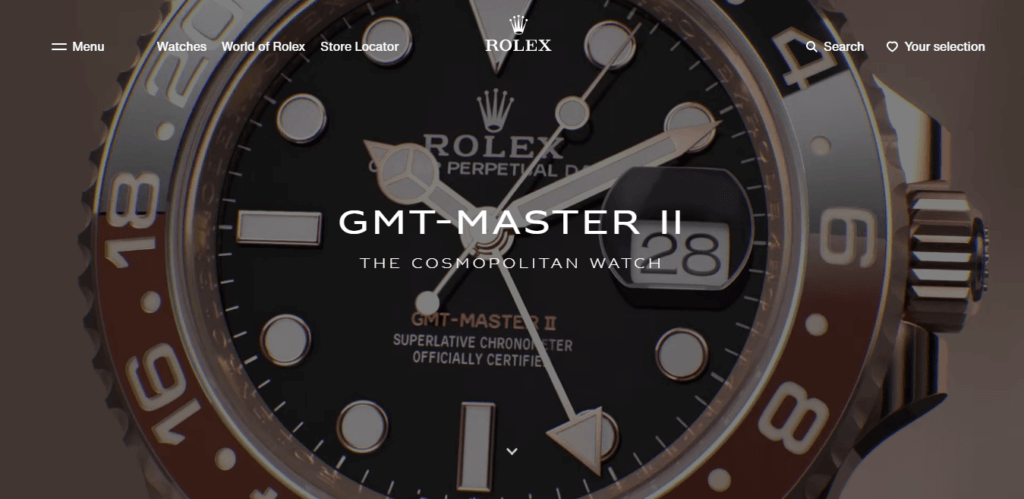 On its homepage, Rolex stuns you with a video of its GMT-Master II watch model from different angles and up close, highlighting its texture, carvings, shape, and other aspects.
Rolex also exhibits captivating photos of its watches on its product pages: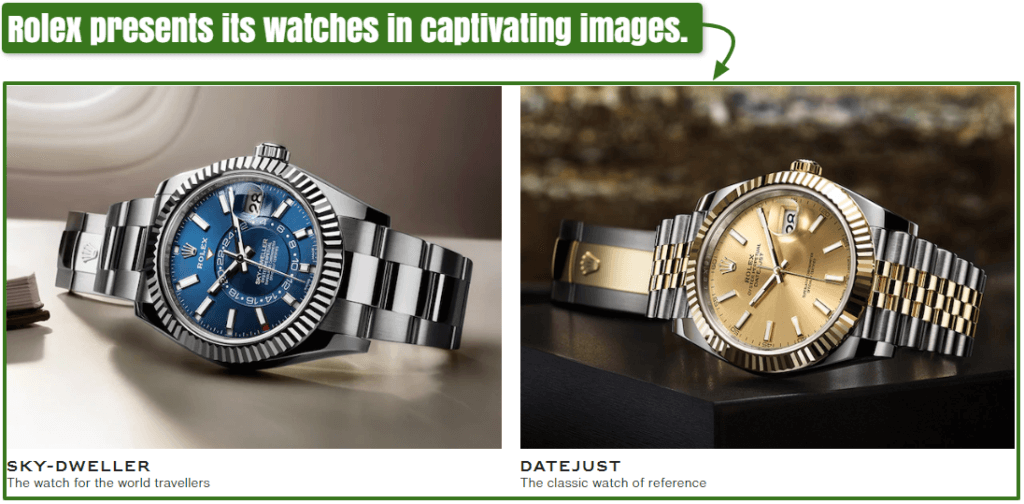 In rows of two, the thumbnails are large enough to grab your attention and allow you to click and explore an item in greater detail.
Like Rolex, capture the best lighting and angles for your products, emphasize their textures and material, and apply other product photography techniques.
Avoid publishing blurry, pixelated, and low-resolution images since they give an unprofessional, untrustworthy brand image and repel customers from patronizing your items.
Showcase trust badges.
Show your customers that you are safe to transact with by adding trust badges on your product pages.
Start by applying for certifications or installing appropriate apps. For instance, Shopify has reliable apps for online security, product reviews, and more. You can drive traffic to the Shopify site using web push.
Once you've earned your badges, place them on visible areas in your site, so your visitors easily spot them.
Here's how Tmbr did it: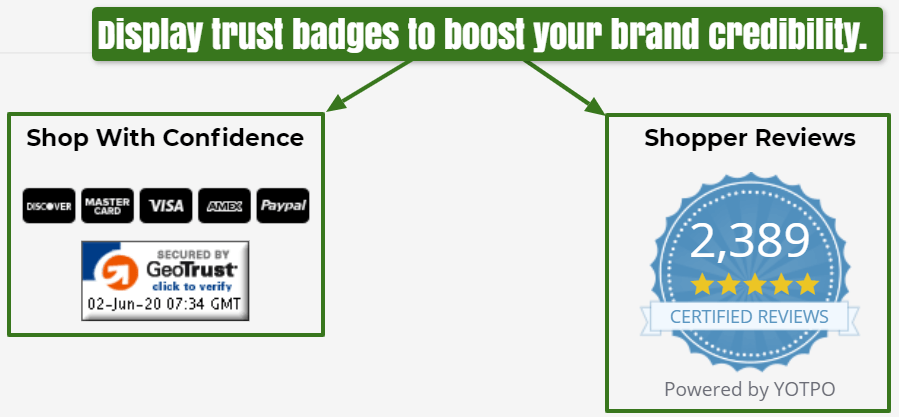 Tmbr's GeoTrust seal certifies its security for transactions on its website and the YOTPO badge for its number of verified customer reviews.
With these trust badges, you quickly gain your shoppers' approval and persuade them to sign up for your product demos, browse and buy your products, and more.
Offer free shipping
A survey by Walker Sands Communications revealed that, for 90 percent of shoppers, free product shipping lures them to add more items to their carts.
In contrast, another survey says that nearly 75 percent of customers abandon their carts if delivery charges are too expensive.
Before offering free shipping, plan for its feasibility. Do A/B testing, determine the minimum amount to qualify or if you should raise all product prices, and study your profitability.
Evaluate these aspects:
Current shipping expenses. Check out how much your carriers charge you and get your average shipping cost to see how much free shipping will cost you.
Profit from frequently bought items. Identifying this shows you how much you can earn when you spend for delivery.
Price-point higher than your present average order value. This can be the threshold amount or goal for customers to qualify for free shipping.
Free delivery on all orders. Examine this option if you have a high order value, but hold it if shipping is your main revenue source.
Prices of commonly purchased items. For individual items, set the threshold above their costs. Consider also upselling or creating combos at a discount.
Participating countries. Pick countries that give you loads of traffic but aren't enjoying your product availability yet. Assess if your threshold needs to be higher in that region.
Sales data from previous holidays. Review this data if free shipping is a holiday promo. If you're getting high seasonal volumes, you may not incur losses even for low order values.
Once you've established your free shipping system, promote your offer prominently on your website and social media.
Trigger altruism
Convince your shoppers to purchase by triggering their altruistic nature — their inner desire to help, participate in a cause, and contribute to a better world.
Do that by using eco-friendly products, allotting profits to charity groups, employing sustainable systems and materials, and lots more.
When inviting your customers to buy your product for a cause, mention the impact, such as "15% of our life coach certification program fees go to the XX Charity Center."
Conscious Step offers a perfect example.

Conscious Step sells socks, donates to various causes for every purchase, and displays the impact of every donation on its homepage, such as X trees planted, books given to children, etc.
Exhibit your top sellers
When you have new visitors, feature your top sellers and your best-loved products. If other shoppers had a great impression of these products, chances are your new visitors will feel the same way about them, too.
Here's an example from The Bearded Chap.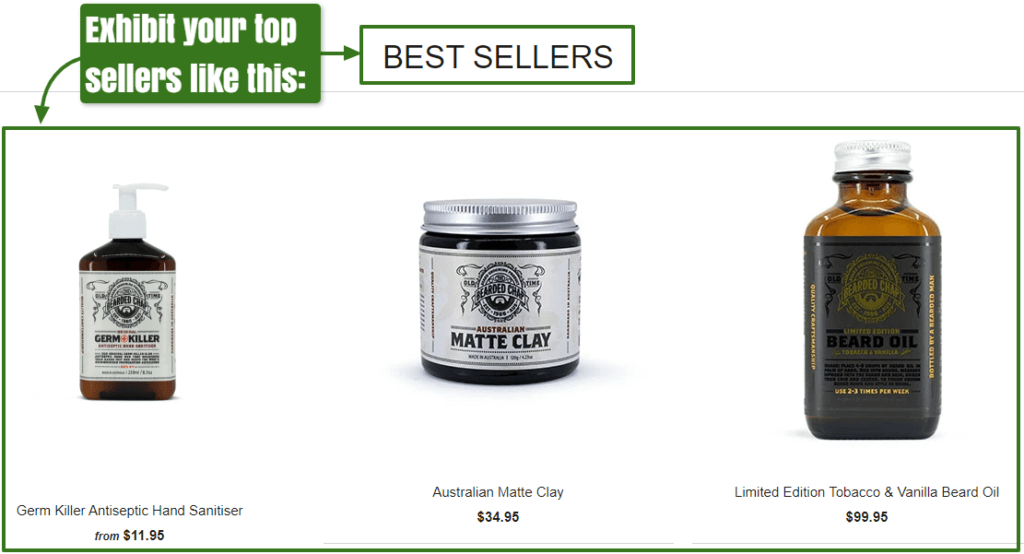 They did a great job of featuring their top-selling products by adding them in the "Best Sellers" section and displaying the product photos, descriptions, and prices neatly in three rows.
To ensure you won't have any issues with your website's layout and you have more flexibility over your site's design, use a reliable and modern e-commerce platform.
For the most part, modern e-commerce platforms enable you to add elements or sections to just about any area of your site. Seemingly insignificant features like these can play a huge role in increasing your site's conversion rates.
Personalize your product recommendations
Personalizing your product suggestions increases your customers' likelihood of buying your products since it's highly relevant.
Do that by showing your shoppers items similar to products viewed, bought, or included in their wish lists and shopping carts.
For example, I clicked on a woman's short-sleeve, V-neck shirt, and Amazon recommended these products below: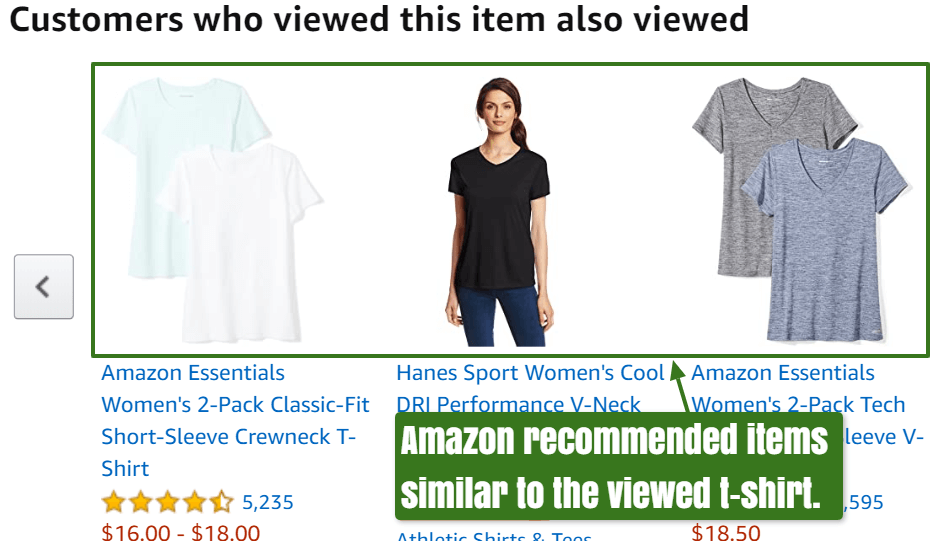 Amazon showed other classic-fit, short-sleeve, V-neck shirts from other brands, with similar price ranges, and different colors.
The store phrased its product recommendations section as "Customers who viewed this item also viewed," reinforcing the social proof tactic to convince its shoppers to buy.
By personalizing product suggestions, you show items that are meaningful to your buyers, so they're more likely to give in to your sales offers.
Now, What?
Running a profitable online business rarely happens overnight. Still, with the right e-commerce CRM and the tips above, you can steadily grow your sales and see favorable results over time.
As you apply these techniques, do sufficient research, test them, target the right audience, be creative, and continually optimize them.
Do you have more sales-generating strategies to share? Freely write them in the comment section below. Cheers!