Do you know how to use push notifications on an eCommerce website? In this web push notification guide for the eCommerce website, you will find everything. After going through this guide, you will have a complete understanding of how to use push notifications in an eCommerce business.

Now a day, most of the product is available online. From hairpin to a house, you can buy anything online. Technology has played an immense role in such rapid adoption and expansion. E-commerce is growing rapidly and companies are looking for new ways to reach out to customers. There are several ways to connect to the customer; however, push notification is one of the best tools to re-engage with customers in an effective way. A well-planned e-commerce push notification strategy is a must to drive the sale.
In this guide on the web push notification for e-commerce, you will learn how to use push notification features more efficiently. There are three primary goals of an e-commerce business:
Increase Subscription
High Repeat Visits
Improve Conversions
Web Push Notification Guide for Ecommerce Website
Increase Subscription
This is the most basic requirement of any e-commerce website. Unless you are able to convert your visitors to subscribers, you won't be able to reach out to the visitors. With Push Notifications, you can easily increase your subscription as compared to any other tool. You can easily optimize your push subscription opt-in to get an increase subscription.
Opt-in
PushEngage allows you to configure your opt-in in 7 different ways. The most effective one is "single-step opt-in". With PushEngage, you can integrate push notification both in HTTPS as well as HTTP sites. However, when it comes to the subscription rate, HTTPS offers a higher rate.

The reason is "Single Step Opt-in". On the HTTPS site, you can have a single-step opt-in which is just a single click to subscribe.
Delay
When to show the opt-in is very crucial to increase the subscriber rate. At PushEngage, you have the option to choose the delay in two ways:
Delay in time: You can delay the opt-in based on time spent by the user.
Page scrolled: Alternatively, you can show delay after the user has scrolled a certain percentage of the page.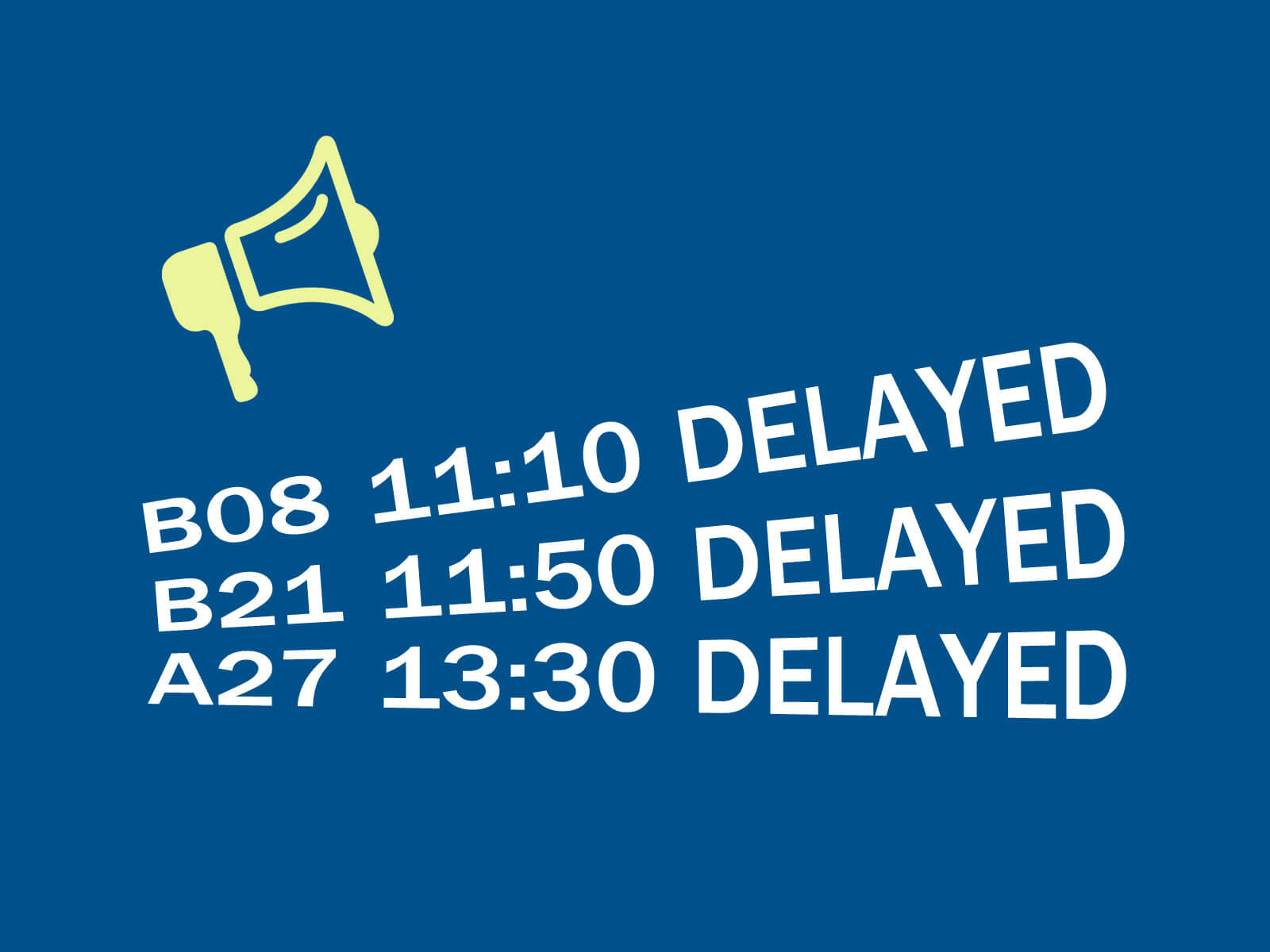 Instead of showing the opt-in the moment the user lands, it's better to delay the opt-in. Our study shows that a delay of 2 seconds to 5 seconds is idle to get a higher subscription.
Blocked Users
When push notification opt-in appears, the user has the option to "Allow" or "Block" the opt-in. However, if the user clicks on Block, he won't be able to subscribe to your push notification.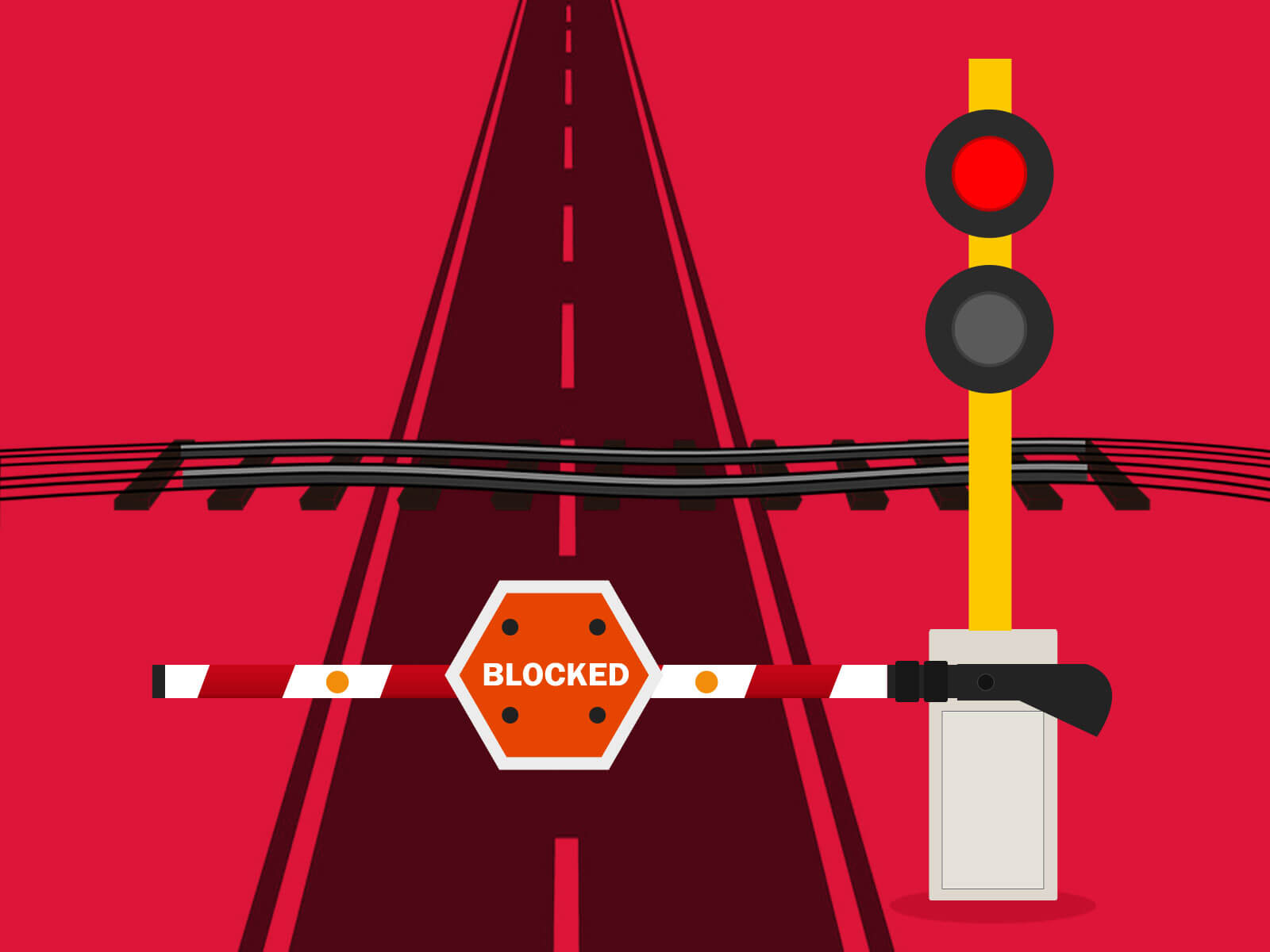 To give the user an opportunity to subscribe, you should enable the "Get Notification Widget". When the user clicks on the Widget, the opt-in will reappear and the user will have the chance to subscribe.
Selective Page
You can also decide on which pages you want to show the push notification opt-in. At PushEngage, you have the option to include or exclude pages from showing the opt-in. As an e-commerce page, there are many pages like FAQ section, T&C or any other page where you don't want to show the push notification opt-in. You can exclude those pages from the PushEngage dashboard.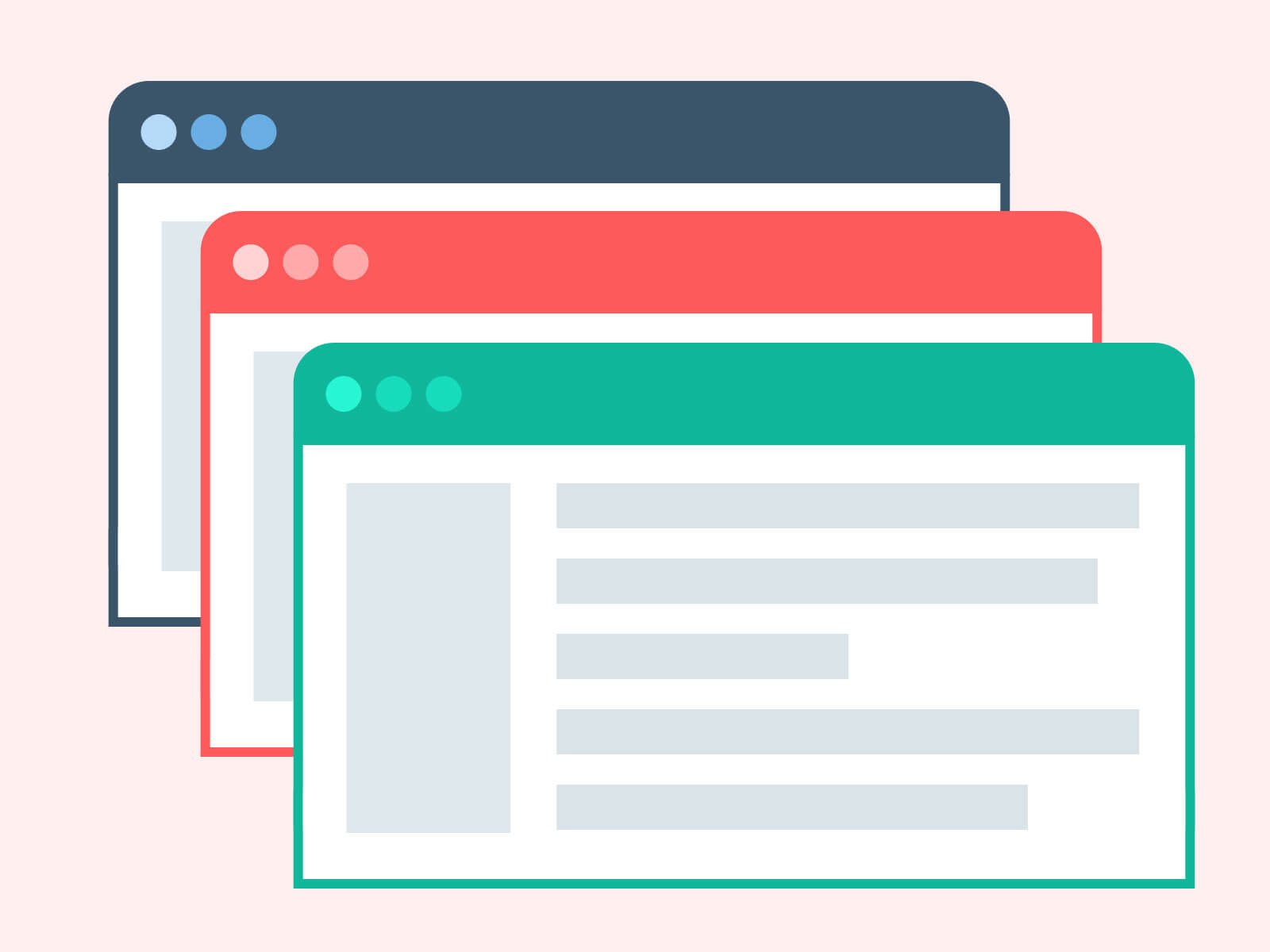 High Repeat Visits
One of the areas which cost a lot is getting traffic to the website. E-commerce spends a lot of money and time to bring traffic to their website. However, they fail to re-engage with them and the repeat traffic goes down. Repeat traffic does not only have an increased number of potential customers but also costs far less as compared to new user acquisition.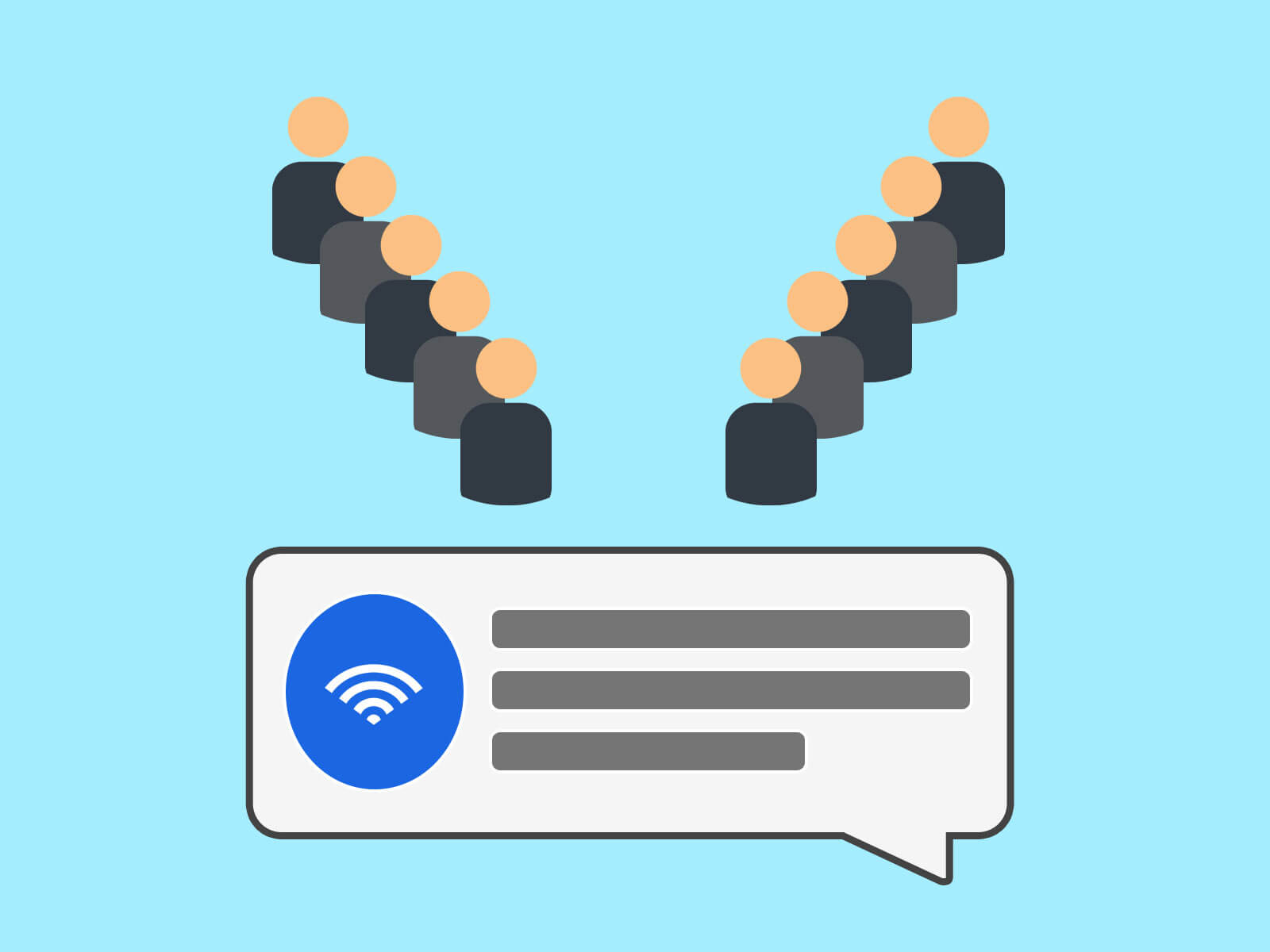 With Push Notifications, re-engaging with users and increasing repeat traffic is very easy. There are a lot of features specially created to increase repeat users for an e-commerce website. You can create different web push notification campaigns to increase engagement and traffic.
Drip Campaign
With Drip Campaign, you can send a series of auto-notifications to your customers. You can use drip campaigns for many different purposes. Drip campaigns can be created based on:
User-subscribed from a specific page – User lands to a page on your website and subscribes to your push notification.
Based on the purchase – User made a purchase and based on that you can send drip notifications.
Based on pages browsed – Users browsed different pages without making a purchase. Create a drip and re-engage with the subscriber.
Based on user action – There are multiple calls to action on your page. Depending on which action the user performs, send them drip notifications.
Wishlist based – User creates a wishlist of products on your website. Target them with a series of push notification using a drip.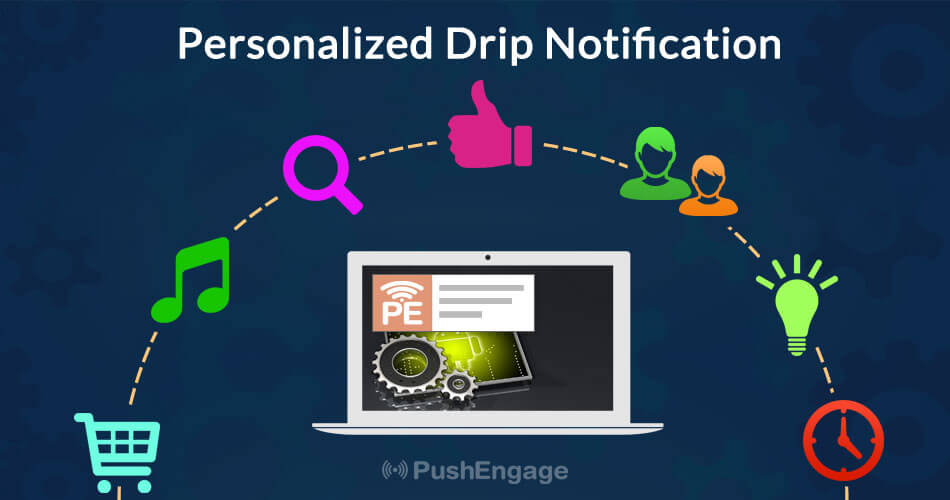 Design your drip campaigns based on the above factors and create effective drip campaigns for e-commerce.
Cart Abandonment Campaign
This is one of the most common problems faced by e-commerce. With Push Notifications, you can easily create strategies to combat cart abandonment. To get more conversions using cart abandonment notification:
Send Personalized Notifications – Each notification should have the product info and land them on the cart page.
Limited Time Offer – Share a limited time offer for the user. This will entice them to complete the purchase.
Share Social Proof – Many times the user is not comfortable about the product. Share product reviews using cart abandonment notification with them.
Trust Factor – Customers may not trust your site enough to do any transaction. Send push notifications showing the trust factors.
You can use the cart abandonment templates for your websites.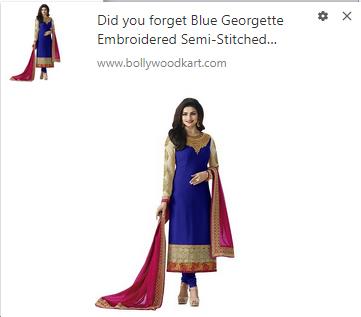 Another reason to start push notification early is that web push notifications offer 5x higher reach for cart abandonment vs email. You should also focus to reduce cart abandonment on an e-commerce website.
Browse Abandonment Campaign
Similar to cart abandonment, many times users just browse the product without adding the product to cart or purchase and abandons the page. There could be many reasons for the user to browse abandonment. Below are some easy tactics to convert them:
Sale Offer – Share any sale offer running under the same category of the product.
More Variety – If you are having a different variety of the same product, share with the user.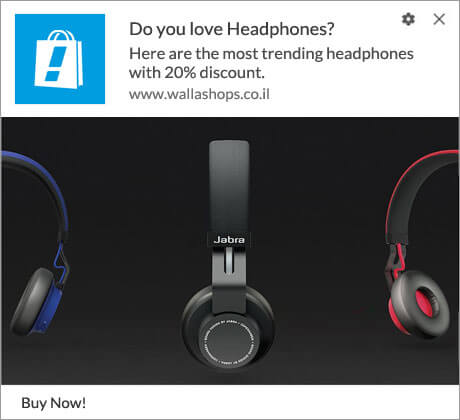 Check out the web push campaign strategies that work best with browse abandonment.
Trigger Campaign
Apart from the cart and browse, there are many other actions the user takes on a website. You can create different trigger campaigns. Below are some ideas for creating trigger campaigns: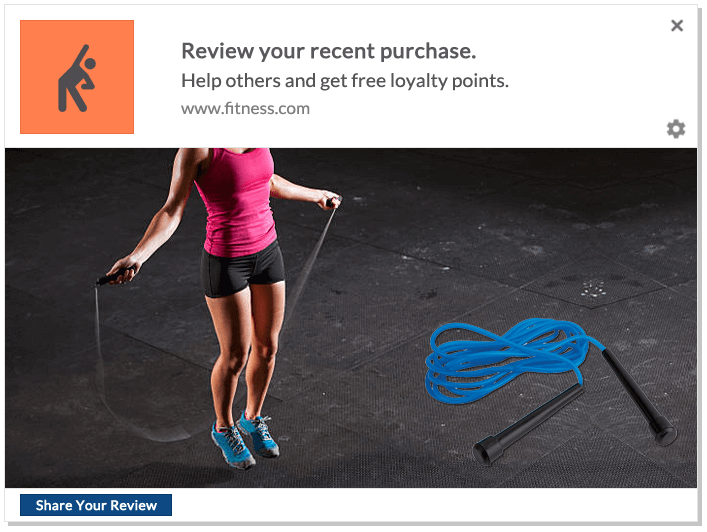 Cross-Sell Trigger Campaign
Gather Product Review Trigger Campaign
You can also follow the push notification sale template to increase conversions.
Improve Conversions
The last and most important thing is conversions. Most of the visitors do not convert in a single visit. You need to re-engage with them and show the value proposition. You can create different campaigns to re-engage with users. Finally, the main purpose of all the campaigns is conversion. Conversion could be a purchase, sign up, reviews, share or any action.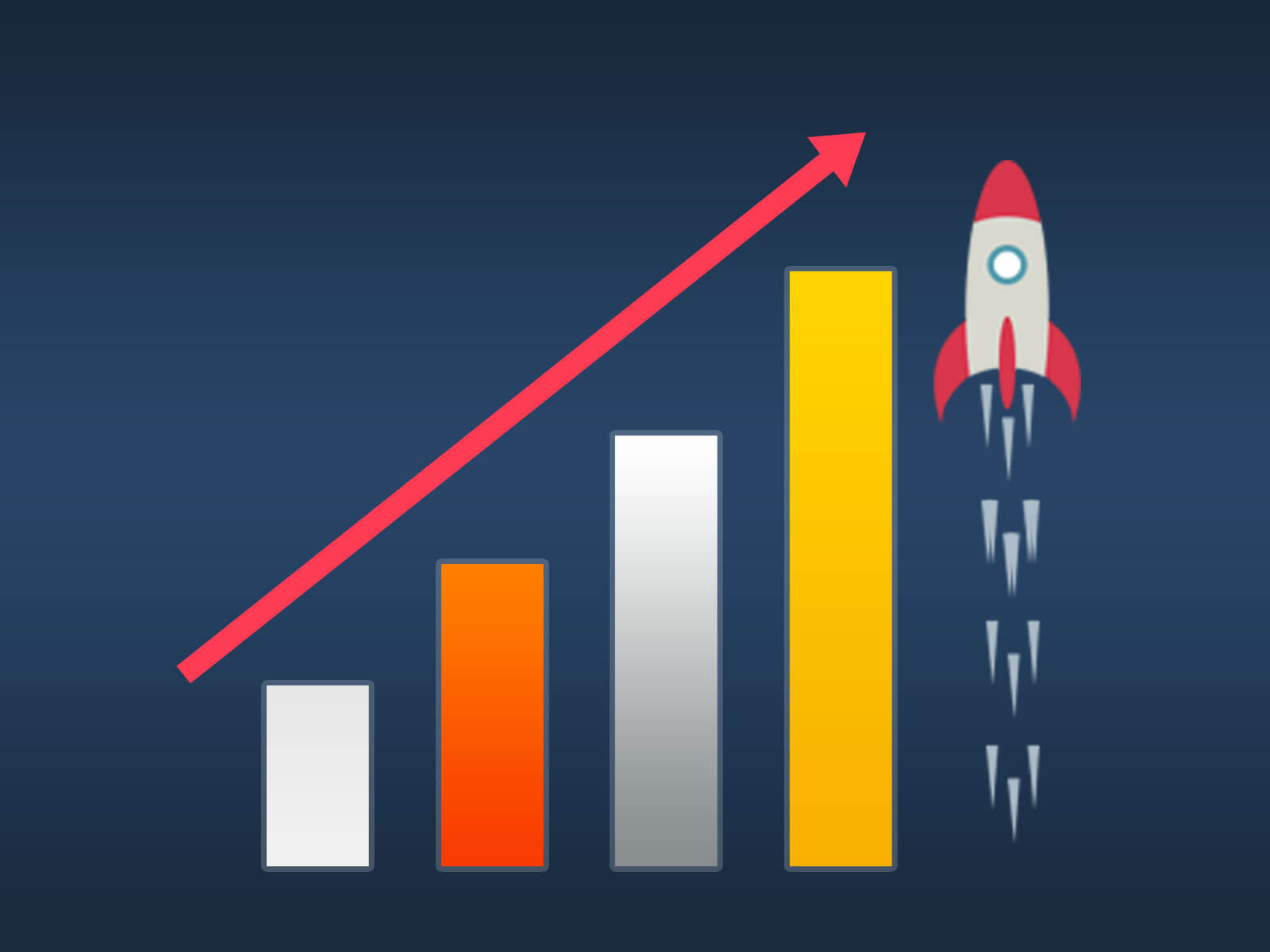 Web Push Notification is very effective when comes to conversions. Follow the best practices of push notifications for your e-commerce store and see the result. Since push notifications are delivered as an alert, you can create urgency using push notification on the user's mind. This will entice user to click and convert.
Push Notification Optimization
Push Notification has 6 different elements. Each element has an impact on conversions. You need to optimize each element to see which has a better impact on your e-commerce store.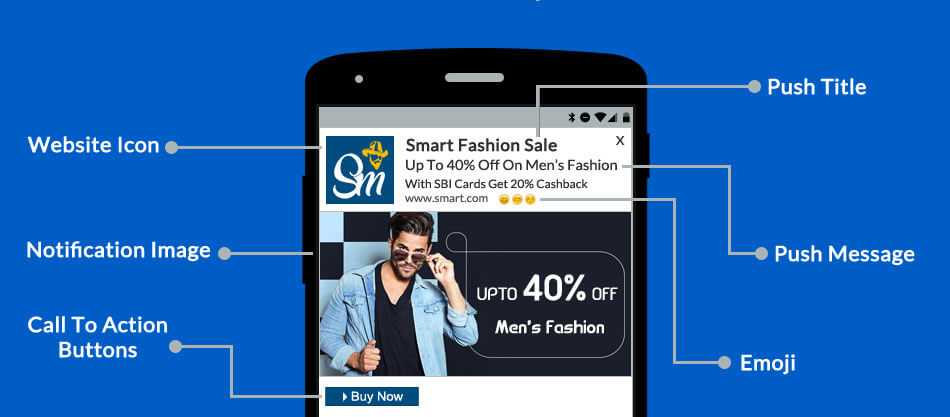 Segmentation
Each customer is different and the same notification may not work for all. The best way to get a higher click-through rate and conversion is to segment your subscribers. Our studies show that push notification sent to the segmented subscriber can get lead up to 2X click rates as compared to non-segmented subscribers.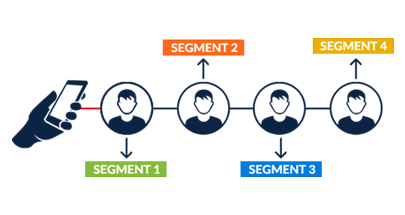 You can segment your subscribers based on:
E-commerce website design
What action customer performs on your site
Current status of the subscriber
Geo, Device, Time of Registration
You can easily segment subscribers for your e-commerce store. Once you have created a unique segment, create different campaigns to re-engage with them.
Timing
Timing is very crucial for the success of the push notification campaign. Do an analysis to see during which time your customers are most active. Schedule your notifications to be sent during that time. You can use the schedule feature to send a push notification to ensure notifications are sent at the right time. Subscribers may belong to different timezone. You can also try to send a notification based on the user's timezone.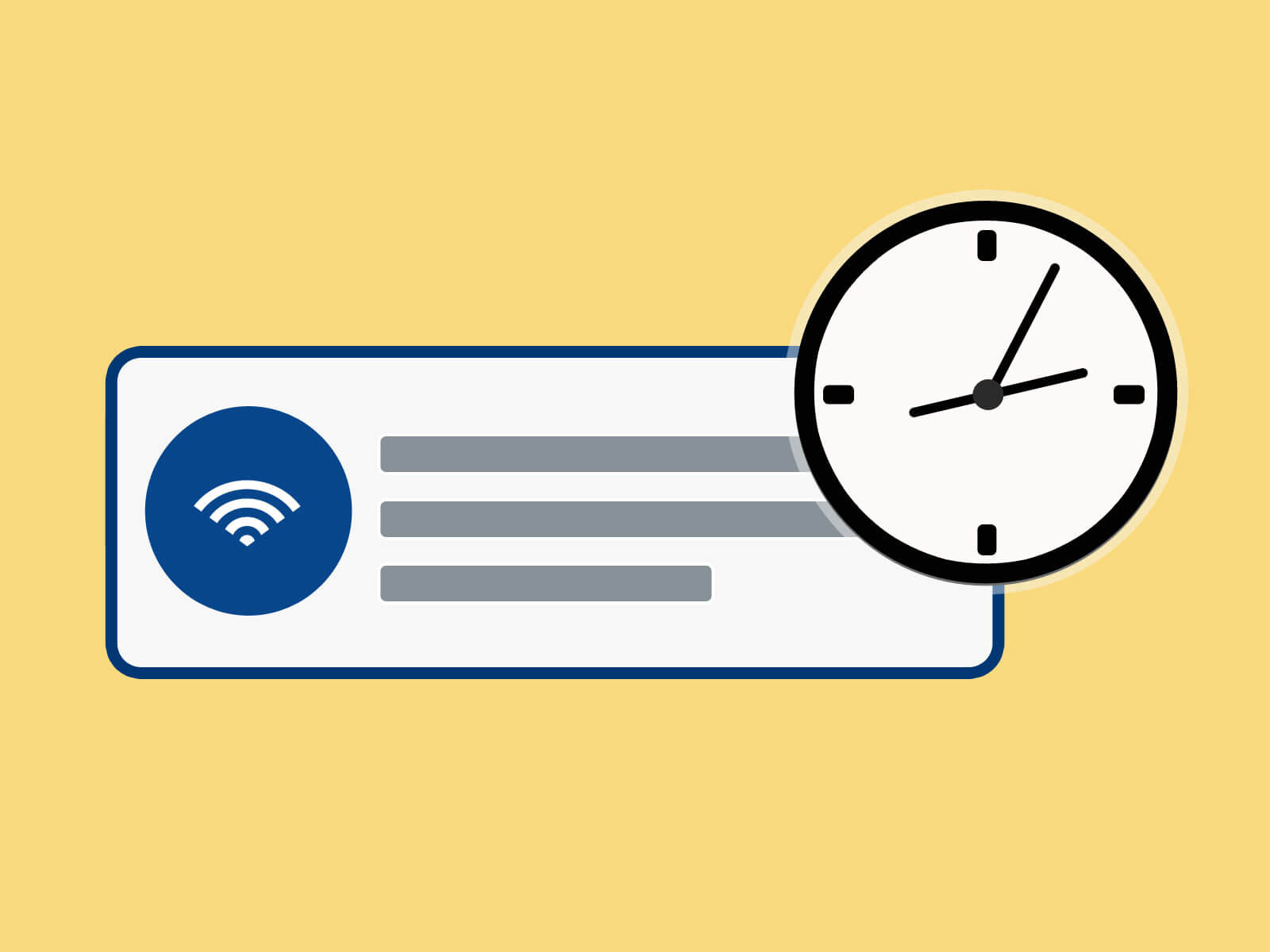 Even when creating campaigns like cart abandonment, browse abandonment check the timing. You have the option to choose when to send the notification after the user abandons their cart.
AB Testing
Another feature which can help you to get higher conversion is AB testing. Before starting any campaign, you can always do AB testing to see which notification performs better. AB testing allows you to test all the elements of push notification.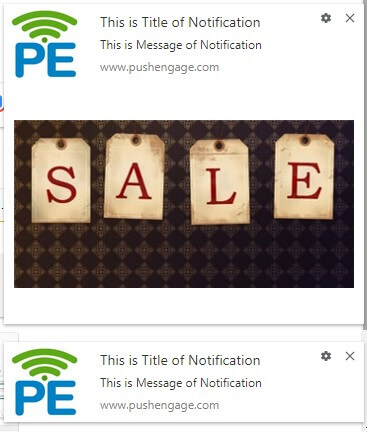 Another important thing is the measurement. Always measure the effectiveness of push notifications. The important KPI of push notifications are:
View Rate Metric
Click-Through Rate Metric
Opt-In Rate Metric
Revenue From Push Notification Metric
Analyzing the push notification metrics helps you to understand the overall effectiveness of your campaign. Based on the analysis you can take corrective action to improve your campaign. You can also compare your performance against the push notification benchmark data for the e-commerce website.
This completes the web push notification guide for eCommerce website. Follow this guide to create push notification campaign for your eCommerce business. Push Notification is a strong re-engagement tool.