GDPR Compliance for Push Notifications
Ask users for consent by showing an explicit notice and comply with GDPR and other international laws.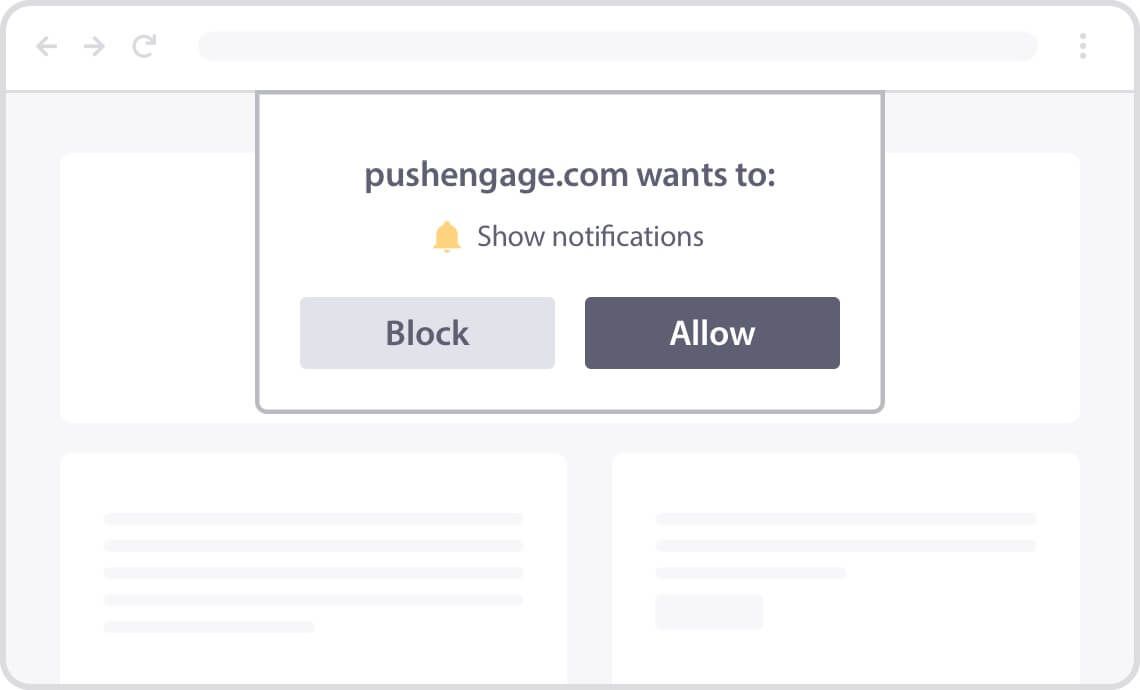 We Always Ask for User Consent
Whether or not to receive push notifications is your user's choice. PushEngage always asks for consent before adding them to your subscription list.
Your subscribers can easily unsubscribe from your push notification list right from their browser settings.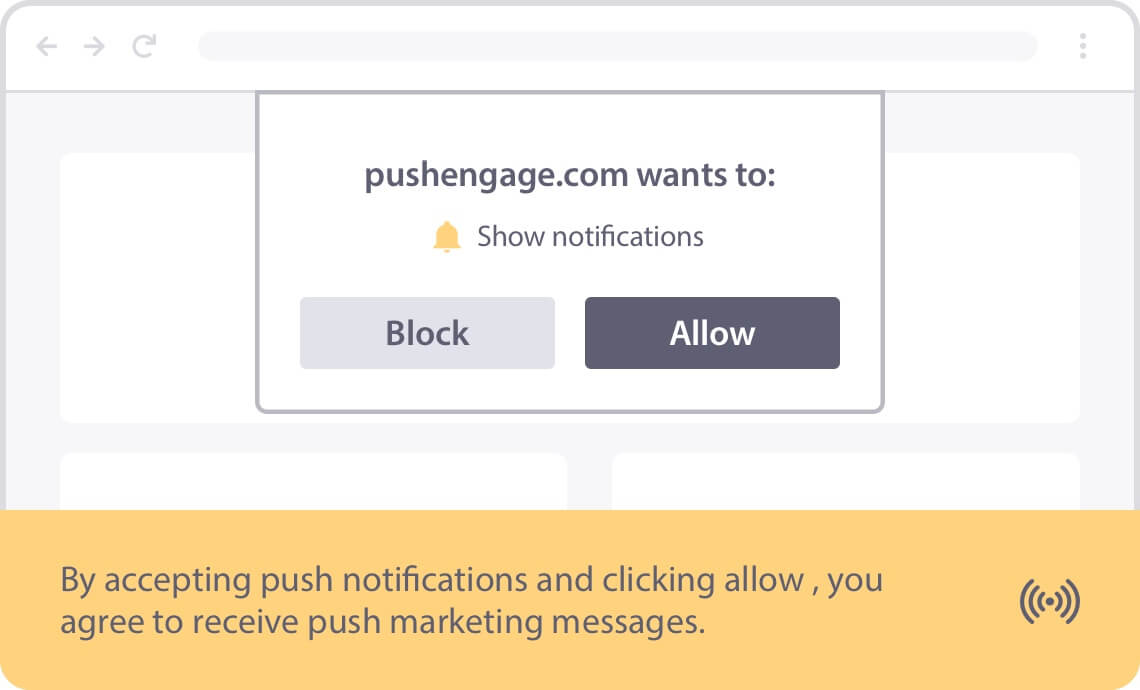 Show an Explicit Notice to EU Users
Want to show an explicit notice to comply with GDPR?
It's easy with PushEngage. Best of all, you can customize your notification bar according to your preference and stay in line with your brand identity.
LoanMart has really focused on the drip campaign tools that Push Engage provides. We love that we can set up a robust series of messages that new subscribers will see for weeks and even months after they initially visited our website.

We considered several browser notification platforms, and PushEngage was the only one that fully satisfied our use case and would be ROI positive considering LTVs. For opted-in users, PushEngage has helped us increase user retention and LTV.

Being able to retarget our customer base with more effective messages lead us to improve the quality of our traffic and drive to more sales. We were to able to achieve our marketing goals by increasing our ROI.

PushEngage is quick and easy to implement. It provides results promptly and the analytics presents them in a clear and understandable fashion. The ability to tailor your target audience is particularly impressive as you are able to increase your engagement rates as you use the software.

PushEngage is our best converting paid traffic channels. The open-rate is about 400% better than sending out newsletters and also the time to create a push notification is far more effective.

The fine stuff I liked about PushEngage is, they are innovative and they are bringing all the power of email marketing into push notifications. The segmentation feature of PushEngage has helped a lot in properly segmenting users based on their topic of interest.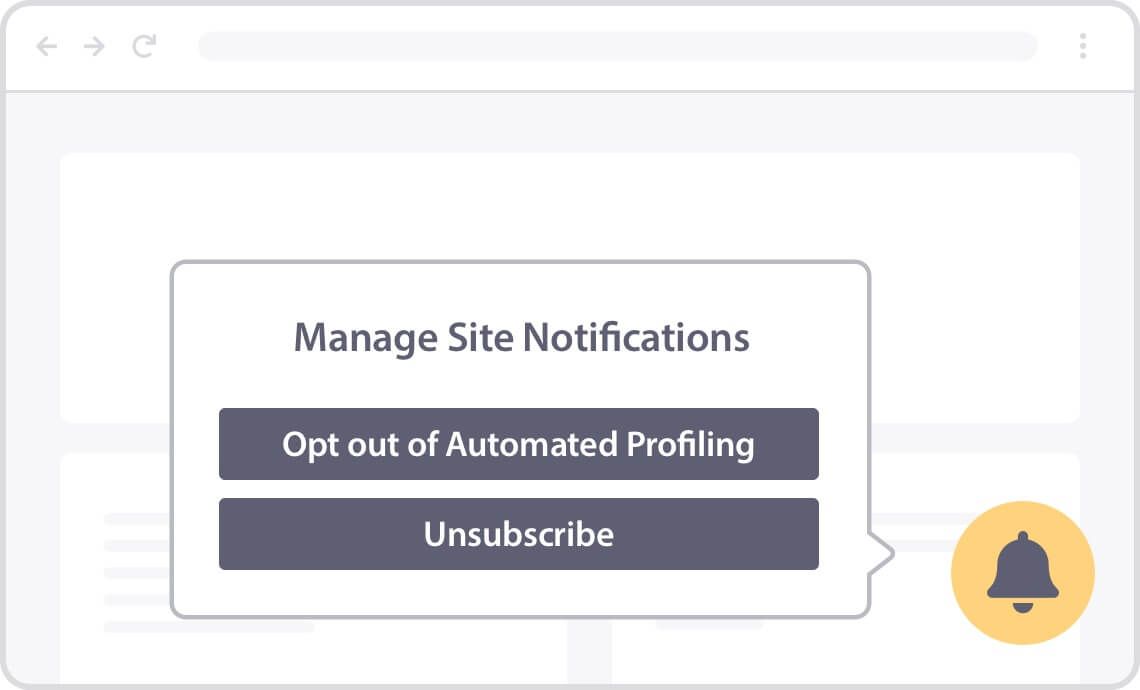 Easy Single Click Opt-Out
Unsubscribing from push notifications can be tricky. The steps can also vary based on your user's browser and device.
With PushEngage, you can easily enable a 1-click opt-out option on your site. Based on your preference, you can place a button or bell icon in a visible area without interrupting their browsing experience.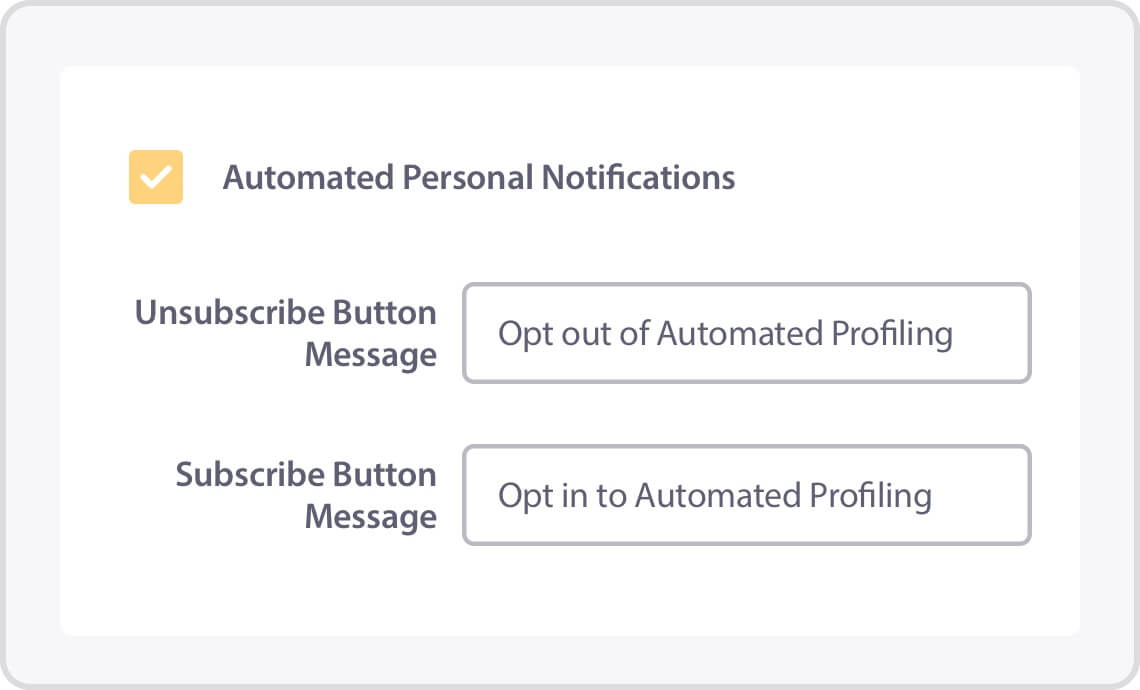 Automated Profiling Opt-out
With PushEngage, subscribers have the right to opt-out of the notifications received through auto-responders and trigger notifications.
On top of that, PushEngage doesn't store any personal data that can identify your subscribers individually.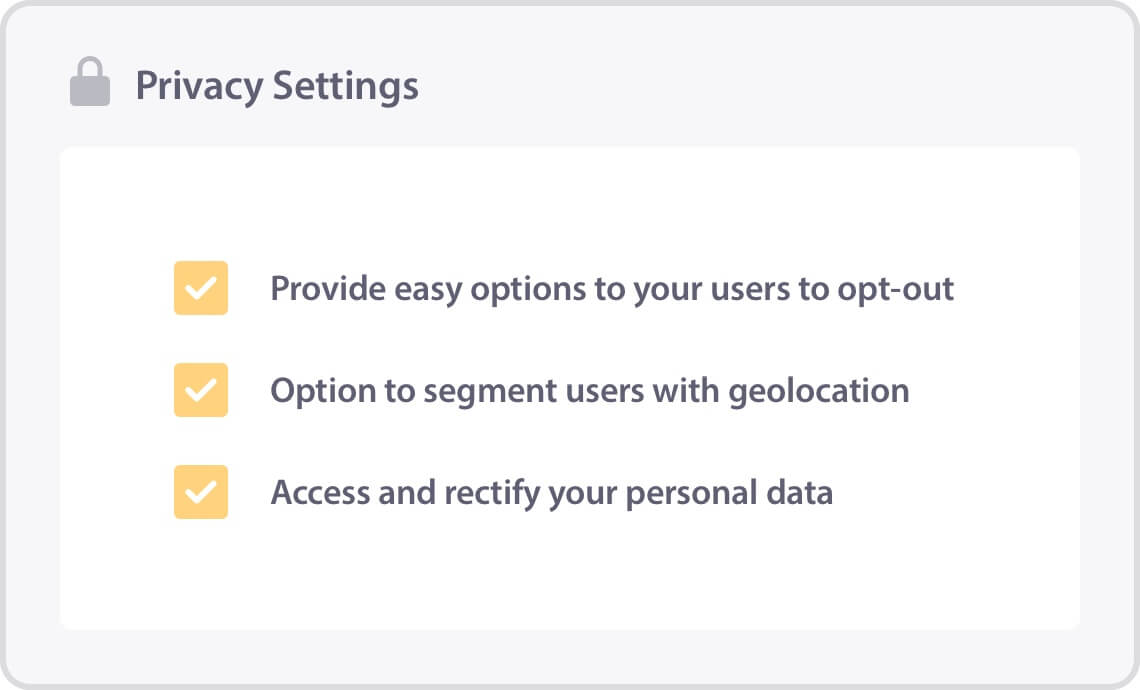 Privacy Centric by Design
We've created all the necessary features for ensuring GDPR compliance for web push notifications from PushEngage.
Offer easy options to your users to opt-out
Option to segment users with geolocation
Access and rectify your personal data
And more…
---
Explore More Powerful Push Notification Features
PushEngage has all the features you need to create powerful push notifications to grow your business.
Frequently Asked Questions and Resources
Do you have a question about PushEngage? See the list below for our most frequently asked questions. If your question is not listed here, then please contact us.
Who should use PushEngage?
PushEngage is perfect for business owners, bloggers, ecommerce site owners, and basically anyone who runs a website. If you want to get more returning visitors, make more sales, boost conversions, and reduce cart abandonment, then you need PushEngage.
What's required to use PushEngage?
PushEngage can be installed on nearly every website platform on the web. The only requirement is that you must have a website where you can add custom JavaScript in the body of your website's pages.
PushEngage also offers the best WordPress push notification plugin on the market that seamlessly integrates PushEngage's awesome features with your self-hosted WordPress site.
Do I need to have coding skills to use PushEngage?
Not at all. You can easily set up PushEngage on your website without having to know any code. With PushEngage, it's easy to design and send high-converting push notifications with a few clicks – no need to know any code. We've made it extremely user-friendly so anyone can create push notifications without a developer.
Will PushEngage slow down my website?
We know website speed and performance are more important than ever, so we've built PushEngage to be as lightweight and fast as possible. It will never slow down your website.
Can I use PushEngage on my client websites?
Yes, you can most definitely use PushEngage on your client websites. You can signup for our Enterprise Plan to use PushEngage on unlimited sites and get unlimited sub accounts. You'll also get additional features such as Smart Cart Abandonment Campaigns, Automatic Inventory Alert, Price Drop Alert, Custom Triggered Campaigns, Personalized Smart Tags, and everything you need to deliver a top-notch experience for your clients.
Do you offer Enterprise Plans?
Yes, we offer all-inclusive Enterprise plans that come with VIP support and onboarding. You can request a demo for more information.
Do you have a WordPress plugin?
Yes we do! Our free WordPress plugin gives you the option to automatically send push notifications when you publish a new post.
Can I use PushEngage on non-WordPress websites?
Absolutely. PushEngage works on any website platform. All you need to do is add a code snippet to your site.
We also have a PushEngage Shopify app so you can easily set up push notifications on your Shopify store.
Can I migrate to PushEngage and keep my subscriber list?
If I have more questions who should I ask?
Please send us your questions through the contact page, or email us at care@pushengage.com.
GDPR Compliance for WordPress Push Notifications
Data is the modern marketer's bread and butter. But with great data comes great privacy issues. Where should you draw the line? Fortunately, PushEngage offers 100% GDPR compliance for push notifications.
Create push notifications with the highest degree of artistic freedom without the fear of getting shut down and sued. Whether it's a triggered campaign or a welcome push notification, PushEngage has got your back!
We're not experts in GDPR compliance for push notifications. But we love creating marketing products that give small businesses the edge against the big boys in their industry. You can't compete with the giants if you're worried about getting sued for simple push notifications.
But sadly, that's the world marketers live in now. This doesn't mean that GDPR is a bad thing. It simply means that marketing tech has to be better. Challenge accepted!
You can trust us and install PushEngage right now. Or, you can keep reading and find out exactly what we mean when we say that PushEngage offers GDPR compliance for push notifications by design.
Read More
Why Should Your Push Notifications Be GDPR Compliant?
In 2018, the GDPR took the entire marketing world by storm when it said that you couldn't just collect and store other people's private information unless you have explicit consent.
This honestly shouldn't have been a surprise to anyone. But after the GDPR was introduced, it was no longer an optional "good practice."
So, what's GDPR anyway?
GDPR is a set of regulations that protects the privacy of your online users. It's only relevant if you're marketing in the European Union (Austria, Belgium, Bulgaria, Croatia, Cyprus, Czech Republic, Denmark, Estonia, Finland, France, Germany, Greece, Hungary, Ireland, Italy, Latvia, Lithuania, Luxembourg, Malta, the Netherlands, Poland, Portugal, Romania, Slovakia, Slovenia, Spain, and Sweden).
The problem is, since so many websites get traffic directly from search engines, you can't say for certain that you'll attract visitors only from a specific place.
So, it's standard practice now for marketing tools to be GDPR compliant.
But what exactly does the law say? What are the basic requirements to be GDPR compliant?
Legal Disclaimer: Due to the dynamic nature of websites, no single plugin can offer 100% legal compliance. Please consult a specialist internet law attorney to determine if you comply with all applicable laws for your jurisdictions and your use cases. Nothing on this website should be considered legal advice.
In simple terms, there are 3 fundamental parts of GDPR that you need to know. If you're collecting data over the internet for marketing:
Automatically anonymize your online audience or disable personal data tracking
Ask for explicit consent before you collect or store any personal data
Allow subscribers an easy way to opt out of data tracking
Thankfully, PushEngage offers GDPR compliance for push notifications by default.
How PushEngage Is GDPR Compliant By Design
Now that you understand what GDPR compliant push notifications are let's talk a little bit about how PushEngage is GDPR compliant by design.
This means that there's no magic switch that turns your push notifications GDPR compliant.
Instead, PushEngage is built in such a way that any notification you create is inherently GDPR ready. Let's take a look at exactly how that happens.
#1 Push Notifications Are Based On User Consent
There are broadly two types of push notifications in the context of user consent. You can create single opt-in push notifications or double opt-in push notifications.
Single opt-ins are your everyday garden variety push notifications. Double opt-ins require users to confirm their subscription even after they opt in. Double opt-ins get fewer subscribers, but they get really engaged subscribers as only the people who want to hear from you will opt in.
In either case, push notifications ask users to opt in.
There's no sudden blast of notifications that your subscribers never asked for. So, all push notifications are designed to inherently ask for user consent before collecting or storing any data at all. Even so, the data collected isn't personal data, but more on that later.
#2 There's An Explicit Notice Declaring Data Collection And Its Purposes
Every push notification declares that it's going to store your device and browser information so that they can send you messages later on. There's no way to claim that the subscribers didn't know that they were opting in for push notifications.
So, not only is the data collection very transparent, it's also very clear why you're collecting and storing the data.
#3 It's Easy To Opt Out Of Push Notifications
Without exception, every push notification you send out with PushEngage gives your subscribers the option to unsubscribe. It's not even a complicated process. All anyone has to do to unsubscribe is click on the Unsubscribe button.
That's literally it. No additional steps, nothing.
You can still design win-back campaigns for your subscribers on your website. Every time someone unsubscribes, you can show them content that asks them to stay. But the actual process of unsubscribing is straightforward.
#4 No Identifying Personal Data Is Stored
PushEngage doesn't store any identifying personal data. The way in which push notifications work is that a unique hash is created based on the combination of the device and the browser of a subscriber.
Once a visitor subscribes to push notifications, you'll only be able to see the number of subscribers you have. There's no associated email or other personal information. To PsuhEngage's software, each of your subscribers will only be a number.
That was a lot of information for anyone to process. But we hope that our transparency about the way in which PushEngage works has helped you understand what we mean by GDPR compliance for push notifications.
Show Less
Grow Your Business Faster wit GDPR-Compliant Push Notifications
PushEngage makes it easy to send the right message to the right audience so you can maximize results.
Forever Free Plan
Easy Setup
5 Star Support