Looking for ways to make money with affiliate marketing? This beginner's guide will help you get started with affiliate marketing on the side.
Affiliate marketing is one of the most popular ways to monetize your blog.
The only problem is…
Way too many bloggers believe that it's easy to do. Affiliate marketing is not an easy cash grab. It takes time to build a reputed blog and even more time to be trusted enough by people to get paid for recommending products.
The good news is that it's easy to get started. And trust us when we say it, if you follow the tips in this article, you will be able to make more money than you are making right now.
Sounds good? Let's dive in.
What is Affiliate Marketing?
Affiliate marketing is a way to make money by referring a product or service (that you don't create or provide) to someone who needs it. The vendor or creator of the original product makes a sale and gives a small percentage of the sale value as a commission for referring their product.
Let's take a look at an example.
Amazon has an affiliate program called Amazon Affiliates. If you promote products on Amazon and someone buys a product using your affiliate link, you'll make a small commission for helping them make that sale.
The way this works is simple.
Step #1: You sign up to be an affiliate for Amazon
Step #2: They give you a referral ID so that they know when you send someone our way
Step #3: You refer specific products to your audience using your affiliate links that contain your referral ID
Step #4: Your audience buys the product using your affiliate link
Step #5: You get a commission as a percentage of the order value for the referral.
So, if the person who clicked on your affiliate link ends up buying products worth $100, and you get a 10% commission for the referral, you make $10 per sale for that single product.
Just imagine if you could scale that to referring 1,000 customers to us every month. That's life-changing money, isn't it?
Now that we understand what affiliate marketing is, let's get you started with your very first affiliate product.
Legal Disclaimer: Results are not typical, implied, or guaranteed. Building a business out of affiliate marketing involves a certain amount of risk. You could make nothing at all or even lose money. The strategies and tactics outlined in this article are not guarantees of success. But they have been proven to work for multiple affiliate marketing blogs in the past.
How Does Affiliate Marketing / Tracking Work?
As you probably realize by now, for you to make money with affiliate marketing, you must be an affiliate first.
So, you'll have to find at least one product to promote. The product or company you choose will be called a 'Merchant' and you'll be their 'Affiliate'.
Once you join an Affiliate Program, you will get a unique affiliate ID. You will need to use this affiliate ID in all affiliate links that you add to your website to promote the product. All traffic you send to the merchant website with your unique ID will be tracked typically over a span of 90 days.
A really powerful tool for WordPress sites that can help you streamline your affiliate marketing is Pretty Links.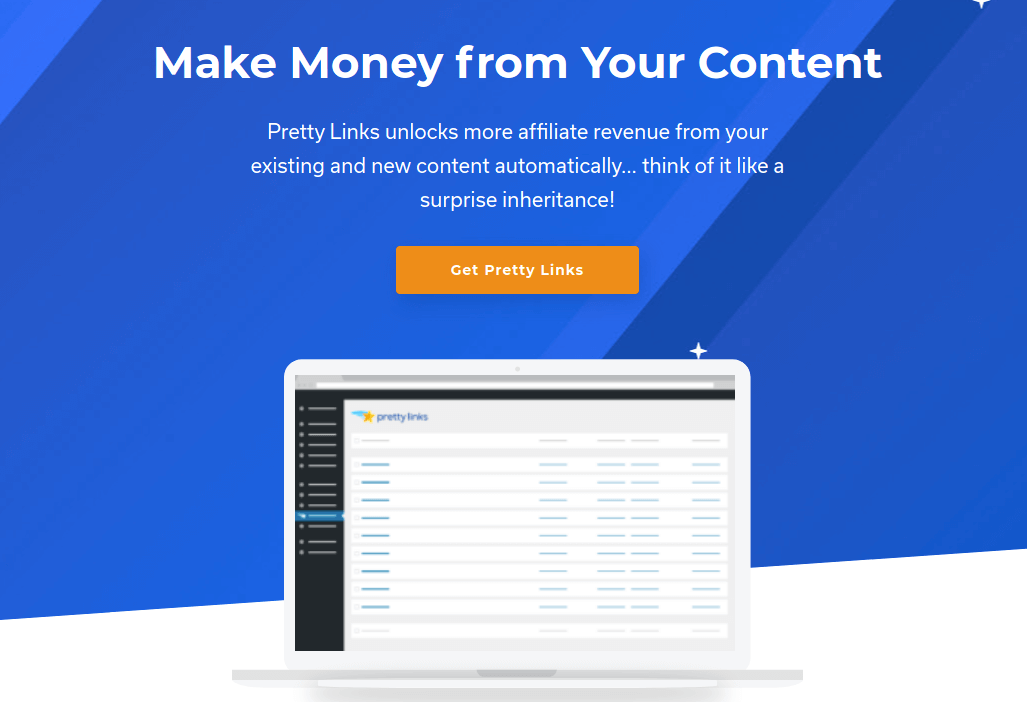 Pretty Links is the #1 affiliate link cloaking plugin for WordPress.
If you use Pretty Links, you'll be able to create a branded URL for your affiliate links instead of using the default links that are really confusing and no one wants to click. But honestly, the plugin does way more than that. You can use it to manage all your affiliate links in a simple and easy way from your WordPress dashboard.
NOTE: It doesn't matter how you send your merchant traffic. You could do it using product reviews, advertisement banners, or email newsletters. You could even send them traffic from your social media channels.
Finding Products to Make Money with Affiliate Marketing
Now that you understand how affiliate marketing and commission tracking works, it's time to find some products to promote. And this is one of the most difficult things to do when you're getting started with affiliate marketing.
There are SO many products to choose from across different affiliate networks, that it's really confusing what you should choose.
Let's take a look at a simple system to weed out the average products and find the best affiliate products for you.
Step #1: Focus on a Niche
Since affiliate marketing is mostly about building trust, you need to be as authentic as you possibly can with your content. And it's really important that you find a very particular niche before you start promoting products.
You may think that it's more worthwhile to go for a massive industry because there will be more products to promote. This is a really bad idea. Most of the huge industries are dominated by top-tier content creators with a lot of funding. Instead, you should find a small niche in that industry that's preferably uncompetitive.
How do you do that?
Well, a good starting point is to use a keyword research tool to find keywords with low competition and high search volume. We recommend using Ahrefs for your research and that's what we'll be using in our example next.
Let's say you want to get into promoting skincare products.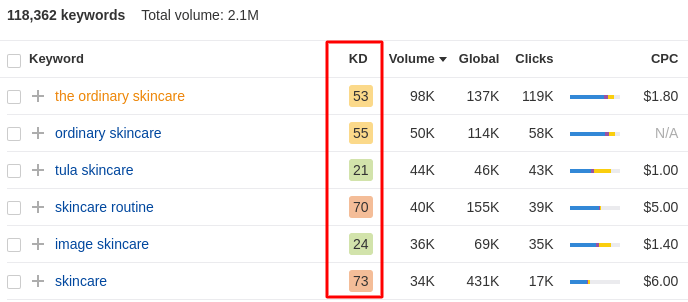 The keywords with the highest volume are really difficult to rank for. Instead, take a look at the keywords for beauty serum products: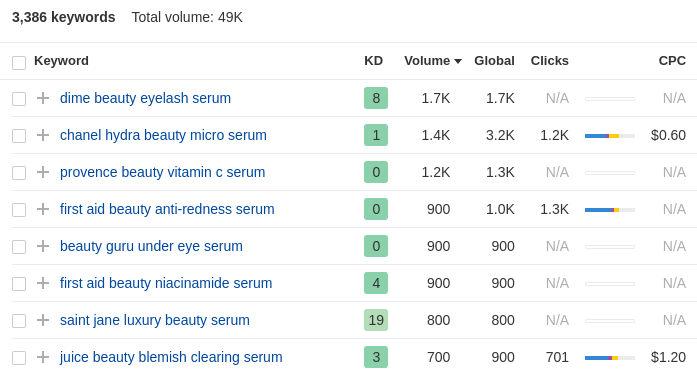 The keyword difficulty is considerably lower. And you have 3000+ keywords that are all fairly low-competition and focused on a product-driven niche. A really cool thing is that there are many keywords with fairly high search volume and they have very little competition.
And that's a really great niche to tap into.
Step #2: Promote Products that You Use
This one's fairly self-explanatory.
Only promote products that you would gladly recommend to a friend or your family. This makes it easy for you to convince your users about the product since you already know the pros and cons.
If you're not already using the products you're promoting, you should find products with great customer reviews.
By now, you already know what niche you're operating in and the products you want to promote. All that's left now is to apply for the affiliate program. Some of the products will have their own affiliate programs as we do: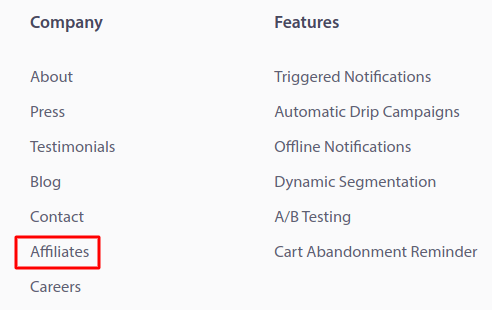 In other instances, you'll find your products on Amazon and you'll want to sign up for Amazon Associates.
And then there are affiliate networks such as:
These are aggregators that offer huge collections of affiliate offers and products.
Step #3: Look for Products Other Blogs Recommend
Another way to find products is by looking at other blogs similar to yours. You will be able to find many similar blogs that make money with affiliate marketing. Take a quick look at the banner ads on their website.
Hover on the ad to check the URL: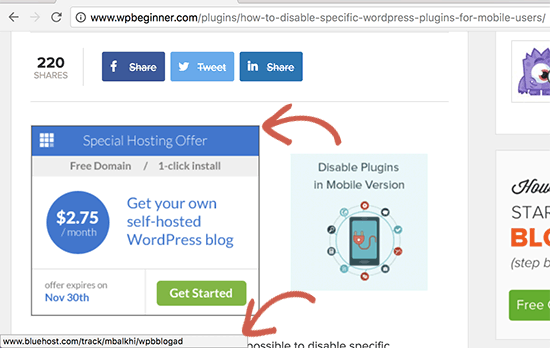 This link will usually have an affiliate ID.
Once you identify the products that your competitors are promoting, all you have to do is sign up for the same product and start promoting it.
Pro-Tip: Try to find products with recurring affiliate commissions. For instance, Kinsta's web hosting will give you commissions for every month your referrals remain a paying customer. This is a really great way to build a passive income and that's what you want from affiliate marketing in the long run.
How to Make Money While You Sleep
Before you get started, you need to build a website to promote your affiliate content. We'll talk more about creating content in a bit. But first, check out this guide on how to build a WordPress website.
You could probably build your website using some other software or platform. But if you're serious about building a stable income with affiliate marketing, WordPress is your best bet by far. The plugins you get with WordPress that can help you with affiliate marketing will help you grow much faster than the average blog.
By now, you already understand what to promote to make money with affiliate marketing. Now, it's time to understand how you can do it in a way that's easy to scale.
Let's dive in.
Step #1: Create Content That Generates Affiliate Revenue
How do create content that makes you money?
Simple: Create content that serves your readers. If you give your readers the type of content that they're looking for, you'll be helping your audience and making money as a side-effect of being helpful.
And we can't stress this enough. If you try to make a petty cash grab, your readers will see right through you and they won't buy anything at all from you.
But what exactly is your audience looking for?
We've already seen how you can use keyword research to find profitable niches.
It's time to head back to the keyword research tool. You want your readers to make a purchase decision on your site. So, what kind of content helps your readers make that decision?
It could be a product review. Or a comparison between similar products. It could even be a matter of what kind of spending budget your audience will have for the products you promote.
For our example of beauty serum products, it's really obvious. Let's take the keyword 'Provence beauty Vitamin C serum' as an example. The keyword gets decent search traffic, is product-focused, and has virtually no competition.
What's ranking on Google for that keyword right now?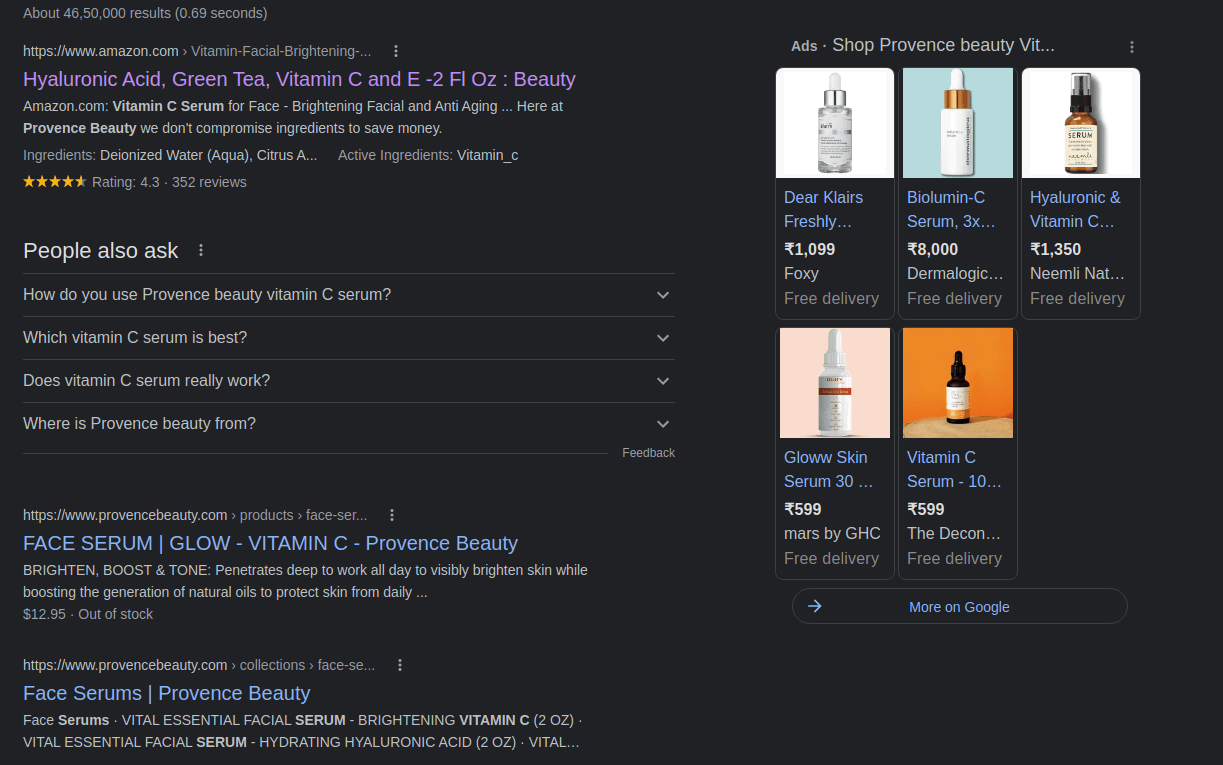 These are all direct purchase links. And the content is all about features, ingredients, and instructions.
Can you give your readers a reason to buy that product beyond the usual beauty product promises? Maybe you can talk about the vegan aspect of the product.
This helps you stand out from the crowd and give your readers a convincing reason to buy the product.
Step #2: Optimize Your Content for Clicks and Not Just Traffic
A typical rookie mistake is to think that a ton of traffic will automatically bring in tons of traffic.
This isn't true. You could have a really tiny audience and still make a killing every month. And that starts by focusing on EPC (Earnings Per Click) instead of traffic.
What's EPC?
EPC = Total Revenue/Number of Affiliate Link Clicks.
It's essentially how much you make per click from your affiliate links.
One really easy way to increase your EPC is by optimizing your content to get more using a conversion toolkit. That's way easier than trying to 10x your traffic every month.
We recommend using OptinMonster to optimize your content. It's the #1 conversion toolkit in the world and you get a ton of great features that are focused on improving your conversions. We even wrote a review of OptinMonster to outline how it could help you grow. Go check that out before you go any further.
Step #3: Identify Your Best Content and Double Down
Not every piece of content you create will generate the same level of revenue. Focus your promotion efforts on the content that converts best.
This is a much better plan of action than blindly making campaigns for every page on your site. How do you get started?
Use Google Analytics to find your best content. And then create targeted campaigns for those URLs. If you're new to this sort of thing, check this article on how to find your top-converting content on Google Analytics.
You can also identify which posts bring the most traffic, to optimize your content for higher conversions.
Step#4: Grow Push Notification Subscribers for Repeat Traffic
Push notifications are really great for running engagement campaigns. One very cool idea you can use for your website is to set up browse abandonment campaigns.
Browse abandonment campaigns send out a simple notification to your subscribers who browsed your content but didn't take any action.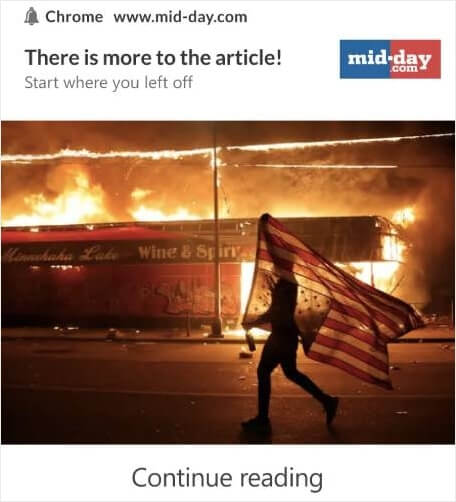 Or you could even segment your subscribers by interest based on what content they read.
So, if your subscribers are interested in Vitamin C serum product reviews, maybe you could send them a notification about Vitamin C serum from different vendors. This generates repeat traffic and helps you grow your affiliate revenue from the traffic you already generate.
Again, this is way easier than trying to break the internet with viral content every week.
Wrapping Up
That's all for this one, folks!
Building a passive income is a great idea. It's the right step towards financial freedom. And you can make money with affiliate marketing to build a steady flow of cash over time.
Just remember that this isn't a get-rich-quick scheme and it takes hard work.
But if you stick to the principles in this article, you'll get rich much faster than you normally would.
You'll want to focus a lot on your traffic and engagement. And a really powerful, but simple way to boost both is to use push notifications. We recommend using PushEngage to send push notifications and grow an engaged audience for your content.
PushEngage is the #1 push notification software in the world. So, if you're serious about making money from affiliate marketing, you should definitely get started with PushEngage today.