Looking for an in-depth WPForms review?
There's a LOT of hype around the plugin in the entire WordPress ecosystem. It's a relatively new WordPress form plugin but it has millions of users worldwide. But why is there so much hype around a form plugin?
Don't get us wrong. Picking a beginner-friendly form builder that meets your needs is super important. Lots of small businesses need great forms but it's super annoying to create one from scratch.
So, why is WPForms so highly recommended by hundreds of WordPress blogs and YouTube videos out there?
In this article, we're going to put the plugin to the test and get to the bottom of these questions.
Let's dive right in.
WPForms Review: A Quick Overview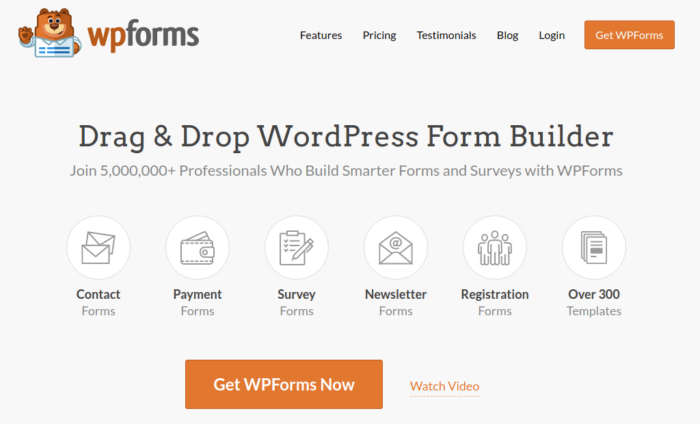 WPForms is the most powerful drag-and-drop WordPress form builder. It's super easy to build a fully custom form for your WordPress site in a few minutes using the plugin.
And when we say custom forms, we really do mean it.
WPForms can help you create any type of contact form, payment form, survey form, registration form, and newsletter optin form you can think of. The best part? They have over 300 templates in the Pro version that are proven to work. You can instantly import these templates and launch the form in minutes.
The beautiful part about WPForms is that it's completely beginner-friendly. Anyone can use it to create powerful forms. The plugin comes only with core essentials. So, if you need more functionality in your forms, you can always install an addon. This keeps the plugin lightweight and simple to use.
Setting up WPForms is super easy too.
Let's take a quick look.
How to Set Up WPForms
WPForms is just like any other WordPress plugin. All you need to do is install it and activate it. If you're not sure how to do that, check out this article on how to install a WordPress plugin.
Start by heading over to WPForms and choose a plan: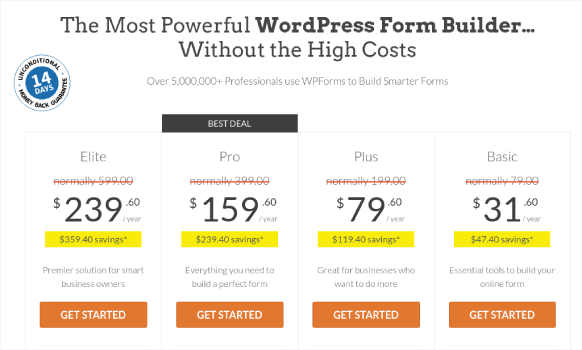 Once you've installed the plugin, go to your WPForms dashboard and download the plugin: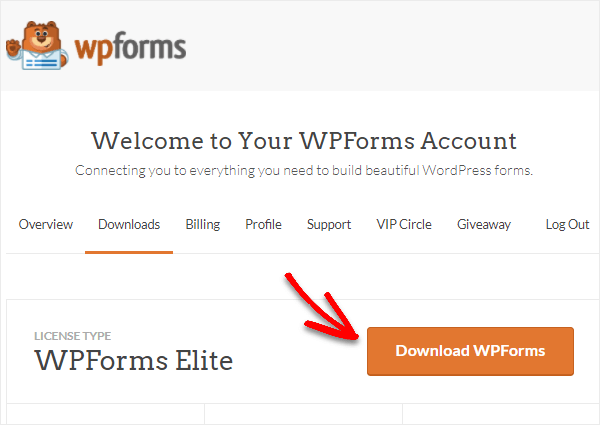 Then, upload the zip file to your WordPress site and you're ready to get started!
What Can WPForms Do for Your Brand?
In this review, we won't go over absolutely every feature in WPForms ever. Honestly, there are too many features for us to review all of them. So, we'll focus on the features that are going to be most important for small businesses.
Take a look for yourself:
#1. Beginner-Friendly Form Builder
WPForms is the easiest way to launch a form on your WordPress site. The simple drag-and-drop builder helps you create any type of form your want in a matter of minutes. The beauty of WPForms is that it's completely beginner-friendly.
And if you need easy prompts to get started, you can take the WPForms 5-minute challenge: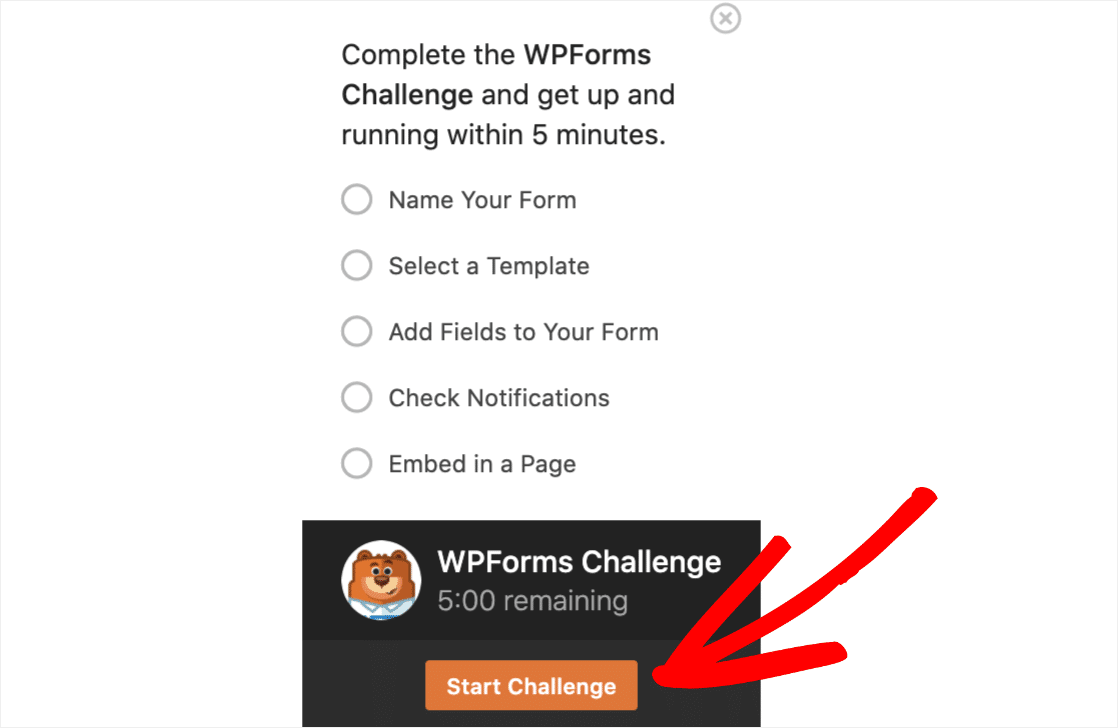 The 5-minute challenge is a guided step-by-step process that helps you create your first form on WPForms in 5 minutes.
#2. Multi-step Forms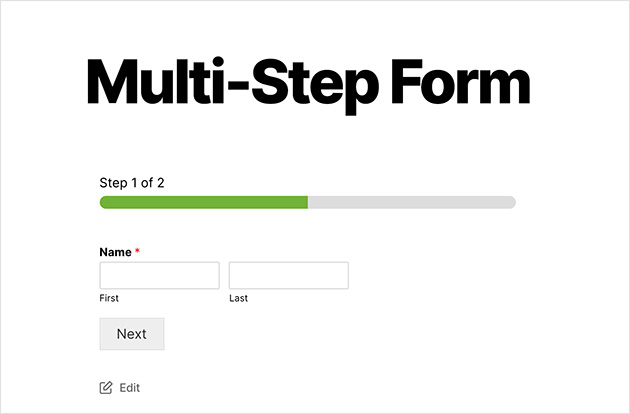 With WPForms, it's super easy to create multi-step forms. All you have to do is use the Page Break design module from the drag-and-drop visual builder: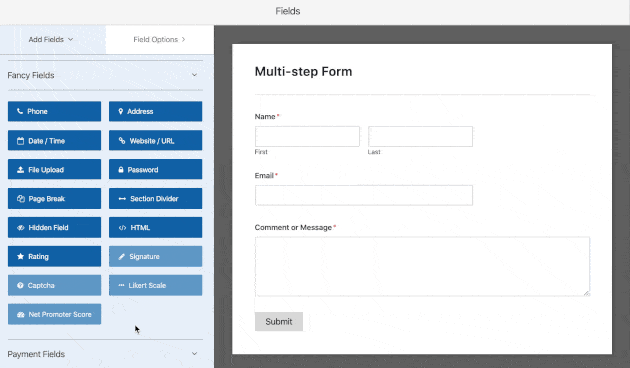 You can also leave custom-styled breadcrumbs and progress indicators to nudge site visitors into filling out the form.
#3. Email Marketing Integrations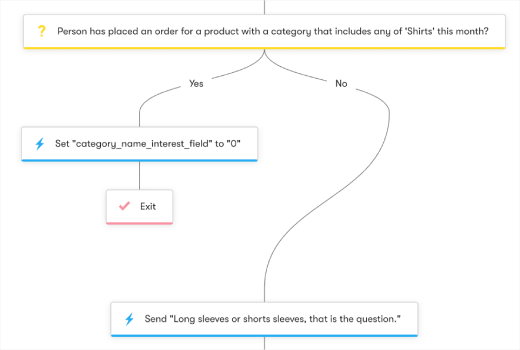 WPForms Pro comes with seamless integrations with some of the most popular email marketing tools in the market. You can instantly connect your WPForms account with your accounts for:
GetResponse
Campaign Monitor
Sendinblue
Mailchimp
Zapier
And more!
In short: WPForms makes it super easy to collect leads and send them automated emails to convince and convert them.
#4. Conditional Logic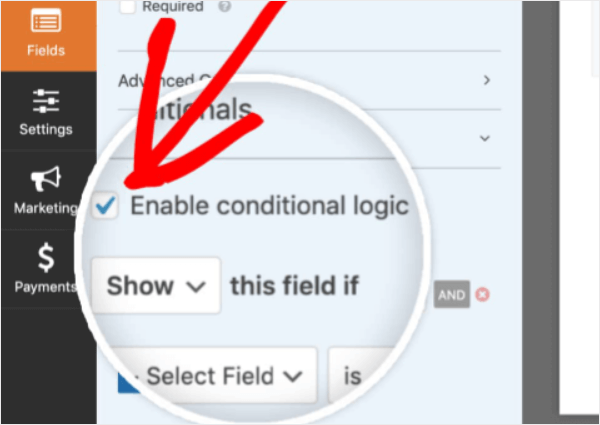 WPForms allows you to create Conditional Logic for your forms. This means that you can easily show and hide fields as the user moves through the form. And you can keep your forms clean, simple, and organized.
#5. Form Abandonment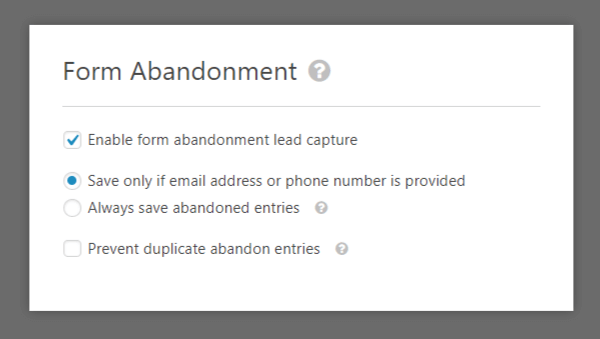 What if you create the most epic form ever and then your visitors fill out only a part of the form? With WPForms, you can capture incomplete leads and send form abandonment emails.
A simple reminder to fill out the form + an offer (if you want to sweeten the pot) = more leads.
It takes less than a minute to set up.
But remember: This works only if your lead has filled out at least their email address. If your site visitors simply bounce from the form page, then you can't get back those leads. That's why we recommend setting up form abandonment push notifications as well.
As long as the visitor is subscribed to your push notifications, they'll get a form abandonment notification to fill out incomplete forms on your site.
#6. Form Landing Pages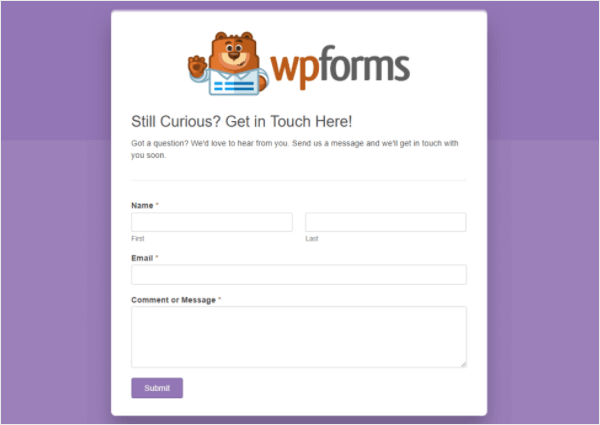 While WPForms is a form builder plugin, you can also launch a quick landing page just for your forms. This is a good option if you're not looking to buy one of the best landing page plugins to build a highly functional landing page and you just want to create a page for your form.
But if you're serious about growing your business through direct conversions from a landing page, then you should definitely get a landing page builder for WordPress.
NOTE: We recommend using SeedProd to build your landing pages. It's the #1 WordPress landing page plugin in the world.
#7. Form Templates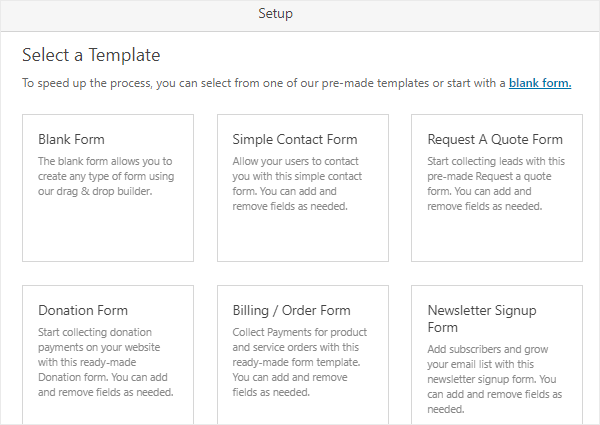 The WPForms Pro plugin comes with 100+ additional bonus form templates that you can deploy with just a click of a button. This includes:
Frontend guest post submission forms
Custom login forms
Custom WordPress account registration forms
And so much more
After you import a template, you can add or remove fields to make each form exactly what you need. You can even make your own custom templates.
#8. Offline Forms
WPForms has one of the most incredible features in any form builder plugin we've ever seen. You can actually launch offline forms with WPForms! This means that even if your site visitor's internet connection goes out while filling out the form, you will still get that lead. The form saves the data in the browser and submits it once the internet connection is restored.
#9. Conversational Forms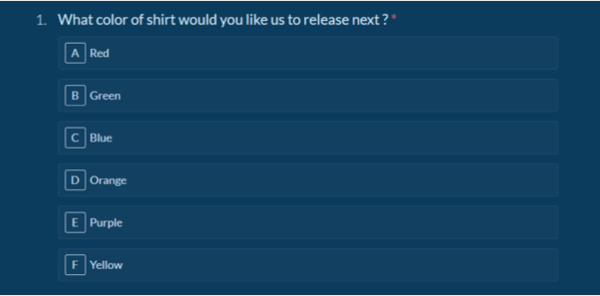 Conversational Forms are interactive forms that you can embed into your site directly. Instead of the dull contact forms that you're used to, you can serve your visitors with a form that feels like a face-to-face conversation.
The beauty of a conversational form is that you can make any type of form conversational. It doesn't have to be a contact form.
A conversational form focuses on a single question at a time. This makes it much easier to convert a visitor into a subscriber or a customer.
#10. User Journey Tracking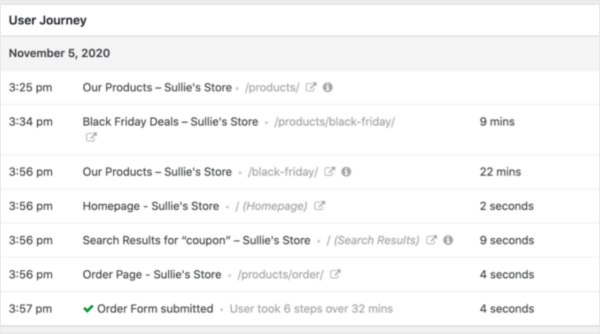 Ever wonder how your site visitors discover your forms? Where are they clicking from? How did they even come to your site in the first place? Are they all filling out your forms?
One way to keep track of the user journey is to set up conversion tracking in Google Analytics. But this can be difficult if you're not used to marketing analytics software.
That's why WPForms tracks the user journey for you and gives you an easy-to-understand report.
#11. Surveys and Poll Forms

The Survey and Polls addon for WPForms lets you quickly conduct surveys or polls on your website to gather valuable data. After your poll is live, you can see the entire data in different graphs and charts right from your WPForms dashboard.
You can create surveys in an instant using templates for:
NPS Surveys
Linkert Scales
Star Ratings
And more. Or, you can build one from scratch if you like.
Pricing
WPForms is surprisingly affordable if you consider all the epic features you get. Here's a quick look at their pricing: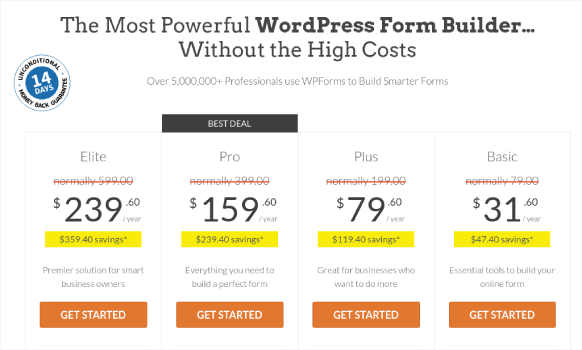 And if you're running a charity or an NGO, you get a straight-up discount pricing. Check out WPForms for non-profits to claim your discount. But even if you're running a for-profit business, you get a 14-day money-back guarantee if you don't love the plugin. All you have to do is reach out to the support team to claim your refund. But we don't think you'll need it.
WPForms Review Wrap: Is It Worth the Price?
Is WPForms the #1 WordPress form plugin?
Our verdict: Yes, it is.
The sheer amount of advanced features you get even with the Basic plan is amazing. If you had to custom-develop a form for your site, it would cost a ton of money and would likely take days to build and integrate with your site.
So, if you're serious about growing your business from your site, we recommend using WPForms.
And while we're talking about making money, you should also set up push notifications on your site. You can use push notifications to grow your traffic, engagement, and sales on autopilot.
Just take a look at these resources and you'll see what we mean:
We recommend PushEngage to get started with your push notification campaigns. PushEngage is the #1 push notification software in the world.
So, if you haven't already, get started with PushEngage today.