Looking for a detailed review of SearchWP? SearchWP claims to be the best WordPress search plugin.
What does this even mean? Why would you even need a search plugin on WordPress? Doesn't WordPress have its own search capabilities? Is SearchWP really the best?
In this article, we explore all these questions so that you don't have to.
We're going to give you a detailed breakdown of SearchWP, its features, and what it can do for your business.
Let's dive in.
A Quick Overview of SearchWP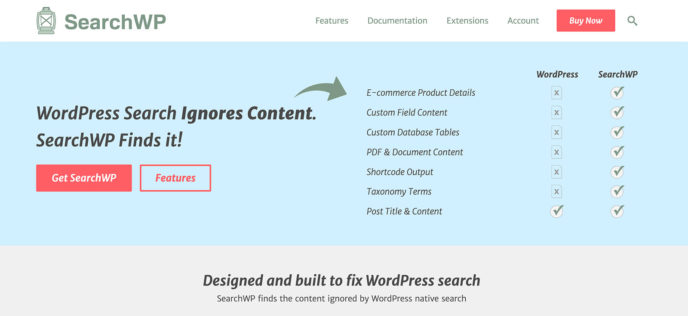 SearchWP is one of the most powerful search plugins for WordPress. WordPress comes with search capabilities by default, but the range of content that it can search through is extremely limited. Where WordPress search bars fail, search plugins step in.
In simple terms: SearchWP allows you to create a search engine for your WordPress site. Think of it as creating a Google search algorithm for your own website. And that too, without ever having to code!
Of course, there have been other search plugins for WordPress in the past.
There have been many plugins that use Ajax to search for content. This in itself is better than the default WordPress search features. Ajax allows you to enable autocomplete for searches on your WordPress site, so you can see the results without even reloading the page. But Ajax searches don't automatically increase the range of content types that a user can search through.
There have also been specific search plugins for WooCommerce because WordPress search results completely ignore WooCommerce products.
But again, this is a very specific use case and ignores a lot of content types.
SearchWP enables your website users to search for content across:
Custom Fields (post metadata) including ACF Fields
Ecommerce product details, variations, & attributes
Categories, Tags, Custom Taxonomies
Shortcode outputs
Uploaded documents (PDF, .docx, .txt, etc.)
Custom database table content
All this is in addition to Post or Page Titles and Content, which is basically all you can search for on WordPress by default.
How to Set Up SearchWP
SearchWP is by far one of the easiest search plugins to set up and use. After you download and install the plugin, you get an installation confirmation:

After that, you can head over to Settings » SearchWP to set up your plugin. And then click on the 'License' menu option:

Enter your license key in the 'License' box and click the 'Activate' button: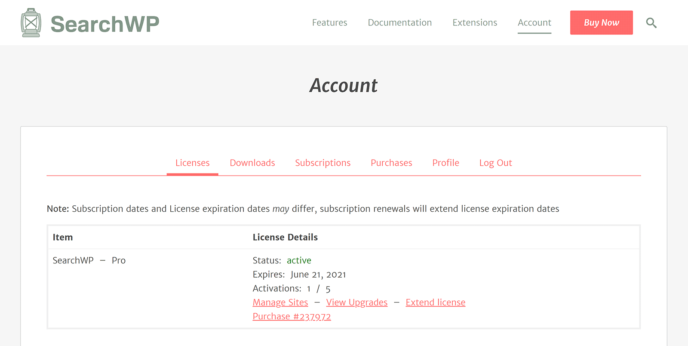 We'll talk more about the settings soon. But that's literally all you need to do to get started.
What Can SearchWP Do for Your Brand?
Site searches are a super-effective way to understand what your users are looking for from your content. Your visitors are quite literally telling you exactly what they are searching for.
If you configure SearchWP the right way, you can get insights that can help you grow your business in a way that your competitors can't. The best part is that you don't need a developer to build a custom search engine for your website. Everything on SearchWP is point-and-click.
Let's take a closer look at the features that make SearchWP so epic.
#1. Create Custom Search Engines
With SearchWP, you need to create a site-wide search engine before you can customize your search further.
Head over to Settings » SearchWP » Engines: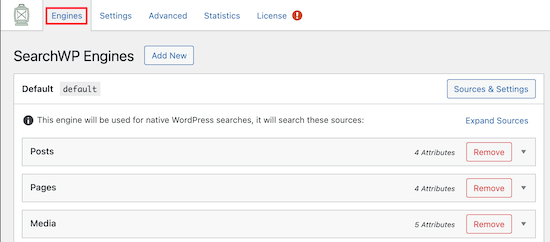 You can adjust your search engine settings by including different content types by clicking on their dropdowns. And you can control how much relevance your search engine attributes to each content type using sliders: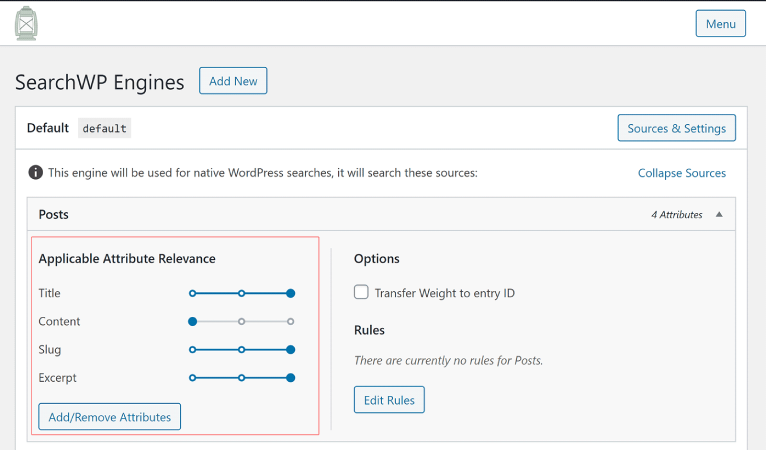 In our example, we're valuing Post Title, Slug, and Excerpt over the actual content in terms of relevance for search results.
Once you're done, just hit 'Save'.
A really cool thing about the search engine you just created is the fact that it uses Keyword Stemming over Exact Search Matches. What this means is that your users can search for your content in any way they like and they will get contextually relevant results even if your content does not include the exact search phrase!
#2. Auto-Replace Theme Search
Once you're done creating your search engine, SearchWP will create an initial index of your entire content based on the parameters you set: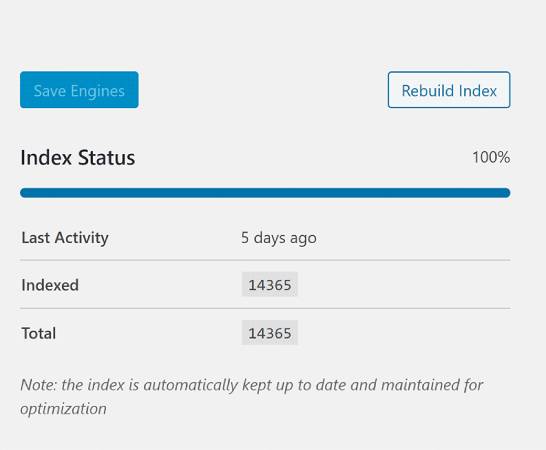 And SearchWP will replace the default WordPress search with your new improved search. If your theme comes with a search box, then you don't need to make any changes. This is true for any Gutenberg-based theme, custom themes, and all major theme builders including Divi, Avada, Elementor, Beaver Builder, and Oxygen Site Builder.
Take a look: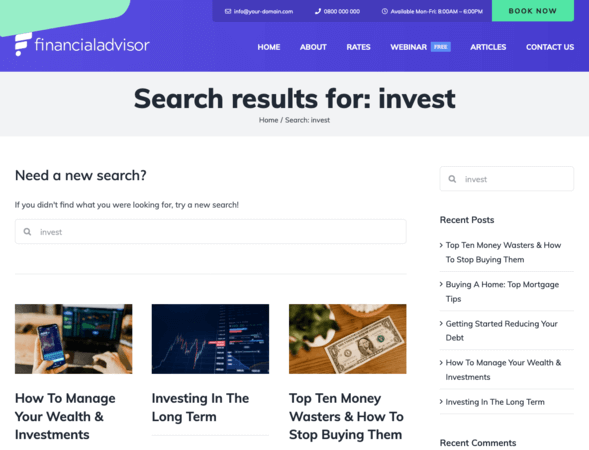 Of course, if your theme doesn't have a default search, there's no need to worry. You can simply add one. Head over to Appearance » Widgets and click the '+' icon to bring up the widget block menu:

Then, type 'Search' into the widget area and select it:

This will insert a search form into your sidebar. And it won't be the default WordPress search. SearchWP will automatically insert your custom search engine.
#3. Enable Search By Category in WordPress
As your site's traffic grows, you're probably going to add multiple categories of content to your site. A really cool feature you can leverage in SearchWP is to enable Search by Category in your search engine. What does this do? Search by Category enables your visitors to search for specific content within a category.
You can do this by adding a category select drop down to your search forms.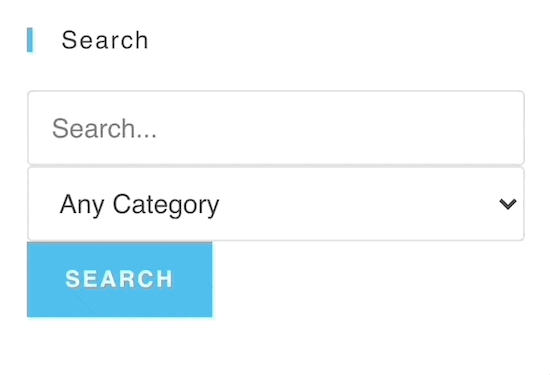 Very cool!
#4. Make Your Uploaded Documents Searchable
If you create and upload a lot of documents on your site, another really nifty feature you'll love about SearchWP is that you can make the contents of your documents searchable as well.
Let's say that your visitors are searching for something that you've written an ebook on. With the default WordPress search, the search results on your site would never display the ebook.
But with SearchWP, all you have to do is head over to Settings » SearchWP » Engines, and inside your engine configuration, you'll see a Media section. In this section, you'll find a slider called Document Content: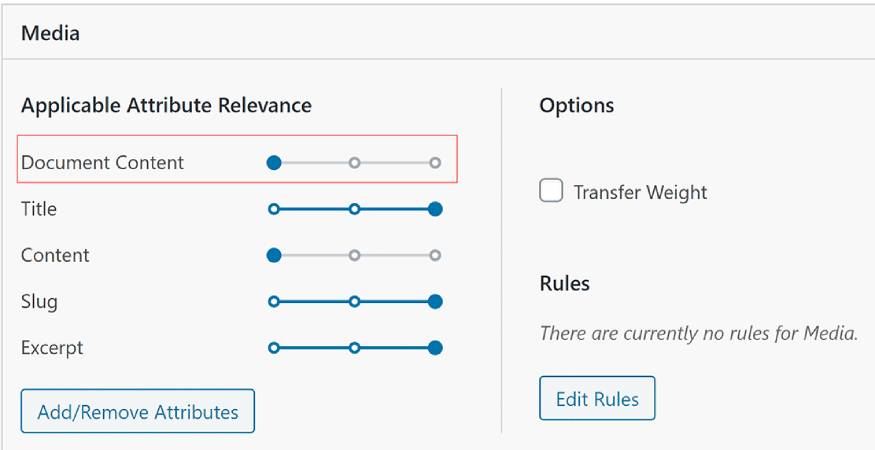 Pro Tip: if you don't see the slider, you can simply click on the Add/Remove Attributes button to add it into the mix.
#5. Enable Lightning-Fast Ajax Searches
We've already spoken about Ajax or 'instant' search. Ajax search basically enables the autocomplete feature you get with any major search engine such as YouTube, Amazon, or Google.

And you can do the same thing for your WordPress site using SearchWP: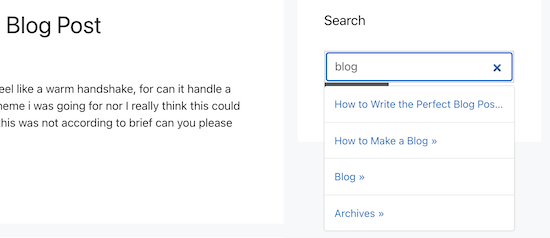 All you have to do is add the SearchWP Live Search widget to your WordPress sidebar: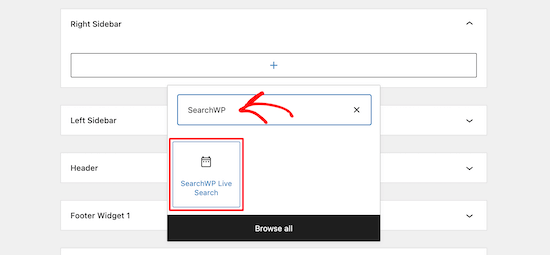 It's really that simple!
#6. Create Product Search Engines
We also spoke a little bit about WooCommerce product search plugins before. SearchWP takes product search engines to a whole new level.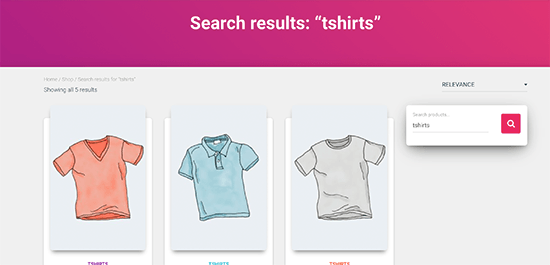 SearchWP makes it easy to improve your WooCommerce product search and make more sales. Head over to Settings » SearchWP and click on the 'Sources & Settings' button: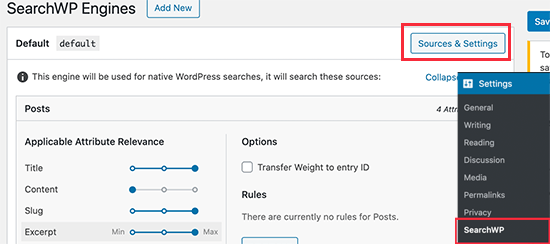 And simply add Products to your sources: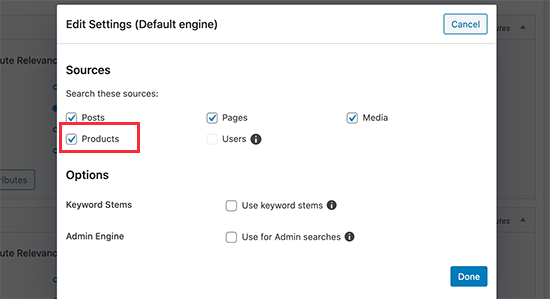 You can even customize the specific attributes to add to your search engine for each product on your site:

Adding attributes opens up a whole realm of possibilities to your search engine. You can even add Custom Fields and Taxonomies to your search index: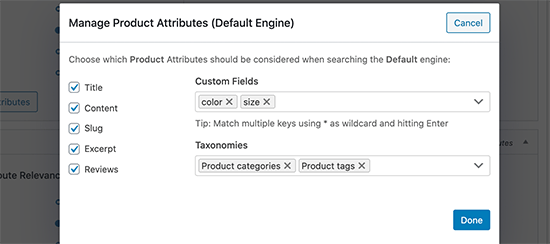 Pro Tip: If you're running an eCommerce store, you can increase your traffic and sales even further by creating automated push notification campaigns. Push notification campaigns are super easy to set up and they can generate a LOT of extra revenue for very little work.
#7. Create a Custom Post Type Search Form
With SearchWP, you can create all kinds of advanced search forms, like a custom post type search form. What's even more epic is the fact that you can have more than one custom search engine for the same site.
Let's say you want to create a search form for custom post types such as coupons. In this case, you'll want to build a separate search engine that only searches that specific post type.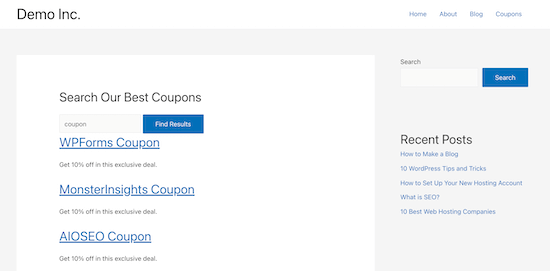 Head over to Settings » SearchWP and add a new search engine:

And click on Sources and Settings to add a source: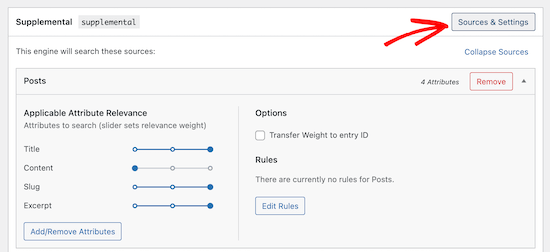 Uncheck the boxes of the sources you don't want to include and give your search engine a name: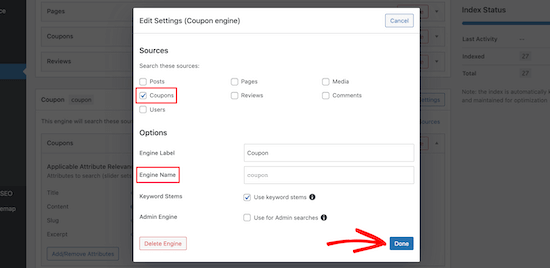 And you can go ahead and publish the new search engine!
#8. Powerful Integrations with Other WordPress Plugins
SearchWP comes with powerful third-party integrations that help you improve your WordPress search forms further.
Some of the most popular integrations include WooCommerce, bbPress, Meta box, Easy Digital Downloads, and more.
But the integration that we're most interested in is the integration with MonsterInsights.
MonsterInsights is the best Google Analytics plugin for WordPress and provides you with detailed reports and insights on your site audience and their behavior. Using the plugin, you can track how your site visitors are using the search boxes.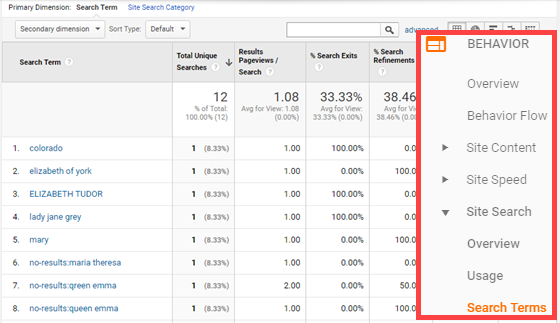 Yes, SearchWP comes with its own analytics. But at its core, it's not an analytics plugin. That's exactly why we recommend using MonsterInsights along with SearchWP. You can check out our review of MonsterInsights before you decide to use it.
Pricing
SearchWP offers 3 pricing plans. You can choose depending on the number of sites you want to use SearchWP on.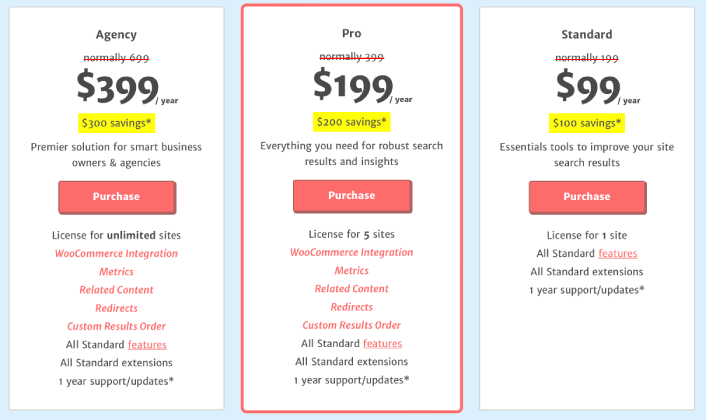 The available plans are:
Standard plan for $99 for 1 site
Pro plan for $199 for up to 5 sites
Pro Plus plan for $299 for unlimited sites
You can upgrade your plugin license at any time by paying the difference in cost.
Final Verdict
So, is SearchWP the best WordPress search plugin or not?
Our Verdict: Yes, it is!
SearchWP is powerful, easy to use, and affordable. It's also packed with one-click functionality that helps you create custom search engines for WordPress that are way beyond any other plugin in the market. The best part about SearchWP is that it brings together the functionality of multiple plugins and then one-ups them all.
And understanding what your visitors are searching for on your site is a great way to increase your traffic.
Speaking of which,
have you tried using push notifications on your site yet? Push notifications are really great tools to increase repeat traffic and site engagement. We recommend using PushEngage to send your push notifications.
PushEngage is the #1 push notification software in the world. So, if you haven't already, get started with PushEngage today!