Looking for a detailed All in One SEO review?
This article is going to help you whether you're looking for an SEO plugin for your new WordPress site or if you're looking for a better alternative to your current SEO plugin.
All in One SEO claims to be the #1 WordPress SEO plugin in the world. But is that really true?
Well, we use the All in One SEO plugin ourselves. So, we decided to put it to the test and get to the bottom of this mystery the old-fashioned way of applying some elbow grease!
Let's dive into the full All in One SEO review.
A Quick Overview of All in One SEO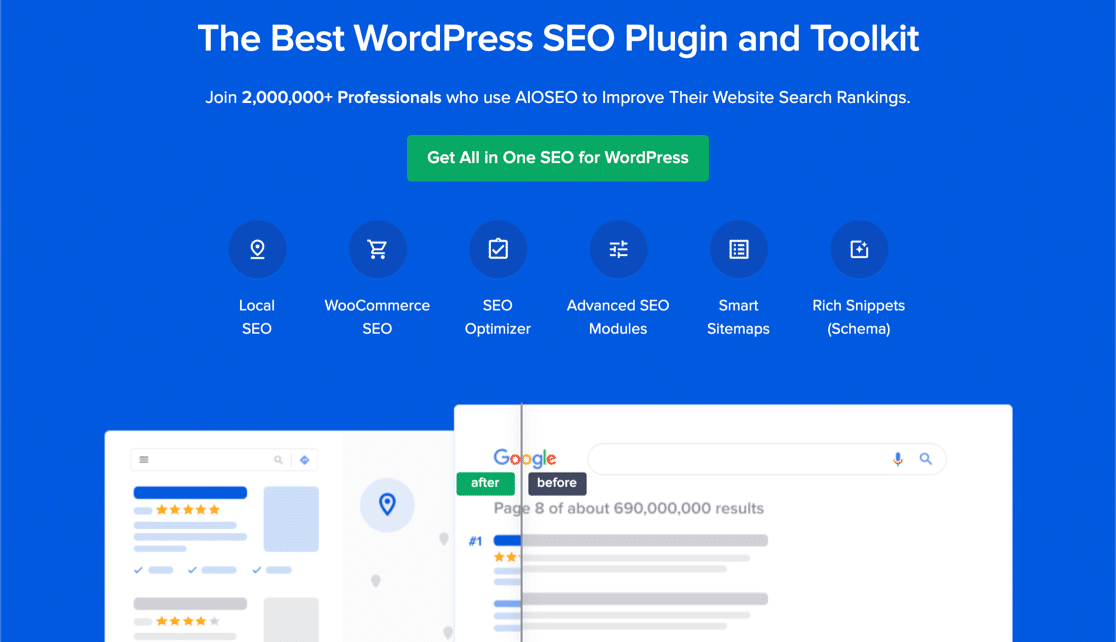 All in One SEO (AIOSEO) is one of the most acclaimed SEO plugins in the WordPress community. The original version was completely revamped to add a ton of new features and addons. So, if you used AIOSEO in the past you need to check out the plugin once again.
Not only does AIOSEO have SEO features powerful enough to implement the latest SEO best practices, but you also get advanced SEO settings to resolve specific SEO issues straight out of the box. This includes:
Local SEO modules for small businesses with a local audience
WooCommerce SEO for online stores
An SEO optimizer inside your WordPress editor
Smart Sitemaps for instant indexing on Search Engines
A Schema plugin to get your content to rank in the Rich Snippets
And a lot more!
In short: All in One SEO enables you to properly set up WordPress SEO without ever having to hire an expert. And if the 3+ million customers of All in One SEO are to be believed (us included), AIOSEO is a fantastic Search Engine Optimization software for every SEO requirement.
It's perfect for bloggers and small business owners because it helps you take care of SEO without having to hire a professional.
Remember: You can only integrate the Google Search Console with All in One SEO. If you need more detailed website analytics, you should consider installing the MonsterInsights plugin to install Google Analytics to your WordPress site.
How to Set Up All in One SEO
One of the primary reasons why love AIOSEO is that it's super easy to use. The fact that everything is one-click makes it even more epic.
After you download and install the plugin, you get a Setup Wizard: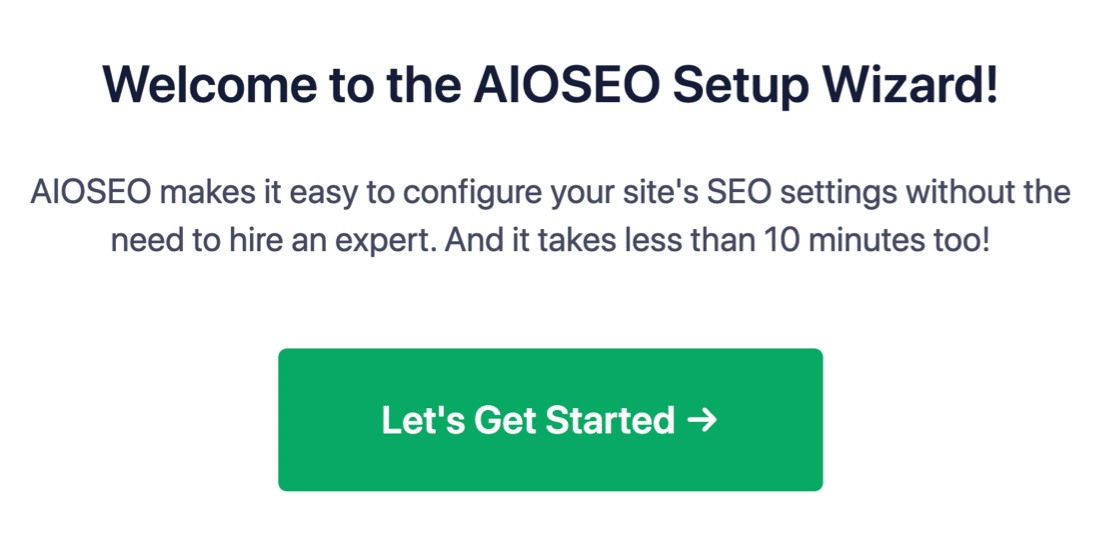 And the setup process will take less than 10 minutes.
But what if you're migrating from another SEO plugin? Every plugin handles metadata differently. So, do you have to do everything from scratch? Is all your previous effort wasted?
No! If All in One SEO detects another SEO plugin during the Setup Wizard, it'll offer to copy over the basic settings for you: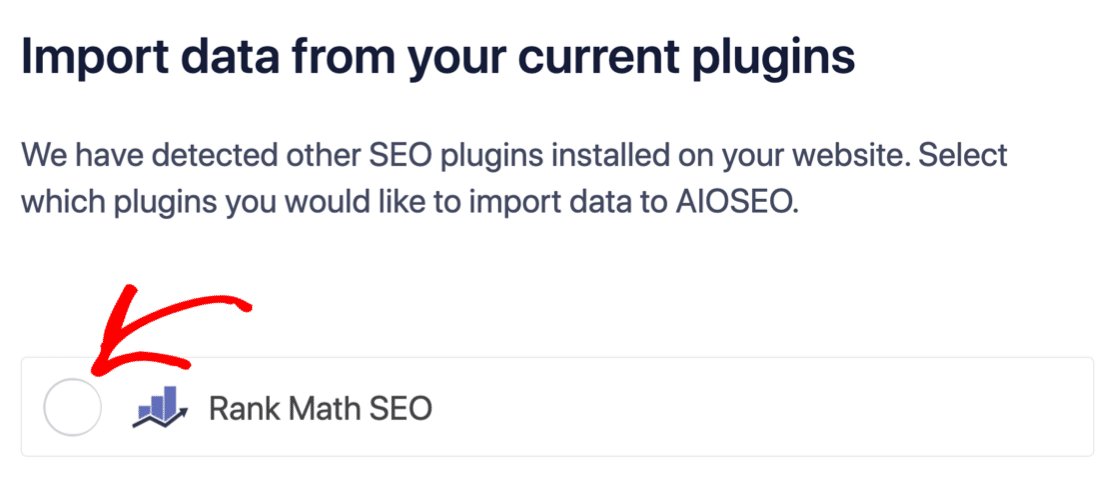 At the end of the setup, the Setup Wizard will prompt you to deactivate your old SEO plugin as well. This way, there are no plugin conflicts and errors: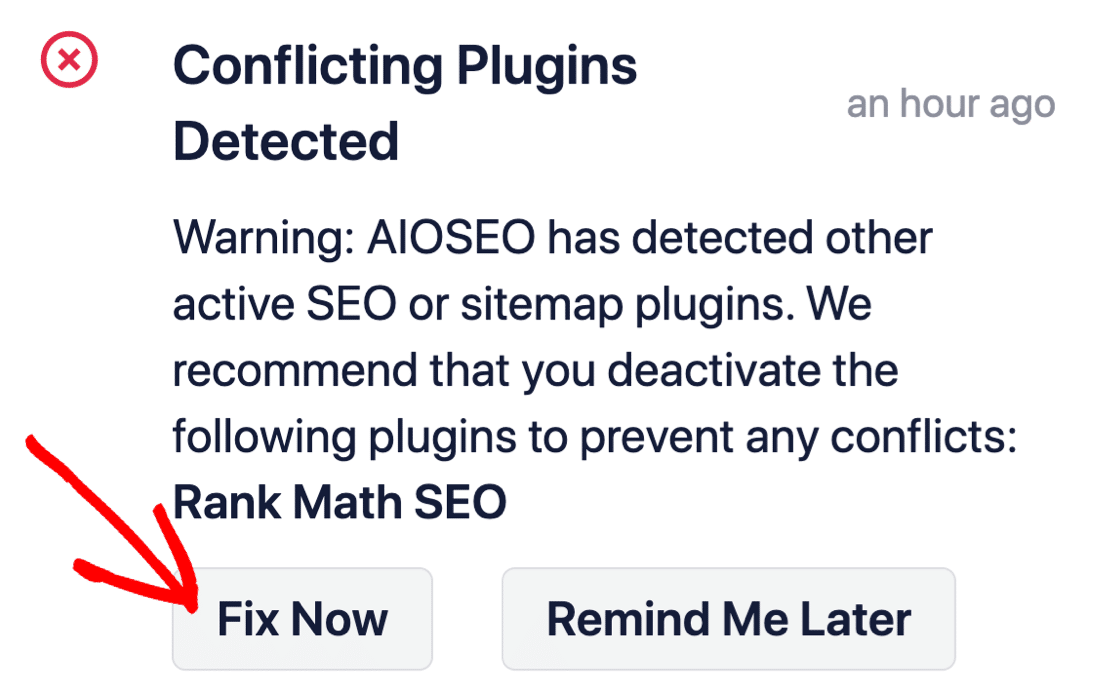 Clicking on Fix Now won't delete the settings in your old SEO plugin. It just deactivates the plugin to prevent conflicts.
What Can All in One SEO Do for Your Brand?
In this review, we won't go over absolutely every feature in AIOSEO ever. Honestly, there are too many features for us to review all of them. So, we'll focus on the features that we've used to get better rankings ourselves.
We believe that All in One SEO is the best WordPress SEO plugin. But we recommend reading this detailed All in One SEO review before your install it on your WordPress website.
Take a look for yourself:
#1. Site Audit Checklist
Once you set up the AIOSEO plugin, you get a Site Audit Checklist that lets you get an instant overview of the entire site's SEO health.
In practice, an SEO audit is really complicated and can take hours to get done manually. But with All in One SEO, you get an instant overview along with actionable insights to improve your SEO: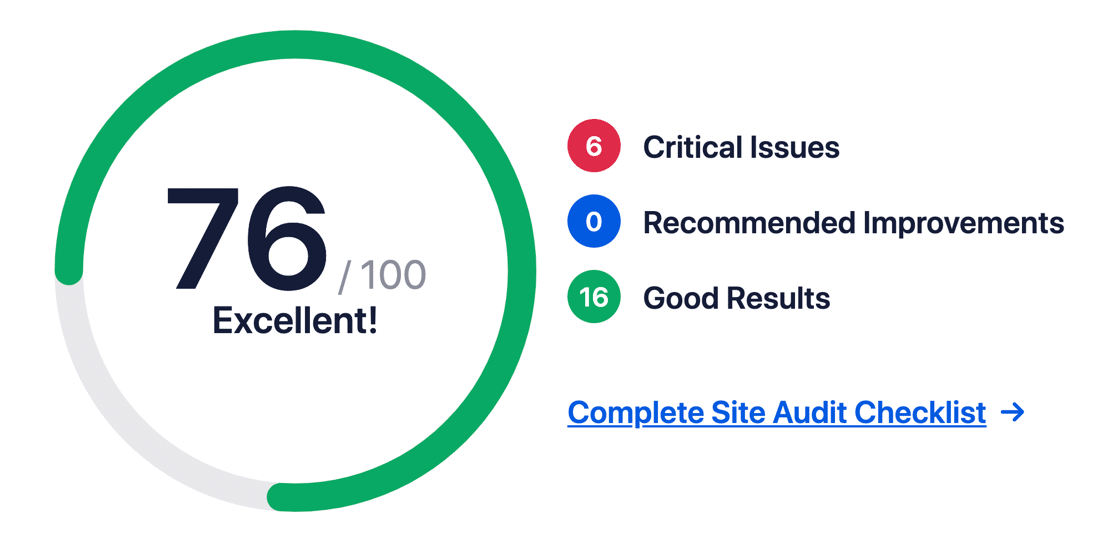 You'll want to pay attention to Critical Issues since those are the things that could be harming your rankings already. The in-depth content analysis covers title tags, post content, and even Open Graph tags.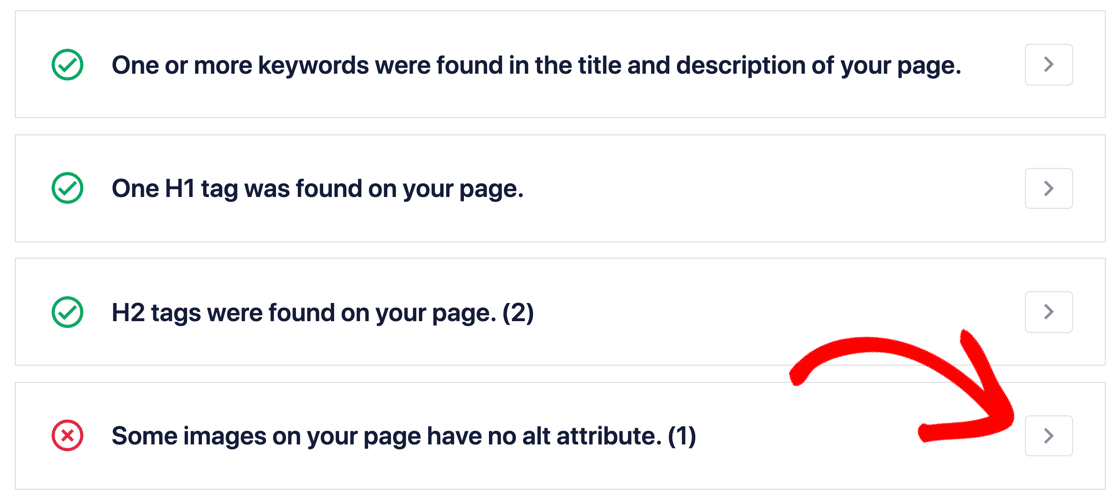 You want to score at least 60-80 on this audit.
#2. Search Engine Results Page (SERP) Preview
A major problem with many WordPress SEO plugins is that you can't see how your content appears on a Search Engine. With AIOSEO Pro, you get a preview of what your pages and posts look like when a user searches for your target keyword.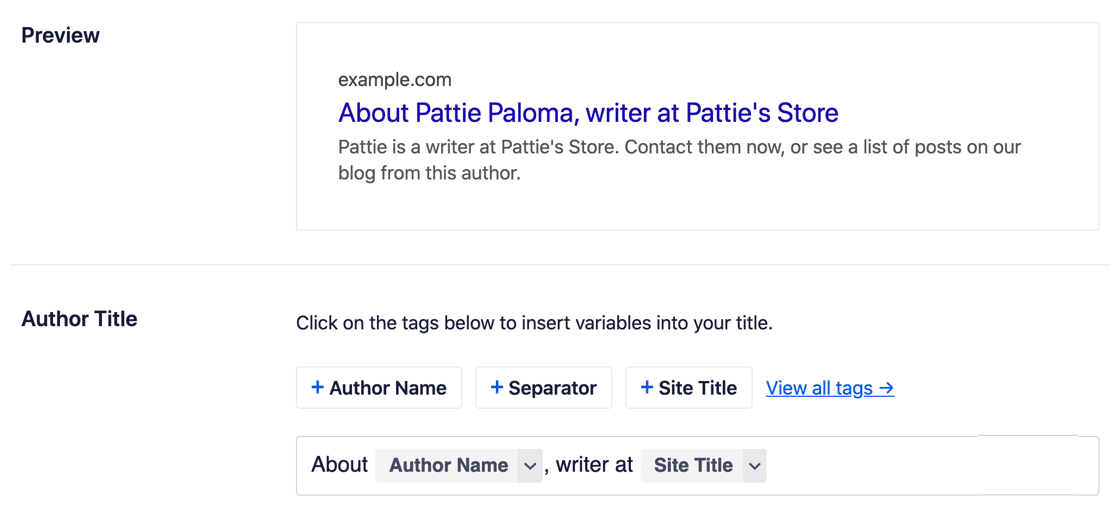 You can even set up dynamic placeholders or tags to customize your Title and Description:

You can also set up your Knowledge Graph information, which is essentially metadata about your business. This makes it easier for Google to find this information and display it in results. This includes:
Your name, or the name of your website
Phone number
Logo
Opening hours

This is most helpful for Local SEO, but you can use it to list business information if you have physical offices as well.
#3. Social Network Integrations
The Social Networks settings page allows you to control how your posts show up on the social networks you're using to promote your content.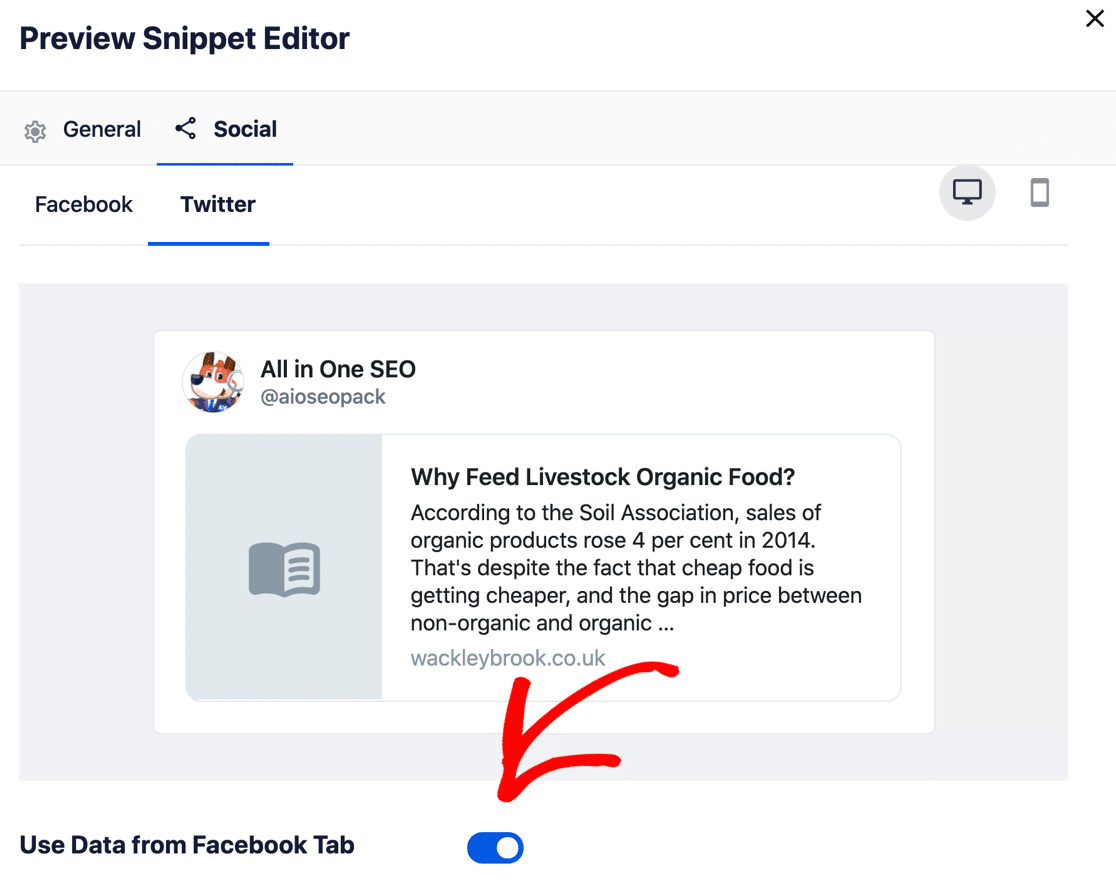 You can customize this content on each page and post or you can simply duplicate your settings across all social media accounts. The coolest part is that you can use the post title as your social media post title if you're not into creating custom content.
#4. Multiple Sitemaps for Better Indexing
All in One SEO lets you create 4 different types of sitemap:
General
Video
Google News
RSS
Why? Sitemaps are crucial for Search Engines to index your site and all its content properly. You don't have to enable all four sitemaps, but you'll definitely want to use the General sitemap so you can control the post types that Google discovers.
And even then, you can control the type of content you want Google to index including taxonomies: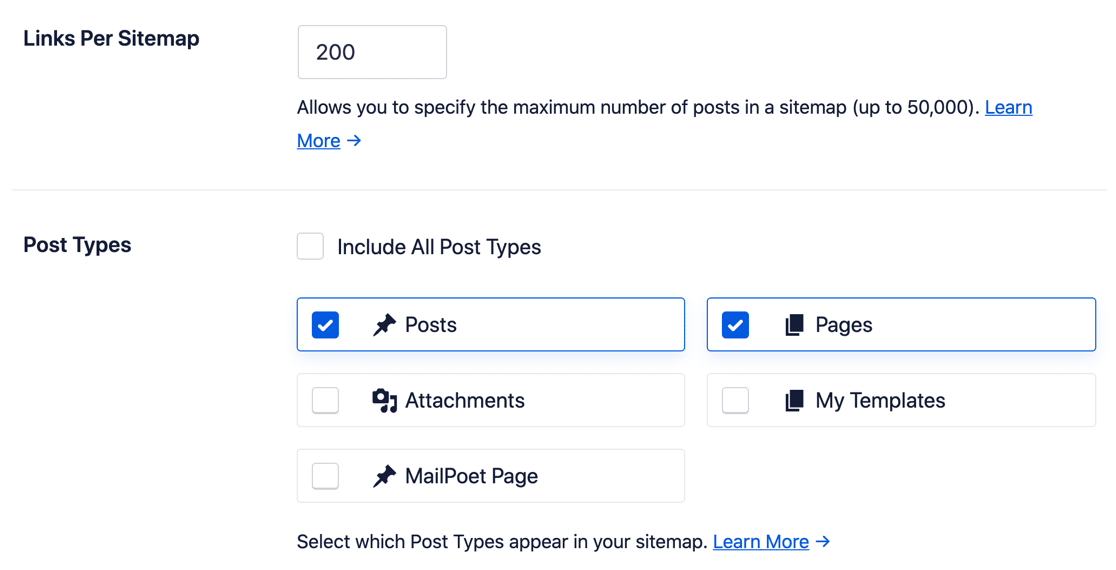 You can also use the advanced settings to:
Include or exclude specifc URLs, posts, pages, images, and even keywords from your sitemap
Control the priority of each URL
Set an update frequency
Manually set the Last Modified date
And more! You can even create news sitemaps for your WordPress website pretty easily.
Pro Tip: You can also hide pages in WordPress from search engines like Google and Bing using All in One SEO. Check out our article on how to hide pages in WordPress for more details.
#5. Instant URL Redirects
Ever delete a page or a post on WordPress before? If you have, you should know that every time you do that, your site throws a 404 error at anyone trying to visit that content.
The right way to delete a page is to redirect the URL to a different URL after you delete it.
But the problem is, there are several protocols to redirecting canonical URLs and you have to know what you're doing… if you do it manually.
With AIOSEO, this entire process is automatic with their redirection manager:

All in One SEO can also create automatic redirects and it's one of the best 301 redirect WordPress plugins. For example, if you delete a blog post, AIOSEO will step in and ask you to create a redirect from the old URL to a different one.
#6. Local SEO
The Local SEO addon for All in One SEO allows you to promote a local business using SEO.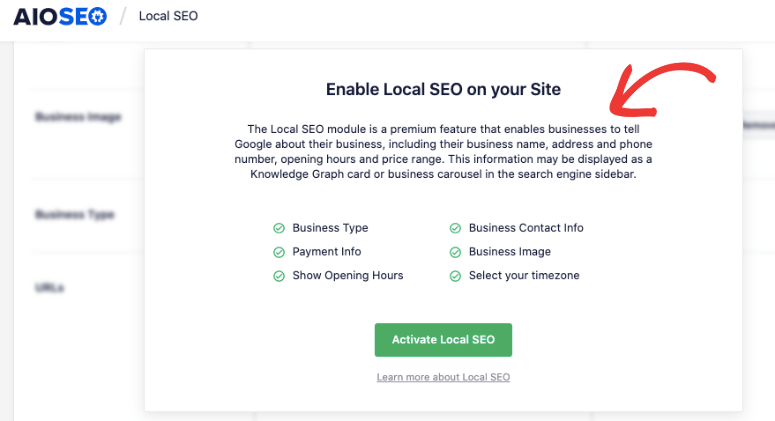 Since most of local SEO is strictly dependent on local search results such as Google map results, the Knowledge Graph becomes supremely important. Using AIOSEO, you can update your:
Business address
Services
Contact information
Tax or VAT ID
Payment methods
Price range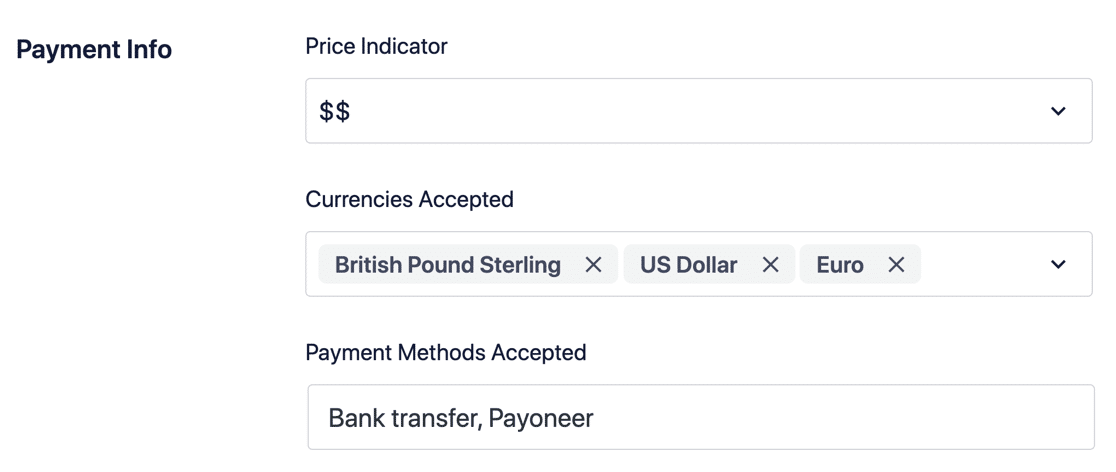 This way, any local searches about your brand or services you provide always yield relevant information and your business is well-represented.
#7. On-Page Optimization
One of the most critical components of SEO is on-page SEO. And AIOSEO allows you to build SEO content every time using TruSEO.
TruSEO is an SEO analysis tool built into your WordPress editor. It's completely Gutenberg-friendly and it provides actionable insights to improve the SEO on anything you publish.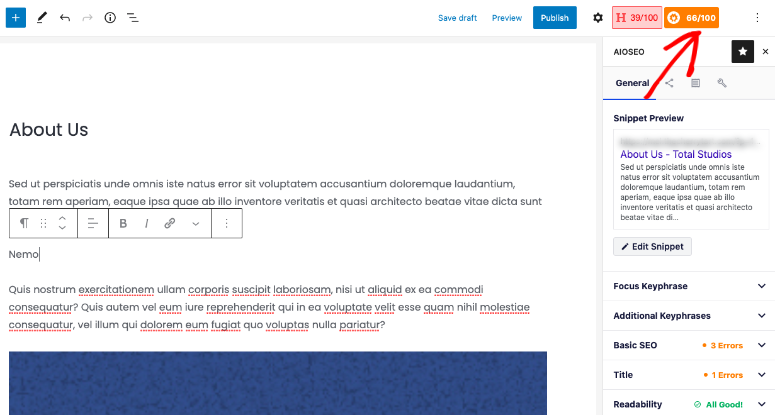 By default, TruSEO is disabled. You'll want to activate it on the plugin's General Settings page:

TruSEO scores your content based on:
Keyword relevancy
Basic SEO
Title Optimization
Readability
And gives you actionable ways to improve it: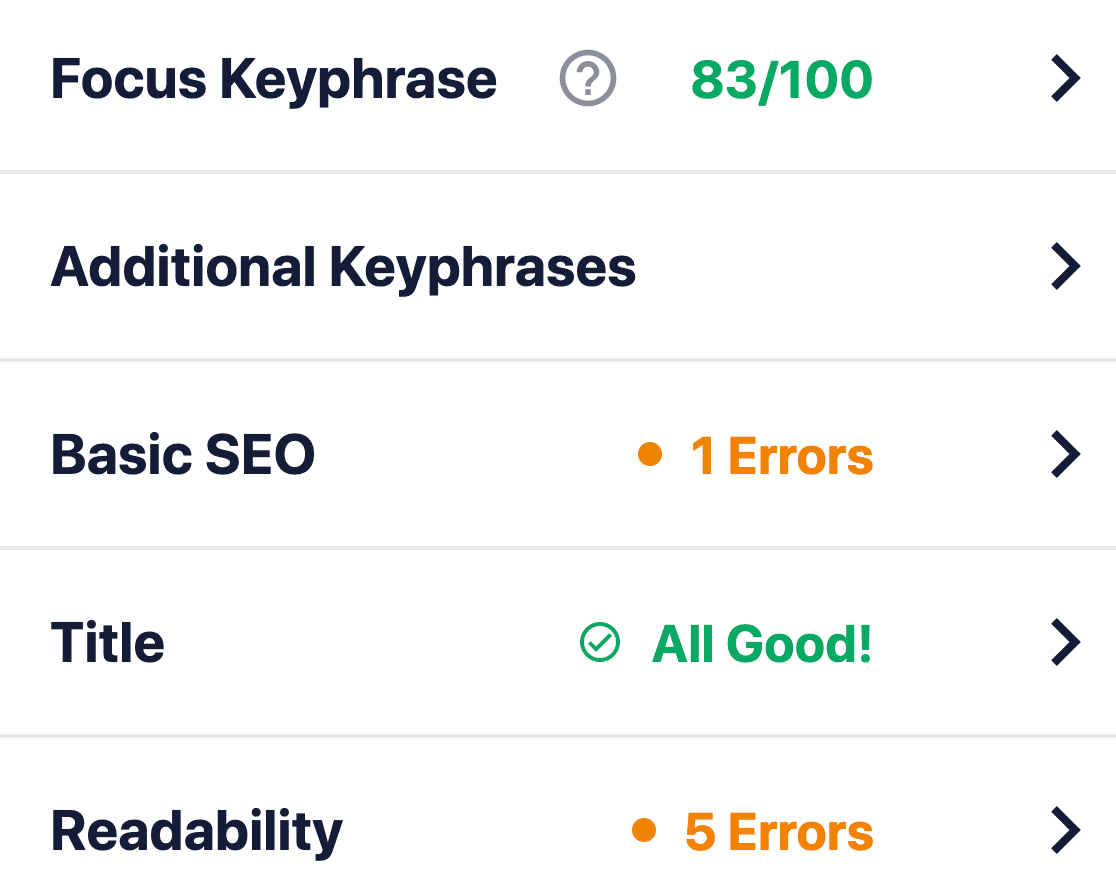 TruSEO is more sophisticated than other SEO plugins and it takes many more factors into account to create a score. Of course, there is no "one single rule" to SEO because Google's search algorithm is constantly changing. But over time, the fundamental idea behind creating SEO content is based on these four critical factors.
If we expand the Basic SEO box, you can get suggestions to optimize your content, SEO title, and meta description for the focus keyword or keyphrase: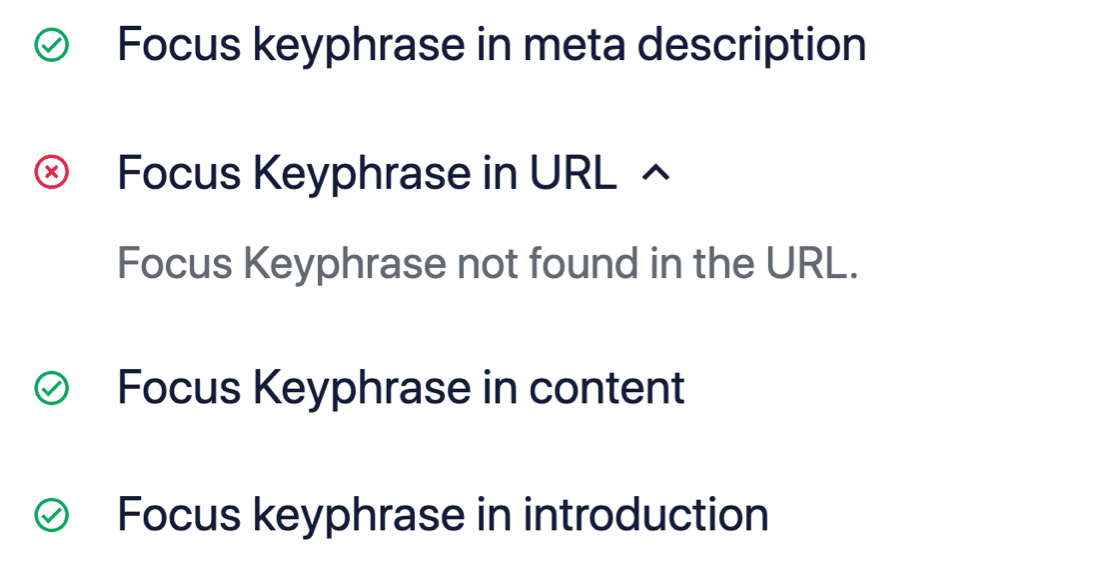 Side Note: TruSEO is 100% compatible with MonsterInsights. If you're using the MonsterInsights Headline Analyzer, you can now get a content score and a headline score at one glance:

Very cool!
#8. Schema Markup for Rich Snippets
Featured snippets occupy the most precious marketing real estate on search results. They're especially important if a large segment of your audience uses your website from mobile devices because a featured snippet takes up the entire screen on a mobile device.
Here's the kicker: A featured snippet is just ONE type of rich snippet.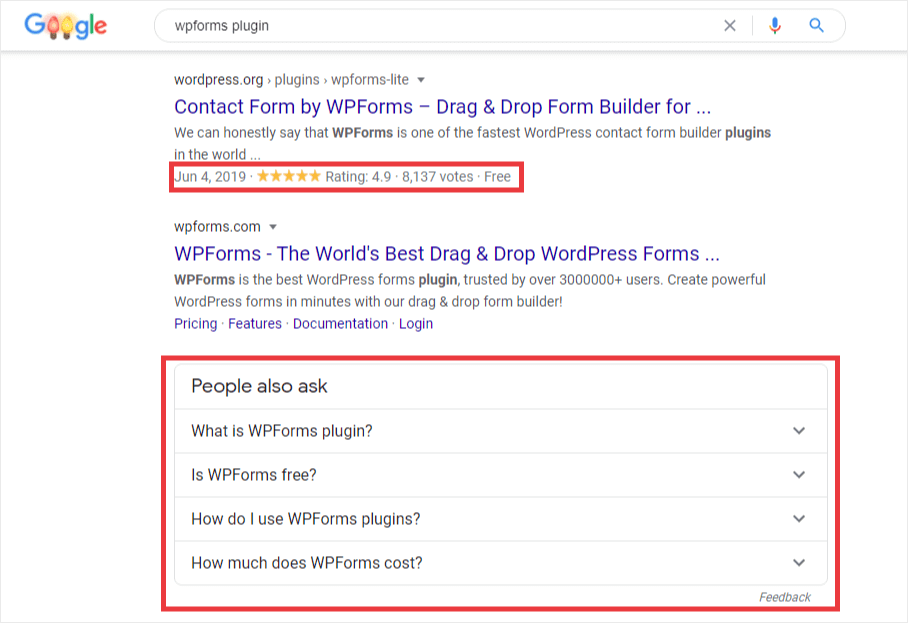 And while rich snippets don't automatically guarantee that you'll get a featured snippet or even better rankings directly, the search appearance does increase the click-through rates on your website. Typically, to get rich snippets, you'd need to learn how to code a little bit to include Microdata or JSON-LD in your site's HTML.
But All in One SEO makes it super easy to insert Schema markup automatically: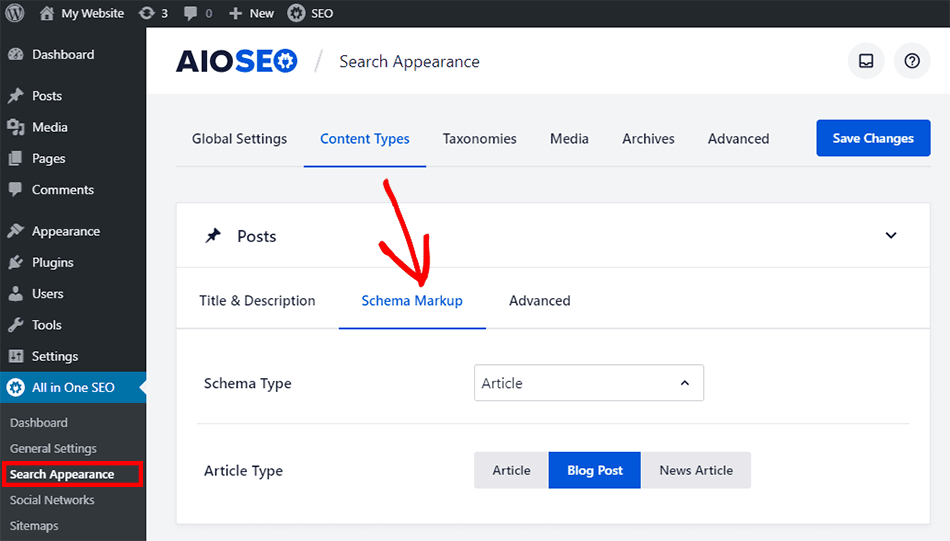 It's as simple as selecting the right content and markup types. The plugin takes care of the rest.
#9. Robots.txt Editor
The robots.txt file manages how search engines crawl your site. By disallowing search engines from crawling your website's unnecessary pages, like your WordPress admin page, plugin files, and themes folder you can get your critical pages indexed much faster.
The robots.txt also contains the location of the XML sitemaps. So, the robots.txt editor is one of the simplest SEO tools with a lot of impact for beginners.
And it's really easy to set this up right from the WordPress dashboard using AIOSEO:

Normally, you'd have to find the robots.txt file on your server to modify it.
Here, it's a matter of simply pointing and click at what you want crawled and what you don't: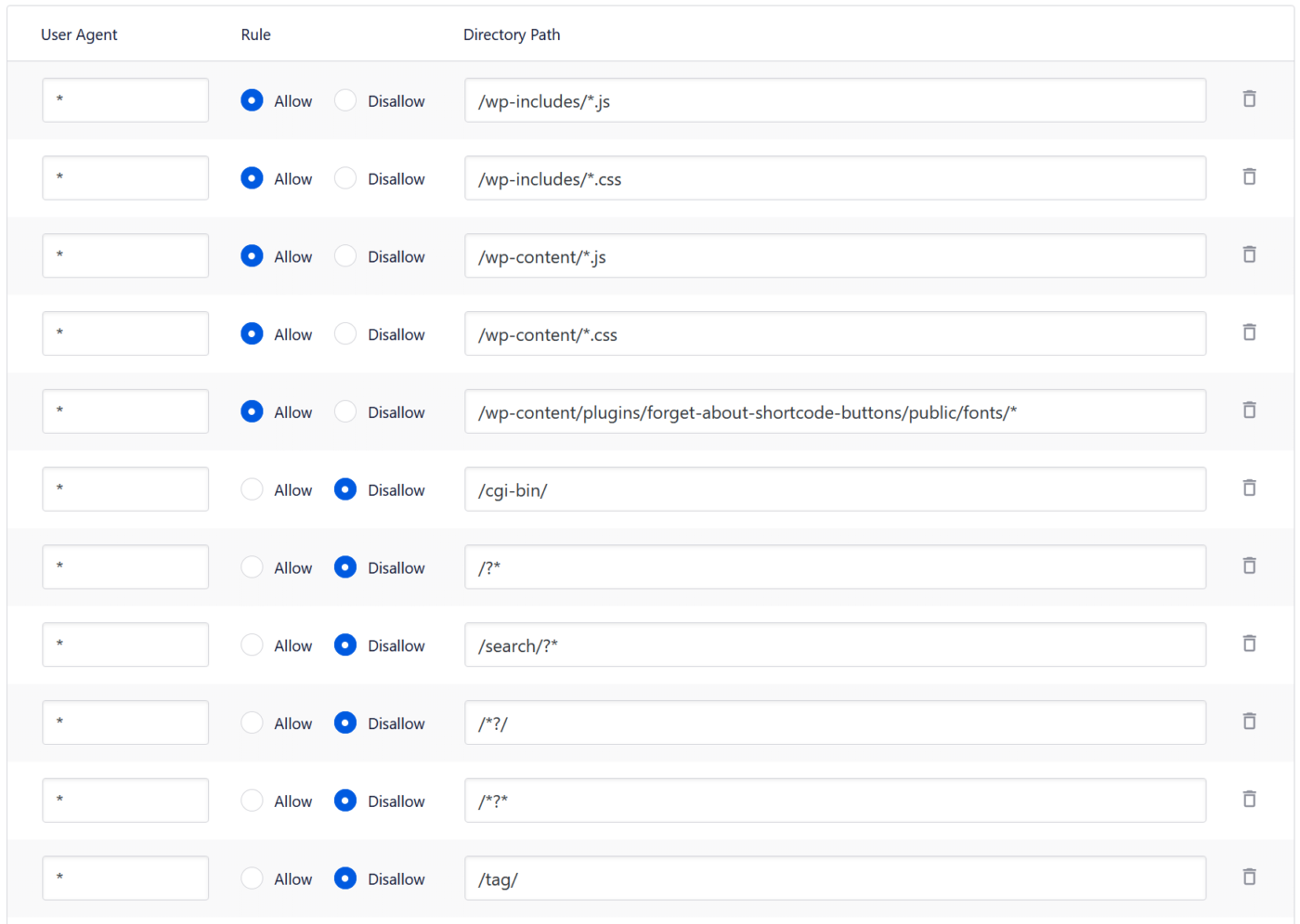 And it's all from your WordPress dashboard!
#10. WooCommerce SEO
AIOSEO has a really great addon for WooCommerce SEO that allows you to optimize eCommerce product titles, product descriptions, and product images for higher traffic and clicks.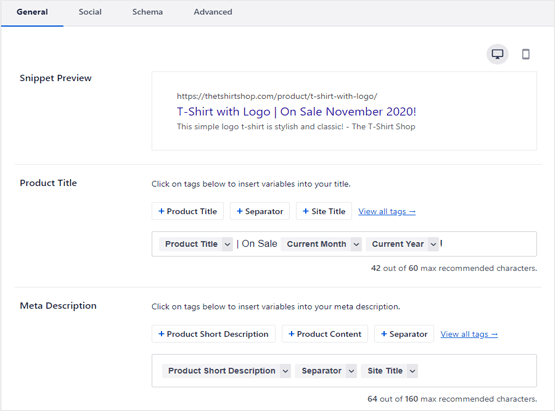 And as with any other content type, you can use tags to create dynamic titles and descriptions. You can also add breadcrumbs for easy navigation on your site.
#11. Image SEO
Are you looking to automatically set the image Alternative text and title attribute for all images in the content of your posts and pages?
AIOSEO can help you with that: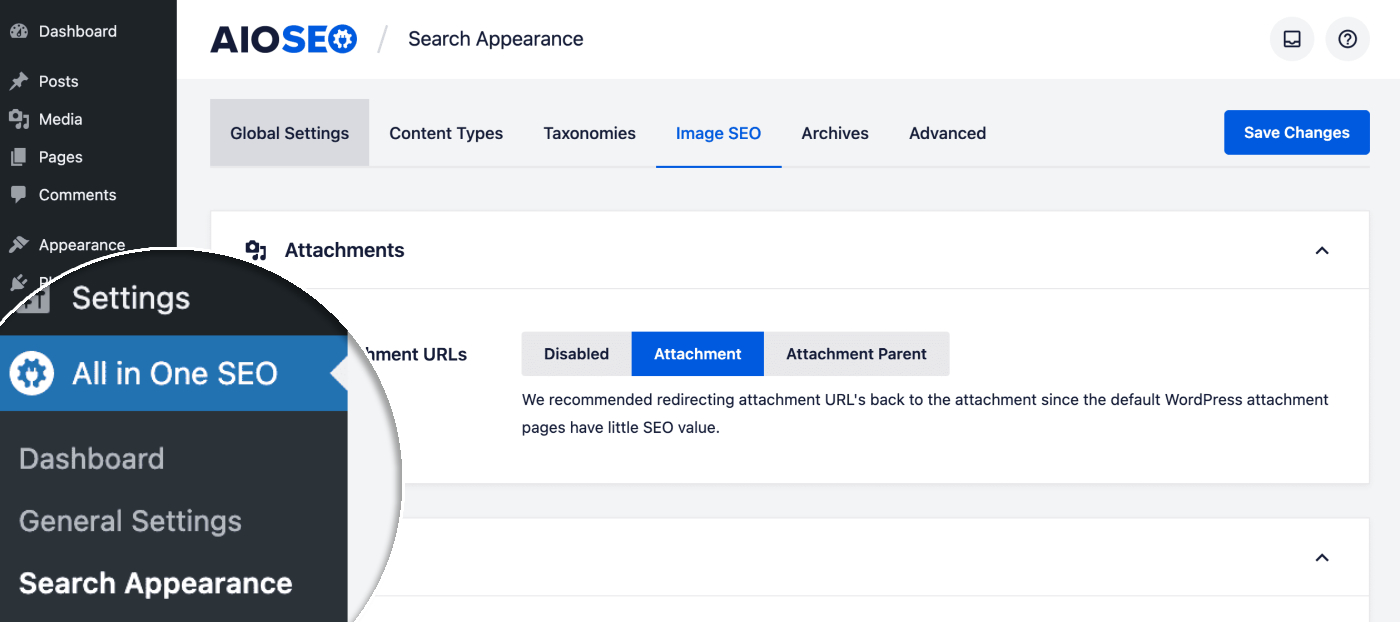 Head over to the Image SEO tab and use the tags to create dynamic image titles and alt tags or create custom titles and alt tags for each image on the fly: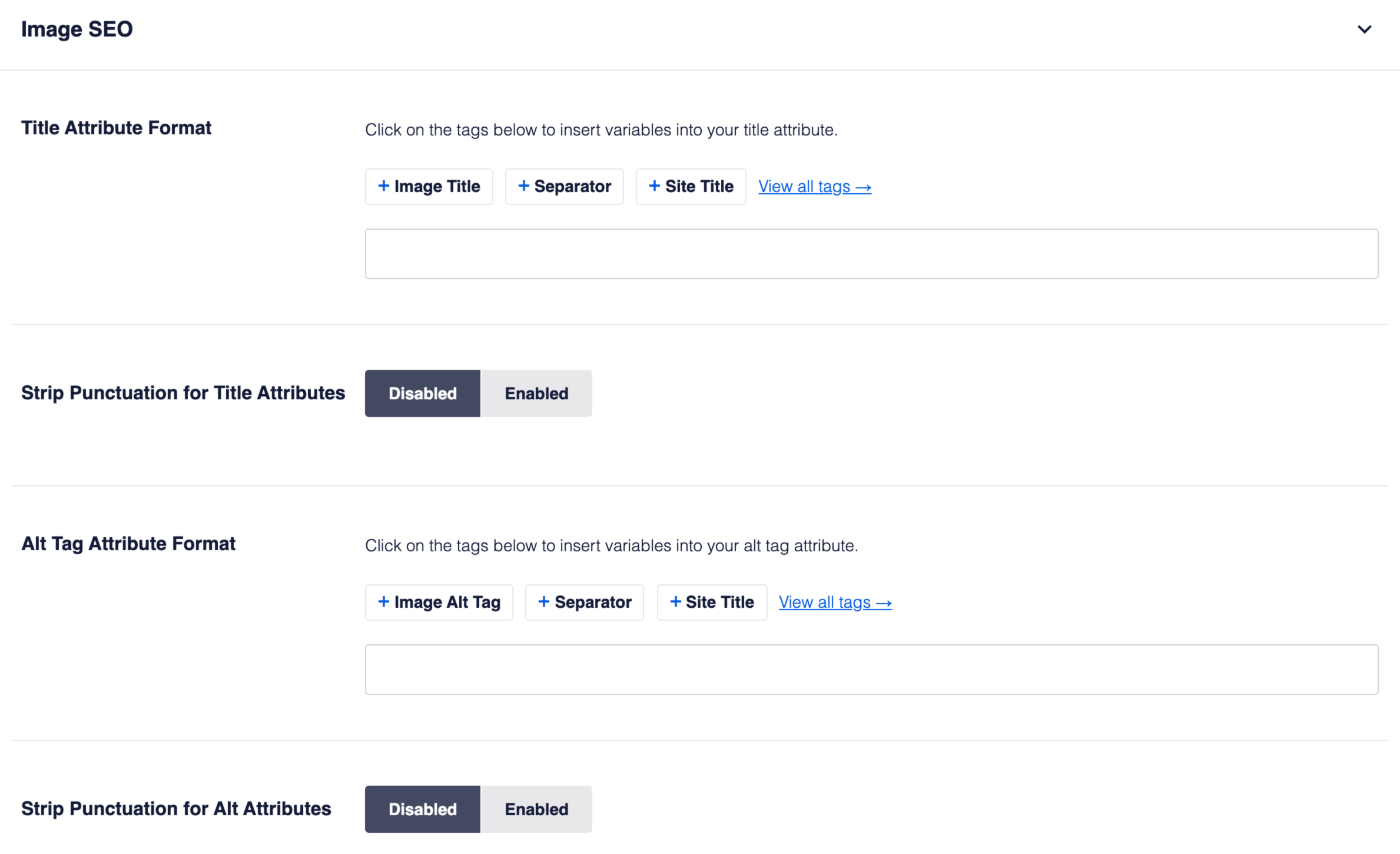 Pro Tip: You can also make some of your images clickable and redirect some traffic to your YouTube channel. The external links can help with the video SEO as well.
#12. RSS Content for SEO
Content scrapers are always looking for popular new posts to rip off.
When they republish your blog post using your RSS feed, your SEO rankings can get permanently damaged. All in One SEO makes it easy to add automatic credits to the end of each post in your RSS feed, so you can make sure to get the proper credit from Google for your work.

And that's pretty much all you need to do!
#13. Keyword Rank Tracking
You also get a built-in SEO rank tracker to stay on top of your SEO rankings.
Remember: You can only integrate the Google Search Console with All in One SEO. If you need more detailed website analytics, you should consider installing the MonsterInsights plugin to install Google Analytics to your WordPress site.
Head over to the Search Statistics section in the WordPress plugin to see an overview of your keyword rankings in WordPress: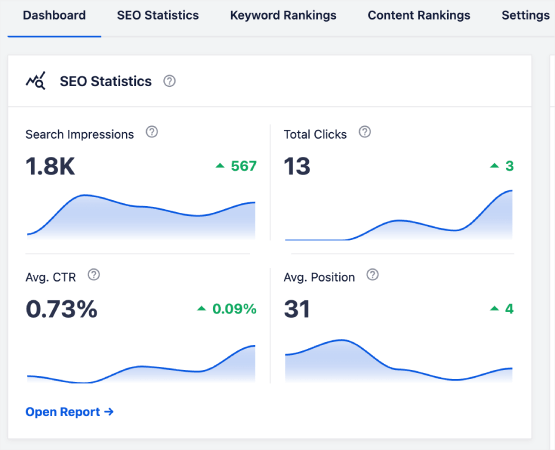 The main dashboard also has a Keyword Rankings section that shows an overview of your Top Keywords and Top Winning/Losing keywords.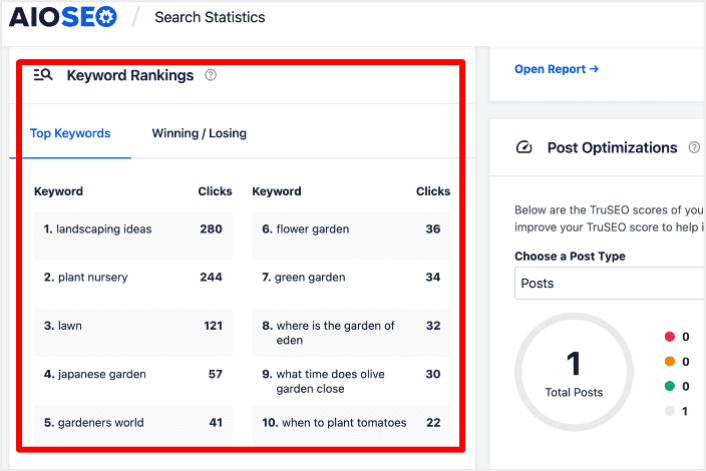 Figuring out which keywords are slipping in rankings is like finding out where your puzzle pieces are missing. It helps you figure out what's going on with those pages and plan a strategy to get those positions back.
Once you have a general idea of your keyword performance, the next step is to open the Keyword Rankings report. You can also see detailed statistics for your content's rankings here.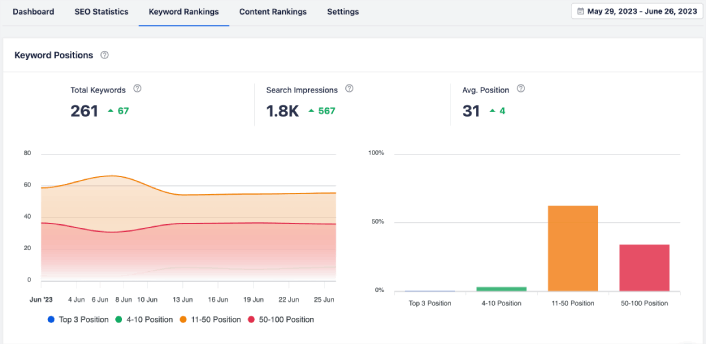 If you scroll down further, you can even see the exact posts that are gaining or losing search rankings. More than that, you can filter your best keywords by clicks and check their rankings instantly.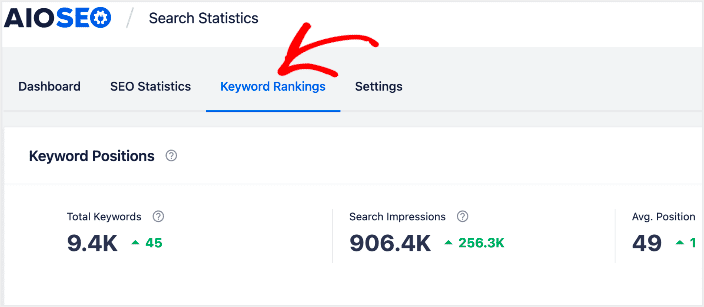 This is where you get a detailed report of all your keywords and their performance on SERPs. Scrolling down to the Keyword Performance section gives you a deeper look at how individual keywords are performing.
This is the spot where you get a full report about all the words you're using and how well they're doing in search results. When you scroll down to the Keyword Performance part, you dive deeper into how each word is doing all on its own.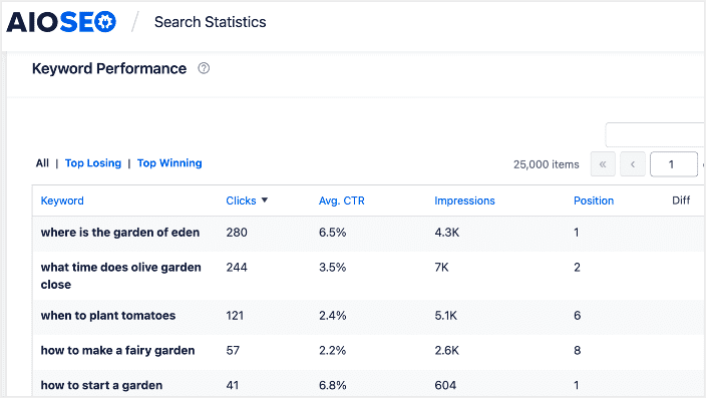 If you click on the Top Winning tab, you see the keywords that are improving in rankings.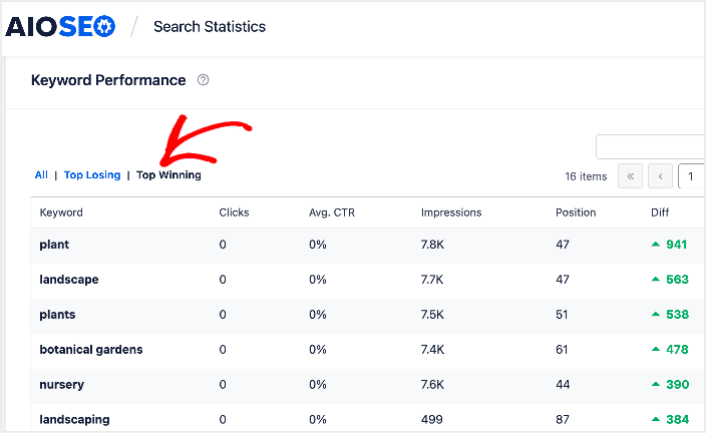 Besides checking your Top Winning keywords, you can also track your Top Losing keywords. Click the Top Losing tab in the Keyword Performance report to do that.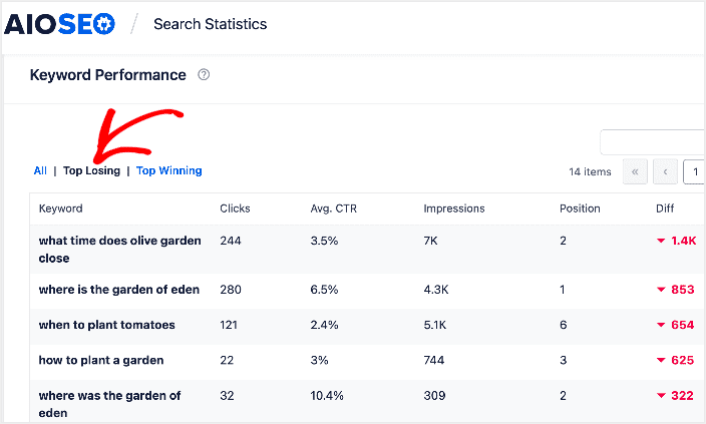 This section shows keywords that are dropping in rankings. This is vital information as it shows you the keywords and content to be optimized. If your keyword rankings are dropping, then you need to update your content right away.
#14. Feature Manager
As you've already seen, All in One SEO has a TON of features: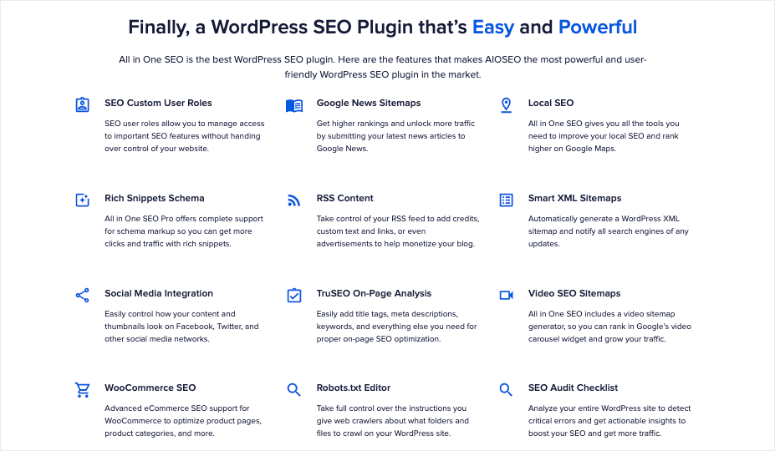 And you may not need all of them at once. That's why AIOSEO gives you a Feature Manager to activate or turn off certain features in the premium version: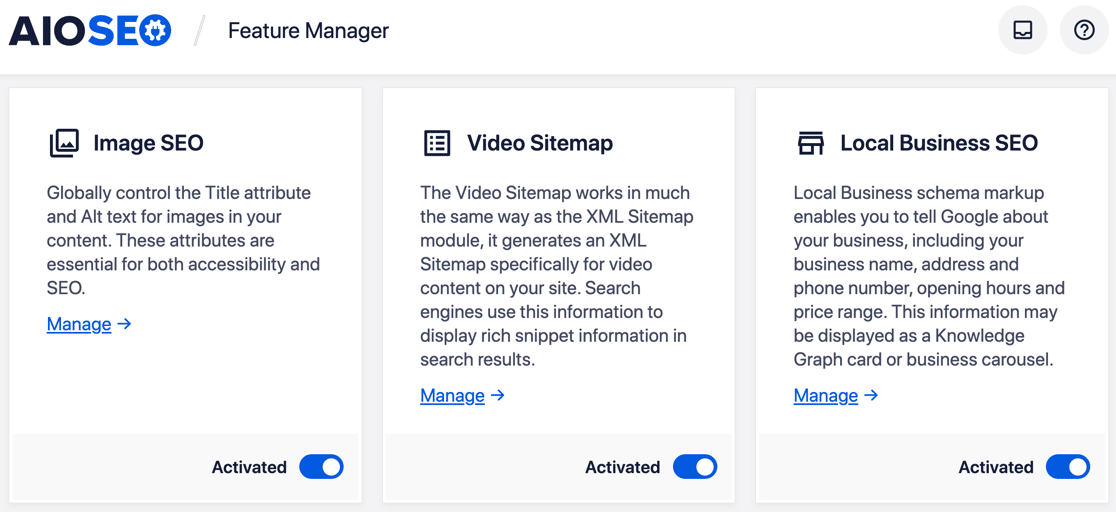 Many of these features are addons and many of these additional features are focused on specific use cases. This includes SEO for AMP sites as well. You also get a link assistant to improve your internal linking strategy. So, it's worth going over these addons to set up the ones you need and deactivate the ones you don't.
All in One SEO Pricing
There's one final factor to consider before we hand in our verdict. How much does the pro version of All in One SEO cost?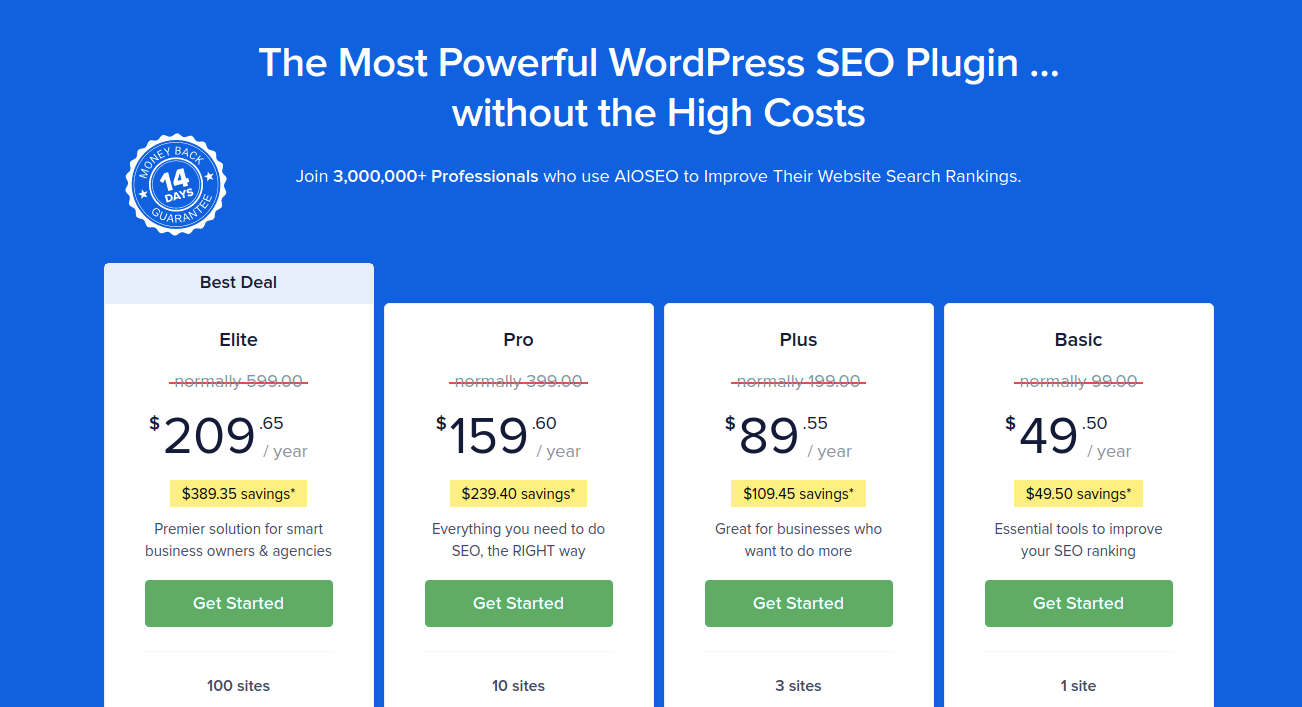 If you consider how affordable it is and all the features that All in One SEO has to offer, it's clear that the plugin is a great fit for small businesses. And the best part is that you can use the free version if you're running a hobby site.
Is All in One SEO the Best SEO Plugin for WordPress?
All in One SEO is powerful, easy to use, and affordable. It's also packed with one-click functionality that helps you automate SEO without hiring an SEO professional. It's super affordable, and you get top-tier support. So, it's perfect for small businesses looking to grow. In our opinion, that makes it the best SEO plugin for WordPress.
At the same time, its SEO settings are way more easy to use than Yoast SEO or Rank Math. If you integrate AIOSEO with Semrush, you can import focus keyphrases directly into your site. Penny for a penny, All in One SEO is a good investment if you want to build organic traffic to your site.
Speaking of which, have you tried using push notifications on your site yet? Push notifications are really great tools to increase repeat traffic and site engagement. We recommend using PushEngage to send your push notifications.
PushEngage is the #1 push notification software in the world. So, if you haven't already, get started with PushEngage today!