Looking for a simple way to display your social media feeds on your website? Smash Balloon can help. Smash Balloon claims to be the #1 social feed plugin in the world.
But what does that even mean? And is it even true?
In today's article, we're going to put Smash Balloon to the test. And we'll get to the truth ourselves.
Let's dive in.
A Quick Overview of Smash Balloon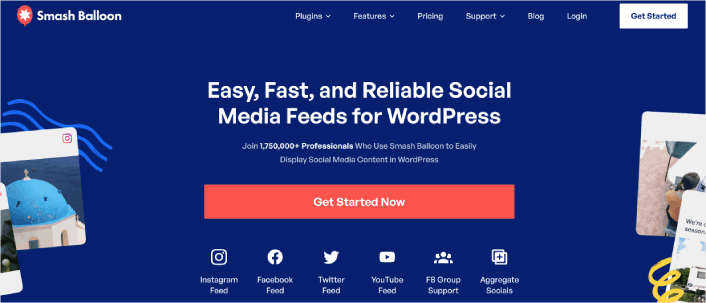 Smash Balloon is a simple WordPress plugin that allows you to display your social media feeds on your site without using any code at all.
You can use Smash Balloon to create custom social media feeds for your WordPress site in a few clicks. There's no coding involved and no need to hire a developer. And you get to integrate Instagram, Facebook, Twitter, and YouTube feeds together or separately as you wish.
A really cool way to use a plugin like Smash Balloon is to use social media feeds to create a testimonial wall.
The best part? It's incredibly easy to use.
Smash Balloon takes barely 5 minutes to set up. And there's no learning curve at all.
2+ million users trust Smash Balloon to display their social feeds on their websites. To top it off, Smash Balloon has an average rating of 4.8 out of 5 stars on WordPress.
What Can Smash Balloon Do for Your Brand?
Bring the power of hashtags and social clout to your website and let your traffic know all about your social presence. Smash Balloon can help you build a brand across multiple marketing channels in a very simple and effective way.
You can use Smash Balloon to:
Use your hashtag feeds on your site as social proof
Dsiplay interactive Twitter feeds to boost website engagement
Embed your YouTube videos on your site to grow your subscribers
Add authentic Facebook Business Page reviews to your site to increase conversions
And lots more!
Now that you know a little bit about the plugin, let's take a look at what makes Smash Balloon so great.
#1. Super Easy to Use
Smash Balloon is the EASIEST social feeds plugin on the market. Period. Every option in the plugin is a one-click solution.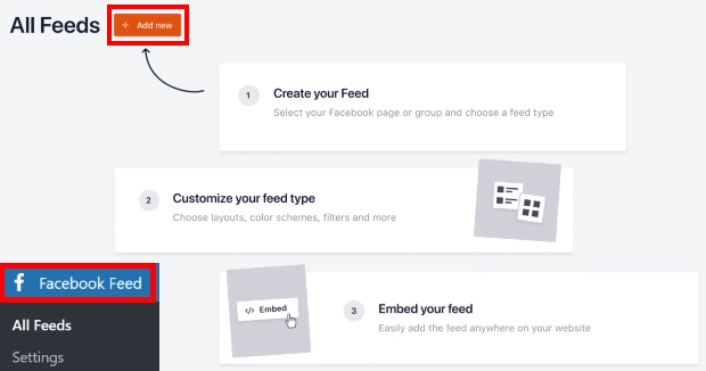 The plugin is packed with powerful features and the overall interface is very intuitive. So, you'll never need a developer or any technical skill to install the plugin or to use it.
#2. Responsive and Mobile-Optimized
One major consideration with any plugin that introduces design changes on your site is whether it's mobile-friendly. It's quite likely that a large chunk of your audience is going to use your site from mobile devices.
Smash Balloon makes sure that your social feeds don't break the rest of your website layout on a smaller screen.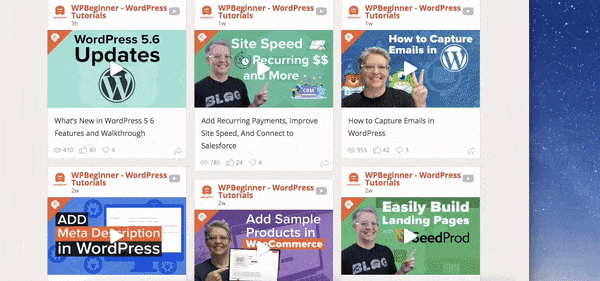 All Smash Balloon plugins are 100% responsive and mobile-ready. So, you can insert a social feed without having to hire a developer to create a separate mobile version.
#3. Ultra-Fast Performance
If your site takes too long to load, your web traffic will bounce no matter how good your site looks.
Smash Balloon is designed to be bloat-free and the clean code helps your social feeds load instantly without slowing down your overall site's performance. The plugins are built to be efficient at data handling. So, no matter how big your social feed is, your site won't slow down.
#4. Fully Customizable Design
Smash Balloon automatically inherits the colors and styles across the rest of your site. This way, it looks great by default.
But if you'd like to customize the way your feed looks, you can customize anything you like about it. Want to change your feed's height, width, background color, font color, or any other style element?
You can do that using the very intuitive interface without having to hire a developer.
You can even style your feed down to how individual posts look: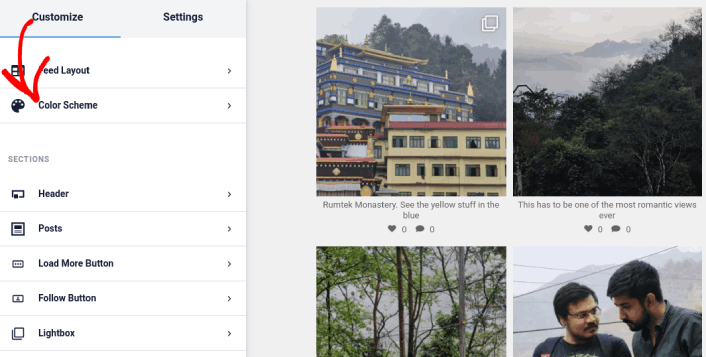 Or even the layout: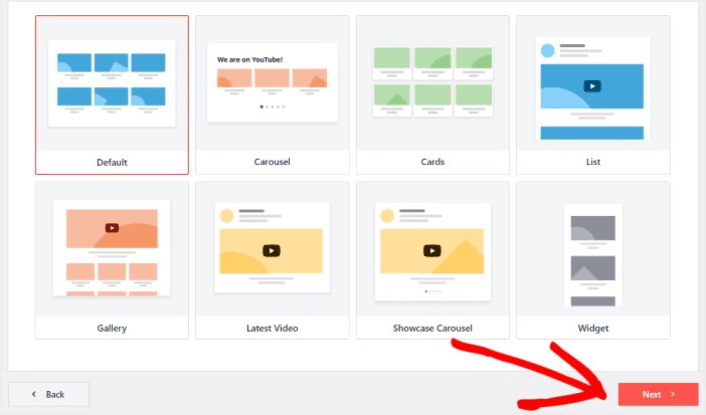 Of course, you may not want to display your entire feed and only display a specific type of content. You can do that pretty easily using Smash Balloon by configuring the content sources: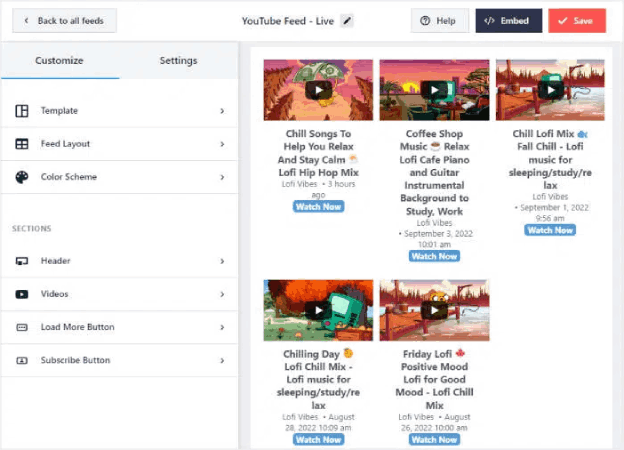 Even if you're importing video content from YouTube, you can customize the whole vibe of your feed.
#5. SEO-Friendly Embeds
While Smash Balloon doesn't directly improve your search rankings, it can help indirectly.
Three really important factors in SEO are optimized code, high site loading speed, and dwell time.
We've already spoken about how Smash Balloon's code is perfectly optimized so that it loads super fast and doesn't slow down your site.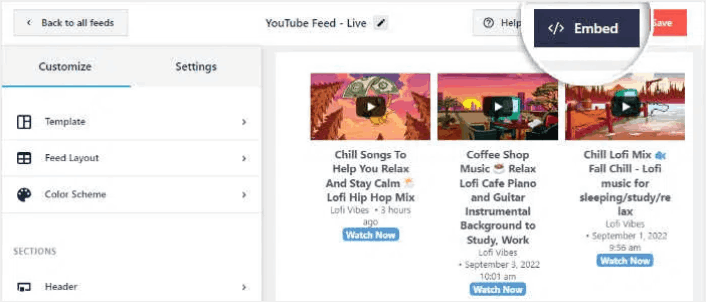 But the other half of this equation is dwell time.
What exactly is dwell time?
Dwell time is the amount of time a visitor spends on your site on average. The higher the dwell time, the more Google and other search engines will believe that your content is truly epic.
So, how does Smash Balloon help with that? By making your site more interactive, you increase your average dwell time exponentially. The video embeds, the interactive tweets and other social media feeds retain your web visitors on your site for a much longer time.
#6. Top-Notch Customer Support
With over 1.5 million active users and thousands of 5-star reviews, Smash Balloon is happily recommended and trusted worldwide.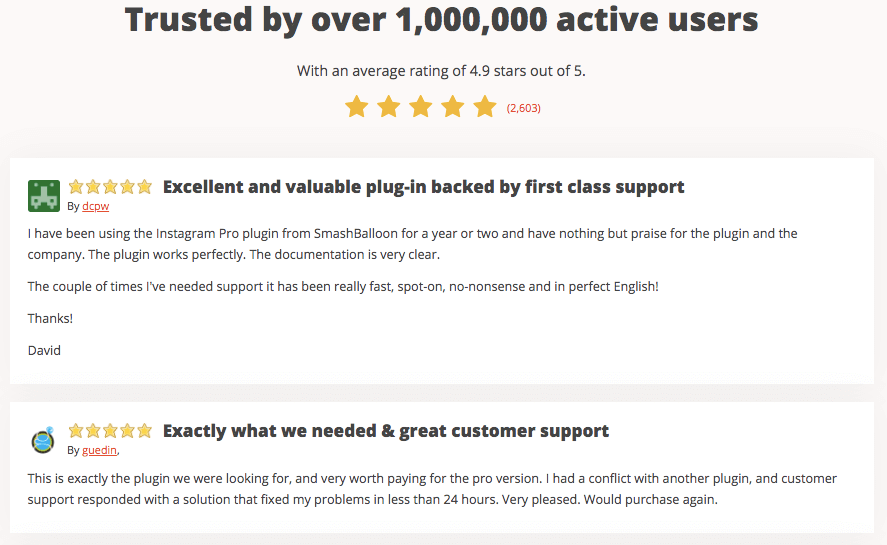 The customer support team behind Smash Balloon is some of the best in the business. You get a mix of awesome developers and Customer Success managers who all have a background in WordPress development and can help you navigate any pre-sales query and post-sales issue.
What Does Smash Balloon's Full Suite Include?
Smash Balloon isn't just one plugin. It's a suite of 5 plugins. And you can buy a single plugin, or a couple of them, or all of them at once. We recommend buying the full suite as it comes with significant savings, but more on that later.
Let's take a look at what each of the plugins in the suite has to offer.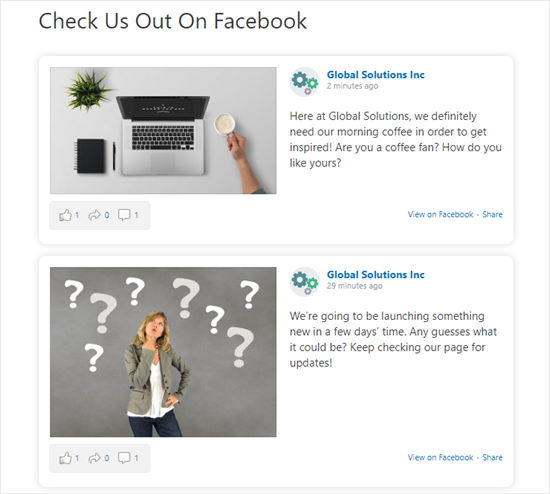 Facebook Feed Pro allows you to use oEmbeds to display Facebook feeds, which WordPress no longer supports due to API changes. You can also display multiple feeds across different feed types including:
Facebook post timeline
Facebook photos
Facebook albums
Status updates and link posts
Facebook videos (including live videos and support for 360° video)
Facebook events calendar
You can also display the reviews on your Facebook Business Page: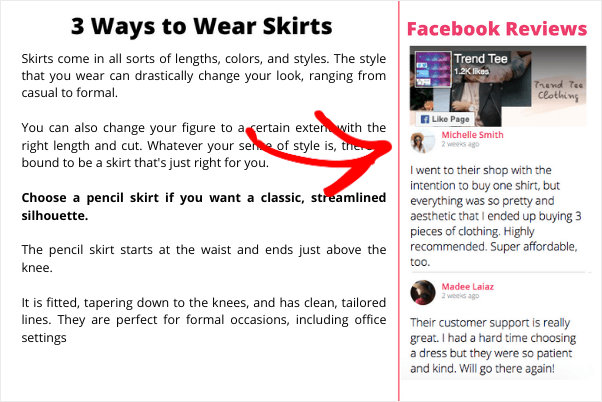 This is one of the best ways to boost your conversions by adding authentic social proof.
Check out the full list of features in Facebook Feed Pro.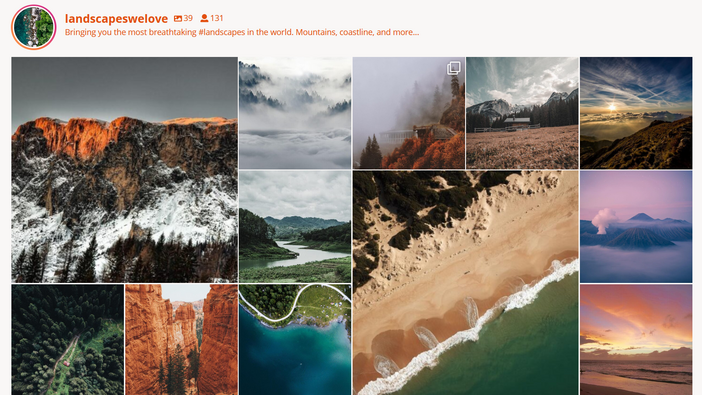 Instagram Feed Pro allows you to showcase your Instagram feed on your WordPress site. Of course, since Facebook doesn't support oEmbeds, Instagram doesn't either. But Smash Balloon Instagram Feed Pro allows you to bypass that issue and create a gallery of your Instagram posts.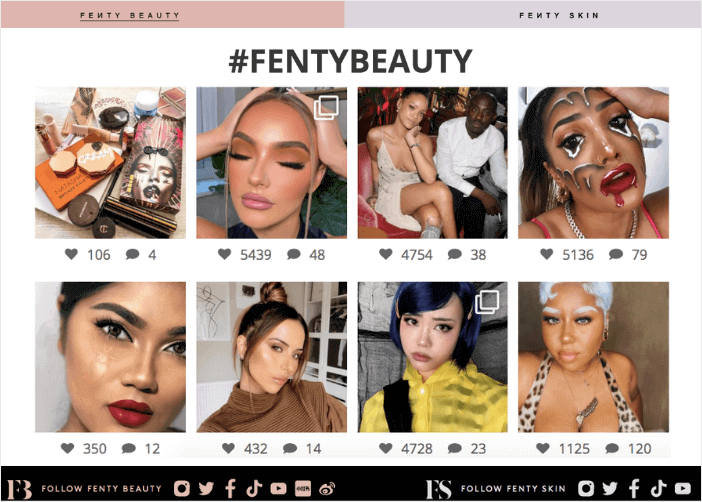 And you can display multiple types of Instagram posts as well, including:
User feed (a feed of your latest Instagram posts)
Hashtag feed (Instagram posts tagged with your chosen hashtags)
Tagged feed (a feed of photos you're tagged in by other Instagrammers)
Mixed feed (a single feed containing multiple post types)
IGTV feed (a feed of your IGTV videos)
Stories (your Instagram stories in a pop-up lightbox)
The best part?
You can embed shoppable Instagram posts. These are Instagram posts embedded in your site that redirect to a product or landing page of your choice when someone clicks on it. And since it's on your site, you don't have to go through Instagram's usual scrutiny to set up shoppable links.
Check out the full list of features in Instagram Feed Pro.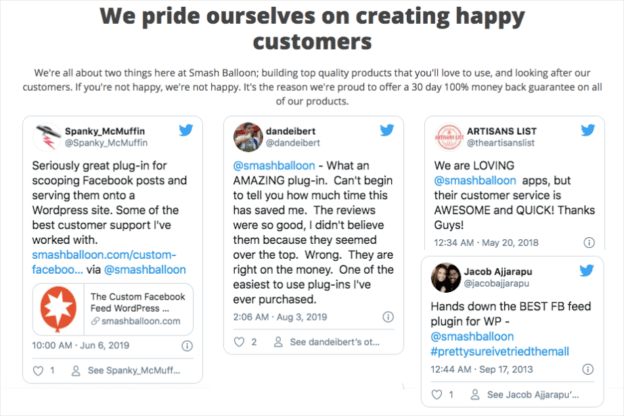 Custom Twitter Feeds Pro makes it simple to embed interactive tweets on your WordPress site. This is especially fantastic if you have an active Twitter following because you can get a LOT of great testimonials as tweets. You can use the plugin's "load more" button to keep your visitors as engaged as possible with your tweets.
Again, dwell time, remember?
Instead of a list of boring links on your site, Custom Twitter Feeds Pro will automatically create and show Twitter cards to help you capture your audience's attention.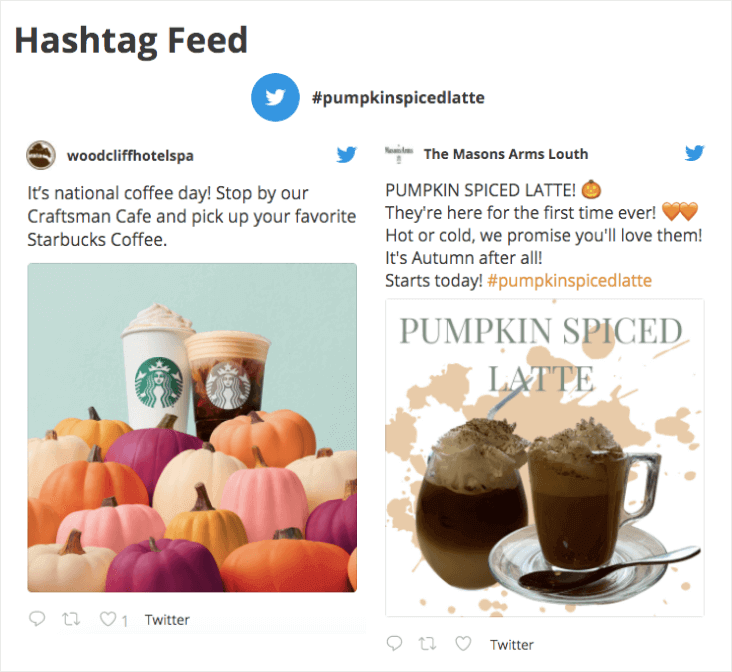 And as usual, you can create different types of Twitter feeds:
User timeline feed
Hashtag feed
Search feed based on the results of an advanced Twitter search
Home feed featuring tweets from yourself and the accounts you follow
Mentions feed
Lists feed based on your specific Twitter lists
Twitter slideshow that displays your feed in a scrolling carousel
Twitter widget that you can add to your sidebar or footer areas
Check out the full list of features in Custom Twitter Feeds Pro.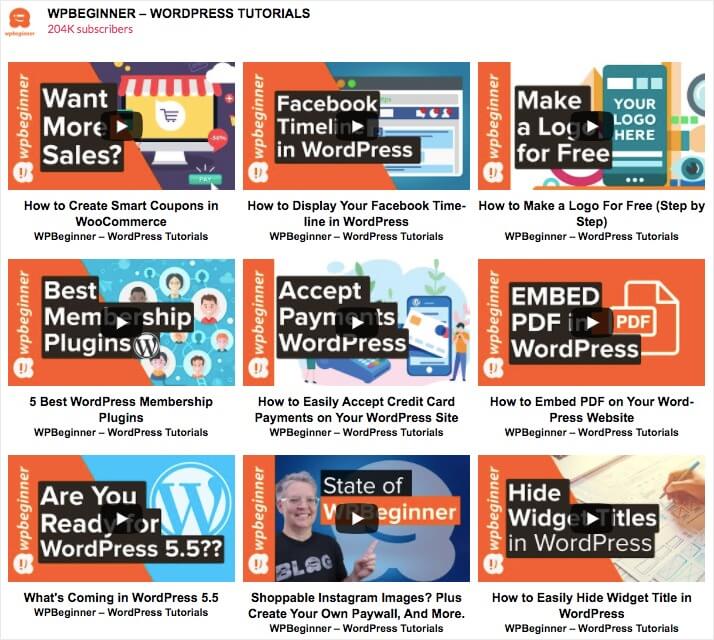 Feeds for YouTube Pro is the only plugin that embeds YouTube videos on a WordPress site without slowing down the entire site. Unlike other plugins, Smash Balloon's Feeds for YouTube Pro only loads the videos when a visitor interacts with it.
But what makes this plugin so epic is that you can customize pause and end actions on a video.
What does this mean?
Simple: Every time someone pauses or completely watches your video, you can show them thumbnails of your other YouTube videos or you can display a product link to click!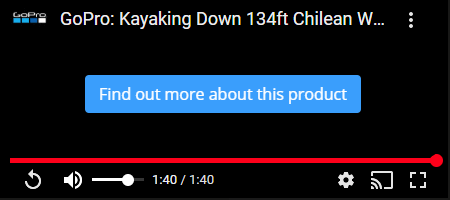 The plugin allows you to choose from 6 different feed types, such as:
Channel
Playlist
Favorites
Search
Live Streams
Single Videos
And you can do it all in a couple of clicks.
Check out the full list of features in Feeds for YouTube Pro.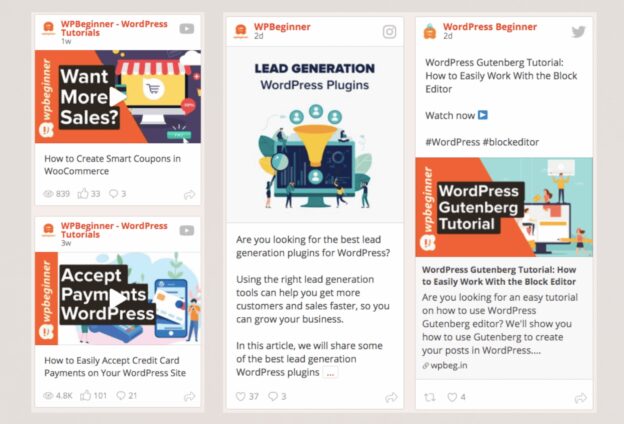 Social Wall Pro is just a combination of all your feeds on a single page. It's exactly what it sounds like: a wall of social media posts.
You can make filterable grids, lists, and carousels to display all your social feeds at once.
Of course, you can set up what to show and what to exclude just as with the other plugins by Smash Balloon.
It's not just a great way to build social proof for your products but also build your social media following even further.
Check out the full list of features in Social Wall Pro.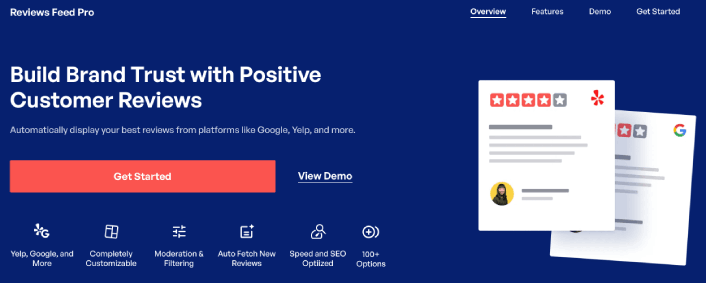 Reviews Feed Pro is one of the easiest ways to embed customer reviews on your WordPress site. As usual, you don't need to hire developers to embed your public customer reviews on your site.
The biggest problem with embedding reviews on your site is that you need the API key for each business directory. And most APIs are paid licenses and can be pretty expensive. But with Reviews Feed Pro, you can easily embed reviews on your site without using an API key.
You can directly fetch reviews from:
And more! You can customize the designs for your review embeds to match the rest of your theme. So, this way, you don't need to depend on a specific WordPress theme.
If you haven't already, you should get started with Reviews Feed Pro right away.
Check out the full list of features in Reviews Feed Pro.
Smash Balloon Pricing
With all these amazing features, it's easy to believe that Smash Balloon is REALLY expensive.
But it's not. No, really! Smash Balloon's suite of plugins was built for small businesses. It's priced in a way that anyone can afford the plugins.
Take a look: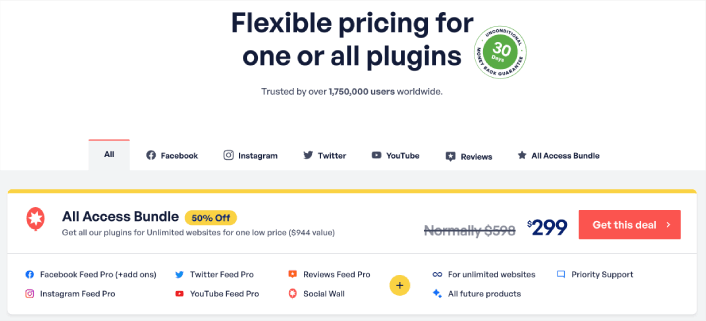 Of course, there's a free version as well. And you can get started with it if you don't have the budget to buy a social media feed plugin. But if you're already profitable and you'd like to build more social clout to increase conversions and site engagement, buy a paid plan.
Final Verdict
So, is Smash Balloon the best social media feed plugin for WordPress or not?
Our Verdict: Yes, it is!
Smash Balloon is powerful, easy to use, and affordable. It's also highly focused on performance and offers design templates and options to customize almost everything about your social feeds.
Penny for a penny, Smash Balloon is a good investment if you're looking to build engagement and conversions on your site.
Speaking of which, have you tried using push notifications on your site yet? Push notifications are really great tools to increase your engagement and conversions as well. We recommend using PushEngage to send your push notifications.
PushEngage is the #1 push notification software in the world. So, if you haven't already, get started with PushEngage today!