Looking for a full review of AffiliateWP?
AffiliateWP can help you manage and grow a community of affiliates for your product using a simple, easy-to-use dashboard. The best part is that you can do it directly from your WordPress dashboard.
But AffiliateWP claims to be the best affiliate program plugin for WordPress.
Is this all just hype? Or is AffiliateWP really the best in the business?
In this article, we're going to put the plugin to the test and get to the bottom of these questions.
Let's dive in.
A Quick Overview of AffiliateWP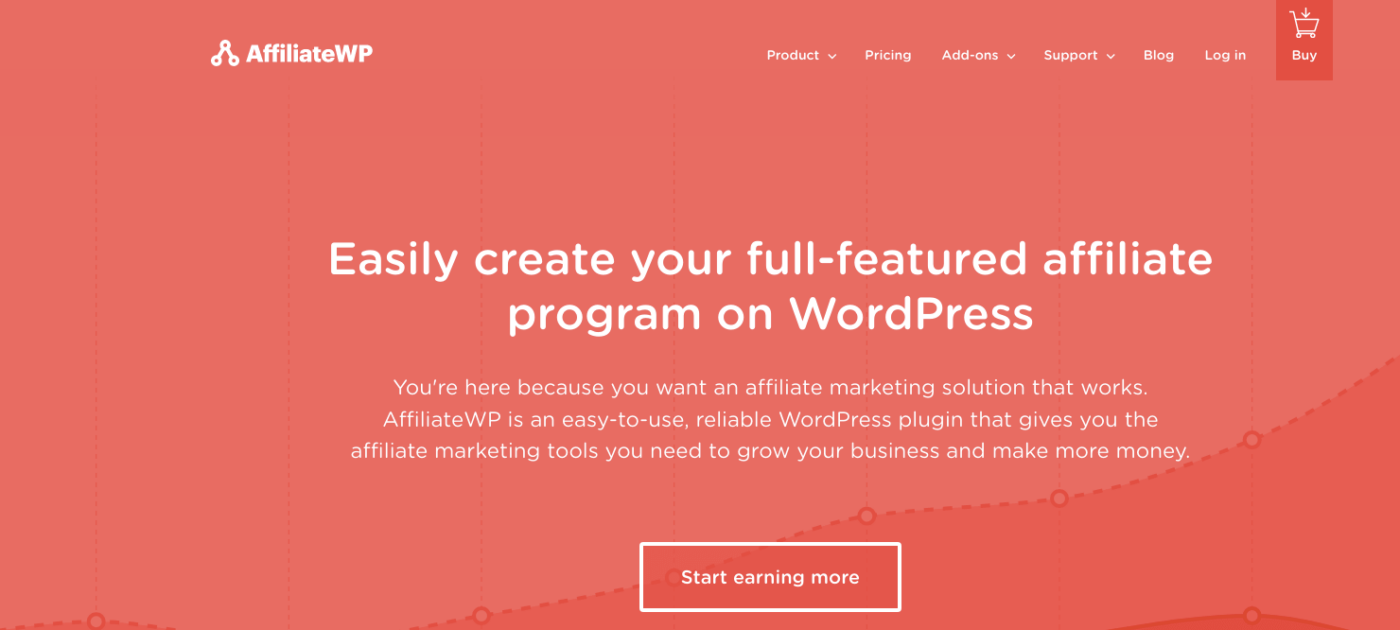 AffiliateWP is a WordPress plugin that allows you to create an affiliate program for your products and services. It's easy to use, highly reliable and requires zero coding to set up.
The best part? AffiliateWP allows you to grow your affiliate network using completely automated tools.
With AffiliateWP, you can create a full-fledged affiliate marketing campaign for your business. The manual work that goes into tracking, managing, and paying your affiliates is completely gone. All you have to do is install a simple WordPress plugin.
You can even generate instant reports for all your affiliates right from the WordPress dashboard.
What's even more interesting is that the software never slows down your site even if you have thousands of affiliates signed up.
And it's really easy to set up AffiliateWP. Let's take a look.
How to Set Up AffiliateWP
AffiliateWP is just like any other WordPress plugin. All you need to do is install it and activate it. If you're not sure how to do that, check out this article on how to install a WordPress plugin.
Once you've installed the plugin, head over to Affiliates » Settings » General Settings and enter your License Key to activate the plugin:

And that's it. You're done setting up the plugin. Next, you should explore the different features in the plugin and set up automated activities.
What Can AffiliateWP Do for Your Brand?
AffiliateWP offers powerful features to help you register, manage, track and even pay your affiliates. Let's go over each of these features and break down what makes the plugin awesome.
#1. Affiliate Tracking and Management
AffiliateWP comes with tools and features that help you manage all your affiliates and referrals from your WordPress dashboard: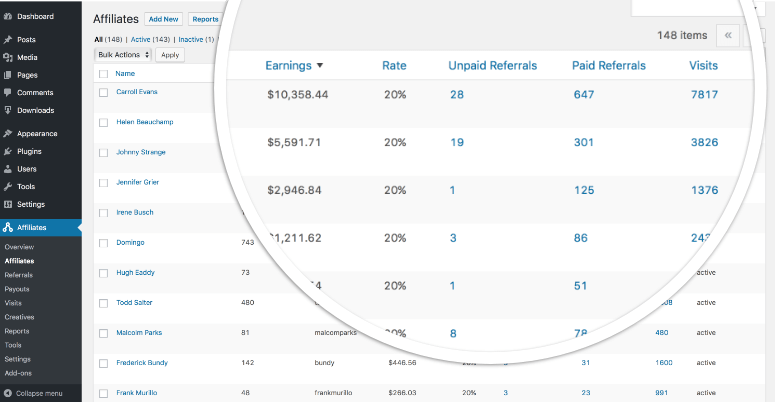 The interface is simple and you can get all the most important details about your affiliates from a single glance.
#2. Real-Time Reporting
AffiliateWP comes with a real-time reporting system with accurate and reliable data. If you head over to the Overview tab, to see all the most important statistics about all your affiliates, new referrals, and total earnings.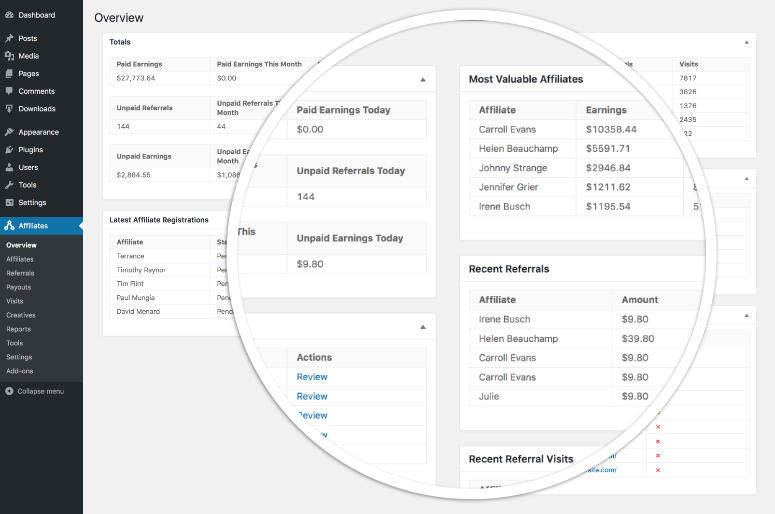 And if you want even more detailed reports, you can simply go to the Report tab.
#3. User-friendly Affiliate Onboarding
Getting a new affiliate on board can be as automated or manual as you want it to be. You can set rules for manual approval for each affiliate or automatically create an affiliate's profile without verification.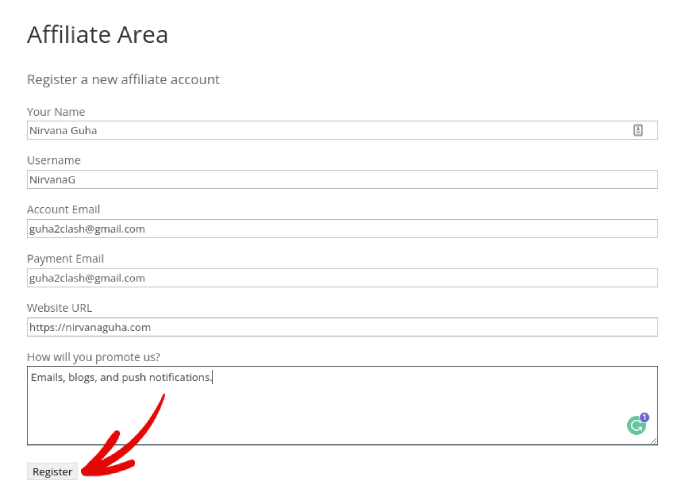 Every affiliate gets a dedicated front-end dashboard from a page called Affiliate Area that's automatically generated when you install the AffiliateWP plugin. from the Affiliate Area, your affiliates can:
Generate referral links
Track their performance
View their earnings
Check their conversion rates
And more!
Once your affiliates sign up for your affiliate program, they can get started immediately from the Affiliate Area. They just have to click on Generate URL to create affiliate links instantly: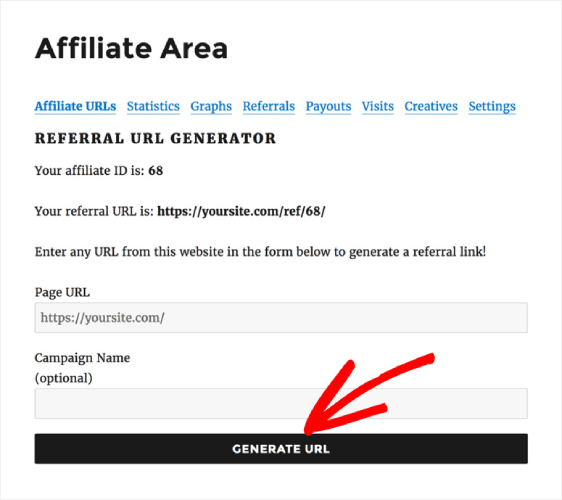 And it's really that simple!
#4. Automated Affiliate Payments
Affiliate marketers are motivated by one thing: money!
It's not enough to have lucrative offers on your site. You have to be able to pay the affiliates their commissions on time. If you want to attract top-tier affiliates to help you grow your business, you need to be reliable and transparent with your payments.
And AffiliateWP can help you do that really easily: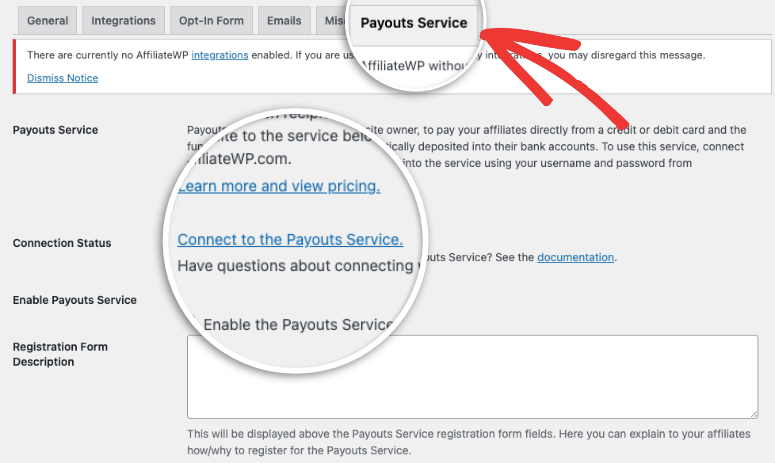 You can select to pay your affiliates directly from your bank account or PayPal. But what's really neat about AffiliateWP is that you can set global rates: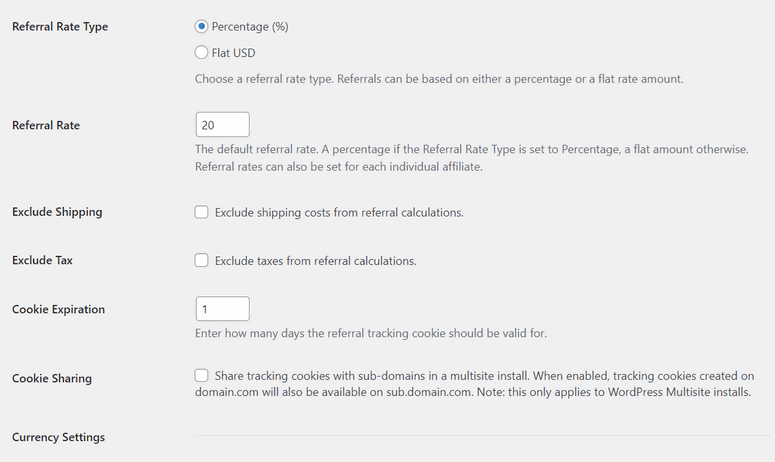 And this may not seem like a huge advantage, but it can actually help you pay all your affiliates in one go.
#5. Customizable Email Notifications
We were just talking about transparency, right?
One of the coolest features in AffiliateWP is that you can create custom email autoresponders for both yourself and your affiliates. You can create onboarding alerts for yourself along with different automated reports that keep you in the loop at all times.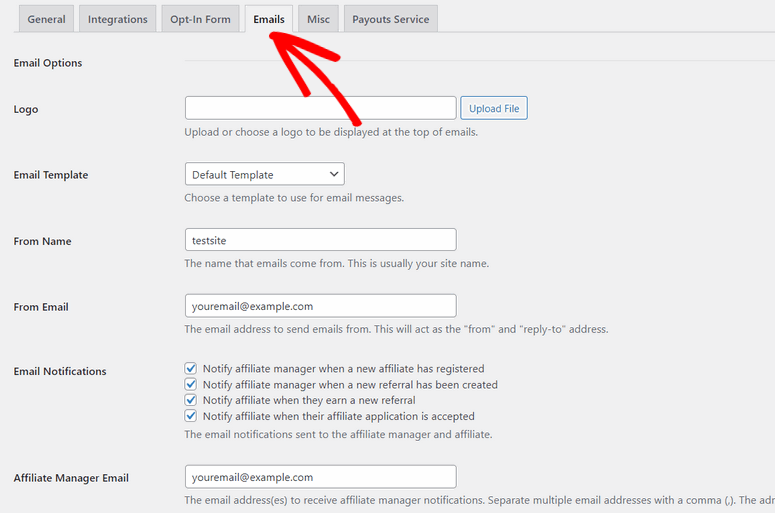 And you can also send your affiliates emails about different milestones, custom marketing collateral, coupons to promote, and even their earnings reports. The best part is that it's all completely automated.
Pro Tip: If you love this idea, you should also check out our article on automated push notification campaigns that make you money.
#6. Integrations with Popular Plugins and Services
AffiliateWP comes with a whole host of integrations with some of the most popular WordPress plugins and services.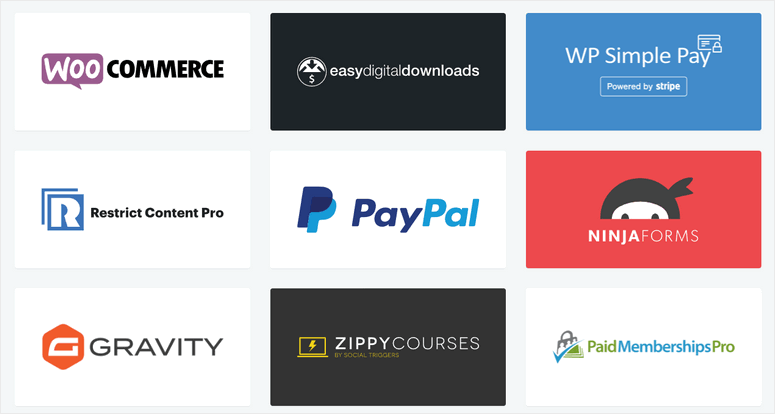 What really impressed us about the integrations is how creator-friendly AffilaiteWP is. No matter how big or small your business is, as long as you can create goods to sell online, AffiliateWP will help you grow it by making it super-easy to manage your affiliates.
Of all these integrations, a few that really stuck out to us was the integrations with Easy Digital Downloads, Restrict Content Pro, and PayPal. If you think of these integrations, you instantly understand how easy it is to create affiliate programs for digital goods.
We even wrote a review of Easy Digital Downloads because it's just an amazing software to sell digital goods. So, if you're banking on the creator economy, AffiliateWP should definitely interest you.
#7. One-Click Affiliate Data Import/Export
AffiliateWP makes it easy to import and export your entire affiliate data to a simple CSV file:

The import and export feature makes it super easy for you to share your data with the rest of your team, upload it to other software, and even import data from another affiliate marketing software.
#8. Free and Pro Addons
With your AffiliateWP installation, you'll find both free and paid add-ons. These add-ons make it really simple to extend the functionality of your affiliate program.
You get access to the 18+ free AffiliateWP add-ons as soon as you install the plugin on your site: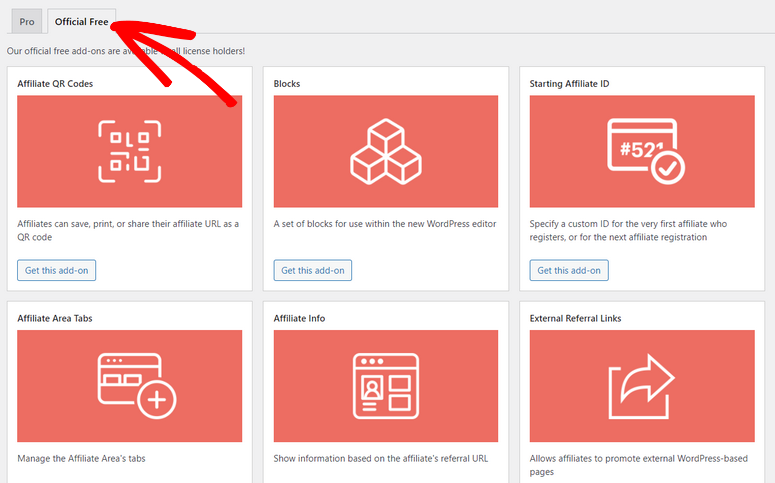 The Pro add-ons are only part of the Professional Plan: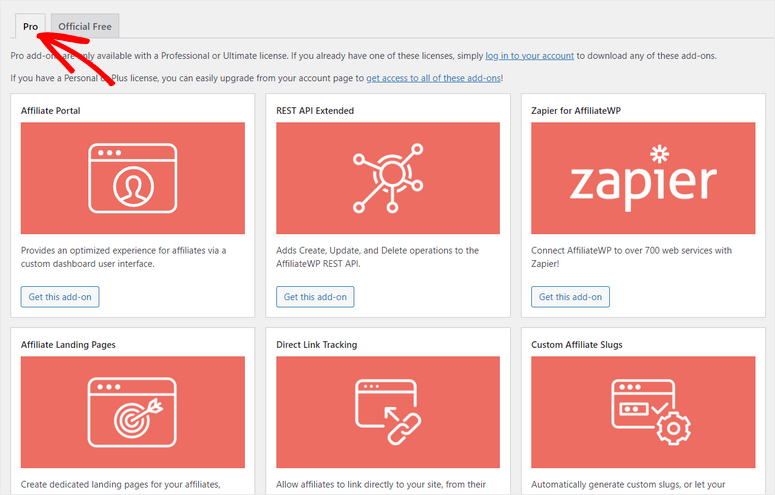 But the Pro add-ons can add incredible functions to your site including:
Lifetime Commissions
PayPal Payouts
REST API Extensions
Affiliate Landing Pages
Custom Affiliate Slugs
And more!
Pricing
There's just one final consideration before we hand in our final verdict.
How much does AffiliateWP actually cost?
With some of the most incredible features ever seen in a WordPress affiliate marketing plugin, AffiliateWP HAS to be super expensive, right?
Nope! As it turns out, AffiliateWP is actually really affordable: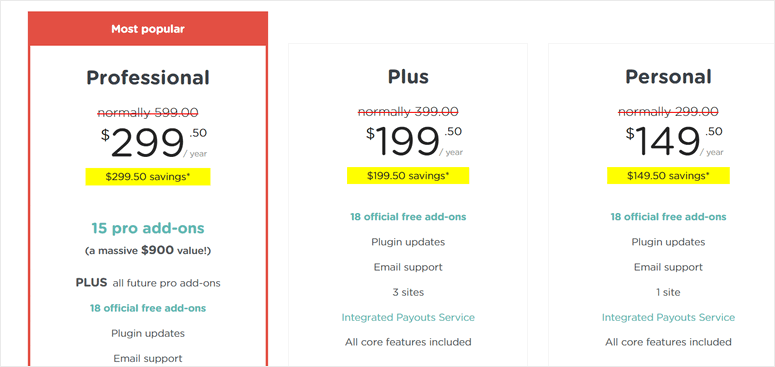 You can get started with the Personal plan for $149.50/ year if you're just starting out and then upgrade to the Plus or Professional plans later on when you need the extra features. And if you're interested in the professional plan, even that goes for $299.50/year. So, if you need the pro features, don't be shy!
Final Verdict
Is AffilaiteWP the #1 affiliate marketing plugin for WordPress?
Our verdict: Yes, it is.
The sheer amount of advanced features you get even with the Personal plan is amazing. If you had to custom-develop that for your site, it would cost a ton of money.
If you're looking to launch your own affiliate program, AffiliateWP is going to be one of the best value for money investments you ever make.
Also, if you're at that stage of your growth where you're looking to launch an affiliate program for your goods and services, we have another cool idea for you. You should start using push notifications as well. Push notifications are really easy to set up and can help you grow your traffic, engagement, and sales very quickly.
Just take a look at these resources and you'll see what we mean:
We recommend PushEngage to get started with your push notification campaigns. PushEngage is the #1 push notification software in the world.
So, if you haven't already, get started with PushEngage today.