Do you want to know the best practices of Web Push Notifications? In this article, we will show the best practices of web push notification that can improve your push notification performance.
Web Push Notifications are a great way to keep in touch with your users and subscribers on a timely basis. You can increase website traffic using push notifications. However, people might become exasperated with so many push notifications being sent to them. The logical question that comes to our mind is: How to Create Push Notifications that are effective? What are the best practices for Web Push Notifications?
Your push notification should break that clutter and reach to the customers. We have worked with many websites and large companies and have seen what works and whatnot.

Can I Use Web Push Notifications?
This is one of the most common questions among most of the people. Any website that wants to re-engage customers and boost traffic can use Web Push Notifications. For using push notifications, you do not need any app. Push Notification is a re-engagement channel and gets instantly delivered on user's browser.
You should use web push notifications only for marketing activities. If you want to update user about any upcoming sale or any product or any information, use push notifications. Since the user cannot save push notifications, avoid using push notifications for any transactional related updates.
If you want to get started, try PushEngage platform. You can easily integrate PushEngage on WordPress, Shopify, WooCommerce, PrestaShop and many other platforms.
Best practices for Web Push Notifications has two parts:
Increase Subscription rate: Push Subscription Opt-In is the 1st step we need to optimize to increase our push notification subscribers. You can read our detailed post on how to do that.
Reduce Unsubscribe: Further, you would like to reduce your unsubscribe rate, and you check our detailed tips on the same here.
Creating Optimized Push Notification
Once we have the subscriber, we should start sending Web Push Notifications. We need to create push notifications that are effective and that results in increased engagement with users.
In this article, we will see the best practices to follow for creating effective push notifications. There are four sections when it comes to creating web push notifications:
Timing – When to send notification
Content – Web Push Notification title, description, call to action
Target – Whom to send a push notification
Relevancy & Setting – Where to land and the right time to go live.
The next important action point in creating the best Push Notification is to understand "Different Types of Push Notification Campaign" and what are the best practices while designing them?
We need to improve on each of the above sections to get success in the web push notification. You should always analyze your notification and improvise.
Timing: When to send a push notification
For every business, timing is the most critical part. We all want to engage with users at the right time. Push notification sent on wrong timing can result in:
The user may find you push notification intrusive
Low view rates and open rates
The user might unsubscribe from your notification service
Push Notifications are delivered instantly to your user's browser. Web Push Notification is consumed on a real-time basis and is not stored anywhere. So sending a notification at the right time becomes a mission-critical to its success. The best time to send push notification differs for the different customer segments.
Best Practices To Follow When Timing Push Notifications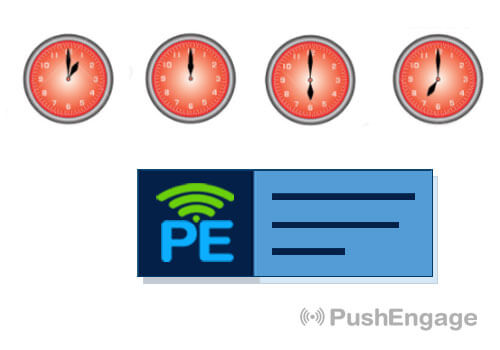 Your customer/user could be from any country. So you should always follow their time zones to ensure your notification doesn't appear intrusive.

For e.g. Consider you are running a two-day sale – 12 AM 14th Jan to 12 AM 16th Jan. The timing will be different for different countries. So create different push notifications for different countries based on their local time zone.
Respect customers routine
Every business is created with a set of target customers in mind. If your website is targeted to a specific niche, then you can create a fair idea of your customer's routine. For e.g. your website is an exam preparation site for IIT. Now you can make a guess of what your customer's routine would be:
The user is a college student or recent graduate
If he is a college student, then he is in college till 4 PM
So your target customer is most likely to be active during the evening or late at night. So your good timing would be late evening or late at night when your customers are most active.
Identify your customers and make an educated guess about their routine. Then try sending Push Notification and optimize based on the result.
Another important factor when you are having global customers, timing becomes very crucial. The time is different in every geo as per the GMT. So, if your target segment is active from 4 PM to 8 PM, then send notification during their time period.
The above can be achieved using the Customer Timezone feature. While sending a push notification, always select customer timezone. This way the notification at 4 PM will be delivered at 4 PM of their local time. This can easily increase the CTR of your push notification campaigns.
With every notification sent, you will know when users are more active. You can then analyze to find the best time of the day to send push notifications. However, remember that the best time is different for different users. To analyze the best to send in conjunction with the user segment.
Web Push Notification Content: Title, Description, and Call to Action
How do we write a good push notification? To write a good push notification, we 1st need to understand what is push notification. We need to know the different elements of push notifications. Then only we can write a good push notification that can give good results.
Create a crisp and clear copy of the push notification is to entice the user to click on it. The content of any Push Notification has the following parts:
Push Title
Push Description
Website Icon
Notification Image
Call To Action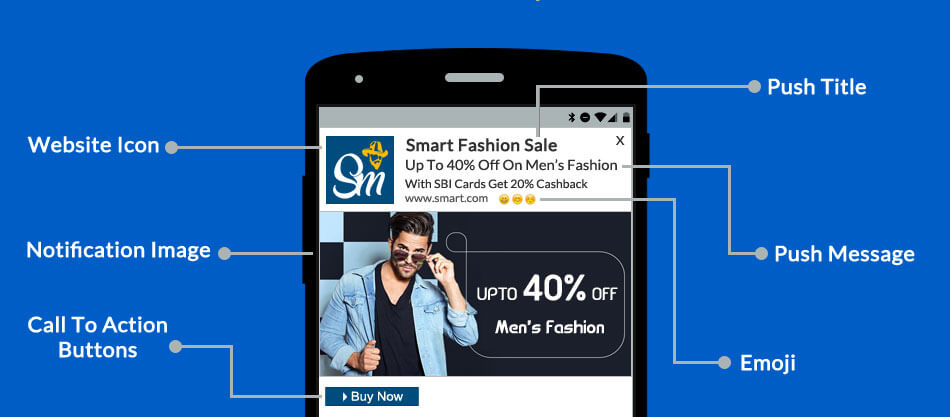 Web Push Notification Title
The title is the 1st thing your customer will see. Reading the title of the push notification can break or make your notification. The title should be intriguing enough to make the user read the notifications and click on it.
Best practices to follow while writing push notification title
The number of characters for the title is limited, so use the words wisely to create the impact. The title should clearly state what the notification is all about.
Push Notifications are consumed in real-time. So your title should create urgency for them to take action.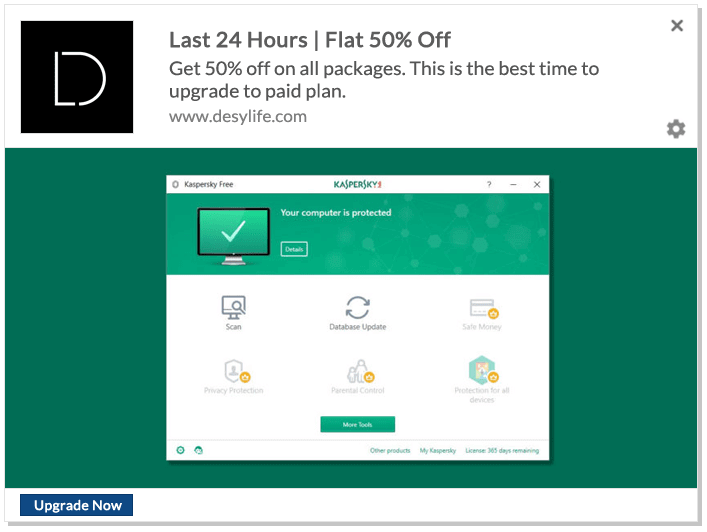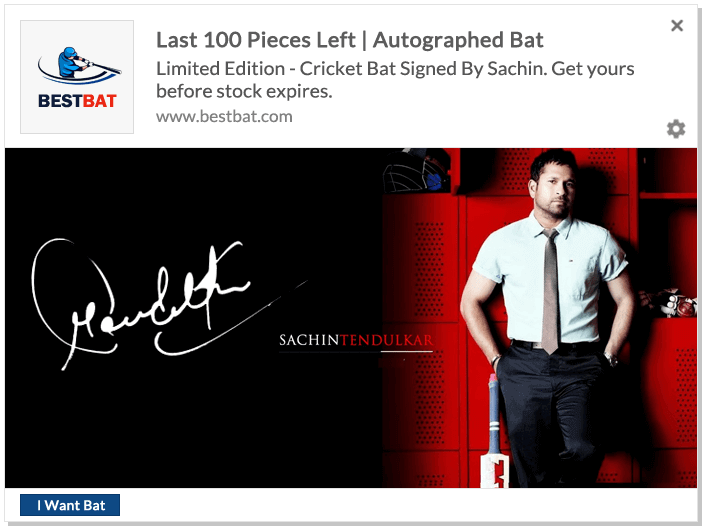 Make the title such that it creates curiosity in the user's mind. A curious user will mostly click on the notification to see what the notification is about.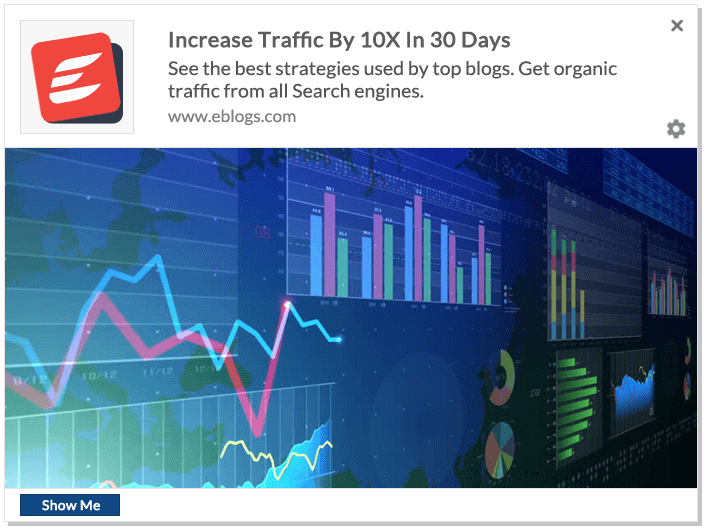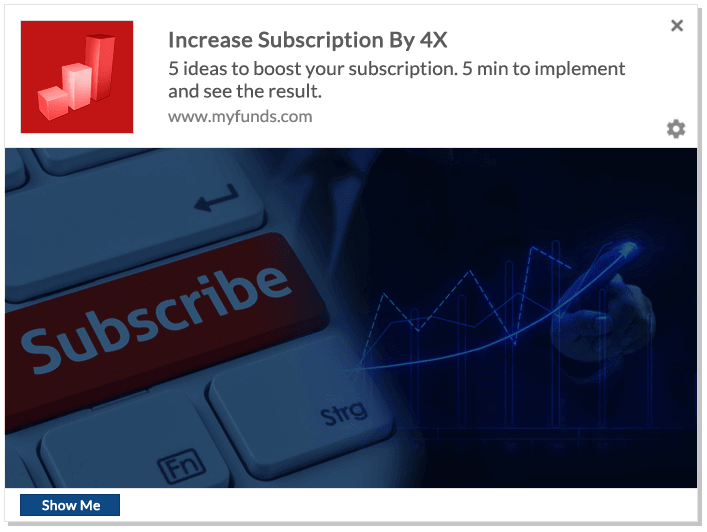 Using Emojis are a beautiful way of showing expression to your user. Push Notification with emojis has shown 4.51% increased open rates as compared to ones without emojis.
Web Push Notification Description
The description is the space to convey the message. Explain in brief about the value proposition of the notification. The description should be in sync with the title.
Best practice to follow while crafting the push notification message
Keep it in sync with the title
Do mention the benefit or value proposition if the user clicks notifications
Ensure that texts are not getting truncated at the end
Website Icon Or Logo
The best practice is to always put your logo while sending Push Notifications. The logo on notifications creates the branding of yours in the customer's mind. Notifications sent without a logo has less chance of success.
Push Notification Image
Web Push Notifications allows you to include a large image in the notification. Images make push notifications more appealing. Using the right image can lead to an increase in CTR by up to 62%. We did a study on the impact of using a large image in push notification and have found that results vary depending on the industry.
Call To Action
Once the user has read the notification, what next should he do? Your Call To Action should clearly tell a user what to do next. Notification sent without Call To Action will lead to decreased CTR. You need to guide the user on what to do next. Some of the examples of clear CTA are:
If you are offering a free trial, then you can use the below examples which can help you get started:
Copy for a free trial

Try For Free
Click To Get Free
Start My Free Trial
I Want Free Gift
Send Me Free Gift
Get Free Access
Benefit CTA
You can also create CTA based on benefits. Check out the few examples which will give you a fair idea on how to create Benefit oriented CTA:
Copy to convey the benefit

Download E-Book
Send Me E-Book
Show The Coupon
Send Me Code
I Want Discount
We now know why Web Push Notification is so critical to its success. Each part plays a vital role in the success of push notification. Take a look at the below Web Push Notification example: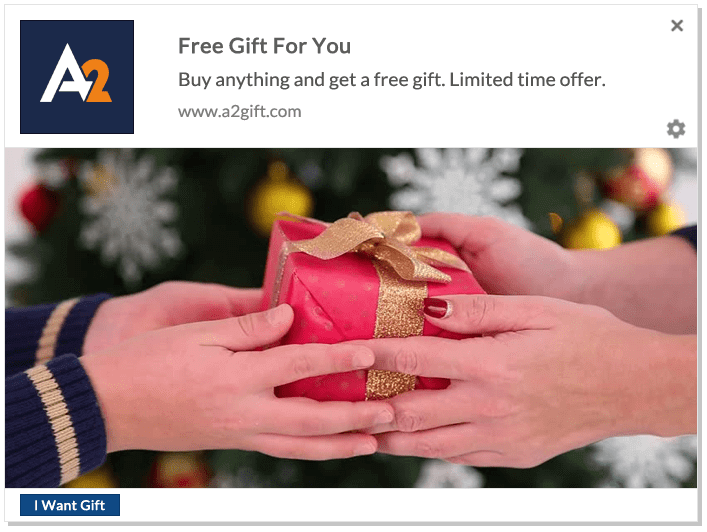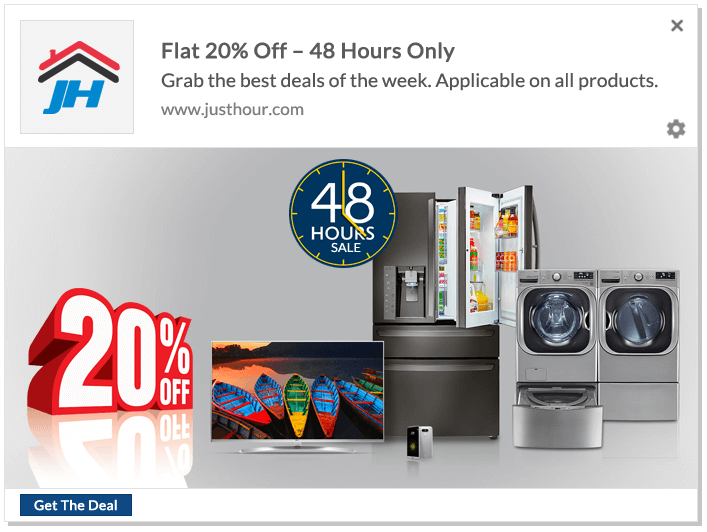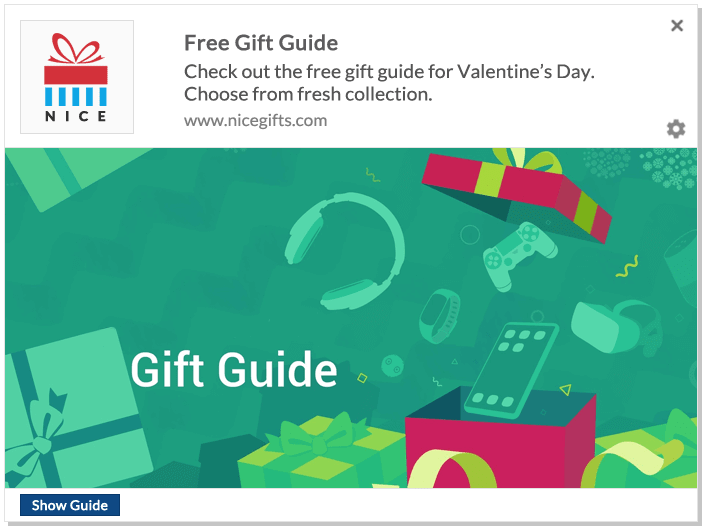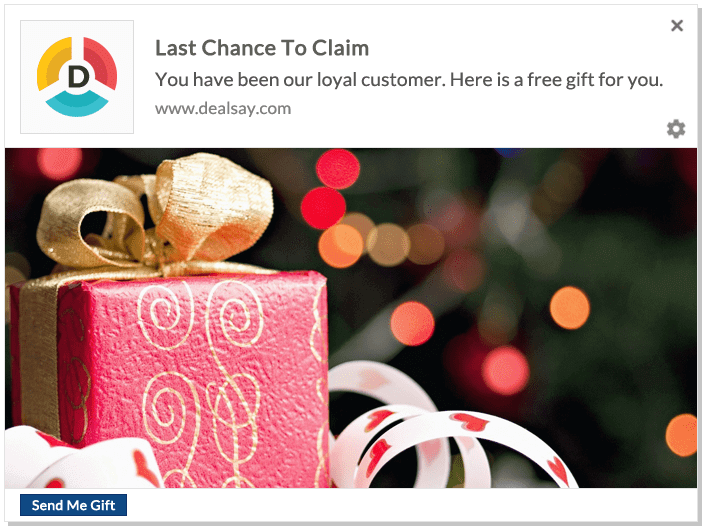 You can check the 22 Push Notification Ideas to boost sales.

Target – Whom To Send Push Notification
Every user is different. Don't send the notification to all subscribers. Always choose a relevant segment for sending a push notification. We have done a study to understand the impact of segmentation on Push Notification CTR. We found that Push Notification sent to the segmented user can increase the CTR up to 218%.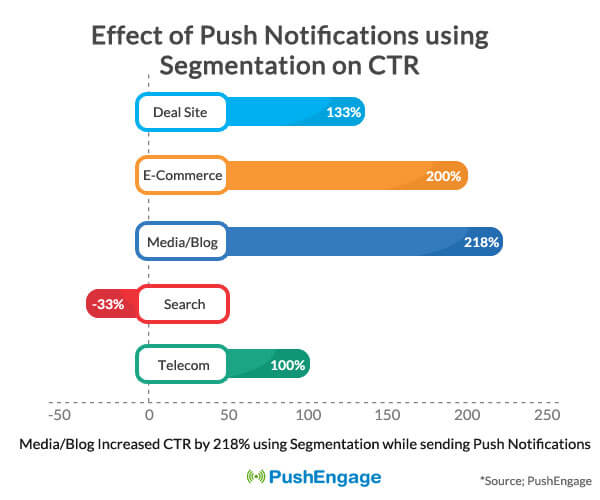 Best practices to follow while segmenting push notification users
Always segment your users.
You can segment users based on:

Age
Gender
Geo-location
Device
Always keep your segment clean. If segmentation goes wrong, your Push Notification success will drop. With PushEngage you can segment push notification users in 6 different ways. The most important segmentation is the dynamic segmentation where you can segment users based on their activity on your website.
The next important aspect is personalization in the push notification. Now that you have segmented users, create personalized content while sending them notifications. Personalization doesn't mean "Hi, John", but it should go beyond that. You should understand the customer behavior to create a persona of the user and then personalize accordingly.
Best practices to follow when creating a personalized notification
Create a separate segment for users who have added products to their cart and have not purchased them. Send a personalized notification with the customer name and also the product image with a link to Check Out Page.
Analyze the purchase behavior of a user. For e.g., if you are an e-commerce marketplace website, you can create a segment based on your category. So you know which user buys from which category the most. Create personalized notification based on his/her last purchase. You can cross-sell or upsell based on user purchase behavior
You may have users who are not customers yet. You can create a separate segment of such users and see which all product categories they browse. You can then create a personalized notification with offers related to those categories.
Personalize Transaction Push
Notifications are meant to be sent in real-time for immediate action. For e.g., if you are in e-commerce business and customer makes a purchase at your site. You should send an immediate notification with order details and link to the order tracking page. This will help the customer to have faith in your site. Also when the order is out for delivery, you should send notification about the same.
Relevancy & Setting – Where to land and time to live
Landing Page
Once the user clicks on your CTA, where you are landing him is very important. The landing page should be relevant to the notification you had sent. Since push notifications are not stored anywhere, it's important to display the necessary information on the landing page. Push Notifications are not an e-mail where users can re-check to see the details. For e.g. notification says – 20% Discount – Use Code – ABC. Once the user clicks on the notification, he lands on the page but forgets the Code. This creates a negative impact on your brand.
Best practices while sending a user to the landing page in push notification
The landing page should be in sync with push notification
All the information should be clearly mentioned on the landing page
Expiry
Users are not online always and will not receive any notifications. So what happens when a user comes online? He will be bombarded with all the notifications. It will definitely create a negative impact on your brand. He may unsubscribe from your notifications.
However, you can avoid this easily. While publishing any Push Notification, you will have three ways to control it:
It will keep the Notification live for 20 seconds. This is good for any informational notification. For e.g. when a customer makes any purchase, you can send "Confirmation Notification" immediately.
Keep Notification Open Until Interaction
This will keep the notification open until the customer either clicks on it or closes it.
You can mention the expiry date of your notification. So if the customer doesn't view the notification within the expiry date, the notification will expire and won't appear in the browser.
Some of the real-life issue you may face if you send push notification without expiry date: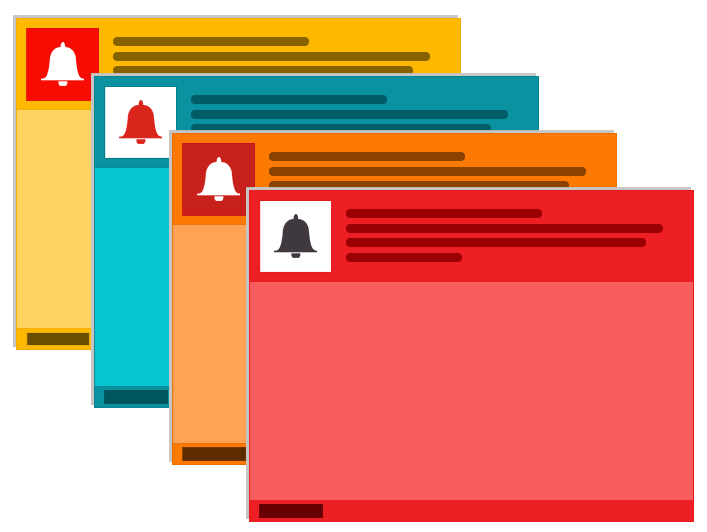 Without expiry, all your notification will be live until customer interaction. Whenever the customer opens his browser, he will be shown all the notifications you had sent instantly.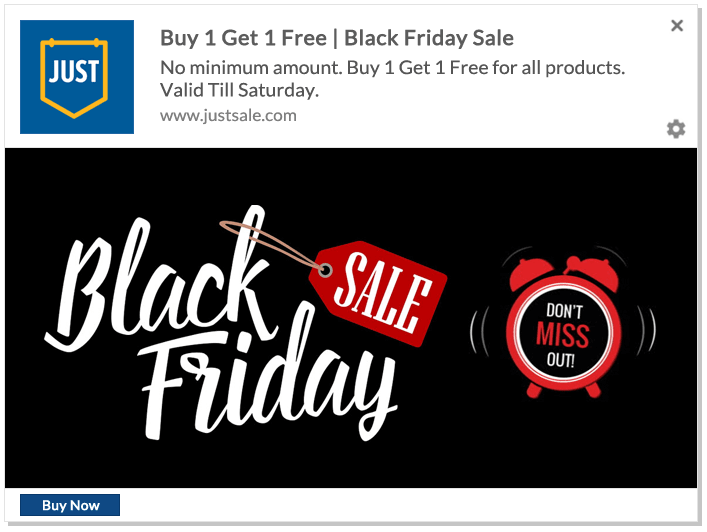 Sale events usually run for a certain duration. Consider that you are running a 2-day sale event for New Year Sale. You sent out Push Notification for the event. If your customer comes online only after the event period, he will still receive the notification for an expired event. This will again create a negative image of your brand.
To boost sales, many times we share Coupon Code valid for a certain period. For e.g., you send a push notification with the Coupon Code and the customer receives the notification after the validity period. He will try to use the code. However, the coupon validity is over and he will again feel misled by your brand.
The best practices for sending Web Push Notification are
Always put an expiry date on your notification
Never send any notification without expiry date
Different Types of Push Notification Campaign
Similar to any other marketing activities, to follow the best practices for Web Push NotificationsFor getting success in Push Notification, we need to 1st identify what kind of campaign we want to run. We need to identify the goal of our Push Notification. You can follow the push notification playbook depending upon your industry. If you are a gaming website, check out the playbook for an online gaming website. It has all the essential campaigns you can run.
Below are some of the campaign ideas for Web Push Notification:
Nurture Campaign
Promotional Campaign
Transactional Campaign
Alert Campaign
What is Nurture Push Notification Campaign?
As the name suggests, it's about nurturing your user. If you are a service company or a saas company, you need to educate users on the benefits of using your service or product. Why should they trust your service? Why should they buy your product? To answer such questions, you need to keep nurturing your prospects and customers to create a brand image. The best way to do that is to start a Drip Notification Campaign. In Drip Notification, you can create a series of notification to be sent to users at regular intervals.
The best practice while creating Drip Push Notification Campaign:
Explain the benefits of using your tool or service. Tell the main points and how your product can solve it. You can also share the comparison of your tool with others and show how yours is better than others.
Show the different features and their usage. Give a tutorial on how to use this feature. With each notification, share one feature and how it can benefit them.
Share a case study on how your service has helped companies to reach their goals. Show the strategy you used to improve its success rate. Case studies always increase confidence among customers. This is more impactful for websites offering different tools.
Show how your service or tool has helped other companies. Land them on your review pages or testimonial pages. Reviews play a very crucial in purchase decisions. People always look for your reviews before it can trust the product.
What is the Promotional Web Push Notification Campaign?
Promotional notifications are those where you promote any of your product, service, or event. This is the most used campaign in all industries. If there is a new sale or new feature released, the best way to advertise is to run a promotional campaign. Usually, promotional campaigns are sent to all users. The reason is that – it's something new and the user might like it.
Best practices to follow while creating Promotional Push Notification Campaign:
New Product/Service Launch
If you have launched a new service or added a new product or feature, you should shoot out Push Notifications to all users.
If you are running any sales event, send Notifications to all. Many times users purchase things on sale, which they won't buy regularly. So it's always better to send the notification to all. A user may share the offer with their friends who are likely to buy.
Always share your success story with customers. If you have reached any New Milestone like Featured in BBC news, promote it to all users. If your service has been recommended by some Industry Leaders, share it with your users. It will create a trust factor for your brand.
What is Transactional Web Push Notification Campaign?
Transactional campaigns are basically sent whenever there is a user who does a transaction on your website. The transaction could be a user making a purchase or subscribing to your service or website. For every type of user transaction, you should create a push notification campaign.
The best practices to follow in Transactional Push Notification Campaign:
Always send a Welcome Notification to your new user. This way they will know that they have subscribed to your notification. You can also land them on a page showing the benefits of being a Subscriber.
Whenever a user buys your product or service, send them a Thank you Notification. It will let the user know that the transaction was successful and he can now enjoy the benefits of a paid user. You can also land them to relevant pages of your site showcasing the benefits.
If you are an e-commerce site, it's a good idea to share tracking details with customers. Keep the customer informed about the status of their product. If it's out for delivery, the customer should receive the notification.
It's always good to send a delivery notification once the product has been delivered. It shows that you are concerned about product delivery as well and not just selling the product. Later you can even ask for their reviews.
What is Alert Web Push Notification Campaign?
Alert Notifications are meant to alert the users to take some action. The goal of this campaign is to entice users to take action on your website.
Best practices to follow while creating Alert Web Push Notification Campaign
If a user has shown interest in a product that is out of stock, send a notification when the product is back in stock. The chances of the user making the purchase are very high as he is already interested in the product.
Many times users add products to their wishlist and wait for the price to drop. Customers can be price sensitive. Create a price drop alert campaign which will ensure to send a notification whenever there is a price drop.
If a user has added a product to his cart and forgot to complete the transaction or there is transaction failure, send a notification to him. You can even offer some discount to convince the user to complete the transaction.
If you are running Sale Event, then keep the user updated about the sale event date. Send an alert on the last day or last hour of the sale event. This may again convince the user to make a few more shopping.
Checklist before Sending Web Push Notifications
We now understand the best practices for Web Push Notifications. Before you start sending the push notification to your subscriber, below is the checklist you should follow. Also, don't forget to use UTM parameters in push notifications. It helps to track the performance of your push notifications on other platforms like Google Analytics. This will ensure that your notifications have all the necessary details:
Title: Check if you have entered the title.
Message: Check the push notification message. Ensure it is in sync with the title.
Call To Action: Mention the Call to Action text.
Landing page: Check if the landing page is correct. Also that the landing has all the necessary details mentioned in your notification.
Logo: Check if you included the logo.
Large Image: Check for the large image. If you are including a large image in your push notification, ensure it syncs with your notification.
Segment: Check if the notification you created to be sent to all or any segment. If segment, choose the right one before sending it.
Expiry Date: Check if you have put an expiry date on your notifications
Timezone: If the push notification is for global subscribers, then select the customer timezone. Else, send it at the scheduled time or instantly.
Preview: Once all set, check the preview to actually see how the notification will appear in different browsers. Click on "Test Send" to see the preview.

Once you follow the best practices of a web push notification, the performance of your push notification campaign will start improving. To make sure you are on the right track, always measure the effectiveness of push notification. It will help you track your progress and understand what changes need to be made to improve the performance of your campaigns.