Let's check out some thank you page examples that you can steal right away.
Thank you pages aren't just to thank your users for buying or downloading something from you. You can use a thank you page to:
Upsell and cross-sell other products
Confirm the product purchase or download that the visitor is interested in
Get more social media followers
Sell tickets to live events
Get more referrals
And more!
In this article, we're going to look at thank you page examples that can change the way you do business forever. These are all six-figure secrets from high-growth businesses.
Sounds good? Let's dive in.
How to Create a Thank you Page in 10 Minutes Or Less
Building a thank you page doesn't have to be hard. We recommend using SeedProd to launch your thank you page in ten minutes or less.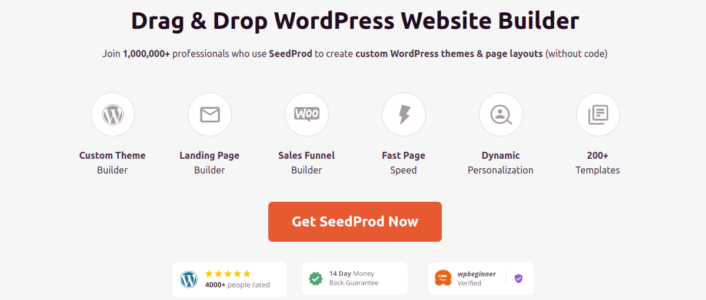 SeedProd is the #1 landing page builder for WordPress. And you can use the drag-and-drop page builder to create any type of standalone page you like. Of course, this includes thank you pages as well.
Step 1: Install and Activate SeedProd
First, click here to get started with SeedProd and download the plugin.
Quick Tip: If you're completely new to WordPress, you should check out this epic guide to installing a WordPress plugin.
After installing and activating SeedProd on your WordPress website, you'll need to paste in your license key. Your license key is delivered to your registered email address after you purchase the plugin.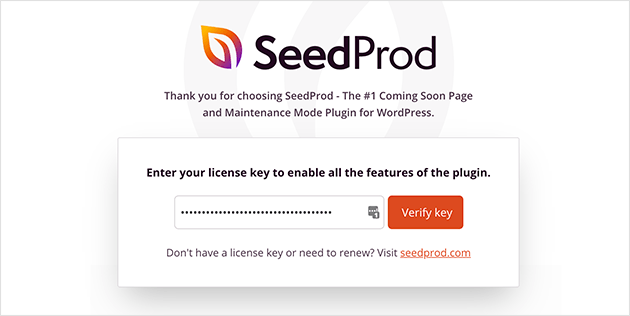 Copy the key and paste it into the field provided in WordPress and click the Verify Key button.
Step 2: Create a New Thank You Page
After verifying your SeeProd license key, scroll down the page and click on the Create Your First Page button.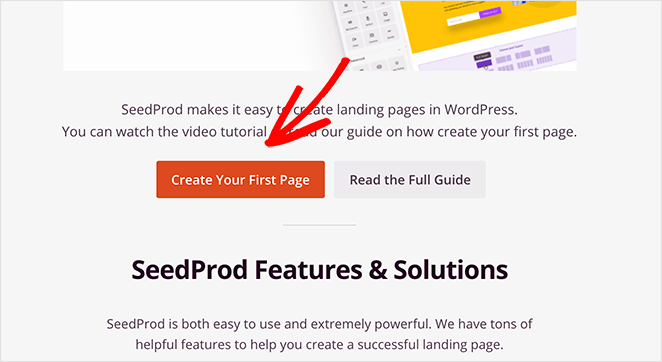 Clicking the button will take you to the SeedProd dashboard, where you can begin making your thank you page. To make your first page, click the Add New Landing Page button.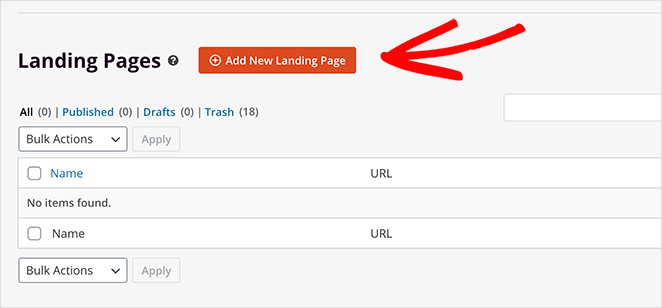 You can start building from a template in seconds. To view the thank you page templates, click the Thank You filter.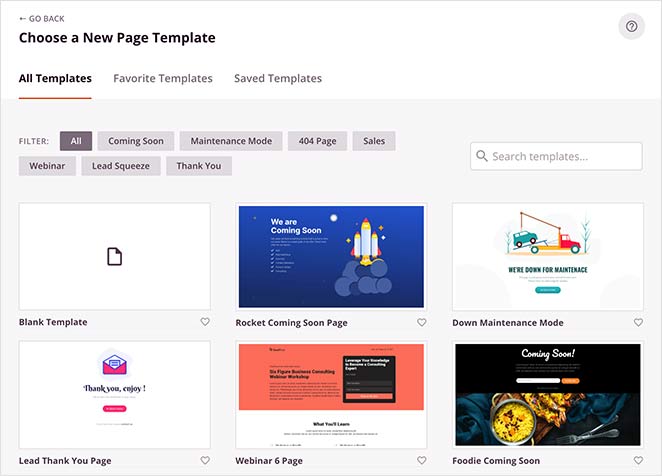 Select a template from the filter and click Save to continue.
Step 3: Add Content to Your Thank You Page
With SeedProd's visual editor, you can now start adding content to your thank you page. All you have to do is drag and drop blocks from the builder on the left hand: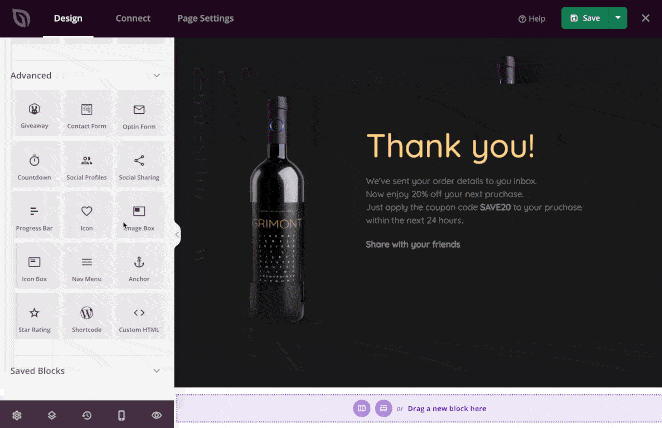 And then, customize the blocks to suit your design.
Most Compelling Thank You Page Examples
Now that you know how to create thank you pages for your site, it's time to check out some top-tier thank you page examples. This way, you can instantly create a thank you page that's professional and high-performing.
Let's get started.

Constant Contact is a very well-known email service provider with powerful email automation features. Their thank you page is a really good example to learn from. It's simple, elegant, and focuses your attention on a single call to action.
At the same time, you get a message to check your email inbox for the digital download that you originally opted for.
The beauty of this thank you page example is that it does everything a thank you page is supposed to do. They thank the visitor for downloading their content, tell them how to access it, and give the visitor an offer to get even more benefits.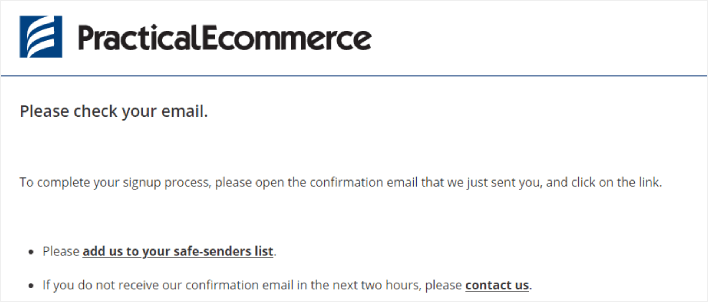 Practical eCommerce takes a very practical approach with their thank you page!
There's absolutely nothing extra on the thank you page.
It informs the user that they need to click a confirmation link to complete the signup process. Then, it asks the user to whitelist their email ID. This makes a lot of sense because the user's going to be in their email inbox anyway. Finally, the page gives you a way to contact the team if anything goes wrong.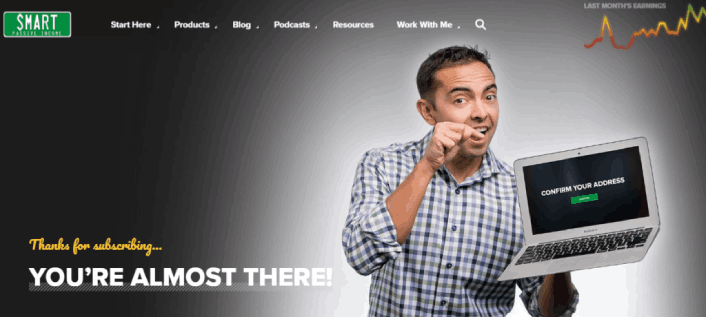 Smart Passive Income has one of the coolest thank you page examples on this list.
Unlike other thank you pages, they don't tell users to confirm their address. Instead, they use a creative image to show the users what to do next. We love this example because it's a really well-known copywriting trick to SHOW rather than TELL. And they managed to take it to the next level.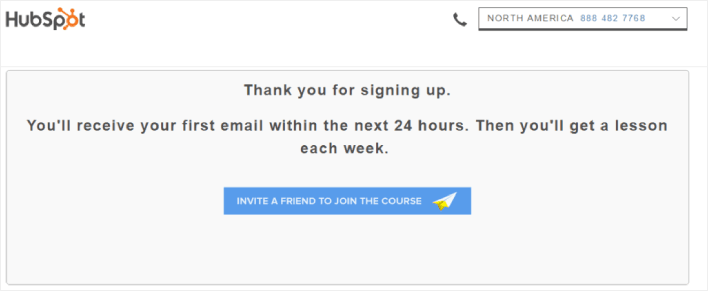 HubSpot is one of the first big names in the marketing industry that started creating processes for inbound marketing and sales. Their entire philosophy is to bring in customers by creating great content instead of running after customers and trying too hard to sell it to them.
HubSpot's thank you page is epic because it doesn't just tell you how to access the free course that the user signed up for. It also gives you an option to invite other friends to join the course.
This is such a cool way to increase referral signups easily. Most people want to learn with a friend instead of having to do things alone. So, this call to action is super powerful as one conversion brings in many more.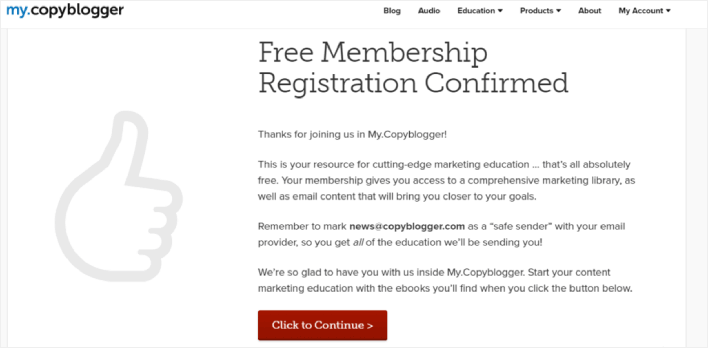 If you're running a membership site, then this thank you page example by CopyBlogger will be super helpful for you. This thank you page does a really good job of explaining the benefits of membership.
We really like how CopyBlogger uses simple text to get its point across. After all, it's a blog that helps copywriters craft better copy. So, the page is perfectly on-brand and super-effective at the same time.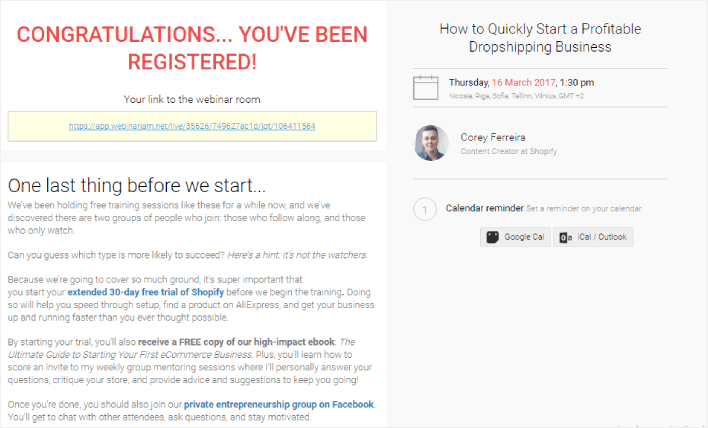 Shopify uses a webinar to generate leads. And that's the thank you page that comes from it. The headline makes it super clear that your registration has been successful. The access link in the highlighted box makes it easy to find in the middle of all that text.
Then, you get a pitch for a 30-day free trial of Shopify. To sweeten the pot, they give you more freebies and resources to make the most of the webinar experience.
Along with the pitch, there's also a calendar link to save the webinar directly to your Google Calendar, iCal, or Outlook.
There's a lot to unpack in this thank you page. The most important lesson here is knowing your audience. Shopify knew that the type of audience they were targeting for the webinar were mostly budding entrepreneurs who have likely never launched a business before. So, they made it as easy as possible for them to launch a dropshipping business.
As a result, the 30-day free trial becomes a super valuable offer.

The InfusionSoft thank you page is just so meta that we couldn't leave it out of this list.
They use their thank you page to capture and convert leads to sales…
By telling the leads how to capture and convert leads!
Then it hits you with a free demo of their software.
It's cheeky, but effective.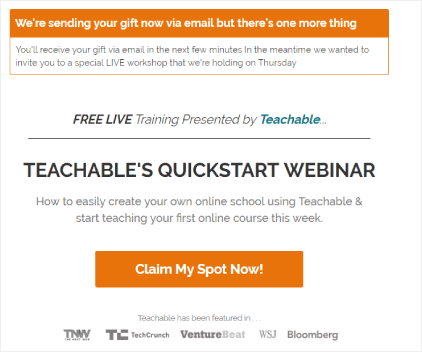 Teachable breaks the mould a little bit with their thank you page. Instead of pitching their platform, they use their thank you page for a free download to invite users to a webinar. and the webinar's completely free as well. This way, they can continue nurturing their leads without being shilly.
We especially love how they subtly inserted their brand name by mentioning the top publishers where Teachable has been featured. It's social proof at its finest.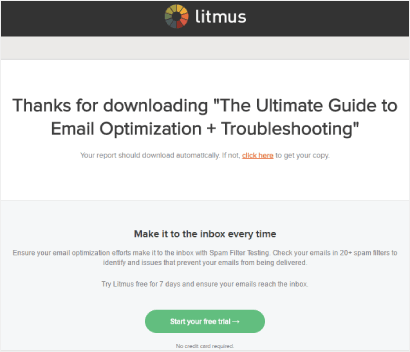 Litmus offers their downloadable file directly from the thank you page. The interesting part is that unlike others on this list, Litmus doesn't use any email confirmation.
It doesn't even send an email.
The beauty of this tactic is that Litmus offers email marketing software. So, instead of being like everyone else, they choose to not clutter their user's inbox with promos.
And the pitch for their free trial doesn't seem forced anymore.

ConversionXL has a live event called CXL Live every year. Every year, hundeds of marketing and conversion optimization pros attend CXL Live. And every year, ConversionXL updates the thank you page to invite anyone who downloads their free ebook to that year's CXL Live.
It's a really cool way to get some easy ticket sales and some social media followers. Eventually, it leads to many visitors buying their paid courses on SEO, digital marketing, and conversion optimization.

KickResume does the same thing as HubSpot with their viral sharing options. And it works really well for them too.
Most of KickResume's audience is comprised of freshers looking for their first job. So, it's super likely that they'll have friends who will need KickResume as well. And the referrals keep pouring in because… let's face it. Who doesn't need help with their resume?
What's Next?
That's all for this one, folks!
SeedProd can help you create a thank you page just like the ones in our examples very quickly.
The next challenge you'll face will be to grow your repeat traffic on autopilot.
Did you know that push notifications come with a lot of automated campaigns? Once you finally launch your thank you page, you'll need a simple and cost-effective way to get repeat traffic and customers. if that's your goal, check out these awesome resources to start growing today:
And if you're just starting out with push notifications, we recommend using PushEngage. PushEngage is the #1 push notification software in the world. So, your campaigns will be in safe hands.