One of the common questions people ask is what is the WordPress Push Notification? Can we send web push notification from WordPress Website? WordPress Push Notifications is now a reality. You can easily schedule, segment, auto-update about your new post to your subscribers. WordPress is one of the largest Content Management systems used worldwide. It owns a 50% to 60% market share of CMS. With so much popularity and ease of use, WordPress runs 31% of the entire internet. It's an easy to use platform for creating websites for business, bloggers, portfolio, university, real estate and many more. You will find a lot of themes and easy to use plugins to make your job easier on the WordPress platform. One of the common questions everyone has is how to send push notification in WordPress. Sending Browser Notification from your WordPress site is very simple. Push Notification for WordPress is now available. You can use the WordPress push notifications plugin. You can enable WordPress Push Notification using the plugin. It's completely free to use the plugin and one of the best push notification plugins for WordPress.
Installing PushEngage Web Push Notifications Plugin On WordPress Website
How To Install PushEngage WordPress push notifications plugin on the website?
Installing PushEngage Push Notification Plugin

With the plugin, anyone with the least technical knowledge can use WordPress push notifications. Installing the Plugin on WordPress account is very simple. Open your WordPress Account.

Search PushEngage Plugin

On the plugin search bar, enter PushEngage Plugin and hit search. It will display the PushEngage WordPress Plugin.

Activate Plugin

Install the Push Notification WordPress Plugin and click on Activate. It will ask for API.

API Key For WordPress Push Notification Plugin

For API, log in to your PushEngage account. From PushEngage Dashboard > Settings > Site Settings > API Keys. Click to generate API Key. It will generate a fresh API key for your account.

New API Key

A new API Key will be generated for your account.

Insert Key

Copy the API key and paste it into your WordPress PushEngage login section. Below is the screenshot of how to enter the API key.

Installation Complete

Once you enter the API key, the integration of the PushEngage plugin in WordPress is complete. Before sending a push notification, configure all the settings.

How To Configure PushEngage Plugin For WordPress Websites?
PushEngage offers multiple features and settings in the WordPress plugin. Before sending push notification from the WordPress account, you need to complete the basic WordPress push notifications settings. You need to set up 3 basic settings after you have installed PushEngage on WordPress: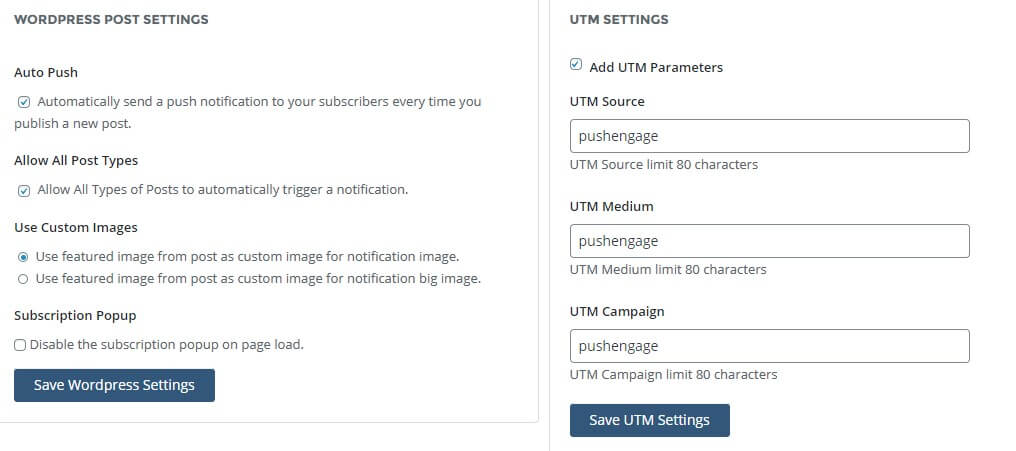 Auto Push If you want to send a Push Notification immediately after you publish a post, then check this button. For every new post, it will send a notification to all your Push Notification subscribers
Allow Post Types
In WordPress, we also publish articles in other formats like Page. If you want to send a notification for all other post types, then check this button.
Use Custom Images
PushEngage allows you to send images along with the notification. If you want to select your Featured image as the image to be attached with your notification, then check this button.
After setting, if you open any new post, you will see that Send Push Notification is already selected. Another important thing is to flush the cached post by installing PushEngage. If you are changing any settings in your PushEngage account, kindly flush your cache. This way you will be able to see the changes in effect faster.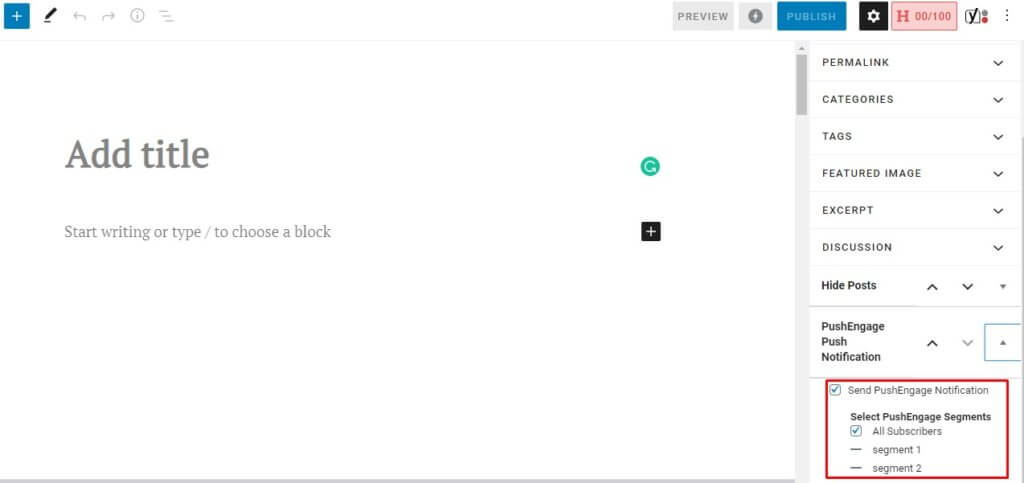 The next step is to configure the Push Opt-In. You can do the rest of the settings in your PushEngage account.
All the changes made in your PushEngage account will be reflected in your WordPress push notification plugin. You can choose from 7 different push opt-in for your website. Complete the configuration of your Push Notification Opt-In and start getting subscribers to your push notification. You can check the funnel analytics for push opt-in and see which style is giving a higher subscription rate. You can also use the PushEngage WordPress plugin to send web push notification for the WooCommerce website.
You can also follow the video instructions for installing WordPress push notifications plugin on a website:
Installing PushEngage WordPress Plugin on HTTPS site
For installting PushEngage on WordPress site, you need download package file. It will be available under Settings> Site Settings > Installation Settings. Under the HTTPS tab you need to download the package file.
Unzip the package file and it will have 1 file – ServiceWorker.js. You need to upload this file in your root folder. The file should be accessible.
Installing PushEngage WordPress Plugin on HTTP site
Check out the below post to help you get the best out of Push Notifications:
PushEngage also supports push notification integration for other platforms. If you are looking to install push notification on Shopify, you can use PushEngage. You can even use the PushEngage WordPress plugin to use Push Notification on the WooCommerce platform. WordPress plugins make it easier to start any e-commerce website.