Looking for epic 404 page design examples to inspire your own?
The right 404 page can actually help you increase leads and conversions that you would definitely have lost. But what makes a really good 404 page? Can you create a killer 404 page without having to hire a developer? Does is matter how high-end your 404 page looks?
We'll answer these questions once and for all.
In this post, we're going to cover 10 of the best 404 page design examples we've seen. Then, we'll explain why they work.
Let's dive in.
What Is a 404 Page and Why Should You Care?
A 404 page is a custom page you create on your site that's shown whenever someone tries to access a URL on your site that no longer exists. The purpose of a 404 page is to prevent such visitors from exiting your site immediately.
So, of course, if you don't have a 404 page, you will lose these visitors. And 404 errors are more common than you might think. Any site that's been running for a while will have deleted pages and posts.
A good 404 page design can help you retain visitors who stumble onto a 404 error and can then convert those visitors by redirecting them to another page.
Best 404 Page Design Examples
Now that you know what a 404 page design can do for you, it's time to check out our list of the best designs we've seen. If you're looking to create your 404 page, we recommend using SeedProd to do it. SeedProd allows you to create custom landing pages in WordPress (including 404 pages) without any coding.
Go check out our full review of SeedProd and create your own 404 page. Or, dive straight into our list for some inspiration first.
#1. PushEngage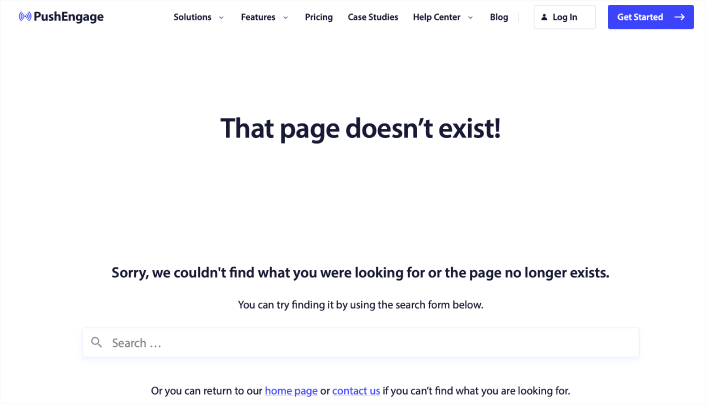 The PushEngage 404 page design is the perfect example of everything you need from an error page. There's a clear apology message and a search bar that encourages you to stay on the site and search for the resource you need.
It also gives you the option to go to the home page or get in touch with the team.
This way, visitors have the option to stay on the site and keep browsing more content. But even more important is the use of the navigation menu. The navigation menu makes it easy for the user to go anywhere on the site instantly. And having a navigation menu in your 404 page design makes the page feel like it's part of the same site instead of a random error message.
With this 404 page design, the goal is simple: Keep people on the PushEngage site.
You can straight up use this 404 page as a template. It's super minimal and highly effective. So, you can re-create the page in a matter of minutes.
#2. 9gag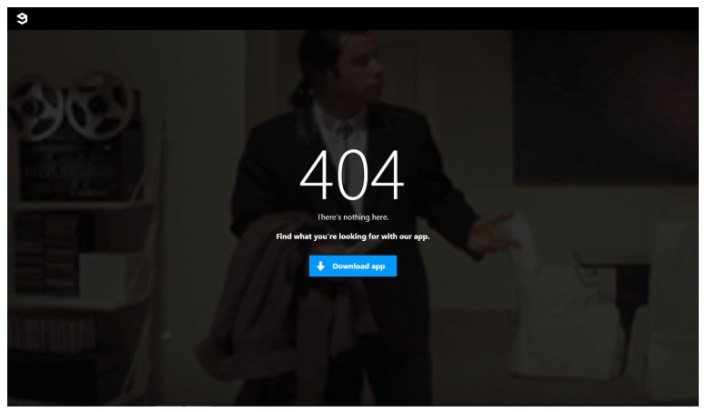 9gag has one of the most direct and straightforward 404 page designs we've ever seen. There's absolutely nothing to consider for the visitor. You get a clear call to action to download their app.
It's super focused on converting web visitors into app users and that's all it offers. The page is super minimal and the GIF of John Travolta looking lost is an awesome touch.
Yes, we just talked about offering different ways to retain a visitor. But you can't overwhelm them with too many options, either. For app developers, this template is pure gold. You can easily create an app landing page and link to it from your 404 page.
#3. Pixar
Pixar always takes the cake with creativity. They have one of the most fun, creative, and engaging 404 page design examples.
With one of the characters from their movie Inside Out, they play with how frustrating it can be to land on the wrong page. Then people can use the main menu at the top of the page to go back through the site.
The only critique that we have is that there is no search bar to help users find a related resource. If you're running a WordPress site, you can set up a custom site wide search engine pretty quickly using SearchWP.
Check out our review of SearchWP to learn more.
#4. Disney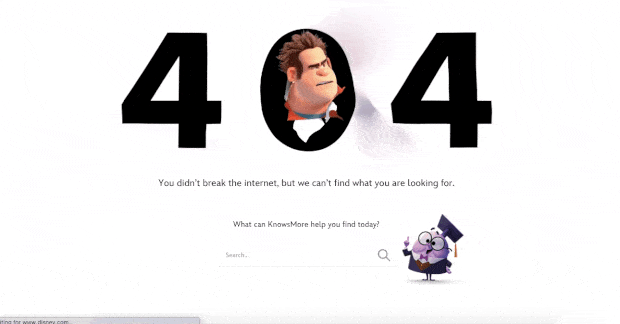 Disney's 404 page design is also super cool. You get a search bar to find related resources.
But more importantly, everything about the page feels on-brand with Disney. The animated effect with their popular character Wreck It Ralph from their hit movie Ralph Breaks the Internet is super cute.
You also get a navigation menu on top to easily reach any page you want to find. This is an improvement over Pixar's 404 page design. If you take a closer look at the navigation menu, you'll see that it points to their Shop, Parks and Travels, and Movie pages. These are all money makers and every time they get someone to convert from a 404 page, it's money that they would have otherwise lost.
#5. Netflix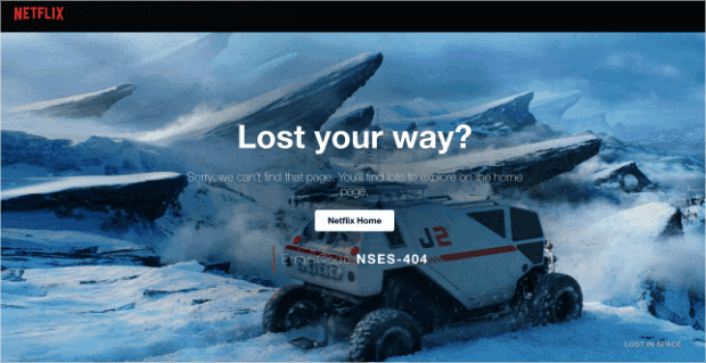 Netflix is more a discovery platform than a search engine. So, for once, we'll let the fact slide that there is no search bar on their 404 page. And besides, how can you be mad at this design? The background is a scene from Lost in Space.
It's so fitting that they managed to pull this off.
The main thing to notice here is the big CTA button in the middle: Netflix Home. It's simple, effective, and very appealing. Seeing a 404 page is a very bad experience for the user. But sometimes, all you need to offer a good UX is a clearly labelled button.
#6. Tripadvisor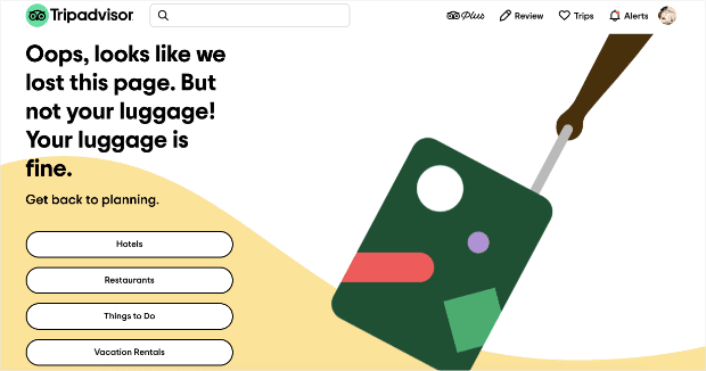 Tripadvisor has a fun and animated 404 page example. It's a good fit for their brand and the page feels campy and fun. Almost like… taking a trip with a funny friend.
Check out the headline joke about having lost the page but not your luggage. This is the perfect kind of humor for a travel site, and it invites the user to navigate to 4 main sections of their site:
Hotels
Restaurants
Things to do
Vacation rentals
An excellent way of re-engaging the user and helping them further plan their next vacation without being pushy.
#7. Constant Contact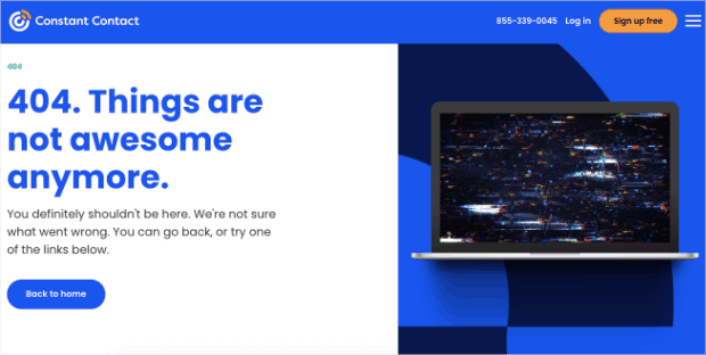 Constant Contact caters mostly to young business owners and marketers. So, while their language may feel a little informal, that's the way it's designed to feel.
This 404 page design is simple, elegant, and understands the user's mindset. Notice how even with their informal language, the copy feels apologetic and helpful.
If there's one gripe that we have, it's about the last part of the copy. It says that you can "try one of the links below" and only provides one link to click. We'd recommend either changing the wording around the button or providing more links to explore.
#8. Slack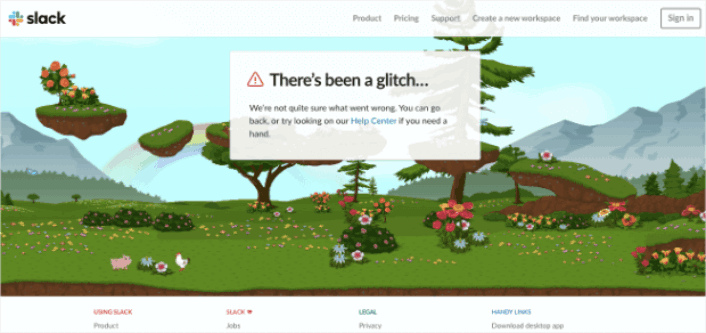 Slack made an entire animated background for their 404 error page. So, it's super engaging and is designed to keep people on the site for a longer time.
Of course, they have a link that takes users back to the Help Center along with a bunch of other links to different pages.
There's no link to the Home page and that's the only thing feels missing. Here, the 404 page design doesn't need to include a search bar because it links to the Help Center where you get the site search.
#9. Steve Madden

Steve Madden's 404 page design offers multiple options to lost visitors. You can use their search bar to find products on the site. But there's also a navigation menu to find category pages.
Then, you also get two CTAs that redirect you to trending products.
Every inch of this 404 page design is optimized for clicks to increase the average time spent on the site. It's super easy to create a page like this as well. All you have to do is use SeedProd's eCommerce blocks.
#10. Amazon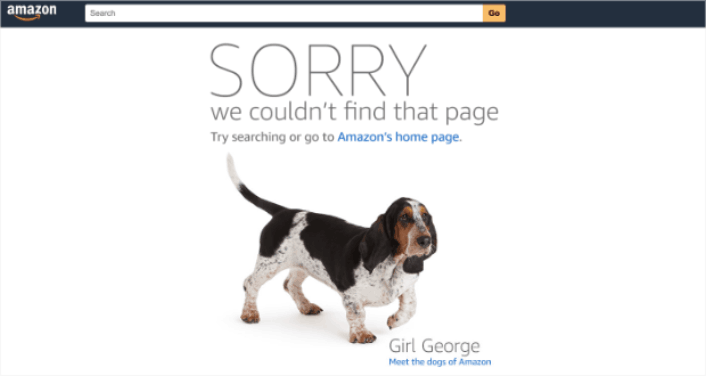 If Amazon's having fun with their 404 page design, then it's a clear indication that you should too!
The page starts with an apology in big, bold letters. It then redirects users to Amazon's homepage OR allows users to meet "the dogs of Amazon." This lighthearted redirect is a great way to keep people on their site for longer.
After all, who doesn't love dogs?
What to do After You're Done With 404 Page Design?
That's all for this one, folks!
Creating a 404 page design is actually the easiest part of building an online business. The tricky part is to generate traffic on your site and get people to buy from you consistently.
Our recommendation is to start with push notifications. Push notifications are great tools to increase your engagement and conversions as well. Not convinced? Check out these amazing resources on push notification campaigns:
We recommend using PushEngage to send your push notifications.
PushEngage is the #1 push notification software in the world. So, if you haven't already, get started with PushEngage today!