Looking for an honest MonsterInsights review?
MonsterInsights is widely recognized as the best Google Analytics plugin for WordPress. But is it worth the hype? 3+ million active users and 2000+ great reviews on the WordPress repository suggest that it's as epic as advertised.
But we wanted to do a deep dive of our own.
The biggest issue with analytics software is that they are complicated to use.
So, is MonsterInsights powerful enough? Is it easy to use? Can you get decent support if you break something by accident?
We're taking all that into consideration.
In today's article, we're going to put MonsterInsights to the test. And we'll get to the truth ourselves.
Let's dive in.
A Quick Overview of Our MonsterInsights Review
Before diving too deep into the technical parts of MonsterInsights' complete toolkit, we'd like to give you a quick overview.
For those of you who are just discovering what MonsterInsights is, here's the skinny…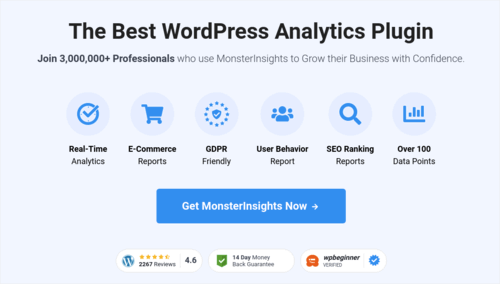 MonsterInsights is a WordPress plugin that makes it easy for you to set up Google Analytics and use it in your WordPress dashboard. A major issue with Google Analytics is that it provides you with too many options to navigate, which will make you confused unless you really understand data analytics.
In other words: It's really easy to get lost in a bunch of meaningless numbers that may never actively help in growing your business.
MonsterInsights makes it super easy to get real insights from raw data so that you can quickly make decisions based on what works best with your audience. It's also easier to focus on relevant metrics for different types of websites. For instance, a blog site and an eCommerce site shouldn't be looking at the same metrics.
You don't have to worry about looking at a ton of data every time you want to see how your content is performing.
The MonsterInsights plugin was developed by the same team as WPBeginner, OptinMonster, and PushEngage. They've built some of the best WordPress plugins of all time. So, they know what they're doing.
In this review, we're going to talk about how you can use MonsterInsights to stay on track with marketing and business decisions in more detail.
MonsterInsights Review: Free vs Paid Plugin
When MonsterInsights first came out, there were already other Google Analytics plugins in the market. But they all had the same problem. Mostly, these plugins were just a way to see analytics in your WordPress dashboard. And that was it.
MonsterInsights enables you to do the same thing. But instead of random reports, you get real insights that help grow your traffic and revenue. The best part? You don't need a single line of code to install MonsterInsights!
You can even use it on Google AMP sites.
Before we dive into a more detailed review, let's take a look at what the free plugin can do and why we went for the pro version.
MonsterInsights Lite: What Can It Do for Your Brand?
MonsterInsights Lite, which is the free version, only gives you:
The Sessions chart to get a quick look at how the sessions on your site are trending
The Pageviews chart to see if your page views are increasing or not
Visitor breakdown to get a glance at the number of new and returning visitors to your WordPress site
Top 10 countries where your site gets search traffic
Top 10 referring domains that send you traffic
Best-performing pages and posts based on traffic
For a freelancer, this might be totally fine. You could probably put your budget to better use. But if you're serious about growing your business, these insights simply aren't enough. You need a lot more to understand how to grow your SEO traffic and conversions. Also, if you're an SEO freelancer who takes on multiple clients, the Pro license is better for you.
MonsterInsights Pro: What Can It Do for Your Brand?
So, what can the MonsterInsights Pro version do for your brand? It can help:
In short: You get something for practically any site you own, whether it's a portfolio site or an affiliate marketing blog, or a full-blown eCommerce store. Considering how powerful the impact is, we believe that using the MonsterInsights Pro version gets you instant value for money.
We'll explore some of the top features next. So, you'll see exactly how you can do all this using specific features.
Detailed MonsterInsights Review: Feature Breakdown
Full disclosure: We use MonsterInsights ourselves. This MonsterInsights review is based on OUR findings. In our honest opinion, the best thing about the MonsterInsights toolkit isn't one specific feature, but how incredibly easy it is to set up and use.
The reason why MonsterInsights is so powerful is that it offers solutions for all kinds of businesses.
And you don't have to have a huge business to be able to afford or use MonsterInsights. The plugin was built primarily for small businesses that don't have many resources and developer support.
Let's take a closer look at the features now.
#1. Add Google Analytics Tracking Without Using Any Code
Setting up your Google Analytics account the right way can be a real hassle if you're doing it the first time.
How Google Analytics works is that it requires you to paste a small snippet of code on your website to track your site's traffic and conversion data. While you don't need to write the code yourself, you must manually paste the code into your website. And then, you have to head back to Google Analytics to verify that your code is actually installed and working correctly.
This all changes once you install MonsterInsights.
MonsterInsights is built for beginners. All you have to do is simply point, click, and follow along with an interactive setup wizard: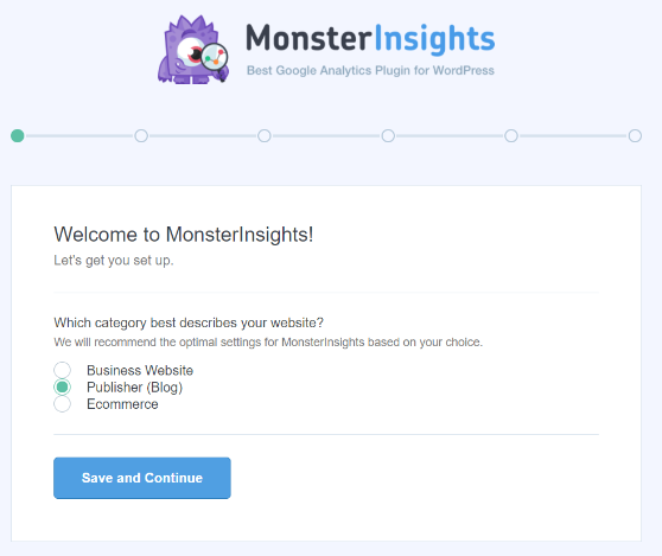 And you're done in less than 3 minutes. No need to mess around with any code or hire a developer to do it for you. You can see all your important data right inside your WordPress dashboard.
#2. Use Google Analytics 4 Right off the Bat
MonsterInsights integrates with both Universal Analytics (GA3) and Google Analytics 4 (GA4). Even better, it's the only Google Analytics plugin that lets you connect to both versions simultaneously with the Dual Tracking feature.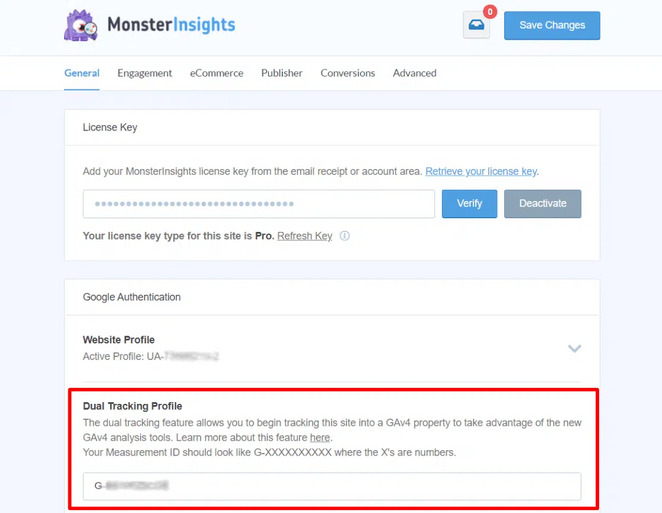 Why is this a big deal?
Short answer: You can get all your historical data and reports using Universal Analytics (GA3) and collect even more data with GA4. You get the best of both worlds. Google is going to only offer GA4 soon. So, if you haven't already, you need to create your Google Analytics 4 property on your Google Analytics account.
If you're new to MonsterInsights, you can easily set up your Google Analytics 4 account right from the WordPress dashboard. But if you need to migrate from GA3 to GA4, just create your Google Analytics 4 property and enable the Dual Tracking feature. You can track metrics from multiple versions at the same time.
#3. Get User-Friendly Reports in Your WordPress Dashboard
This one's pretty much a given. Getting your reports in the WordPress dashboard is one of the main reasons you'd want a Google Analytics plugin.
Here's the amazing bit: You don't just get a random report.
You can simply head over to your WordPress site dashboard and have all the most critical metrics in a single Overview Report: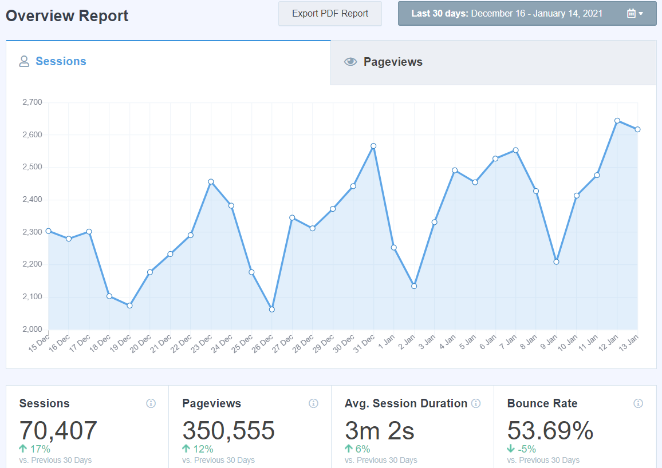 This is just the default report you get. If you keep scrolling down in the Overview Report, you'll see a simple graph of New vs. Returning Visitors and Device Breakdown.

If you click on the Publishers tab in MonsterInsights, you can also get insights from:
Exit Pages
Outbound Links
Affiliate Links
Download Links
Demographics
Interest Categories
Referral Traffic Sources

And even this is just barely scratching the surface of MonsterInsights' reports.
#4. See Real-time Analytics and Insights
You can also check real-time feeds from the same report in your WordPress dashboard: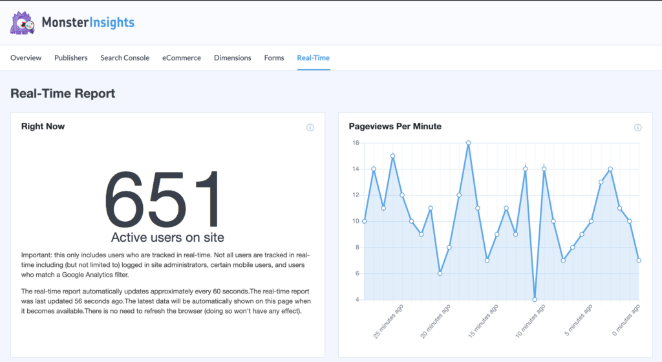 Real-time analytics reports can be really helpful in tracking campaign performance, finding the best time to post an article, segmenting your users by timezone, and more. And with MonsterInsights, you can get all this from your WordPress dashboard.
#5. Identify Top-Performing Content
By discovering what type of content your audience likes, you can optimize existing content for higher conversions. Or you could even come up with similar topics to steadily increase web traffic.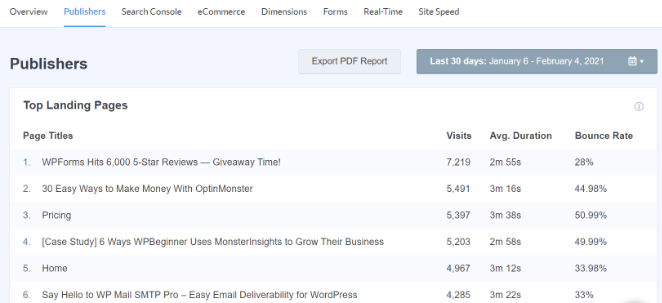 Here's the best part: Once you identify your top posts, you can automatically promote them across your other articles by using MonsterInsights' Popular Post widget: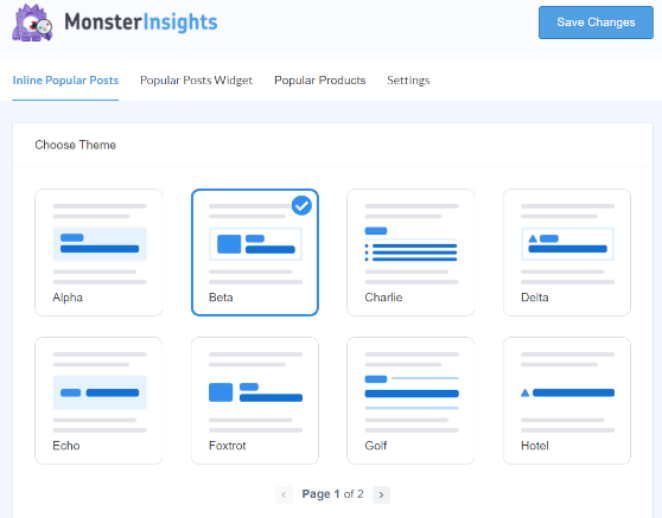 But wait, there's more!
MonsterInsights actually gives you a report on your top keywords as well. Go to Insights » Reports on your WordPress dashboard. Then, click on the Search Console tab to find out your Top 50 Google Search Terms.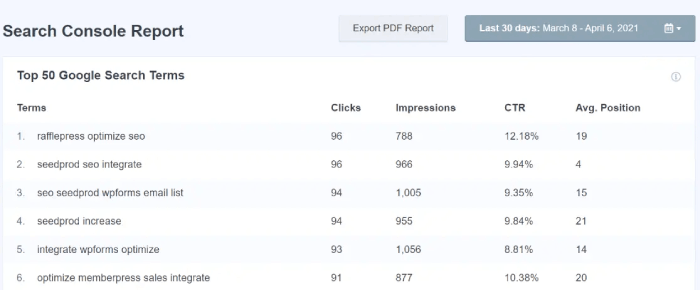 You can even create advanced filters to check performance by post type and author.
Of course, if you're looking to monetize your blog, you probably have a keyword research tool that you use regularly. But here's a nice trick for you. Google may choose to rank your content for keywords besides the ones YOU want to rank for.
And if you're already ranking for these keywords, you can optimize your article a bit more to get way more traffic from the same post.
Your Google Search Console account already collects these keywords. MonsterInsights gives you this list of keywords right inside your WordPress dashboard. All you have to do is connect your Search Console account to MonsterInsights when you're setting things up with the Setup Wizard.
#6. Understand Your Audience More Deeply
"Understanding your audience" sounds really zen, but how do you actually do it?
One simple way to do it is to analyze whether your audience likes your content. Using MonsterInsights for website analytics, you can check how far your audience scrolls in each article. There's no need to set up scroll tracking events using Google Tag Manager manually.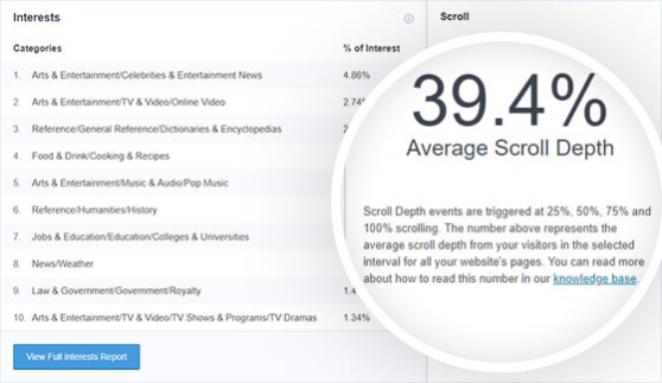 You can use this data to place your call to action (CTA) buttons in places that increase your conversions. If you know where your readers are dropping off, you can also re-optimize the article to make it more engaging.
The best part?
You can use the Interests report in MonsterInsights to discover the real interests of your audience:

Just think about how easy it becomes to create new content for your site if you know exactly what your readers want to read.
Need more insights? No problem at all. Using MonsterInsights, you can find out how your audience is discovering your site: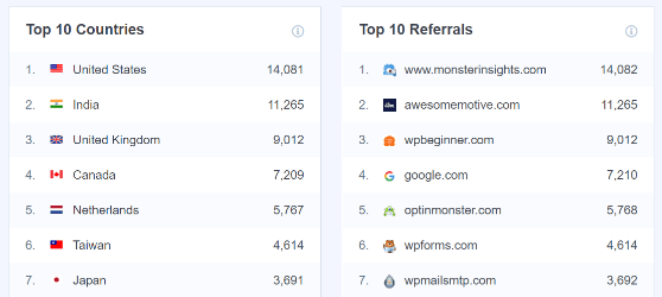 Are they being referred by another site? What countries are you getting the most traffic from? Is your content culturally appropriate? How can you expand your existing content to help people with different contexts make the most of your articles?
Maybe you can create content in regional languages. Or create a campaign that targets a specific location. If you're unsure how to do this, you should try OptinMonster to create targeted popups and opt-in email offers. OptinMonster is the #1 conversion toolkit in the world, and if you're serious about growing your business, you should try them out.
We talk a lot more about this in our OptinMonster review. Go ahead and check that out as well.
Who's referring the most traffic to your site? Can you get more backlinks from them? Are there similar sites out there you can build partnerships with?
If that doesn't help you get more traffic, we don't know what to say.
#7. Enable Media and File Tracking
If you're creating downloadable content such as ebooks and videos, you can even track the most downloaded files: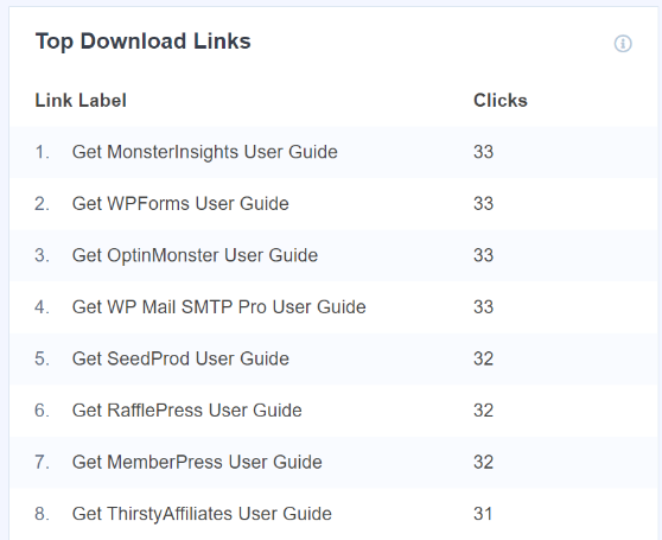 MonsterInsights automatically tracks file downloads for you. No manual set up required. It helps understand what type of content your audience wants to download. Once you determine what gets you the most downloads, you can offer similar content to your visitors, increase engagement, and grow your email list.
But that's not all. When you're using WordPress, you're probably embedding your videos using three different methods:
YouTube
Vimeo
WordPress media library upload (HTML5)
Using MonsterInsights, you can look at how your videos are performing in your Google Analytics account. You can see which of your videos are most popular and for how long people actually watch the video: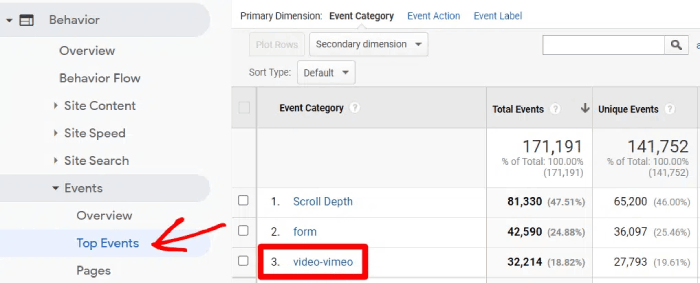 Media tracking is a super cool feature because it's really difficult to set everything up correctly on Google Analytics manually. With MonsterInsights, all you have to do is install an addon, flick a switch and enable it.
#8. Set Up eCommerce Analytics
With Google Analytics, you have to do a lot of manual work to track eCommerce data on your site.
Again, MonsterInsights gives you a pre-built point-and-click way to set up eCommerce analytics without using any tracking code whatsoever. You can track your store's revenue, transactions, average order value, and conversion rate right from your WordPress site.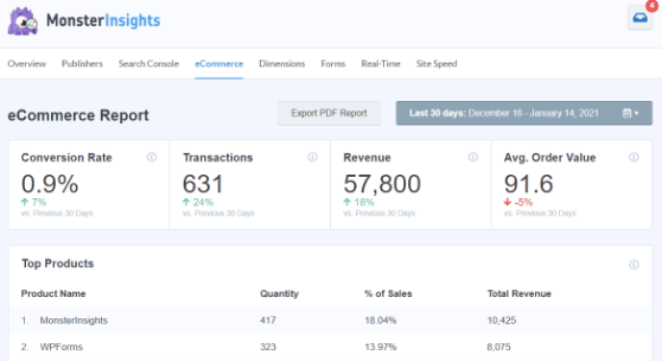 For those of you who are using WooCommerce or Shopify, both these platforms have built-in analytics. But it's really limited, and there are many insights that you probably won't be able to figure out.
With MonsterInsights, you can track top conversion sources, total 'add-to-cart' actions, total 'removed from cart' actions, time to purchase, and sessions to purchase. Combine your eCommerce tracking data with scroll tracking, and you have really great insights on conversion optimization.
Pro-Tip: If your abandoned cart rates are high, you can set up automated campaigns to recover sales from abandoned carts.
#9. Automate Form Sign Up Analytics
If you're selling a service rather than a product, you're likely to use forms to capture leads. We recommend using WPForms to create forms that work 100% of the time.
But this review is all about MonsterInsights. MonsterInsights has a form tracking addon that allows you to track form conversions and form abandonment rates automatically.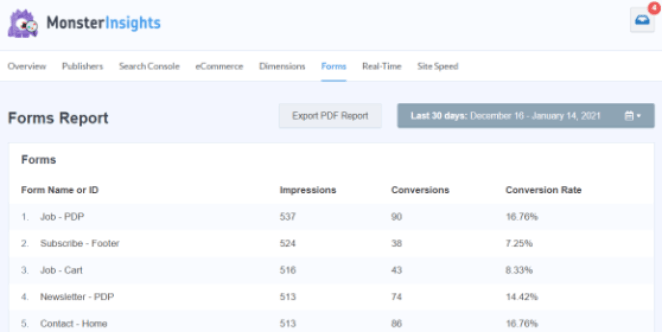 This way you get a lot more information than just the bounce rate on your form landing pages. You can actually set up retargeting campaigns to close lost leads.
There's also no extra configuration needed here. Doing the same thing manually can be a real hassle because you have to set up tracking codes for each form one at a time!
#10. Get More Insights From Custom Dimensions
Custom dimensions are extra filters to Google Analytics data that help you get hyper-specific insights. For instance, which of your authors creates the best-performing content? Which content category is most popular?
These are metrics that your Google Analytics account doesn't track by default. You can set up these custom dimensions manually, but inserting the tracking code is again an absolute pain.
The MonsterInsights Dimensions addon helps set up custom dimensions in a few clicks without using any code.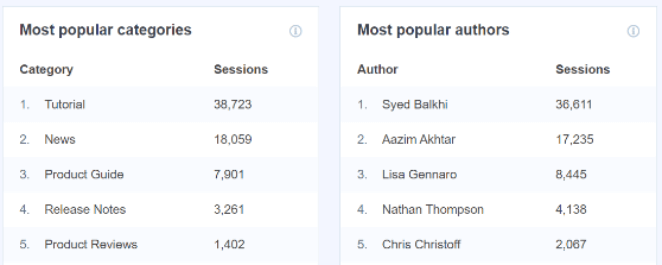 Using custom dimensions, you can:
Uncover popular authors on your site
Discover content types and formats that your audience loves
Find the best time to publish blog posts
Track activity for logged in users
Discover WordPress categories and tags that drive traffic
And a lot more. Yes, you'll still have to create custom dimensions on Google Analytics to track the data. But MonsterInisghts makes the entire process automated and hassle-free.
#11. Affiliate Link Tracking
Affiliate marketing has only grown in the last decade. But it's still really challenging to create a profitable business out of an affiliate marketing blog.
In fact, 48.36% of affiliate marketers earn around $20,000 a year, while only 3% earn over $150,000 a year.
With MonsterInsights, affiliate link tracking is easy. Just check your Publishers report: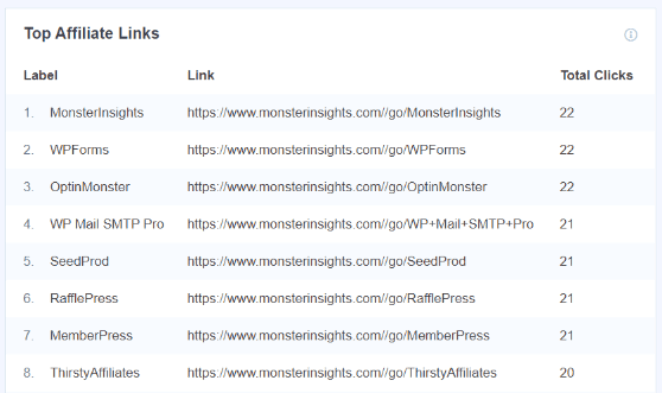 You can monitor your entire affiliate revenue and performance right from your WordPress dashboard.
All you have to do is specify the link's label and URL. And MonsterInsights does the rest for you.
#12. Ensure GDPR Compliance
GDPR compliance is a major change seen in almost every marketing product.
But what does this mean?
In simple terms: These are privacy laws that state that you must ask for consent before collecting any user data. Since collecting user data has been the primary way to market digitally, this is now a mandate.
You must now disable UserID tracking, author tracking, and anonymize IP addresses from your Google Analytics account. If this sounds like a horrifying amount of work, that's because it is. Not to mention you'd have to really understand how the web works to enforce any of these measures.
Fortunately, the MonsterInsights plugin simply goes ahead and does it for you: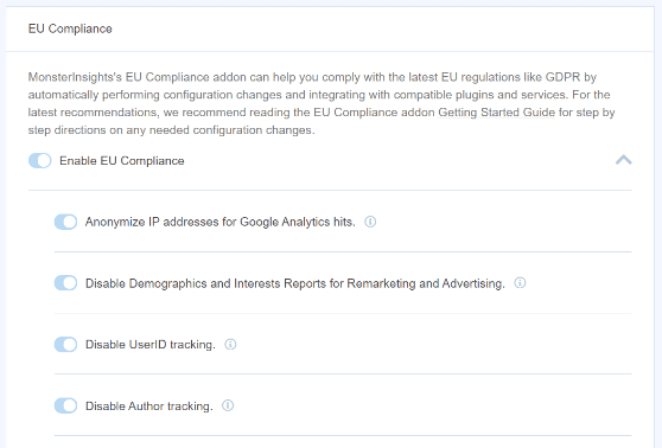 All you have to do is install the EU Compliance addon for MonsterInsights.
Easy peasy.
#13. Get Premium Integrations
While it's mostly developers that get excited by software integrations, the actual purpose of integrations is to make the software more usable. Many MonsterInsights review articles skate over the integrations, but we believe that this is super important for small businesses.
MonsterInsights gives you a bunch of powerful integrations to help you seamlessly track and report different types of data without using any code. This includes almost every major plugin that's crucial to running a WordPress website, such as:
WooCommerce
Easy Digital Downloads
LifterLMS
WPForms
Shortlinks by Pretty Links
Memberpress
Thirsty Affiliates
GiveWP
Restrict Content Pro
And more!
You also get integrations for Facebook Instant Articles, Google AdSense, Google News Articles, and Google Optimize for advanced tracking and A/B testing.
MonsterInsights Pricing
Now that you know some of the advanced features of MonsterInsights and how it can help grow your business, let's see if you can fit it into your budget.
MonsterInsights has different pricing plans to choose from.
The best part? They're suitable for all types of businesses, including publishers, small business owners, eCommerce sites, and marketing agencies. And each plan comes with a 14-day money-back guarantee.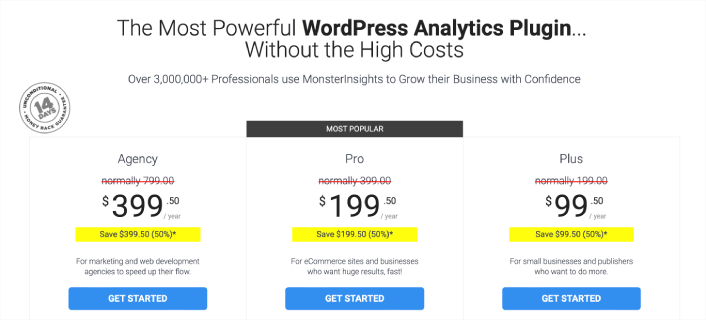 MonsterInsights Review Wrap: Best WordPress Analytics Plugin?
Hands down, MonsterInsights is the best Google Analytics plugin for WordPress.
The range of features, the affordable pricing, and the critical insights that it can provide make it the absolute best. And that's exactly why they have so many customers eager to leave reviews and testimonials.
We would happily recommend using MosnterInsights to grow your business. Go ahead and install the plugin now and discover new ways to keep growing!
Speaking of new ways to keep growing your business, have you tried using push notifications yet? It's an affordable way to grow your traffic, engagement, and revenue. And it's really easy to set up a push notification campaign.
If you haven't already, we recommend getting started with PushEngage. PushEngage is the #1 push notification software in the world.