Looking for a RafflePress review that helps you make up your mind?
RafflePress gives you an easy way to run giveaways on a WordPress website. You get awesome templates to create viral giveaways right out of the box. But is it the right tool for you? RafflePress claims to be the #1 WordPress giveaway plugin. Is that really true?
In this RafflePress review, we're going to put the plugin to the test. And we'll get to the truth ourselves.
Let's dive in.
A Quick Overview of RafflePress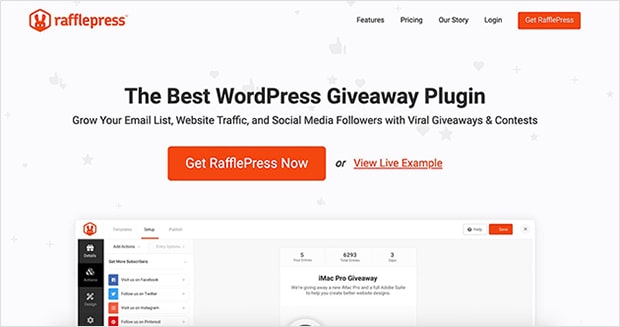 RafflePress is a visual giveaway builder for WordPress sites that helps you create and run contests and giveaways for your site. That's great for brand awareness because everyone loves freebies. So, you're going to get a lot of attention very fast.
There's a LOT to unpack here. But before we dive too deep into the technical parts of the RafflePress toolkit, we'd like to give you a quick overview.
When the founders of WPBeginner and SeedProd came together, they found that the giveaway plugins for WordPress were either too difficult to use or way too buggy and bloated to be useful. So, they decided to create one of their own!
Besides being full of easy-to-use features to launch giveaways, RafflePress was designed to be a lead generation tool for small businesses. You also get a ton of free tutorials and optimization tools to launch successful giveaways.
RafflePress Review: What Can the Plugin Do for Your Brand?
Now that we understand a little bit about RafflePress, let's check out the features that make RafflePress so effective.
In our opinion, it's worth every penny. But we're getting a little ahead of ourselves here.
Let's dive in.
#1. The Best WordPress Giveaway Plugin
RafflePress was always meant to be beginner-friendly. That's one of the biggest problems this plugin solves. There's absolutely zero learning curve. The best part is that you get a simple, drag-and-drop, visual campaign builder.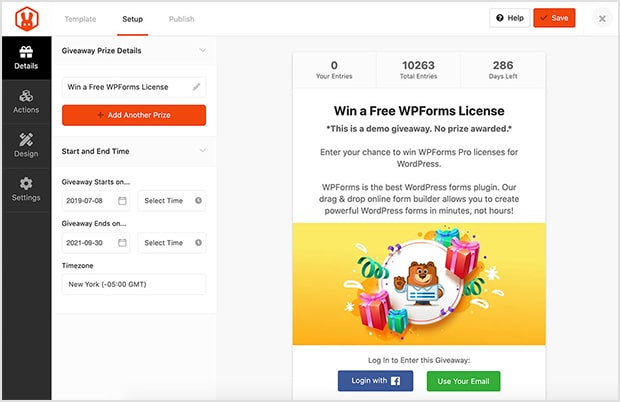 The builder itself is super-easy to use and every option has tooltips and step-by-step instructions to follow.
#2. Includes Time-tested Giveaway Templates
One of our favorite features about Rafflepress is the fact that you get an entire library of giveaway templates. These are all powerful templates that are designed to go viral and you can import any of the templates with a single click.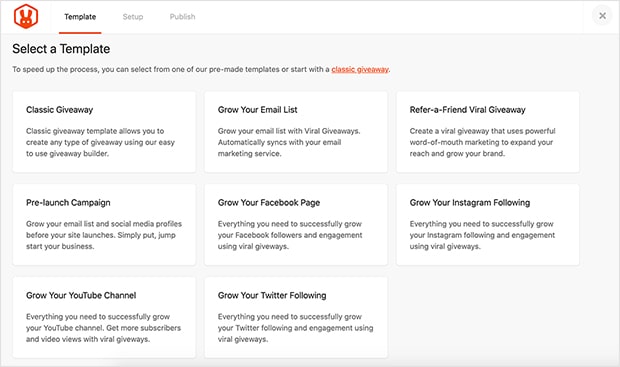 RafflePress templates can be used to:
Grow a segmented email list
Build traction with referral marketing
Run a pre-launch giveaway
Get social media followers
Redirect traffic to your blog
Engage and convert your SEO traffic
And a LOT more. If you'd like to create a custom campaign from scratch, you can do that too.
The best part? You can customize every part of the campaign or you can simply use the template straight off the rack!
#3. Helps Grow Your Social Media Followers
Growing a social media following is not easy. It takes a lot of work and a lot of time to build organically.
RafflePress can change that.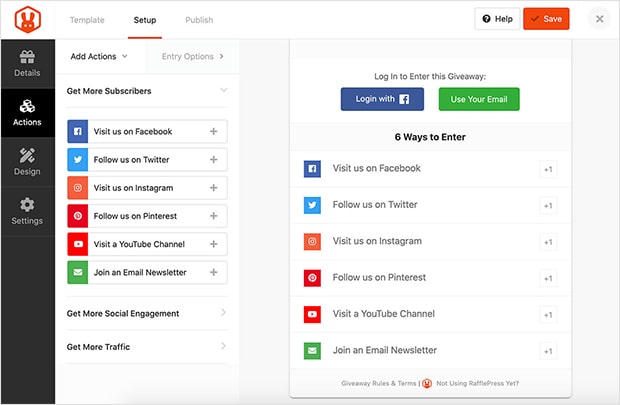 With RafflePress, you can create campaigns that ask participants to follow your brand on different social media platforms including:
Facebook Page
Twitter Profile
LinkedIn Page
Pinterest Page
Instagram Channel
YouTube Channel
And it's a one-click action. So the participants have no issue with following your brand to win some prizes.
Pro-Tip: If you want, you can also set the social media follows to be a mandatory action to win an entry. And if you're really looking to boost the campaign's reach, allow your participants to get daily entries. This is super-effective for events and holiday sales and it keeps your entire website traffic engaged until the event starts or the sale is over.
#4. Includes Viral Sharing Options
Social media follows are great. But you also want to use your following to generate even more traction. That's how viral campaigns are built. RafflePress allows you to do that very easily.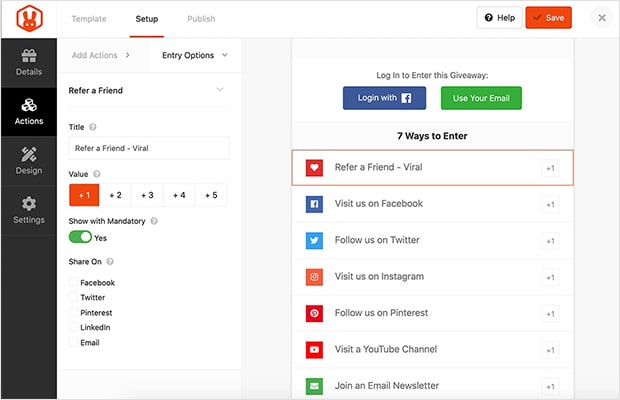 Just use the Refer a Friend option to get some traction. Every time someone refers your campaign to a friend, they win extra entries to the raffle!
#5. User Friendly Campaigns
There's no real barrier to entry. Anyone can participate in a contest or giveaway created in RafflePress. All they need is a device connected to the internet. Every entry is one-click. So, no one minds taking the actions needed to participate in the contest.
Here's an example of how easy it is to enter using the Join an Email Newsletter action: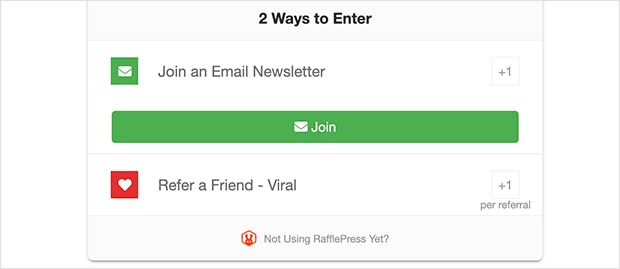 After registering your email address with the giveaway widget, it's a simple matter of clicking the Join button.
#6. Encourages User-Generated Content
User-Generated Content (UGC) is exactly what it sounds like. It's any content that your customers and users create for your brand. This could be a comment or a social media post.
If you play your cards right, you can even get some great testimonials out of your contest!
And RafflePress makes this super easy to do.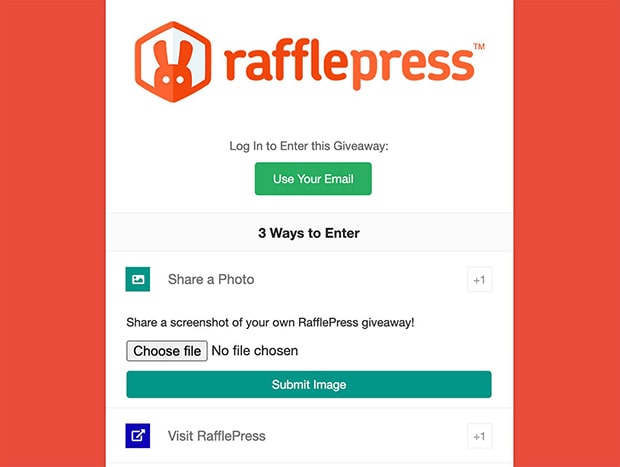 Pro-Tip: Photo contests are really popular with Instagram influencers. So, if you're looking to expand your audience on Instagram, this is a fantastic idea for you.
#7. No Code Campaign Designs
Designing a campaign in HTML, CSS, and Javascript can be really tiresome. This is especially true if you don't have a huge development team behind you. RafflePress doesn't require you to hire a team of designers and developers to launch a powerful campaign.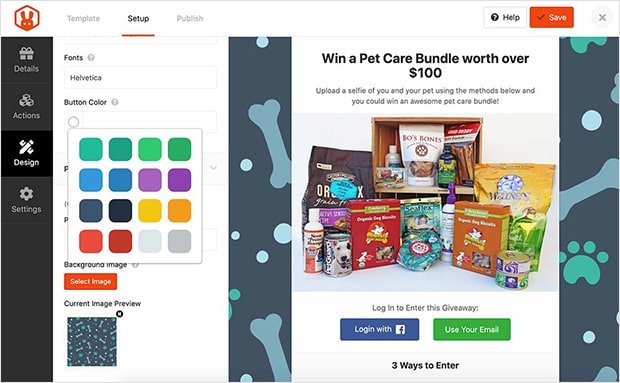 It's like we said. Everything on RafflePress, including design settings, is one-click.
#8. Includes Distraction Free Giveaway Landing Pages
If you want to have a separate landing page for each giveaway, don't worry.
RafflePress automatically creates that for you: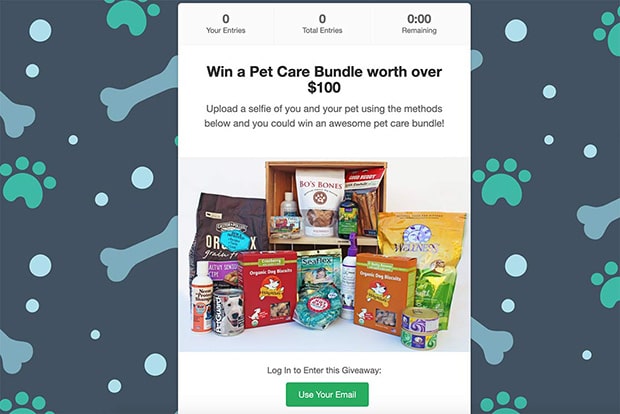 No distractions, instant conversions.
Very cool!
#9. Create Your Own Giveaway Rules
With RafflePress, you can create your own rules and rewards. It's really important to keep the contest fair. But it's also a lot of extra work, right?
Absolutely not!
Just generate your own giveaway rules with one click: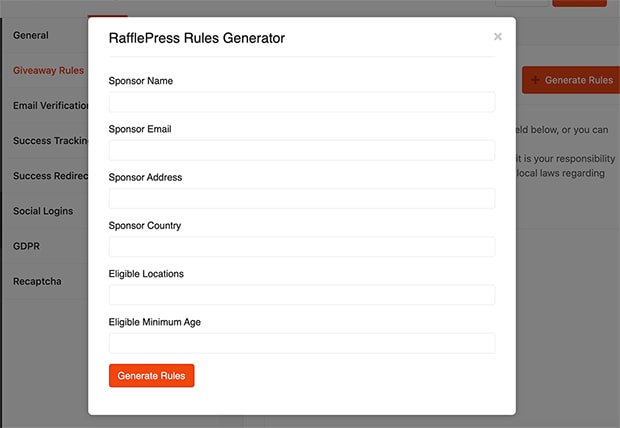 #10. Integrates with Popular Email Marketing Services
We did say that you can grow an email list using RafflePress, right?
It's kinda hard to do that without email marketing integrations. So, it's really great that Rafflepress has integrations for some of the most popular email marketing services in the world.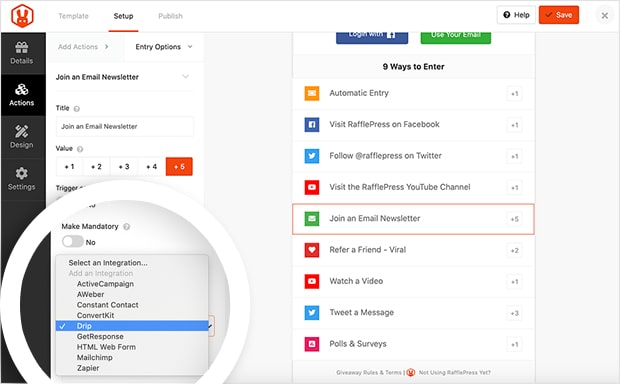 This includes:
ActiveCampaign
AWeber
Constant Contact
ConvertKit
Drip
MailChimp
GetResponse
And even Zapier integrations for custom zaps. We recommend using Drip for your email marketing campaigns. But you can choose any of these providers with a click.
RafflePress also integrates with WPForms to create an epic contact form to collect leads. You can even embed a popup contact form if you like. And you can even integrate your giveaway with WooCommerce if you're running an eCommerce site.
#11. Allows Easy Tracking and Retargeting
One of the biggest issues with running contests is that it's really difficult to track and measure success. If you had to create a successful giveaway campaign in HTML, you would also have to spend a considerable amount of time creating a custom database to manage the campaign.
RafflePress simply does this for you. Just head over to Settings » Success Tracking: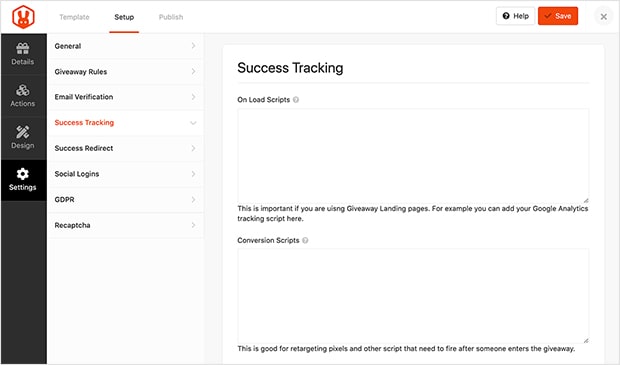 You can simply drop your Google Analytics code here and if you have conversion tracking set up, you can see your campaign's success from your Google Analytics dashboard. Or, you could drop your Facebook Pixel or other retargeting scripts to advertise to your website traffic later.
Of course, you can also use MonsterInsights to track how your campaign is performing.
#12. Manages Giveaway Entries Inside WordPress
Another major issue with many giveaway plugins is that it's really difficult to track engagement inside WordPress. How do you confirm if your participants have taken different actions if they participate over several days from multiple channels? That's a LOT of work manually scrolling through your social media feed and your articles.
RafflePress gives you a simple and elegant way to manage your participants directly from the WordPress dashboard. And it completely eliminates any manual tracking for you.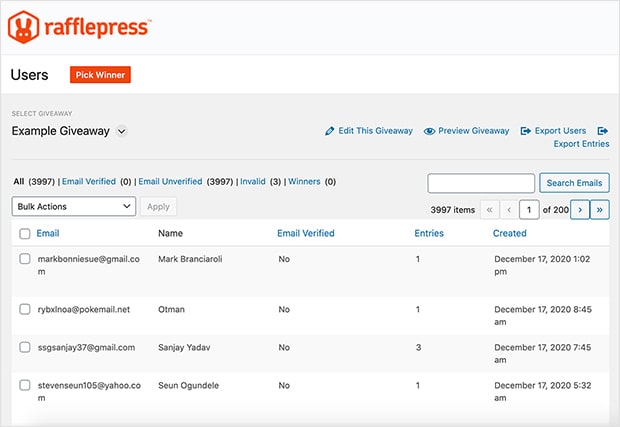 Everything you need to know about your participants is available right inside your WordPress dashboard.
And if this is your first giveaway, you should check out our article on coupon strategies.
#13. Helps Reduce Spam Entries
Do you hate spam?
We know that we absolutely hate it when people spam our comments and contests.
And if having to deal with spam frustrates you, RafflePress is a complete godsend. You can use email addresses to verify that they're legit. And if you want to filter it further, you can set up an Invisible Recaptcha that's ridiculously difficult to bypass.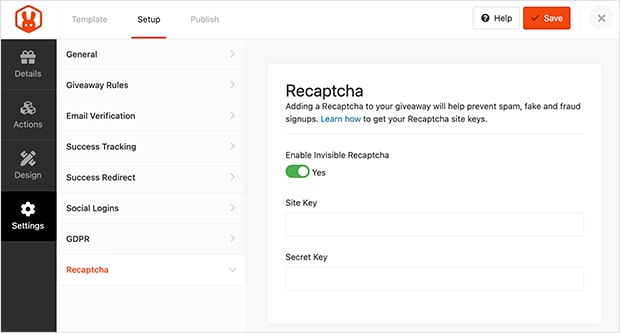 Unlike regular captchas, Invisible Recaptchas only get triggered if it detects spammy activity. This protects your giveaway from spammy entries and avoids annoying puzzles and codes that can frustrate your visitors.
#14. Create Lucky Draws
What if we told you that you don't have to pick a winner for your contest? What if RafflePress picked a random winner for you and all you had to do was click on a button?
Well… you can!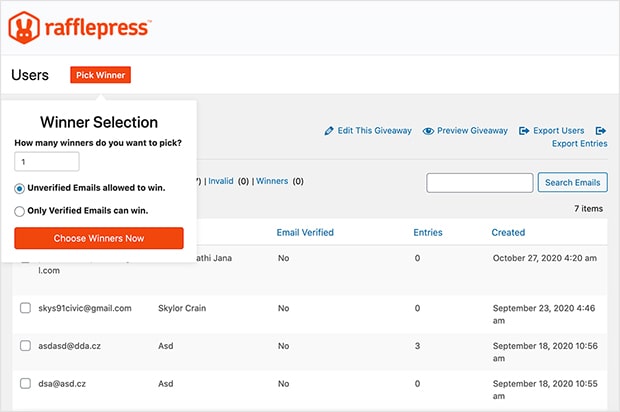 You could select multiple winners as well if you wanted. And once RafflePress pickers out the winner(s) for you, you can even send the winners an email directly from RafflePress.
#15. Fully Mobile Friendly Contest
If you've noticed that a large chunk of your web visitors sees your content from mobile devices, it's not just you. That's literally every website under the sun. So, it's really impressive that RafflePress creates fully mobile-friendly campaigns.
Why let screen size dictate whether or not your visitors can participate in your contest? Your giveaways will look fabulous no matter which device people use.
RafflePress Pricing
There's one last thing to consider: how much does RafflePress cost you?
And this is really where RafflePress simply crushes all competition. You can get started with the RafflePress free version!
So, if you're just starting out, you can get the lite version and you don't have to break the piggy bank to get yet another plugin.
But if you're serious about going viral with your contests, you should check out the paid versions: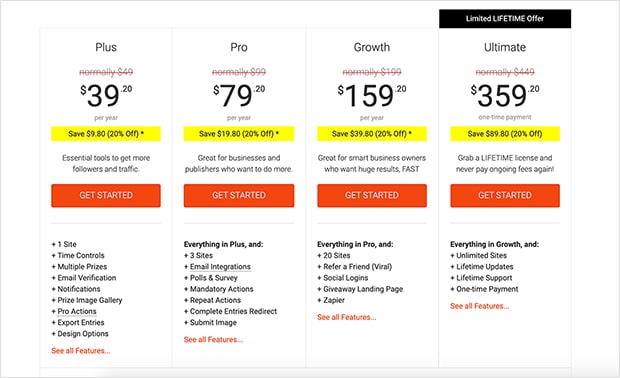 Here's a quick look at the RafflePress pricing:
Plus Plan: $39.20 per year for 1 site
Pro Plan: $79.20 per year for 3 sites
Growth Plan: $159.20 for 20 sites
And if you're looking for a lifetime deal, you can have that too at $359.20 (while it lasts). The lifetime license supports unlimited sites, lifetime updates, lifetime support, and all the features that RafflePress has to offer.
Is RafflePress the Best WordPress Giveaway Plugin?
RafflePress is the best WordPress giveaway plugin without any doubt. If you consider how powerful the features are, the affordable pricing, and how easy it is to use, there's no other way of putting it. You should get RafflePress right now if you want to create highly engaging and viral giveaways in a few clicks.
Speaking of engagement, you should also start using push notifications to increase your website engagement even beyond the contests. We recommend using PushEngage to send your push notifications. PushEngage is the #1 push notification software in the world.
Don't believe us? Check out these epic resources, then:
So, if you haven't already, get started with PushEngage today!