Looking for the best social proof software that can help you increase your conversions and website engagement? TrustPulse claims to be the very best in that niche.
But how good is TrustPulse exactly? And what does it even do to add social proof to your site?
Isn't it enough to just put up a few testimonials and case studies?
Or a few customer reviews, maybe?
These are all great questions for ANY small business that's looking to grow.
So, we wrote our very own review of TrustPulse to get real answers for ourselves. In this article, we'll break down the different features, advantages, and benefits of using TrustPulse. And we'll get answers to whether TrustPulse really is the #1 social proof software in the market.
Let's dive in.
A Quick Overview of TrustPulse
Before diving too deep into the technical parts of how TrustPulse works and its different features, we'd like to give you a quick overview.
For those of you who are just discovering what TrustPulse is, here's the skinny…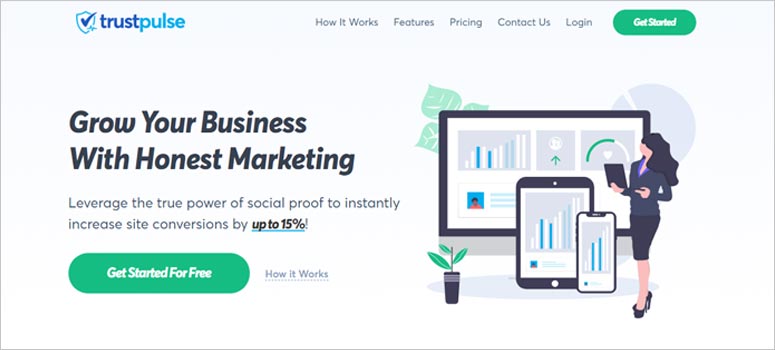 TrustPulse is a social proof software that you can add to any site. It creates social proof popups that help increase site conversions instantly. TrustPulse is fantastic for sites that sell a product online. But it's so simple, powerful, and easy to use that you can also install TrustPulse on a blog site to grow your engagement.
In simpler terms: TrustPulse is a marketing automation software that makes your brand more trustworthy and pushes your website visitors to take action.
What Can TrustPulse Do for Your Brand?
Now that we understand a little bit about TrustPulse, let's check out the features that make it so effective at adding social proof.
In our opinion, it's worth every penny. But we're getting a little ahead of ourselves here.
Let's dive in.
#1. Boost Direct Sales
We all know that social proof increases sales. If your customers know about other people buying your products, it automatically makes your brand more trustworthy. At the same time, it triggers a Fear of Missing Out (FOMO) in people who see the social proof.
This is the exact reason why you upload customer reviews and testimonials to your site.
Except, TrustPulse uses popups to insert social proof:

It's like an inventory alert notification, but while you're still on the site. Seeing this popup immediately generates curiosity and redirects the traffic to the product in question with one click. Of course, it's also great for the user experience as they can simply click on the popup and check out the product right away.
And it's especially helpful for growing brands that find it really difficult to constantly get customer reviews. The popup is entirely automated. So, you're not manually collecting the data and creating popups one at a time.
#2. Increase Site Conversions
What if you're not doing any direct sales activities? Does TrustPulse not work if your definition of conversion isn't a sale?
Actually, TrustPulse works really well with blogs and publisher sites. You can set up TrustPulse to treat many different actions as a conversion which makes it an absolute godsend for agencies. You can create social proof popups like this one to increase brand trust for any type of brand you like:

And that's not all. You can use custom conversion types to:
Boost email signups
Increase affiliate link clicks
Generate webinar registrations
Increase pageviews
Collect testimonials and reviews
Get more survey participations
And yes, you read that right. It's also a great way to grow affiliate revenue on your site.

If you have a clear call to action for your audience, TrustPulse is the right tool for getting more people to participate.
#3. Create Different Types of Notifications
If you're creating campaigns for different types of actions, you're going to need different types of campaigns.
And TrustPulse does this very well. You can create 4 types of notifications using TrustPulse: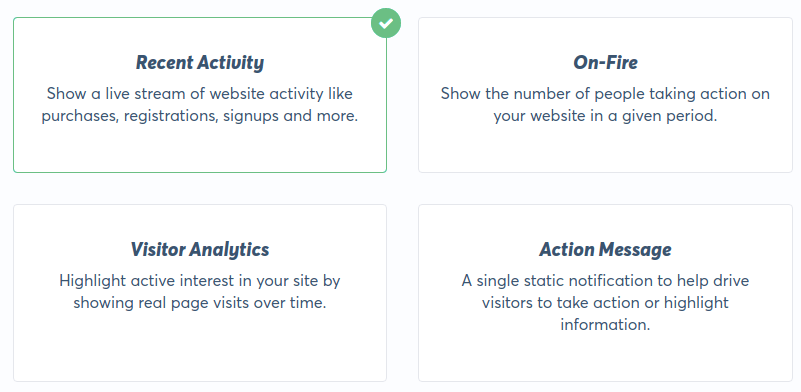 You can create Recent Activity notifications to showcase your web visitors taking specific actions on your site:

And if you want a visitor to take a specific action, you can display how many other people took that action using On Fire notifications:

A more specific type of On-Fire notification is when you want to display how many web visitors you got for a specific page:

This type of notification is super helpful for building trust. But if you're more interested in driving actions that aren't exclusively about sales, you should check out the Action Message notifications:

Pro Tip: You can use this for hiring as well! If someone visits your hiring page a few times without actually applying, you can show them a notification to apply. Automattic does something similar for their application page.
#4. No Coding Required
If you can copy and paste, then you can install TrustPulse on ANY website.
Once you sign up for TrustPulse, you get an installation code in your dashboard: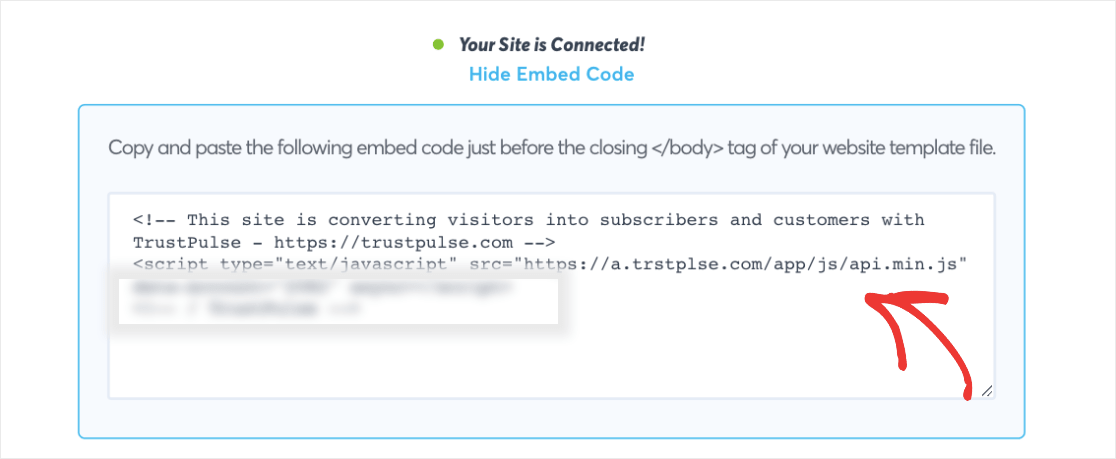 Copy it and paste it in the HTML <body> of your website.
And if you're running a WordPress site, you can install TrustPulse using the plugin. Don't worry if you're not using WordPress, though. You can use TrustPulse on any website at all. You don't have to change your CMS to do it.
The best part is that it's really easy to use TrustPulse. You can use drop-down menus, one-click buttons, and color wheels to create and customize your notifications in seconds. There's no learning curve.
The Design and Appearance tab helps you set up notifications that match your brand guidelines: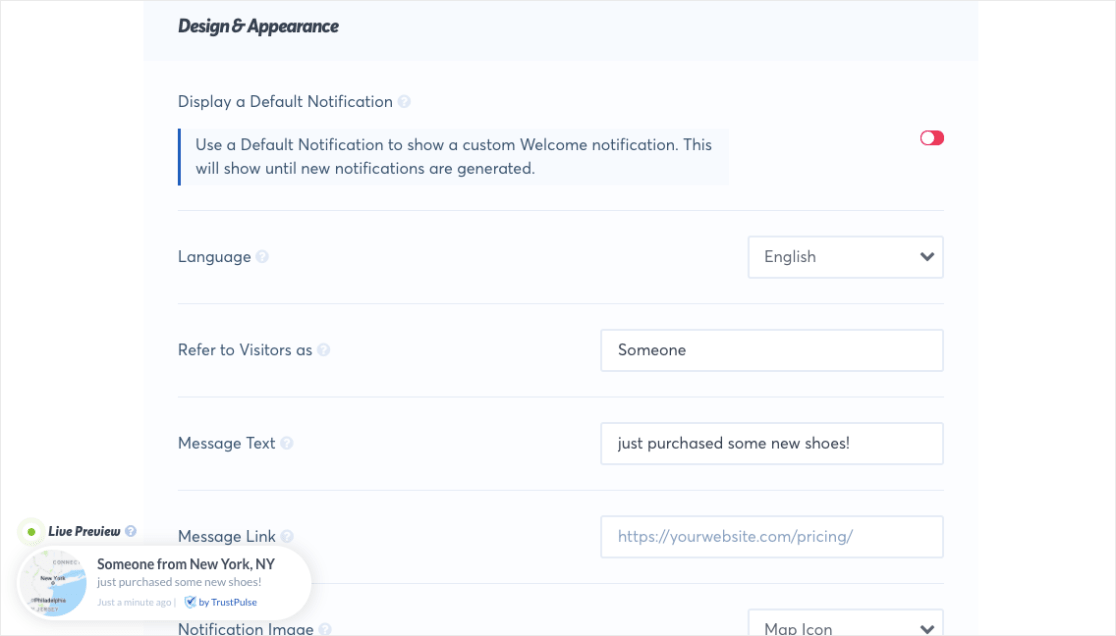 You can even use pre-made icons to make your notifications look visually appealing.
#5. Granular Targeting Options
No matter how visually appealing your campaigns are, they must be seen by the right audience to perform well. So, naturally, TrustPulse gives you granular targeting options.
You can modify what pages or categories your notifications appear on using Display Rules: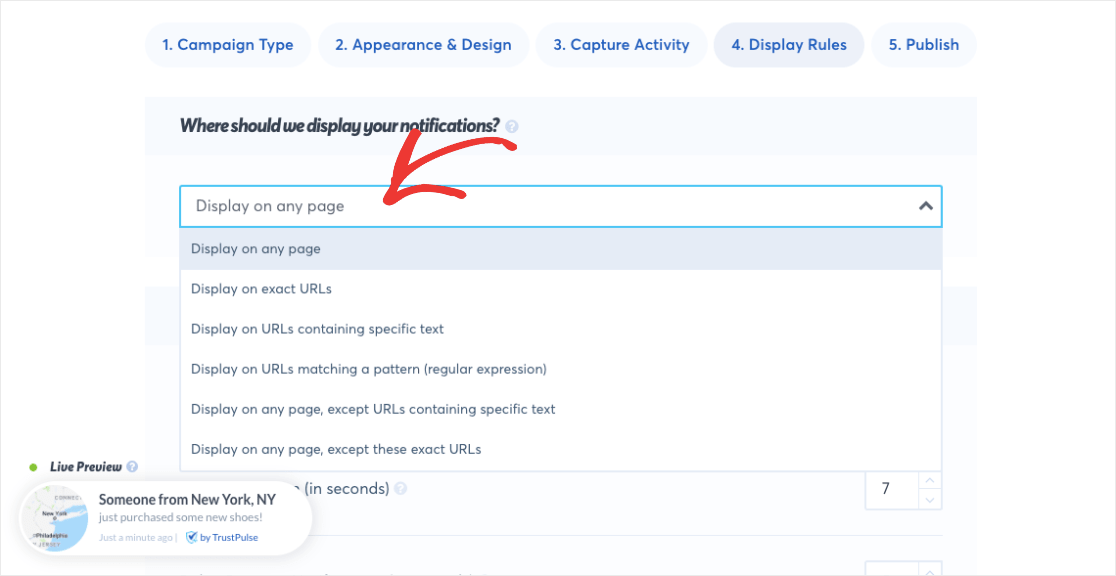 You can also customize:
When to show the first notification
For how long your notifications stay visible
Delay in between notifications
And a LOT more!

Oh, and the notifications are completely mobile-friendly. So, if you want to load notifications on mobile devices, you can turn that on with a simple click. By using the display rules, you can segment your users based on interests without actually storing any visitor data.
#6. Powerful Third-Party Integrations
A popular misconception is that social proof is limited to just your website. But it's really not.
TrustPulse comes with a Zapier integration that helps you connect your site to any third-party review platform you want including:
Yelp
Google My Business
WordPress
And more.
So, even though the touchpoint between you and your customers is on another site, you can still showcase the social proof on your site. This helps you extend your brand's online presence and integrate multiple channels seamlessly with your own site.
TrustPulse has a similar integration with WooCommerce and LearnDash that allows you to create complex social proof notifications without using any actual code. Just take a look at how convincing and real this popup is:

The visitors on your site will know that this is real and this level of honest marketing convinces them to buy from you as well.
Pricing
There's just one last factor we need to consider before we pass the verdict on TrustPulse.
How much does it cost?
Well, we've already seen the value that TrustPulse can provide. And yes, there are other plugins that offer similar social proof notifications. But most of them start their pricing at $20/month or higher. TrustPulse, on the other hand, offers paid plans starting at $5/month!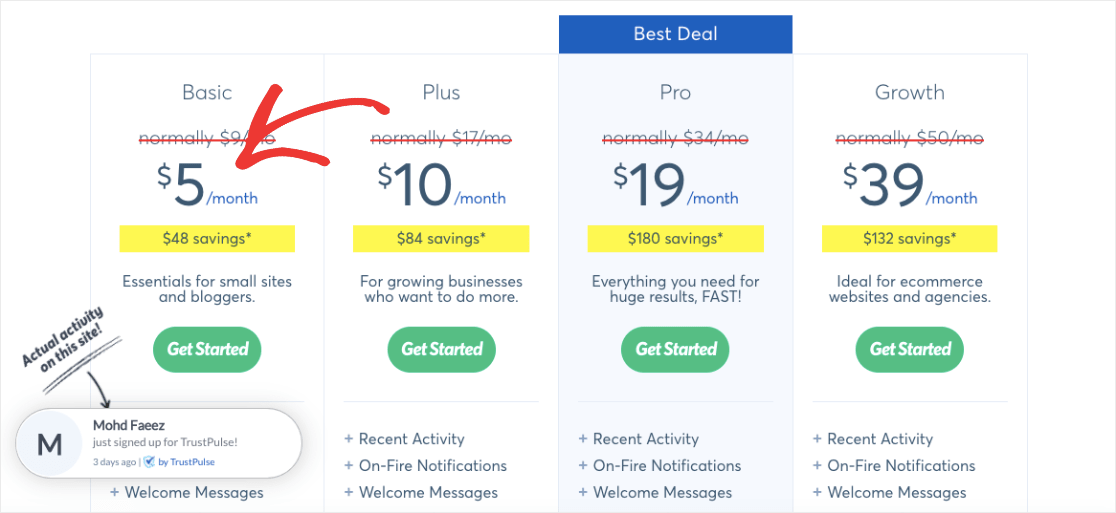 One look at the pricing, and you know that TrustPulse is made for small businesses. And the tiers are pretty close to each other. So, if you need to jump to the next plan, it's still going to be pretty affordable for you.
Final Verdict
So, is TrustPulse worth it? Is it the best social proof software in the world?
Our verdict: Most definitely.
If you consider how powerful the features are, the affordable pricing, and how easy it is to use, there's no other way of putting it. You should get TrustPulse right now if you want to increase your site's conversions and engagement using powerful notifications.
Speaking of, you can also grow your site's engagement and conversions using push notifications. Unlike TrustPulse's notifications, push notifications are delivered even when your audience isn't on your site. It's the perfect way to complement your social proof notifications.
We recommend using PushEngage to create your push notifications. PushEngage is the #1 push notification software in the world and you can create powerful automated campaigns to increase your revenue and repeat traffic on your site.
So, if you haven't already, get started with PushEngage today!