Cart Abandonment is a term used in the eCommerce industry when a visitor comes to your website and leaves the page before completing the desired action. It mainly refers to the abandonment of a shopping cart when a user adds a product to his cart and then makes an exit without completing the purchase. The rate of Cart Abandonment is approximately 70% on an average documented rate. There are various reasons cited for Cart Abandonment that include extra costs too high, complicated checkout process, website errors, slow delivery, complicated or confusing return policy, no satisfactory payment process, a decline of the credit card, etc. Due to such reasons, users leave their products in the cart and later forget about it most of the time. You can reduce cart abandonment using Browser Notifications.
Cart Abandonment Notification serves your purpose to mark this activity back into an actionable one by initiating a purchase. With PushEngage, you can send Personalized Cart Abandoned Web Push Notifications that will help you to convert your abandoned carts into customers with a single click. You can set auto-trigger for an abandoned cart with PushEngage and then send custom notifications to your customers. You can even remind them of the product by adding the product details including the image, price, etc and send a personalized notification for a greater impact. Here are 5 benefits of Cart Abandonment Notification you can enjoy.
You can send Personalized Notifications to users
You can send personalized Abandoned Cart Notification to attract your users. Such messages can create an urge among your users to inhibit an action. So, make sure to customize your message in a dynamic way by adding a personalized effect. Include the name of the product and the other details in the message while sending your abandoned cart notification.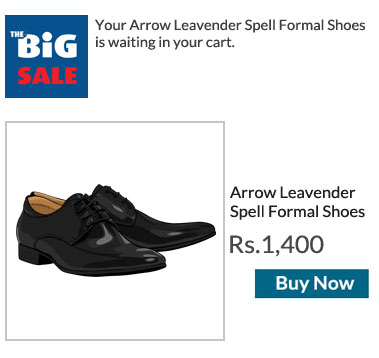 An Increase in purchase
Now when a person leaves a product in his cart and moves off, chances are high that he might forget about it until he comes back to your website for another purchase. This product remains in the cart and later the 'purchase factor' dies off. But, if you send an abandoned cart notification, with an extra offer or free shipping or any other persuasive factor, the user might complete his purchase and then there will be an increase in the number of purchases.
Re-Engage Old Customers
With Cart Abandonment Push Notifications, you can bring back your old customers. You can send them a reminder notification once you find that a user has left a product in his cart. You can start sending him notifications from 30 minutes later. This probably can be more initiated to persuade him to complete the purchase by giving him additional offers like free shipping, extra discount or anything else depending on what product he had left in his cart.
Increase in Conversion Rate
Maximize your conversion rate using Cart Abandonment Notification. Reminding the user about a product in his shopping cart which he might have forgotten can actually make a purchase happen. Sending a reminder in the form of an Abandoned Cart Notification with a personalization shortly after the user leaves the site will keep the item on top of his mind and might encourage the user to make a comeback to complete the purchase.
Easy and Quick Communication
Abandoned Cart Notification is the easiest way of reminding customers about their products. If you send an email, the average time taken to deliver response is around 6 hours or more. Whereas in Push Notification the message is delivered in real-time and the action can be immediate.
Using Push Notification to reduce booking abandonment also has similar benefits. You can sign up for free push notification service and take PushEngage trials to see how cart abandonment works.