Looking for a quick and easy way to set up affiliate marketing push notifications?
With 52% of smartphone users having push notifications enabled on their devices, any business can use this powerful marketing tool to drive traffic, engagement, and sales. But how can you harness the potential of push notifications for affiliate marketing?
Do you need a developer to get started? How do you pick a push notifications service? How do you track if your push campaigns are profitable?
In this article, we're going to walk you through affiliate marketing push notifications to help grow your business. And we promise that it'll be helpful even if you've:
Never tried push campaigns before;
Tried using push campaigns for affiliate marketing and failed;
Used push campaigns before but help need with optimizing your results;
Sounds good? Let's dive in.
Benefits of Affiliate Marketing Push Notifications
In today's marketing landscape, push notifications have gained significant traction as a valuable tool for businesses to connect with their audience.
Push notifications play a pivotal role in affiliate marketing as well. They're not just about driving sales and promoting products; they also help build trust and bolster brand reputation.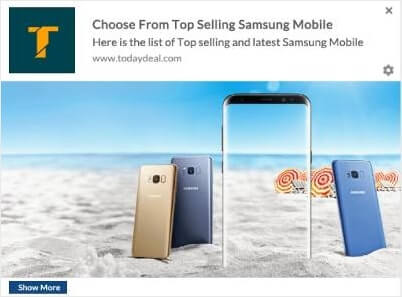 Think of push notifications as your trusty ally in the fast-paced world of affiliate marketing. It's a sophisticated yet approachable way to engage your audience and enhance your brand's presence and impact.
Here are some of the benefits of using push notifications in affiliate marketing:
Increased click-through rates: Push notifications have been shown to have higher click-through rates than other forms of digital marketing. This means that users are more likely to engage with your content and take action.
Higher conversion rates: Push notifications can be highly effective at driving conversions, especially when they are personalized and targeted. This means that users are more likely to make a purchase or sign up for a service.
Improved customer and reader engagement: Push notifications can help businesses stay top of mind with their audience and improve customer engagement. By delivering valuable content through push notifications, businesses can build trust and brand reputation with their audience, leading to increased customer loyalty and repeat business.
Cost-effective: Push notifications are a cost-effective way to reach your audience and drive sales. Unlike other forms of digital marketing, push notifications do not require a large budget or extensive resources to be effective.
Personalization: Push notifications can be highly personalized based on user behavior, preferences, and demographics. By delivering personalized messages to your audience, you can increase the likelihood of a conversion and improve customer engagement.
When folks choose to get those push notifications, it's like a virtual tap on the shoulder that says, "Hey, come back to our site!" And you know what? It really works.
People who opt-in for push notifications tend to swing back to a website more often and hang around longer.
But here's the secret sauce: you've got to make those messages catchy and personal. Think of it like sending a friendly message to an old pal.
Crafting messages that hit the right notes can bring back your previous customers, make them feel all warm and fuzzy about your brand, and, of course, give your long-term profits a nice little boost.
So, get creative, stay engaging, and watch the magic happen!
Best Traffic Sources for Affiliate Marketing Push Notifications
You can use a single traffic source for your affiliate marketing push notifications such as your website or partner with advertising platforms to get more affiliate revenue.
We usually recommend sticking to your own website for greater control over your own data and building trust towards your brand as well as the businesses you promote. And if you need to integrate push ads as an alternative to Google AdSense on your site, you can monetize your PushEngage account.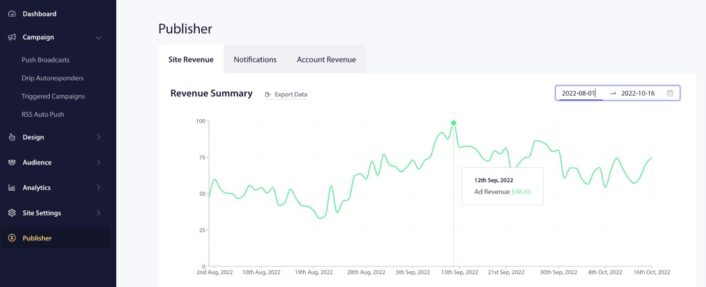 We partner up with the best advertisers in the world including Taboola and Outbrain to serve ads to your subscribers. You can generate ad reveneue without ever lifting a finger.
Common Mistakes to Avoid with Push Notifications
Before you start, we thought that you should know about some of the most common pitfalls with affiliate marketing push notifications. We have thousands of customers sending 15+ billion push notifications every month. So, you should absolutely check out our push notifications best practices.
Also, try to avoid the following:
We can talk about how you can navigate these issues in a later part of this article. For now, just keep these issues in mind. These are very common mistakes and they can undermine the effectiveness of your push campaigns.
Understanding Affiliate Marketing Push Notifications
Affiliate marketing push notifications are clickable messages with affiliate offers that are sent to users who have opted-in to receive them. These notifications are used to promote products and services, drive traffic to affiliate offers, and build brand reputation.
Push notifications have emerged as a potent ally for affiliate marketers looking to supercharge their affiliate programs and achieve better results. When you weave push notifications into your affiliate marketing strategy, you unlock a dynamic way to connect with your audience and turbocharge your conversions.
Here's a breakdown of key considerations:
Boost Customer Retention with Targeted Push Notifications: Push notifications are a golden ticket for customer retention. These bite-sized messages let you speak directly to your audience. Keep them in the loop about new products, promotions, and exclusive deals. By doing so, you'll encourage repeat purchases and nurture brand loyalty.
Inform and Entice with Timely Messages: Push notifications are your secret weapon for promptly informing customers about new products, updates, and limited-time offers. Craft messages that grab their attention and feel personalized. This will not only capture their interest but also drive them to take action, leading to increased affiliate sales.
Leverage User-Friendly Push Notification Platforms: You're in luck with a range of user-friendly push notification platforms like PushEngage. These platforms are designed to make your life easier. They allow you to collect leads, segment your audience, and send out push notifications effortlessly. The result? Your affiliate marketing campaigns become more potent than ever.
Harness the Magic of Browser Notifications: Don't underestimate the power of browser notifications – those little messages that pop up in a user's browser. They're a direct, real-time connection to your audience. Use them to guide your audience toward your affiliate offers and boost your conversion rates.
By weaving push notifications into your affiliate marketing strategy, you'll supercharge customer engagement, send click-through rates soaring, and ultimately give your affiliate sales a significant boost.
Keep that message personal and compelling, find the right push notification platforms, and stay updated on best practices to make the most of your push notification marketing efforts.
Preparing for Affiliate Marketing Push Notifications
When preparing for push notifications in your affiliate marketing strategy, it's important to follow certain steps to ensure their effectiveness. Here are some key considerations:
Set clear goals: Define your objectives and what you aim to achieve with your push notification campaigns. Whether it's increasing website traffic, driving conversions, or promoting specific offers, having clear goals will guide your strategy.
Determine your target audience: Identify your target audience and understand their preferences, interests, and behaviors. This will help you tailor your push notifications to resonate with them and increase engagement.
Craft compelling messages: Create concise and compelling content for your push notifications. Use clear and crisp language to convey your message effectively and entice users to take action.
Optimize timing: Timing is crucial when it comes to push notifications. Consider the best times to send notifications based on your audience's habits and preferences. Avoid sending notifications too frequently or at inconvenient times to prevent user annoyance.
Personalize your notifications: Personalization is key to capturing your audience's attention. Use data and segmentation to deliver targeted and relevant push notifications that align with the user's interests and behaviors.
Test and analyze: Continuously test and analyze your push notification campaigns to optimize their performance. A/B testing different variations of messages, timing, and targeting can help you identify what resonates best with your audience and improve your overall strategy.
By following these steps, you can effectively prepare for push notifications in your affiliate marketing campaigns. Remember to align your goals, understand your audience, craft compelling messages, optimize timing, personalize your notifications, and continuously test and analyze to drive better results.
There are other considerations as well. So, let's take a closer look at what you need to do.
Step #1: Selecting a Push Notification Service
If you're not collecting push subscribers already, you need to stop missing out right now. We recommend that you use PushEngage to start collecting push subscribers right now.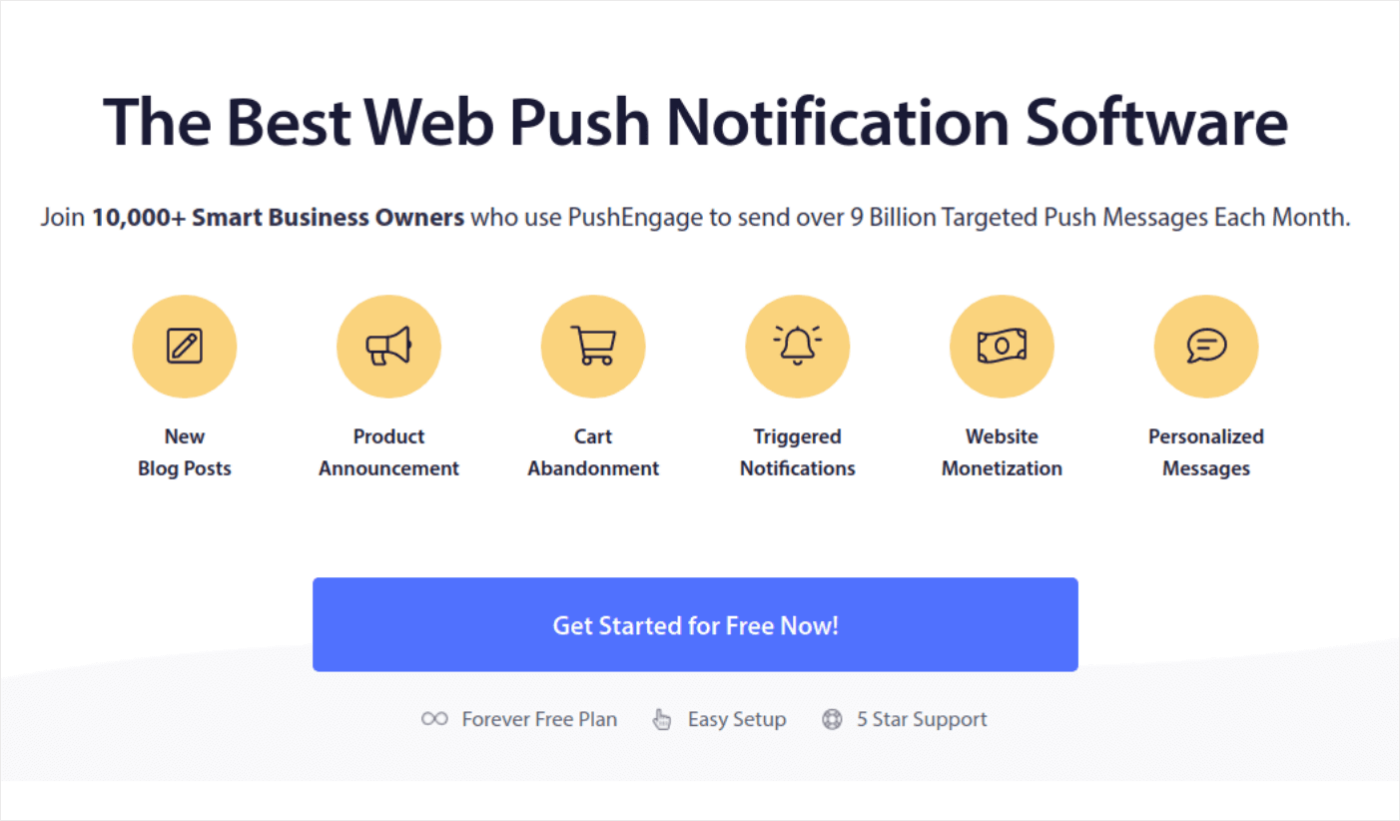 PushEngage is the #1 push notifications plugin in the world. If you compare it to the other best push notification services, you'll see that it clearly comes out on top.
Push notifications help you grow your website traffic and engagement on autopilot. And if you're running an online store, PushEngage also helps you grow your sales by helping you create automated eCommerce push notifications.
You can get started for free, but if you're serious about growing your business, you should buy a paid plan. Also, before buying any push notification service, you should check out this guide to push notification costs.
Here's a quick glance at what you get with PushEngage:
You'll see that PushEngage is hands down the best bet if you want to build traffic, engagement, and sales for your business. And if you're on a budget, you can always get a little bit creative with your push notifications.
And lots more!
Step #2: Integrating Push Notifications with Other Marketing Channels
Using push notifications doesn't necessarily mean that you have to abandon other marketing channels. In fact, you can happily use send push campaigns along with:
And if you're looking to quickly grow your push subscribers, you should use your other marketing channels to ask people to subscribe to your push campaigns. One very cool way to pull this off is to use a blog subscription widget on your site that collects push subscribers: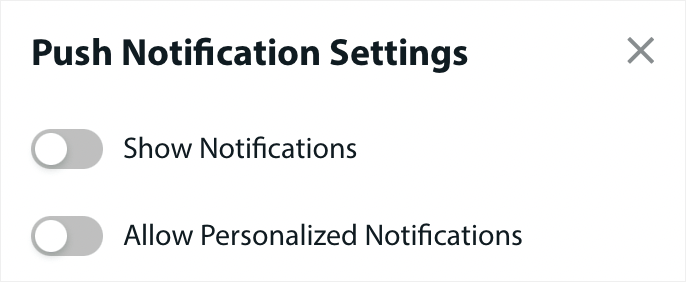 You can even create popups to collect push subscribers on your site like this one: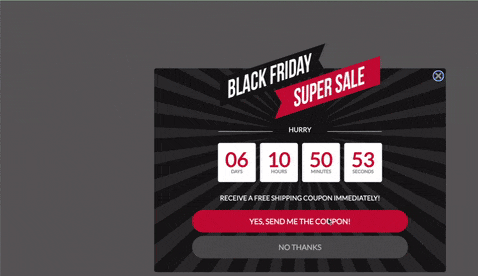 Or, you can even create landing pages with a click to subscribe button that collect push subscribers.
Step #3: Configuring Push Notification Settings
Before you can send affiliate marketing push notifications, you need to set up a few small things. The most high-converting push notifications are personalized and targeted. So, let's get into how you can do that.
Create Subscriber Segments
Segments are a really great way to send targeted push campaigns. And it should be a big part of your push notification marketing strategy. One of the coolest things about push notifications is that you can create dynamic segments for higher engagement rates.
You can easily get started with Geographic segmentation:
In the PushEngage dashboard, you can see the countries where your subscribers are located under Demographic Overview.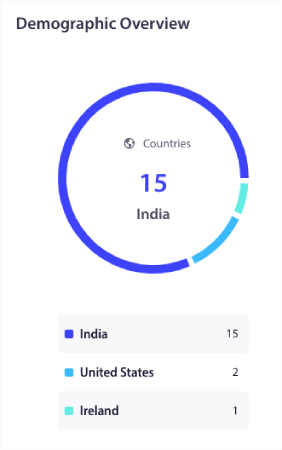 You can use this list of countries to create geographic segments. Geographic segmentation allows you to:
Send push campaigns in your subscribers' timezones for better engagement
Run local offers that are only relevant to that customer segment for higher conversion rates
Create campaigns in local languages for higher click rates
Or, you can try demographic segmentation: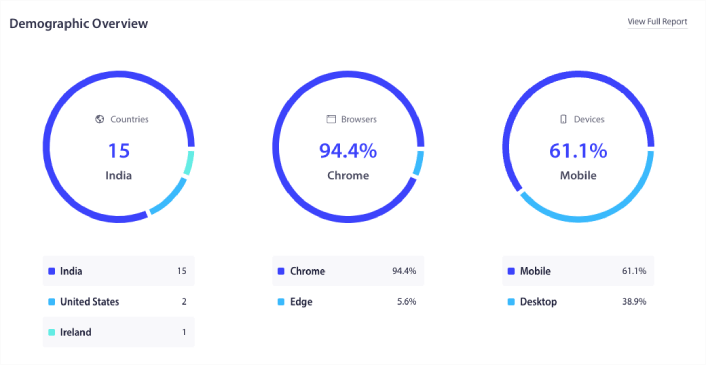 You can use this data to create demographic segments based on the browser and device that your subscribers are using. Whenever you send a push broadcast or a campaign, simply scroll down to Send to Custom Audience and add the targeting rules.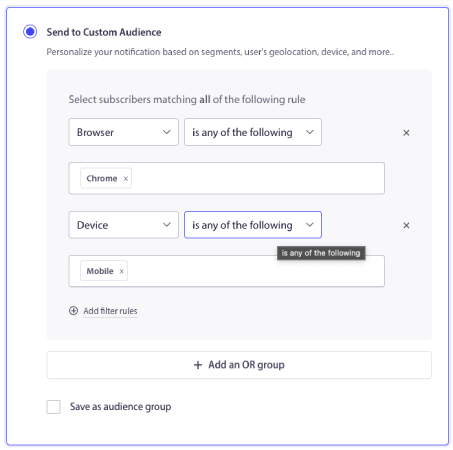 As with geographic segmentation, you don't need to create a new segment to target audience demographics. These are all default segments. You can even create behavioral segments. Head over to Audience » Segments and click on Create a New Segment:

And create a rule that segments your subscribers automatically based on the URLs they're browsing: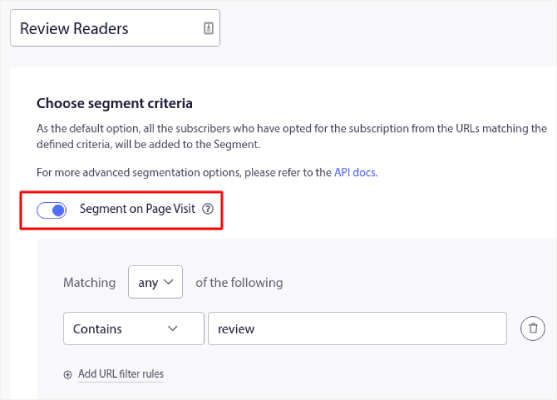 In the example, we created a segment called "Sample Segment" that segments subscribers automatically when they visit URLs on your site with the word "examples" in it. You can pretty much use any keyword you like here.
And that's not all. You can create multiple segments automatically to send targeted push campaigns. Check out our article on how to segment your subscribers automatically.
Crafting Engaging Push Notification Content
For any push campaign, you should remember:
Personalized Recommendations + Story-Driven Copy = High Engagement.
We have an entire list of push notification copy examples you can use. Go ahead and check that out. And if you need some help with creating push campaigns, you should check out our templates.
Go to Campaigns » Push Broadcasts and click on the Choose From Templates button:

And you can select a push notification template from our library of proven campaigns: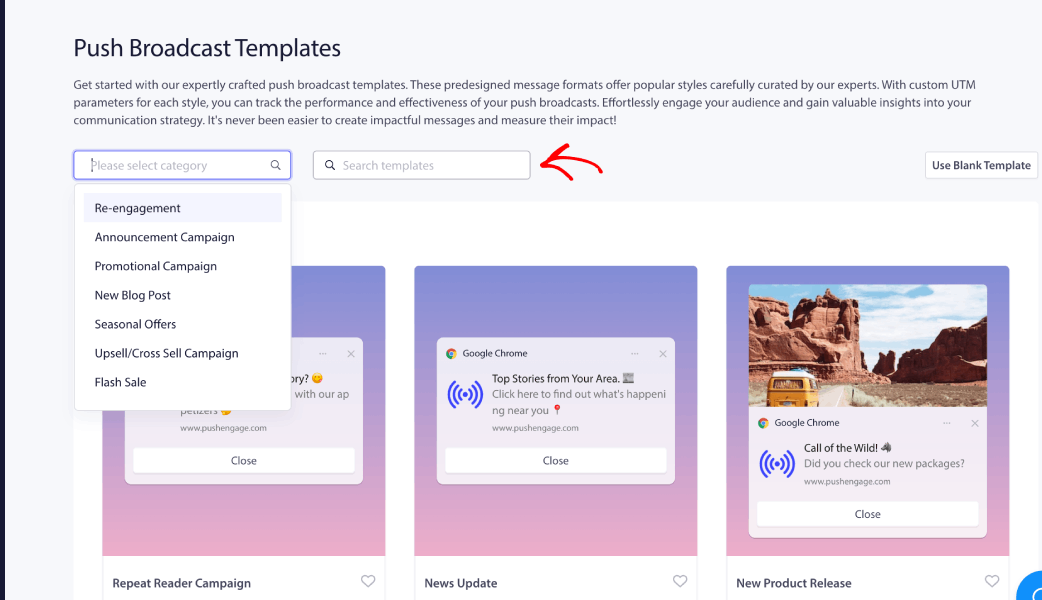 And if you need more inspiration, you should check out this list of push notification examples.
Retargeting Strategies
An easy way to boost your conversions is to set up retargeting push campaigns.
If you're not sending the notification to all subscribers, you'll need to create an Audience Group. For instance, if you want to target the subscribers who didn't click on the broadcast to everyone, you'll need to create a new Audience Group.
In your WordPress dashboard, go to Audience » Audience Groups and click Create New Audience Group: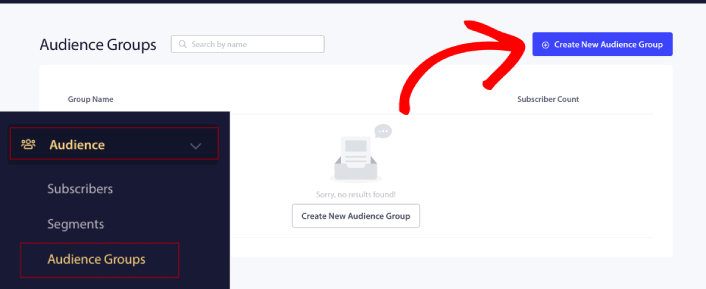 If you want to target subscribers who clicked on your last notification, you can create another Audience Group.
Filter your subscribers by Last click date after the date you sent your previous notification AND before the date you want to send your next notification: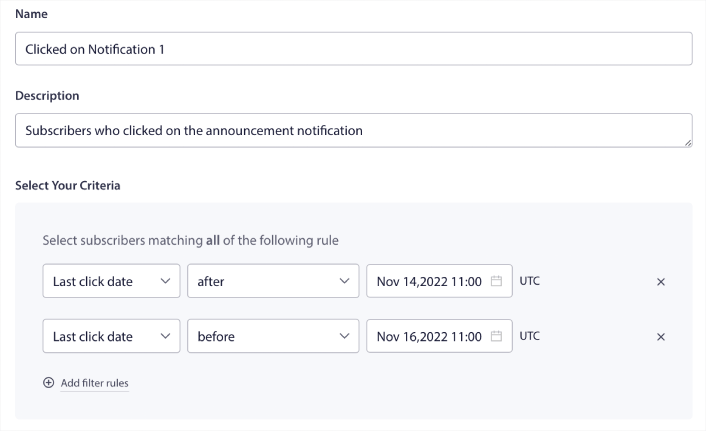 You can add AND criteria to your filter by clicking on Add filter rules. A filter like this is great for sending cross-selling push notifications. The outcome of these Audience Groups is more granular targeting. So, each time, you can send different offers to improve your conversion rates.
Sending Push Notifications for Targeted Affiliate Promotions
By now, you've already created the right customer segments and audience groups. You even have epic push notification examples and templates that are proven to work. So, all you have to do now is put all these components together.
Do a simple exercise where you map the affiliate products and services to the right segments and audience groups. Then, all you have to do is set up a campaign for each targeting option for high-converting campagins.
You can even set up drip push campaigns to build a narrative around your promotion. Start by installing a web notifications WordPress plugin.
Log into your PushEngage plugin and head over to Campaign » Drip Autoresponders and click on Create Drip Autoresponder:

One really cool drip idea to get you started is a welcome push campaign. You can set up different welcome drips for different audience segments and groups. If you need help getting started, you should check out our article on website welcome message examples.
You can even customize your drip campaigns using attributes. That's a more advanced option, though, and we recommend using a developer to set it up for you.
Pro Tip: Set up form abandonment push campaigns to recover lost leads on autopilot.
Resolving Compliance Issues
According to GDPR, you must obtain explicit consent before collecting or processing any personal information of an EU resident or citizen.
Now, push notifications are a lot like emails but even more constrained. You can ONLY send out push notifications to your subscribers. Unlike emails, you can't send a single push notification randomly to someone who's not subscribed.
Where GDPR meets push notification software is that you're collecting subscribers. So, in a sense, you are collecting consumer data.
Of course, it's not the same as an email opt-in. With an email opt-in, you have to capture the email address, but you can capture a LOT of additional data. Take a look at this one by HubSpot: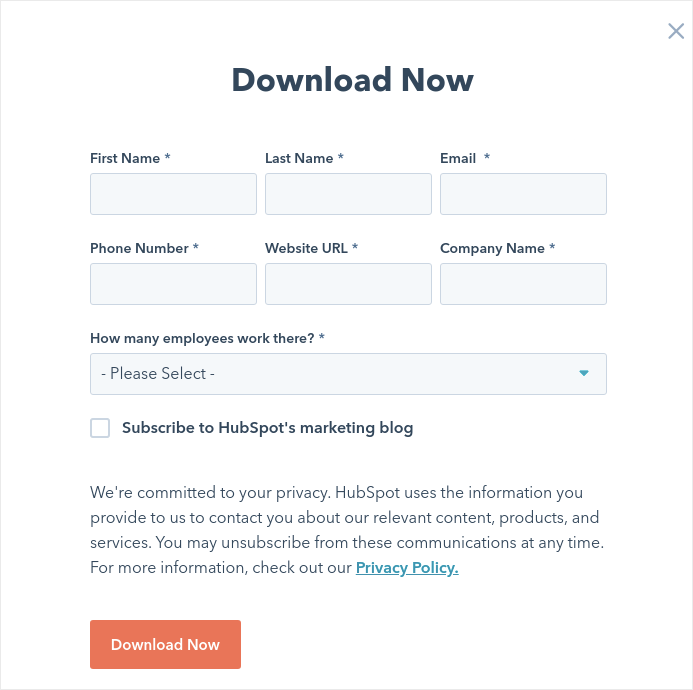 But with push notifications, you capture the combination of the device and the IP address to generate a key that is unique to the customer's device. That's what happens when people opt for your push notifications by clicking 'Allow':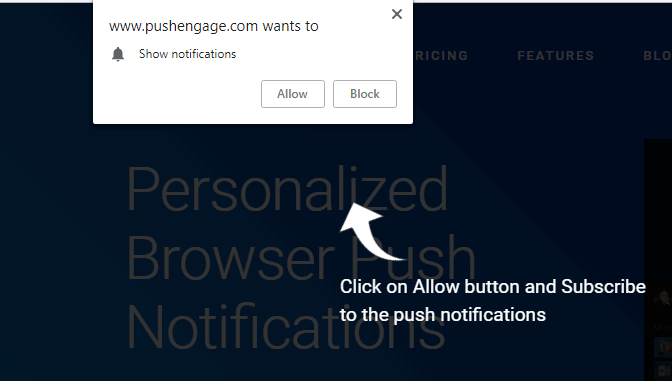 Additionally, PushEngage can store the geolocation of your subscribers so that you can create personalized push notification campaigns. This includes the country, state, and city at the time of subscription.
But as you can probably understand, this is entirely based on consent. When someone opts for push notifications, they give you consent to send them marketing notifications. So, push notifications are already compliant with GDPR by definition because they operate on a consent-first paradigm.
Step #4: Testing and Optimization
Push notification A/B testing is a method of optimizing your conversions from push notification campaigns. You can choose to optimize different parts of your push notifications based on what kind of results you want to improve.
It's time to answer the bigger question with push notification A/B testing. What can you split test in a push notification?
The most common performance metrics for push notifications are:
Click rate: The click rate on a push notification is how often your subscribers saw your push notification and then clicked on it.
View rate: The view rate of a push notification is how often a subscriber received your push notification and saw it before it expired.
Goal conversions: You can set goals for your campaign and set up goal tracking for your campaigns. The goal conversions is a measure of how many times you achieved your goal.
To increase your view rates, you want to use a large image in your push notifications. Using images in your notifications instantly makes it more appealing.
Add a Push Notification Broadcast
Head over to your PushEngage dashboard and go to Campaign » Push Broadcasts and click on the Create a New Push Broadcast button:

Under the Content tab, add your push notification content: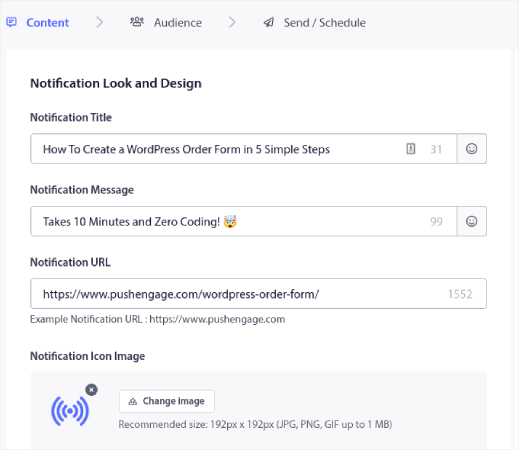 Add a Push Notification A/B Test
Click on the Add A/B Test link to create an A/B test for your push notification instantly:

And then, you can simply create two versions of you push notification: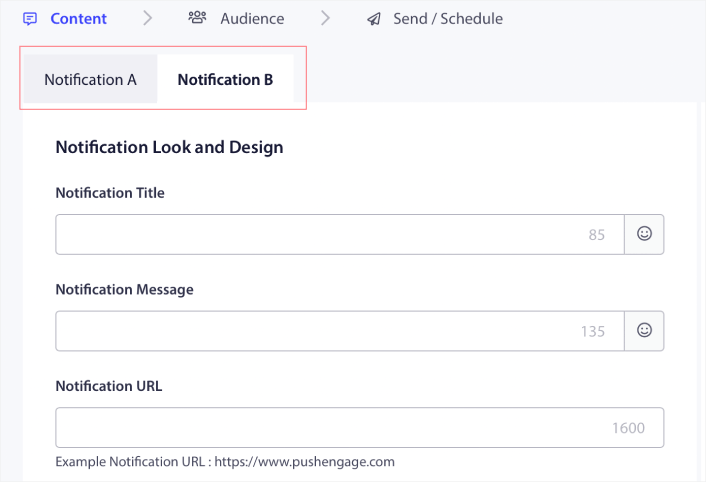 And you can change anything you like in your version B. If you scroll down, you can even split test your push notification action buttons. Once you're done setting up the content in the two versions, click the Save and Select Segments button.
You can select a custom audience here: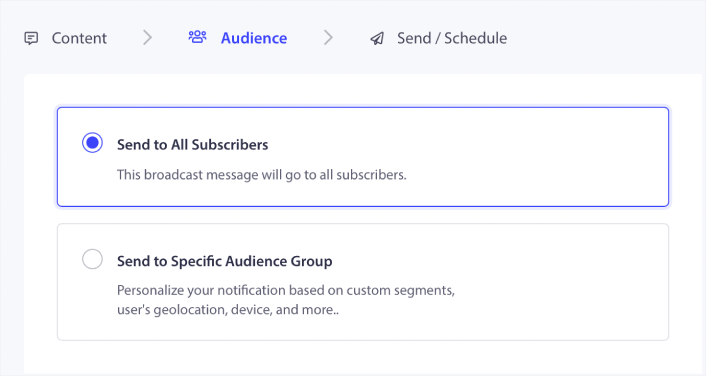 Or, you can send it to all your push notification subscribers. When you're done, click the Send/Schedule button.
Set Up an Intelligent A/B Test
In Intelligent A/B Testing, you run the test on a part of your total audience. We recommend running a Intelligent A/B Test on 30% of your audience. This way, you send version A to 15% of your audience, and version B to another 15%. Whichever push notification performs better automatically gets sent to the rest of your audience.
So, in Intelligent A/B Testing, you can send the winning push notification to 85% of your audience instead of sending it to 50%. This improves your overall campaign performance instantly and it's super simple to set up.
Here, you can enable Intelligent A/B Testing: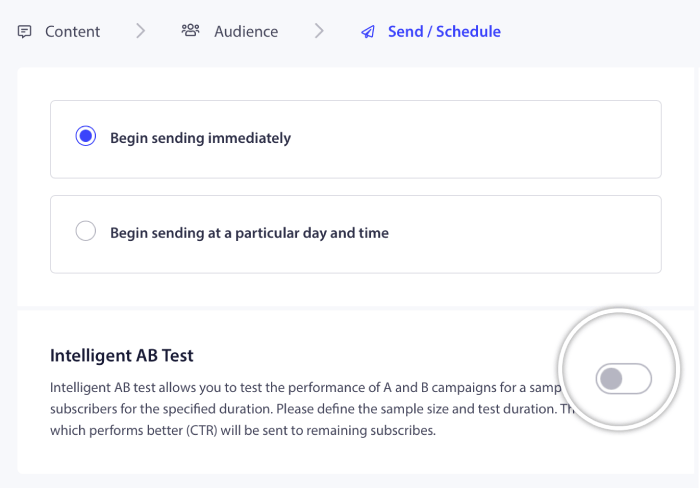 Turn the Intelligent A/B test on and set the sample size for the test.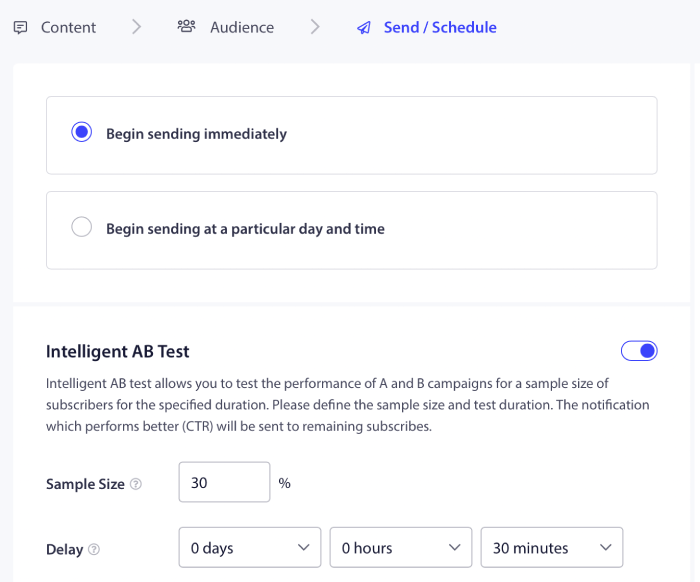 And just schedule or send your push notification. You're done!
Step #5: Analyzing Push Notification Performance with Data and Metrics
Every push notification campaign or single broadcast has its own analytics data. What you want to look at are:
Click through rate (CTR): The CTR is the percentage of people who saw your push notification and then clicked on it.
Goal count: Your goal count is the number of people who took the action you wanted after clicking on your notification.
Revenue: We highly recommend having a revenue goal for your push campaigns, especially is you're running an eCommerce store.
There are some other metrics you can look at: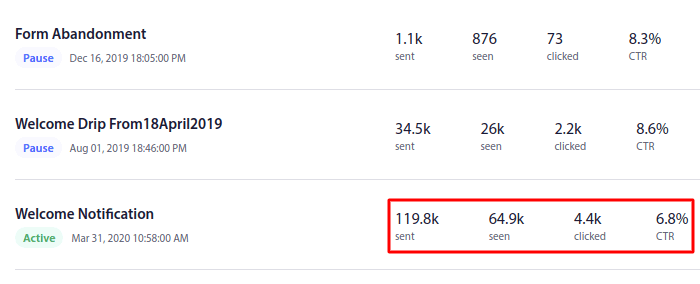 Push notification opt-ins have very specific analytics as well.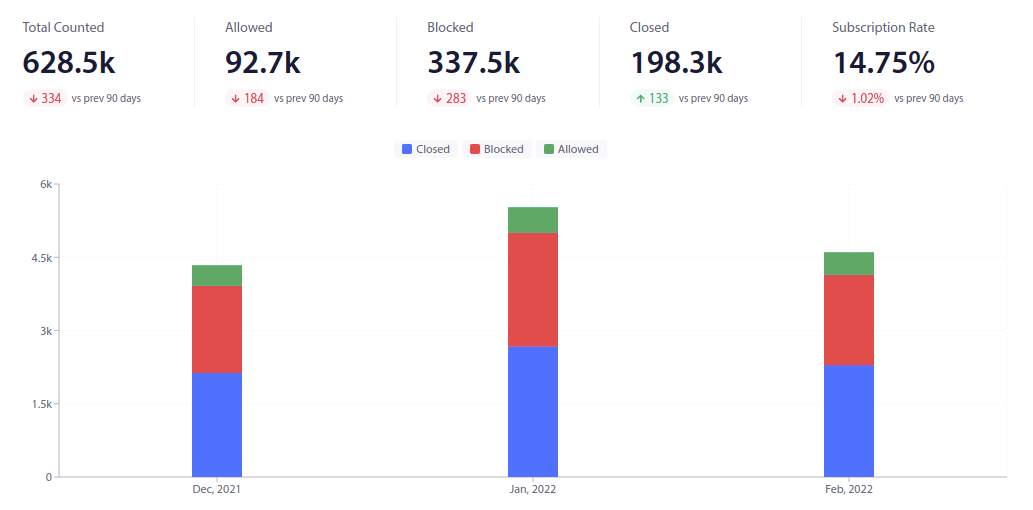 What you want to focus on is your subscription rate. The rest of the numbers can be a distraction if you're a complete startup. Let's break this down in simpler terms.
With Goal Tracking, you can track the ROI of your campaigns. For instance, if we set a revenue goal for purchases made on your site, goal-tracking with push notifications can track:
The number of conversions
And the dollar value
For every sale made from a push notification campaign!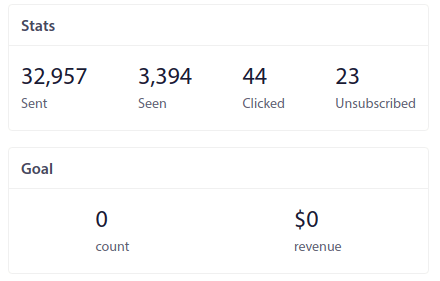 Based on this report, you can calculate the return on investment (ROI) of your campaigns.
Pro Tip: You can filter and sort your push notifications to find winning campaigns. It's an easy way to understand what's working for your audience.
Step #6: Launching Your Affiliate Marketing Push Notification Campaign
All that's left is to schedule your affiliate marketing push notifications. Every time you create a new push notification on PushEngage, you get the option to schedule it by date and time: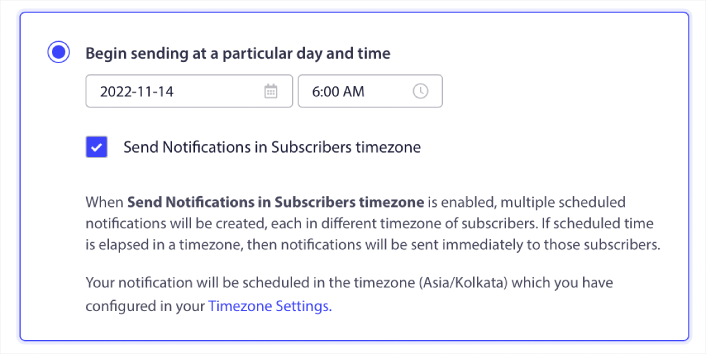 You can even set up recurring push notifications for repeat events such as weekly sales: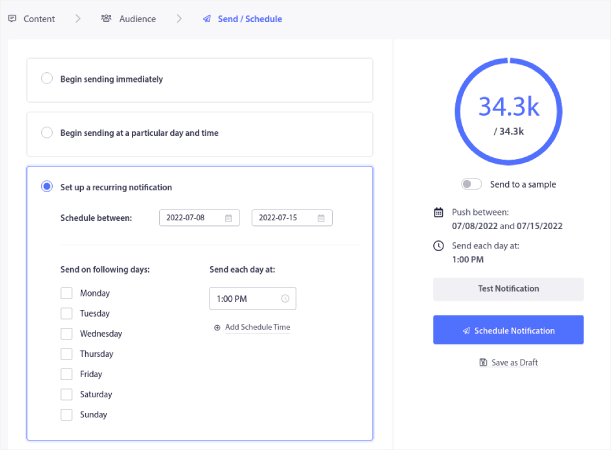 If you'd like to select for how long the repeat schedule will work, click on the calendar next to Schedule Between to set the dates. And that's all there is to it!
What to Do After Sending Affiliate Marketing Push Notifications
That's all for this one, folks!
If you found this article helpful, be sure to drop a comment below.
Getting started with targeted push notifications can seem intimidating. But if you keep an eye on goal tracking and analytics, you should be fine. More importantly, you'll make a lot more profit with the help of push notification campaigns. Here are a few cool resources to get you started:
If you're new to push notifications, you should try out PushEngage. PushEngage is the #1 push notification software in the market. And your campaigns will be in safe hands.
So, if you haven't already, get started with PushEngage today!