Looking for Google AdSense alternatives?
We're not surprised. Depending strictly on Google AdSense for money is not a great idea. A content business is just like any other business. You want to add more ways to make money from your content constantly.
Also, Google AdSense is the most popular ad network. But is it the best one out there?
The truth is…
Other ad networks offer:
Simpler eligibility criteria
Higher revenue share
Custom ads
Lower minimum payout
We don't recommend replacing Google AdSense altogether, and we don't think any single ad network is inherently better than AdSense. But you should definitely consider adding AdSense alternatives to make more money from your content.
So, in this article, we'll talk check out the best AdSense alternatives.
Let's dive right in.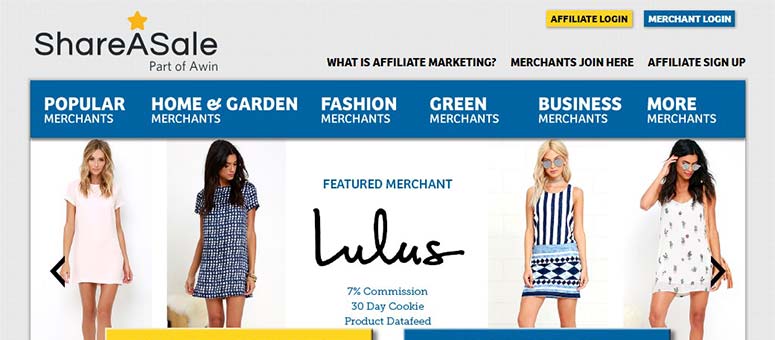 ShareASale is one of the most popular affiliate networks on the planet. It doesn't matter what niche or category your blog serves. You're definitely going to find a product worth promoting on ShareASale.
To be clear, ShareASale isn't an advertising network. Well, not in the traditional sense, anyway. You get affiliate links to products instead that you can promote on your blog for a sales commission. The approval process can take a little while, but it's easy to join, and there are no minimum traffic requirements for ShareASale.
But with ShareASale, you get a ton of promotional material straight from the vendors. So, it's ideal for bloggers.
The catch is that the vendors on ShareASale must individually approve your account as an affiliate partner. And you'll likely need to pitch many vendors on the platform if your blog is brand new. The minimum payout is only $50, though.
All in all, ShareASale is a really great tool to help you monetize your traffic. And trust us when we say it, most vendors on ShareASale will pay you way more for a sale than Google AdSense ever will.

Full Disclosure: Amazon doesn't have a traditional ad network. Instead, it has an affiliate program called the Amazon Associates program. As part of the Amazon Associates Program, you also get Amazon native shopping ads. You can add shopping ads to your content by simply copying and pasting a small code snippet generated by Amazon.
Amazon has one of the largest catalogs of products in every niche. So, no matter what kind of content you create, you can be sure that you'll find relevant products to promote on Amazon.
Amazon pretty much pioneered the online affiliate program industry, and here's how it works:
Find products on Amazon that you can promote to your audience
Create an affiliate link from Amazon's affiliate dashboard
Get people to buy the product using your affiliate link
And every time you make a sale, you get a commission from Amazon.
You can also use Amazon Native Ads to place native Amazon product listings on your blog pages. Then, based on the page content, Amazon serves targeted ads directly on your content. This type of ad strategy is called contextual advertising where the ads change according the type of content you place them on.
So, instead of creating affiliate links, you can also serve native product ads that make you a commission. It's got a minimum payout of $10 via direct deposit, which makes this better than Google AdSense.
On a side note: If you're new to affiliate marketing, check out this beginner's guide to affiliate marketing.

Propeller Ads is another excellent AdSense alternative for beginners since there's no minimum traffic requirement. You get pop-under ads as their primary ad format, but you can also choose to use native ads, banners, and video ads.
The best part is that Propeller Ads also serves mobile sites and apps with a push notification advertising format. You can use this format as a great supplement to your own push notification campaigns.
The minimum payout is $5 via PayPal, which makes this so sweet for new sites.
Pro-Tip: We recommend using the push notification ads along with actual push notification campaigns. Push notification campaigns can be a great way to generate repeat traffic.
If you're not using push notifications yet, you should get started with PushEngage today.
PushEngage is the #1 web push notification software in the market with a ton of powerful features. For example, you can create campaigns to get repeat traffic on autopilot and even recover lost sales using cart abandonment campaigns.

Media.net is one of the most popular Google AdSense alternatives. It's a contextual ad network by Yahoo! and Bing ad networks.
In simple terms: Media.net uses keywords and search terms to serve ads for products that your audience is already interested in.
What's even better is that you get a better Revenue Per Mile (RPM) or revenue per thousand views for an ad than Google Adsense. At the same time, you get access to the Yahoo! and Bing search networks to bring in more traffic to your site. Media.net also offers a variety of ad formats. So, it's a great way to increase your revenue.
The minimum payout is $100 (same as AdSense) via PayPal, so that's a little steep compared to the other alternatives to AdSense on this list. But you don't really need a specific number of page views to qualify.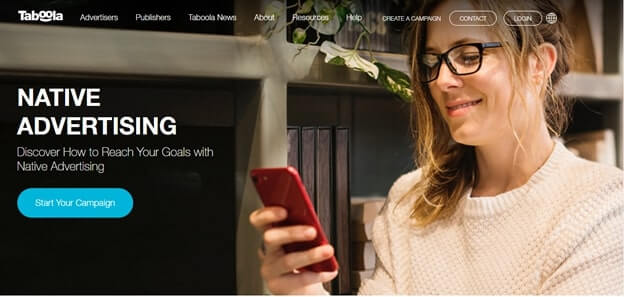 Taboola is the Beluga caviar in the world of native advertising. It's super fancy, and you get a ton of powerful advertising features that you simply won't get in a lot of other ad networks. You get a 100% fill rate on your ads in any geographical location. The fill rate is the ratio of how many ads get served to your traffic.
This includes:
The Taboola Feed to integrate a content discovery feed inside your blog that allows your audience to discover more content on Taboola's network;
An Audience Exchange program that allows you to exchange traffic with third parties and Taboola partner sites;
Personalized product feed advertisements to drive more revenue;
Widgets to promote sponsored articles and videos;
And a dedicated analytics platform to constantly monitor and optimize your ads. You can also display relevant products based on the page content.
Think: A Google AdSense alternative that offers AdSense features and Amazon Native Ads features with a few modern twists.
Of course, you'll need a minimum of 500,000 page views per month if you want to get started. But once you qualify, you can even promote your ads across social media as well.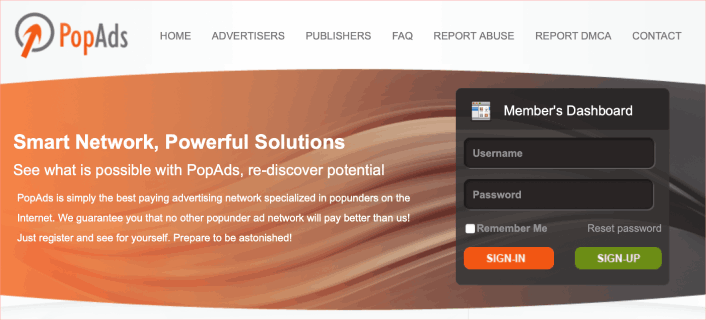 PopAds is perfect for a small business or blog. Compared to the other giants on this list, you get way fewer features on PopAds, but you also need only 1,000 monthly visitors to sign up.
What does PopAds do? It's an AdSense alternative that serves pop-up ads.
Also, there are no complicated business models here. You get paid for the number of times someone sees your ads. It's as simple as that!
You can also cash out at any time using PayPal.
All in all, PopAds is the ideal Google AdSense alternative if you're still a ways away from monetizing on AdSense.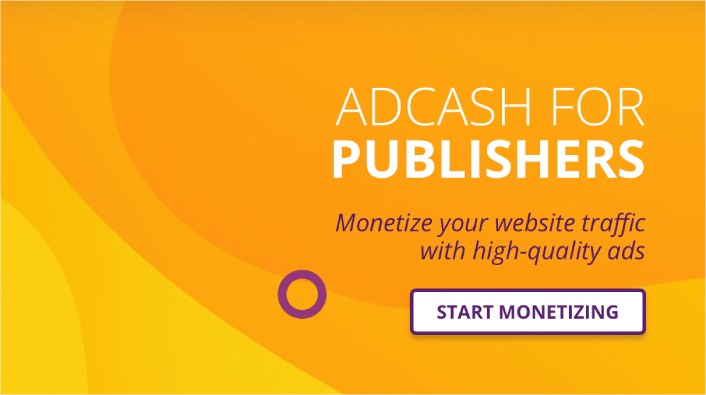 Adcash is a really great Google AdSense alternative.
For one thing, it can bypass adblockers so that you can make money from your ads. And then there's the fact that it serves 196 countries. So, you can monetize even if you're not in the US.
The range of advertising options is also pretty diverse. You can choose between standard display ads or pop-unders. They also serve interstitial ads. Interstitial ads are ads that show up while a website is loading.
Very cool!
The best part is that you can manage the same advertisement in different formats very easily using a single tag called Autotag. Once you install the tag, Adcash automatically serves the same ad in 3 formats.
Pro-Tip: An Autotag also contains a monetization goal built into its code. So, you can get robust analytics and goal tracking for your advertisements.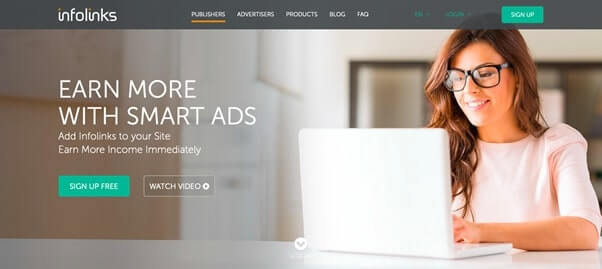 Infolinks is one of the most common Google AdSense alternatives because it advertises itself as an ad network that "works well with Google AdSense." They are also widely known as experts in in-text advertising.
InfoLinks searches for known keywords in your content and automatically places an ad corresponding to a relevant text snippet. Then, every time your web visitors hover over the selected text, a highly relevant ad will appear right next to it.
As far as range goes, it's pretty straightforward: you can set up video and display banner ads.
InfoLinks will monetize your blog even if it's brand new. There's no setup fee and no minimum requirements for page views. The minimum payout is $50 via PayPal, Western Union, or Payoneer.
So, whether you have a new blog or an old one, Infolinks is always a great way to start making more money.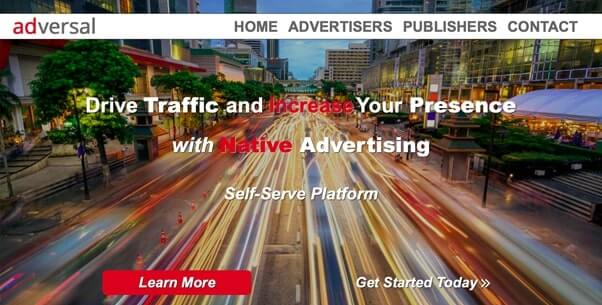 Adversal is a self-serving advertising platform and a AdSense alternative that serves native ads, video ads, and display ads on your blog. You also get an intuitive dashboard that allows you to start, pause, stop and restart your campaigns at any time.
To qualify, you need to have your domain. In other words, you can't use Adversal on a Medium blog. You also need minimum traffic of 50,000 visitors on your site to serve ads.
The minimum payout is $20 via PayPal bank transfer, ACH, wire transfer, or check.
It's also really easy to join as long as you meet their requirements. Also, they use DoubleClick to serve ads. DoubleClick also powers Google's ads, and you get the same PPC (pay per click) rates as AdSense.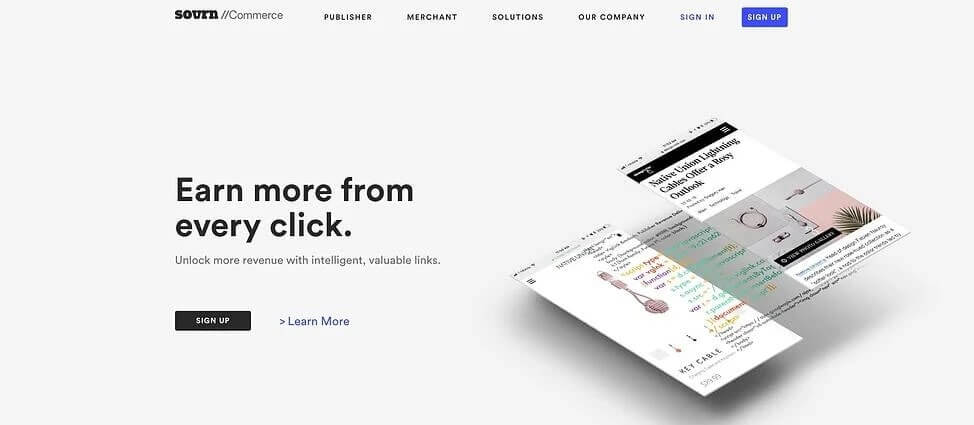 Sovrn // Commerce (formerly Viglink) is an AdSense alternative that automatically places ads based on your content. The good part is that there are no minimum traffic requirements.
You also get a comprehensive analytics dashboard that's similar to Google Analytics. We don't recommend relying exclusively on this dashboard, though. It's great for analyzing your ads, but Google Analytics is still the king of free analytics dashboards.
The minimum payout is $10 through PayPal and $50 through direct deposit. So, again, it's great for monetizing the advertising space on your website.
Pro-Tip: If you're struggling with Google Analytics and it seems a bit complex to use, we recommend using MonsterInsights to get actionable insights in your WordPress dashboard. It's a better option than relying on any other analytics dashboard.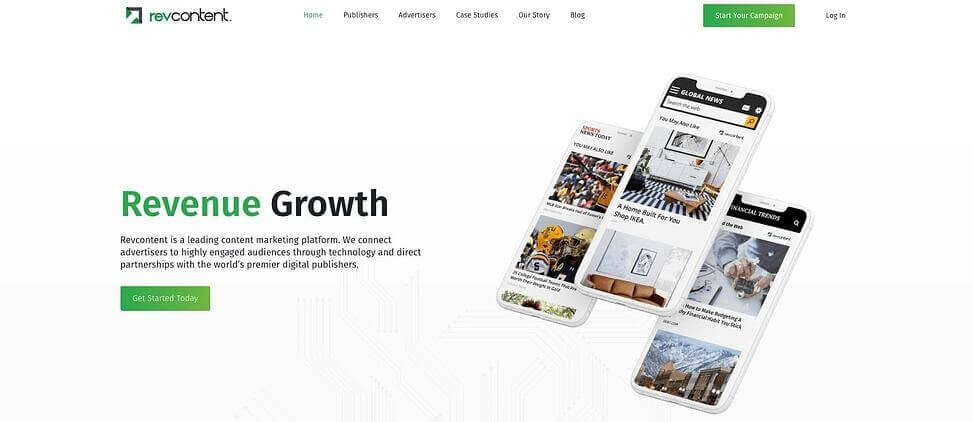 Revcontent is a great Google AdSense alternative for native ads.
The best part about Revcontent is that it serves native ads with the look and feel of the original blog. So, it feels very natural and organic.
But that's not all.
Revcontent is reputed for an impressive list of publishers and advertisers. In simpler terms, Revcontent partners with publishers with great content. As a result, they get advertisers who are willing to pay a higher commission.
The only catch is that: Revcontent requires you to have 50,000 monthly visitors and generate valuable content. So they are really picky about who to partner with. But if you do manage to get in, the commissions are great.
Also, the minimum payout is $50. So, it's great for slightly bigger blogs that want to add a juicy new income source quickly.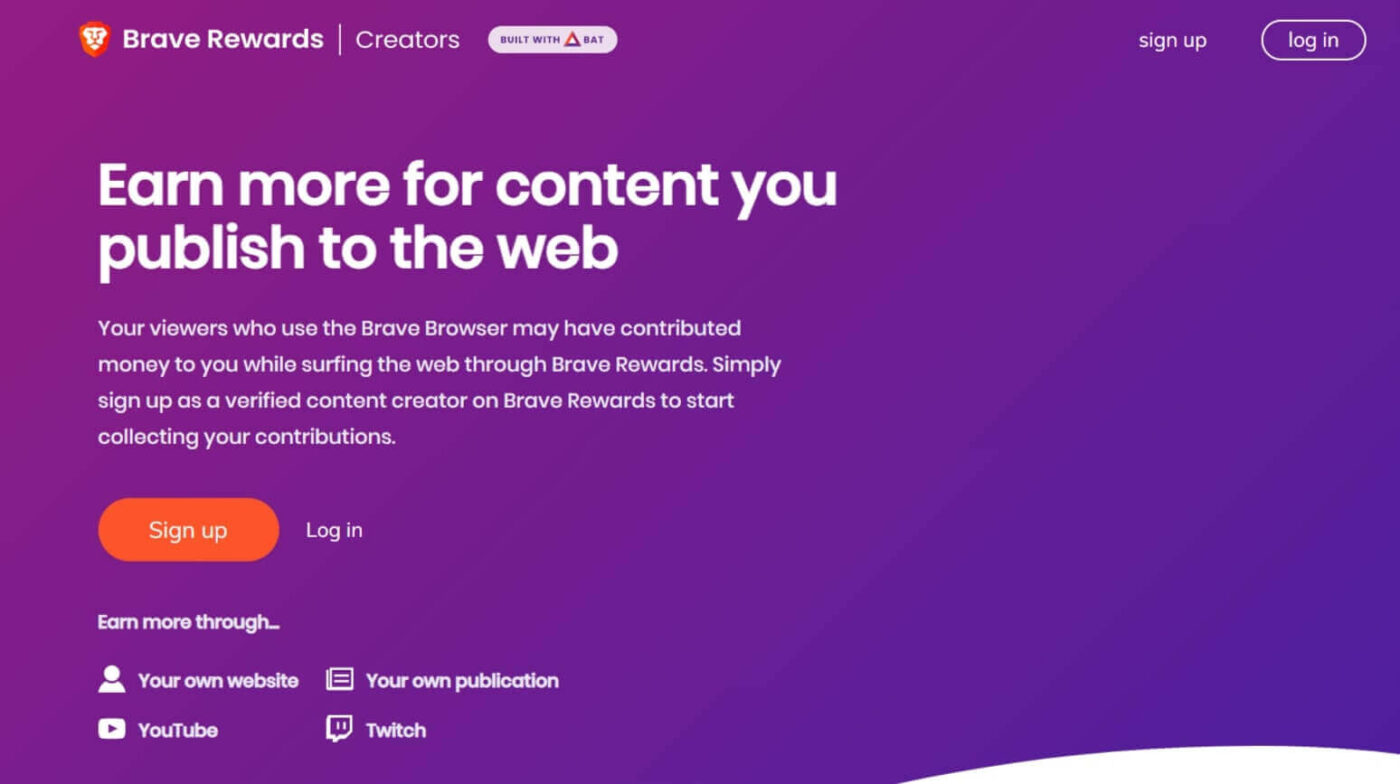 Brave Creator Rewards is a pretty new ad network. But that's not what makes it so exciting.
Brave Creator Rewards is an ad network that serves ads through the Brave browser. And it doesn't pay you in money for serving ads on your site. Instead, it pays you in a cryptocurrency called Basic Attention Token (BAT)!
How crazy is that?
That's not all, though. You can actually get tips in BAT from other people using the Brave Browser, and you can get paid for your content on:
Your website or blog
Any publication on a Brave partner publisher
Your YouTube channel
Your Twitch streams
And even your Twitter account. Just sign up and start getting paid. The minimum payout is 15 BAT to Uphold unless you have a verified Uphold account.
The ad network is still pretty new, and the ad quality and payout aren't incredibly high yet. But BAT was created to remove intermediaries from ad exchanges.
For instance, you can serve ads from Google AdSense and get paid a small amount, while Google pockets most of the commission. Or, you can get paid in BAT directly by the advertiser.
The craziest part is that once you get your BAT transferred to your Uphold account, you can trade it for ANY cryptocurrency, fiat currency, or US stock at all. And yes, you can withdraw the equivalent dollar amount to your bank too.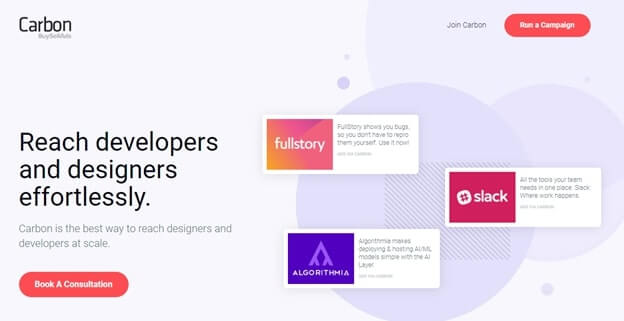 Carbon Ads are something of a niche ad network owned by BuySellAds. By this, we mean that it's very effective if you're creating content in the tech or SaaS industry, but not much else.
The good news is that if you're in the design and development space, the ads served on your blog will be super-targeted. As a result, the conversion rates will be much higher, and the advertisers will pay top dollar for serving the ads.
Some of the world's leading tech and design companies advertise on Carbon Ads, including:
Font Awesome
Laravel
Dribble
GetBootstrap
JSFiddle
Sketch App Resources
Coding Horror
World Vector Logo
… And more! Since their primary target audience is in the design and development space, the ads look pretty awesome and don't mess up your user experience.
The only catch is that Carbon Ads is a little bit picky when it comes to accepting publishers. As a result, you'll need great content, and there's no clear indication for the minimum page views required.
But all in all, Carbon Ads is a really great Google AdSense alternative for a niche blog in the design and development industry.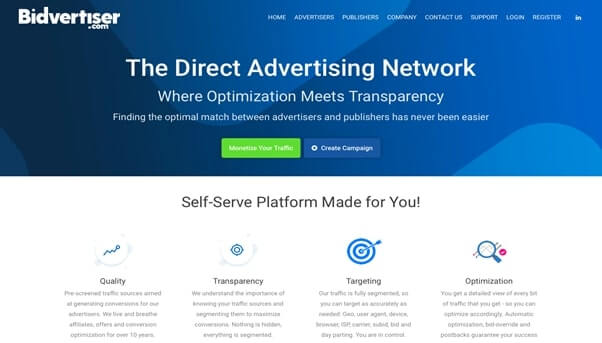 Bidvertiser is yet another top-notch AdSense alternative with location-based ads and keyword targeting ads. But there's a catch!
Bidvertiser actually sells ad space on your blog instead of selling ads directly. If your blog brings in a ton of traffic, then advertisers will try to outbid each other to get ad space on your site. But if you're not super-popular yet, you could get entirely ignored by advertisers.
The good news is that if you do get noticed, then you're more likely to make money from the auction than you would with AdSense. Keep in mind that you'll get paid for clicks and conversions on the ad, and the minimum payout is a low $10.
If you're into the whole bidding system, you can serve native ads, banners, sliders, pop-unders, and smart links. So, there's no shortage of ad formats.
The bottom line is that Bidvertiser is a bit like an eccentric uncle in its unpredictability. So, tread carefully with this one.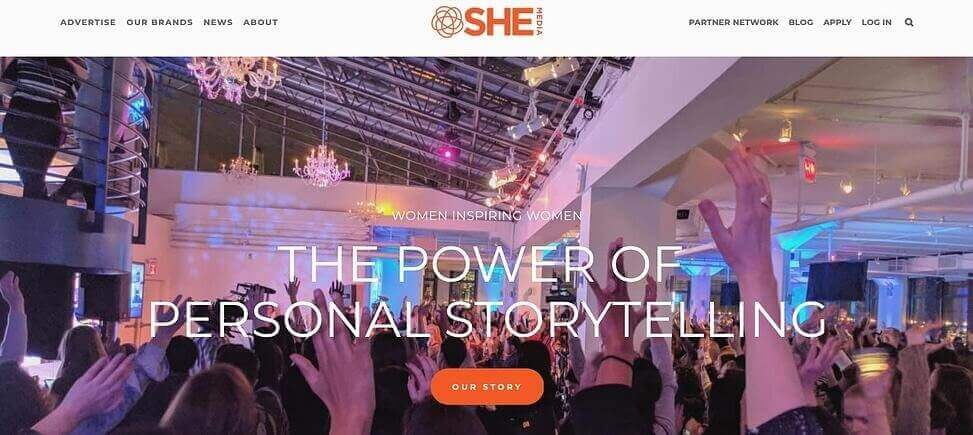 SHE Media is probably one of the most exclusive niche advertising networks in the world.
Originally, SHE Media was a collective of different blogs aimed at women. The collective includes blogs such as SheKnows, Blogher, and StyleCaster. As the collective began to gather more and more viewers, they set up an ad network of their own.
SHE Media's ad network is made of female-focused advertisers and publishers. And if your blog is also built primarily for women, you can apply to share the same advertisements as SHE Media's blog network.
Again, the flip side is that it's really exclusive. So, to qualify for monetization, you'll need to have at least 20,000 views per month. Also, at least 80% of your traffic needs to be from the US, and 70% of your audience must be women.
But hey, if you can prove your traffic with actual metrics, you get a ton of juicy advertisers spending big bucks on your site.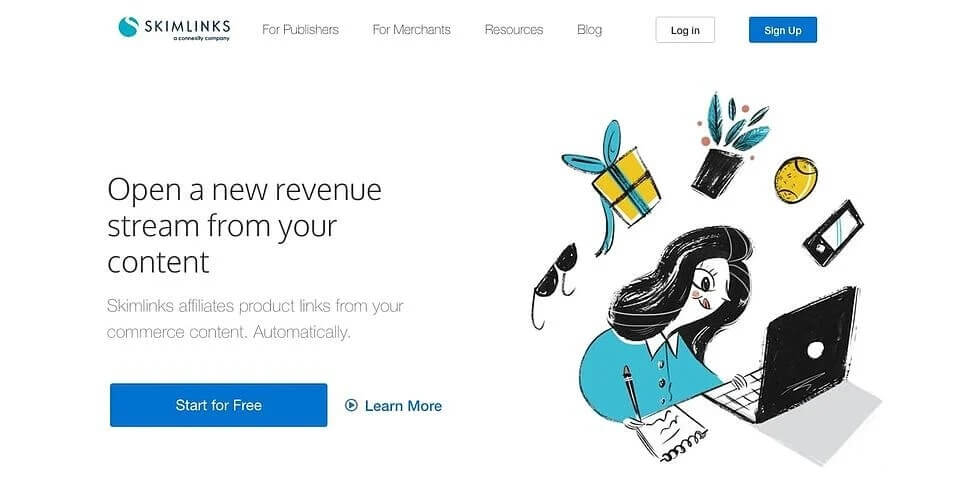 Skimlinks is almost like Amazon Associates because it specializes in affiliate marketing. Skimlinks scans the links on your site and checks if you're linking out to any product that's in its partner network.
If someone buys a product using a link in Skimlinks' partner network, you'll receive a 75% commission through your affiliate links. So, it's perfect if you're not keen on serving display ads that could potentially wreck your blog's design.
The minimum payout is $10, but it only sends payments every 90 days.
Is Skimlinks better than AdSense? No, not really. But, it's a hassle-free way to make affiliate income from your blog without a ton of hassle.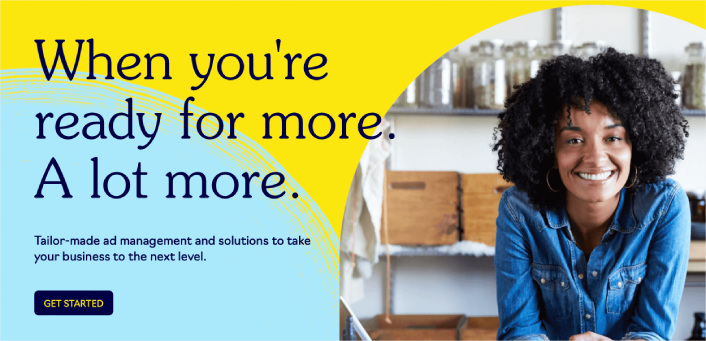 AdThrive serves over 10% of the world's largest ad-supported sites as a Google AdSense alternative. AdThrive charges on a cost per impressions (CPM) model. So, they make sure that both the blogger and the advertiser is top notch in quality.
To qualify for AdThrive, you must have:
Unique, original and engaging content
100,000 page views per month (minimum)
Traffic from US, UK, Canada, Australia or New Zealand
The best reason to join AdThrive is its 75% payout directly to publishers. And they guarantee the payment to you even when they don't get paid by advertisers. The minimum payout is $25 for PayPal and direct deposit.
AdThrive isn't meant for small blogs. But if you're looking to diversify your monetization strategy and receive a high payout, this is a great Google AdSense alternative.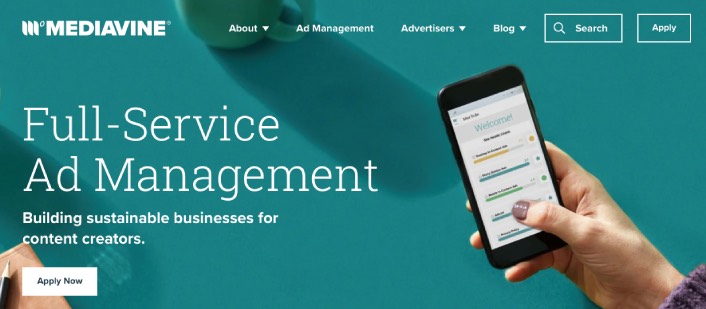 Mediavine is one of the best Google AdSense alternatives for lifestyle bloggers and influencers. Mediavine also gives you a payout of 75%. So, you can compare it with AdThrive. But the traffic requirements are much lower. You need a minimum of 50,000 monthly pageviews to qualify.
The majority of Mediavine's advertisers are in the lifestyle space. So, if you're creating long-form content in the lifestyle industry, Mediavine is perfect for you. Just to clarify, you can create content on any niche in the lifestyle space from fashion to finance and Mediavine will have high quality ads for your site.
Unlike most other Google AdSense alternatives, this ad platform actually loves it if you're using AdSense and acts as a second source of advertising revenue rather than a replacement. They also have epic resources on how to increase your RPMs (ad revenue per thousand impressions). They also have tutorials on SEO to help you get more traffic. So, you can count on their help to help you grow your business.
The minimum payout is $25 for PayPal and direct deposit (or $200 for international direct deposit).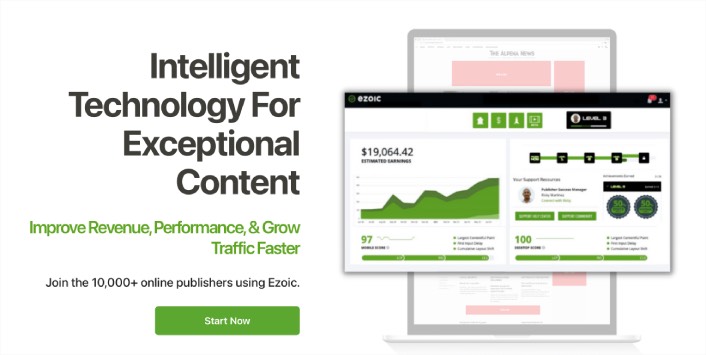 Ezoic is a Google certified publishing partner that provides publishers with access to thousands of ad networks, exchanges, and ad partners. It's one of the most CMS-friendly advertising platforms out there besides AdSense. So, if you're using a platform such as WordPress, Wix, or even Weebly, then Ezoic is a great AdSense alternative for you.
In fact, Ezoic has its own WordPress plugin. So, you can get started quickly.
The way Ezoic works is that it allows header bidding. Header bidding is a form of programmatic advertising that allows you to get higher CPM (cost per thousand impressions). While Google AdSense only offers a single ad space on your site to one advertiser, Ezoic offers it to multiple advertisers simultaneously.
Ezoic is super easy to use and it's meant for complete beginners. If you're qualified for Google AdSense, then you qualify for Ezoic too. And while it's not the most profitable ad platform under the sun, it's still likely to fetch you more ad revenue than AdSense.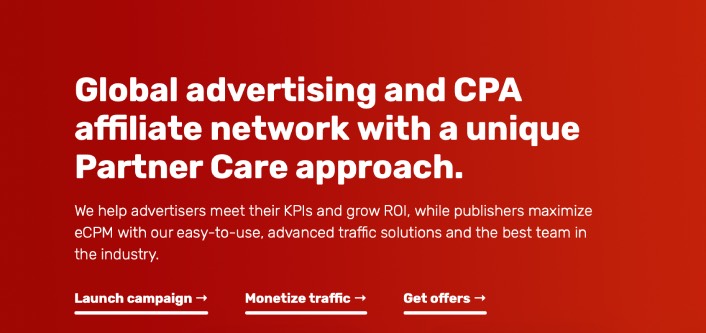 Adsterra is a global ad platform that serves 30+ billion ad impressions a month. Unlike other Google AdSense alternatives, Adsterra also comes with its own affiliate network. So, you can also promote their offers as an extra way to make money online for each referral from your content.
You can focus on ad campaigns without having to worry about ad optimization because you get multiple high-converting ad formats such as:
Popunders
Social bars
Native banners
In-page push ads
Video ads
And more! It's a self-serve ad platform. So, you don't need an ad manager to work with you on your ad campaigns. Lesser red tape means faster turnaround times for you. The advertising models include CPA (cost per acquisition), CPC (cost per click), CPM (cost per thousand impressions), CPL (cost per lead), and CPI (cost per installation). So, you get a huge variety of businesses to promote.
One of the coolest features of Adsterra is their anti-adblock software. If your traffic uses ad blockers, then you make less money on your content. Adsterra prevents your content from loading if your traffic has an ad blocker turned on.
#21. Monumetric

Monumentric is one of the best ad management providers for website owners with a mid size blog. You need a minimum of 10,000 monthly pageviews to qualify, which is lower than most major ad exchanges. If you have less than 8,000 monthly pageviews, you'll need to pay a $99 setup upfront to get in.
But once you get into Monumentric, the ads are highly targeted. Keep in mind that Monumentric uses a cost per impression model instead of a cost per click model. So, the earnings can be on the lower side.
But the ads are fairly customizable and your advertising space will get used because of their high fill rates. You can serve dynamic text ads, eCommerce ads, and video ads. So, there's no shortage of options.
Monumetric's minimum payout is $10 via PayPal or direct deposit.

RevenueHits is a less popular Google AdSense alternative. But you can get started with any traffic at all. You get a simple, clean dashboard that's way less complicated that the dashboard that comes with your AdSense account.
The in-house compliance team makes sure the ads are compliant. So, can focus on making your traffic grow instead of getting bogged down with compliance issues.
You get a huge range of advertising formats and layouts such as:
Popunders
Display banners
In-page push ads
Buttons
Footer
Floating banner
Shadow box
Sliders
Dialog boxes
And more! All you have to do is sign up and start creating ad placements.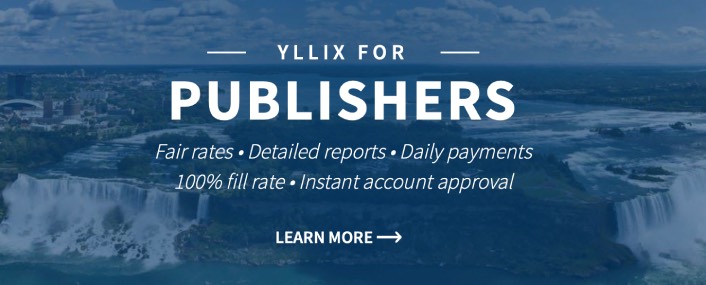 Yllix Media is another less known Google AdSense alternative. Yllix uses a combination of CPM, CPC and CPA to pay publishers like you. There are no traffic requirements. So, it's super easy to join the network.
They guarantee daily payments, 100% fill rate, and instant account approval. All in all, it's a pretty profitable ad network for new publishers. And they also offer automatic real-time ad optimization to help you focus on growing your traffic.
So, if your blog is new or your AdSense account isn't getting approved, then Yllix is a great alternative for you. There's also a $100 referral bonus for any new customers you bring to them. If your content is related to marketing or affiliate marketing, then that's also a nice way to make money online.
The minimum payout is only $5 and you can get paid every day.
What to do After You Add These AdSense Alternatives to Your Site
Every AdSense alternative on this list only helps you make money with your existing blog traffic. But what can you do to generate more traffic?
After all, more traffic means more money for you.
Here's an idea: Try using push notifications to generate repeat traffic on your website. Push notifications can be a great tool for getting repeat traffic, engagement, and sales.
Don't believe us? Check these amazing resources:
We recommend using PushEngage to create push notification campaigns. Why? It's only the #1 web push notification software in the world. If you're unsure what push notification campaigns are or where to get started, check out this article on web push notifications.
That's all for this one. Did you like our list of the best AdSense alternatives? If you found this article to be helpful, comment below with what helped you the most.
And if you haven't already, get started with PushEngage today!