Looking for push notification copy examples?
Good news: We've got a nice, juicy collection of push notifications that you can practically use for your campaigns.
The best part is that you can use most of these examples straight out of the box.
Here's a small secret that copywriters don't want to tell you…
Copywriting is mostly driven by standard patterns.
What looks creative on the outside is really just a well-known pattern.
Curious yet? Let's dive in.
#1. Netflix
Netflix is the king of binge-worthy content. And their push notifications are just epic.
But how do they do it?
Netflix sends personalized push notifications just as much as it sends you personalized content recommendations:

Any fan of Narcos knows what that notification means.
And it instantly excites them because the copy draws on an existing fanbase that's already familiar with the Narcos story.
So, what's the key lesson here?
Personalized Recommendations + Story-Driven Copy = High Engagement.
And it doesn't matter if you don't have an existing database of raving fans. This method works for a small business with a small list of subscribers as well.
#2. Tinder
Being snarky is the last thing you'd imagine selling well. After all, we always tell our Customer Support staff to be kind, respectful, and helpful to all customers, right?
Tinder went the opposite way:

Why does this work?
It's simple: That's the kind of audience Tinder caters to.
The beauty of copywriting is that you can learn from big brands and use the learnings for your brand even if you're a small business.
Tinder takes the script and flips it around. This is called differentiation. Unless your brand stands out from the crowd, you're going to get treated like a commodity. And then, it's a race to the bottom with everyone undercutting each other's prices.
#3. QuizUp
QuizUp is a quiz app. Yes, it's a pun. That's their whole personality!
Take a look:
It's fun and the creators of QuizUp know not to take themselves too seriously.
That's another quick nugget of wisdom: Know who you are as a brand and don't be scared to have fun with it.
#4. Simon Circles
Speaking of having fun, here's another cool app that knows how to vibe with its users: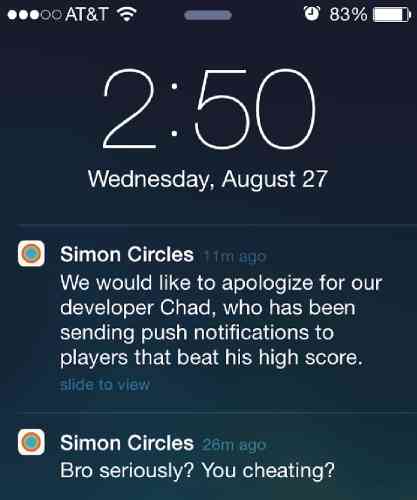 Simon Circles is a fun game app. There's no developer called Chad. It's all a fun drip push notification sequence. Using drip notifications is a great way to automatically engage your audience. The trick here is to string together multiple notifications to make it feel like a story.
If you've ever thought about introducing interactive elements into your marketing, it doesn't have to be super-expensive or complicated.
Sometimes, it's just about creating a nice story.
Check out this article on how you can use drip push campaigns for your own brand.
#5. Mashable
Mashable has been the king of clickbait content for a long time. So, naturally, they're using clickbait in their push notifications as well.
See for yourself: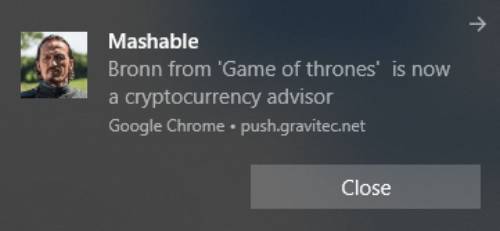 Very cool!
Here's an unpopular opinion: Using clickbait is perfectly fine…
As long as you can deliver on your promise.
After the initial shock value, if your audience feels duped, you're going to get in trouble. But if you can deliver on your promise no matter how shocking the premise, you're golden.
#6. Duolingo
Duolingo is an app that teaches you new languages. So, engagement is always a major issue.
That's why Duolingo uses epic copywriting in their push notifications to get surefire clicks:

If you translate the Spanish text in that push notification, it means, "Mess with me, and your family will not have fingers".
But if you don't KNOW Spanish…
Are you going to Google what that means? Type out each word in Google Translate going back and forth from the push notification?
Or are you simply going to click through?
#7. Wall Street Journal
And we're back to epic click-baiting by news media.
Wall Street Journal is typically considered a serious platform with discussions of… well, Wall Street! But that's not all they do. In fact, WSJ is pretty diverse in its content.
Check out this push notification: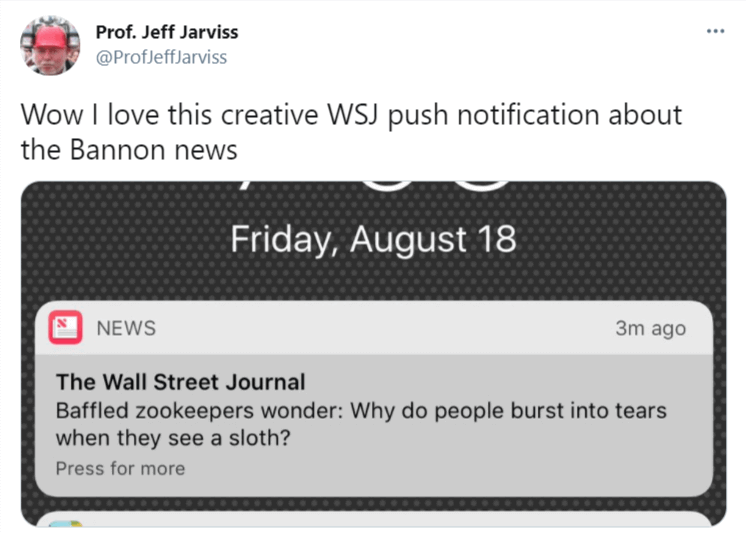 It's like a line out of Alice in Wonderland…
Why DO people burst into tears when they see a sloth? Follow the white rabbit and find out!
If you liked this idea, be sure to check out our push notifications playbook for blogs and content sites for more ideas you can use to grow your own site.
#8. Starbucks
Have you ever received a push notification that's written in such a conversational tone that you feel like it's talking directly to you?
Starbucks has that quality in its push notifications. Take a look at this one: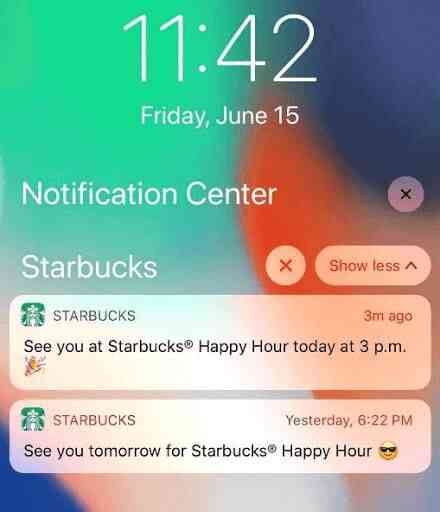 Feels like a meetup with an old friend, doesn't it?
But if you really look at what the push notifications are doing, they're essentially just following up with you. When was the last time you got a follow-up message from anyone that you genuinely liked? Let us know in the comments below.
#9. Peachmode
Peachmode is an eCommerce website that creates some epic push notifications. Their notifications are so simple on the surface, that it almost feels like they're showing off!
In this push notification: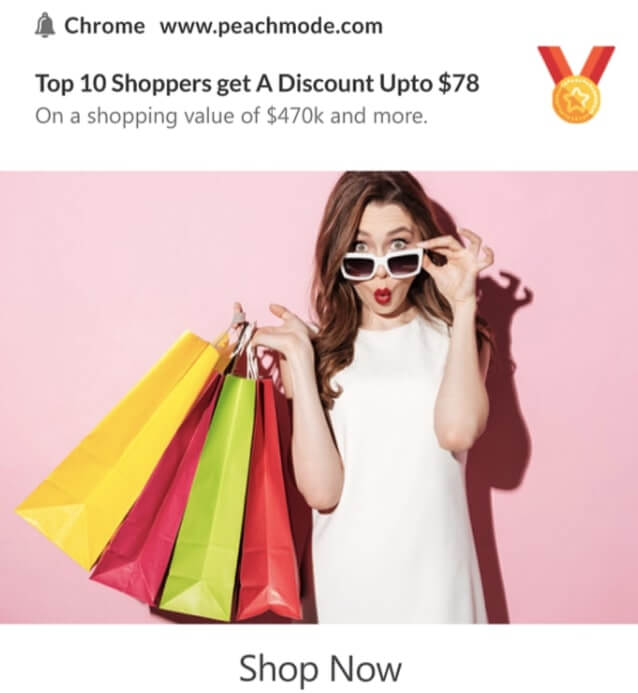 Peachmode actually used a contest with a leaderboard for shoppers with the highest cart values. It's a really advanced campaign. You can set up a campaign like this one using the PushEngage Javascript API.
But the copywriting part is significantly easier.
There's a clear value proposition, a clear offer, and a clear call to action. For an offer push notification, that's really all you need to get good conversions.
And you can do it all using PushEngage. PushEngage is the #1 push notification software in the world. So, if you're haven't already, get started with PushEngage today.
#10. Clash of Clans
Clash of Clans took the world by storm. It was one of the first mobile games that truly went viral on social media. And they managed to up the game by creating epic push notifications like this one: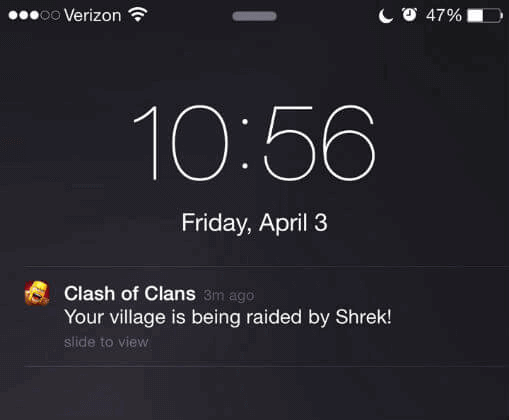 Who can ignore their village getting raided by Shrek?
Of course, not every player is called Shrek on Clash of Clans. That's really a coincidence here, but you get the idea.
The reason this push notification works is the urgency behind it. Just goes to show you that flash sales aren't the only urgent notifications that you can send. It could be your fictitious village getting raided by a random player as well.
For eCommerce sites, an alternative idea would be to send out price drop notifications. Check out this article if you'd like to set up price drop push notifications using PushEngage.
#11. SoundHound
SoundHound finds lyrics to songs and helps you discover new ones.
It's that simple.
Their push notifications maintain this simplicity as well: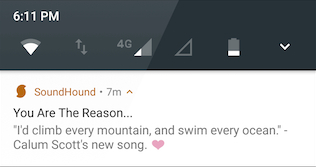 The beauty of this push notification is that it's very on-brand for SoundHound and it's really simple to set up. Even if you have a simple site with physical goods, you can use the same idea.
All you need to is head over the PushEngage dashboard and click on Notifications » Create » New Notification: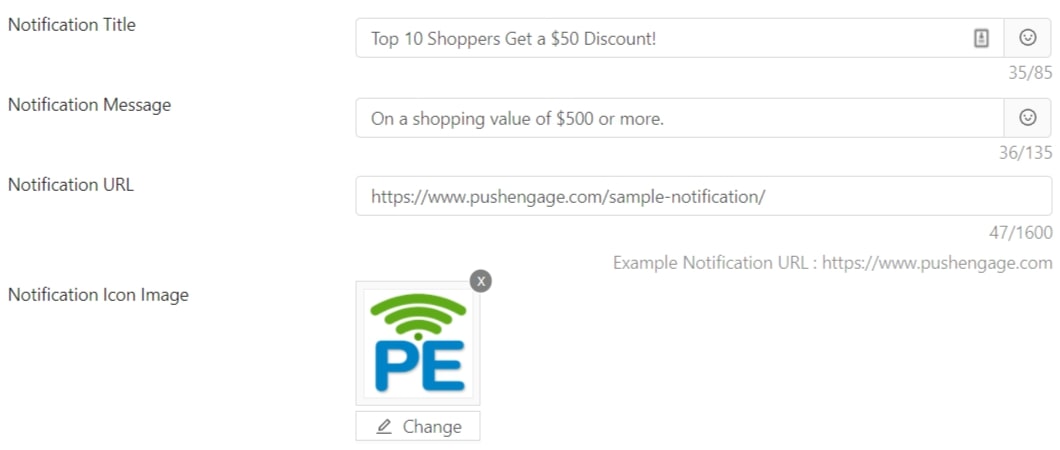 And that's all there is to it!
#12. Waze
Not all push notifications are fancy. Some are just really useful.
Waze does a brilliant job of personalizing their push notifications by simply being helpful:

How cool is that? Take that, Google Maps!
Waze just saved you hours of wasted time in trying to reroute midway through a commute back from your office. From a copywriting perspective, there's really nothing to explain here. It's just about being deliberate and concise. The trick here is to NOT try humor.
#13. Swarm
And we're back to fancy campaigns.
Swarm uses push notifications to alert you whenever a friend of yours on social media dines at a place near you.

Again, the copywriting in this push notification isn't anything tricky. It's just very effective. Also, the use of emojis in push notifications is a nice touch.
#14. Spotify
Any push notification that begins with "It's true" is a win in our books!
Spotify does a great job of highlighting new products:

It doesn't matter what kind of business you're running. You're going to want to promote it sometime. And you can send out automated push notifications every time you want to promote a product.
#15. Buzzfeed News
And we're going to wrap up this list with a nice mix of good copywriting, emojis, and click-bait.

Of course, Buzzfeed built a business out of click-baiting. But this one's slightly different. The clickbait is actually very focused on a specific audience that loves baseball games. Their emoji game is on point.
And the copywriting makes this push notification feel like an infomercial. Only, this time, it's tweetable.
Wrapping Up
That's all for this one, folks!
We just went through 15 epic examples of push notification copy. And if you've seen any of these push notifications yourselves, let us know in the comments below. We'll include some fresh ideas that you'll love.
If you haven't already, you should try out PushEngage. We are the #1 push notifications software in the market. So, get started with PushEngage today.