Looking for a way to send news push notifications to grow your traffic, engagement, and sales on autopilot?
Push notifications are the best way to promote a news site. You can create automated ones to keep your repeat traffic and revenue flowing. Or, you can send out an instant broadcast to any segment of your push notification subscribers.
The best part is that push notifications are super affordable and they get super high open rates. But how do you make the most of your push notifications? What campaigns work the best? Can you use them even if you're a brand new news site?
In this article, we're going to show you how to send news push notifications that actually work.
Let's dive in.
Why News Push Notifications Work
News push notifications get incredibly high open rates. Most news notifications are urgent, useful, and unique. If you can create subscriber segments to send personalized notifications, that's even better. If you're new to push notifications, you should check out our guide to segmenting push notification subscribers.
If you can create audience groups to cater to specific interests for your readers, your engagement rates will be sky-high.
Since news media needs to send out a LOT of messages every day, push notifications are the most ideal marketing channel for you. Sure, emails are great too. But how often do you check your email for news? And yes, you can send SMS campaigns. But the delivery rates on SMS campaigns are really low and they cost a lot.
Push notifications cost very little and you can send out high volumes of messages straight to your subscribers' mobile devices. It's the best of both worlds.
The Most Powerful News Push Notification Campaigns
Let's check out some of the most powerful news push notifications and how you can set them up quickly.
It doesn't matter how big your push notification subscriber base is. You can still use push notifications to grow an audience for your news platform. Your push notifications can redirect your subscribers to:
New blog posts, podcasts, or YouTube videos
New partner offers, sponsored posts, and advertisements
Abandoned carts on your merchandise store
Surveys, polls, and feedback forms
Push notifications are a great way to create automated messages. And if you're just getting started with push notifications, we recommend getting started with PushEngage.
PushEngage is the #1 push notification software in the world. And it's super easy to set up welcome notifications using PushEngage. You can check out the full list of features in our review of PushEngage. Or, you could also take a look at the best push notification services in the world and choose the right one for you.
Or, you can simply get started right away with PushEngage.
#1. News Push Broadcasts
The most important type of news push notifications are broadcasts. You can send out a broadcast to cover breaking news. You can also send alerts for weather reports.

And it's super simple to send these notifications.
Go to the PushEngage dashboard and head over to Campaign » Push Broadcasts and click on the Create New Push Broadcast button:

Then, create your push notification: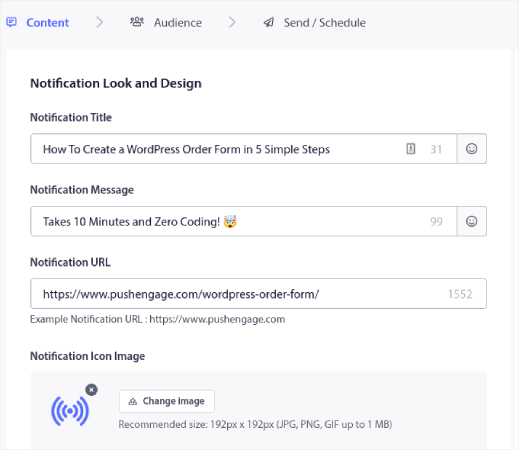 And send it out!
#2. Welcome Push Notifications
Whether you have a brand new news site or an established publication, website welcome messages are super useful. Welcome push notifications are great for:
Confirmation: You want to confirm that your new subscriber is indeed subscribed to your web push notifications.
Re-engagement: Welcome campaigns are a great way to get your subscribers to come back to your site.
Sales: You can give your new subscribers a welcome offer with discounts, freebies, and coupons.
Let's create a welcome push notification campaign now. Head over to your PushEngage dashboard and go to Campaign » Drip Autoresponders » Create New Drip Autoresponder:

Give your drip campaign a name that you can easily remember. Then, set the first push notification to go out immediately after a visitor subscribes to your push notifications.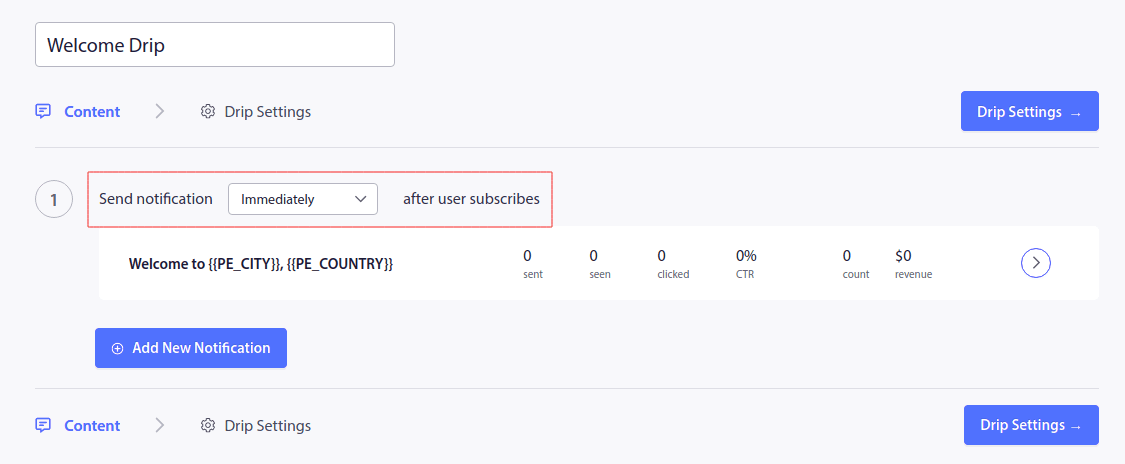 You can edit the notification to create custom content for your welcome message. When you're done, click the Add New Notification button to add more notifications to the sequence. You can edit the new notifications and set a custom delay between each notification.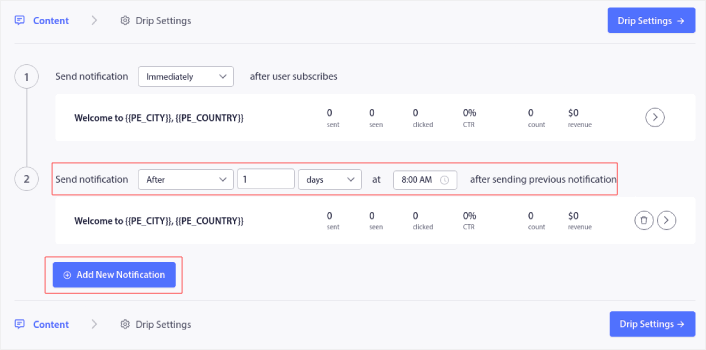 You can add as many notifications as you like, but we recommend creating a welcome drip with 5-7 notifications.
After that, select your audience in Drip Settings:

You can send different welcome drips for different segments by using the Send to Specific Audience Group option. This is especially useful when you're segmenting visitors when they opt for push notifications. When you're happy with your targeting, click on the Activate Autoresponder button. And you're done!
#3. Browse Abandonment Push Notifications
A browse abandonment notification is an automated push notification that gets sent when someone browsing your website decides to bounce without taking any action. Sending the visitor a reminder that they were interested in something on your website can hugely increase your conversion rates.
Browse abandonment campaigns are most commonly used by eCommerce sites. But if you're running a news site, browse abandonment is great for bringing in repeat traffic.
A browse abandonment notification ends when your visitor adds something to their cart. After that, a cart abandonment notification takes over to convert them into paying customers.
But for a news site, you want to get them back to reading an article that they left midway.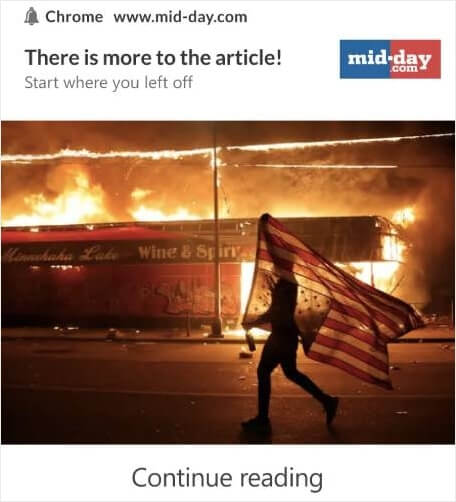 Head over to your PushEngage dashboard and go to Campaign » Triggered Campaigns. Then click on Create New Browse Autoresponder:

And then, select the Browse Abandonment Campaign type from the list of campaign types and click on Create New: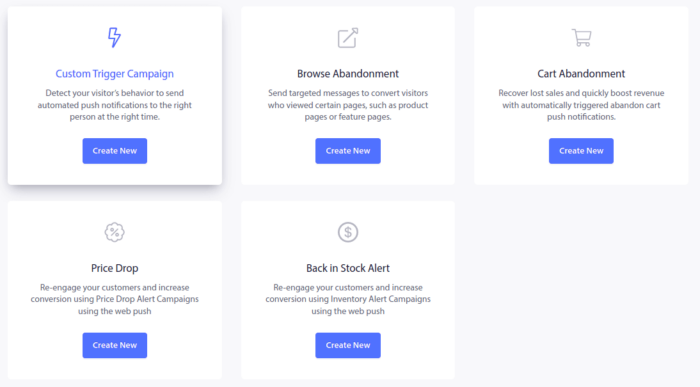 By now, you should be able to see a campaign setup dashboard. Create your campaign under Content: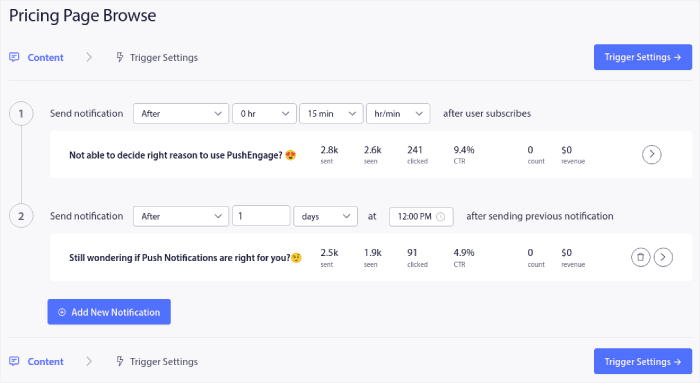 Most of this is straightforward. Give your campaign a name and create a sequence of browse abandonment push notifications. When you're done, click on Trigger Settings.
It's time to set up the trigger for browse abandonment:

These are default values for the browse abandonment campaign template. So, you don't have to change anything here.
You can set Trigger Limits based on how often you want to send push notifications:

And you can also set up UTM parameters here: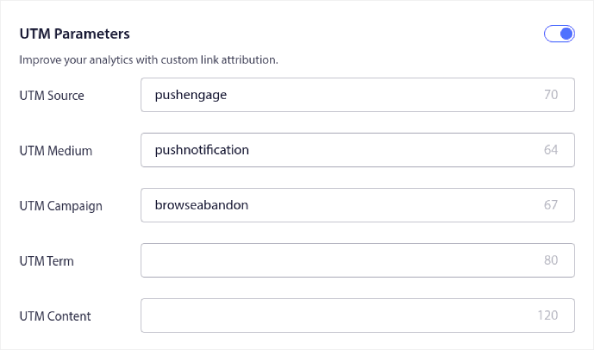 And enable Goal Tracking as well: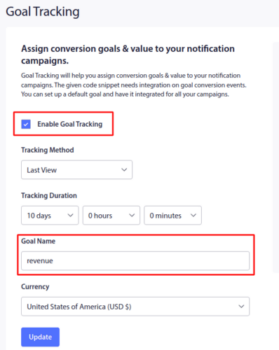 If you're new to push notification analytics, check out our guide to goal tracking for push notifications.
#4. Cross-Selling Push Notifications for Sales and Ads
Cross-selling is selling related or complementary products to a customer. It's one of the most effective methods of marketing. You can easily increase your Average Order Value (AOV) using cross-selling campaigns.
According to Amazon, 35% of its sales come from cross-selling. Cross-selling push notifications are campaigns that automatically cross-sell products to your customers. Cross-selling push notifications help you increase sales as you're 60-70% more likely to sell to an existing customer.
Most major publications make money through sponsored posts, sales, and advertisements. And you can use your cross-selling push notifications to generate more revenue for your news site.
It's also super easy to set up a cross-selling campaign using push notifications.
Create segments based on product categories and add a customer to the relevant segment when they make a purchase
Identify products to cross-promote under each segment
Create a drip notification for each segment and send the relevant product or product list to cross-promote
It's as simple as that.
Head back to your PushEngage dashboard and go to Audience » Segments and create your segments:

You'll want to segment your visitors when they visit a product in a specific category: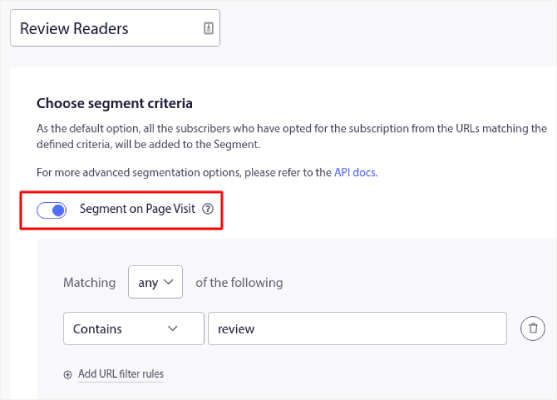 Then, find a product to cross-sell for each segment and create a drip autoresponder to promote it.
#5. Recurring Sales for Your Merchandise
 You can schedule push notifications to keep repeating every week. Or every few days. Loads of PushEngage customers use repeat scheduling and they absolutely love this feature. It's made an especially significant difference for news sites.
Why would you use repeat scheduling?
Imagine that you have a weekly sale for a flea market. Or a weekend sale. Or a stock clearance sale. Or even a monthly flash sale. These are live events that keep repeating like clockwork.
Do you honestly want to create a different push notification every week? Or, would you rather just create the notification once and schedule it to fire off every week at a fixed time? 
That's exactly what recurring push notifications can do for you. It's the perfect way to save a lot of time and energy. Instead of wasting time with new notifications, you can simply keep optimizing the existing campaign.
It's also really easy to do. Just head over to the PushEngage dashboard and create a broadcast under Broadcast Push:

Then, create a new push notification to send. Customize the content under the Content tab: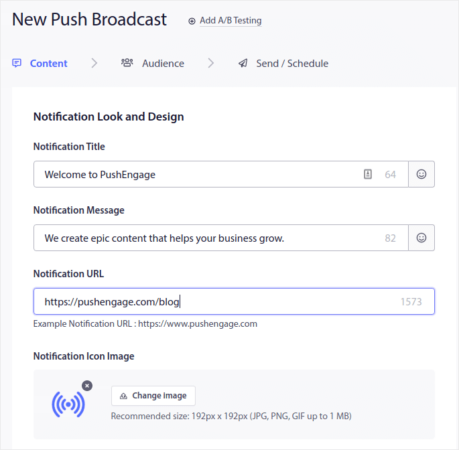 Next, select your audience under Audience:

And finally, under Send/Schedule, you can schedule the notification as a recurring push notification: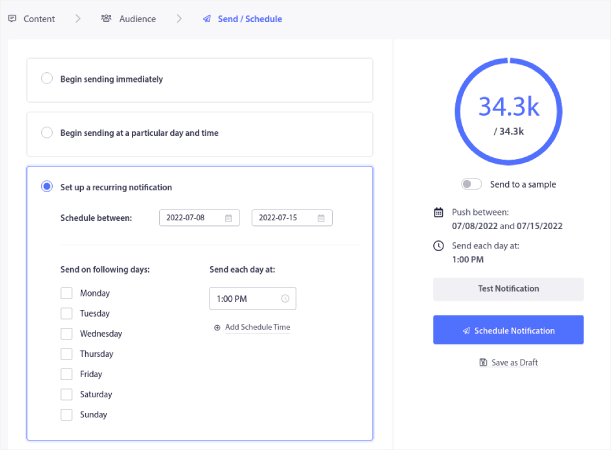 You can easily create any schedule you like for your push notifications including custom days, dates, and times.
#6. Cart Abandonment Push Notifications
Shopping cart abandonment is when a potential customer adds a product to the shopping cart and doesn't complete the checkout process. In other words, they abandon your products for some reason and simply move on.
Cart abandonment campaigns are a fantastic way to increase the sales on your merchandise. If you're serious about growing your news brand, you need to sell merchandise.
Online shopping cart abandonment can be due to a significant problem in the user interface or a lack of trust, or even some hidden charges. If you're running a new store, then you should check out our article on how to reduce shopping cart abandonment.
Now, it's time to create your cart abandonment campaign. Head over to Campaigns » Triggered Campaigns and click on Create New Triggered Campaign:

Then, from the campaign templates, select Cart Abandonment and click on Create New: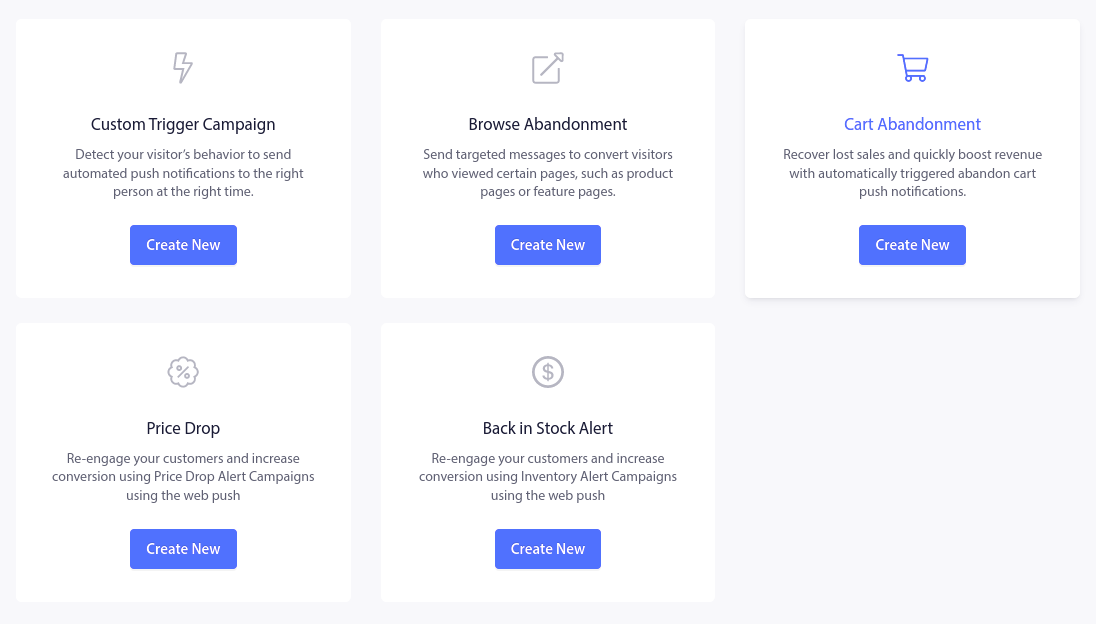 If you need a detailed tutorial on creating a cart abandonment campaign, check out this article on how to set up cart abandonment push notifications.
Best Practices for News Push Notifications
Now that you know the power of news push notifications, it's time for you to start creating your own campaigns. But before you get started with the campaigns, you should study some great push notification examples first.
And if you're new to push notifications, you should check out our article on push notification best practices before you start creating campaigns. Some of the best practices that we actively recommend include:
We recommend using PushEngage to create your push notification campaigns. PushEngage is the #1 push notification software in the market and your campaigns will be in safe hands.
So, if you haven't already, get started with PushEngage today.