Are you wondering which one is more effective for your small business: Push Notification or SMS marketing?
The answer is: There is no simple answer! It all depends on what kind of business you're running, where you're located in the world, how broad your business is, what you want to communicate to your audience, and who your audience is.
And that's a LOT to consider.
But there will be a definitive answer for your business depending on what you're looking to get out of your marketing campaigns. That's why we went ahead and created this article for you where we compare push notification vs SMS campaigns.
In this article, we'll compare:
Sounds good? Let's dive right in.
Difference in Media Types for Push Notifications vs SMS
What kind of messages do you want to send? SMS campaigns aren't great for multimedia messages. In fact, all you can send in an SMS is a clickable text link. Here's an example of a welcome SMS: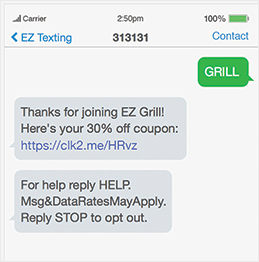 On the other hand, push notifications are really flexible at using different media types to express different types of messages. Take a look at this example of a welcome push notification campaign:
Can you see the difference between the two messages? With a push notification campaign, you have a lot of space to explore creative ideas and communicate way more effectively. Of course, if you have a top-tier copywriter to write your SMS campaigns, you can do quite a lot with just text.
But even so, the character limit on an SMS is 160 characters. And that's including the clickable links. So, it can a really big challenge to convey certain emotions.
With push notifications, you get way more flexibility to add rich media. For most push notifications, you get 63 characters for your title, 128 characters for your message, options to include a brandmark, options to include an attractive featured image, and custom call to action buttons.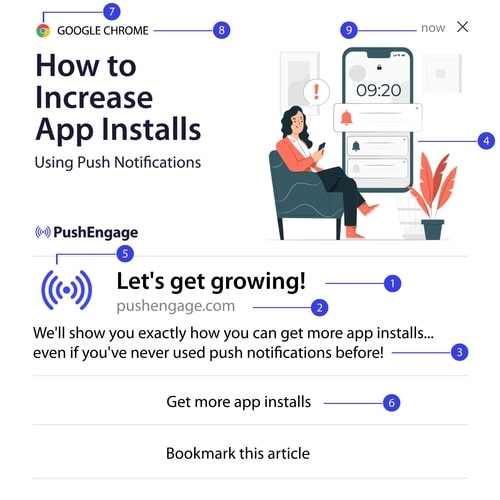 If you're not sure what all these different parts of a push notification are, you should check out our article on what push notifications are.
Sure, there are some minor differences in the character count depending on the device OS and browser of your subscribers. But for the most part, you get way more customizability and media options with a push notification vs SMS texts. For a closer look, you can check out our cheat sheet for push notification character limits.
Winner: Push notifications can accommodate richer media types than SMS texts.
Cost of Push Notifications vs SMS Campaigns
Push notification pricing is way more reasonable than SMS notifications. This is especially true for international customers and in bulk rates.
The truth of the matter is that creating an SMS is pretty easy and affordable. What can kill your campaigns is the international telecommunication carrier charges. Check out Twilio's pricing for SMS texts: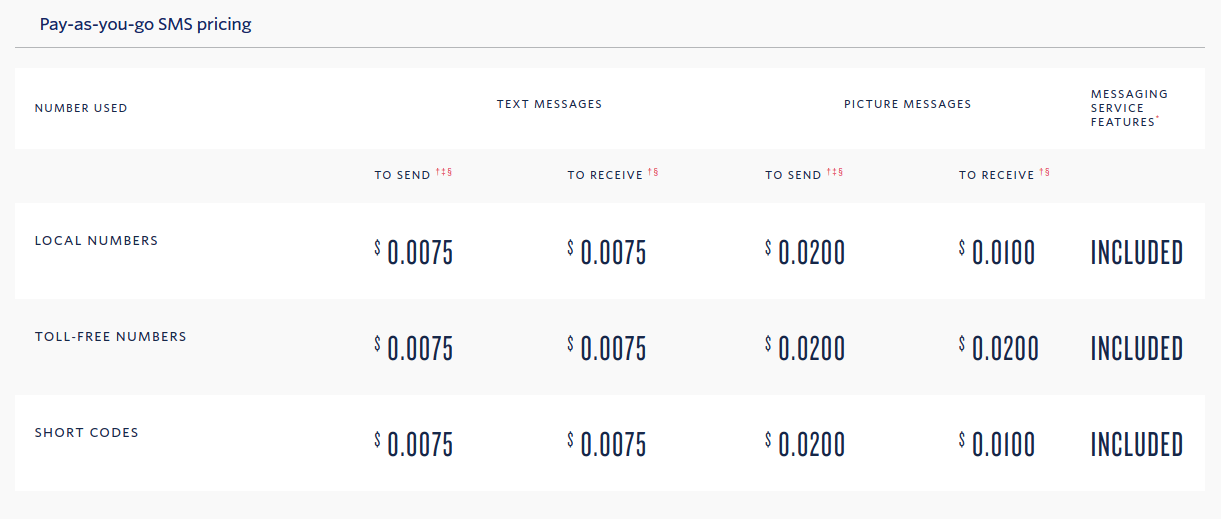 And they're actually among the more reasonably priced SMS vendors!
Imagine sending daily OTP SMS texts to 100,000 people. That's a daily expense of $750 a day just to send OTPs.
Another small detail here is that SMS campaigns can't always include long texts. So, to avoid sending links, they often ask the user to reply to their campaigns via SMS. While this can be fairly engaging at times, every time you receive an SMS, you'll also have to pay for each message.
On the other hand, push notifications are way more interactive and not to mention, much more reasonably priced. Take a look at PushEngage's pricing: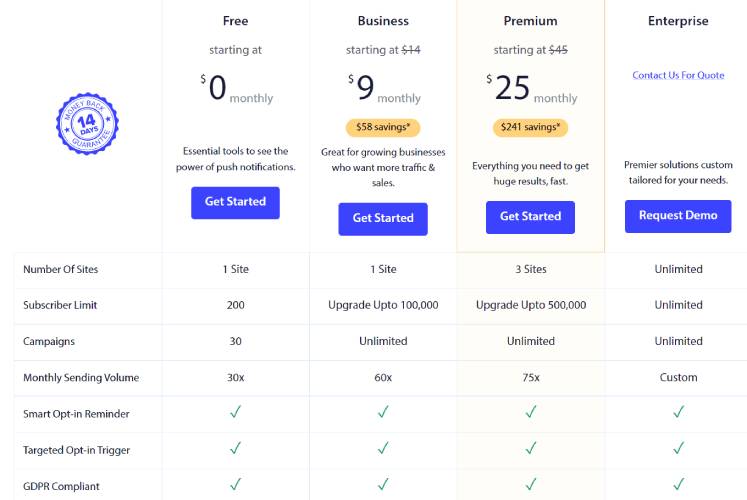 PushEngage is the #1 push notifications software in the world. And for the same 100,000 subscribers, you'd spend only $9/month!
Winner: Push notifications are much more affordable, especially at scale.
Push Notification vs SMS: What's Less Intrusive?
No one likes intrusive messages. The last thing you want is to send irrelevant messages to your customers and subscribers. Not only is it a great way to lose subscribers, annoying your customers could mean a drop in business too.
Here's the deal: Being intrusive is a matter of context. And not just content.
If you put into context the fact that SMS campaigns are much harder to opt-out from, then SMS texts are way more intrusive.
To stop receiving SMS texts from a business, you'd have to send an SMS to them. And that's only if the campaign actually allows for you to opt out by sending a text. More often than not, you'd have to call up the business and ask their customer care team to remove your phone number from a specific campaign.
Opting out of push notifications is way easier. Every push notification you receive will have an option to opt out of receiving future notifications. If you're not sure how to do that, check out our article on how to stop receiving push notifications.
Winner: Push notifications are usually much less intrusive.
Can You Personalize the Campaigns?
The cool thing about both push notifications and SMS campaigns is that they can be automated and personalized. And there's very little difference here between the two. But there are instances where an SMS just feels out of place.
Take a look at this promotional SMS: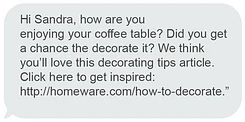 Sure, it feels personalized. But the link isn't even clickable and there are no image attachments to show Sandra what she's missing out on. And this is where push notifications can really shine. Check out this amazing product promo push notification:
Even without personalization, the notification looks great. The image is really appealing, the call to action button is super clickable, and the description's doing a great job of giving the subscriber a good reason to click.
Using personalized push notifications you can create some amazing campaigns like this one: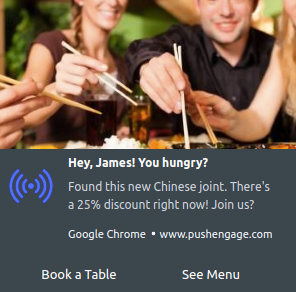 If you want to send out a notification that's only meant to inform, an SMS is probably a better fit. But if you want to convince and convert, you should really start using push notifications.
Winner: Push notifications generally feel more personalized than SMS notifications.
What Automation Workflows Should You Use?
Now that you know that push notifications and SMS texts are sent on different occasions, you need to understand that automation works differently for them.
We don't mean that the campaigns you get are different. In both channels, you can set up similar campaigns such as:
But the type of automation you would create is vastly different. For instance, if you're running a weekly sale you should use scheduled push notifications. But if you're sending a birthday wish, you should send an SMS.
In the same way, if you want to send inventory and price drop alerts, you should use push notifications. But for an imminent natural disaster, send an SMS instead.
Real talk: Just because you get the same automation tools for both SMS and push notification campaigns doesn't mean that they're equally effective. Mix and match both channels to make the most of both marketing channels.
Winner: No clear winner. We recommend using both in separate instances.
Can You Protect Your Privacy?
Privacy is a major concern with marketing these days. Any time you build a marketing list, you end up collecting personal data from your subscribers. For SMS marketing, you must have your customer's phone number.
And privacy isn't just an issue with SMS marketing. Even email marketing has significant challenges with compliance. Complying with GDPR and EULA regulations can be really complicated. But you need to do it because if you don't, your business can be fined up to 20 million euros!
The fundamental ask in these regulations is that you can't collect any identifying information from your website visitors, subscribers, and customers without their express consent. If you take SMS marketing as an example, most people don't want to submit their phone numbers to online forms unless they absolutely have to. So, SMS marketing can feel really intrusive at times.
But there's a way around this issue if you use push notifications.
Push notifications by PushEngage are GDPR-compliant by default. PushEngage doesn't store any identifying information and any subscriber MUST physically opt for push notifications before they can receive any notifications.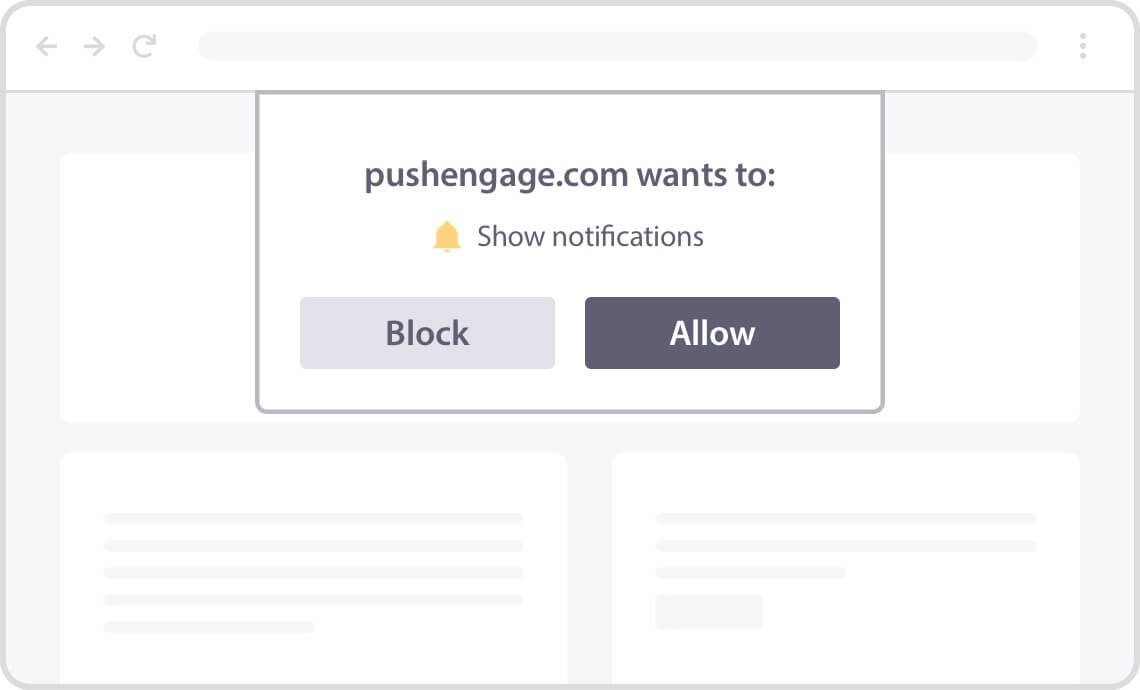 Unless you click on Allow, you won't get any notifications from us.
So, data privacy is a much lesser concern with push notifications than it is with SMS notifications.
Winner: Push notifications will have fewer data privacy issues.
Wrapping Up
That's all for this one, folks!
Push notifications are a great way to increase traffic, engagement, and sales for any business. On the whole, they're way more powerful and affordable than SMS notifications. And if you're starting out with push notifications, we recommend using PushEngage. PushEngage is the #1 push notification software in the market.
And the best part is that PushEngage empowers small businesses to compete with big brands. So, it's a good fit at every stage of growth whether you're looking to start, grow, or scale your business.
If you're just getting started with push notifications, you should also check out some of these articles:
And if you haven't already, get started with PushEngage today to get to the next level!