Make your drip notification campaigns more effective with Geo Segmentation. Now you can create multiple Drip targeting geo-location of your subscribers. Create custom drip notification for each location to get higher CTR for your notifications. The Geo Segmentation is done based upon the location from where your user has subscribed to your notification and is one of the many segmentation options available in PushEngage. With Drip Push Notifications, Intex increased CTR by 312% for push notifications.
Below are the steps to create Drip With Geo Segmentation
Step 1
Login to your PushEngage account and go to Automation > Drip Autoresonder. Create Drip Autoresponder

Step 2
Audience Options:
Send To All: If you want to send a notification to all subscribers, then unselect the "Select Audience" checkbox. The notification will be sent to all.
Custom Segments: If you want to send notifications to custom segments, select the "Select Audience" checkbox. You will have the option to send to specific segments like custom segments, geo segments, device segments and more.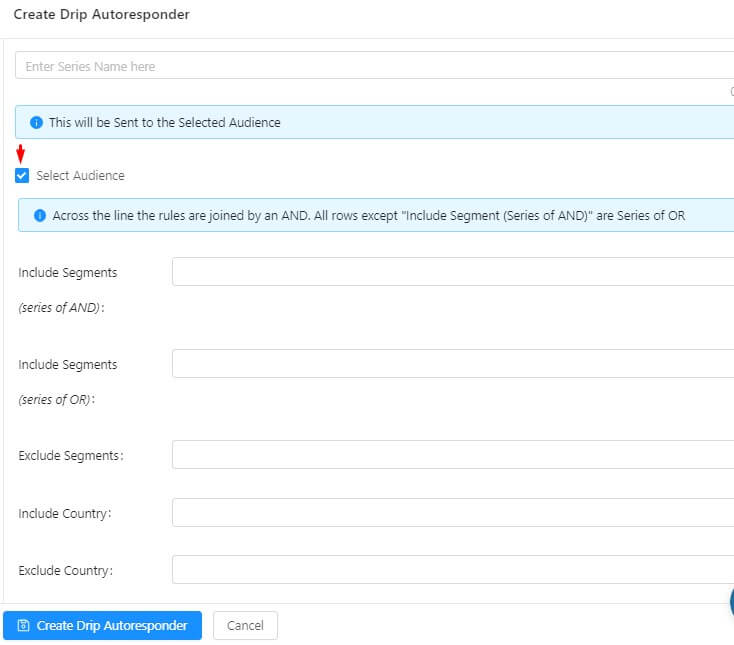 Step 3
For Geo Segment, you will see three options to select from:

Select Country: Select the country from where your subscriber has subscribed. You can include and exclude the countries as well.
Select State: Select the state from where your subscriber has subscribed
Select City: Select the city from where your subscriber has subscribed
Here you can select one of the fields depending on the targeting level considered. Example – you can select Bangalore as a city, and target that. The below example shows selecting country, state, and city. In this case, an AND across the geo segments, i.e India AND Tamilnadu AND Chennai is performed for selecting the subscribers. In other words, Chennai subscribers are considered.
Once you have selected your Geo Segment, Give a name to the segmented Drip campaign and submit it.

Step 4
Configure what kind of series of Notifications you would like to send to the Geo Segment. The first one could be immediately after subscription, or after 30 minutes. The second one could be after 1 day and so on and so forth.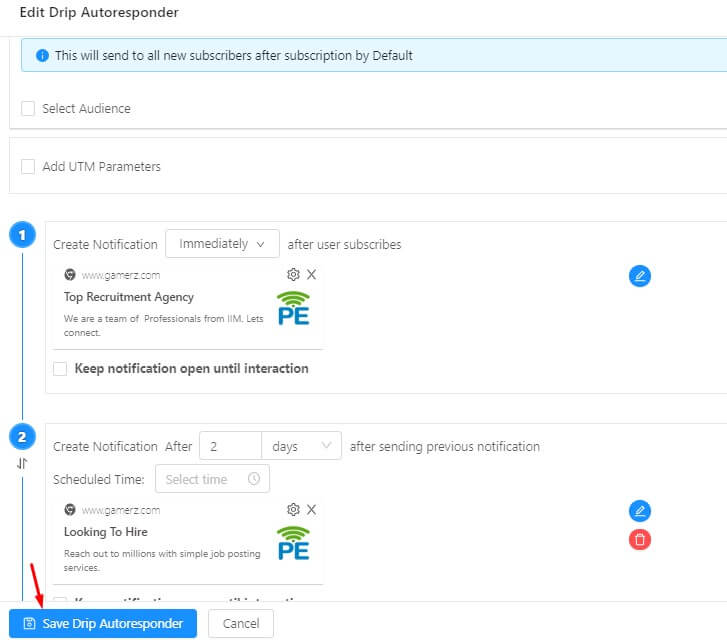 Once you have configured your Drip Notifications, click Save and Launch. Your Drip Notifications with Geo Segmentation is live.
Important Point:
You can select multiple Country, State & City in a single Geo Segment. If you want to select a particular Country/State/City, click on it and it will be selected. If you want to deselect a particular Country/State/City, click on it again and it will be deselected.

With this feature, you can easily send different drip notifications to different customers based on their location. Below is an example case where it can be used:
Example Case: Real Estate Company
Considering you are a real estate company and have a presence across the country. You have users coming to your site from different states/cities.
Notification 1: You create a notification and send it all the users:

Notification 2: Using Drip with Geo segmentation, you create notification targeted to users from Bangalore.

Which one of the above will have more impact? In Notification 1 you are sending a generic notification, however in Notification 2, you are sending custom notification targeted to a user who subscribed from Bangalore location. Notification 2 will have a higher impact as compared to notification 1.
Start using this amazing feature and see the result for your campaign. You can use Drip Feature to create different drip campaigns for your e-commerce site.
We also have a video tutorial on how to set up a Drip autoresponder campaign which you can watch below.