Looking for an effective way to use geolocation push notifications?
Done right, geolocation push campaigns can increase your engagement and sales a lot. But how do you even set up location-based notifications? And how do you make the most of them?
In this article, we're going to talk about what geolocation push notifications are, look at some epic examples, and give you some best practices to follow so that your campaigns are super effective. We're going to do all this using PushEngage, which is the #1 push notification software in the world.
Are you ready? Let's dive in.
What Are Geolocation Push Notifications?
Geolocation push notifications are automated push notifications that get triggered based on your subscriber's location. Geolocation notifications are great for promotions, informational updates, and transactional notifications alike.
Location-based push notifications are great for sending personalized messages. If you understand where your customer comes from, you can find loads of ways to relate to them and serve them better. For instance, Phooto sends push notifications in the local language for higher engagement rates.
Here's the thing, though: There are different types of geolocation push notifications. Let's take a look at each type.
Global Notifications
Global notifications are push notifications that you send out to everyone no matter where they are located. Global notifications are great for company-wide updates. Or if you have content or an offer that all your customers need to see, you'll use global push notifications. Here's an example: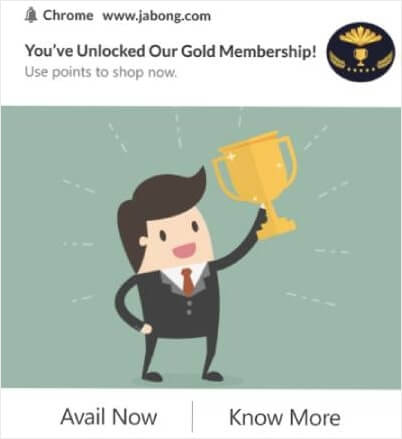 The default option for all your push notifications on PushEngage is to send your notifications globally whether it's a broadcast notification or an automated campaign.
Location-Based Notifications
Location-push notifications are notifications that get sent to subscribers who live in that location. And it's really simple to target subscribers by segmenting them based on their country, state, city, or even by region using PushEngage.
You should know that location-based notifications are not sent based on a users' exact or current location within a city or region. Rather, they're sent based on what location they were in when they opted for push notifications.
In simpler words, geolocation push notifications don't target the real-time location of your subscribers.
How to Set Up a Geolocation Drip Responder in PushEngage
You can set up a drip responder with geotargeting. And it's super easy to do it. We're going to use PushEngage to set up drip autoresponder push notifications. Let's dive into it.
Step #1: Create a Drip Autoresponder
Once you add push notifications to your site, head over to your PushEngage dashboard and go to Automation » Drip Autoresponder » Create Autoresponder: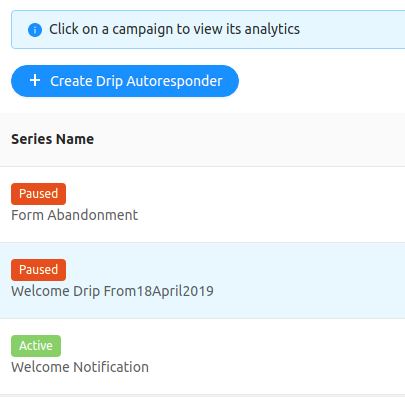 Step #2: Set Geolocation Targeting
Scroll down to Audience Options to select your audience: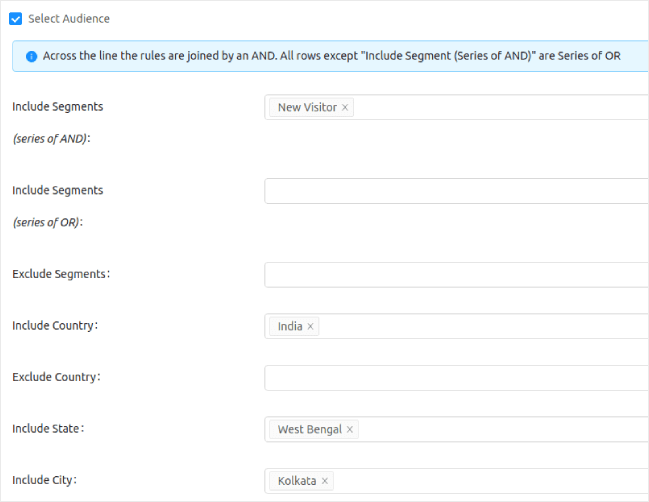 If you already have segments based on location, you can use those to send geolocation push notifications. But most businesses segment their audience by interest. If that sounds like a good fit for your marketing plans, then you can scroll down even further to Geolocation:

Here, you can target your audience in a granular way.
Step #3: Create a Drip Sequence
Configure what kind of series of Notifications you would like to send to your audience: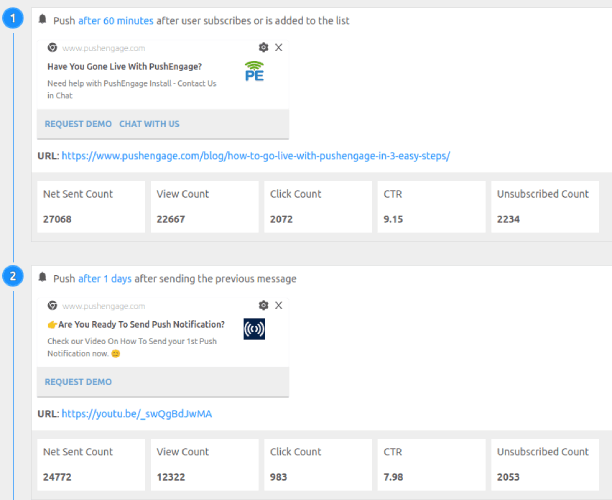 And once you're done, click Save and Launch.
Geolocation Push Notifications You Need to Know About
Now that you understand a little bit about the different types of geolocation push notifications, it's time to check out some amazing examples from awesome brands. Before we begin, we need you to know something.
Your business doesn't have to be anything like the ones we've used in our examples. As long as you have a thriving subscriber base in any location, geolocation push notifications are going to be super useful for your business.
And it's really easy to set up location-based push notifications on PushEngage. So, let's take a look at how you can do it.
Location-Based Push Notification Campaigns
Let's start with location-based push notification campaigns. We'll talk about campaigns that are super easy to set up and you can get some great engagement out of these notifications.
#1. Starbucks
Starbucks is awesome at creating push notifications that feel like a text message from an old friend: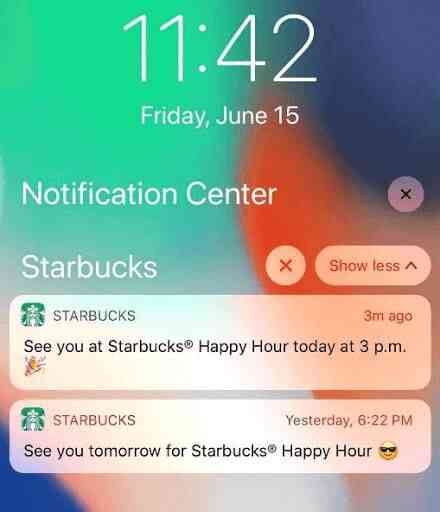 But even more beautiful is the fact that Starbucks made a reminder feel so heartfelt and sweet. At the same time, it's a great use of geolocation push notifications. When you open the notification, you get prompted to find the nearest Starbucks and learn more about the offer.
#2. Ritual
Ritual is a food ordering app that prompts you to try new restaurants in your location by giving you a $5 discount on your first purchase.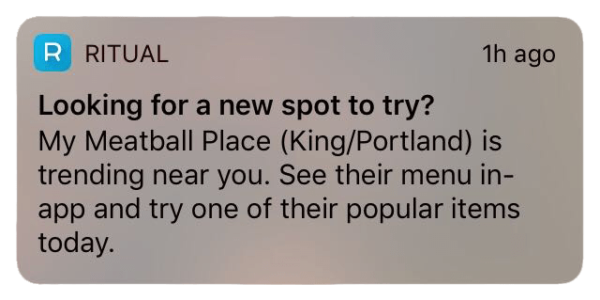 By suggesting local stores, Ritual achieves re-engagement on their app using simple location-based targeting. And the coolest part about the notification is that it was sent at noon, right before lunch. You can easily personalize your push notifications based on your subscriber's timezone as well.
#3. McDonald's
Everyone's heard of McDonald's. It's the perfect place for a hangover snack and a great way to get greasy comfort food for kids and adults alike. What makes McDonald's bigger than most other burger joints is its marketing.

For instance, McDonald's sends out a discount in Toronto every time the Raptors win a game. It's such a simple way to create customer segments for your push notifications and get repeat customers.
#4. Hunter Boots
The worst possible feeling is to run into bad weather when you're pumped up for a trip. Hunter Boots knows how to capitalize on location-based push notifications by sending weather-related advertisements.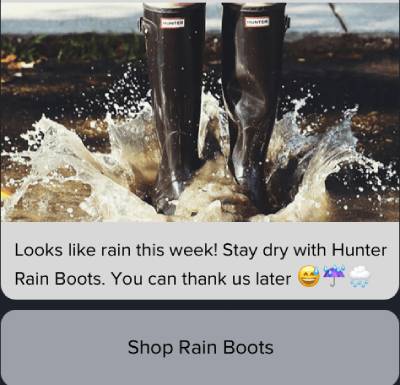 It's an instant sale!
Geo Push Notification Promotions
Geolocation push notifications are a really effective tool for promotions. We've already talked about engagement and a direct result of engagement in any business should translate to sales. The example with Hunter Boots showcases this idea perfectly. So, let's check out some epic promotions from location-based targeting.
#1. Yelp
The Yelp app sends users restaurant recommendations based on their location.

We've already seen some similar examples.
But Yelp does a great job of curating promotions on their platform.
Informational and Transactional Geolocation Push Notifications
Geolocation push notifications are also great for sending out informational and transactional messages such as welcome messages, news, and transactions.
#1. Apple Store
Any article with Apple's genius marketing feels a little incomplete. If you're an iPhone user, you might have seen this one already.
When you enter an Apple Store, you get this push notification:

Talk about epic geolocation push notifications! It's a really cool twist on welcome push notifications by adding geofencing to the mix.
#2. Waze
Waze is a navigation app that sent the sweetest message ever for office commuters:

Imagine returning home from work and halfway through your journey, you realize that you can't even take that route. Just think of the amount of time Waze saved its subscribers when they sent out that notification. Again, it's a really cool way to use geofenced push notifications. The key lesson here is serving your users over making a quick buck with a simple service.
#3. Washington Post
Washington Post publishes a TON of content. And they use a super cool way to send relevant push notifications using the location of their subscribers.

Hurricane Hermine heading towards Florida is super relevant news if you're in or around Florida. So, if you're thinking of ways to send information to your subscribers and still engage them, you should do what Washington post does and focus your messaging on a very specific audience segment.
#4. Beck Taxi
Any eCommerce app or store has to send out transactional notifications. But for transport booking apps like Beck Taxi, transactions are mainly about getting from one place to another. So, when Beck Taxi sends transactional notifications, you can bet that they're triggered by the user's location.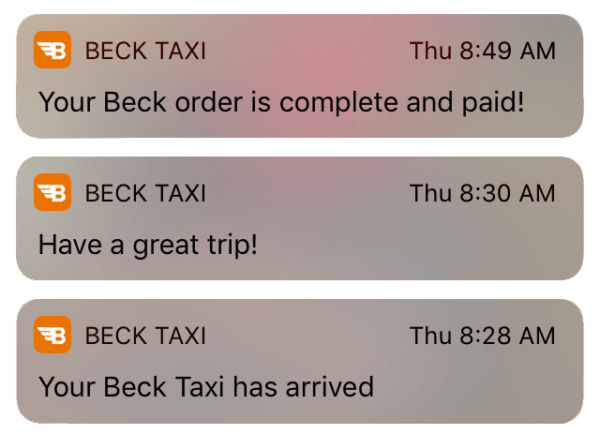 Pro Tip: You can set up triggered push notifications to be sent based on any user action. So, you can use the idea behind these notifications for a lot more than just location-based notifications.
Geolocation Push Notifications Best Practices
Now that you've seen some epic geolocation push notifications in action, it's time for you to go ahead and create your own notifications. But how do you create geolocation notifications that actually work? Let's take a look at some of the best practices for geolocation push notifications.
Increase User Opt-in Rates
The first stage of any push notification campaign starts at the optin. Push notifications are a great tool to increase your repeat traffic, engagement, and sales. So, you'll want to increase your opt-in rates as much as possible.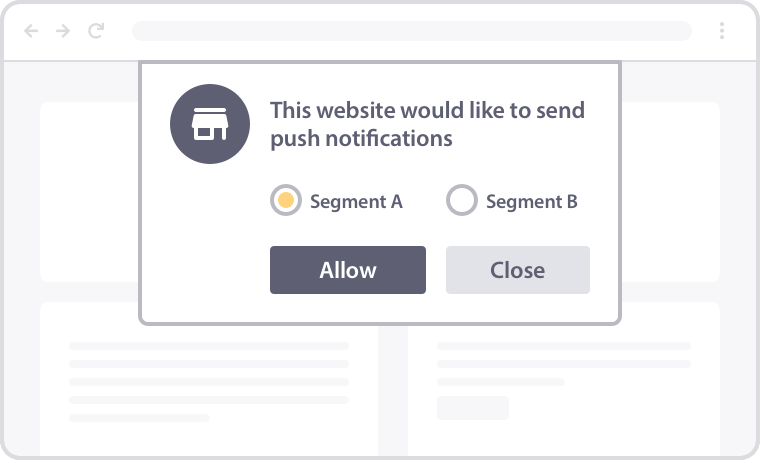 And a great way to increase your opt-in rates is to customize the push notification opt-in box on your site. If you're not sure how to do that, check out this great tutorial on how to style your push notification optins.
Whenever someone subscribes to push notifications on your site, PushEngage automatically stores their location. So, you can always use geolocation campaigns for your business. And the more subscribers you have, the more you can refine your location-based campaigns.
Also, another cool way to increase push notification subscribers is to set up an opt-in for the mobile version of your site as well. If you're running an AMP version of your site, you should set up AMP push notifications so that you don't miss out on getting subscriptions from mobile visitors as well.
Write Conversion-Driven Copy in Your Notifications
Conversions aren't necessarily about direct sales. Sure, sales are an important objective. But sales occur in several stages for most businesses. For instance, if you're running a weekend sale on your site, you can follow that up with a cart abandonment campaign soon after. The copy in both these campaigns will most likely be different.
For geolocation push notifications, we highly recommend that you write copy that gets more clicks.
Pro Tip: If you're just getting started with push notifications, you should also check out our push notification copywriting guide.
Analyze and Optimize Your Push Notifications
A major part of running marketing campaigns is to look at analytics and optimize your campaigns over time.
When you send out a new push notification, no matter how targeted it is, you're probably going to have doubts about how well it will perform. So, a good rule of thumb is to use A/B testing for your push notifications.

BrandsMartUSA used A/B testing really well to drive traffic to their stores using geolocation push notifications.
What's Next?
That's all for this one, folks!
If you're new to push notifications, you should also check out the push notifications best practices guide. We recommend setting up your push notifications using PushEngage. PushEngage is the #1 push notification software in the world. so, your campaigns will be in safe hands. If you're not fully convinced that you should start using push notification campaigns, check out these resources:
And if you haven't already, get started with PushEngage today!