Cart abandonment always brings discomfort to any e-commerce industry. The cart abandonment rate ranges from 69% to 81% across any industry. This continues to grow even when you run several discounted campaign, price drop campaigns, etc.
To recover this falling cart there are several cart abandonment campaigns. Using PushEngage you can implement the same cart abandonment campaign and send reminders or notifications to the subscribers using in the form of web push notification to complete the checkout.
What is Revenue Tracking?
With our new update, you can not only see how many sales you have done using the cart abandonment campaign but can also calculate the revenue generated using the same.
For now, we do not show the currency but we calculate the total amount of the items that were recovered using the cart abandonment campaign.
You can even track the ROI of your campaign by setting up goal tracking. It will help you track the conversions as well as number of transactions from the cart abandonment campaign.
How to Implement Revenue Tracking?
Step 1 – Login to your PushEngage Dashboard and navigate to Automation > Cart Abandonment > Create Cart Autoresponder.

Step 2 – Add the Campaign Name and the triggers are predefined there such as Add To Cart and Checkout. You can set the trigger limit as well

Step 3 – Create a series of notification or the number of times you would like to send notifications to your subscribers on abandoning the cart.
Step 4 – Click on the Your Code Button and copy the code mentioned there. The Add to Cart code should be fired on the Add to Cat Trigger Event and the Checkout code should be Fired and the Checkout Trigger Event.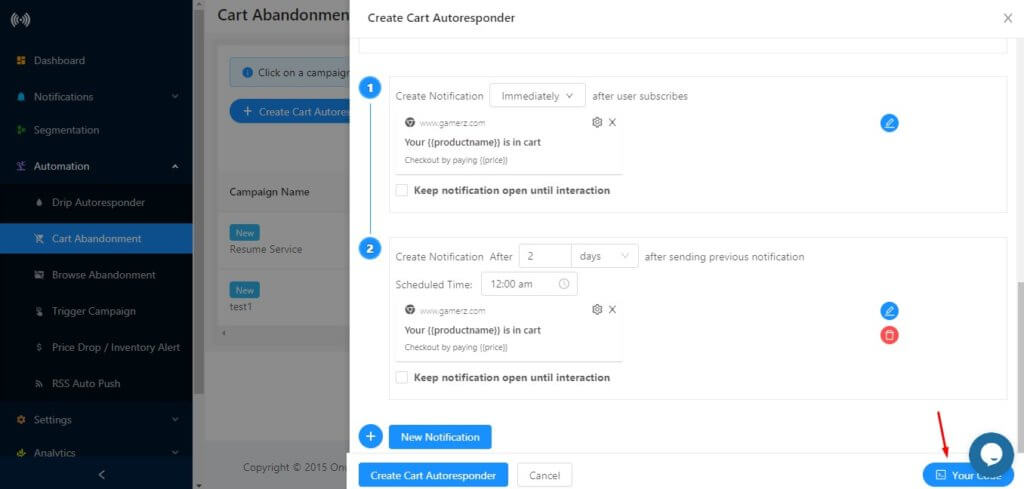 Add to Cart Code: Click on the Add to Cart and click to copy the code.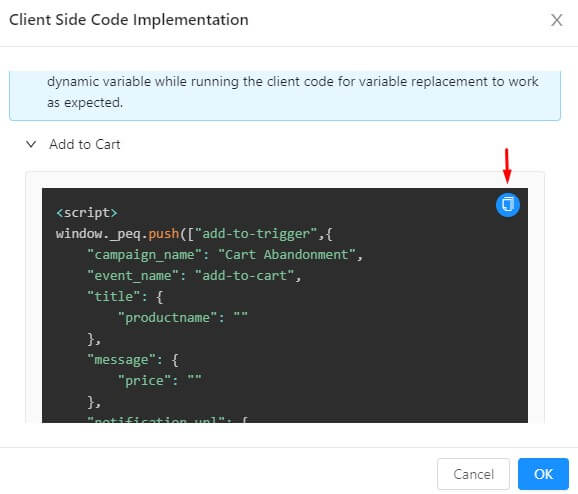 Checkout Code: Click on the Checkout and Click to copy the code.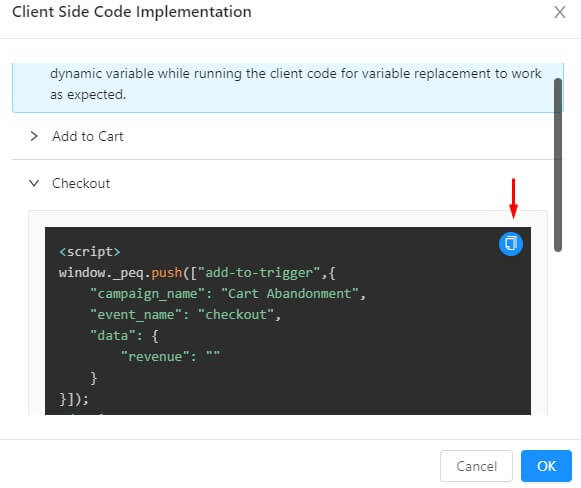 Step 5 – Once done, click on "Create Cart Autoresponder".

That would be it. You can check the analytics by navigating to Automation > Cart Abandonment. Click on the campaign and it will show the Analytics.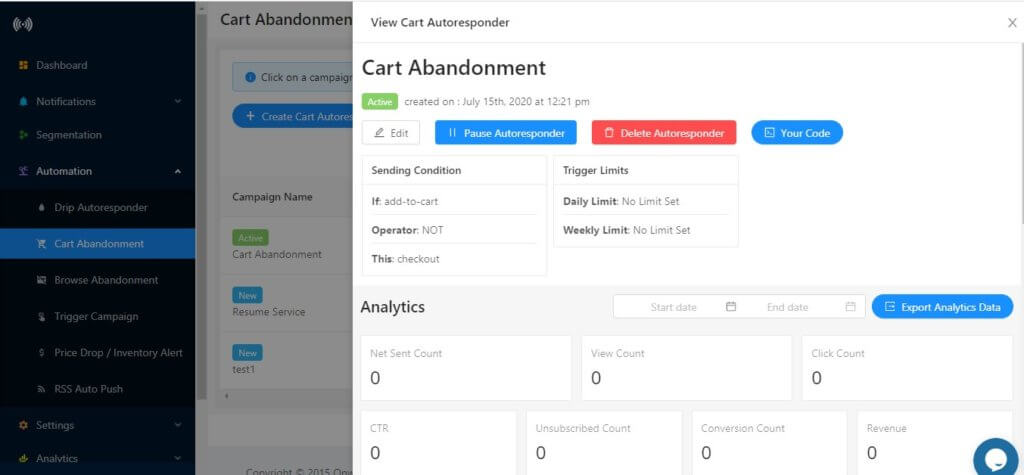 Under the revenue tracking, you can check the revenue you've generated using the PushEngage cart abandonment campaign.
Future Enhancement –
Our developers are working on implementing the same feature that is revenue tracking for Browser Abandonment Campaigns.