Let's start growing your traffic using a web notifications WordPress plugin. Push notifications are a great way to get repeat traffic, engagement, and sales from your website visitors.
But what web notifications WordPress plugin should you choose? Can you afford web push notifications as a marketing channel? How do you make the most of your plugin? Most importantly, do you need a developer to get started?
In this article, we'll take a look at how you can install a web push notifications WordPress plugin on your website with zero coding in less than 10 minutes. We'll also show you how to send a test notification so that you know for sure that everything's working as it should.
Very cool! Let's dive right in.
NOTE: If your website isn't built using WordPress, you can install push notifications using other methods. We don't cover those methods in this article, but if you're interested, check out our installation guide.
What Are Push Notifications?
A push notification is a short, clickable pop-up message that appears on a subscriber's device and redirects the subscriber to your content with one click: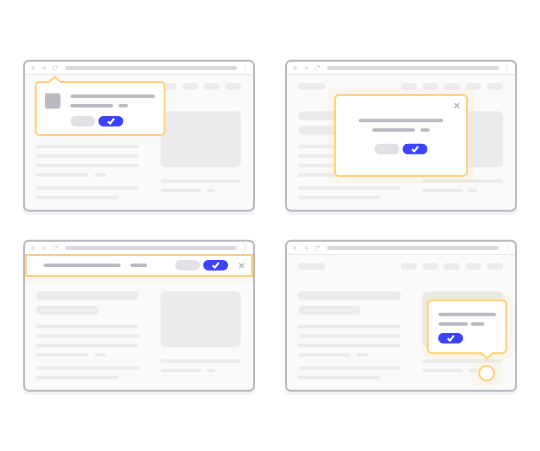 The best part is that the notifications pop up even if the subscriber isn't using a browser. It's like an email blast, but with a web push notification, your subscribers don't need to be using an app to see your message.
In short: WordPress push notification is a simple way to send out a clickable link to your content to anyone who opted in.
With push notification sequences, your audience now has no excuse to ignore you. And unlike social media websites, there is no algorithm throttling your reach to get you to pay for ads. The coolest part about web push notifications is that you can use them to complement your lead magnets and email opt-in forms!
Pro Tip: If you're not using lead magnets yet, you should start creating lead magnets to boost your conversions.
We recommend using PushEngage to get started with push notifications for free. And we're going to do this using the PushEngage WordPress plugin. PushEngage is the best push notification service in the world and we're going to show you how to get started with push notifications using PushEngage.
Why You Should Use a Web Notifications WordPress Plugin
Imagine getting free traffic on autopilot every time you publish a new blog post without the time-consuming SEO campaigns. If you're running a WordPress site, you already know how much work it is to promote your content and get readers to keep coming back to your content.
The good news is that there's an effortless way to generate repeat visitors on autopilot:
Even if… you're just starting and your fan base is still tiny;
Even if… you're running an e-commerce store with hundreds of promos every month;
Even if… you have a mega blog that's already generating a ton of SEO traffic;
The answer is:
A web notifications WordPress plugin. Push notifications can be incredibly powerful tools to get repeat traffic, engagement, and sales on your site. The cool bit is that push notifications are super affordable and you can create a bunch of automated push notification campaigns. You can send notifications on post publish, even for custom post types.
Whether you're running a blog or an eCommerce site, web notifications in WordPress can help you quickly grow your business. Your push notifications can redirect your subscribers to:
An abandoned shopping cart
New blog post, podcast, or video
New content, offers, or sales
Surveys, polls, and feedback forms
One of the simplest ways to use a web notifications WordPress plugin is to automatically send RSS push notifications every time you publish a new post. But if you're running an eCommerce site, you can create a bunch of powerful campaigns to grow your revenue as well. This includes advanced features and campaigns such as:
And more! You can get advanced user segmentation options to send targeted, personalized messages.
The following are just some of the reasons that make push notifications a great marketing tool:
Subscribers need to give you their explicit permission to receive push notifications. So, it's highly likely that you web push subscribers will be want to hear from you.
Push notifications are shorter and demand less attention than email or social media updates. As long as you don't send too many push notifications, you'll have great results.
Most social media algorithms will deliberately limit your reach. So, most your followers never get most of your updates. But push notifications have nearly 100% delivery rates.
Your subscribers can control how their devices display notifications. So, push notifications are way easier to manage than having to unsubscribe from email marketing.
Most of your competitors aren't using push notifications. That means that you have a unique opportunity to create a loyal fanbase for your business.
A lot of eCommerce sites use SMS campaigns to promote their offers. By and large, push notifications are much cheaper than SMS campaigns. Not to mention, you can configure push notifications to include rich media, which is a challenge with SMS notifications.
You can also send push notifications to all Android and iOS mobile devices and web browsers including Google Chrome, Safari, Firefox, Microsoft Edge, and Opera. That range of targeting is something that you just won't get with SMS campaigns.
We did a detailed breakdown of push notifications vs SMS. You should check that out as well.
How to Install a Web Notifications WordPress Plugin
Well, we've already hyped up PushEngage as a web notifications WordPress plugin. The setup process is super easy. So, let's get our step-by-step guide started. And before you know it, you'll be sending a notification yourself.
This tutorial works with any WordPress hosting and even for WooCommerce sites. You can also use it for any website builder in the market.
Step #1: Create a Free PushEngage Account
Head over to PushEngage and click on Get Started for Free Now: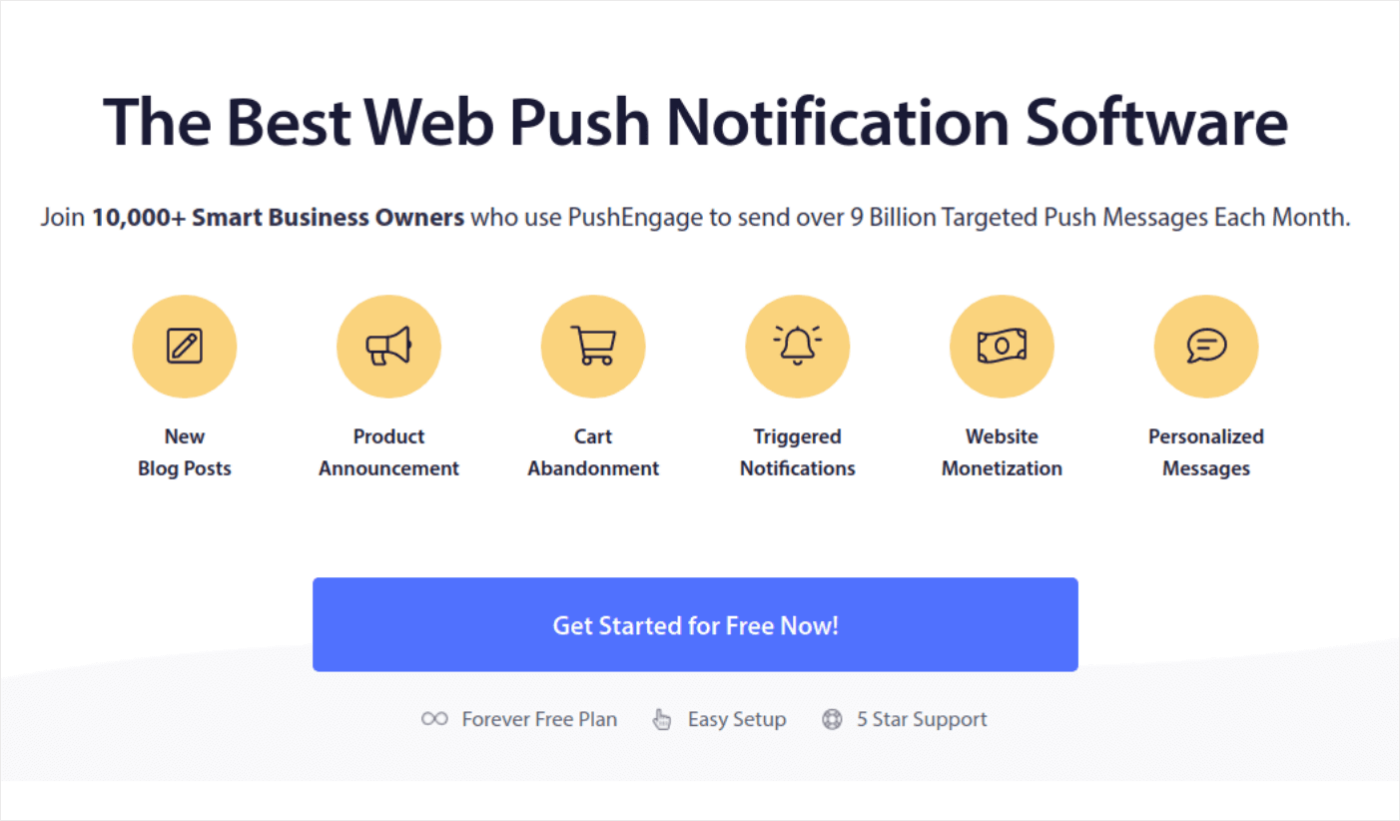 You can get started with the free plan. But if you're looking for the most powerful browser notifications, you should select a paid plan based on your business needs: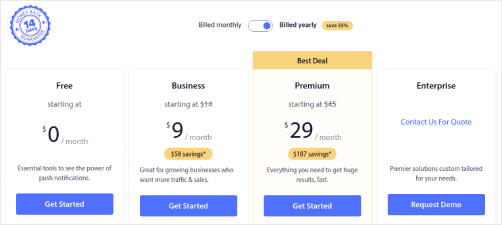 Once you know which plan you want, click on Get Started to create your PushEngage account.
Step #2: Sign Up for PushEngage
Now, it's time to create your PushEngage account. Start by signing up with an email address or a Gmail ID: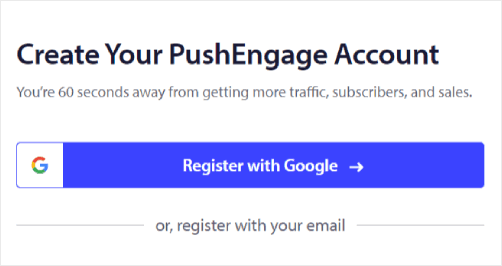 Then, fill out your account details: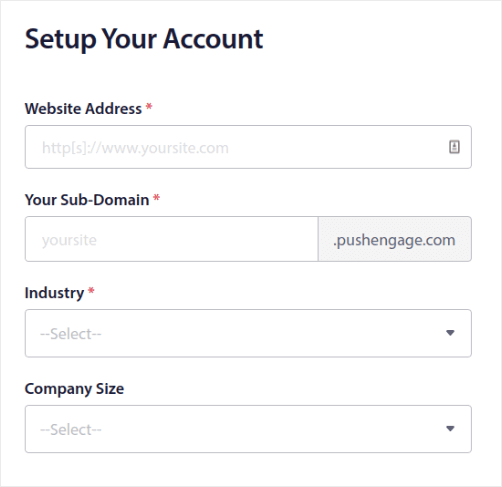 And add your credit card information to buy your plan: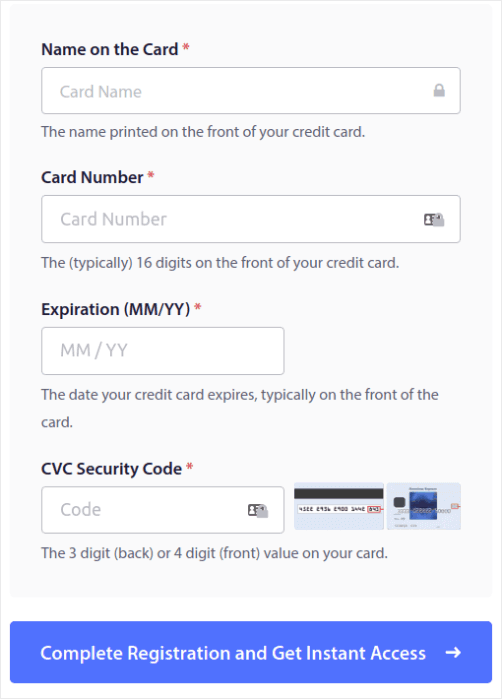 If you selected the free account, then your credit card will never be charged any money until you choose to upgrade your plan. And now, you're all set to get access to your PushEngage dashboard. Just click on Complete Registration and Get Instant Access.
If you've used OneSignal or PushAlert before, you'll see that PushEngage gives you a much cleaner experience from the dashboard. The OneSignal dashboard isn't meant for advanced campaigns. For that, you'll need the API more than the OneSignal plugin.
Step #3: Install the Web Notifications WordPress Plugin
You're done creating your account. So, head over to the PushEngage dashboard and follow along: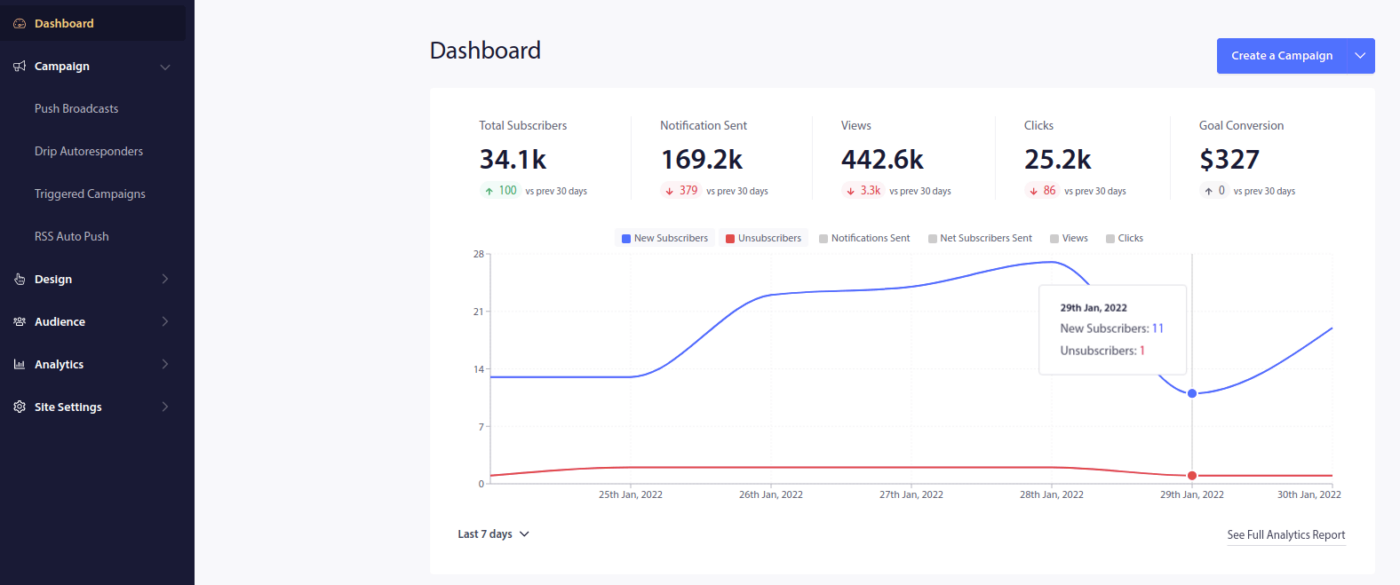 Click on Site Settings » Site Details and click the Click Here For Setup Instruction button: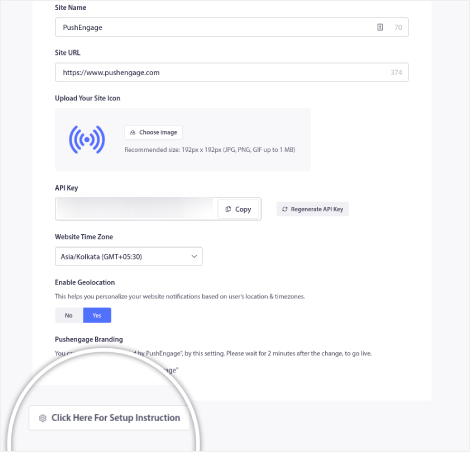 Click on the WordPress tab and click on the Install PushEngage WordPress Plugin button to install the plugin on your website.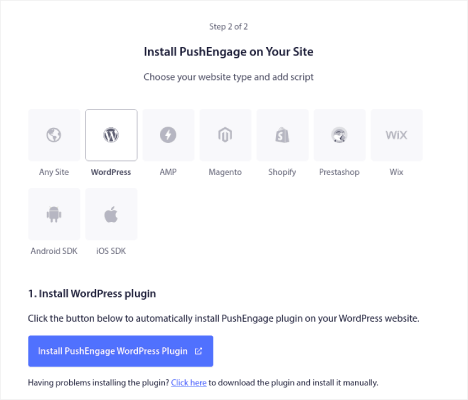 Here's the cool part: When you created your PushEngage account, you already synced your website with your PushEngage account. So, click on the installation link in the PushEngage dashboard to automatically install the PushEngage WordPress plugin to your website.
Step #4: Verify Your WordPress Website
Go back to your PushEngage dashboard and copy your API key from the WordPress installation guide after you're done installing the plugin.

Then, paste it into the PushEngage plugin in your WordPress dashboard under the Setup tab: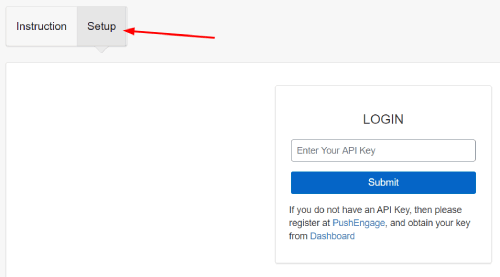 And you're done! You have successfully set up a web notifications WordPress plugin on your website. website. You don't have to login to your WordPress admin panel at all.
Step #5: Configuring the PushEngage Opt-In
Now, head back to your PushEngage dashboard. Go to Design » Popup Modals and select the optin of your choice:

The idea here is to give your visitors a solid reason to subscribe. If you need some help with that check out our article on how to create a custom push notification opt-in.
And if you'd like some templates with a high click-through rate to get started, you should check out this article on high-converting push notification opt-ins.
Step #6: Creating a Blog Subscription Widget
Head over to the PushEngage dashboard and go to Design » Widgets and enable the Subscription Management Widget:

Click the Edit Widget button to customize your widget. Start by customising the look and feel of your widget to match your brand's design language under Look and Design: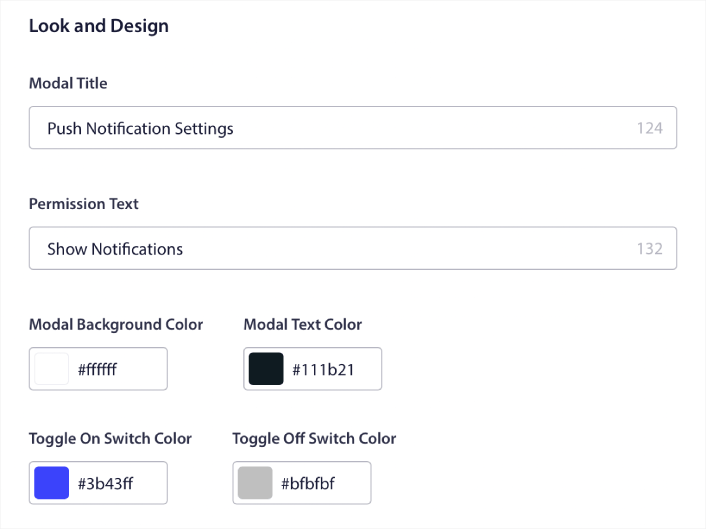 You can create a completely custom popup modal that sticks around even when your visitors don't subscribe from your default popup modal. If the sizing of the popup trigger button feels off to you, you can customise that as well under Trigger Button:
And the coolest bit is that you can also select specific pages to display the widget under Trigger Button Display Rules:

By default, the button will be shown across all pages. But you can create custom targeting rules to show specific versions of the widget by targeting specific:
Locations:

Devices: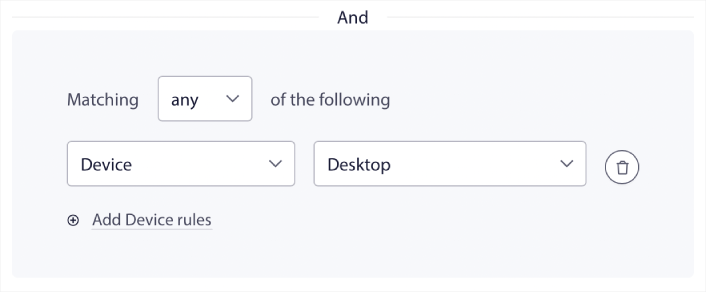 And URLs on your site: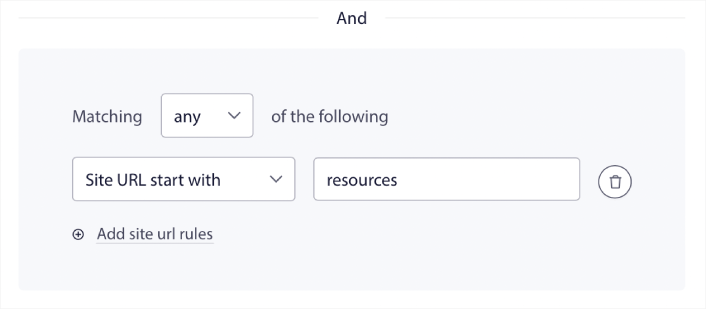 To take things to the next level, you can also allow your subscribers to select what types of notifications they want to receive under Segment Preferences: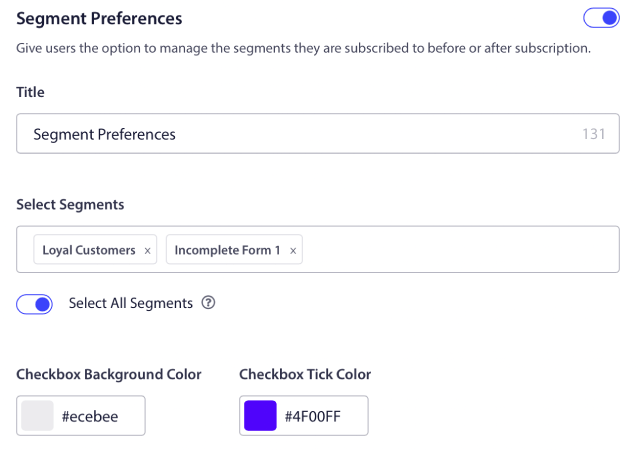 If you enable Select All Segments, then your subscribers will get automatically added to all the selected segments by default: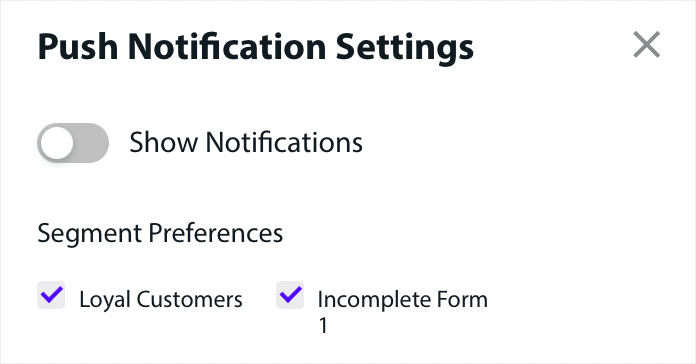 This is an incredibly powerful feature for news sites and blog sites.
If you're running a eCommerce push notifications on your site, a lot of those are going to be triggered push notifications. This includes:
And even custom triggered push notification campaigns.
With the Subscription Management Widget, you can now allow your subscribers to choose if they want to see personalised notifications: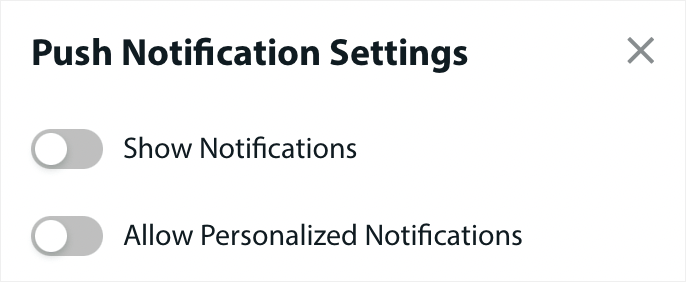 Just enable the option under Personalized Notification Settings:

Next, you'll want to test your web push notifications to see if everything's working alright.
How to Test Your Web Push Notifications On WordPress
You've now set up WordPress push notifications. It's time to implement push notifications. But how do you know if your push notifications are working properly?
We recommend that you create a welcome push notification to test if your setup went smoothly. A welcome notification is a push notification you send a new subscriber to confirm their subscription and welcome them on board.
Here's how to Enable Welcome Notifications in PushEngage. Go to PushEngage dashboard and head over to Campaign » Drip Autoresponders and click on Create New Drip Autoresponder:

Then, name your campaign (we suggest something like Welcome Drip), and under Content, select the option that says, "Send notification immediately after user subscribes":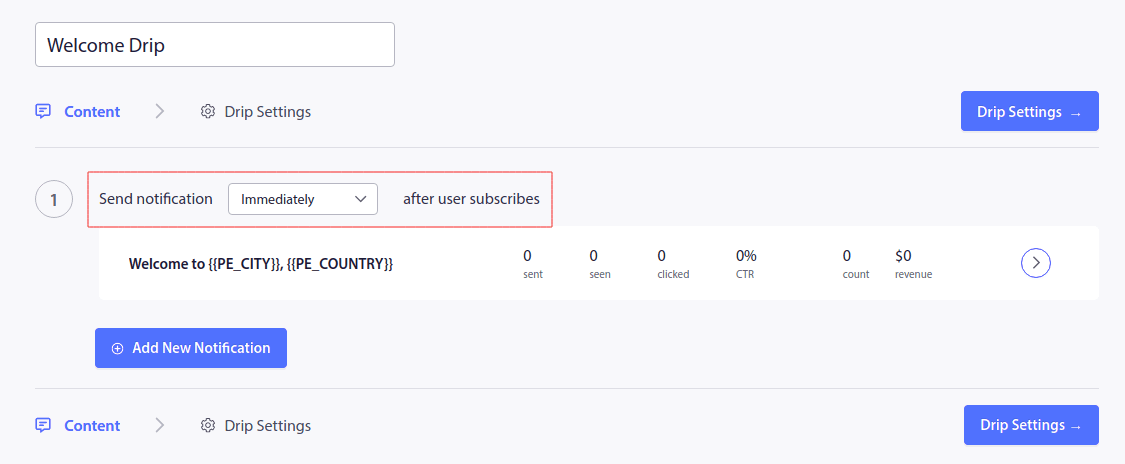 At this point, you can click on the arrow next to the notification to edit the content of your notification. If you have a Premium or Enterprise plan with PushEngage, you'll be able to add more than one notification to create a sequence of automatic push notification welcome messages. Just click on Add New Notification and edit the content.
Once you're done, click on Drip Settings and select the option to send your welcome campaign to all subscribers:

Then, scroll down to set your own UTM parameters to track the push notifications: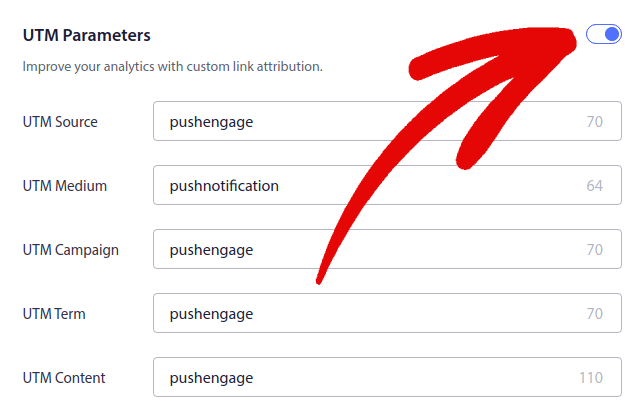 And when you're done, scroll back up and click the Activate Autoresponder button: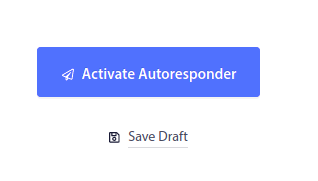 You can schedule notifications by time zone as well. Scheduling can help you get better click rates on your notifications.
And that's all there is to it! You have successfully add web push notifications to your WordPress website.
What to do After You Install a Web Notifications WordPress Plugin
A WordPress push notifications plugin can bring in some quick and easy traffic to your content. But that doesn't mean that your notifications will always be 100% effective.
We suggest that you take some time to read our articles and learn how to supercharge your automated push notifications. Start with our article on push notification best practices.
If you're new to push notifications, you should follow a full-blown push notification testing process before you go live. It'll help you troubleshoot common issues before your visitors see them and start complaining about a broken user experience. And most definitely you should set up Google Analytics to track push notifications.
At their core, push notifications are a marketing tool to get repeat site visitors. So, you should see an increase in traffic after you install a web notifications WordPress plugin.
You should also check out some more automated push notification campaigns such as:
If you're already familiar with email marketing, you could also start reading how to create Drip campaigns with PushEngage. It should be right up your alley.
And if you haven't already, go ahead and give PushEngage a try. PushEngage is the #1 push notification service in the world. So, if you're serious about growing your business, PushEngage is the right option for you.