Rich push notifications would be the future of marketing…
If they weren't already so popular.
Chances are that your competitors are using rich push notifications right now.
So, if you're wondering how rich notifications can help you grow your business, this is the right article for you.
We're going to walk you through all the benefits and show you how you can create your own rich push notification campaigns.
Exciting stuff, right?
Let's dive in.
What Are Rich Push Notifications?
A rich push notification is a push notification that also includes media attachments and interactive elements. You can send a notification with a few hundred characters of text in total. But you can also make your push notifications much more interesting using images, videos, audio clips, and even multiple call-to-action buttons.
But really, rich push notifications are a great way to express things that you simply can't with a text message.
Here's a quick example: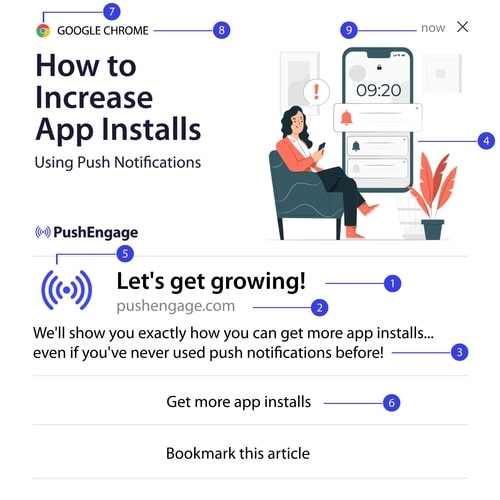 As you can see, there are 9 parts to a rich push notification.
Some of these elements are part of any push notification. The rich part comes from the large image (4) and interactive buttons (6).
This may seem like a very small difference, but it's really not.
We'll talk about some actual examples of rich push notifications in a later segment.
For now, let's understand the basics of a rich notification more deeply.
What Media Types Can You Use In Rich Push Notifications?
Different platforms allow for different types of rich media attachments.
iOS supports images in JPEG, GIF, PNG formats, audio clips in AIFF, WAV, MP3, M4A formats, and videos in MPEG, MPEG2, MP4, AVI formats. You can also include alternative text for a rich notification in iOS. That way, if someone doesn't have rich notifications enabled, they can still see a meaningful push notification from you.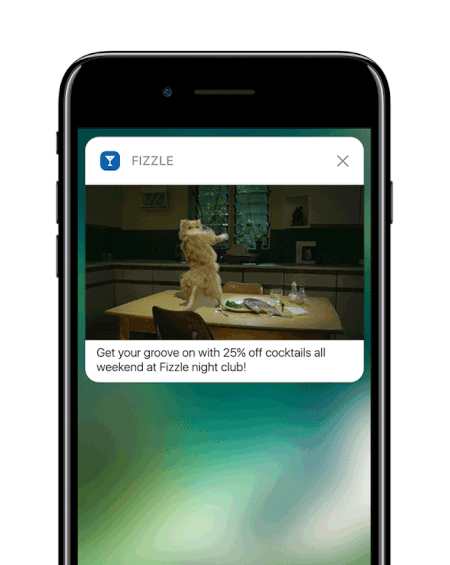 Aww! Ain't that kitty cute?
Android and web push notifications are way more limited. You can only send out image attachments in PNG and JPEG formats.
Pro-Tip: Use images that are 360 px wide and 180 px high. That's the best resolution for your rich media. You can upload bigger images with the same aspect ratio, but it may cause some distortions when it's sent out to different browsers.
Why Use Rich Push Notifications?
Now that we understand what you can do with rich push notifications, let's dive into why you should use them at all.
Rich notifications can be used to:
Grab attention very quickly with images, sound clips, and videos
Improve user engagement with websites and apps alike
Understand user interests and segment them for higher click rates
Convert users immediately with the help of interactive buttons
Stand apart from your competition with more visually compelling content
Let's take a look at 3 real examples of rich notifications and what they can achieve.
#1. Swarm

This push notification gets sent to you when your friend walks into a new location nearby. The interactive buttons allow you to react to a real event in real-time.
It's a really innovative way to attract customers to new locations.
#2. Buzzfeed News

Buzzfeed did an amazing job with a simple text notification with a fresh twist.
Emojis! Yes, you can use emojis in your push notifications too. It's a really simple way to grab attention.
If you notice, there are no fancy images or videos here. Just emojis. Now, try reading the same message without emojis.
See the difference?
#3. Peachmode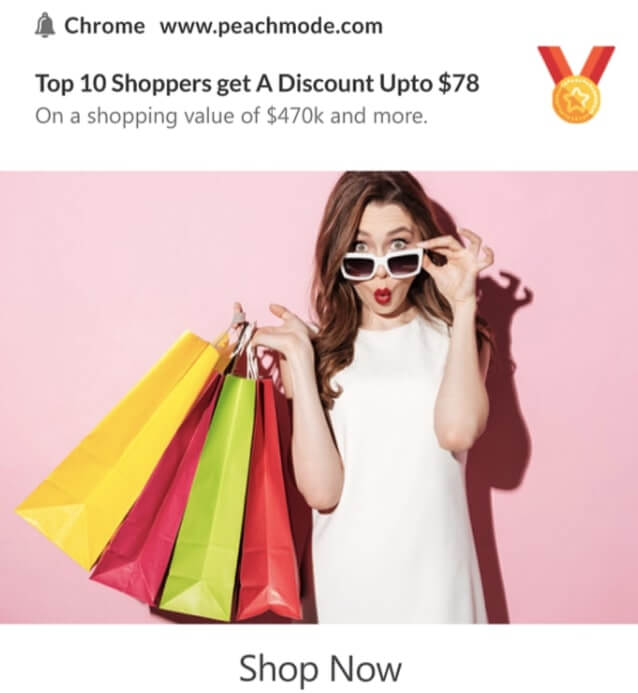 See the huge image in the push notification? That's a stock image, but it makes all the difference in the world.
It's chic and perfectly describes their ideal customer.
Couple that with the offer and it's really one of the most creative push notifications we've seen.
How to Set Up Rich Push Notifications Yourself
It's actually really easy to create rich push notifications.
In fact, there's nothing fancy about it at all. Let's check out how to do it on PushEngage.
We recommend using PushEngage to get started with your push notification campaigns. PushEngage is the #1 push notification software in the market and we're using it for the walkthrough up next.
Head over to your PushEngage dashboard and go to Notifications » Create » New Notification:

As you can see, that's where you draft the title and text for your notification and you can use emojis here.
Next, head over to the Notification Large Image and add an image here:

You can also add a couple of buttons in the Multi-Action Notification section: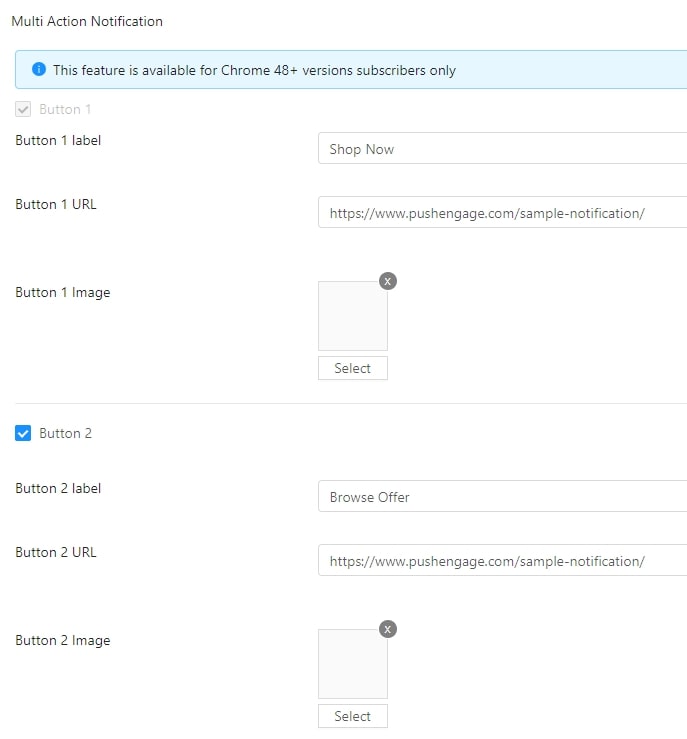 And that's all! You're done.
Wrapping Up
Thanks for reading this far.
Here's a little bit of hush-hush news: We're launching app notifications really soon!
You can already create automated push notifications using PushEngage. Once we roll out app notifications, you'll be able to send web and app push notifications right from your PushEngage dashboard. Soon, we'll be adding more features and media formats that will blow your mind.
So, if you haven't already, get started with PushEngage today.