Do you want to segment subscribers at the time of subscription in web push? In this article, we will show you the exact steps to segment subscribers right at the time of subscription.
Segmentation means dividing buyers with similar characteristics into small groups to send personalized web messages. If you can segment or group your users based on their preference, or based on their browsing pattern, you can then send out relevant notifications. This will get you higher click rates, and lower unsubscribes. One of the important push notification features is segmentation. Push Notification allows you to segment your subscriber based on different rules. As a push notification opt-in strategy, you can now segment users at the time of subscription. Before signing up with any push notification service, make sure to check out segmentation feature. At PushEngage, we understand how important is segmentation. That's why PushEngage offers 6 different ways to segment push subscribers users.
One fits all strategy always fails in marketing and to cope up with that segmentation is the key. With PushEngage you can segment users in many ways.
You can not only segment your users based on their browsing habits (using our javascript library) but with our new release, you can also do segmentation at the time of subscription.
Segment At the time Of Subscription
This is a type of user preference based segmentation that you can do using PushEngage. You can also call this a User-Driven Segmentation. Here the user gets to choose any one of the two choices he is provided. A few of the examples are – Get alerts on KKR vs Mumbai Indians, Manchester United Vs Barcelona, Men vs Women, Buyer vs Seller and you can think of options for your site.
The way the segmentation at time of subscription works is –
When the user will subscribe we get the subscription device id, along with Geo segments (location), device type.
In this case, we will also collect the user preference at the time of subscription, and it is stored as Custom Segments
Here's a breakdown of how you can do segmentation at the time of subscription:-
Step1 Login to your PushEngage account and you'll be redirected to dashboard.
You will have to first create the segment. So for that click on Segmentation. Click on Create New Segment.

Then click on Create Segment (On the right side of the dashboard). Add the number of segments you want to and click Create.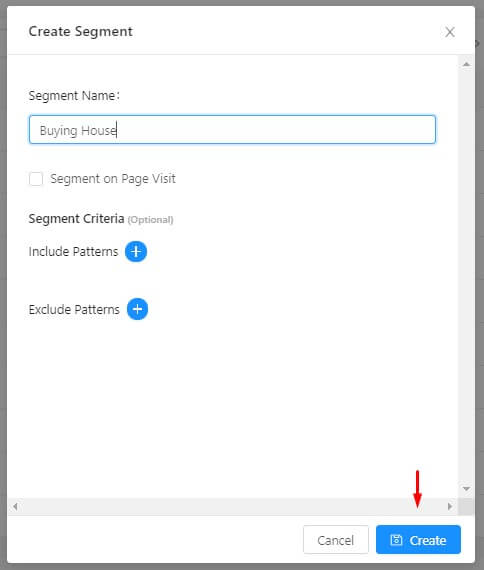 Step2- After creating the segments go to Settings > Subscription Settings> Subscription Dialog Box.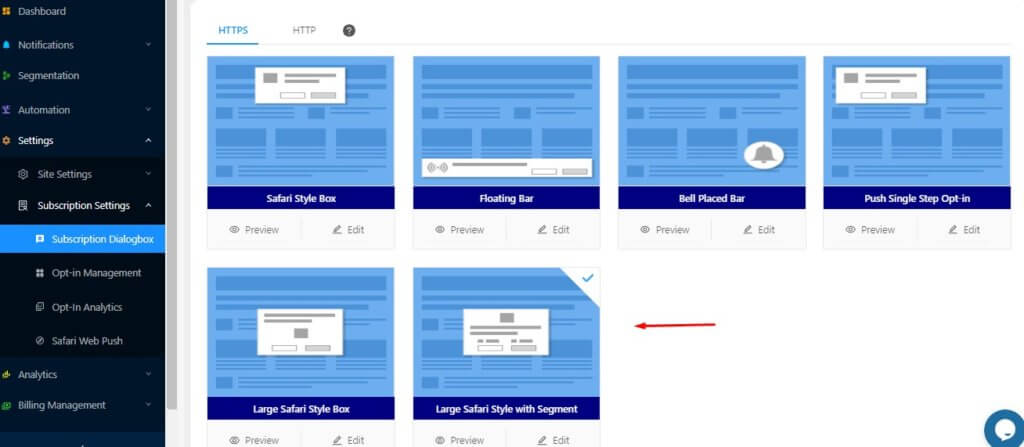 Click on Edit of Large Safari Style with Segments as Dialogue Box Type.
Click on Options
Then click on Choose Segments and select any of the two segments that you've created before.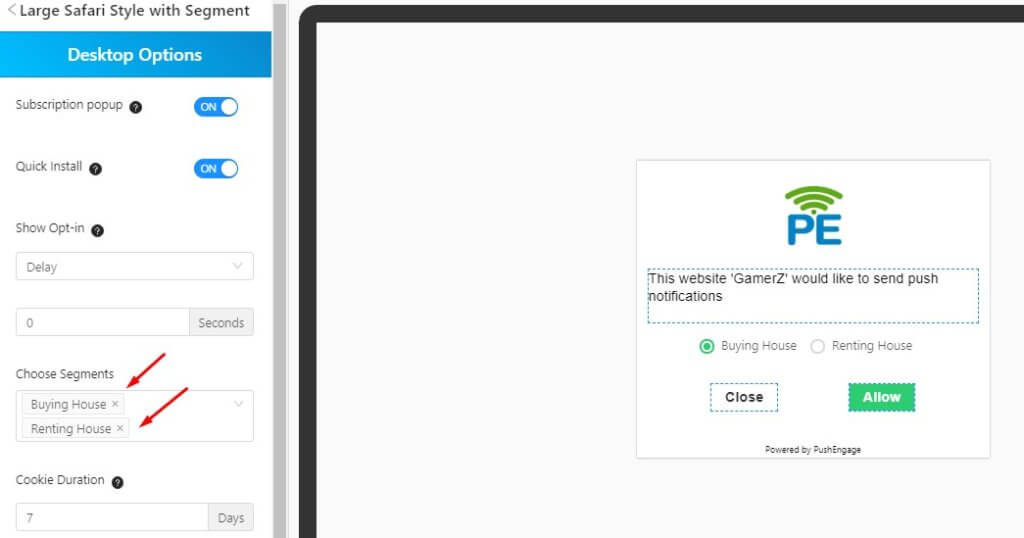 Please note if your site is an HTTPS site, then you need to select Quick Install as Yes
You can check the preview on the right side of the dashboard.
Click on Edit to make changes in the intermediate page and save the changes once it is done.
On completion of the steps mentioned above click on Save and Publish.
On doing these steps visitors will not find the below opt-in popping first. It will appear as a second opt-in.

Large Safari Style with Segments works with both HTTP and HTTPS websites. As soon as a new visitor will visit your website he/she will get opt-in like this with two options. If he/she clicks on option 'A' he/she will receive notification of that particular category and vice versa.
So here the visitor is supposed to click on any of the options and submit it.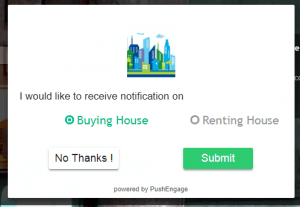 On clicking the Submit option the visitor will get another opt-in which will ask him to allow or block the push notification. To receive notifications further he/she must click Allow.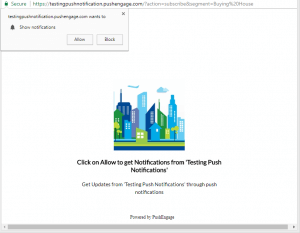 The visitor will be added to the segmented group automatically and will receive the notifications likewise.

This is all that you have to do and users will be added in the segments in real-time.
Other Segmentation options that PushEngage allows:-
Device Type.
URL Based Automatic Segmentation.
Custom Segmentation Based on Your Site Action.
Location-Based Segmentation.
In Device Type Segmentation the device which the visitor used to subscribe to the push notifications for your site is captured. Click here to know more about it.

In URL Based Automatic Segmentation if the visitor matches the URL patterns he is automatically added to a particular segment. The URL pattern is specified by the admin and using dashboard you can make customer segments as per your requirement.
Click here to know how to use URL Based Segmentation with autoresponders to send personalized notifications
In Custom Segmentation Based on Your Site Action, you can here add or remove your subscriber using this code. You can add segments here based on any actions of your site.
You can add a segment to a subscriber on any event on your site with pass parameter as a "segmentname"
Legacy Version
_pe.addSubscriberToSegment('segmentname');
You can also remove a subscriber from a particular segment by passing parameter as a "segmentname".
Legacy Version
_pe.removeSubscriberFromSegment('segmentname');
In Location Based Segmentation you get a chance to segment users on the basis of their country, state, and city. You can send them notifications according to their time zone.
The most common thing in all the above steps is the user is not aware of which segment he is added. With the new release of PushEngage, the user gets the control of adding himself in a new segment and is likely to receive notifications accordingly.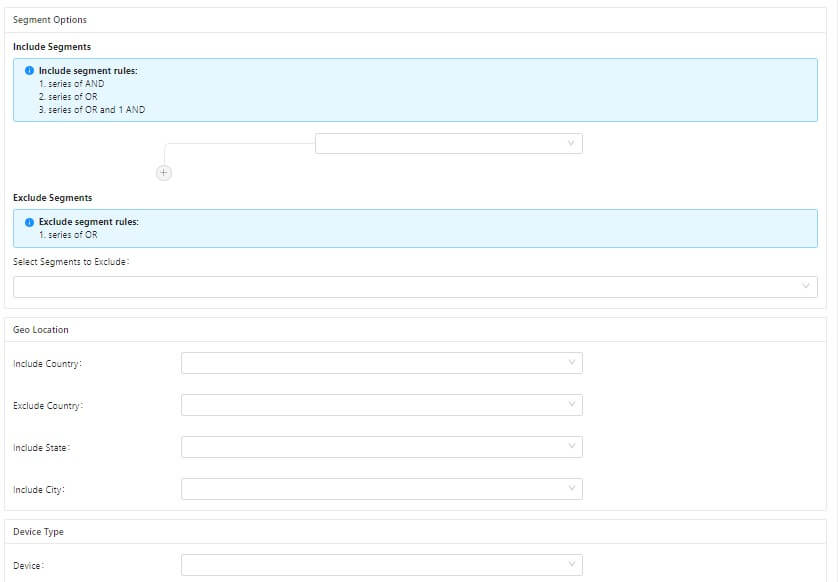 Some Advantages of using Large Safari Style with Segments –
The user will be segmented at the time of subscription that is in real-time.
You don't have to add any extra code to segment users separately.
Segmentation most often gives better results as it is customized to user preference. Further, you can improve the performance by sending rich push notifications and add a large image instead of a simple notification. To add more value to your push notifications and users you can personalize your push notification. This can be done by adding their name or some other details in the notification. You can take a step forward and send push notifications on customer's birthday, anniversaries or on the festive occasions. That can be done to make big sales announcements or other special offers.
You can see this video link for understanding other ways of segmenting push notification users:
This completes the steps to segment subscribers at the time of subscription in web push. Implement this on your push notification platform to segment subscriber from the beginning.