Do you know about the Drip campaign using push notifications? Are you using drip push notifications on your website? Do want to know the use cases of Drip Web Push Notification? In this article, we will show you all the important use cases of drip web push notification that is applicable across the industry. You can apply them to your website and increase customer engagement.

So, what is a drip push notification?
For drip push notifications, you need to have a segment. You can create drip push notifications only with segments. Drip push allows you to send a series of push notifications to every new subscriber who enters the segment.
Difference between regular notification and drip notification
In drip you can send series of push notification not just single notification
You can schedule each of the notification when to be delivered.
It gets auto-triggered. Whenever a new subscriber enters the segment, the drip will get triggered for that subscriber.
Drip web push is one of the most powerful push notification campaigns. It is a proven hack to double your engagement. You can create multiple campaigns depending upon your objective. There are multiple case use cases where you can implement a drip campaign.
6 Best Use Cases Of Drip Web Push Notification
Welcome Drip Campaign
Most of the new subscriber will not know about your brand and product. Using Welcome Drip, you can nurture new subscribers and educate them about your brand. Add series of push notifications to showcase different products and services you offer. Also, show the reasons to trust your brand. This is a common use case of drip web push notifications.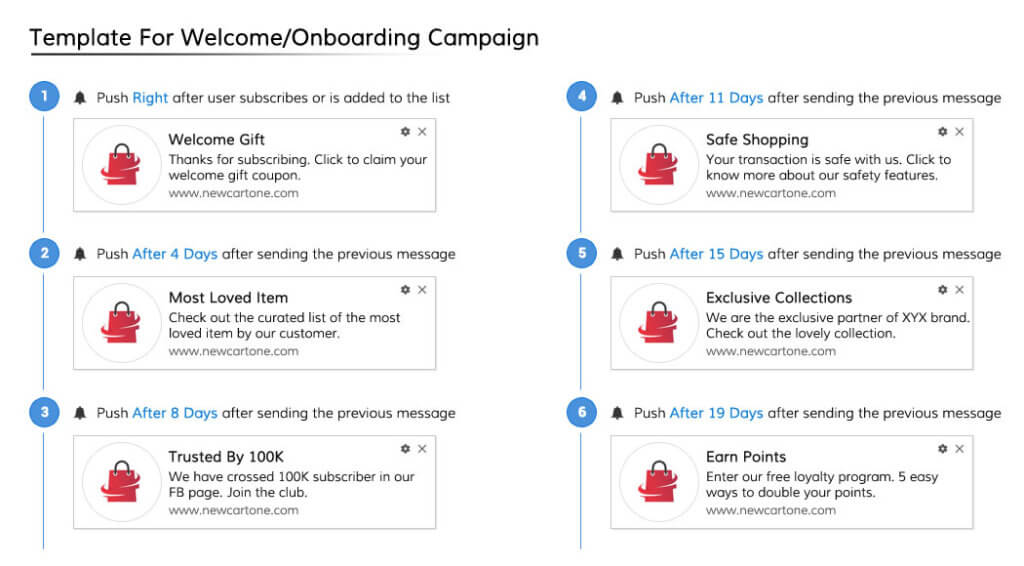 Welcome Drip is the 1st series of notification user will receive when they subscribe. Using the welcome drip campaign, you can implement the 60-90 day customer success strategy. The goal of the welcome drip campaign is to onboard, educate, re-engage, convert to a customer and retain them. You can use the onboarding template to get started.
Purchase history drip campaign
Using the drip feature, you can target customers based on their purchase history. On the push notification platform, create segments for different categories. Now, whenever subscriber makes any purchase put them in respective categories.
Now create a Purchase Drip. The goal of this drip is to cross-sell or upsell products. E.g you have a mobile segment. In the drip campaign for the mobile segment, show the top-selling mobile phones, headsets, chargers, or anything that complement the purchase. Add a series of notifications showcasing different products to be sent at regular intervals of time to keep the customer engaged.
Take an example of a travel site. You have a segment for beach holidays. Subscriber has booked a beach holiday in Australia. Create a drip showcasing a similar kind of travel destination. Moreover, you now know the timelines when a subscriber makes the booking. In your drip, you can even schedule when to send the notifications. You can schedule it to be delivered after 10 months when the customer is again planning for holidays.
Drip campaign based on Interest level
Your website has multiple Call To Action points. E.g. you have a video, pdf, newsletter or any other CTA. You know that if the customer takes any action, it shows the interest level of the customer.
Create segments for each of the CTA. Whenever subscriber takes any action on the website, they will be put in respective CTA segments. Now create a drip campaign for each of those segments.
E.g. you are selling a SaaS product. Now if someone has watched the product video, it shows the interest level of the product. Using drip, send them a series of notifications about the product and its benefits. This is where you need to put your strategy to convert this potential lead to a customer. Identify all the points that make your product stronger and add them to your Interest Drip push notification Campaign.
Subscription page drip campaign
Users can land on any page of your website and subscribe to web push notifications. Segment users based on the page they subscribed to push notifications. The use case here is to capture the user interest level at an early stage. Create a segment for each of the important pages. Next is to create a drip campaign for each of those segments.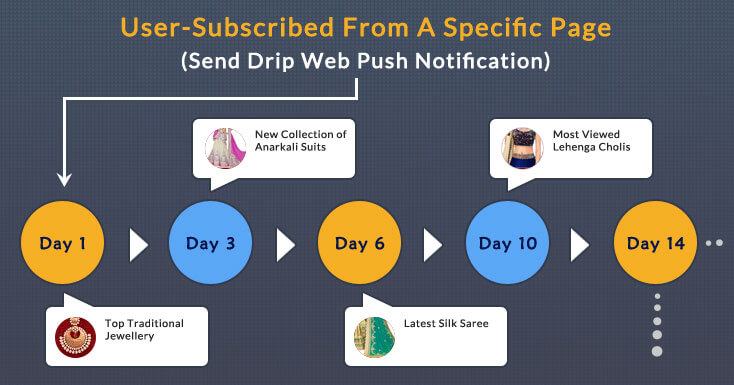 E.g. you have a blog that writes about SEO, AdWords, Affiliate business, and more. Now the user has landed on an article about AdWord optimization and has subscribed to your push notification from that page. The user must have searched for AdWord related topic and has landed on your page. Your drip campaign will get triggered and the subscriber will start receiving AdWord related articles to keep them engaged. ShoutMeLoud created a drip campaign and increased the conversion rate by 10%.
Drip web push campaign based on wishlist
Your website has a feature that allows customers to save an item in the form of a Wishlist. It allows the customer to keep a list of products that they wish to buy. This indicates the interest area of the subscriber. Create segments based on the wishlist. You can then create a drip campaign to target such subscribers.
Save item drip push notification campaign gives you a heads up about the product or category subscriber is interested in. The subscriber hasn't purchased the product yet. Using the drip campaign, you can expedite the buying process. Send notification showing the benefit of the product, the reviews that the product has generated.
Subscribers may save lots of items on the Wishlist. Identify which are the most important products from the business point of view and create the drip for such items only.
Loyalty points based drip push notifications
Loyalty programs are one of the best ways to keep retain existing customers and increase repeat purchase. Using push notifications, you can boost your loyalty program objectives.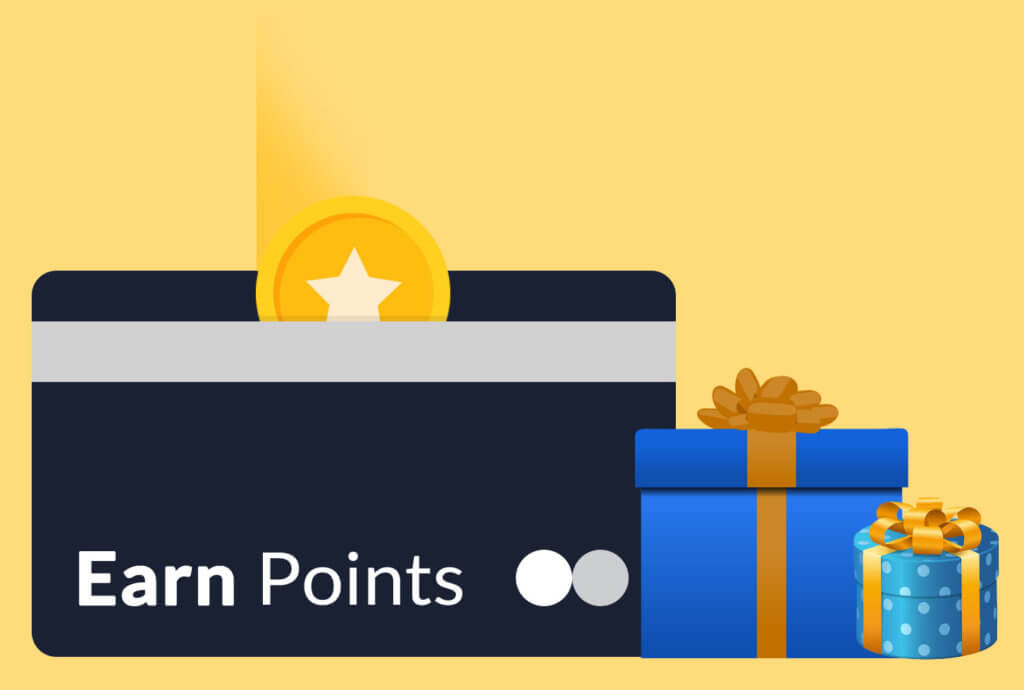 Create segments based on loyalty points. E.g. you have created segments for 100, 200, 300 loyalty points. Any customer who has earned loyalty points below 100 will be in segment 100 and similarly for others. Drip campaign for segment 100 will showcase the benefits of having 100 loyalty points. It will also share the top-selling products that can earn them high loyalty points. You can even device your strategy around the same to retain customers and increase repeat purchases.
Loyalty programs create a strong relationship with the customer. They will be more than happy if they are getting something back while shopping at your website. Using the loyalty point drip push notification, you can trigger that emotion to increase conversions.
Now you know the most effective and converting use cases of drip web push notifications. Drip allows you to create targeted and personalized push notifications which are very important to increase the CTR of push notifications. You can easily boost website traffic using push notifications. Configure drip campaign and start re-engaging subscribers.
If you need any help in implementing a drip campaign, reach out to us at care@pushengage.com.