Are you comparing the best WordPress hosting services to quickly launch a new website?
The right hosting service will be fast, reliable, and affordable enough for you to launch a new business. Most importantly, you must find one that doesn't slow down your growth with technical issues.
But what's the right WordPress hosting service for you? There are hundreds of reseller hosting companies out there. Most of them seem to offer amazing features but those sales pages can be very misleading. And a lot of their features are either useless or simply standard features passed off as something epic.
So, what should you look for in your hosting service? How do you tell the difference between junk hosting services and legitimate business solutions? Can you set up a website quickly? How do you know if a hosting server is reliable or not?
And can you get a good deal?
In this article, we're going to answer all these questions and more. We tested the best WordPress hosting services in the market so that you don't have to waste your money and get ripped off in the process.
Let's dive in.
What Are WordPress Hosting Services?
WordPress hosting services are vendors that sell website hosting servers that are compatible with WordPress sites. If you want to launch a site using WordPress.org, you need to get a hosting service that can support the software.
Think of WordPress hosting services as a broker that helps you get a storage space for rent. You can use this storage space to save your files, images, and content. At the same time, you can also use WordPress and WordPress plugins to build any type of website you like.
The best WordPress hosting services are optimized for WordPress so that your site runs more effectively and efficiently.
Why Do You Need WordPress Hosting Services?
If you want to make a website using WordPress.org, then yes, you need a hosting site. But if you're using WordPress.com, you can obtain a free domain and a WordPress website without signing up for hosting.
So, why do you need WordPress hosting services at all?
Before you make up your mind, you should check out this article on the difference between WordPress.com and WordPress.org.
The short version is that you need WordPress hosting services if you want to control how to monetize your site. You also need WordPress hosting if you want to use some of the best plugins and themes for WordPress.
How to Choose from the Best WordPress Hosting Services?
Now that you understand what WordPress hosting services are and why you need them, it's time to understand how to choose one. In our list of WordPress hosting services, we took 4 important factors into consideration:
Speed: The server load speed should be under 300 ms
Uptime: A reliable hosting service will have at least 99% availability
Customer Service: To get help with any technical issues that may come your way
Your Needs: The hosting service should work with your business size and type
These are all simple enough to understand. But what about the last criteria? You need to know a little more about hosting types to figure out the best WordPress hosting services for your business needs.
Here are the top 5 WordPress hosting options:
Shared WordPress Hosting: The most popular type of entry-level WordPress hosting used by beginners offers hosting via a large shared server. Best for small businesses and blogging.
Managed WordPress Hosting: Premium hosting for WordPress specifically offers bells and whistles that keep you worry-free. Best for established sites or bloggers who aren't tech-savvy and can justify the expense.
WordPress VPS Hosting: A Virtual Private Server (VPS) can combine the privacy and control of a managed hosting platform while still using a shared server. Best for medium businesses and high-traffic blogs.
WordPress Dedicated Server Hosting: A physical server you'll lease from the provider for full control. Best for extremely high-traffic sites and blogs with a system admin.
Free WordPress Hosting: There's free web hosting out there, but most have some sort of catch like requiring you to put their ads on your site. We highly recommend avoiding free WordPress hosting for anything besides a hobby project.
Unless you're running a high-traffic site already, we recommend using shared WordPress hosting or managed WordPress hosting.
NOTE: Even if you already have a WordPress site and you're looking for web hosting options that are more affordable, our list is perfect for you. Most of the services listed in our article come with free site migration. If you have your site hosted somewhere else, you can easily shift hosts.
Best WordPress Hosting Services in 2023
We now have clear expectations for this list of the best WordPress hosting companies. So, let's take a look at our list of the best WordPress hosting choices.
Pro Tip: Use the links in our article to get exclusive discounts. We partnered with these hosting services to bring your deals that you won't get anywhere else. We still wholeheartedly recommend using these services with or without our discount. But if you can get a sweet deal right here, why not take it?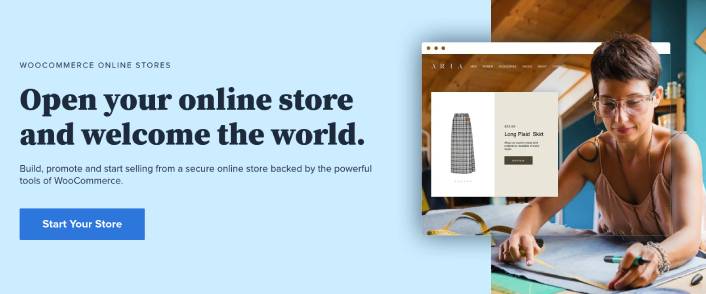 Bluehost is one of the most popular WordPress web hosting services. It's officially recommended by both WordPress and WooCommerce as a WordPress hosting service. The beautiful part is that you can get shared hosting to run a WordPress site, which is pretty affordable.
Over time, as your site scales, you can also upgrade to a higher plan to accommodate your growth. And yes, you get an SSL certificate and a domain name for a year as part of your hosting plan with Bluehost.
You don't have to worry about your website being slow just because there's a spike in traffic. And any WordPress hosting plan with Bluehost comes with an amazing 1-click install for WordPress.
Again, keep in mind that this is only the cost of setting up your site. You'll need to spend more money to extend your store's functionality using themes and plugins.
On top of that, prices start at just $2.75 per month.
Speed: 689 ms
Uptime: 99.99%
Customer Support: 4/5
Get started with Bluehost today!
SiteGround is another incredibly popular WordPress hosting service with epic reviews and ratings from users. It's highly recommended by premium WordPress theme and plugin creators such as Elegant Themes. It's also recommended by WordPress.org.
Along with a one-click WordPress installer, you also get a bunch of free plugins from SiteGround that can help you create a powerful website.
You also get a free email server, CDN, and daily backups with SiteGround's hosting as well. SiteGround has been in the web hosting business for 18 years now with 2.8+ million customers. So, you know that you can trust them to always bring their A-game with their customer support team.
Pricing plans start from $3.99/month.
Speed: 649 ms
Uptime: 99.98%
Customer Support: 5/5
Get started with SiteGround today!
DreamHost is yet another officially recommended web hosting service by WordPress.org. DreamHost is focused on helping small businesses grow with super affordable shared hosting plans.
It's not the most sophisticated web host on the planet, but it's a really good choice to help you launch your first website. DreamHost offers hosting without the complicated features and learning curve. Anyone can get started with it.
And if you use DreamHost's web hosting solutions, you get a custom dashboard, a one-click WordPress installer, automatic updates, unlimited space, unlimited bandwidth, and free SSL certificates.
You also get SSD storage with all their plans. So, your site will perform at lightning-fast speeds.
Prices start at just $2.95 a month.
Speed: 445 ms
Uptime: 99.90%
Customer Support: 4/5
Get started with DreamHost today!
WPEngine is a managed WordPress hosting service. They have an impressive client base including Asana, PBS, Yelp, and more. So, you know that you can trust their services. So if you've got a high-traffic site and need top-notch hosting services, WPEngine is perfect for you.
The way WPEngine gives you high-speed hosting is by using Amazon Web Services (AWS). Using AWS straight up can be super difficult and you'll likely need a cloud computing architect on your team to set up a simple WordPress site. In fact, Amazon has its own courses on how to use Amazon's Web Services effectively.
But WPEngine creates a WordPress management panel for you. This way, you can use high-speed hosting from AWS without having to learn cloud computing. To sweeten the pot, you get StudioPress themes with every WPEngine plan.
Prices start at around $20 per month.
Speed: 582 ms
Uptime: 99.99%
Customer Support: 4/5
Get started with WPEngine today!
HostGator is a market leader in the shared web hosting space for WordPress. They have affordable plans with a 45-day money-back guarantee. On top of that, you also get landing page builders, unlimited bandwidth, and $100 in Google Ads credit.
Everything about HostGator makes it a good choice for small businesses that are just getting started with digital marketing. You also get 24/7 support so that you don't feel the burden of having to launch a business site alone.
Prices start at just $2.75 a month.
Speed: 691 ms
Uptime: 99.96%
Customer Support: 5/5
Get started with HostGator today!
Hostinger is a fast-growing and popular hosting company. Hostinger's many great features include unlimited bandwidth, a free domain, and free SSL. You also get a 30-day money-back guarantee. As with other shared hosting services, you get a 1-click installer for WordPress with managed updates.
We love that they have 24/7 live chat support. Also, you can choose from one of seven data centers in the USA, Europe, Asia, and South America. Hostinger also has a free hosting service for hobby projects. But we don't recommend it at all.
Prices for Hostinger start at only $2.19 per month.
Speed: 146 ms
Uptime: 99.9%
Customer Support: 4/5
Get started with Hostinger today!
GreenGeeks is the most eco-friendly hosting service on this list. as with any of the other WordPress hosting services, you get a free domain name, an SSL certificate, and SSD storage. But along with that, GreenGeeks commits to giving back 3x the energy they consume to serve you.
With GreenGeeks, you get a ton of great features along with high-speed hosting and web security. Plus, they've got a 30-day money-back guarantee and 24/7 support. GreenGeeks gives you a managed WordPress hosting panel that's more advanced than many of its peers.
And their prices start at just $2.95 a month.
Speed: 697 ms
Uptime: 99.92%
Customer Support: 5/5
Get started with GreekGeeks today!
What's the Best WordPress Hosting Service for You?
Now that you've seen the best web hosting services for WordPress and what they have to offer, it's time to decide which one is right for you. We recommend getting Bluehost. It's flexible enough to support any type of business. At the same time, you get powerful features to help you grow without any of the fancy bells and whistles of other hosting services.
After you've bought your WordPress hosting, you'll need to find different ways to improve your marketing using WordPress plugins. You should start by checking out:
Push notifications are a great marketing tool that often goes underused. Don't make that mistake and start using push notifications today. We recommend using PushEngage to send your push notification campaigns. If you're new to push notifications, you should check out this article on how to add a web notifications WordPress plugin to your site.
PushEngage is the #1 push notification software in the world. Get started with PushEngage today!