Let's start growing your traffic using a web notifications WordPress plugin.
That's why you're here, right?
Awesome! In this article, we'll take a look at how you can install web push notifications on your WordPress website in less than 10 minutes.
And we're going to do this using the PushEngage WordPress plugin.
PushEngage is the #1 push notification software in the world and today, we'll help you get started with push notifications using PushEngage.
Spoiler Alert: We'll also show you how to send a test notification so that you know for sure that everything's working as it should.
Very cool! Let's dive right in.
NOTE: If your website isn't built using WordPress, you can install push notifications using other methods. We don't cover those methods in this article, but if you're interested, check out our installation guide.
How to Install PushEngage Push Notifications On WordPress
Well, we've already hyped up PushEngage as a web notifications WordPress plugin. So, let's get this show on the road.
Step #1: Create a Free PushEngage Account
Head over to PushEngage and click on Get Started for Free Now: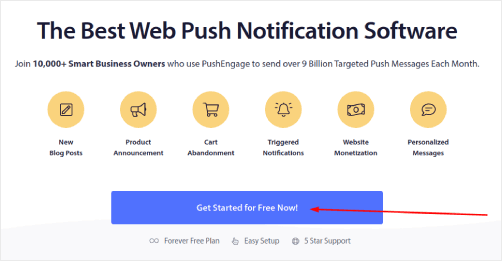 You can get started with the free plan. But if you're looking for the most powerful push notification campaigns, you should select a paid plan based on your business needs: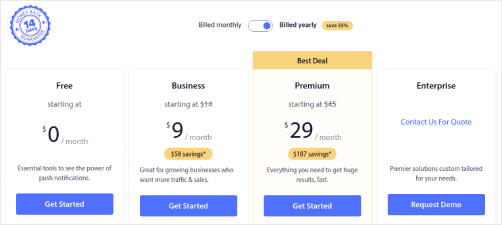 Once you know which plan you want, click on Get Started to create your PushEngage account.
Step #2: Sign Up for PushEngage
Now, it's time to create your PushEngage account. Start by signing up with an email address or a Gmail ID: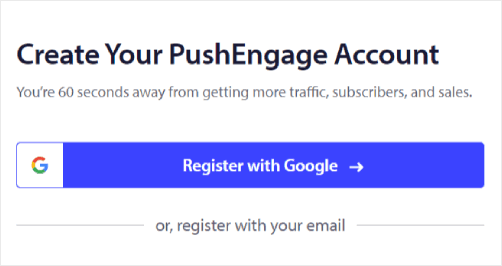 Then, fill out your account details: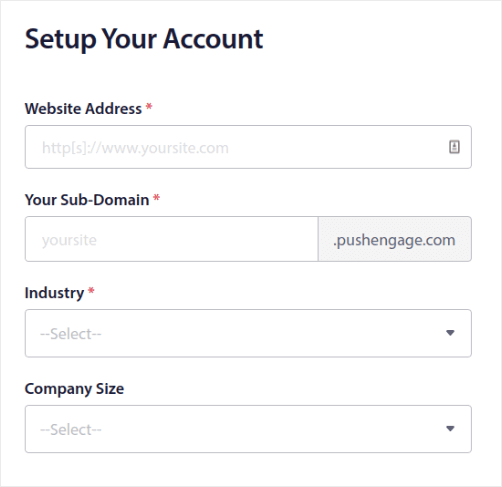 And add your credit card information to buy your plan: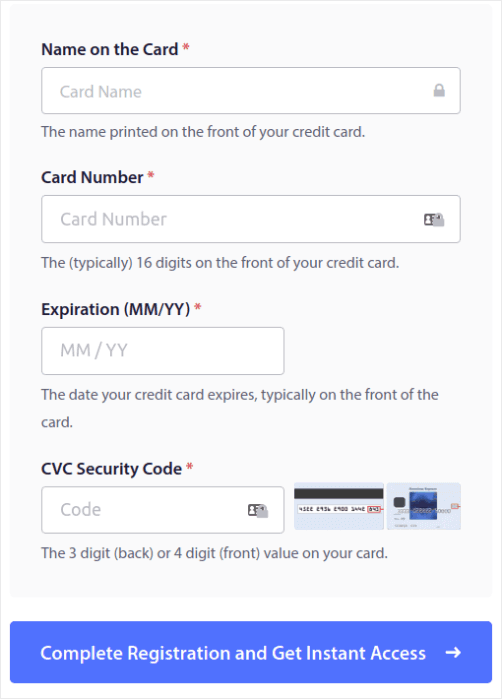 If you selected the free plan, then your credit card will never be charged any money until you choose to upgrade your plan.
And now, you're all set to get access to your PushEngage dashboard. Just click on Complete Registration and Get Instant Access.
Step #3: Install the Web Notifications WordPress Plugin
You're done creating your account. So, head over to the PushEngage dashboard and follow along.
This is what you should see in front of you:

Click on Settings » Site Settings » Installation Settings: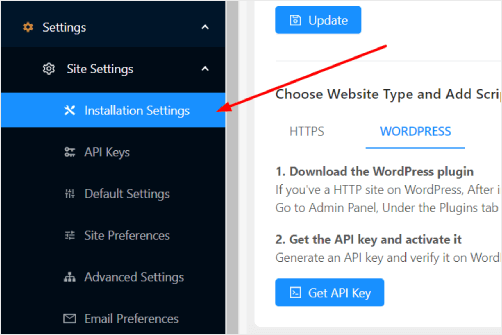 Click on the WordPress tab and click on the link to install the plugin on your website.

Here's the cool part: When you created your PushEngage account, you already synced your website with your PushEngage account. So, clicking on the installation link in the PushEngage dashboard will automatically install the PushEngage WordPress plugin to your website.
Step #4: Verify Your WordPress Website
Once the WordPress plugin is installed, go back to your PushEngage dashboard and head over to Settings » Site Settings » API Keys, and click on Generate a New API Key: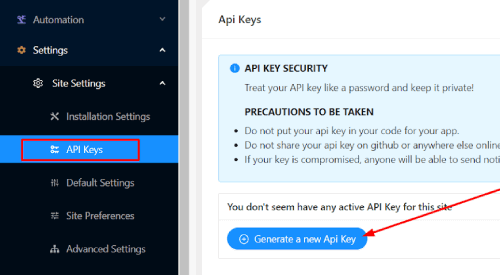 Copy your new API key and head over to the WordPress plugin.
Under the Setup tab, paste the API key: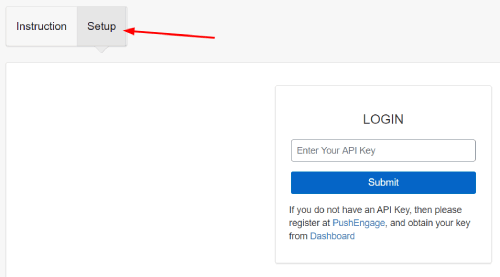 And you're done!
You have successfully set up a web notifications WordPress plugin on your website.
Let's do a quick test to check everything's working fine.
How to Test Your Web Push Notifications On WordPress
Now that we've installed the plugin, let's double-check and confirm that everything's running smoothly.
Let's go back to the PushEngage WordPress plugin and click on Welcome Notification Settings: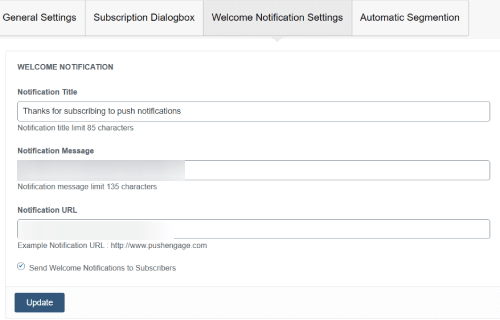 You can change the copy here to create custom welcome notifications. So, whenever someone opts in to push notifications, they'll see this as the welcome notification: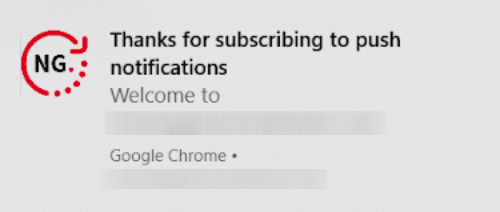 Pro-Tip: We don't recommend using the default notification. Check out our article on creative push notification ideas to start growing your traffic and sales on autopilot.
To wrap things up here, you can go to your own website now, subscribe to your own push notifications, and watch your welcome notification pop up. In fact, you can even create your own custom push notification campaign from the PushEngage dashboard.
Head over to Notifications » Create » New Notification:
And start drafting your push notifications.
You can also create automated push notifications on PushEngage. Head over to Automation to create automated campaigns:
What's Next?
A WordPress push notifications plugin can bring in some quick and easy traffic to your content. But that doesn't mean that your notifications will always be 100% effective.
We suggest that you take some time to read our articles and learn how to supercharge your automated push notifications. Start with our article on push notification best practices.
If you're already familiar with email marketing, you could also start reading how to create Drip campaigns with PushEngage. It should be right up your alley.
That's all for this one, folks.
And if you haven't already, get started with PushEngage today.