Creating an e-commerce website on WordPress has now become easier with WooCommerce. WooCommerce is a free plugin you can use with your WordPress website. It allows you to create your store, showcase products, categories, and sell online. If you are thinking of web push notification service for your WooCommerce website, then start with PushEngage. Using PushEngage WordPress plugin you can easily send push notification from the WooCommerce website. It's easy to use and install a plugin for your WordPress. PushEngage has many features specially created to boost your e-commerce business. You can use PushEngage for sending web push notification from your WooCommerce website.
Web Push Notification Integration For WooCommerce Website
Below is the detailed description of how to go live with PushEngage on your WooCommerce website with a WordPress Plugin.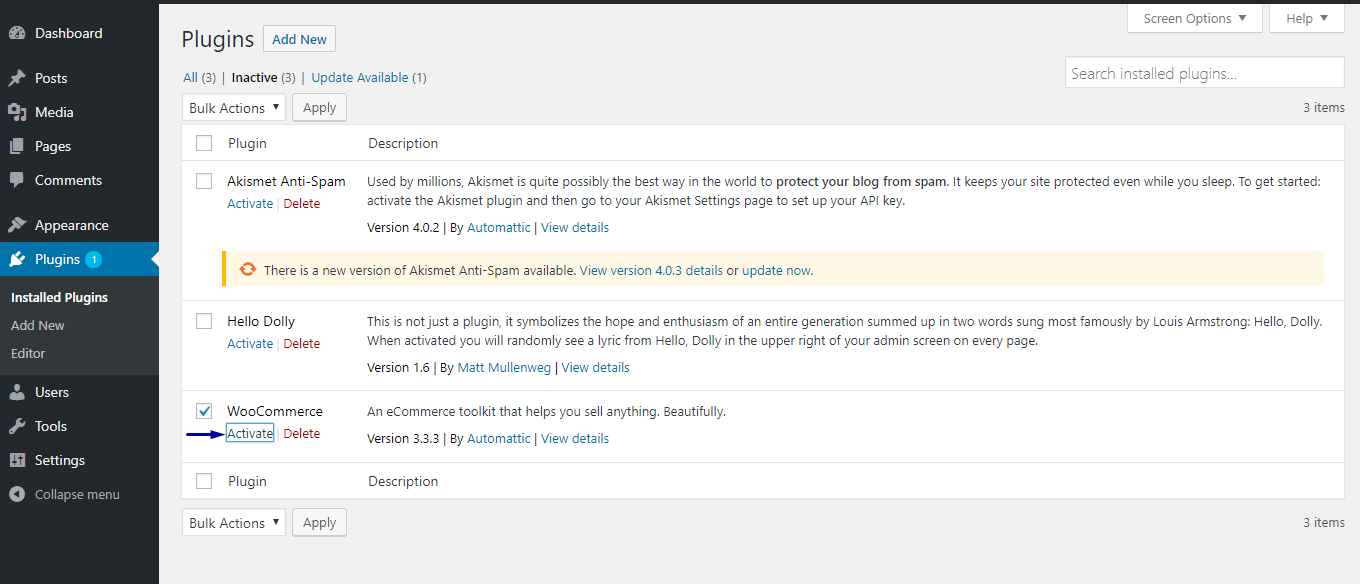 For HTTP Website –
Login to your WordPress Dashboard and navigate to Plugin.
Then click on Add New and look for Insert Headers and Footers In place of this if you want you can use any other custom header footer plugin and use that (I have used Insert Header and Footer for the same).
Then Click on Install Now.
Once the Plugin is installed navigate to Settings > Insert Headers and Footers.
In "Scripts in header" add the three-line JS code mentioned in Installation Settings of your PushEngage Dashboard and click on Save.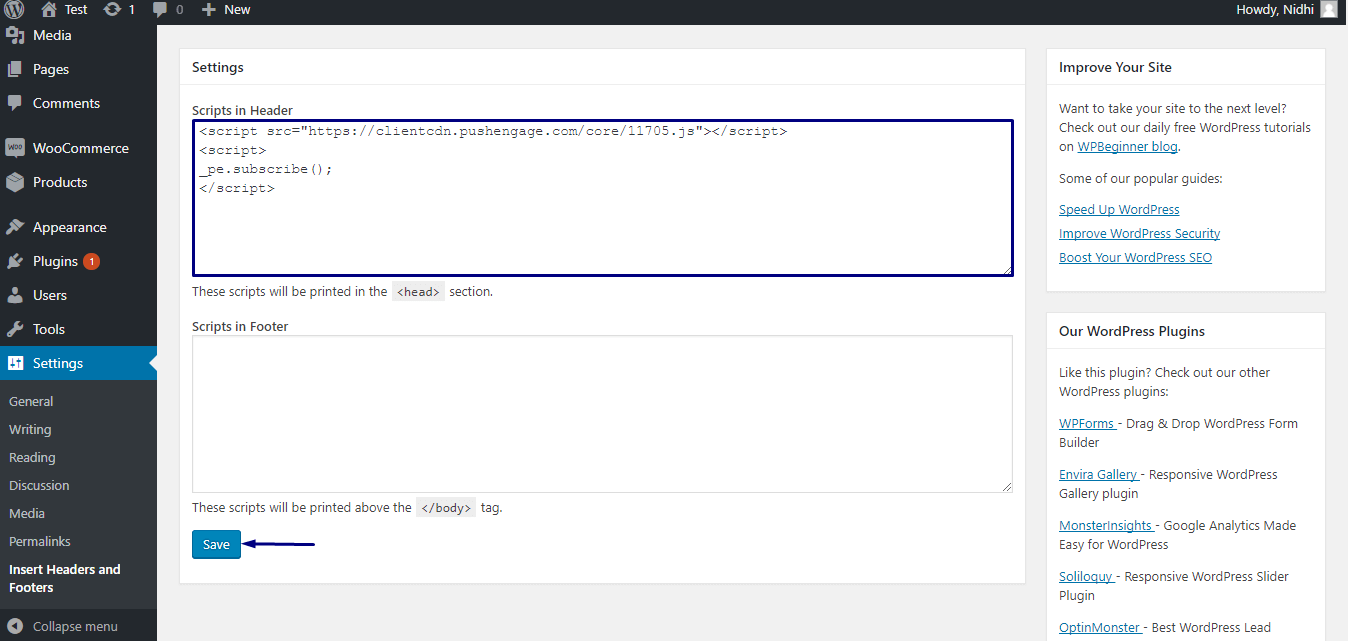 That's all, your Push Notification installation on WooCommerce is complete, and you will get an opt-in for the subscription when you visit your WooCommerce website. Once you start receiving subscribers, you can send real-time push notification for your WooCommerce website.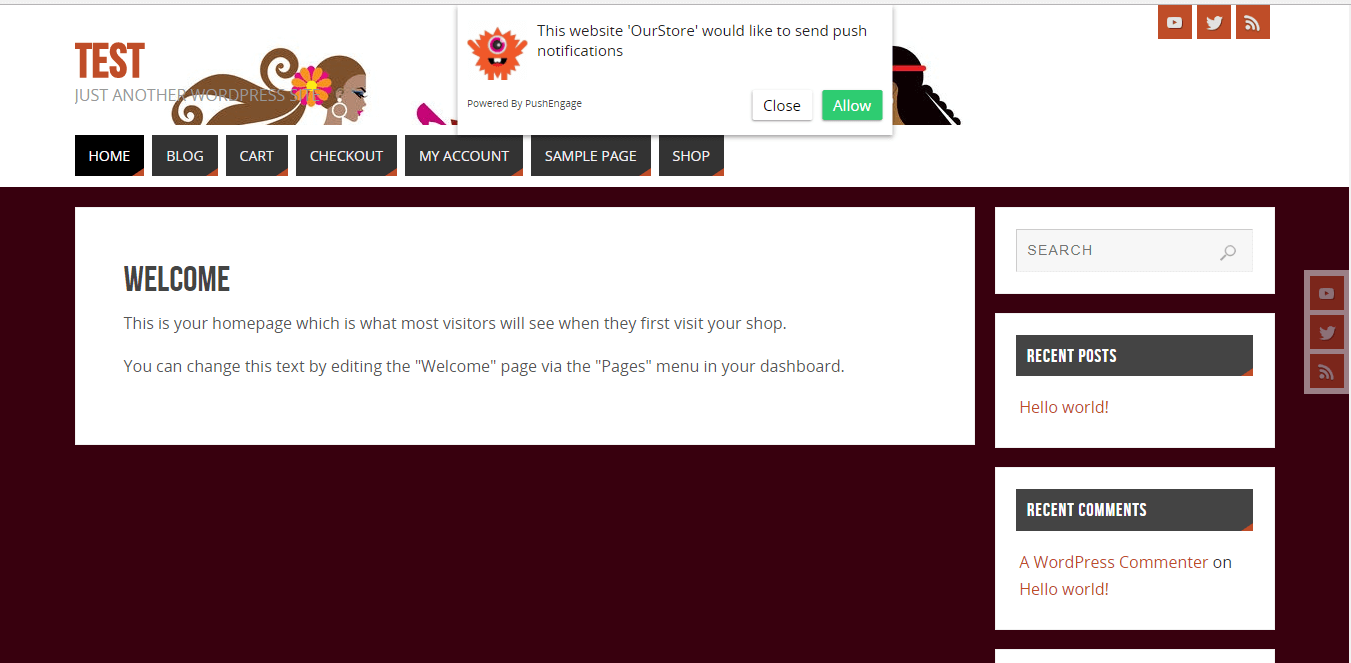 For HTTPS Website –
Follow the steps mentioned in HTTP Websites.
Being an HTTPS website you would need to do an extra step to complete the installation. Navigate to Settings > Subscription Settings > Subscription Dialog Box > Select site type as HTTPS > Select an optin and click on edit.

Then navigate to Desktop > Options and enable Quick Install. Once done save it. Do the same for Mobile Options.

You can also customize the subscription opt-in by changing the font size, button colour, placement, and intermediate page depending on your website.
If you don't wish to use Quick Install then you can navigate to installation settings and source the package files that have service-worker. Ensure the files is placed in your root folder & the below links are accessible:
https://www.your_site_name.com/service-worker.js
That's all and your installation of Push Notification on WooCommerce website is complete. For other platforms like volusion, you can use PushEngage for push notification service.