Web Push Notification is increasingly becoming popular as a marketing tool. With PushEngage you can interact with your subscriber instantly on mobile as well as desktop. For using Push Notifications you do not need any app. Once you integrate Push Notifications on your website, you can engage with users on the browser even when the user is not live on your site. Take any trial and use push notification for free at PushEngage.
PushEngage provides you a platform for Chrome, Firefox, Samsung Browser, and Safari (coming soon) Browser Push notifications for your users on Desktop and Mobile.
Going Live with the platform is a very easy 3 Step process that you can do in 10 mins.
If you have not already completed, then register yourself at PushEngage.
Here are the THREE easy steps to go live
1) Configure your website details in PushEngage dashboard
Once you register you will get login into the PushEngage dashboard. Login into the dashboard and configure the website details.
a) You need to provide your Website Name and an image for Push Notifications. The image is a key part of the notification, and we would recommend a solid image of 192x192pixels or any square image. We would recommend a solid image. Go to Settings > Site Settings > Installation Settings.

b) You should also configure your Time Zone settings. Go to Settings > Site Settings > Site Preference. Select the right timezone as per your business.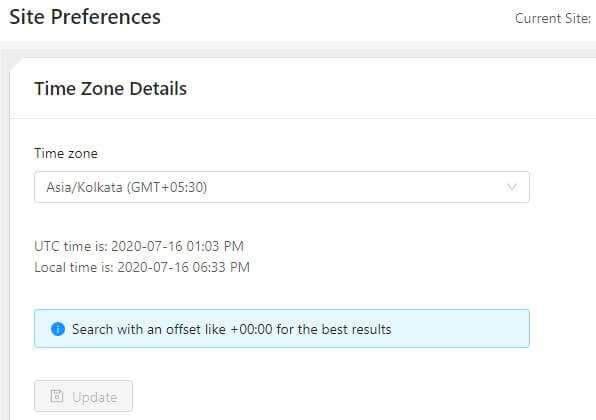 2) Go Live By Adding the JavaScript Code on your website.
Identify the type of website you have. HTTP or HTTPS. Confused between the two types, here is a quick test for HTTPS sites. They will have the green lock in the URL address with Secure written like below.

a) For HTTP Sites Only
If you are using a WordPress Plugin – go here to get the plugin and skip the step. The plugin will automatically add the below javascript code in your website. To activate your Plugin, you will need to get the API key from Settings. You can check this video for Push Notifications Installation in WordPress.
Other Websites: Insert the 2 Line javascript code present in the Settings -> Installation Settings in Header of your website, or wherever you would like to collect subscription. That is it you should be live now!!
Below is an example of PushEngage script:
Async Version: You can put the async version on any section of your HTML page.

b) For HTTPS Sites Only
Go to Settings > Installation settings and get the package files – service-worker.js from Step 2 of Installation Settings.

Place these files in the root folder of your website so it is accessible from https://www.example.com/service-worker.js.
If you are not able to place any files in your root folder – then follow the below settings in Subscription Dialog box Settings and use Quick Install in the HTTPS site.
3) Configure Your Opt-in Method under Subscription Dialog box Settings
Go to Settings > Subscription Setting > Subscription Dialogbox. There are multiple ways you can show push opt-in on your website:
Safari Style Box
Large Safari Style Box
Floating Bar
Bell Placed Bar
Push Single Opt-In
Location + Single Opt-In
Large Safari With Segment
Depending on your push opt-in strategy, you can choose the subscription dialog box.
Make sure to select the correct site type, and pick among the many options for a subscription.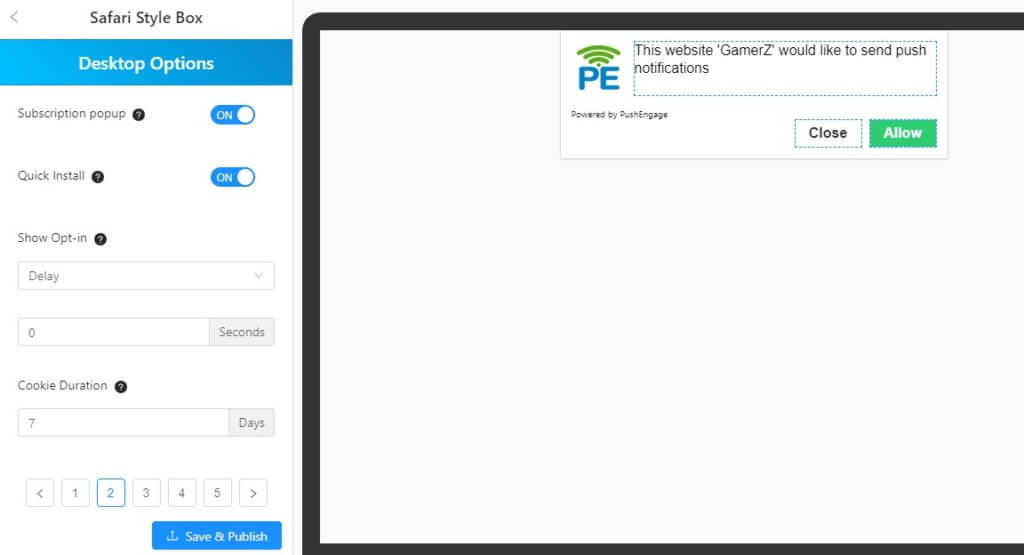 If you have an HTTPS site, then you will be getting the browser default opt-in pop-up as shown below. The language of this pop-up is chosen based on the language preference of the browser.

If you would like you can configure this to any other type of dialog box, but that will make this process 2 steps.
If you are an HTTP site, then you have several ways to collect the subscribers. You have the option to select Safari Style Box, Bell or Bottom Placed Bar.


Next, you should Configure your welcome message. We recommend a Welcome Message for all subscribed users, as it acts as a confirmation for a new subscription. This is under Settings -> Welcome Notification Settings.
You can also check our videos on installation here –
That is it you are live with PushEngage on your site !! You can now test notifications on your site.
You can also use PushNotification in the Shopify store with PushEngage. We have an easy installation guide for all the platforms.
If you have any questions, feel free to reply to welcome email or email us at care@pushengage.com, or through the Contact Us section.