Is your site based on the Google Blogger platform or a Blogspot website? You must have seen blogger websites sending web push notifications and you also want to set up push notification on your Blogspot blogger site. Are you looking for push notification for blogger website. PushEngage supports push notification on the blogger site. You can easily install Push Notification on the blogger platform. PushEngage supports both HTTP Blogspot site and HTTPS Blogspot site. Once installed you can send push notifications from the blogger site to your subscriber. You can also use the push notification playbook for a blog to create campaigns. In this guide, you will know how to add push notification in blogger site and benefit from it.
Integrate PushEngage Push Notification on the Blogger site
Follow the steps to integrate PushEngage on the Blogger site:
Edit HTML

Go to Blogger Theme. Scroll down and click on "Edit HTML". Click Edit HTML and it will open the HTML page.


PushEngage Code for Blogger

Now go to PushEngage Dashboard. Go to Settings and then click on Installation Settings. You will see "Choose Website Type and Add Script". Select your website type – HTTP or HTTPS. The corresponding Javascript will be displayed below. Copy the Javascript code. Below is a sample screenshot of the PushEngage Javascript code.

Integrate Code in Blogger

Copy the Async Version and add the code anywhere in the HTML of your website. On the HTML page, search for the header section (). Now Place this in your HTML code in the header section. Save the Theme.

That is it, and you are done if you are an HTTP site!
If you have an HTTPS site then you need to do an additional step to install Push Notifications on Blogger Site
Go to Subscription Dialog box Settings under Settings in PushEngage Account. You can choose from 7 different types of the subscription dialog box.
Select HTTPS, then select any of the push notification opt-in options, that would allow you to select Quick Install to Yes.

Select Yes to Quick Install. Mark quick install yes for both Desktop and Mobile as marked in the below image.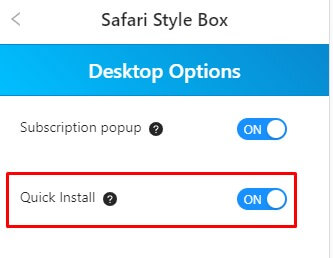 That is it and you would be live with Push Notifications on the Blogspot site.
PushEngage uses a unique vapid key for each account to make it portable. This way we avoid push notification vendor lock-in if in-case you want to switch to different vendors.
Below is the video link for the complete Installation of PushEngage Browser Push Notification on the Blogspot Website. The video explains step by step instructions on where to put the PushEngage Javascript code and how to choose the Push Notification Opt-in for your google Blogspot site. Once installed, your subscriber will get notification from your blogger website.
In case your website is based on other platforms, check this link for the web push notification installation guide. It has a complete list of platforms and PushEngage installation instructions.