You have started your e-commerce website on Volusion and now you are looking for ways to increase engagement on your website. You came to know about Web Push Notifications. It allows you to send browser push notifications to re-engage your customers. Now on the Volusion platform, you can send website push notification using PushEngage. Below is the step by step guide on how to integrate PushEngage with Volusion website –
Installation Steps for HTTP and HTTPS Volusion Websites –
Installation Steps for HTTP and HTTPS Volusion Websites
Volusion Dashboard

Log in to your Volusion account and navigate to Dashboard.


File Editor

Go to Design > File Editor


Push Notification Integration Code

Then from your PushEngage Dashboard copy the code mentioned in installation settings and add in the head section of the theme selected and save the changes. There are two codes present. Take the Async code.

Integrating Code

Copy the code and paste the same in the header section of the file.


That's all if you are an HTTP website. You will get an opt-in for the subscription.
Subscription Opt-In Setting

If you are an HTTPS Website then navigate to Settings > Subscription Settings > Subscription Dialog Box > Select site type as HTTPS and click on Edit.

Setting Quick Install

Then navigate to Desktop > Options and enable Quick Install, do the same for mobile as well and save the changes.


That's all and your installation is complete. You will receive an opt-in for the subscription when you visit your website.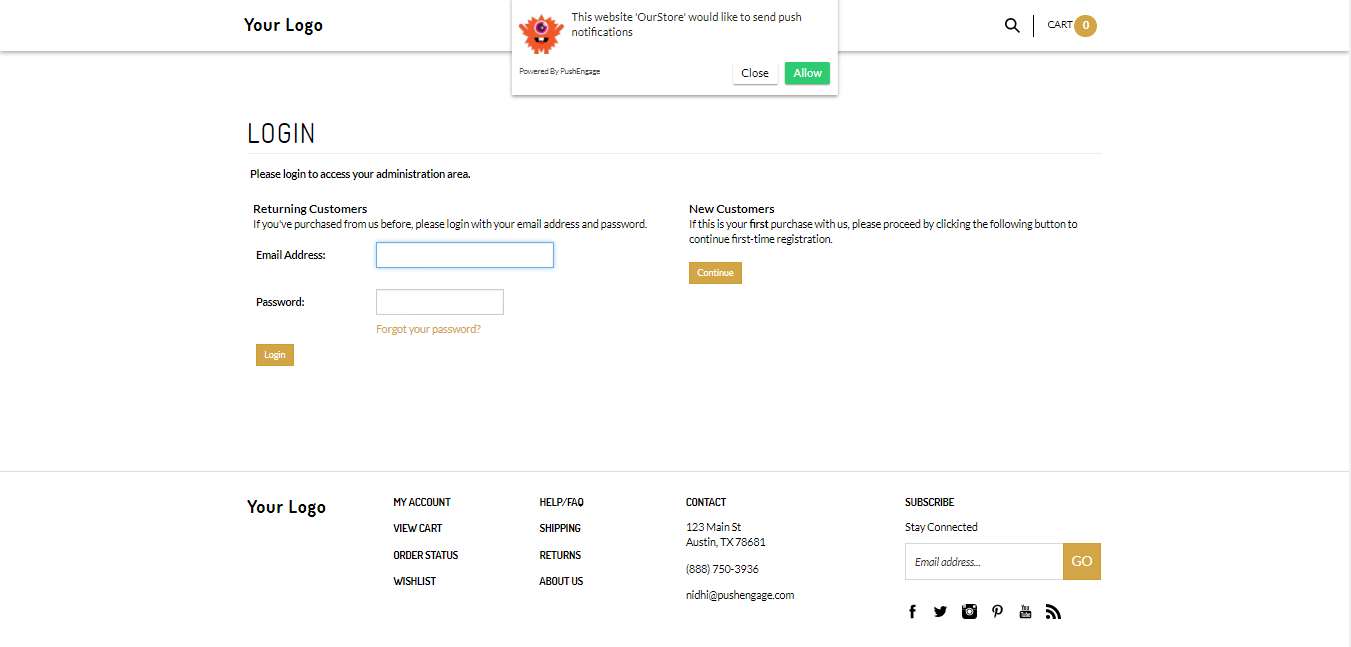 You can also customize your subscription dialog box depending on your website. You can change the color, placement and text. And if you want to enable Push Single Optin on your website like the one mentioned below then you can get in touch with us at care@pushengage.com. We will then help you in setting it up.

You can also install Push Notification on the WooCommerce site. If you are using Shopify for e-commerce business, you can use Web Push Shopify Plugin for Web Push Notifications. PushEngage supports all the major e-commerce platforms. You can use Push Notifications on the WordPress site as well using the PushEngage plugin.