Looking for the best WordPress testimonial plugin for your site?
Using a testimonial plugin can make your life so much simpler. But which one do you choose? There are over 100 WordPress plugins that can help you showcase your testimonials.
How do you know which plugin has the right design options? Do you need a paid plugin or are free ones just fine? Can you get SEO benefits by creating epic testimonials on your site?
In this article, we're going to answer all this and more. We're going to showcase the best WordPress testimonial plugins in the market and then tell you what our favorite plugin is.
Sounds good? Let's dive in.
Why do You Need a WordPress Testimonial Plugin?
A WordPress testimonial plugin can save you hours in custom developing and designing a testimonial block from scratch. Yes, most WordPress themes will come with a pre-designed testimonial block. But that's not enough. In most cases, the design options are super limited and it's hard to customize them using CSS.
On the other hand, a WordPress testimonial plugin is a dedicated software that's built to help you do just one thing. And that's to create testimonials that help your web visitors convert into paying customers.
Testimonials are a strong form of social proof. So, it's well worth getting a plugin to create testimonials that look awesome on your site.
Most of the options on our list are paid plugins. But they are all super affordable and come with way more features than free plugins. If you're running a growing business, chances are that you'll get loads of testimonials to showcase on your site. So, using a paid plugin just makes more sense.
Best WordPress Testimonial Plugin
We went through a TON of plugins when we put together our list of the best WordPress plugins. Of course, that list doesn't focus too much on specific niches like a WordPress testimonial plugin. So, here's our list for the best testimonial plugins for WordPress in 2023.
Smash Balloon is a simple WordPress plugin that allows you to display your social media feeds on your site without using any code at all. Displaying your social feeds on your site is a great way to convert your web traffic into social media followers and keep them engaged for a long time.
While it's not exclusively a WordPress testimonial plugin, you can use it to showcase testimonials from social media directly on your site. It's to set up a testimonials page on your site using Smash Balloon and you can fill it up with real testimonials from social media posts.
The best part about Smash Balloon is that there's zero coding involved. All you have to do is install the plugin and then connect your social media pages to your site.
You can also use Smash Balloon to:
Use your hashtag feeds on your site as social proof
Dsiplay interactive Twitter feeds to boost website engagement
Embed your YouTube videos on your site to grow your YouTube subscribers
Add authentic Facebook Business Page reviews to your site to increase conversions
And lots more!
Check out our review of Smash Balloon or just get started.
Thrive Ovation comes from Thrive Themes. It's the same company that built Thrive Leads, Thrive Quiz Builder, and Thrive Architect. It's a reputed WordPress plugin builder and you can trust their WordPress testimonial plugin.
Thrive Ovation is a dedicated WordPress testimonial plugin. However, there's a significant drawback with Thrive products. You can only use them as part of a bundle. This means that you will have to buy the full bundle. And you can only use Thrive Theme Builder to build your site as the plugin's incompatible with other theme builders such as Divi, Beaver Builder, and Elementor Pro.
With that in mind, Ovation is still a really powerful WordPress testimonial plugin. And it's a really good option to go for if you're just getting started with your WordPress site.
The Elfsight Testimonial Slider plugin is exactly what it sounds like. It's a plugin that allows you to create testimonial sliders for your WordPress site. The best part about Elfsight is that there's zero coding involved.
You get multiple layouts and templates for your testimonials. This makes it super easy to customize the look and feel of your testimonials to suit the design language of your site.
To make things even better, you get powerful integrations to fetch reviews and testimonials from social media sites, marketplaces, and more. If you're looking for a simple WordPress testimonial plugin with tons of customization settings, Elfsight is a great option for you.
Strong Testimonials is another top-notch WordPress testimonial plugin. You get multiple great layouts right out of the box. But there's so much more to this plugin. You also get:
Custom post types for testimonials
Custom properties
SEO-friendly markup
Spam control
Professionally designed templates
Integrations to import testimonials from Google, Facebook, Yelp, WooCommerce or Zomato
You can use the plugin as a plug-and-play solution or you can use their API for more advanced features. They're even coming out with a video testimonials feature soon.
Strong Testimonials gives you a LOT of bang for your buck. So, you should definitely give this WordPress testimonial plugin a shot.
WPForms is the best WordPress form builder plugin. We've tested out a bunch of form plugins for WordPress and none of them come even close to the functionality or the ease of use of WPForms.
One of most underrated uses of WPForms is that you can use it to get reviews and testimonials on your site using a simple form. You can even set it up to automatically post the reviews on your testimonials page.
You can use a drag-and-drop form builder in WPForms to create and publish:
Surveys and Polls
Conditional Logic Forms
Form Landing Pages
Form Templates
Offline Forms
Conversational Forms
You can even track user journeys for your forms to understand different customer touchpoints and optimize them over time. Go ahead and create a WordPress form with WPForms and you'll understand right away why we love the plugin so much.
SeedProd is the best WordPress plugin to create landing pages that convert.
You get a drag-and-drop landing page builder that's packed with options to build eCommerce pages and landing pages. Unlike WordPress website builders, you can customize every inch of your landing page including navigation menus, footers, and styles. SeedProd also works with any WordPress theme and creates mobile-friendly landing pages.
Of course, you can also create custom testimonial sections from pre-built templates. It's not the most convenient way to include testimonials into your site, but SeedProd is much more than a WordPress testimonial plugin.
With SeedProd, you get pre-built templates for high-converting landing pages that you can publish instantly. This includes templates for:
404 pages
Webinar pages
Video pages
And lots more! We love using SeedProd and we even wrote an in-depth review of the SeedProd plugin. Go ahead and check that out!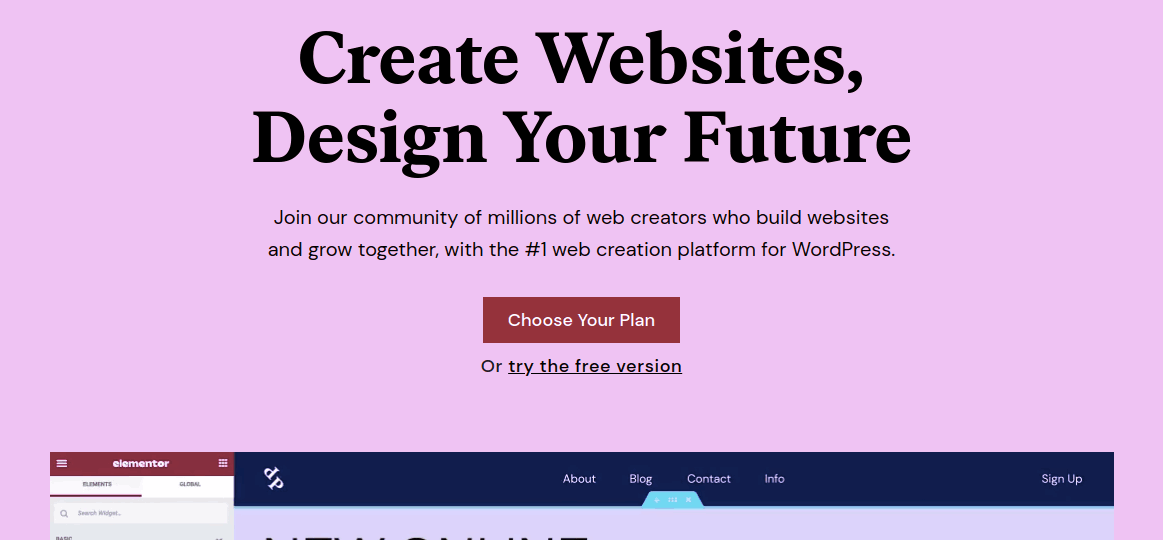 Elementor Pro is one of the best WordPress landing page builders in the market. The beauty of Elementor Pro is that you can create lots of different landing pages using the same plugin. You also get access to an entire library of pre-built design templates for all kinds of websites.
Of course, you also get templates for specific blocks for your site including testimonial blocks. It's the same as SeedProd. Elementor isn't meant exclusively for building testimonials and while you get a lot of custom design options, it still takes some getting used to.
Popular features include:
Elementor comes with design modules, page templates, and widgets
The coming soon mode automatically tells search engines to index your website
The maintenance mode automatically tells search engines to not index your site
The downside is that you can only use these features if your site was built in Elementor. If not, then this solution won't be useful for you at all. But if you're running a site built using Elementor, you should upgrade to Elementor Pro to build custom testimonial sections.
Which WordPress Testimonial Plugin is the Best for You?
We recommend using Smash Balloon as your WordPress testimonial plugin. Not only do you get awesome testimonials for social proof directly from social media sites, you also get a whole host of other features that help you sell more effectively.
Speaking of getting reviews and testimonials, you should start using push notifications to get reviews for your product. Push notifications are completely automated. So, you can create a drip campaign to automatically collect reviews and testimonials for your business.
That's not the only thing you can do using push notifications, though. Check out these epic resources:
We recommend using PushEngage to send your push notifications. PushEngage is the #1 push notification software in the world. So, if you haven't already, get started with PushEngage today.