Are you looking for the best WordPress contact form plugin for your site?
Contact forms are super essential for any website. Forms can help you communicate with your visitors, collect new leads, and offer a better user experience on your site. And WordPress allows you to create powerful forms using plugins.
But which WordPress contact form plugin should you use?
If you try and search for WordPress form plugins, you'll find hundreds of results. Which one is the right fit for your business? Which ones have the right features? Is it a free plugin? Can you accommodate a paid plugin into your budget?
In this article, we'll compare some of the most popular contact form plugins. Then, we'll tell you what we think is the best WordPress contact form plugin.
Let's dive in.
Why do You Need a WordPress Contact Form Plugin?
By default, WordPress has a very simple contact form Gutenberg block. It's very minimal. You can set it up to accept basic form submissions. But you need a WordPress contact form plugin if you want more control over:
Custom form types
Design options
Custom form fields
Visual builders
Conditional logic
Spam protection
Frontend file submissions
Developing a custom form from scratch is time-consuming and expensive. You need an in-house developer as well or else you'll keep running into issues with integrating the form across your site.
Best WordPress Contact Form Plugins
Now that we know why you should use a WordPress contact form plugin, it's time to find the right fit for your site. Let's check out some of the top options in the market. Then, we'll tell you what contact form plugin we use on our site.
Spoiler alert: We use it because it's the best in the market.
Let's get into our list.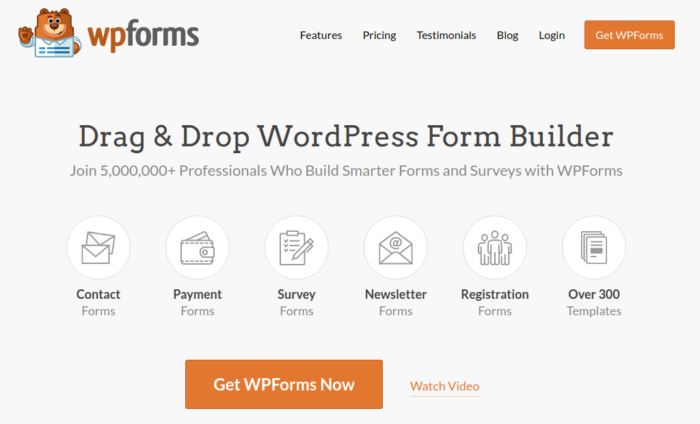 WPForms is the most powerful drag-and-drop WordPress form builder. It's super easy to build a fully custom form for your WordPress site in a few minutes using the plugin.
In our opinion, it's among the best WordPress plugins of all time. You can get started with a free version and upgrade to a paid version any time. But we recommend using WPForms Pro.
We've tested out a bunch of form plugins for WordPress and none of them come even close to the functionality or the ease of use of WPForms. If you're curious, you can check out the in-depth review of WPForms that we published.
You can use a drag-and-drop form builder in WPForms to create and publish:
Surveys and Polls
Conditional Logic Forms
Form Templates
Offline Forms
Conversational Forms
You can even track user journeys for your forms to understand different customer touchpoints and optimize them over time. Go ahead and create a WordPress form with WPForms and you'll understand right away why we love the plugin so much.
#2. Formidable Forms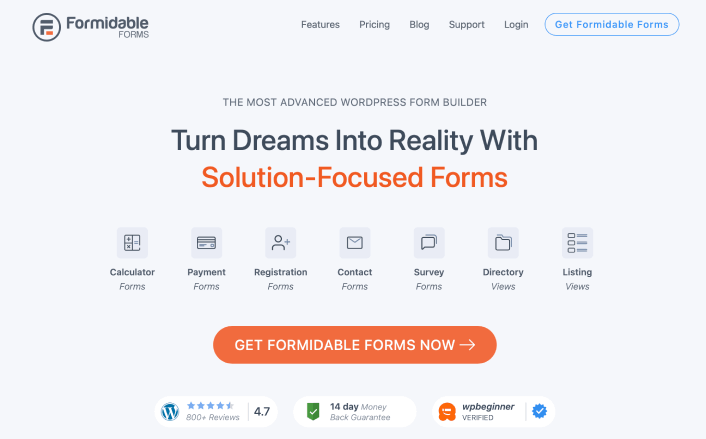 Formidable Forms is a more advanced WordPress contact form plugin. It's meant almost exclusively for agencies and enterprise businesses. So, it's not the most user friendly form plugin in the market.
But Formidable Forms is super powerful. You can create some very complex forms using a drag-and-drop form builder including:
Surveys
Registration forms
Payment forms
Calculator forms
And more. You get a ton of form templates that you can use straight up. One of the most interesting features you get is the ability to create calculator forms. Formidable Forms also integrates seamlessly with email marketing services and payment gateways.
It's a paid plugin. But it's well worth the price.
Get started with Formidable Forms.
#3. Ninja Forms

Ninja Forms is a freemium WordPress contact form plugin. You also get a drag-and-drop form builder just like the other top-tier contact form plugins on this list. The free version has very basic contact form fields that you can use to create unlimited forms.
But if you're getting Ninja Forms, you should really get the paid version for access to:
Dynamic forms with conditional logic
Multi-step forms
Integration with popular email marketing tools
You can either get a membership bundle that's billed annually or you can buy specific add-ons to serve your needs. In terms of usability, Ninja Forms is more difficult to use than WPForms but has less access to advanced features unless you buy add-ons.
Get started with Ninja Forms.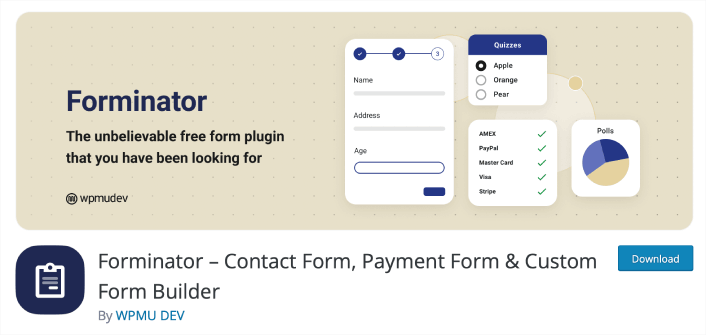 Forminator is a no code contact form builder for WordPress, but it's less visual than the other top plugins on this list. In simple terms, you get a ton of powerful features, but it's difficult to use. You won't get a proper preview of the form until you're done building it.
What redeems Forminator is that you do get an advanced form builder. So, it can rival the performance of Formidable Forms with features such as:
Templates for forms, polls, and quizzes
Calculations to create order forms, quote forms, and more
Payment integrations with Stripe and PayPal
Marketing integrations to connect your forms to email lists
And more! Forminator is also pretty budget-friendly. So, if you need powerful forms on a tight budget, you should definitely check out this WordPress contact form plugin.
#5. Gravity Forms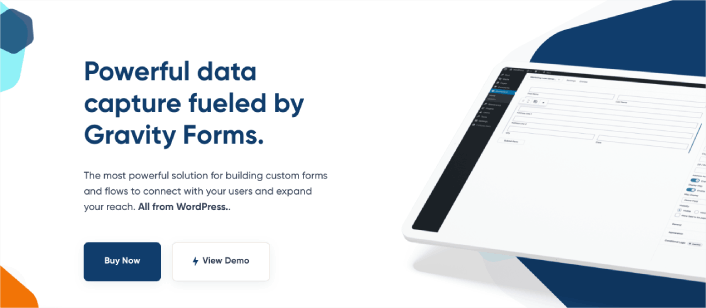 Gravity Forms is a paid WordPress contact form plugin. Unlike the other plugins on this list, there's no free version. You can get a quick demo scheduled to check out how it works.
But Gravity Forms is seriously powerful. And you can build complex forms such as:
Quizzes
User-submitted content forms
Order forms
Subscription forms
Survey forms
Web directory submission forms
The coolest part is that you can create your contact forms using a drag-and-drop visual builder that looks just like the Gutenberg block editor. Gravity Forms is a good fit for forum sites, blogs, eCommerce sites, and web directories. Depending on your subscription plan, you get access to specific add-ons to supercharge your forms as well.
Get started with Gravity Forms.
#6. Jetpack Forms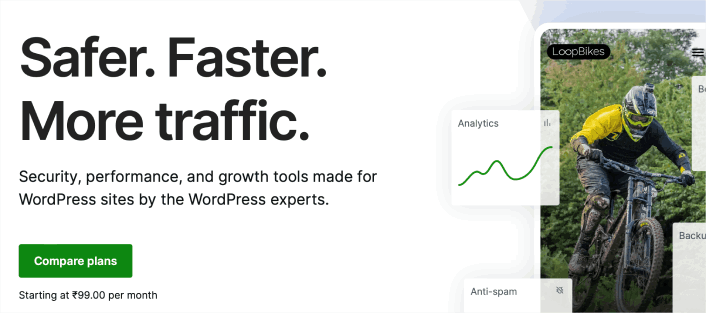 Jetpack Forms is a very popular WordPress contact form plugin and it integrates seamlessly with the Gutenberg editor. This is not surprising as it's an Automattic product, which is the same company that built WordPress itself.
You can easily integrate your contact forms with Akismet for spam protection. And the free version of Jetpack Forms comes with a drag-and-drop form builder. You can get a few pre-built form templates with the free version and upgrade to the paid plans at any time.
With Jetpack Forms, you can easily create simple contact forms such as:
Feedback forms
Newsletter signup forms
Appointment forms
Registration forms
But there's a massive downside to using Jetpack Forms. Jetpack Forms isn't a standalone plugin. It comes as a bundle of plugins under the Jetpack umbrella. So, even if you need just the form builder, you'll have to put up with all the additional plugin features that have nothing to do with forms.
While this doesn't sound too bad on the surface, it can severely bring down your site's speed with the additional code that you'll never use. All in all, Jetpack Forms is a fine choice if you're looking for a simple and free WordPress contact form plugin.
Get started with Jetpack Forms.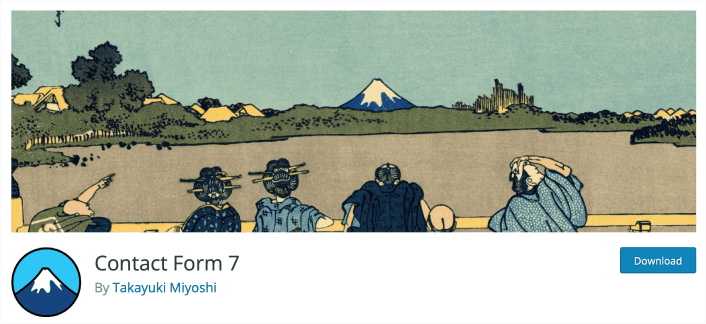 Contact Form 7 is a super popular WordPress contact form plugin. It's also completely free. You can install some paid third-party add-ons to get more out of Contact Form 7, but the plugin itself is free.
Any list about WordPress contact form plugins is incomplete without Contact Form 7. It's one of the oldest form plugins in the market. The entire interface is still HTML-based and has no visual form builder. With Contact Form 7, you get:
A license for unlimited websites to build unlimited forms
Online resources to learn more about the plugin
Integrations with Akismet to reduce spam
Shortcodes to easily insert a form anywhere on your site
Be careful, though. Contact Form 7 is not the most secure plugins out there and is known to have multiple security issues across different versions. Combine that fact with how difficult it is to use, you should only use Contact Form 7 if you're looking for a completely free plugin with no intention to buy a paid plugin.
Get started with Contact Form 7.
What's the Best WordPress Contact Form Plugin for You?
Hands down, WPForms is the #1 WordPress contact form plugin if you don't have a development team to support you. If you have a team onboard and you need to create extremely complex forms, you can use Formidable Forms as well.
If you had to custom-develop a form for your site, it would cost a ton of money and would likely take days to build and integrate with your site. So, if you're serious about growing your business from your site, we recommend using one of our recommended plugins.
And while we're talking about growing your business, you should also set up push notifications on your site. You can use push notifications to grow your traffic, engagement, and sales on autopilot.
Just take a look at these resources and you'll see what we mean:
We recommend PushEngage to get started with your push notification campaigns. PushEngage is the #1 push notification software in the world.
So, if you haven't already, get started with PushEngage today.