Looking for a way to make a custom "Under Construction" page in WordPress?
Designing a new site or rebranding your existing business can take a while. What do you do in the meantime? You create an "under construction" page for your WordPress site.
But how do you get it done? Do you have to spend hours in design and development just to create a temporary page that you're going to delete in a few weeks anyway? Can you customize it to collect leads even while your website is under construction?
Short answer: No!
In this article, we're going to help you launch an under-construction page for WordPress in less than 15 minutes. We're also going to show you how to customize every inch of it to suit your business needs.
The best part? There's zero coding involved. All you have to do is install a plugin.
Let's dive in.
What Is a WordPress Under Construction Page?
A site under-construction page is a WordPress page that tells your website visitors that your site will be up soon. It's a great way to get some buzz going around your business before you launch.
You don't want your website visitors to see your entire design process. You want them to see a well-designed and fully developed site! An under-construction page makes sure that your visitors don't visit a broken site.
Also, you can customize the page to collect leads for email marketing even before you launch. It's a great way to get your marketing started even if you don't have a product or a website ready to sell.
How to Create an Under Construction Page in WordPress
Now that we understand what an under-construction page is and why you should create one, let's get to building the page. To make an under-construction page in WordPress, we recommend using SeedProd.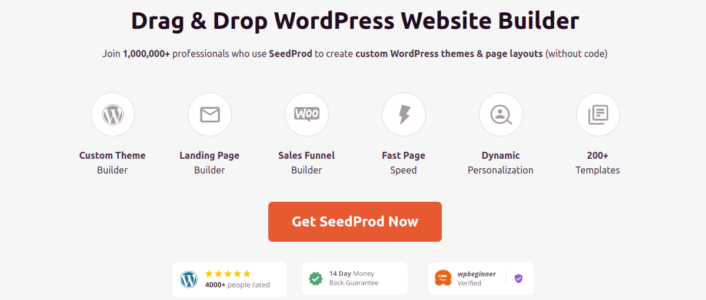 SeedProd is a visual landing page builder that helps you create landing pages that convert really well.
You get a drag-and-drop landing page builder that's packed with options to build eCommerce pages and landing pages. Unlike WordPress website builders, you can customize every inch of your landing page including navigation menus, footers, and styles. SeedProd also works with any WordPress theme and creates mobile-friendly landing pages.
It's one of the best WordPress plugins in the market and we highly recommend it.
With SeedPreed, you get pre-built templates for high-converting landing pages that you can publish instantly. This includes templates for:
And lots more! We love using SeedProd and we even wrote an in-depth review of the SeedProd plugin. Go ahead and check that out or get started with building the page.
If you follow along with all the steps, you should be able to publish an under-construction page like this one: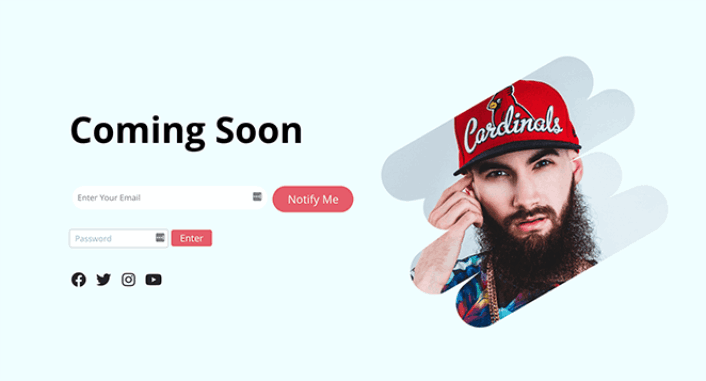 Step #1: Install and Activate SeedProd
First, you'll want to get the SeedProd Pro plugin and activate it. If you're not sure how to do that, check out this article on how to install a WordPress plugin. Then, go to SeedProd » Settings on your WordPress dashboard and activate the Pro version: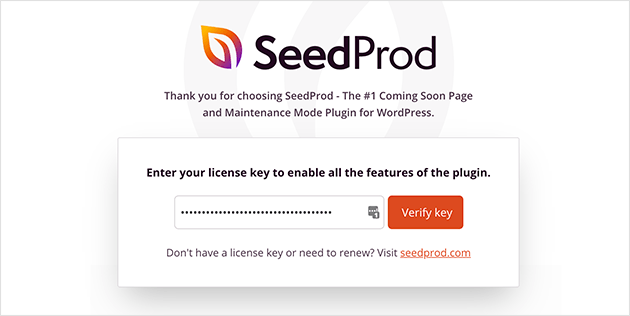 Next, head to SeedProd » Pages for an overview of SeedProd's landing page dashboard. This is where you can see the different types of landing pages you can create using SeedProd: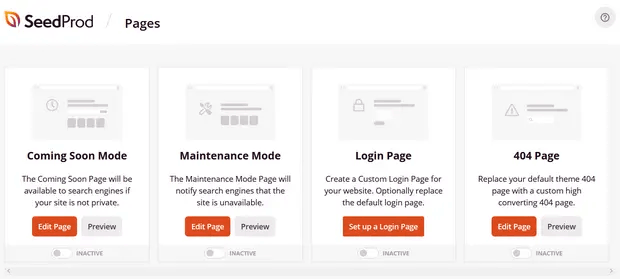 Keep in mind that these are all special pages with pre-built functionality and design templates. For an under-construction page, you'll want to create a Coming Soon Mode page.
Step #2: Create an Under Construction Page
Click on the Activate toggle button under Coming Soon Mode to create an under-construction page: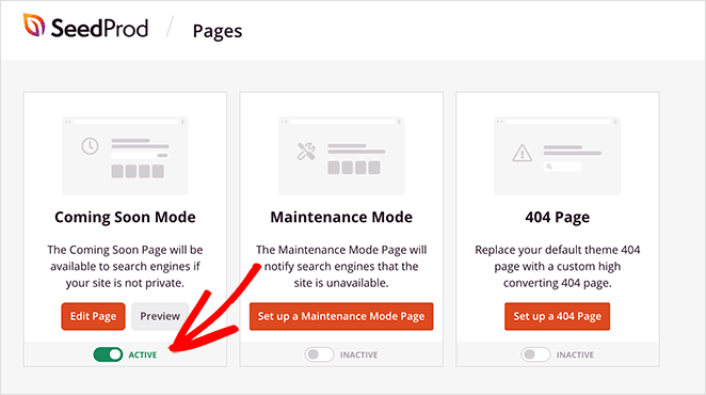 Then, click the Edit Page button to pick a template for your under-construction page:
As we said, you get a ton of coming soon page templates on SeedProd. Go ahead a pick one: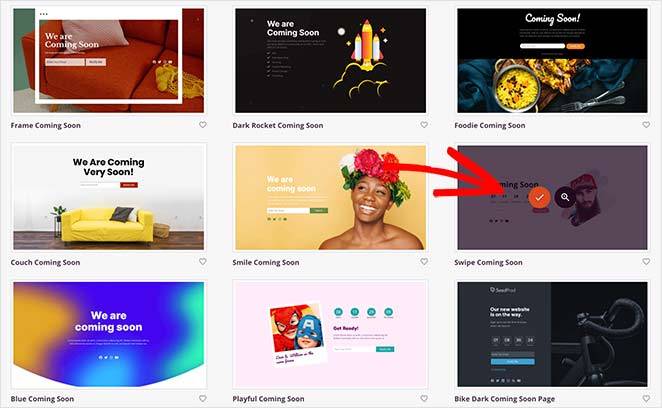 Your under-construction page template will now appear in the SeedProd page builder. Next, you're going to customize the page to suit your brand using drag-and-drop design elements.
Step #3: Customize Your Under Construction Page
SeedProd's page builder comes with various content blocks. Even if you're never used a page builder before, you're going to find it super easy to use. Just drag and drop different design elements from the sidebar: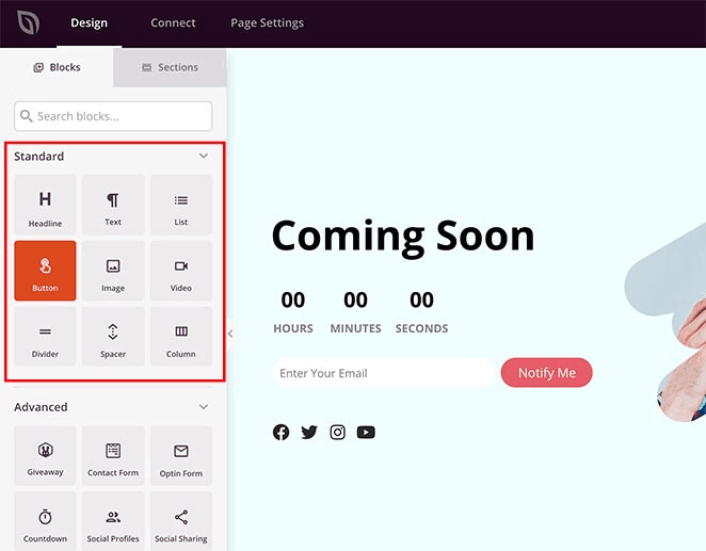 You can use these blocks to create super interactive landing pages with:
And so much more!
You can edit any of the content blocks on the page by simply clicking on them.
Step #4: Integrate Your Email Marketing Service
After you're done designing your under-construction page, click the Connect tab at the top of your page builder, and select your email marketing provider to collect leads on your site.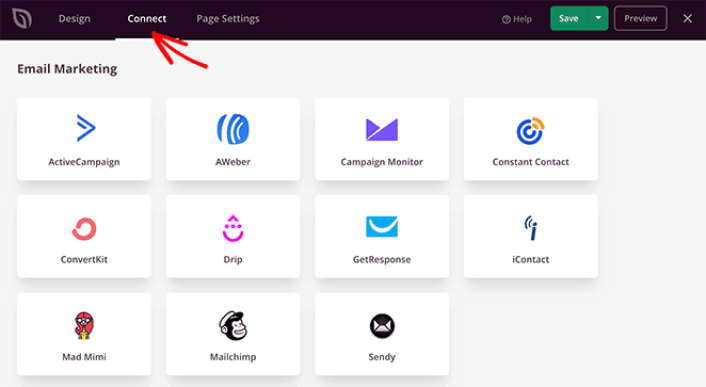 Then, click the Page Settings tab at the top of your screen.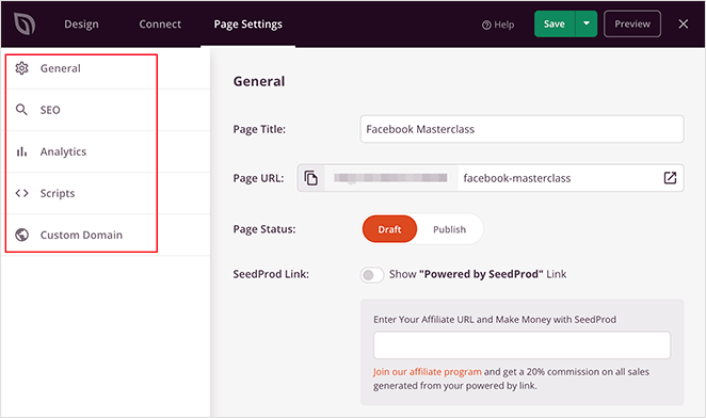 Here, you can add an SEO plugin and a Google Analytics plugin to your landing page. You can even set up custom tracking codes such as a Facebook Pixel or a Pinterest pixel to track ad performance.
Step #5: Publish Your Site Under Construction Page
When you're done editing your WordPress under-construction page, go ahead and publish it by clicking on Save » Publish: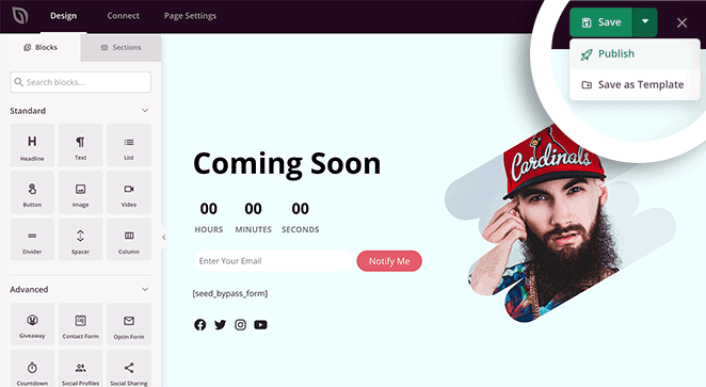 And that's it. You're done!
This is what your under-construction page should look like on your site to all your visitors: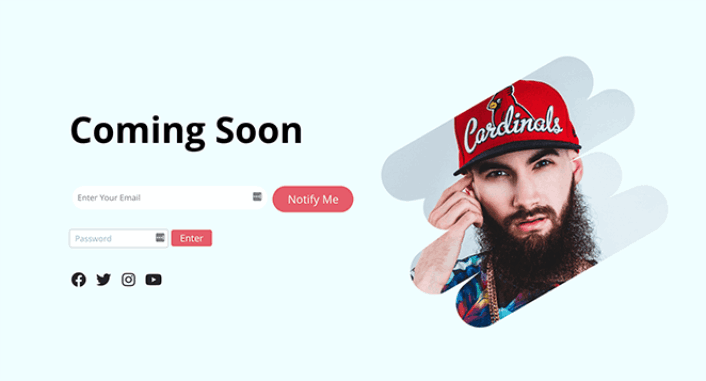 If you want to edit this page even further, just go back to SeedProd in your WordPress dashboard and click on Edit to start editing the page again.
What to do After You Make an Under Construction Page in WordPress
Now that you know how to make an under-construction page in WordPress, it's time to work on your traffic, engagement, and sales. You should try using push notifications on your site. Push notifications are a great marketing tool that can help you grow your business.
Take a look at these epic resources and you'll know what we mean:
We recommend using PushEngage to create your push notification campaigns. PushEngage is the #1 push notification software in the world. So, if you haven't already, get started with PushEngage today!