Are you struggling to get more reviews for your business? Are you unsure of how you can encourage customers to write reviews?
Here's the bad news: You're not the only one.
PushEngage is the #1 web push notification software in the market…
… and even we've had to struggle in the past to get more reviews and social proof for our product!
The good news is: We've cracked the problem through trial and error.
And we're going to share 10 epic ways to get more reviews in this article. No smoke. Only pure, actionable tips that you can start using right now.
So, if you're not sure how to encourage customers to write reviews (yet), strap in.
You're in for a ride. So, let's just dive right in.
Why Are Reviews Important for Your Business?
Before we tell you outright why reviews are important for your business, we'd like to introduce you to the concept of social proof.
Social proof is the idea that the majority of people will follow the actions of the masses. It's existed for centuries and it's a simple way to boost people's confidence enough to buy something (or buy into something).
In modern marketing, social proof can be:
Case studies
Testimonials
Social media clout
Trust icons
Data points indicating success
And most importantly, reviews.
If you're still on the fence about why reviews are important, then you're in the wrong place. Here's an article on online review statistics. You should check that out before you follow along with the rest of this article.
If you're new to the concept of social proof, you should check out TrustPulse. TrustPulse is a social proof app to grow your business using honest marketing and social proof. The app itself is really simple to use and you can see your business growing every day.
NOTE: Please don't try to "fake it till you make it" with social proof. Fake social proof rarely works and it can get in the way of your business growth in the long run.
9 Ways to Get More Reviews and Social Proof
Now that you understand the what and why behind getting more reviews, let's get to the good stuff. How do you encourage customers to write reviews for your business?
Just keep reading (the bonus tip is epic)!
#1. Don't Make Them Think
"Don't Make 'Em Think" is a design philosophy from the late 90's that's meant to serve a great customer experience. But in this context, it means that you need to make it really simple to leave a review on your website.
Take it from us: "Don't make 'em think" is the soundest business advice you'll ever get anywhere. Make your visitors think about what to do next, and they'll never be customers. And if your customers aren't sure how to leave a review, you can bet that they won't!
Here's an example of a difficult process to leave a review: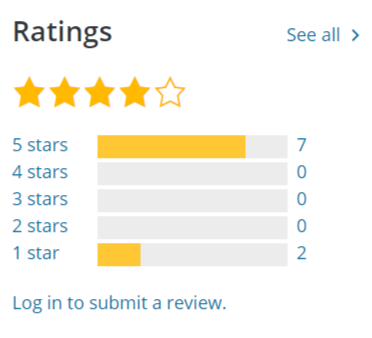 If you've ever used WordPress, you know exactly what this is. This is what you see when you want to leave a review for anything on WordPress.org. It's so infuriating to see that you'll have to do more stuff to leave a review.
Now, consider this instead: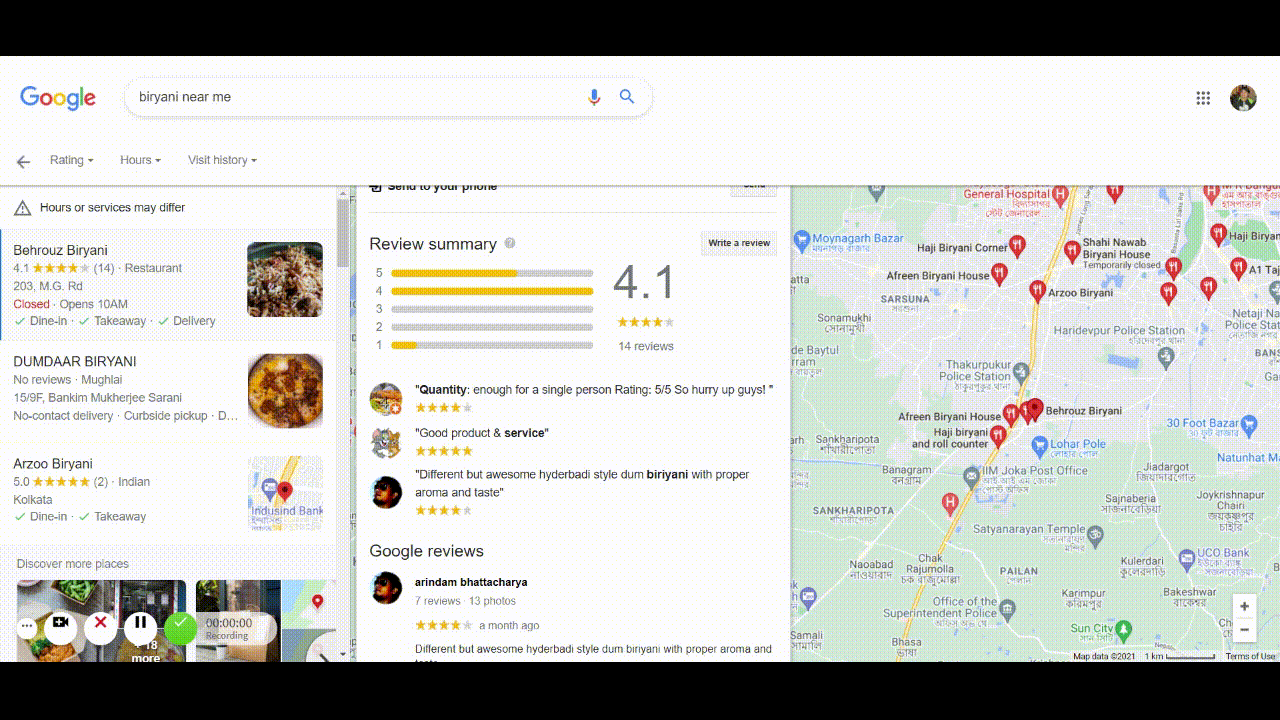 It's so much easier to leave a Google review.
Of course, you don't necessarily need to use Google reviews. You can just create a very easy way to leave reviews like Beardbrand does on their product pages: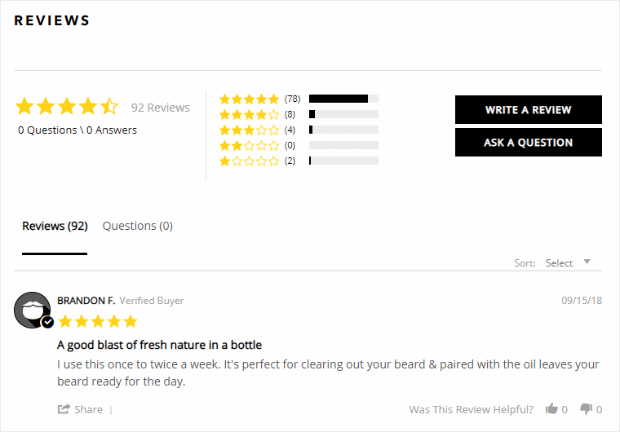 #2. Showcase Your Existing Reviews
The point behind social proof is to flaunt it openly. You've already seen how convenient it is to collect Google reviews. Now, it's time to use those reviews to your advantage. You can embed your Google reviews on your website to boost your conversions.
Again, Google reviews are the only ones you should showcase. You can also display your website review clearly on the product page. For most businesses, there are a bunch of other places to gather reviews.
For instance, PushEngage gets reviewed on G2Crowd pretty often:

So, naturally, we show that off in our pricing page. Go check it out!
Pro-Tip: Don't forget about reviews and testimonials by customers on your social media feeds. They hold a lot of value and you can embed your social media reviews on your website as well.
#3. Send Out A Product Feedback Push Notification Campaign
You can't wait around hoping for your customers to leave a review. The smart thing to do is to simply ask for a review.
But of course, it can be a real pain to go around asking manually if you have a bunch of new customers every day. That's exactly why a product feedback push notification campaign is so useful. It's completely automated and if you do it right, product feedback campaigns really work: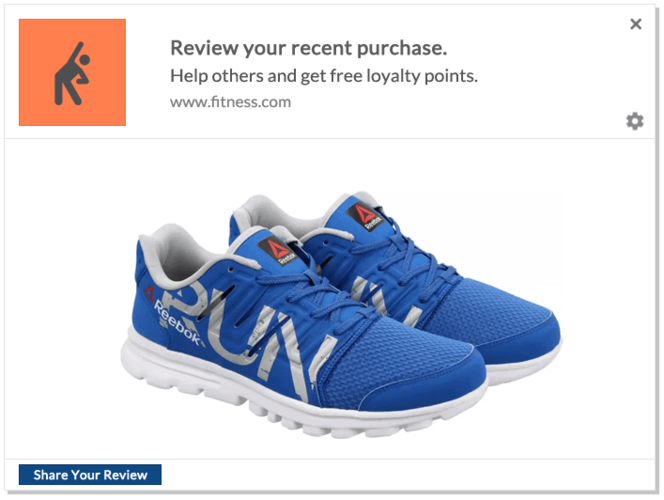 We recommend using PushEngage for all your push notification campaigns. PushEngage is the #1 web push notification software in the market and it's built to help small businesses succeed.
From your PushEngage dashboard, head over to Campaign » Trigger Campaigns and click on Create New Triggered Campaign:

From the list of campaign templates, go ahead and click on Custom Trigger Campaign: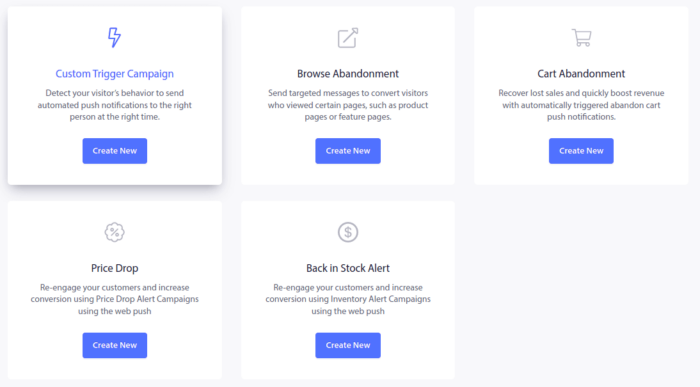 Give your campaign a name that you can recognize. Then, create the content for your push notification campaign: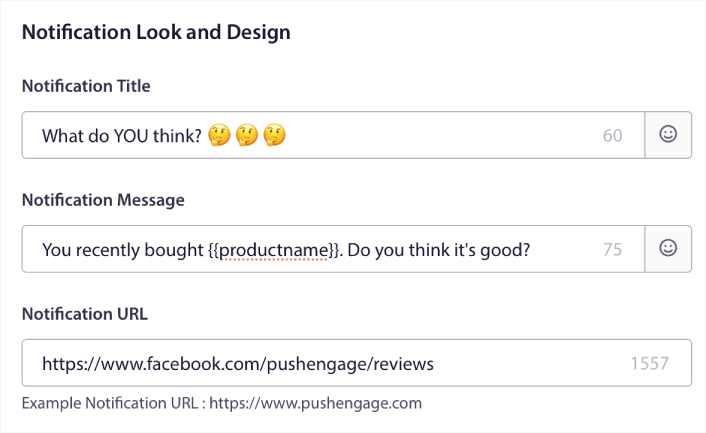 Since it's a triggered campaign, you can create as many follow-ups as you like until you get a review from your customers.
Then, go to the Trigger Settings tab to set up the campaign triggers: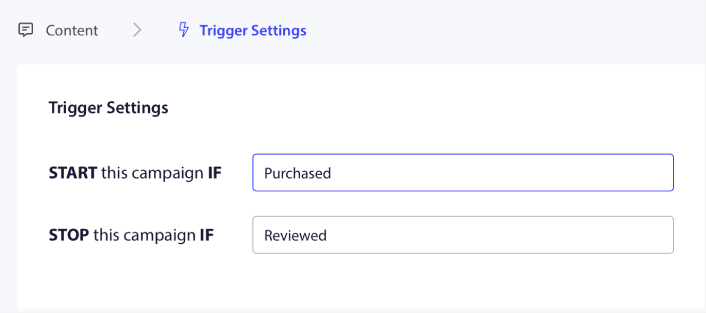 Set the campaign to start when the customer purchases your product and stop when they leave a review. You'll need to use the PushEngage API to define the Purchase and Review events.
And finally, integrate the code with your website. You can get the code for Start campaign event, Stop campaign event, and Goal tracking by click on the Integration Code button.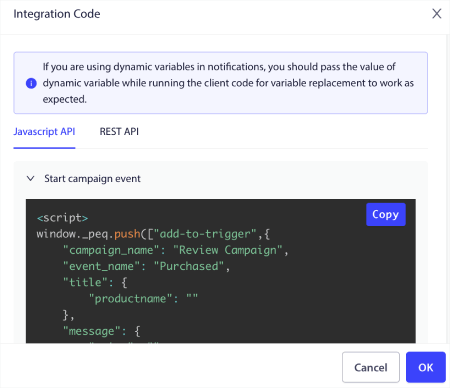 That's all! Every time someone buys a product on your website, an automated campaign that asks for reviews will get triggered.
#4. Email And Ask For A Review
This idea is just like the previous one – but using email campaigns instead.
Again, you'll want to automate the entire process and you'll need an email service provider with workflow automation to send out product review email campaigns.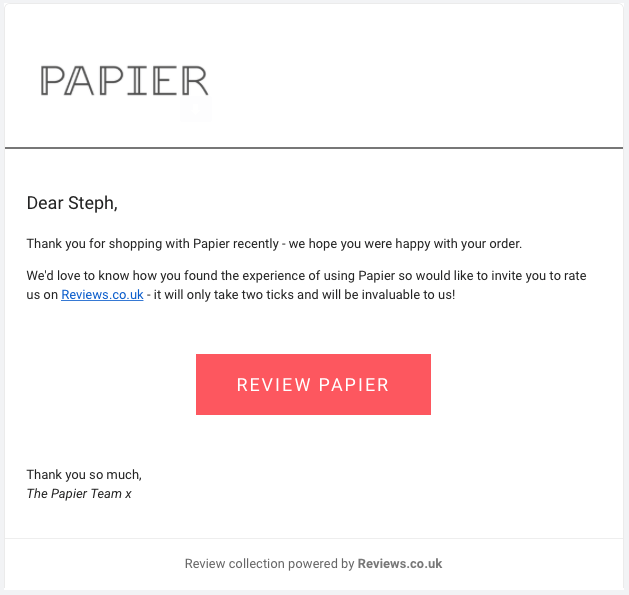 We recommend using Drip to send out product feedback emails.
Head over to Drip to create a new campaign. After you draft your emails requesting a review, you'll need to create a workflow automation: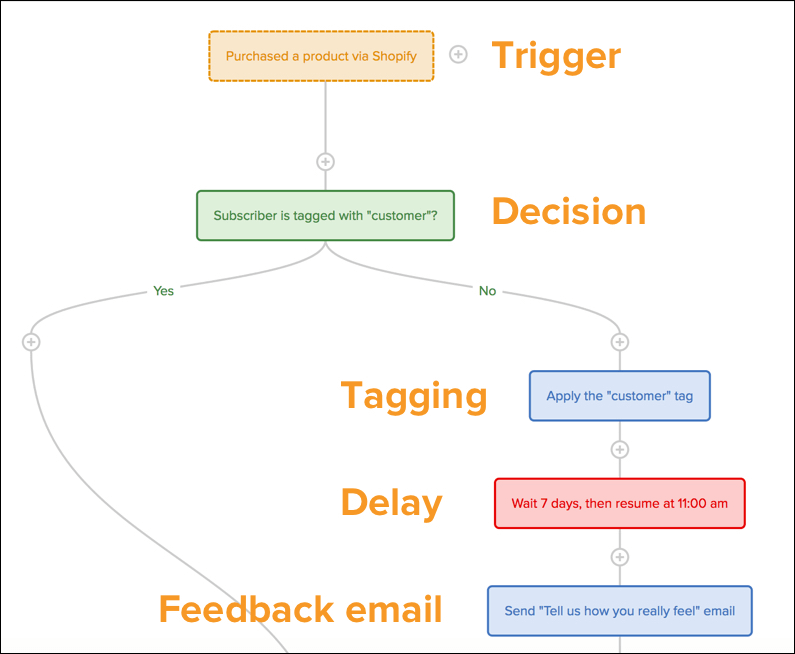 Check out this article if you need help setting up your product review campaign on Drip.
#5. Use the Review Rabbit System to Get More Reviews
We love hearing from our customers. That's exactly why we use a system called the "Review Rabbit".
It sounds really fancy, but the Review Rabbit system is just a way to reward your users with some great prizes, coupons, discounts, and offers…
… JUST for leaving a review!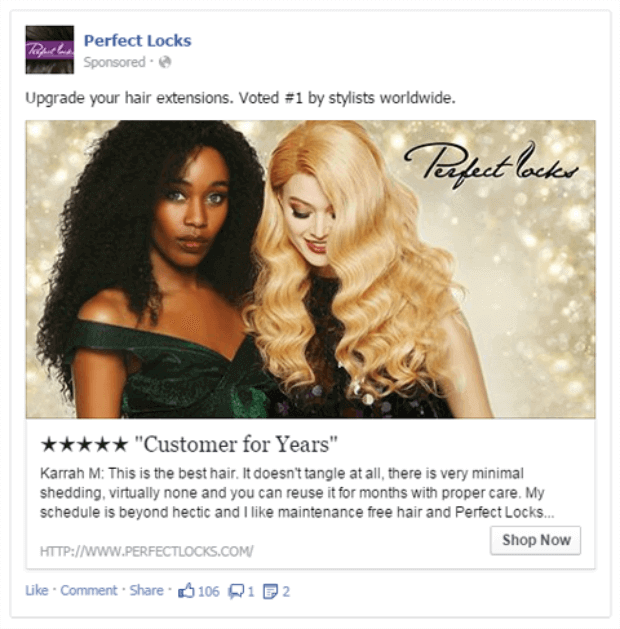 You give and you get and then you get some more.
So, you can create contests to encourage your customers to write reviews. Or, you can simply send out email or push notification campaigns or even social media campaigns to gather more reviews.
NOTE: The idea is to reward customers for leaving a review. It doesn't matter if it's good, bad, or ugly. We'll talk about that in a later section, but for now, just remember to reward everyone for taking the time to review your product.
#6. Embed QR Codes in Downloadable Files
This is a quirky idea. Or rather, a QRky one (sorry about that)!
We're going to show you how to embed a QR code in any downloadable file like a PDF. The file doesn't necessarily have to be a PDF. It can practically be any downloadable file. 
Most businesses create downloadable files as a lead magnet (a bribe to collect emails for marketing). But they forget to use the downloadable files as advertising real estate. You know for sure that anyone downloading a file is going to open it, right?
First off, you'll want to create a mobile review form on WPForms to collect reviews: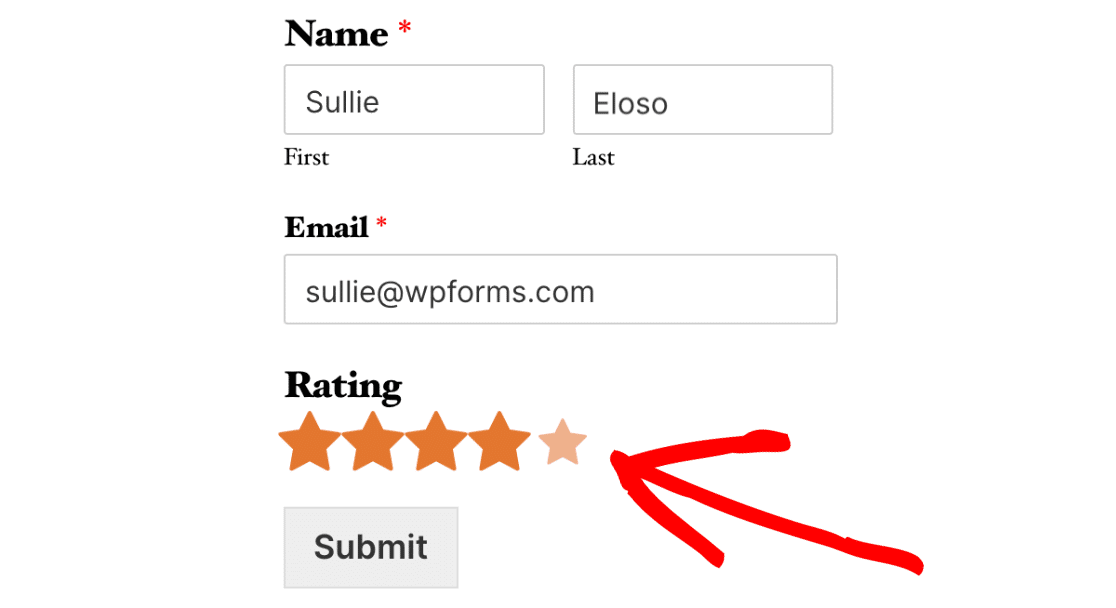 After you publish your form, add it to a new page specially for collecting reviews and feedback.
Finally, you'll want to use a free QR Code generator to create a QR code from the URL of the feedback page. Just paste in your URL and use the QR code generated automatically:

Now, you can simply paste this QR code to your downloadable file.
Or, if you're using Canva to design your posts and downloadable files, then you can use their built-in QR code generator as well. Click on Apps and search for QR Code in the search bar: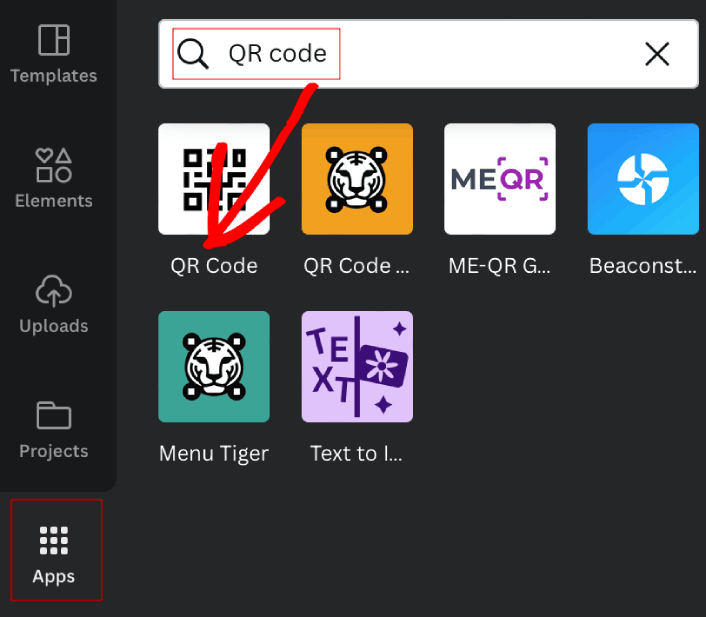 Then, simply paste in your URL and Canva automatically generates the QR code for you:
No need to download and upload the QR Code from somewhere else.
#7. Post Your Reviews On Social Media
Show off your reviews on social media to encourage customers to write reviews of their own.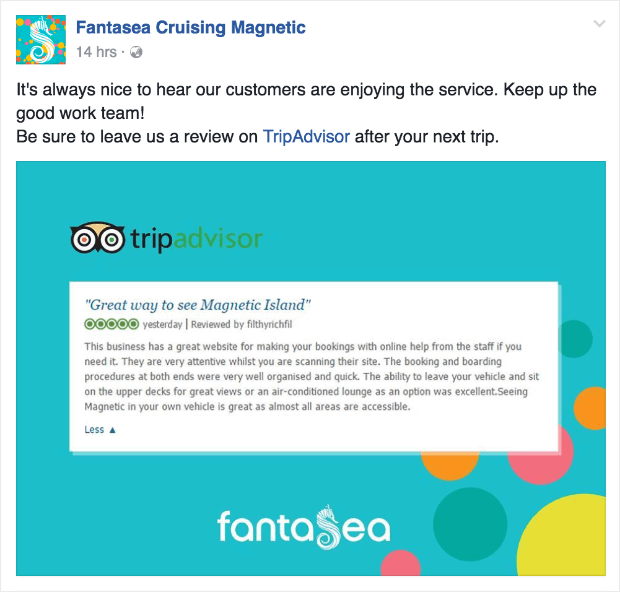 It's as simple as that.
This serves a dual purpose.
On one hand, you encourage more people to leave reviews on your social media feeds by showing everyone that you value their feedback.
And on the other hand, you can get a ton of sales because the reviews act as social proof. The best part is that it's on social media. Social proof is actually very relevant on social media and it can generate a passive income channel in minutes.
#8. Use the Reviews to Send Product Recommendations
Did you know that you can set custom triggers on PushEngage to send out content that's super relevant to your audience? One of the most interesting ways to use custom triggers is to use your reviews to send out product or content recommendations.
Here's an example for an eCommerce website: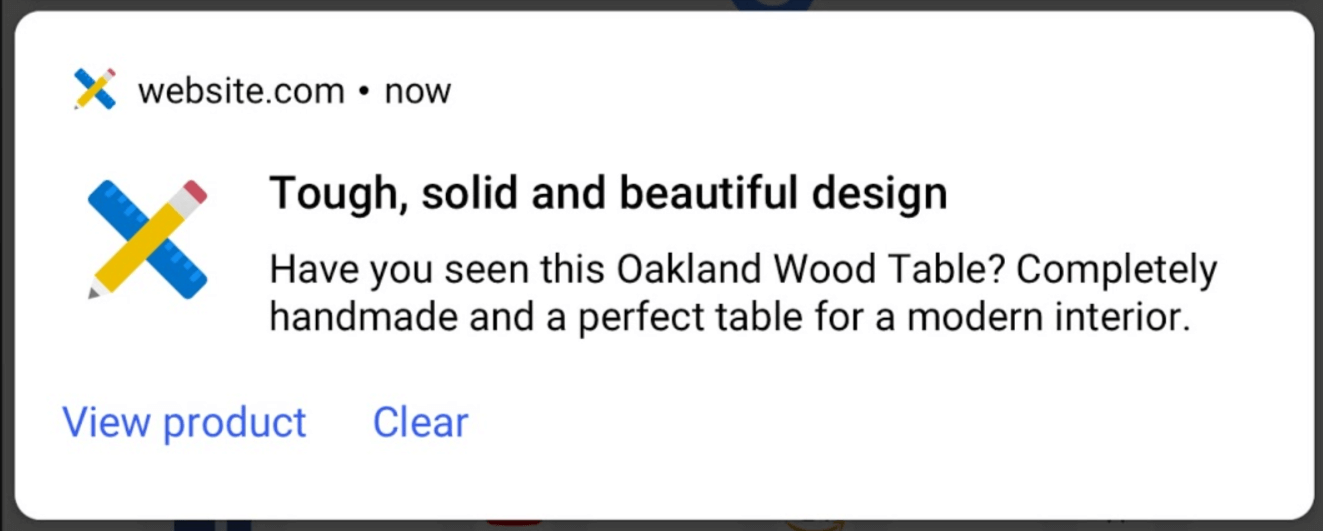 Of course, you can use the same idea to send out content recommendations if you're a publisher: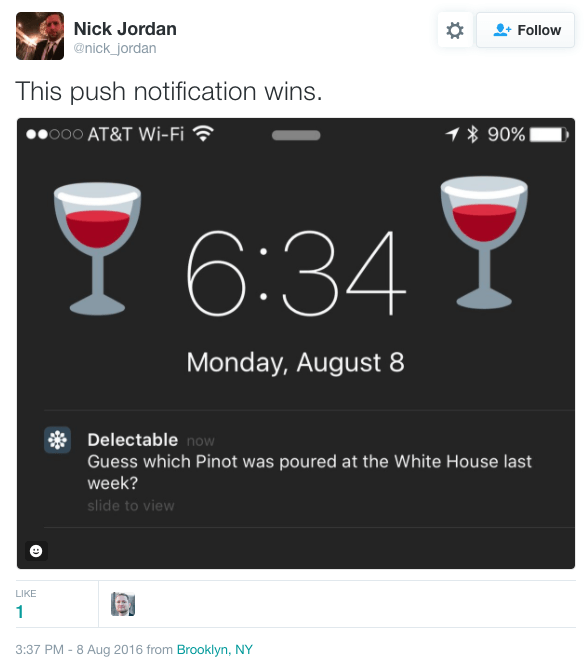 Epic, right? You'll need to use the PushEngage Javascript API to create a custom trigger that recommends related products every time someone leaves a 5-star review for your product.
WARNING: This is a seriously advanced campaign and you'll need help from a professional developer. Before setting up this campaign, talk to your PushEngage Customer Success manager to get more detailed instructions if you're not a developer yourself.
#9. Respond to Your Reviews: Good, Bad, and Ugly
Everyone loves a good review. But what's more important is how many BAD reviews you're stacking up for your product.
Here's a quick lesson about reviews for any product:
1-star, 2-star, and 5-star reviews are mostly biased
3-star reviews indicate genuinely dissatisfied customers
4-star reviews are usually from customers who like your product, but aren't overjoyed
Keeping these 3 simple facts in mind is the first place to start.
Biased reviews aren't a bad thing. It gives you a great way to show off what's working or find new ways to improve either your product or your marketing.
In a few odd instances, you may very well show off your bad reviews as well!
Here's a fantastic way to turn your 1-star reviews into an epic advertisement for your brand: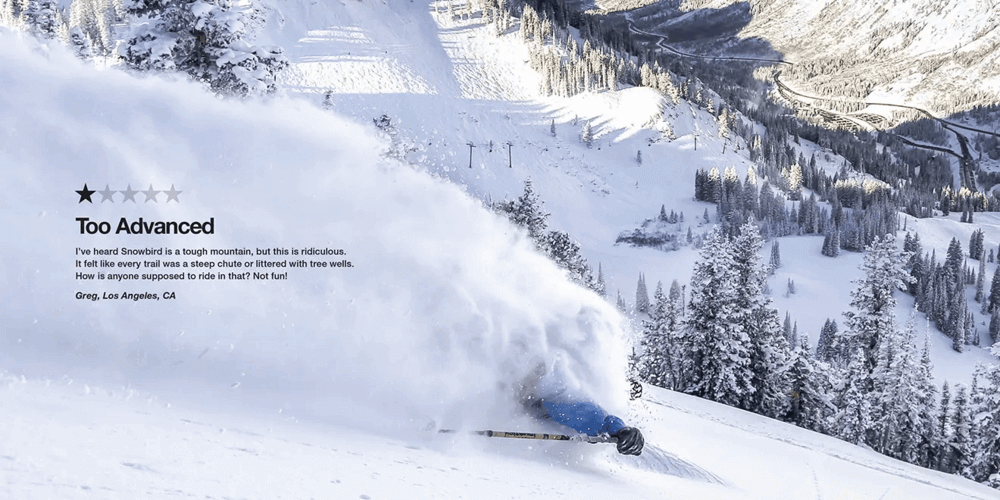 This is a real ad by a ski lodge. Epic, right?
Of course, this isn't exactly the norm. Here's a good process to follow for negative reviews:
Apologize quickly for damage control
Tell the customer how to contact you
If you're not 100% sure what the issue is, talk to the customer some more
Once you understand the issue, communicate how you're going to solve it very clearly
Pro-Tip: Don't go deleting bad reviews. It does way more harm than good.
The most important feedback (genuine feedback) usually comes from 3-star and 4-star reviews. If you pay attention, you can mine a lot of content and product feature ideas from these reviews.
#10. BONUS TIP: Create a Testimonials Page
If you implement all the 9 tips before this one, you're going to get an avalanche of testimonials, reviews, and other social proof.
The best way to showcase your social proof is to create a dedicated page for testimonials, reviews, and case studies.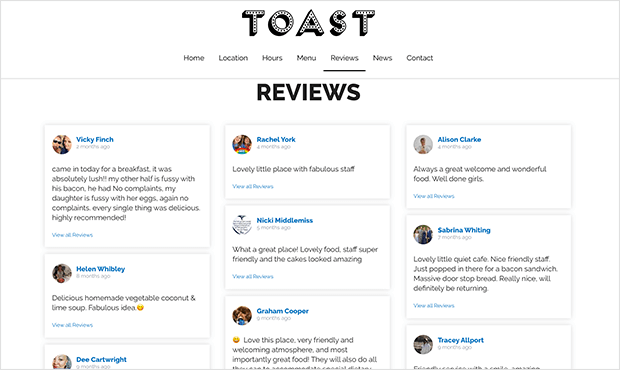 Seeing featured reviews makes it appealing for customers to write their own reviews.
If you need some inspiration, check out this article on some GENIUS examples of testimonials pages. Let us know in the comments if you found that helpful.
Or, you could check out our testimonials and case studies. We have our own testimonials page too! While you're at it, why not try out PushEngage as well? You'll get all the reasons you need from our testimonials.
Wrapping Up
That's all for this one.
Reviews and testimonials are important tools to improve and increase your business. So, be sure to check out this list of social proof software tools you can use.
Also, if you're already a PushEngage customer, please shoot us an email and leave us a review!
If you've never tried out PushEngage, go ahead and try it out right now. PushEngage is the #1 push notifications software in the market and you'll be able to create product review campaigns straight off the rack.
Good luck with your campaigns! Get started with PushEngage today.