Looking for a WordPress popular posts plugin?
Displaying your most viewed, most commented on, or most shared posts on your website gets you even more engagement. Popular posts plugins allow you to showcase your best content on your site and help visitors easily find top-performing articles.
But which plugin should you go for? Can you settle for the free plugins or do you need paid plugins? What should you even look for in a popular posts plugin?
In this article, we're going to give you the best popular post plugins for WordPress. If you read all the way through, we'll give you the our top recommendation.
Sounds good? Let's dive in.
Why Do You Need a WordPress Popular Posts Plugin?
A WordPress popular posts plugin can help you redirect traffic to content to converts traffic into sales. It can also be used to get more engagement on your site in the form of views, comments, and shares.
Popular post plugins are like the end screen of a YouTube video where you redirect your audience to other videos.
If you're running a website that makes money from display ads, popular posts plugins help you make even more money by getting your website visitors to spend more time on your site. You should also check out our list of Google AdSense alternatives. And if you're not making money from ads, here's a quick tutorial on how to add AdSense to your WordPress site.
But one of the biggest advantages of using a popular posts plugin is the internal links that can improve your site's SEO.
Best WordPress Popular Posts Plugin
Now that we know what a WordPress popular posts plugin can do for you, it's time to check out the list. Before you dive into it, there's one more thing to consider. Popular posts plugins aren't the only way to increase traffic to your popular posts. You can use WordPress popups, push notifications, and website welcome messages to redirect your traffic.
Let's check out the best WordPress popular posts plugins now.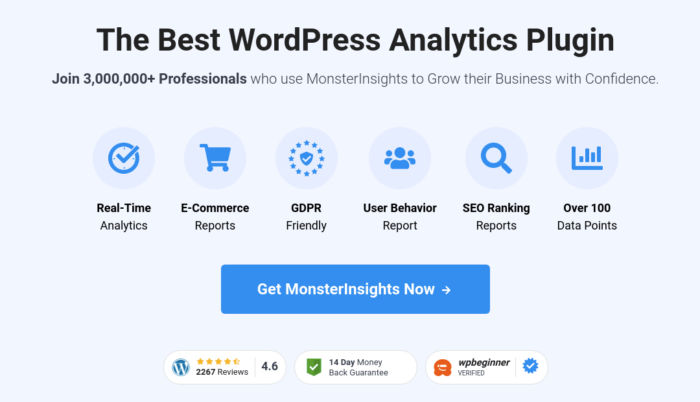 MonsterInsights is a WordPress plugin that makes it easy for you to use Google Analytics. Google Analytics is too complicated to use for a beginner. But even worse, it's easy to get lost in a sea of data without getting any actionable insights on growing your business.
MonsterInsights focuses on insights over volumes of data. This is super useful for an eCommerce business because in addition to SEO metrics, you'll also need to check out revenue numbers.
But most importantly, it comes with its own popular posts extension. MonsterInsights uses data from Google Analytics to automatically fetch popular posts on your site. Then, you can embed the posts anywhere you like using a shortcode or embed it in the sidebar using a widget. If you have an eCommerce store, you can use the plugin to get more traffic for your top-selling products as well.
The cool part is that you don't need a single line of code to install Google Analytics on WordPress.
Here's a quick look at what MonsterInsights can do for you:
Compatible with Any Version of Google Analytics
Reports to Find Top-Performing Content
Detialed Audience Insights
eCommerce Analytics
Additional Insights from Custom Dimensions
GDPR Compliance
Premium Integrations
If you need to take a close look at the features, you should really check out our review of MonsterInsights.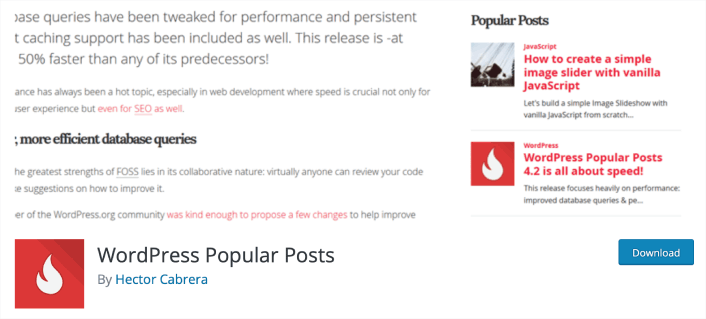 WordPress Popular Posts is one of the most popular popular posts plugins. It's a free plugin with 200,000+ users and it's super easy to use. You can create multiple widgets, each with their own settings. It also supports custom post types. So, you can use it for products and reviews as well.
You get to showcase content based on comments, the number of views, or average views per day. It even lets you sort trending posts within a specific date range, such as the last 24 hours or the last 7 days.
Cool bit is that it comes with a ton of design templates and if you're a web developer, you can even create your own HTML layout. You can get thumbnails for your content to increase clicks to your posts.
And if you're not using a web analytics tool that tracks clicks, you can get detailed statistics in your WordPress dashboard.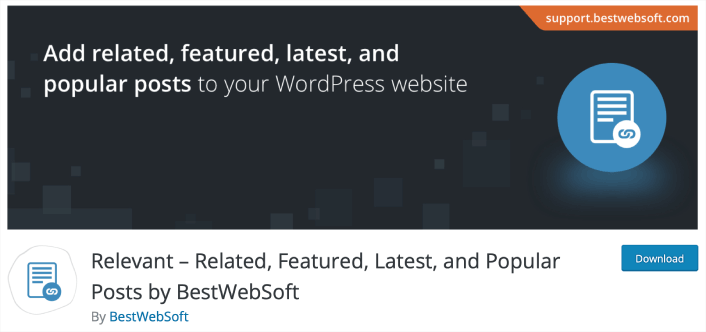 Relevant is another popular plugin to showcase your popular posts on WordPress. It's also a free plugin but you get a ton of great features. You can use Relevant to display featured posts, popular posts, related posts, and even latest posts.
The plugin is super easy to use and you don't need any experience with coding to customize the look and feel of your widgets. This includes background colors, text colors, post meta, and more.
You get to show popular posts before and after content and sort content based on pageviews and comments. If you want to show related posts, then the plugin sort articles based on categories, tags, title, and meta keyword.
You can also include post meta in your widgets if you think adding extra information about a post will help you get more clicks.
#4. Display Posts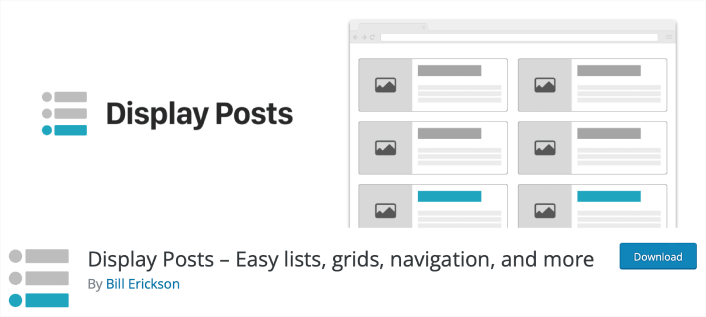 Display Posts is another popular plugin that helps you create lists, grids, and sidebars to showcase your most popular posts. The plugin itself is pretty minimal but it's very easy to use.
Mostly, you get a lot of shortcodes to customize your widgets and sidebars. So, it's meant for more advanced users. You can get detailed documentation for the shortcodes, though. You can also filter posts by category, show articles based on comments, integrate with other plugins such as ShareCount to display your most shared content and sort the list however you like.
The plugin also lets you display thumbnails, excerpts, and a lot more.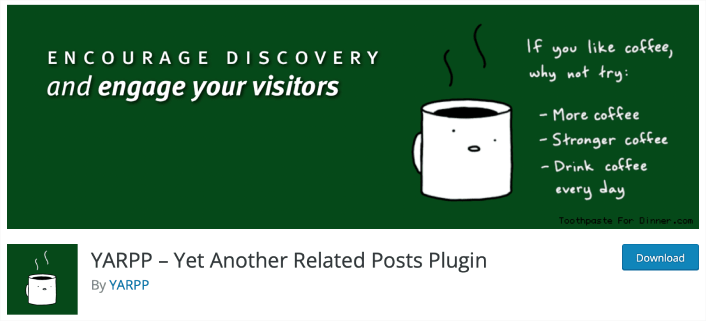 YARPP is perfect for you whether you want to showcase blogs, articles, or even custom post types. YARPP is compatible with all languages, making it extremely appealing to international audiences and developers alike.
One of the highlights of the plugin is its search algorithm that curates posts to showcase. You can display featured posts, popular posts, related posts, and even latest posts. You can even filter posts by category and show articles based on comments. Another great feature is that you get built-in caching as well.
If you have a development team behind you, you can even create custom templates using YARPP functions. One super cool function even allows you to use your RSS feed for understanding related posts. If that sounds interesting to you, you should also check out our post on how to send RSS push notifications to promote your popular posts even further.
What's the Best WordPress Popular Posts Plugin for You?
Hands down, the best popular posts plugin comes from MonsterInsights. In terms of pure performance, you get everything you want. But more importantly, MonsterInsights is the best WordPress Google Analytics plugin as well. And if you're trying to grow the traffic, engagement, and sales on your site, you should start using push notifications.
Don't believe us? Check out these amazing resources:
We recommend PushEngage to get started with your push notification campaigns. PushEngage is the #1 push notification software in the world.
So, if you haven't already, get started with PushEngage today.