Are you looking for the best Google Analytics plugin for WordPress in 2023?
Website analytics can be the difference between mediocre marketing and legendary marketing. But how accurate is the data that you're collecting? Are you looking at the correct numbers? Which tools are best for growing a business?
Most importantly, what's the best plugin for your business? Can you afford it? Is the free version even worth using?
And there are so many Google Analytics plugins out there. So, which one do you choose?
In this article, we will check out the best Google Analytics plugin for WordPress. If you stick around till the end of this post, we'll even give you our top pick.
Sounds good? Let's dive in.
What Are Google Analytics Plugins for WordPress?
Google Analytics plugins are software that gathers visitor data on your website. The plugin will then arrange the data so that you can understand what your website visitors are doing on your site. By understanding how your users behave, you can make business decisions to serve your users much better.
Google Analytics plugins can help you:
Determine the likelihood of repeat buyers
Personalize the site for repeat visitors
Understand customer spending habits
Create audience groups based on demographic and behavioral data
Predict how your visitors will react to new products and content
And much more.
The Best Google Analytics Plugin for WordPress
Now that we understand what Google Analytics plugins are and what the best ones can do for you, it's time to check out the top tools in the market. Let's take a look at some of the best website analytics plugins out there. In this list, we're going to focus heavily on plugins that can help small businesses grow.
Keep in mind that each platform has its pros and cons. There's no perfect tool out there that's good for everything under the sun.
Let's dive in.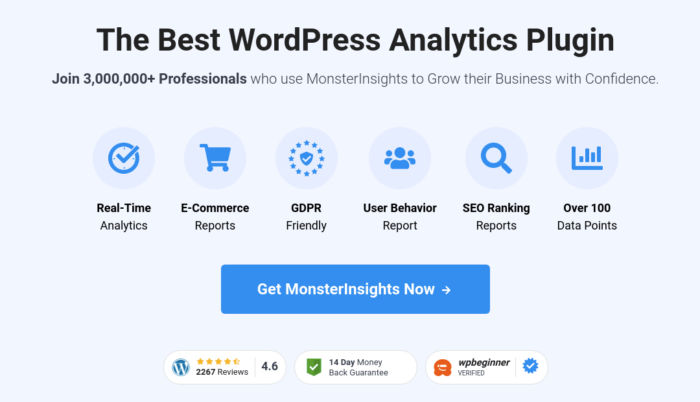 MonsterInsights is a WordPress plugin that makes it easy for you to use Google Analytics. A major issue with Google Analytics is that it provides you with too many options, which will confuse you unless you really understand data analytics.
In other words: It's really easy to get lost in meaningless numbers that may never actively help grow your business.
MonsterInsights makes it super easy to get real insights from raw data so that you can quickly make decisions based on what works best with your audience. It's also easier to focus on relevant metrics for different types of websites. For instance, a blog site and an eCommerce site shouldn't look at the same metrics.
MonsterInsights can help you:
Add Google Analytics tracking without using any code
Use Google Analytics 4 right off the bat
Get user-friendly reports in your WordPress dashboard
See real-time analytics data
Identify top-performing content
Understand your audience more deeply
Enable media and file tracking
Set up eCommerce analytics
Automate form signup analytics
Get more insights from custom dimensions
Affiliate link click tracking
Ensure GDPR compliance
And more! You should check out our review of MonsterInsights to get a better look at the features.
Get started with MonsterInsights.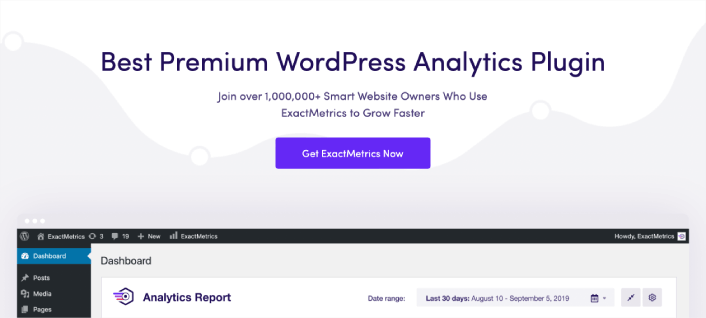 ExactMetrics is a super cool Google Analytics plugin for WordPress.
It also offers a free plugin version, which is great if you're adding Google Analytics to a hobby site or startup. This well-known tool to add analytics to your site was formerly known as Google Analytics Dashboard for WordPress (GADWP).
Lets you track website visitors and get analytics reports in your WordPress dashboard.
Shows you important details like page views, bounce rate, mobile analytics stats, organic searches, and traffic from social media sites.
Displays real-time statistics, including the number of visitors, traffic sources, and where they come from.
Provides in-depth reports for each page and post so you can analyze the on-page data and optimize your content.
Provides full event tracking for AMP (Accelerated Mobile Pages).
You can get started with the free version of the plugin. But we highly recommend using the paid version if you want to grow your business.
Get started with ExactMetrics.

HubSpot has one of the world's best Customer Relationship Management (CRM) tools. But their CRM is just one of many tools in their suite of marketing tools. With the Marketing Hub, you'll get analytics, email marketing, live chat, landing pages, and more.
While HubSpot isn't the best website analytics tool, it's a good starter platform. You get integrations directly into your sales automation software and your landing pages. If you're running a WordPress site, you should also check out the free HubSpot WordPress plugin. The free version is a great landing page builder as well.
If you're looking for a toolkit with closely integrated sales, marketing, and analytics tools, HubSpot is an excellent option.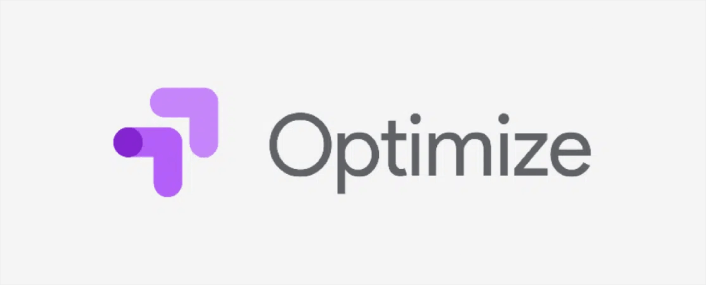 Google Optimize is not a standalone analytics platform. You'll need to connect your Google Optimize account with your Google Analytics account. With Google Optimize, you can run A/B tests and constantly improve your site's performance and conversion rates.
Optimize uses statistical modeling to determine what works the best on your site. And it's super easy to run A/B tests on Google Optimize. Plus, if you're using MonsterInsights, you can easily and quickly connect Google Optimize to Google Analytics and your website.
The only downside of Optimize is that you can't run A/B tests on your marketing tools such as popups, push notifications, and live chat software. For that, you'll have to run separate experiments with the built-in analytics of that software.
Get started with Google Optimize.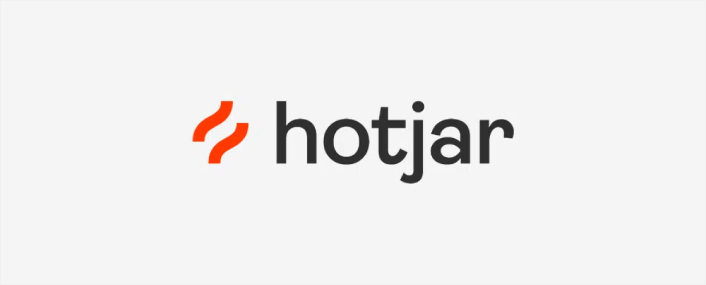 Hotjar is primarily a heatmap tool. It's one of the best website analytics tools in the market, and you get some pretty unique insights from its heatmaps.
Using Hotjar, you can track scrolls and clicks on your site. By itself, it's nothing miraculous. You can do the same thing using Google Analytics or MonsterInsights. However, with Hotjar, you can visualize the tracking data. Not just that, you can also record actual user sessions on your site and watch videos of real interactions on your site.
We don't recommend using Hotjar as your only website analytics tool. But with MonsterInsights or Google Analytics, Hotjar can be incredibly powerful.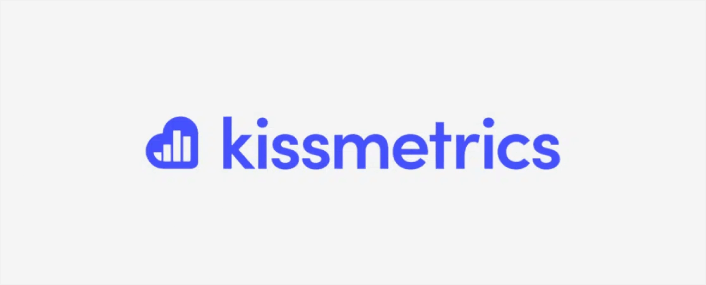 Kissmetrics is a web analytics tool for SaaS and eCommerce businesses. It focuses on registered users and their interactions with your site instead of anonymous visits. The analytics you get from Kissmetrics can be pretty valuable for data-driven growth if you're running a store.
One of the coolest things you can do using Kissmetrics is to pinpoint customer purchase behavior. This includes:
New trial starts
New subscriptions
Churns
Trial to signup conversion rate
Monthly recurring revenue
Time to signup
Time for new feature adoption
Cohort analysis
Locate the dropoff points in your new visitor-to-trial-to-paid signup flow
Discover the friction points in your onboarding funnel
See which features help trial users convert most
View conversion rate by marketing source
And so much more. Kissmetrics is fairly expensive, and you should only get it once your product has had a successful launch. But you can definitely use Kissmetrics to increase your revenue.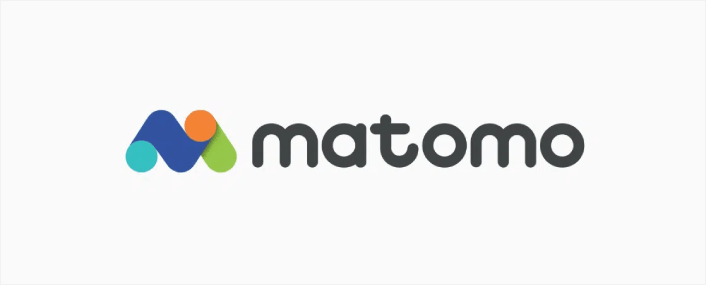 Matomo is an alternative to Google Analytics, one of the best website analytics tools in the world.
Unlike GA, Matomo is a paid solution. However, you also get complete control over your user data. It focuses heavily on being GDPR compliant. Since you have full control over your data, you can offer proper data privacy to your users.
As far as features go, Matomo has a lot of the features that Google Analytics does, as well as heatmaps and A/B testing. You get flexible pricing based on your usage. Penny for a penny, Matomo is worth investing in.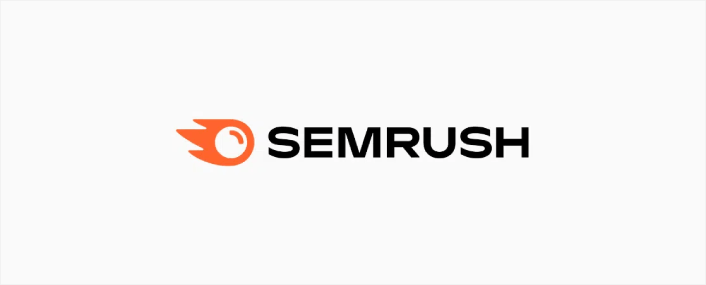 Semrush is an all-in-one SEO toolkit. But it also acts as one of the best website analytics tools in the world.
With Semrush, you can gain the insight you need about how much traffic keywords and topics get. You can decide what to focus on to build your organic traffic with that kind of analytics intelligence.
With Semrush, you can:
Get 21+ billion keywords for 130 countries
Run in-depth website audit with 130+ checkpoints
Get recommendations to improve your content to increase search rankings
Track and analyze competitor websites and marketing strategies
Create and track your PPC campaigns
Draft, schedule, and post content on social
Create and schedule white-labeled or branded reports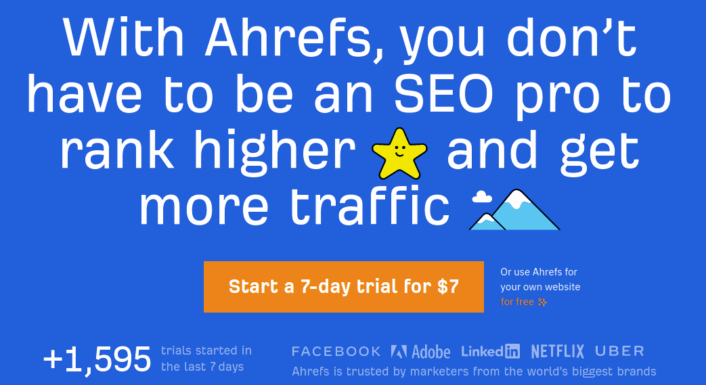 Ahrefs is hands down one of the best SEO tools we have ever come across for content auditing, SEO research, and competitor analysis. It's also one of the best website analytics tools in the world. While Ahrefs is more of a standalone tool, you can also use their WordPress plugin.
Using Ahrefs, you can:
Audit the content on your site
Find new keywords to target
Track keywords rank from a dashboard
Study what your customers are searching for online
Analyze the top-performing content in your niche
And it's all from an easy-to-use dashboard. If you're new to SEO, you can also check out their training material. But if you're already somewhat experienced in SEO, you can use Ahrefs to get explosive growth if you follow a good SEO process.
Which of These is the Best Google Analytics Plugin for You?
We highly recommend using Google Analytics for all businesses. Hands down, it's the best website analytics tool for small businesses. And if you're running a WordPress site, you should also get MonsterInsights.
One part of marketing is data and analytics. The other side of marketing is getting repeat traffic, engagement, and sales. For that, we recommend using push notifications.
Push notifications can be a powerful marketing tool for growing businesses. Not convinced? Check out these epic resources:
We recommend using PushEngage to create your push notification campaigns. PushEngage is the #1 push notification software in the world. So, if you haven't already, get started with PushEngage today!