Looking for the best WordPress news plugins for your site?
News plugins are a great way to increase traffic and engagement on your site. You can use them to push traffic towards popular posts and trending stories. And even if you're not running a news outlet, these plugins are super powerful for growing an audience of regular readers.
But which plugin should you go for? Can you settle for the free plugins or do you need paid plugins? What should you even look for in a popular posts plugin?
In this article, we're going to give you the best WordPress news plugins in the market. If you read all the way through, we'll give you the our top recommendations as well.
Sounds good? Let's dive in.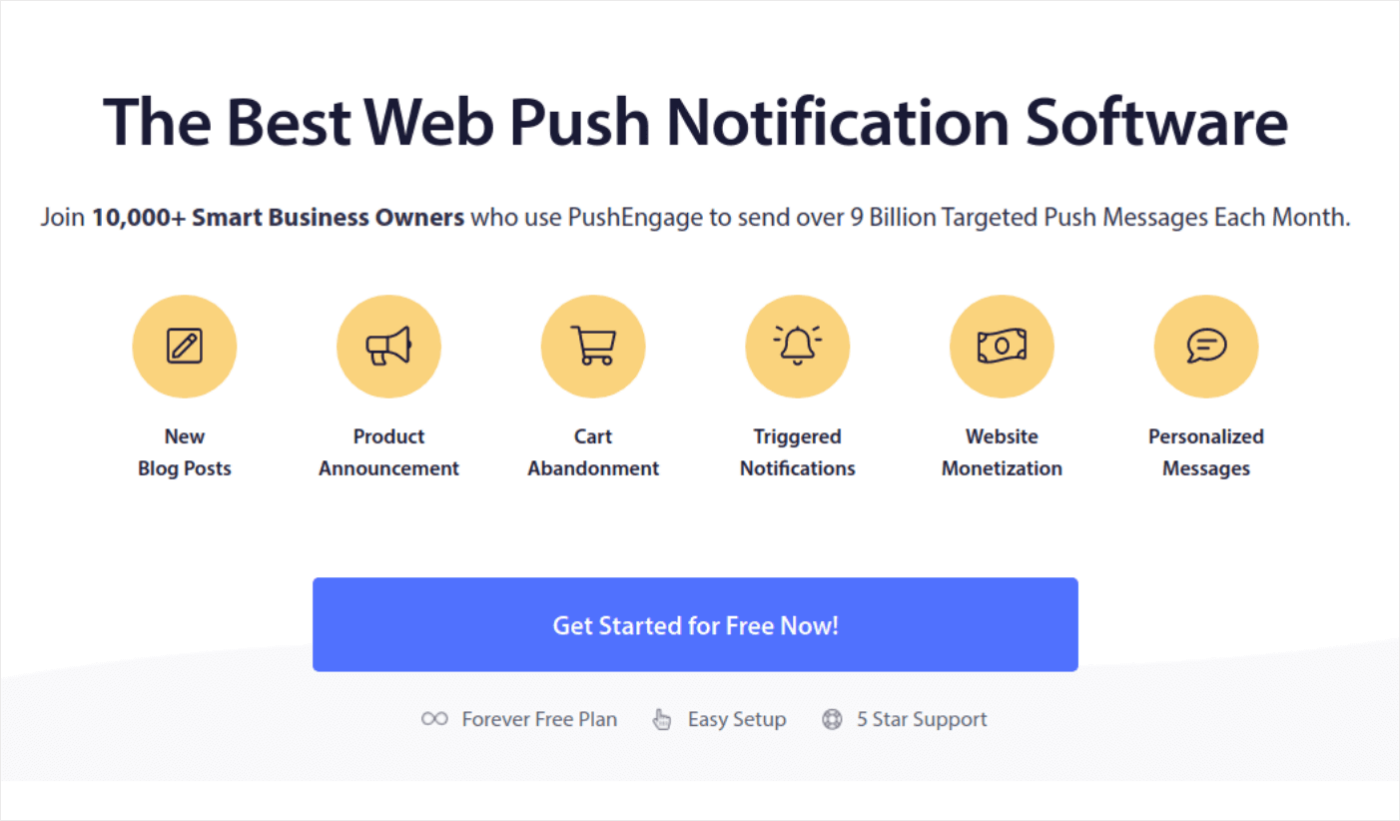 PushEngage is the #1 push notifications plugin in the world.
Push notifications help you grow your website traffic and engagement on autopilot. And if you're running an online store, PushEngage also helps you grow your sales by helping you create automated eCommerce push notifications.
You can get started for free, but if you're serious about growing your business, you should buy a paid plan. Also, before buying any push notification service, you should check out this guide to push notification costs.
Here's a quick glance at what you get with PushEngage:
And more!
You'll see that PushEngage is hands down the best bet if you want to build traffic, engagement, and sales for your business. And if you're on a budget, you can always get a little bit creative with your push notifications. Check out this detailed breakdown of PushEngage and it's features.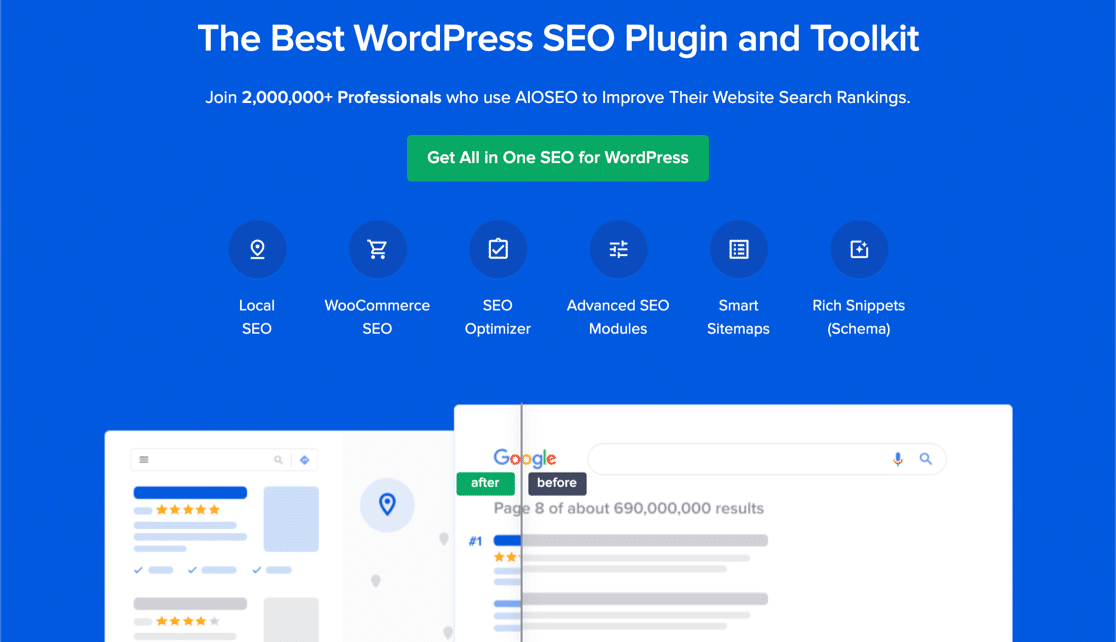 All In One SEO is the best WordPress SEO plugin in the world.
Not only is AIOSEO powerful enough to implement the latest SEO best practices, but you also get advanced options to resolve specific SEO issues straight out of the box. This includes:
Local SEO modules for small businesses with a local audience
WooCommerce SEO for online stores
An SEO optimizer inside your WordPress editor
Smart Sitemaps for instant indexing on Search Engines
A Schema plugin to get your content to rank in the Rich Snippets
And a lot more! You can learn more about the feature on our review of AIOSEO.
Ditty is a multi-functional WordPress content display plugin. This means it lets you create custom news tickers but goes above and beyond that. You can display all sorts of content from your site indlucing latest blog posts or custom text.
There are built-in customization options and you can use HTML or CSS to enhance the style futher.
Ditty comes with 3 default ticker modes: Scroll Mode, Slide Mode, and List Mode. The plugin also offers premium extensions to import news from Facebook, Twitter, RSS Feed, Instagram, and other sources.
Ther plugin is compatiable with all popular WordPress builders including the Block Editor (Gutenberg), Divi, Elementor, and Beaver Builder. And if you need more functionality, like Facebook or Instagram integrations, there are extensions that you can use.
MonsterInsights is a WordPress plugin that makes it easy for you to use Google Analytics. Google Analytics is too complicated to use for a beginner. But even worse, it's easy to get lost in a sea of data without getting any actionable insights on growing your business.
MonsterInsights focuses on insights over volumes of data. This is super useful for an eCommerce business because in addition to SEO metrics, you'll also need to check out revenue numbers.
But most importantly, it comes with its own popular posts extension. MonsterInsights uses data from Google Analytics to automatically fetch popular posts on your site. Then, you can embed the posts anywhere you like using a shortcode or embed it in the sidebar using a widget. If you have an eCommerce store, you can use the plugin to get more traffic for your top-selling products as well.
The cool part is that you don't need a single line of code to install Google Analytics on WordPress.
Here's a quick look at what MonsterInsights can do for you:
Compatible with Any Version of Google Analytics
Reports to Find Top-Performing Content
Detialed Audience Insights
eCommerce Analytics
Additional Insights from Custom Dimensions
GDPR Compliance
Premium Integrations
If you need to take a close look at the features, you should really check out our review of MonsterInsights.
WordPress Popular Posts is one of the most popular popular posts plugins. It's a free plugin with 200,000+ users and it's super easy to use. You can create multiple widgets, each with their own settings. It also supports custom post types. So, you can use it for products and reviews as well.
You get to showcase content based on comments, the number of views, or average views per day. It even lets you sort trending posts within a specific date range, such as the last 24 hours or the last 7 days.
Cool bit is that it comes with a ton of design templates and if you're a web developer, you can even create your own HTML layout. You can get thumbnails for your content to increase clicks to your posts.
And if you're not using a web analytics tool that tracks clicks, you can get detailed statistics in your WordPress dashboard.
Relevant is another popular plugin to showcase your popular posts on WordPress. It's also a free plugin but you get a ton of great features. You can use Relevant to display featured posts, popular posts, related posts, and even latest posts.
The plugin is super easy to use and you don't need any experience with coding to customize the look and feel of your widgets. This includes background colors, text colors, post meta, and more.
You get to show popular posts before and after content and sort content based on pageviews and comments. If you want to show related posts, then the plugin sort articles based on categories, tags, title, and meta keyword.
You can also include post meta in your widgets if you think adding extra information about a post will help you get more clicks.
Live News is a premium WordPress news plugin that allows you to display real-time news updates to broadcast the latest news, financial news, weather alerts, sports results, election polls, and more.
The plugin offers 4 methods to publish news:
Manual posting as Featured News and Sliding News menu
Gathering headlines from your blog post
Using Twitter as the news source
Import news from an RSS feed
Live News comes with 70+ customization options, multiple news display settings, and supports WordPress multisite network. It's also translation ready to showcase the headlines in local languages.
And if you run into any issues or need technical info about the plugin, you can connect with the plugin developer via email.
Which of These WordPress News Plugins is Right for Your Business?
We recommend using multiple WordPress news plugins on your site. PushEngage is the best tool to gain repeat traffic, engagement, and sales. AIOSEO helps you get more SEO traffic to your site. And MonsterInsights helps you grow your traffic and sales using analytics.
But if you only have enough budget for a single plugin, start sending push notifications with PushEngage first. Push notifications are really great tools to increase your engagement and conversions as well. For a new business, growth needs to be super affordable. And push notifications cost very little to begin with.
Check out these epic resources if you're not sure where to get started:
PushEngage is the #1 push notification software in the world. So, if you haven't already, get started with PushEngage today!