Looking for the best social proof tools for WordPress?
A social proof plugin is meant to do one of three things:
Get one-time site visitors to visit your site again
Convince and convert visitors to your site into paying customers
Retain existing customers
You'll want a plugin that's powerful and time-tested. But which one do you choose?
There are so many options out there.
In this article, we've shortlisted some of the best social proof tools in the world. We'll even give you our top recommendations if you stick with us all the way through!
Sounds good? Let's dive in.
What is Social Proof?
Social proof is a psychological phenomenon where people assume the actions or decisions of others in a given situation to determine their own behavior. In simple terms, it means that individuals tend to conform to the actions or opinions of a larger group because they believe that others' choices are correct or preferable.
The concept of social proof is deeply ingrained in human psychology and plays a significant role in shaping our behaviors and decisions, particularly in uncertain or ambiguous situations. It is a powerful influence on various aspects of life, including consumer behavior, social interactions, and decision-making processes.
There are several types of social proof:
Expert Social Proof: When a recognized authority or expert endorses a product, service, or idea, people are more likely to trust and adopt it.
Celebrity Social Proof: Influential celebrities or public figures endorsing a product can sway public opinion and encourage others to follow suit.
User Social Proof: Positive reviews, testimonials, or feedback from satisfied customers can influence potential buyers and build trust in a brand or product.
Wisdom of the Crowd: People often look to the actions of a large group to determine what is appropriate or desirable behavior in a particular situation.
Friends and Family Influence: The decisions and actions of close friends or family members can significantly impact an individual's choices.
Social proof is widely used in marketing and advertising to increase sales and brand credibility. By highlighting positive reviews, showcasing popular products, or using endorsements from influential figures, companies can leverage social proof to persuade potential customers to make purchasing decisions.
However, it's important to be aware of the potential for manipulation and the possibility of false or misleading social proof. Consumers should critically evaluate the credibility of the sources and consider their own needs and preferences before making decisions based solely on social proof.
How to Choose the Best Social Proof Tools for Your Business
Choosing the best social proof tools for your specific needs involves considering several factors to ensure they align with your goals and objectives. Here are some steps to help you make an informed decision:
Define Your Goals: Start by clearly defining what you want to achieve with social proof on your website or platform. Whether it's increasing conversions, building trust, or showcasing customer satisfaction, having specific goals will help you focus on the right features.
Identify Your Audience: Understand your target audience and their preferences. Different social proof tools might appeal to different demographics, so choose ones that resonate with your potential customers.
Check Compatibility: Ensure that the social proof tools you're considering are compatible with your website or platform. Some tools might have specific requirements or limitations that may not work well with your existing setup.
Review Features: Evaluate the features offered by each social proof tool. Some common features include notification pop-ups, customer reviews, real-time user activity displays, and customizable design options. Choose tools that offer the functionalities you need to meet your goals.
Ease of Use: User-friendliness is crucial, especially if you or your team members will be managing the tool. Look for tools with intuitive interfaces and straightforward setup processes.
Integration Options: Consider whether the social proof tools can integrate with your existing software stack. Seamless integration with your website, content management system, or e-commerce platform is essential for smooth operation.
Customization and Branding: Your social proof should align with your brand's identity. Look for tools that offer customization options to match your website's design and branding elements.
Mobile Responsiveness: With a significant portion of internet traffic coming from mobile devices, make sure the social proof tool is mobile responsive and offers a good user experience on different screen sizes.
Data and Analytics: Check if the tool provides insights and analytics to measure the impact of social proof on your website's performance. Understanding the effectiveness of the tools will help you make data-driven decisions.
Customer Support: Reliable customer support is crucial when using any tool. Ensure the provider offers prompt and helpful assistance in case you encounter any issues or have questions.
Pricing: Compare the pricing plans of different social proof tools. Consider your budget and the value provided by each tool before making a decision.
Reviews and Testimonials: Read reviews and testimonials from other users to get a sense of their experiences with the social proof tools you're considering.
By following these steps, you can make a well-informed choice and select the best social proof tools that suit your specific requirements, ultimately enhancing your online presence and customer engagement.
Best Social Proof Tools That Are Proven to Work
Now that we know what social proof is and how you can use it grow your business, let's check out the best social proof tools in the market. Before we get into the tools, just a quick heads up: a lot of these tools have free versions that you can try before you buy. We've used these tools already so that you don't have to.
Let's get started.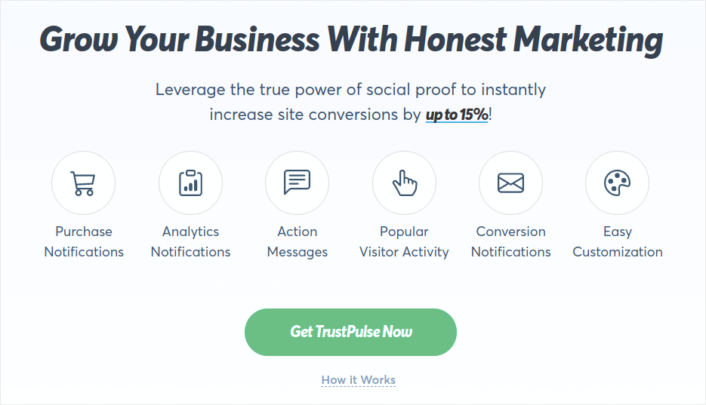 TrustPulse is the best social proof plugin for WordPress that you can add to any site. It creates social proof popups that help increase site conversions instantly. TrustPulse is fantastic for sites that sell a product online.
You can use TrustPulse to:
Boost email signups
Increase affiliate link clicks
Generate webinar registrations
Increase pageviews
Collect testimonials and reviews
Get more survey participation
And so much more!
If you're creating campaigns for different types of actions, you're going to need different types of campaigns.
And TrustPulse does this very well. You can create 4 types of notifications using TrustPulse: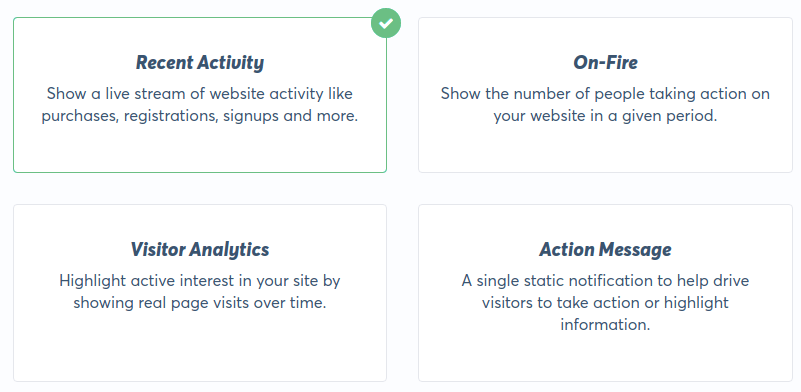 You can create Recent Activity notifications to showcase your web visitors taking specific actions on your site:

And if you want a visitor to take a specific action, you can display how many other people took that action using On Fire notifications:

A more specific type of On-Fire notification is when you want to display how many web visitors you got for a specific page:

This type of notification is super helpful for building trust. But if you're more interested in driving actions that aren't exclusively about sales, you should check out the Action Message notifications:

We wrote a full review of TrustPulse. You should check that out for a full list of features.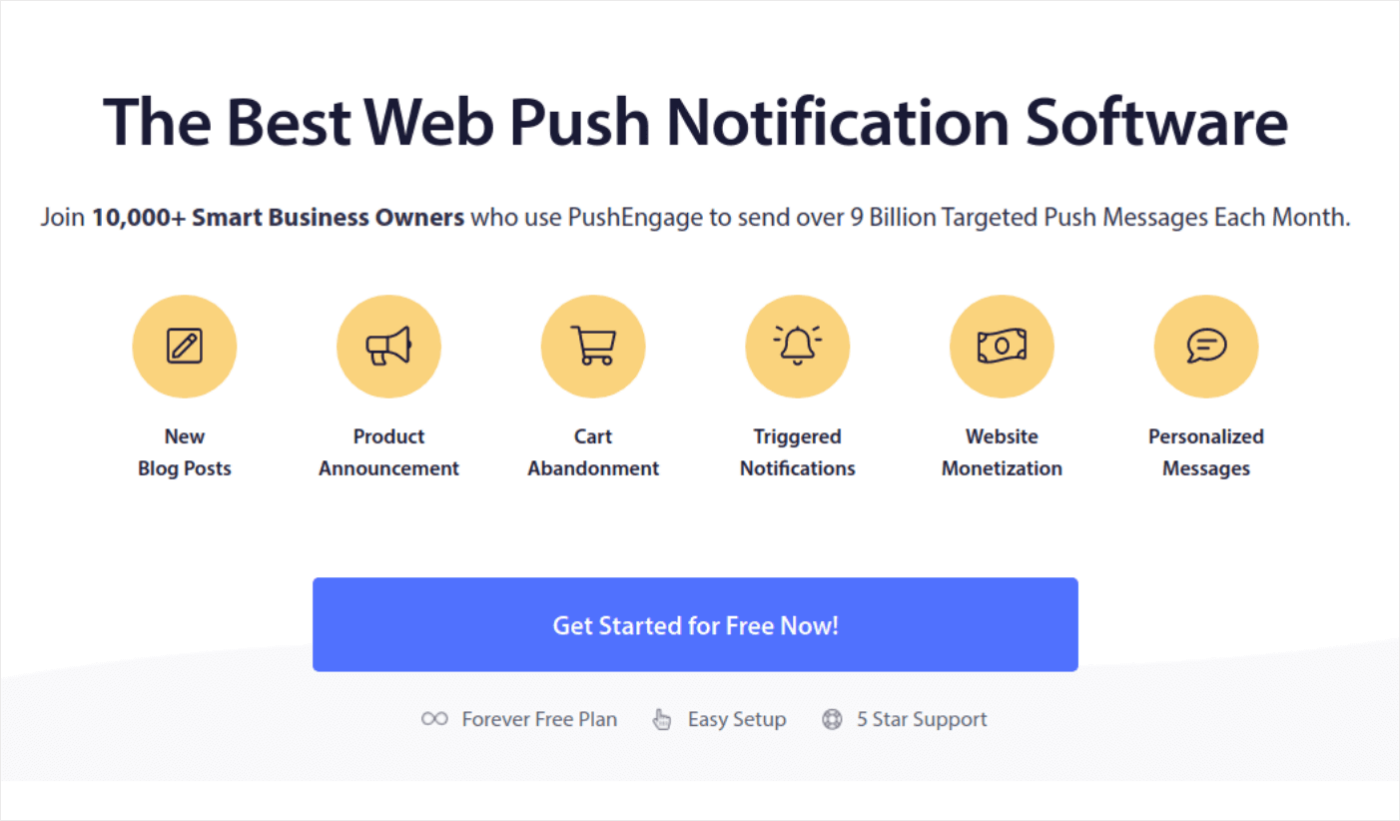 PushEngage helps you grow your website traffic and engagement on autopilot. It's one of the best Shopify upsell apps in the market. You can create powerful campaigns to get return traffic on your site and even recover lost sales. You can even cross-sell your other offers using push campaigns.
While it's not exclusively a social proof plugin, you can use PushEngage to collect reviews and testimonials, and promote user reviews using push campaigns.
And if you're running an online store, PushEngage also helps you grow your sales by helping you create automated eCommerce push notifications. You can get started for free, but if you're serious about growing your business, you should buy a paid plan. The cool part is that push notifications cost very little to get started.
Here's what you can get from a paid plan:
High-converting campaigns including Drip Autoresponders, Cart Abandonment Campaigns, Price Drop Alerts, and Inventory Alerts
Higher subscriber limits so that you can keep growing your push notification subscriber lists seamlessly
Higher sending limits so that you can send more push notifications across different campaigns as your business grows
More ways to target campaigns, including Customer Timezone Sending, Custom Triggered Campaigns, and Personalized Smart Tags
Goal tracking and advanced analytics to always keep improving the ROI on your push notifications
Split testing to test your copy, images, or display rules to see which converts the best
A Dedicated Success Manager to help you with Success Scripts, Behavior Automation, and Follow Up Campaigns
And these features are built to help small businesses grow. Take a look at our case studies, and you'll know how all kinds of businesses have enjoyed a lot of success from PushEngage's push notifications.
You'll see that PushEngage is hands down the best bet if you want to build traffic, engagement, and sales for your business. And if you're on a budget, you can always get a little bit creative with your push notifications.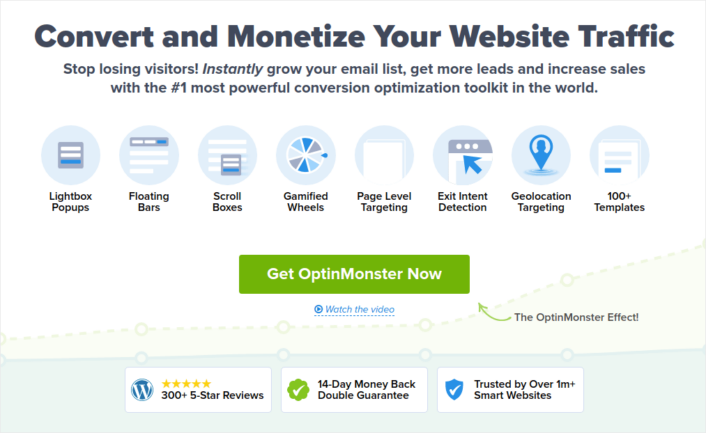 OptinMonster is one of the pioneers in WordPress popups. They practically changed the way in which email lead generation works in the marketing industry. It's also one of the best Shopify upsell apps in the market. It's also one of the best WordPress social proof plugins in the world.
OptinMonster has pretty much everything you need to start, grow, and scale your email lead generation process. You can also integrate OptinMonster with an email marketing service to recover lost sales.
Here's a quick rundown of what you can do using the toolkit:
Grow your email list smoothly for remarketing
Convert first-time visitors into regular readers
Reduce cart abandonment and browse abandonment rates
Create limited-time offers with actual countdown timers
Increase eBook downloads and digital product sales
Create a funnel for live events
Improve site engagement using gamified popups
Redirect your traffic to pages and posts that make you money
Create a list of genuine leads and remove fake emails using two-step opt-ins
We wrote a review of OptinMonster. So, if you'd like to check out the features in more detail, go ahead and check it out.
Get started with OptinMonster.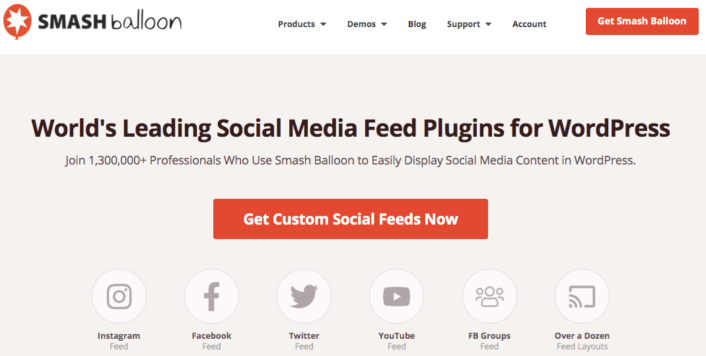 Smash Balloon is a simple social media feed plugin that allows you to display your social feeds on your site without using any code at all. You can use Smash Balloon to create custom YouTube feeds for your WordPress site in a few clicks. And you get to integrate Instagram, Facebook, Twitter, and YouTube feeds together or separately as you wish.
A really cool way to use a plugin like Smash Balloon is to use social media feeds to create a testimonial wall. That's what makes it one of the best social proof plugins for WordPress.
The best part? It's incredibly easy to use. Smash Balloon takes barely 5 minutes to set up. And there's no learning curve at all.
2+ million users trust Smash Balloon to display their social feeds on their websites. To top it off, Smash Balloon has an average rating of 4.8 out of 5 stars on WordPress.
You can use Smash Balloon to:
And lots more! You should also check out our Smash Balloon review for a full look at the features.
Get started with Smash Balloon.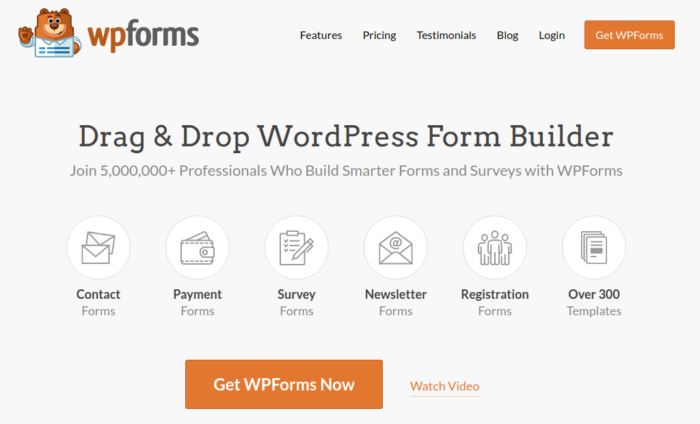 WPForms is the best WordPress form builder plugin. We've tested out a bunch of form plugins for WordPress and none of them come even close to the functionality or the ease of use of WPForms.
You can use a drag-and-drop form builder in WPForms to create and publish:
Surveys and Polls
Multi-step Forms
Conditional Logic Forms
Form Abandonment Campaigns
Form Landing Pages
Form Templates
Offline Forms
Conversational Forms
And, you can collect reviews and testimonials pretty easily using WPForms and automatically add them to a testimonials page. Cool, right?
You can even track user journeys for your forms to understand different customer touchpoints and optimize them over time. So, you'll know the best time to ask for a review or a testimonial by looking at the user journey. Go ahead and create a WordPress form with WPForms and you'll understand right away why we love the plugin so much.
Get started with WPForms today.
Which of These Social Proof Tools is Right for You?
We recommend using TrustPulse, OptinMonster and PushEngage for any website. They're extremely powerful social proof plugins for WordPress. And they're specialized solutions that focus on specific types of notifications to offer the most reliable solutions in the market.
You can use all three solutions even if you're not running an eCommerce site. They're super useful for publishers and service businesses alike.
If you're looking for a cost-effective way to increase your traffic, engagement, and sales, you should get started with push notification campaigns. Push notifications are powerful marketing tools that can help any eCommerce business grow quickly.
Not convinced? Check out these amazing resources:
PushEngage is the #1 push notifications software in the world. So, we recommend using PushEngage to create your push notifications and grow your business.