Looking for a Shopify abandoned cart app to help you recover lost sales?
You're not the only one. The average cart abandonment rate for an eCommerce site is 79.8% according to Statista. The good news is that you can set up automated campaigns to recover lost sales from abandoned carts.
In this article, we're checking out the top Shopify abandoned cart apps that actually work. Then, we're going to give you our favorite pick of the lot. The best part about all these apps is that they are completely beginner-friendly and there's very little coding involved.
Let's dive in.
How to Recover Abandoned Carts on Shopify
There are multiple ways to recover abandoned carts on Shopify. Some of the most popular ones are:
Cart Abandonment Push Notifications: You can set up abandoned cart push notifications that automatically recover lost sales. Additionally, push notifications are the most cost-effective marketing channel there is.
Cart Abandonment Email Campaigns: Emails are fairly cost-effective as a marketing channel. So, recovering your lost sales doesn't have to be expensive.
Exit-Intent Popups: Exit-Intent popups show up when your visitor tries to leave without taking any action on your site. It's a great way to give your visitors a discount or coupon and get them to buy something.
Chatbots: Live chats and chatbots have autoresponders that can be set up to be triggered when someone adds a product to their cart but doesn't check out for a while. it's a great way to engage with your customers and nudge them into buying right away.
SMS Autoresponders: Although SMS campaigns are usually meant as a broadcast, you can send targeted SMS campaigns for cart abandonment recovery. The requirement is that you must have a sufficiently powerful CMS and an SMS provider to do that.
In our list, we've put together all sorts of Shopify abandoned cart apps.
Some of them can help you send multiple types of campaigns. Others are focused on sending only a single type. Our recommendation is to get specialized apps that serve specific channels. Most software that offers a broad range of messaging channels has poor support and documentation around their products.
Best Shopify Abandoned Cart App
Now that you have a clearer picture of how you can recover lost sales with a Shopify abandoned cart app, it's time to check out the best ones in the Shopify marketplace.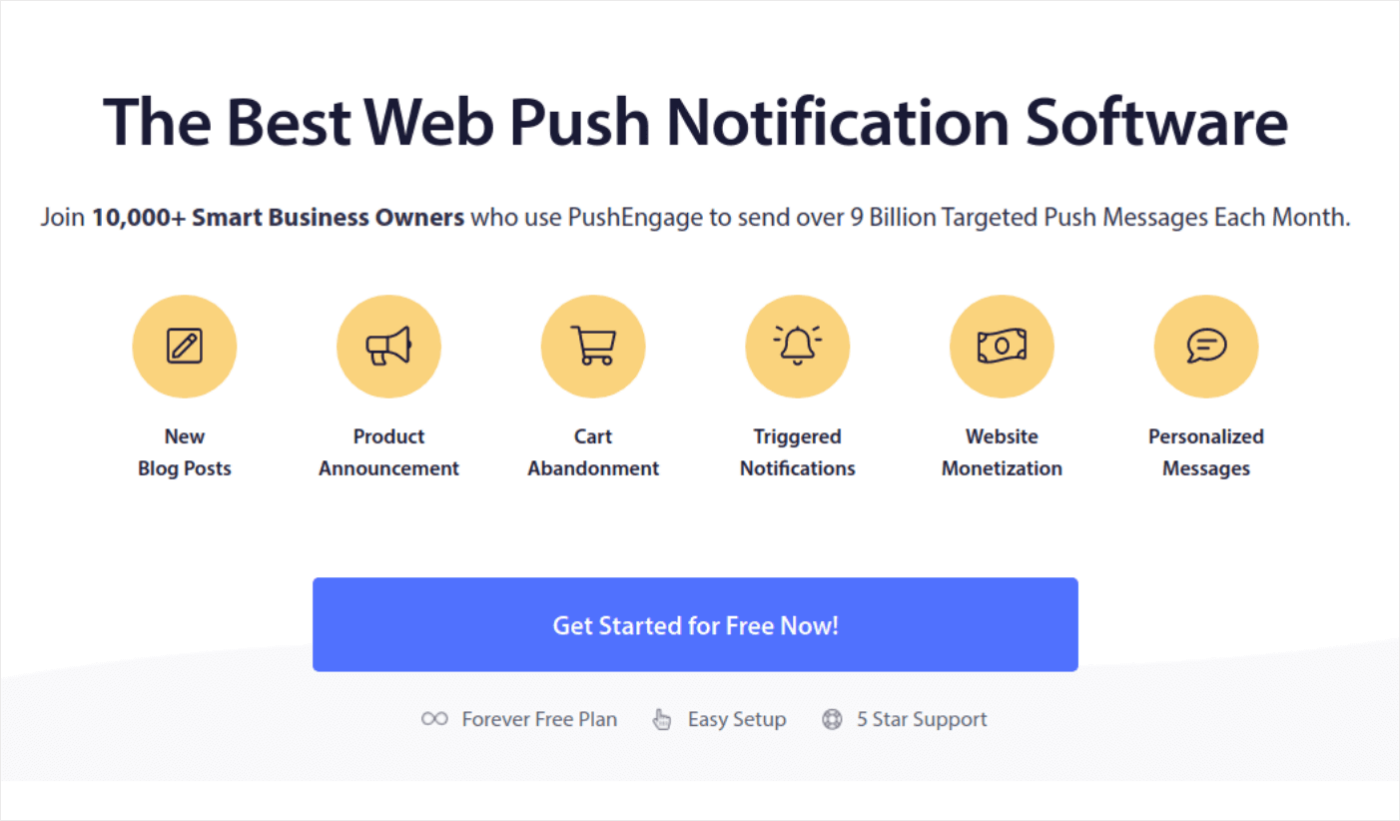 PushEngage is the #1 push notifications software in the world. It's the perfect choice for creating powerful cart abandonment recovery campaigns. PushEngage is super easy to use and it requires little to no coding at all.
It's…
Super-easy for both beginners and advanced users to set up;
Effective on HTTP and HTTPS sites;
Got a bunch of automated push notification campaigns you can use (in the paid versions);
Full of options to send personalized push notifications (in the paid version);
Equipped with goal tracking and advanced analytics (in the paid version);
And this is barely scratching the surface. Check out PushEngage's full list of features before you go any further.
You can try out the free version of PushEngage to get familiar with the software. But to set up cart abandonment campaigns, you'll need to get the Enterprise version. Trust us when we say it, PushEngage is worth the price.
Of course, you can create many other types of eCommerce push notifications besides cart abandonment campaigns using PushEngage. You can also create:
And more! Push notifications are extremely cost-effective and you can quickly set up your cart abandonment campaign to run on autopilot.
OptinMonster is one of the pioneers in WordPress popups. They practically changed the way in which email lead generation works in the marketing industry. OptinMonster has pretty much everything you need to start, grow, and scale your email lead generation process.
Here's a quick rundown of what you can do using the toolkit:
Grow your email list smoothly for remarketing
Convert first-time visitors into regular readers
Reduce cart abandonment and browse abandonment rates
Create limited-time offers with actual countdown timers
Increase eBook downloads and digital product sales
Create a funnel for live events
Improve site engagement using gamified popups
Redirect your traffic to pages and posts that make you money
Create a list of genuine leads and remove fake emails using two-step opt-ins
OptinMonster also pioneered and trademarked the exit-intent popup. Exit-intent popups are perfect for recovering sales by showing your visitor an offer right when they are about to leave your site. If you're new to exit-intent popups, you should check out this epic guide on how to create an exit-intent popup from scratch.
We love the plugin and even wrote a full review of OptinMonster. So, if you'd like to check out the features in more detail, go ahead and check it out.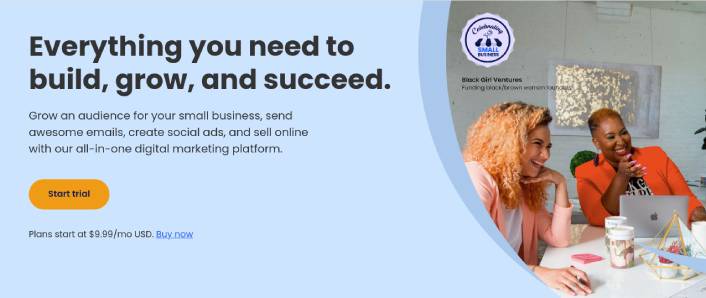 Constant Contact is the best email marketing service to set up abandoned cart campaigns for your business. It's super easy to use and offers tons of automation features to improve your email campaigns.
Here's what makes Constant Contact such a great choice for setting up email autoresponders:
Easy drag and drop builder to create emails
Hundreds of pre-designed email templates
Welcome messages, birthday offers and abandoned cart autoresponders
List building tools and signup forms to grow your audience
Split testing for targeted emails
Integrations with CRMs and third-party services
Excellent support via live chat and phone
Not to mention, Constant Contact has a forms plugin for WordPress that you can use to collect leads and nurture with autoresponders.
Get started with Constant Contact!
LiveChat is a powerful live chat service for eCommerce sites. We highly recommend it for any online store, especially for WooCommerce sites.
Adding a chatbox on your website is a great way to convert a bunch of visitors into buyers very quickly. It's a really great way to add a human touch to your autoresponders.
If you haven't already, you should definitely check out our article on different ways to reduce cart abandonment issues. We spoke about using a chatbox in that article and some more unique ways to reduce cart abandonment.
You can use the chatbox to address many customer queries or give them a gentle nudge to buy by offering a coupon or discount.
Get started with LiveChat today!
Rivo is a simple and easy-to-use cart abandonment solution. You can use it to send emails, push notifications, and SMS autoresponders. The cool bit about Rivo is that there's very little coding involved. All you have to do is install the Shopify app. You can also customize the messages you send across all your channels.
Rivo has a free version that allows you to create cart abandonment push notifications. The paid version includes SMS and email automation with more advanced options. But they charge an extra 2.5% as commissions for each sale you make from the cart abandonment campaigns.
If your Shopify store gets a lot of traffic, then you're going to get a lot of abandoned carts as well. In that case, Rivo might be too expensive for you. But if you're running a small store, the free version is really great.
Carti is another multichannel marketing tool that allows you to send abandoned cart campaigns. You can create automated cart abandonment recovery emails, SMS campaigns, and push notifications.
It also comes with other eCommerce campaigns such as browse abandonment to boost your revenue. With Carti, you also get more options for personalized messaging.
The cool part about this Shopify cart abandonment app is that you get full access to all the features in the free version. They charge you a small commission based on your store revenue.
Wonderpush is one of the best push notification services in the market.
The standout feature for us was their eCommerce push notification campaigns. This includes cart abandonment campaigns. And you can add unlimited members to your dashboard for simple and efficient marketing. You also get options to personalize your push notifications.
Like Carti, you get all the features for all the plans.
You don't really get a free plan. But you get a 14-day free trial (no credit cards needed) for their paid plans that start at €1 per month for up to 1,000 subscribers, then it's an extra €1 for every 1,000 subscribers after that.
Get started with Wonderpush today!
Care Cart also allows you to send cart abandonment emails, SMS campaigns, and push messages. However, it specializes in email cart abandonment automation. You can create advanced popup forms, cart abandonment popups, and engaging Spin the Wheel games.
The entire sequence of cart abandonment recovery emails is pre-built for the app. So, there's no coding involved. All you have to do is install the app.
Keeping track of your cart recovery analytics is also super easy. It's built right into the app. So, you don't have to create custom events in Google Analytics to keep track of your sales using UTM parameters.
Care Cart starts at $12 for 300,000 emails a month. So, it's pretty cost-effective as well.
Get started with Care Cart today!
Persistent Cart offers powerful cart abandonment campaigns. The app syncs shopping carts to customer accounts to keep them active and accessible over multiple devices.
If your customers save products in their cart to buy later and then log in from another device, the cart will disappear for most Shopify stores. Persistent Cart prevents this from happening and ties the abandoned cart to user accounts. This way, no matter what device your customers use to return to their cart, they will get a seamless experience.
Persistent Cart is a pretty unique Shopify abandoned cart app. Instead of creating autoresponders, it fixes a very critical user experience issue to increase sales.
Get started with Persistent Cart today!
Keep Cart is very similar to Persistent Cart. It also allows customers to log in from any device and still get their abandoned cart. Nearly 50% of the time, customers with abandoned carts log in from a different device. So, there are a LOT of sales you're likely losing right now on your Shopify store.
The Keep Cart app works automatically in the background. There's no setup involved. All you have to do is install the Shopify app. Of course, that means that it's super easy to use.
Customers can also merge carts from their previous sessions. This way, there's one consolidated cart across all devices and sessions. In other words, you're not only going to recover your abandoned carts but also increase your average order value in the process.
Get started with Keep Cart today!
What's the Best Shopify Abandoned Cart App for You?
Now that you've seen our list of the best Shopify abandoned cart apps, it's time to give you our favorite.
We recommend using a combination of:
These apps focus on very different offerings and they can all help you reduce your cart abandonment rates.
Our advice would be to get started with push notifications as they're the most cost-effective cart abandonment tool. Push notifications are extremely powerful and you can create multiple automated campaigns using them. Not convinced? Check out these epic resources:
PushEngage is the #1 push notifications software in the world. So, if you haven't already, get started with PushEngage today!