Are you using emojis in push notifications yet?
If you're not doing it, you're missing out on a LOT of great marketing opportunities.
The point behind push notifications is to cultivate a loyal audience for your brand. And emojis can help you get there much faster. The best part is that your competition probably isn't using emojis yet.
In this article, we're going to show you why you should be using emojis in push notification campaigns.
And we'll tell you how to do it too!
Excited yet? Let's dive in.
#1. Emojis Boost Push Notification Open Rates
The average open rate for email campaigns is 17-22%. The open rate for push notifications with emojis can be as high as 56%.
Of course, 56% isn't the standard by any means. The actual average across all industries is significantly lower.
That's why we highly recommend using both email and push notifications to market your brand.
Now, these are all statistics and figures based on reliable surveys. But we've seen the exact same boost in open rates with our customers. Push notifications with emojis get 85% higher open rates than the ones without any emojis.
#2. Emojis Improve User Retention
According to the data coined by Kissmetrics, the retention rates can be increased to 20% and the number rises 7 times if they are personalized push messages. Take a look at this simple example: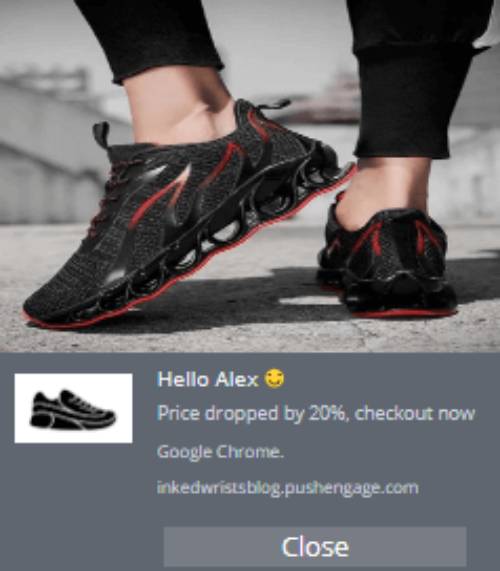 The relatable nature of emojis makes your brand relatable.
As a result, your subscribers become more open to hearing from you more frequently.
#3. Emojis Help Improve Customer Service
How do you convey an emotion with the least possible character count?
Simple answer: Emojis!
Emojis can convey empathy where needed. Using emojis can also personalize an otherwise bland message. Starbucks knows how to do this really well: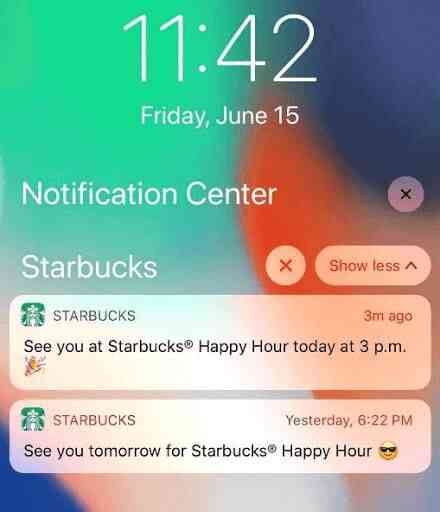 And seeing how they can make your messages seem more human, you get much fewer negative responses. So, the push notifications in the example seem conversational and make a simple follow-up seem really personal.
Consider your audience. If your brand caters mostly to a young audience, then emojis can be a great tool to communicate. Emojis have become an acceptable form of communication. Include Emojis in your push notification messages, and your users will feel it be a more personalized message and they will respond to it.
And the best part is… You don't need to be a billion-dollar business to use them and grow your business!
#4. Reduce Customer Acquisition Costs
Emoji marketing is a thing now: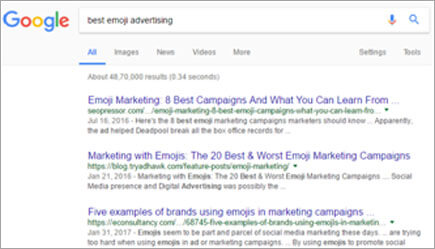 Crazy, right? Apparently, Facebook advertisers are using emojis to increase their click-through rates. This ends up lowering the cost of running ads. As a result, it lowers the overall cost of acquiring a new customer.
But we believe that there's more to it than just high click-rates.
Big brands such as Dove and Taco Bell are actually coming up with their own emojis to stand out from the rest of the crowd.
And once you start using emojis in your push notifications and beyond, you create a unique language that your loyal customers will instantly know. If you do this right, you can lower your acquisition costs across the board irrespective of the channel.
The trick is… if you're using emojis in your ads, you need to be consistent and use emojis in your push notifications as well.
#5. Emojis Boost Customer Engagement
Take a quick look at these epic facts:
In 2016, the use of Emojis by marketers to boost customer engagement had increased in size by 108%.
100+ emojis were created for marketing. This includes the rainbow flag, David Bowie tribute, gender options, and family representations.
The Oxford Dictionary even named the JOY Emoji THE 2015 WORD OF THE YEAR!
Statistical reports from social platforms like Twitter, Facebook, Instagram, etc proves that it enhances communication.
Emojis are so popular because our brain processes an emoji as an emotion and not as a text message.
They can also be really fun. Can you guess what movie these emojis represent?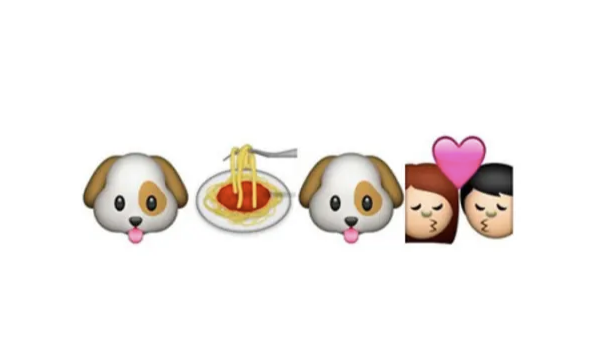 As you can understand, a push notification with an emoji typically gets an emotional response. Here's a real example from Buzzfeed News:

In simple words: Emojis get interactions and engagement from your audience. The push notification in our example sure got a lot of clicks. Go Cubs!
#6. Emojis Can Outperform Images
Emojis are powerful enough and can outperform images by 9%.
No, really! This is especially true if you're using the same old stock images that your competitors are using. After a while, your subscribers start to smell an advertisement from a mile away. All they have to do is take a look at the stock image.
Emojis, on the other hand, are typically used for non-verbal communication on a personal level.
Just take a look at what people are asking on Google:

All these questions are pretty personal in nature.
Our recommendation is to use both images and emojis in push notifications and send truly rich push notifications.
#7. Emojis Increase Conversion Rates
That's a really strange headline for many people. So, maybe this image will help you wrap your mind around it: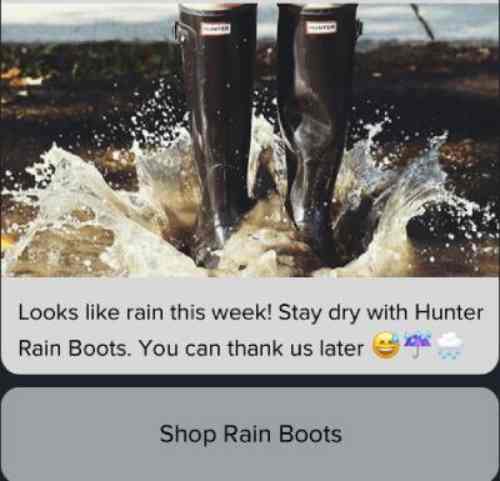 It's an old sales technique. Instead of trying to sell a pen to someone who doesn't want a pen, it's way better to look for people who want a pen and then understand their needs before pitching anything at all.
Emojis can have the same impact.
Instead of saying, "We have cheap rain boots, you should buy now," the push notification simply appears helpful.
#8. Emojis Can Increase App Engagement
Of course, not all modern businesses are brick-and-mortar businesses. You could be running your own app or suite of apps.
Push notifications are pretty amazing for increasing user engagement for mobile apps as well. Here's a super creative example from a mobile game app called QuizUp:
And yes, emojis work really well with iOS and Android app notifications.
iOS app notifications get higher engagement than Android app notifications because all iOS apps give the user a choice to disallow notifications during installation.
Android app notifications see a huge opt-in rate because the default setting in all Android devices is to allow all push notifications. But the engagement can be lower for the same reason.
#9. Emojis Can Create Compelling Awareness Campaigns
Ever wonder why the animal emojis in your Android and iOS devices exist?
Back in the day, the World Wildlife Fund (WWF) created a campaign. If you tweeted an endangered animal emoji, WWF would count the total number of emojis you tweeted. And for each emoji, you could donate $0.11 to save an endangered animal.
Whether you actually donated was entirely up to you, but WWF would send you a donation link at the end of the month with the total commitment.
How cool is that?
Can you think of a more compelling awareness campaign?
Maybe this poster for the first Deadpool movie comes as a close second: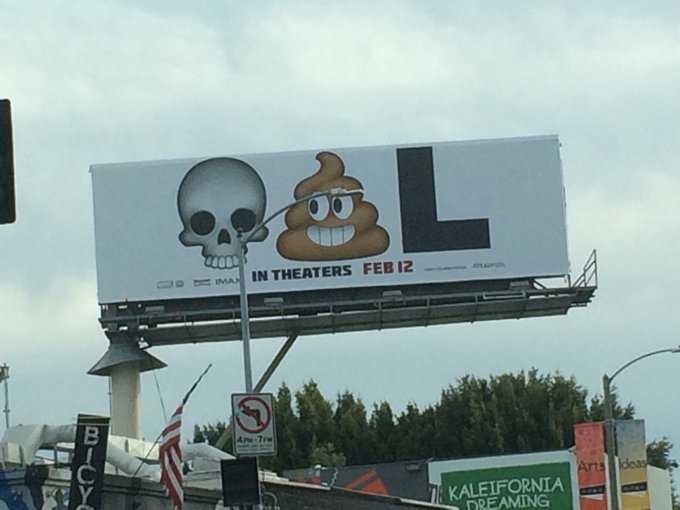 We can all agree that Deadpool got a lot of eyeballs, right?
How to Add Emojis to Your Push Notifications
For this part of the article, we're going to show you how to add emojis to your push notifications using PushEngage. PushEngage is the #1 push notification software in the world. So, if you haven't already, you should get started with PushEngage today!
But don't worry: It should be mostly the same process for any vendor at all.
First, go ahead and get started with PushEngage: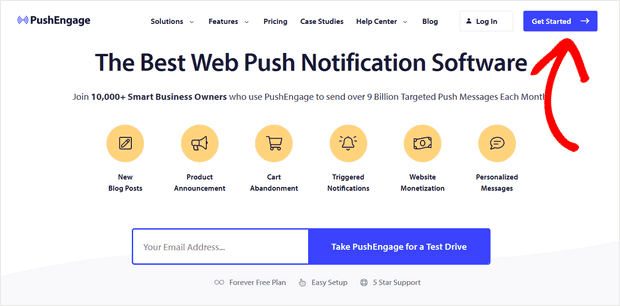 You can get started with the free plan to test things out. But if you'd like some advanced automated push notification campaigns to grow your business, we recommend choosing a paid plan.
Once you're done, follow along with our installation guides to get set up quickly.
Then, head over to the PushEngage dashboard and create a new notification. Click on Notifications » Create » New Notification and start creating your push notification with emojis:

You can use any emoji you like in the notification title and message.
It's that simple!
Wrapping Up
Final words of wisdom: Don't overdo it!
Seriously, you're still talking to your customers or potential customers. Don't annoy them with meaningless emojis.
And most definitely don't use an emoji you don't understand. It could land you in a LOT of trouble. Emojis work when they're contextual and relevant.
And that's all for this one, folks.
If you're just getting started with push notifications, there's no better way to boost your growth and engagement than with PushEngage. PushEngage is the best push notification software in the world.
So, if you haven't already, get started with PushEngage today!