Looking for a Magento push notification extension for your site?
Magento is a super popular eCommerce website building framework. Ever since Adobe took over Magento, there's been some changes in the Adobe marketplace for Magento as well. So, you get to see the Adobe software partners before you see any other service provider.
But is being an Adobe partner the only requirement for a push notification software? In our opinion, you need to consider other factors such as:
And more. In this article, we're going to list the most powerful Magento push notification extensions. Then, we're going to give you our top recommendation as well.
Let's get started!
Why You Need a Magento Push Notification Extension
A push notification is a short, clickable pop-up message that appears on a subscriber's device and redirects the subscriber to your content with one click: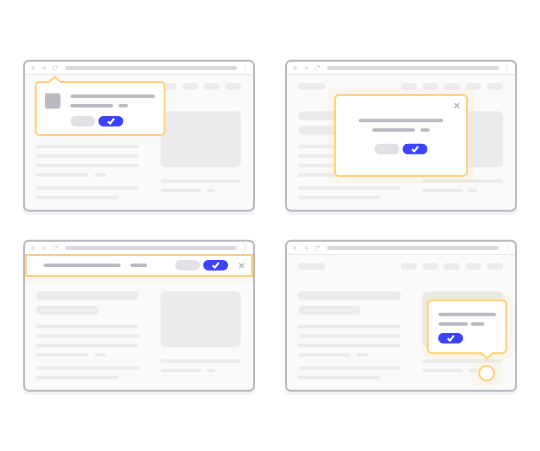 The best part is that the notifications pop up even if the subscriber isn't using a browser. It's like an email blast, but with a web push notification, your subscribers don't need to be using an app to see your message.
In short: A Magento push notification is a simple way to send out a clickable link to your content to anyone who opted in.
With push notification sequences, your audience now has no excuse to ignore you. And unlike social media websites, there is no algorithm throttling your reach to get you to pay for ads.
At the same time, you can create tons of automated eCommerce campaigns such as:
The coolest part about web push notifications is that you can use them to complement your lead magnets and email opt-in forms! That's why we highly recommend it for all eCommerce sites in our list of must-have Magento extensions.
Best Magento Push Notification Extension for eCommerce Sites
The best Magento push notification extension is going to help you rapidly grow your business. At the same time, push notifications cost way less than most other marketing channels.
Before we start things off, you should know that some of the push notification services listed here have free versions. But most of these services aren't 100% free. You can get started with a free basic model or a free trial of the full software for a limited number of days.
Reality check: Most free push notification tools aren't free at all. You end up paying a lot later on in various ways. One of the most popular ways that "free forever" software makes money is by selling your customers' data to third-party advertisers. And that's a gross violation of customer privacy for anyone who's subscribed to your push notifications.
We recommend using trial software or basic free versions to test whether the service is a good fit for you. And then, buy the paid software.
Now that we have clear expectations let's dive right in.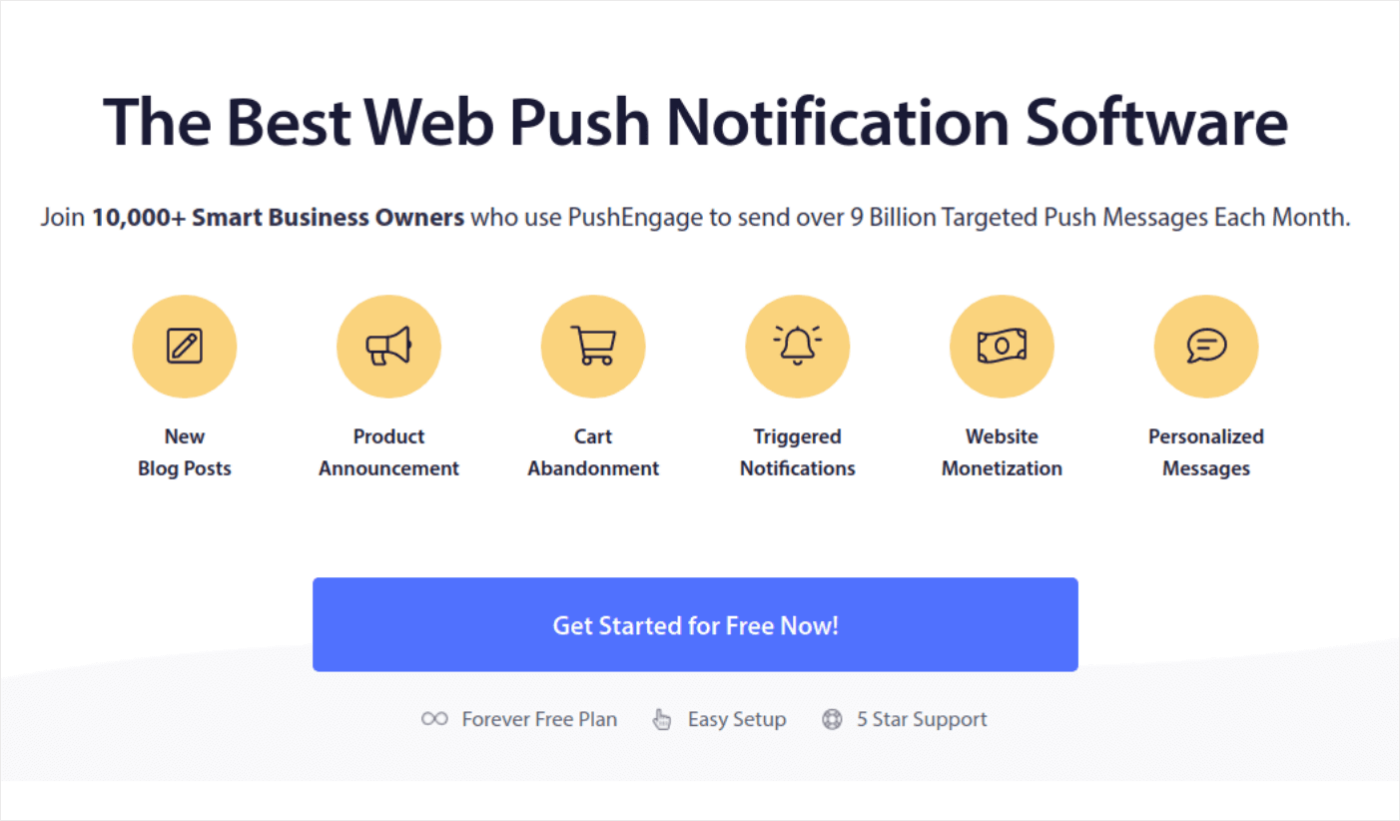 PushEngage is the best push notifications service in the world. You can get started with a free basic version to kickstart your business, but if you're serious about growing, you should really get the paid plans. PushEngage allows you to connect with visitors after leaving your site with targeted and personalized notifications.
PushEngage is our first choice for push notification services and tools because it's:
PushEngage has a compelling list of features with pricing plans meant to support businesses in all stages of growth. So, whether you're growing a business or scaling one, PushEngage will have great features for you to push further ahead.
Pricing: The free plan is good enough to get your business to a point where you can easily afford the paid plans that start at $9/month for 100,000 subscribers.
#2. PushAlert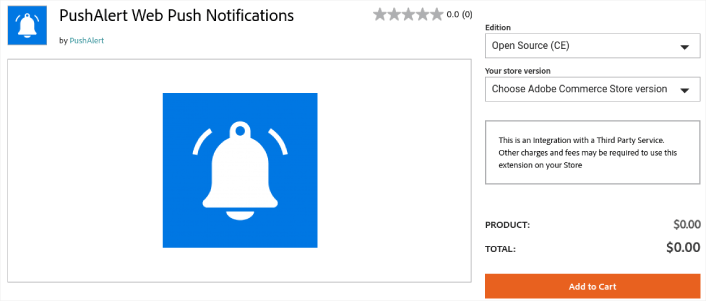 PushAlert is a third-party Magento push notification extension. Don't be fooled by the $0 price tag on the Adobe marketplace. PushAlert does have a free plan. However, we can't really recommend the free plan for anything besides testing the software.
In fact, the only way that PushAlert is any use for an eCommerce site is if you get their Premium plan. The Premium plan comes with:
And more. While PushAlert has fewer targeting options and customization options than PushEngage, it's still worth checking out.
Pricing: PushAlert's paid plans start from $12/month but the Premium plan starts from $39/month. The good news is that PushAlert has a free 15-day trial.
#3. Bloomreach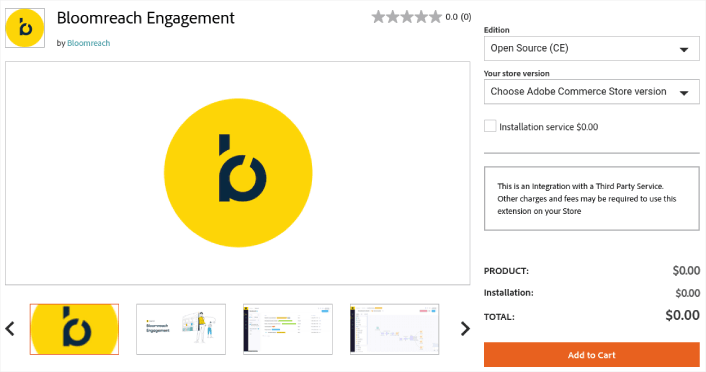 Bloomreach is an eCommerce extension suite that includes push notifications as well. You also get email marketing software, abandoned cart recovery campaigns, and popups.
The overall theme with Bloomreach seems to be an engagement platform for Magento sites. It's meant to help you nurture your website visitors and nudge them towards direct sales.
The push notification extension seems to lack some advanced features such as A/B testing, push notification tracking, and segmentation. But as a whole, the service is worth it if you consider how quickly it allows you to set up push notifications and email campaigns on a Magento site.
Magento is not the most user-friendly eCommerce solution. We cover this in great detail in our WooCommerce vs Magento comparison article. The extensions available for Magento aren't that easy to set up either. So, any extension that helps you quickly add functionality to your site is a good option.
Pricing: Bloomreach has a free extension for Magento to get started, but their actual pricing is on demand.
#4. Mobicommerce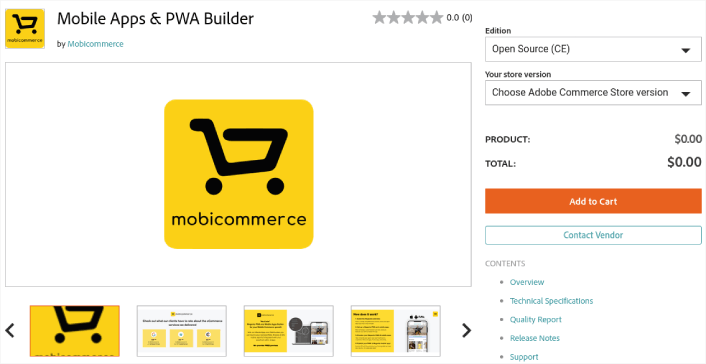 Mobicommerce is a Progressive Web App (PWA) builder with multiple offerings. The overall suite seems to be incredibly diverse and has everything you need to kickstart an eCommerce business.
To be clear, Mobicommerce is a software suite that helps you build an app that runs on browsers and as mobile apps. The extension seems to be built using the Magento framework.
Any app you build using Mobicommerce will have push notifications integrated into them. The cool bit is that you also get a bunch of other features including a landing page builder, popups, Google Analytics plugins, and more.
Mobicommerce is only the right solution for you if you haven't built an eCommerce site yet. If you already have an eCommerce site, a push notification service such as PushEngage would be much better for you.
Pricing: Mobicommerce has a price-on-request model.
#5. Webkul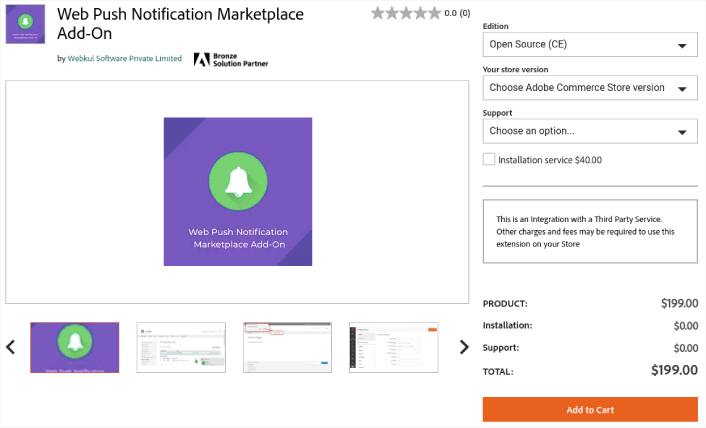 Webkul is a software development company for Magento, PrestaShop, and other Content Management System (CMS) platforms. They happen to make a Magento push notification extension as well. As with any other software, Webkul has multiple pricing plans for different offerings.
You get a template creator that helps you build push notification templates for your site. This is pretty cool as it helps you reuse the same campaign template for multiple push notifications. It's a great offering for large eCommerce stores with multiple products.
The flip side of Webkul's push notification extension is that it only supports Firefox 5+ and Google Chrome 14+. More importantly, it seems to offer only the most basic push notification campaigns.
Also, the software runs on Firebase's push notification service called Firebase Cloud Messaging (FCM) and we highly recommend against using Firebase. All in all, this is a popular software, but it's our least favorite on this list.
Pricing: Webkul's push notification extension starts at $99 as a one-time fee with no free trials.
What to do After You Install a Magento Push Notification Extension
PushEngage is the best Magento push notification extension in the market.
In terms of features, there's little to no contest. PushEngage has a full range of automation, personalization, targeting, and scheduling features that make it a great fit for multiple business types.
You get a super supportive Customer Success team to help you migrate your push subscriber list. After that, the dashboard itself is built to help you get a good return on your investment.
You should check out some of these incredible resources to understand how push notifications can help grow your business before you invest in an extension:
The best part about PushEngage is that it's priced in a way that makes it a good fit at every stage of growth, whether you're looking to start, grow, or scale your business. The philosophy behind PushEngage is to empower small businesses to compete with big brands.
So, if you haven't already, get started with PushEngage today to get to the next level!