Are you trying to decide between WooCommerce vs. Magento for your online store? Both WooCommerce and Magento are super popular eCommerce platforms. But how do you know what's a better fit for you without using them both?
How do you know what's easy to use? Which one can you actually afford? How much time would you have to spend customizing your store? How do accept payments in your store? Can you quickly scale your business using these platforms?
In this article, we're going to answer all these questions and much more.
Let's dive in.
Overview: WooCommerce vs. Magento
Before we get into the finer details of each platform, let's take a quick look at both eCommerce store builders. There's no denying that they're both super popular. So, what makes them so special? And how exactly are we going to compare WooCommerce vs. Magento? Let's find out!
What is WooCommerce?
WooCommerce is free and open-source software built on top of WordPress, which is also free and open-source. WooCommerce was designed to build robust online stores for digital and physical products. So, naturally, you get a ton of great features such as:
And so much more!
Since WooCommerce is built on WordPress, it's super easy to extend the features and functionality of your store using plugins.
Need a custom look and feel for your design? That's super easy to do as well. You can use a theme builder such as Divi or Elementor to design your store. Or, you could use a landing page builder such as SeedProd to instantly create a single product website.
What is Magento?
Magento is an open-source eCommerce platform that allows businesses to create online stores, accept payments, and manage products. It has a community edition available for free download. After downloading Magento, you'd typically have to upload it to your hosting server and start customizing the store as you see fit.
If you want a single solution with hosting, support, and advanced features to launch your online business, there's a paid version you can look at as well.
How to Compare WooCommerce vs. Magento
We're going to compare WooCommerce vs. Magento using the following criteria:
Please remember that our review is based on the assumption that you're not a coder. For a pro developer, it may not make a ton of difference what platform you choose. But most people who launch businesses online using an eCommerce store builder aren't professional developers.
If you're just looking to build a business and spend the least amount of time and energy on building a website, then this comparison will be super helpful for you.
Cost Comparison: WooCommerce vs. Magento
For most startups, spending a ton of money to create a website isn't really an option. So, let's start our comparison of WooCommerce vs. Magento with a straightforward cost comparison.
Keep in mind that we're only comparing the cost of getting a store up and running in this section. Depending on your business, the actual cost might be a lot more because you'll have to use plugins and extensions to get better features, grow your traffic, and monetize your site effectively.
Cost of Using WooCommerce
As we've already mentioned, WooCommerce is completely free software that you can run on ANY WordPress site. However, to get started, you'll need:
A domain name
An SSL certificate
WordPress hosting
The good news is that you can get all three things from any modern hosting provider. We recommend using Bluehost to get started.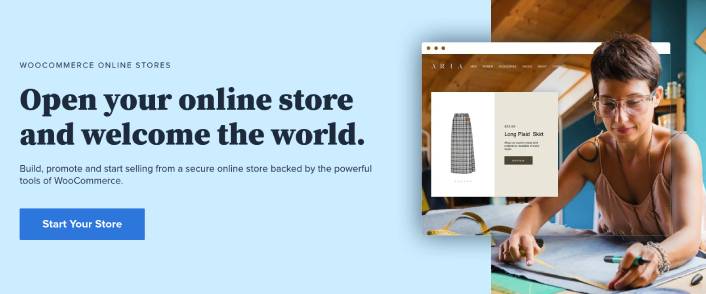 Bluehost is officially recommended by both WordPress and WooCommerce as a WordPress hosting service. The beautiful part is that you can get shared hosting to run a WooCommerce site, which is pretty affordable. Over time, as your site scales, you can also upgrade to a higher plan to accommodate your growth.
And yes, you get an SSL certificate and a domain name as part of your hosting plan with Bluehost.
Again, keep in mind that this is only the cost of setting up your site. You'll need to spend more money to extend your store's functionality using themes and plugins. However, WooCommerce is free and open-source by itself. So, this means that you'll get a TON of free plugins and WooCommerce-friendly themes as alternatives to paid ones.
Overall, this will dramatically reduce your startup costs.
Cost of Using Magento
Magento is a self-hosted open-source software with two editions. There's a free Magento Community edition and a Magento Commerce edition. The free edition is a limited version of the software with no support. You have to download it and manually set up your store.
On the other hand, Magento Commerce comes with cloud hosting, advanced features, and professional support.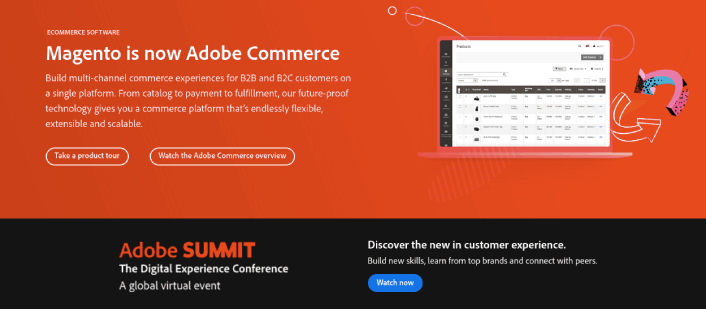 But Magento Commerce is quite expensive. There's no fixed price either. You pay a monthly license fee based on your store's revenue. Does that make the Magneto Community edition a much cheaper alternative?
Well… yes, and no.
You don't have to pay anything for the Community edition software itself. But you will have to install a bunch of premium extensions to get the features you get with Magento Commento. Also, you can't really host Magento on shared hosting like you can with a WooCommerce site. You'll have to either get VPS hosting or a cloud hosting service like Amazon Web Hosting.
Add that to the cost of custom developing certain features or buying extensions for your store, and even Magento Community isn't all that easy to afford.
Ease of Use: WooCommerce vs. Magento
As we've already mentioned, neither WooCommerce nor Magento was built as a software development kit for developers. You can technically hire a developer to develop custom features for either platform. But that beats the point of using these platforms somewhat.
So, ease of use is an important factor in comparing WooCommerce vs. Magento.
WooCommerce: Is it Easy to Use?
WooCommerce is much easier to use than Magento. Installing WooCommerce is a matter of simply following along with an installation wizard that's built for beginners.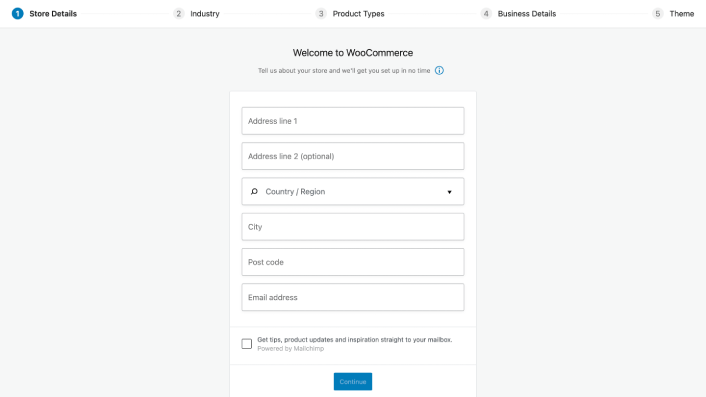 Since WooCommerce is a WordPress plugin, you will need to install WordPress on your hosting server before you can use WooCommerce. But WordPress is extremely popular and most web hosting services offer one-click installation services for WordPress.
WooCommerce comes with its own set of themes and plugins all with their own settings and customization options. So, there is a bit of a learning curve. But overall, there's no need to hire professional help to customize a WooCommerce store and most of the settings are easy to understand.
Pro Tip: If you have the budget to buy premium plugins to extend WooCommerce's capabilities, you'll find that most paid software is much easier to use than the free alternatives. That being said, even the free alternatives are quite straightforward. You rarely need to understand website development to use any of them.
Magento: Is it Easy to Use?
Magento is an eCommerce platform that was built to be a framework rather than an eCommerce platform. Yes, the latest versions of Magento can act as a deployable platform by itself. But originally, it was meant to be a framework to build eCommerce sites.
As a result, setting it up correctly involves a fairly advanced series of complex processes.
Most hosting companies do not offer Magento installers to help set it up. And even the default Magento installer on Magento Commerce feels extremely developer-centric. The instructions are difficult to process for most beginners unless you have some experience in creating PHP websites.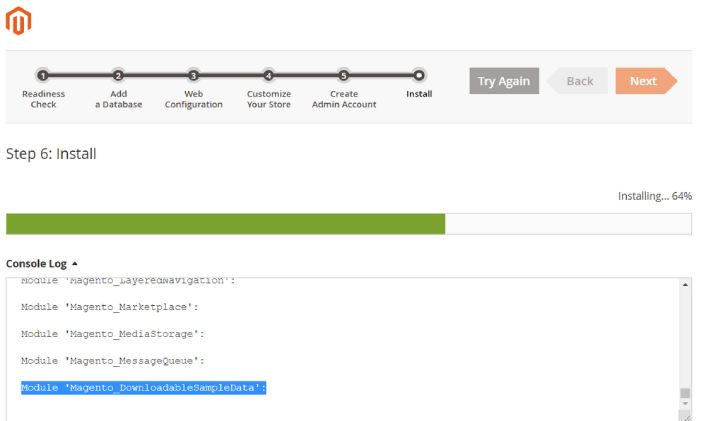 Even after setting up your store, you will have to spend time learning how to maintain and manage it. Installing extensions and customizing Magento themes is not an easy task. So, you will likely need professional help to set them up. The vast majority of the documentation and tutorials available online are meant for developers rather than the average business owners.
Payment Methods: WooCommerce vs. Magento
Any store selling goods and services must be able to accept payments in exchange for their products. So, of course, both WooCommerce and Magento have built-in payment options to automatically process a sale. To be clear, neither WooCommerce nor Magento process the payments with their own software. Instead, both platforms have integrations with popular payment gateways.
A payment gateway is a third-party merchant service that allows your business banking account to accept payments from credit cards and direct payments.
Before we begin, you should know that some payment gateways will only accept payments from specific locations and in specific currencies. For instance, you can't pay in Bitcoins via PayPal, and certain payment gateways aren't easily available in some countries.
Now, let's check out the different payment options in WooCommerce vs. Magento.
Payment Methods Available in WooCommerce
WooCommerce offers PayPal and Stripe payments right out of the box. It also supports all major payment gateways through plugins and addons.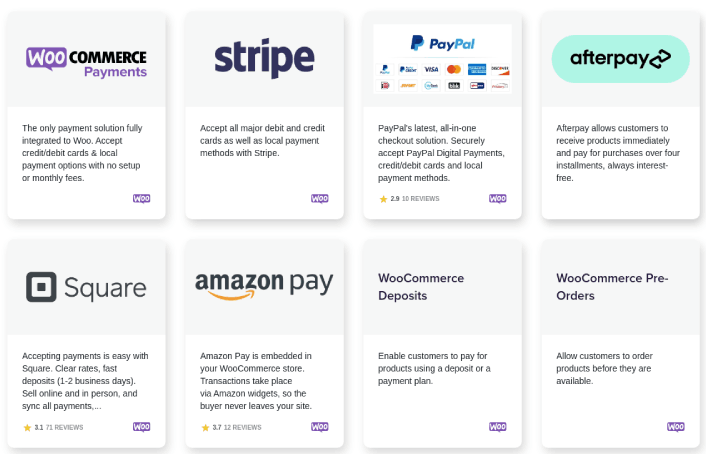 But the beauty of WooCommerce is that it supports many local, lesser-known payment gateways such as Square, Amazon Pay, BlueSnap, and Razorpay. Any payment company can create a WooCommerce plugin and offer support because of the extensive documentation and powerful WooCommerce API.
You can even use Stripe out of the box and extend the functionality you get from the popular and stable payment gateway using WP Simple Pay.
Payment Methods Available in Magento
Magento offers multiple payment options including:
PayPal
Authorize.net
Cash on delivery
Purchase order payments
Bank transfers
And these are just the default options. If you want to create custom payment options with specific payment gateways, you can hire a developer to build them for you using the Magento API.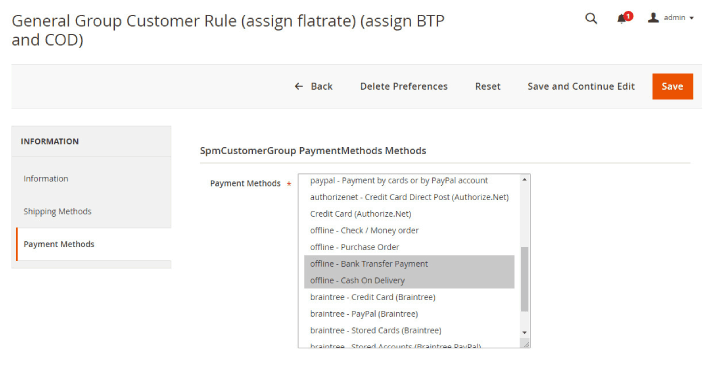 It also has robust extensions for many popular payment gateways such as:
Stripe
Braintree
WePay
Google Checkout
Skrill
And more.
Third-Party Integrations: WooCommerce vs. Magento
Both Magento and WooCommerce have limited core features.
But this is not necessarily a bad thing. By creating powerful core features, both platforms can offer fully functional online stores without a slow and bloated codebase. And if you need more features, you can always install third-party extensions and addons to get only the functionality that you need.
Let's check out the integrations you can get with WooCommerce vs. Magento.
WooCommerce Integrations
In the WordPress industry, there's a popular saying that goes, "There's a plugin for that!"
No matter what kind of functionality you want to add to your WooCommerce store, whether it's contact forms, Google Analytics, or even popup forms… there's a plugin for it.

And if you want to extend your eCommerce functionality directly, you can do that as well using popular plugins such as:
And so many more! Check out our article on the best WordPress plugins that any online business needs to install.
Magento Integrations
Magento has an active community around its product comprising developers, agencies, and freelancers because of its open-source codebase. So, naturally, there are plenty of free and paid third-party extensions and integrations for Magento.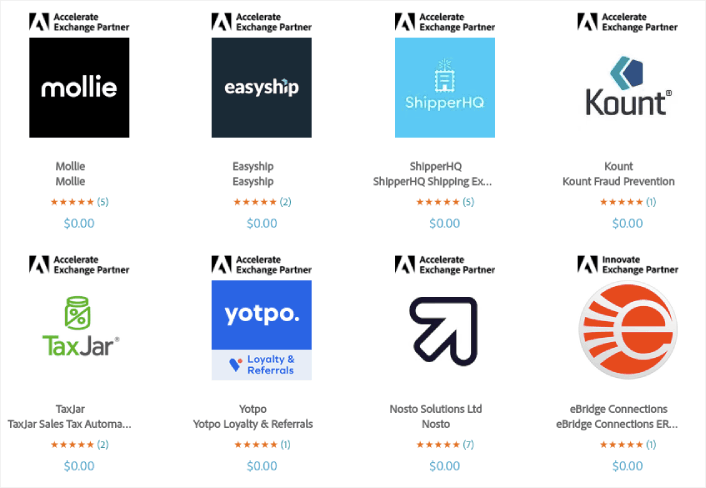 If you consider how much functionality the core software has, the free Magento extensions are well worth it. You can install push notifications on Magento as well to quickly grow your traffic, engagement, and sales.
Check out our article on must-have Magento plugins to get started quickly.
Scaling Your Business: WooCommerce vs. Magento
Growing a business from scratch is never easy. It's a lot of hard work and as your business grows, you need more resources to accommodate your growth. It's the same for your online business. When you start things off, your store could be a very basic site that requires very few server resources. Over time, you WILL need:
Better hosting
More powerful integrations
More flexible features on your site
And that's just to get started. Magento and WooCommerce have very different resource requirements for scaling a business. Let's take a look at what they are.
Is it Easy to Scale WooCommerce?
Scaling a WooCommerce store comes with significant technical challenges. However, the good thing is that you have a lot of options to continue growing in the initial stages while keeping your costs low.
You can easily find great free plugins for caching, managing backups, and setting up security measures. This means that your site will run perfectly well while consuming lower server resources. Over time, you can shift to a managed WordPress hosting service such as WPEngine to lower the cost of scaling your site even further.
Even if you were to hire WordPress specialists and use Enterprise level hosting and WooCommerce extensions, your operating costs would still be lower than that of a Magento site.
Is it Easy to Scale Magento?
As we said, Magento was originally built to be a framework for website development. So, while there are no technical issues that stop you from scaling your online store, there are significant spikes in server costs, maintenance fees, and added security measures.
If you're running your site on a VPS server, you'll eventually have to shift to a dedicated server and then, to a cloud hosting service such as Amazon Web Services. You'll also have to optimize your store for caching, manage backups, protect against DDOS attacks by using a website firewall, and more.
The daunting bit is that you'll have to do all this yourself if you're running the Community edition of Magento. If you can bear the cost, you may want to get the business or enterprise plans for Magento Commerce and get the dedicated support. Otherwise, you'll likely need to hire a Magento specialist who has experience in maintaining a website.
So, is it easy to scale Magento?
Short answer: No! There are serious technical issues and costs with scaling your business in Magento.
Final Verdict: WooCommerce vs. Magento
WooCommerce wins the comparison against Magento easily.
Let's check out who wins each category of our WooCommerce vs. Magento comparison:
Budget: WooCommerce
Ease of Use: WooCommerce
Payment Methods: Tie
Third-Party Integrations: WooCommerce
Scalability: WooCommerce
Our final verdict: Use WooCommerce to launch your eCommerce site.
Once your site is up and running, you should consider ways to generate traffic, engagement, and sales automatically on your site. We recommend using push notifications to grow your business.
If you're new to push notifications, check out these incredible resources to get started quickly:
PushEngage is the #1 push notifications software in the world. So, we recommend using PushEngage to create your push notifications and grow your eCommerce business.