Looking for the best WordPress crowdfunding plugin to accept online donations on your site?
Crowdfunding plugins make it super simple to accept donations on a WordPress site. But which plugin should you use? There are so many options out there. Which one is easy to use? Do you need a developer to set up the plugin? Can you get started quickly? Is it possible to customize your donation buttons?
In this article, we're going to go over all this and more. We're going to help you find the best WordPress crowdfunding plugin on the market. Trust us when we say that we've tested all the best ones in the market so that you don't have to.
Let's dive in.
How to Choose the Best WordPress Crowdfunding Plugin
Choosing the best WordPress crowdfunding plugin is a crucial decision that can significantly impact the success of your crowdfunding campaign.
PushEngage is the #1 push notifications plugin in the world. Get it for free!
Here are some steps and factors to consider when making your choice:
1. Define Your Campaign Needs: Start by understanding the specific requirements of your crowdfunding campaign. What type of project are you funding? Do you need features like reward management, social sharing, or community building? Having a clear vision of your campaign's needs will guide your plugin selection.
2. Research and Compare: Take the time to research and compare available crowdfunding plugins for WordPress. Look for user reviews, ratings, and case studies to gauge their performance and user satisfaction.
3. Compatibility and Updates: Ensure that the plugin is compatible with your current WordPress version and other plugins you may be using. Also, check for regular updates and ongoing support from the plugin developer to keep your campaign running smoothly.
4. Security: Security should be a top priority. Look for plugins that offer robust security features to protect your campaign and donor information. SSL support and data encryption are essential elements.
5. Payment Integration: Verify that the plugin supports the payment gateways you plan to use for collecting funds. Popular options like PayPal, Stripe, or credit card payments should be readily available.
6. Customization Options: Check if the plugin provides customization options to match your campaign's branding and goals. This includes the ability to design campaign pages, add multimedia elements, and control the overall look and feel.
7. User-Friendliness: An intuitive and user-friendly interface is crucial for ease of use. You don't want a plugin that requires extensive technical expertise to set up and manage.
8. Community and Social Features: If building a community around your campaign is important, look for plugins that offer community-building features, such as forums, comments, and social media integration. These can help engage and retain backers.
9. Analytics and Reporting: To make informed decisions, it's essential to have access to campaign analytics and reporting tools. Look for plugins that provide insights into donor behavior, campaign performance, and conversion rates.
10. Support and Documentation: Reliable customer support and comprehensive documentation are invaluable. In case you run into issues or need guidance, having access to responsive support and helpful resources can be a game-changer.
11. Pricing and Fees: Understand the pricing structure of the plugin. Some plugins may charge a one-time fee, while others use a subscription model. Additionally, be aware of any transaction fees or commissions the plugin might charge on top of payment gateway fees.
12. Reviews and Recommendations: Seek advice from other WordPress users or professionals in your industry. Their experiences and recommendations can provide valuable insights into which plugins work best for your specific niche.
13. Trial and Testing: Many plugins offer free trials or lite versions. Take advantage of these to test the plugin's functionality and see if it meets your needs before committing to a premium version.
14. Scalability: Consider your long-term goals. Will the plugin support your campaign as it grows? Look for scalability features that can accommodate an expanding donor base.
15. Ownership and Control: Finally, think about ownership and control. Using a WordPress crowdfunding plugin allows you to maintain control of your campaign data and user experience, which may not be the case with external crowdfunding platforms.
Remember that the "best" WordPress crowdfunding plugin can vary depending on your unique campaign requirements, so it's essential to choose one that aligns with your specific goals and preferences.
Best WordPress Crowdfunding Plugin for Your Campaigns
Now that we understand why you should be using a WordPress crowdfunding plugin and the benefits of using one, it's time to check out the best options in the market. There are multiple WordPress plugins to accept donations and run crowdfunding campaigns on your site. But which one's the best for you? Let's start with a list of the most popular options.
Then, we'll give you our top recommendation.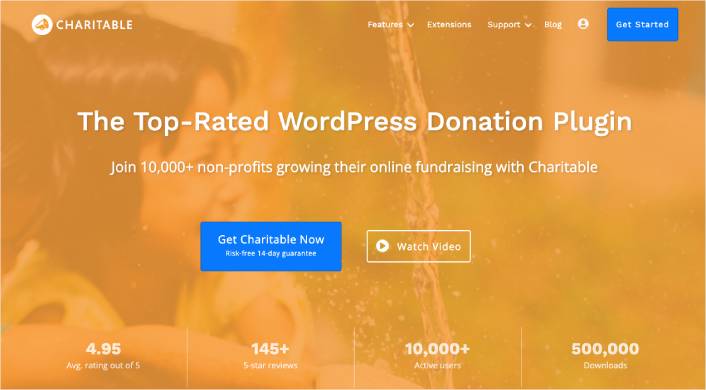 Charitable is the best WordPress crowdfunding plugin in the world.
The Charitable WordPress plugin offers a seamless and cost-effective solution for crowdfunding. With this plugin, crafting compelling campaigns takes just minutes, and the best part? There are no transaction fees.
Whether you're working towards a time-sensitive goal or aiming for a specific monetary target, this plugin has you covered. You have the flexibility to create as many crowdfunding campaigns as you need, and the beauty of it is that these campaigns effortlessly adopt your website's theme style, ensuring a cohesive and integrated look.
Here are some of the key features that make Charitable stand out:
Flexible Donation Options: Tailor your campaign by suggesting donation amounts or allowing donors to choose their own.
Modal Form Modes: Load donation forms in modal pop-up windows for a smooth user experience.
Embed Anywhere: Easily embed donation forms on any page of your website, giving you versatility in placement.
Secure Payments: Collect payments securely through PayPal, a trusted and widely used payment gateway.
Offline Payment Options: Offer donors the choice of offline payment methods for added convenience.
GDPR-Ready: Ensure compliance with data protection regulations with GDPR-ready features.
Automated Communication: Automatically send donation receipts and admin notifications to keep both donors and your team informed.
You can even create custom donation buttons for each crowdfunding campaign.
With the Charitable WordPress plugin, you have the tools to create engaging crowdfunding campaigns while maintaining a seamless look and feel across your entire website. It's a user-friendly, efficient, and budget-friendly way to raise funds for your cause.

WP Simple Pay is exactly what it sounds like. It makes online payments simple on your WordPress site. It's easy to use, highly reliable and requires zero coding to set up.
The best part? WP Simple Pay helps you focus on creating products and selling them without having to worry about accepting payments from across the world.
All customer and payment information is stored on your Stripe account, not on your WordPress website. As a result, the plugin won't bloat your site like other alternatives. WP Simple Pay offers the simplest way to add Stripe payments to your WordPress site.
It's a really good option for collecting donations for a crowdfunding campaign and you can add directly to your Kickstarter landing page as long as it's hosted on a WordPress site.
And setting up WP Simple Pay is super simple.
Here's a quick look at the top features in WP Simple Pay Pro:
Payment Form Builder
Custom Amount Payments
Custom Subscription Options
Discounts with Coupon Codes
Alternative Payment Methods
Customized Payment Confirmation Flow
And more! You can get a closer look at the features in our review of WP Simple Pay Pro.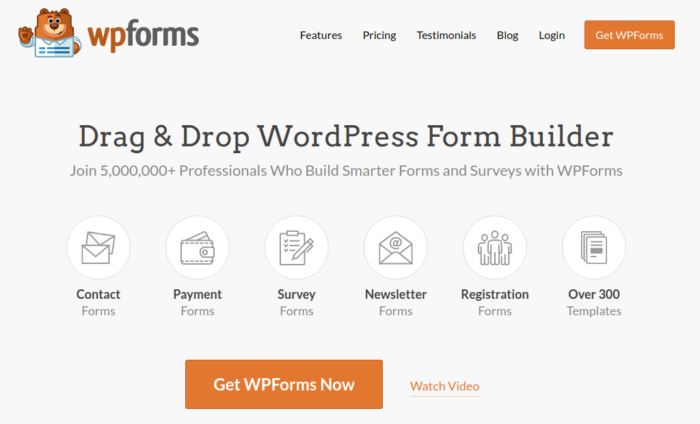 WPForms is the most powerful drag-and-drop WordPress form builder. It's super easy to build a fully custom form for your WordPress site in a few minutes using the plugin.
WPForms can help you create any type of contact form, payment form, survey form, registration form, and newsletter optin form you can think of.
They have over 300 templates in the Pro version that are proven to work. You can instantly import these templates and launch the form in minutes. WPForms is completely beginner-friendly. Anyone can use it to create powerful forms. And that's why it's one of the best WordPress form plugins in the world.
The plugin comes only with core essentials. So, if you need more functionality in your forms, you can always install an addon. This keeps the plugin lightweight and simple to use.
With WPForms, you get:
A Beginner-Friendly Form Builder
Multi-step Forms
Email Marketing Integrations
Conditional Field Logic
Form Landing Pages
And more. The best part is that you can directly create WordPress payment forms that accept payments using Stripe. All you need is a Stripe account and the WPForms plugin to get started.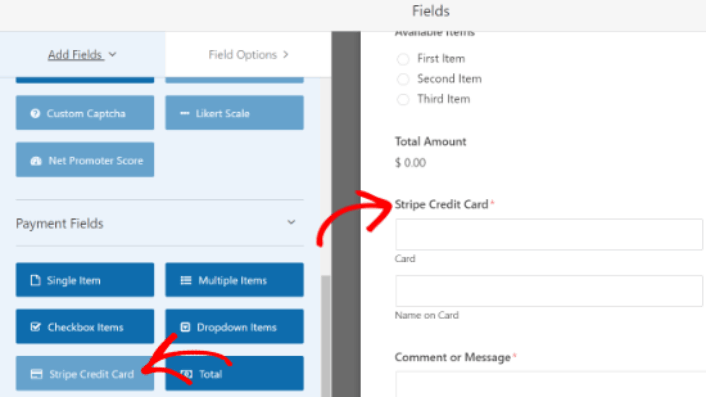 Using WPForms to accept credit card payments is a really great option if you're not running an eCommerce site with a cart. It's perfect for crowdfunding because of the low transaction fees and the easy setup means that you don't have to hire a developer.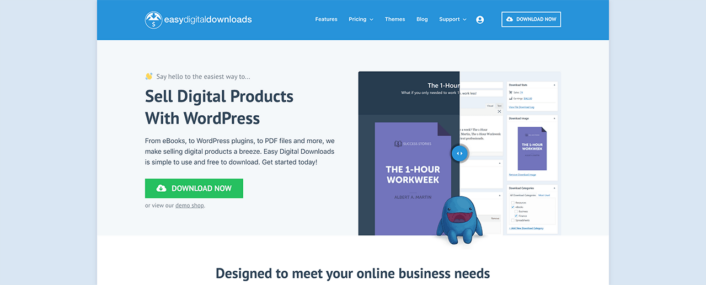 Easy Digital Downloads (EDD) is a WordPress plugin that's designed to sell digital goods. So, if you're looking to sell any digital product and want to set it up quickly, Easy Digital Downloads is your safest bet.
One of the most difficult things to do when you're just starting a new business is dealing with technical issues. This becomes especially hard when the technical issues are related to how you accept money for your goods.
With Easy Digital Downloads, that's never an issue.
Right out of the box, you get integrations for Stripe, PayPal, and Amazon Pay. But that's not all.
You can install extensions for a lot of different payment gateways: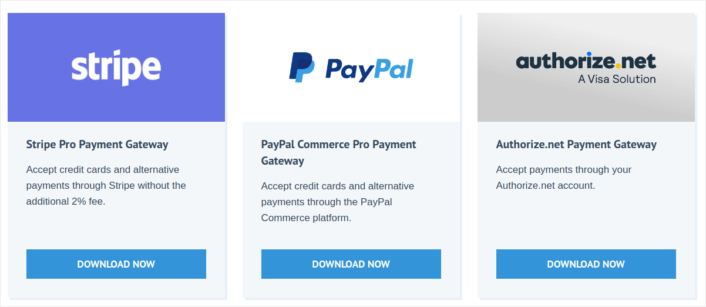 Here's what you get with EDD:
Payment Gateway Integrations
Software License Creator
Recurring Payments
Multi-Vendor Platform
Email Marketing Integrations
Custom Deliverables for Freelancers
Commissions for Affiliates and Vendors
Instant Product Comparisons
And more. So, it's a really good way to collect donations from your website with very little reliance on third-party sites.
If you need a closer look at the features, you should check out our review of Easy Digital Downloads.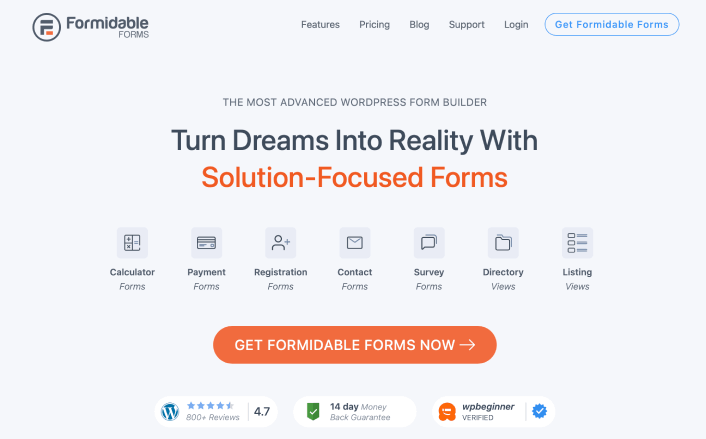 Formidable Forms is one of the more advanced WordPress form builders. It's meant almost exclusively for agencies and enterprise businesses. So, it's not the most user friendly form plugin in the market.
But Formidable Forms is super powerful. You can create some very complex forms using a drag-and-drop form builder including:
Surveys
Registration forms
Payment forms
Calculator forms
And more. You get a ton of form templates that you can use straight up. One of the most interesting features you get is the ability to create calculator forms. Formidable Forms also integrates seamlessly with email marketing services and payment gateways.
So, not only can you accept donations on your site, but also run powerful marketing campaigns to thank your donors, invite them to events, get repeat donations, and sell partner merchandise for future fundraising.
It's a paid plugin. But it's well worth the price.
Get started with Formidable Forms.
What's the Best WordPress Crowdfunding Plugin for You?
Hands down, Charitable is the best WordPress crowdfunding plugin in the market. With multiple payment options and a beginner-friendly plugin, Charitable helps you accept donations on your site quickly.
If you're ready to accept donations on your site, the next thing you should focus on is bringing traffic, engagement, and sales to your site. Push notifications are a great way to do that.
Here, check out these epic resources to get started with push notifications right away:
PushEngage is the #1 push notifications software in the world. So, we recommend using PushEngage to create your push notifications and grow your eCommerce business.